GRAMS28 154 City Pack Review: Is It Worth It?
Don't be a man who constantly misplaces your essential items like car keys, phone, and wallet when there is this Grams28 154 city pack bag. It's a total package for every man. Men are no strangers to losing everywhere-you-go items.
It's a common challenge we all face to accidentally leave your car keys behind at a cafe, forget your wallet at home, or perceive your phone as just another item to manage amidst your already full hands. The Grams28 154 City Pack offers a perfect solution.
Grams28 154 City Pack is a portable, luxurious, and budget-friendly bag, you can refer to it as a secondary safe.
While it keeps your valuables close by, it gives you a more fashionable and sporty look. We got the chance to use and review the 154-city pack, and we commend it as a great bag for every man.
Let's dive into why this versatile bag is a must-have for anyone who values style, organization, and convenience.
Grams28 154 City Pack: An Overview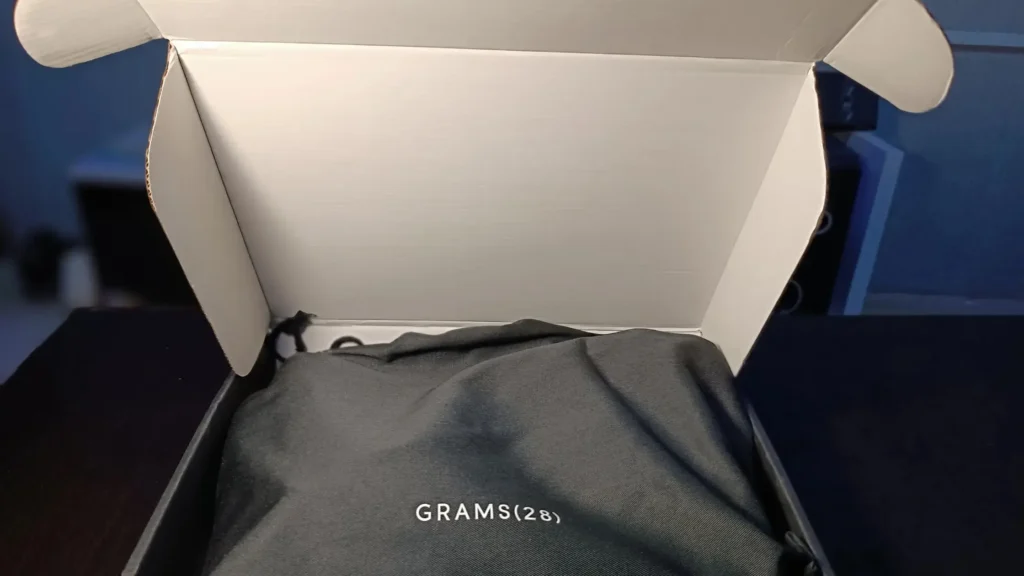 Grams28 154 City Pack is a slim, thin bag crafted from fine Italian leather, an epitome of durability, comfort, portability, and luxury. It has three external zippers, front, main, and back zippers, leading you to the organisational compartment of the pack.
The pockets are well crafted and organized for your keys, wallet, mirrorless camera, tablets, and water bottle. The front zipper pocket is about 6″ deep, it provides storage for small flat items like your phones, I stash my car keys in there most times.
Its back zipper pocket provides additional storage for safeguarding sensitive items up close, like some cash, passports, or wallets. At the same time, the middle zipper is the main storage of the pack, with other compartments to store your other items.
The main storage interior pocket is armed with a magnetic closure that divides the pack, and the space is padded, which is suitable for safeguarding your sunglasses or other fragile items without adding extra bulkiness to the bag. The main storage can hold your book, iPad, tablet, or other gadgets.
Grams28 154 city pack is designed with our safety very considered. The front zipper has its own hooded zip secured with a flap to prevent intruders from easily assessing it.
The main compartment opens from the back and runs through the front. It is quite a thoughtful means of securing your stuff from wandering hands. You can rock this pack along crowded pathways without overthinking its safety.
Grams28 154 city pack is created with eco-friendly tanning procedures, its Italian leather has consistently been gold-rated as high-quality by the Leather Working Group (LWG).
Not only is it stylish, but it also stands the test of time. The choice of material ensures this bag is not only a fashion statement but also an investment.
It has a lifetime warranty, a 30-day return policy, and no additional cost for shipping.
Specification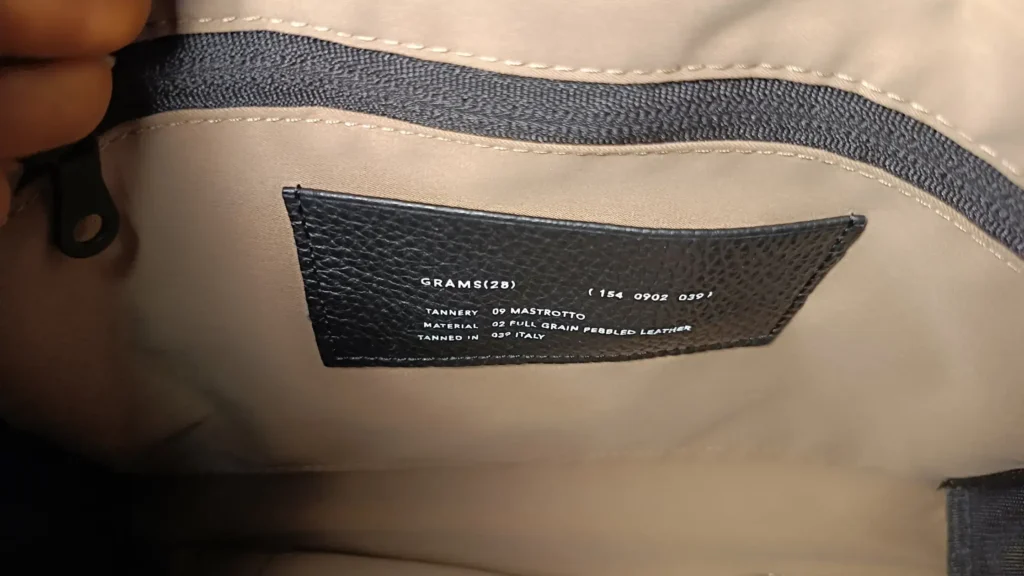 | | |
| --- | --- |
| CODE | (154 0901 039) |
| CATEGORY | 1 CARRY GOODS |
| PRODUCT | 54 |
| TANNERY | 09 MASTROTTO |
| MATERIAL | 01 FULL GRAIN PEBBLED LEATHER |
| COLOR | BLACK |
Features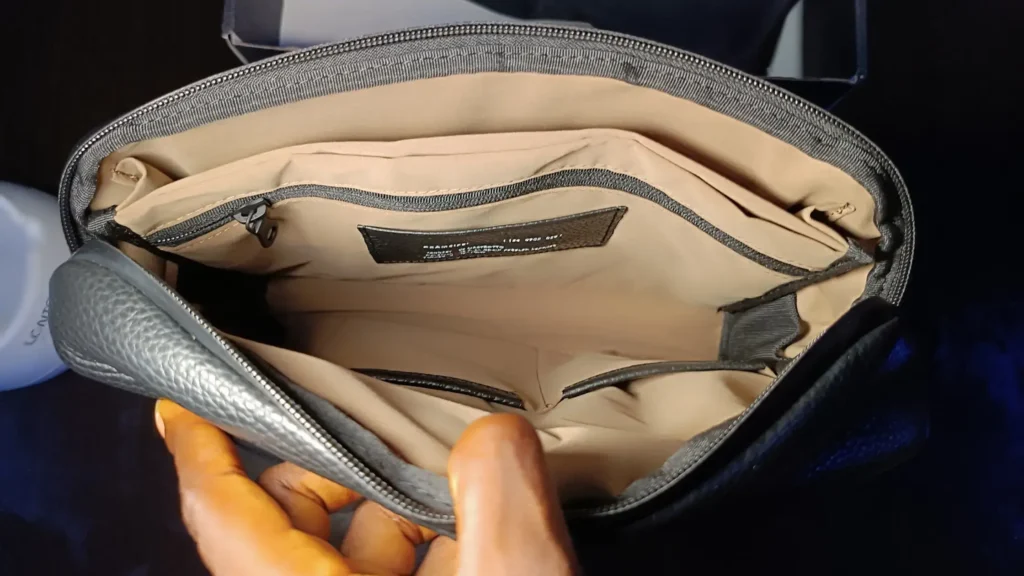 An environmentally-certified and full-grain Italian leather bag.
It has a front zip pocket.
Adjustable straps
Back slot
Removable carry handle
Multiple compartments
The zippers are hooded and sealed to prevent your stuff from getting wet.
The bag interior promotes visibility because of the sand-colored cotton linen used.
You may also like to check out the Best Leather Travel Backpacks for a More Stylish Trip.
PROS
It is easy to handle.
It is easy to style for a preferred look.
Design with a useful compartment and pocket for items as big as a notebook, iPad, or water bottle and small items like wallets and keys.
It requires low maintenance.
It has adjustable straps.
Very safe when walking in the crowd
CONS
What Makes 154 City Pack Unique?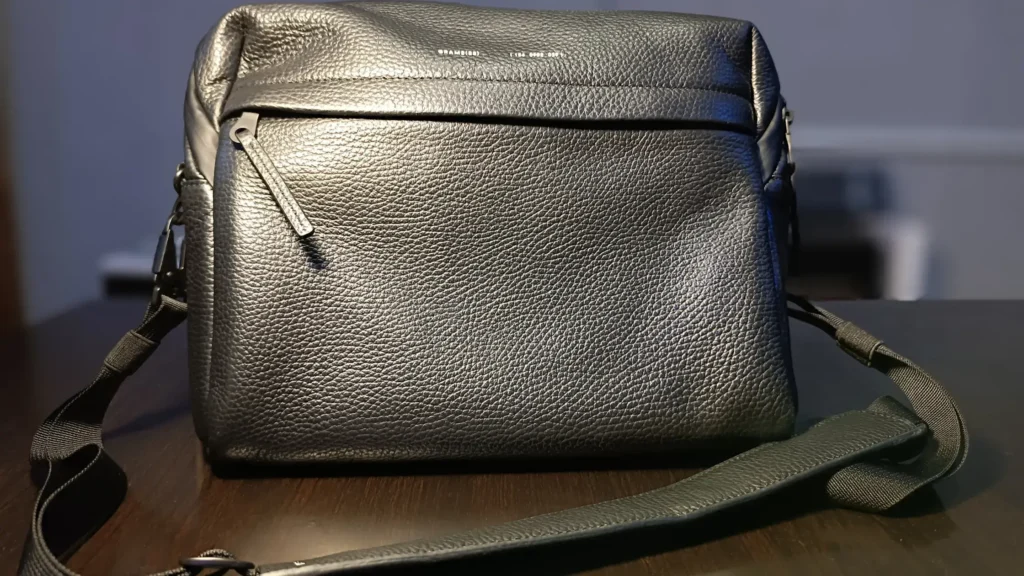 Even though it is relatively easy to find any bag to keep your belongings in, the challenge lies in getting brands that embody quality and functionality. That is what sets the Grams28 154-city pack apart.
It's made from exceptional leather, comes with a lifetime warranty, and is armed with several compartments and zippers. With so much to deal with daily, keeping several items in your bag can wear it out.
The 154 City Pack doesn't just look good; it's incredibly comfortable to carry. Its adjustable straps and ergonomic design make it a breeze to wear. No more discomfort or back strain from carrying your essentials.
But the 154 City Pack's thoughtful design creates the perfect space for small items that often vanish in a satchel and bigger items that often don't fit in a purse. It's a bag that not only complements your lifestyle but also goes the extra mile to ensure your daily essentials, no matter their size, are organized, accessible, and protected.
Why should you have the 154-City Pack?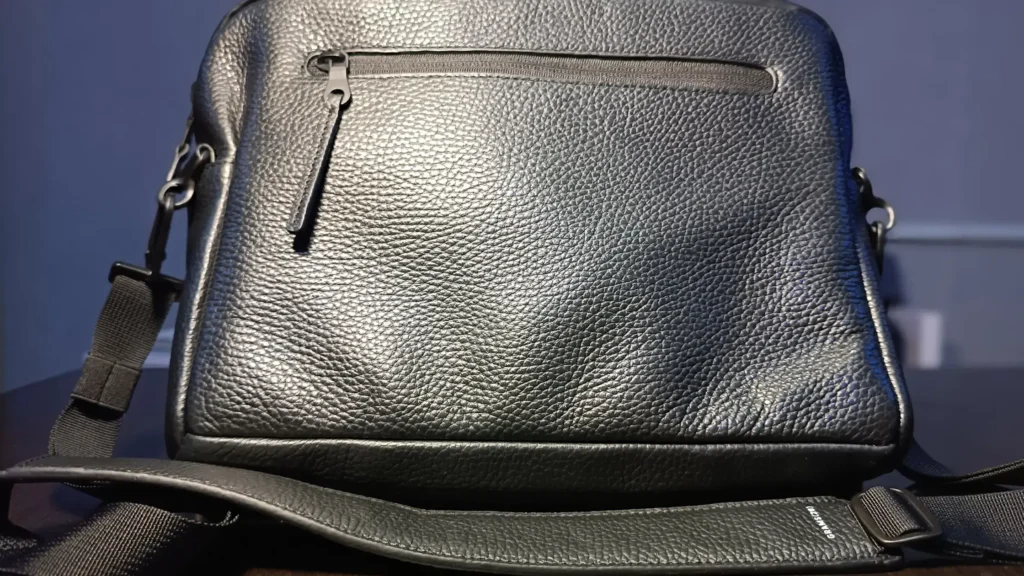 It is not enough to get just any bag; have something that's your durable and reliable buddy anywhere you go. Why carry another bulk on your shoulder when there are enough life issues to meander with? If a bag doesn't make you swifter, safer, and smarter, it isn't worth your bucks.
Designed to be lightweight, durable, and comfortable, the 154 City Pack suits everyone and multiple occasions. While being practical for your needs, it has a timeless and sophisticated design that doesn't forgo fashion for functionality.
It's easy to be chic with multiple outfits and adjust its straps for your size. Its tailor-made compartment makes it easy to store essentials. This bag is a perfect vehicle for your everyday essentials and tech gear.
Read more on 35 Creative Anything But A Backpack Day Ideas.
Frequently Asked Questions
What Can the 154 City Pack Hold?
The 154-city pack is designed to hold a lot of things, ranging from items as small as keys, ear pods, pens, and sanitizer to items as big as a notebook and iPad.
What are the special features?
The 154-city pack has special sunglasses or fragile items pocket. This pocket is soft and padded with magnetic closure to safeguard your fragile items amidst a full bag. It also has multiple compartments that keep your items in the right place at all times.
The interior colour helps for proper visibility of your items; this helps you locate even your tiny item quickly.
What Leather Is Used?
The 154-city pack was made with full-grain pebbled leather from Mastrotto, Italy.
Can I Change My Shipping Address?
You can change your shipping address within 48 hours. Keep in mind that your shipping address cannot be changed after your order has been shipped.
What If I Reject The Shipment?
We understand that duties and taxes play a big role in impacting your decisions to make a purchase, which is why we will do our best to help mitigate these taxes and provide the best international shipping experience that we can.
However, failure to comply with the payment of such fees will result in your order being canceled and the issue of a refund, minus the initial shipping cost + return shipping fees + a $10 handling fee + any expense and penalty generated by such action.
That is, if your total payment is $110 ($100 for the items + $10 for shipping), the return shipping fee is $14, the customs penalty is $12, and the handling fee is $10, you will receive a refund of $64 ($110 – $10 – $14 – $12 – $10).
Don't Wait Too Long!
The Grams28 154 City Pack is the best bag, and it is perfect for all occasions, whether you're dressing casually or formally. Just style it as you like.
It is comfortable to carry, and customer needs and safety were put into consideration before the design of this bag. Owning it is a treasure and an investment.
This pack should be your go-to pack; as a man, you need it, so own it. I love this pack for the sense of safety it gives me, and the organization is top-notch. Let me emphasize the quality. It's a lifetime guarantee pack to show the level of confidence.
Grams28 154 city pack does not just solve your organizational problem; it does that in style. To sum it up, the 154 City Pack isn't just a bag; it's your everyday companion. Don't settle for just any bag; choose the 154 City Pack for comfort, organization, and timeless style.