Discover the Beauty of Attenborough Nature Reserve: A Sanctuary for Wildlife and Nature Enthusiasts
Welcome to Attenborough Nature Reserve, a place for biodiversity and the marvels of nature. This vast reserve in Nottinghamshire appeals to both nature and animal lovers.
Attenborough Nature Reserve is undoubtedly one of England's best places to visit. David Attenborough officially opened the Reserve, hence its name. Attenborough is a lovely place to be, whether hiking along one of its many paths or just taking in the beauty of nature.
Get lost in the peaceful embrace of verdant surroundings, quiet lakes, and blooming wetlands. Attenborough Nature Reserve, a haven for various bird species, is a birdwatcher's heaven.
Come with us as we set off on a memorable tour through this ecological treasure trove, where every turn reveals nature's unmatched beauty and amazing feats.
Today, we will explore what makes this site unique and a center of attraction for over 500,000 visitors annually.
Brief History and Background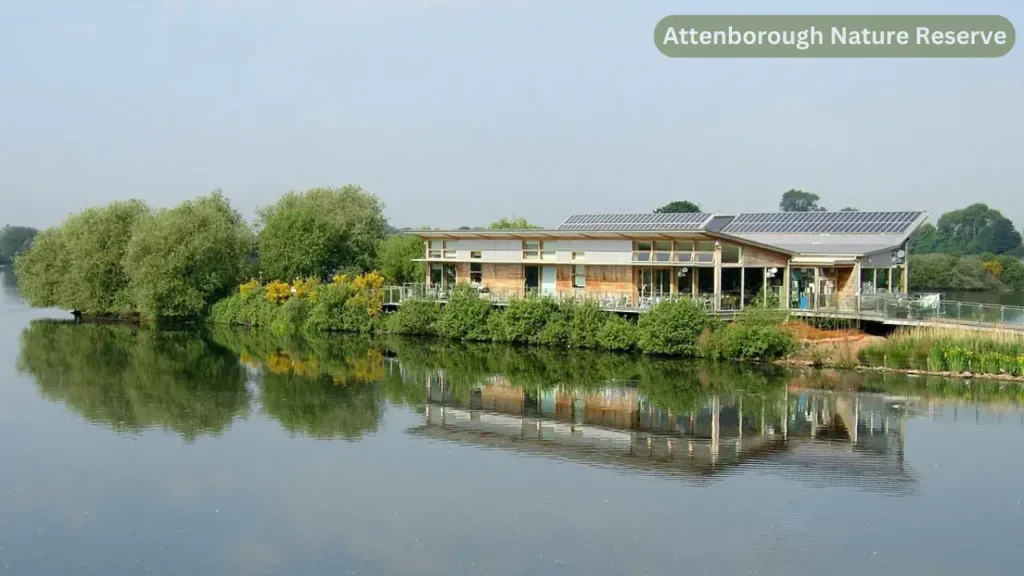 The Attenborough Reserve, or Attenborough Nature Centre, is in Nottinghamshire, England. It was named after Sir David Attenborough, a renowned naturalist, and broadcaster, for his contributions to wildlife conservation and close association with the region.
The Nottinghamshire Wildlife Trust oversees the reserve, which opened in 1966. Initially formed as a gravel pit, the area was transformed over time into a rich wetland habitat.
The site now includes a mix of lakes, wet meadows, woodlands, and grasslands, providing an ideal environment for various plant and animal species.
The primary goal of the Attenborough Reserve is to promote biodiversity and conservation by preserving and enhancing the natural habitats found in the area.
It has become a popular destination for nature enthusiasts, hikers, birdwatchers, and wildlife photographers, offering a unique opportunity to observe and appreciate various wildlife species up close.
The reserve also plays a crucial role in environmental education and community engagement, organizing programs and events to raise awareness about the importance of protecting natural ecosystems and wildlife.
What to Know Before You Go?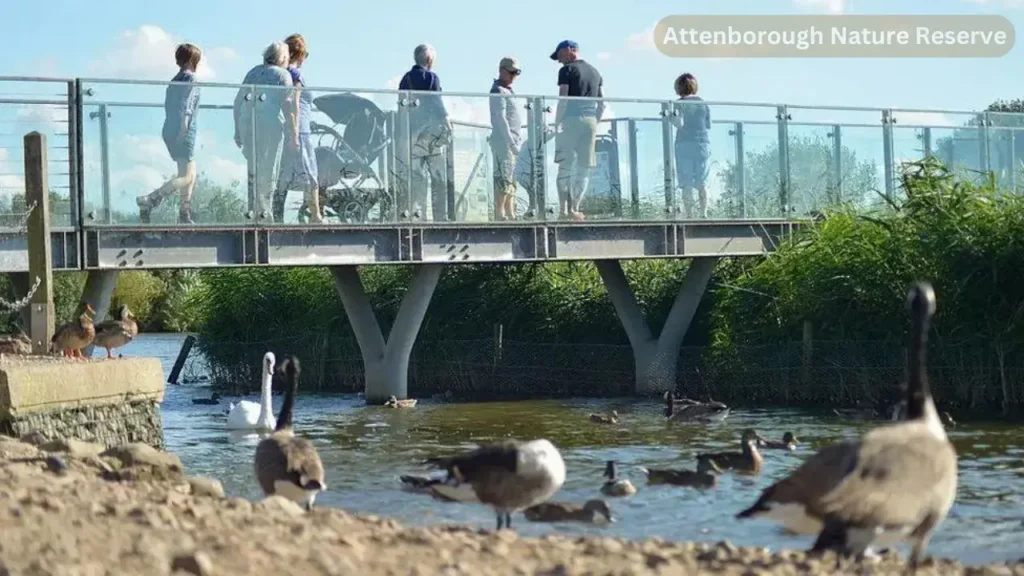 Want to pay a visit to one of the most beloved reserves in England? Here are some things you should know before you go:
Location: Attenborough Nature Reserve is @Barton Lane Attenborough, Nottingham Nottinghamshire NG9 6DY.
Size: 220 hectares (540 acres)
Country: England.
Fee: There is no entry fee.
Parking information: Car Parks are usually Open from 9:00 a.m. to 8:00 p.m. all day for a fee of £3.
Walking trails: Walking trails are available for visitors and guests around the reserve. There is also a wheelchair site for visitors who use wheelchairs.
Grazing animals: Animals allowed to graze are usually sheep and cattle.
Access: Anyone can access the reserve. There is a disabled-friendly park for disabled visitors. The park suits wheelchairs, pushchairs, cars, and bicycles.
Facilities available: The following is a list of facilities offered at Attenborough's Reserve. 
Visitor center
 Bird hides
 Toilets/shower rooms
 Shop
 Cafe/restaurants
 Picnic center
 Baby changing facilities
 Wifi
 Disabled parking
 Accessible trails
You may like to check out:
Exploring Big Marine Park Reserve: A Natural Gem
Aquila Private Game Reserve & Spa: Embark on a Safari Adventure in South Africa
Bird Species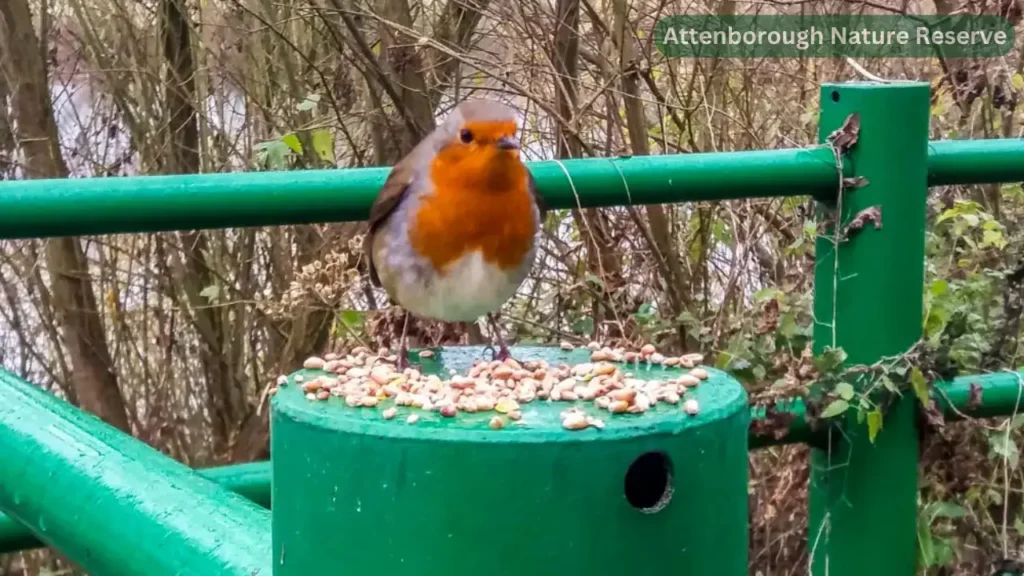 Here is a list of bird species that inhabit the Reserve.
Sand Martin 9. Goosander
 Grey heron 10. White deadnettle
 Water rail 11. Golden eye
 Cetti's Warbler 12. Woodcock
 European Otter 13. Snipe
 Peppered moth 14. Goldcrest
 Noctule 15. Orange-tip
 Bittern 16. Oystercatcher
Other animal species include:
Kingfishers, bats, and Sawbills
 Shrews and Harvest Mice
 Dragonflies and Butterflies
 Colorants in Sea Ducks
 Migrant birds, etc.
Habitat
Available habitat: Westlands, lowlands meadows and pastures, Wet woodland.
When is the best time to visit Attenborough Nature Reserve?
You can visit Attenborough all year. Although the reserve is usually open on Christmas Day, the center is closed.
During Spring, you get to find butterflies; during Summer, you see the Sand Martin; and in winter, you find Starling murmurations.
Contact email and Phone number
Website: nottinghamshirewildlife.org/Attenborough
Phone number: 0115 9721777
Operational Hours (Opening / Closing Hours)
Before you visit,  it is very important that you are familiar with the opening and closing hours.
| Area/Centre | Summer Opening Hours | Winter Opening Hours | Christmas Day |
| --- | --- | --- | --- |
| Car Park | 8:00 a.m. – 8:00 pm | 8:00 am – 8:00 pm | Closed |
| Nature Centre | Mon-Fri: 9:00 am – 5:00 pm | Every day: 9:00 am – 4:00 pm | Closed |
| Cafe | Mon-Fri: 9:00 am – 4:30 pm (Summer) | Every day: 9:00 am – 4:00 pm (Winter) | Closed |
|   | Sat-Sun: 9:00 am – 5:30 pm (Summer) |   |   |
| Centre Function Rooms | Everyday: 9:00 am – 5:00 pm | Everyday: 9:00 am – 5:00 pm |   |
| Outside Ice Cream Pod | Fri-Sun: 10:30 am – 3:30 pm | Fri-Sun: 10:30 am – 3:30 pm |   |
| Hides | Everyday: 9:00 am – 4:00 pm | Everyday: 9:00 am – 4:00 pm |   |
Things to do at the Attenborough Reserve
Like every other Reserve, there are many things you can do when visiting Attenborough Reserve. Let's find out:
Chilling in the Cafe
If you are looking for a comfortable spot to chill with some good refreshments, there is a cafe in the Reserve for both guests and visitors.
Hot and cold food and drinks are served, and if you are on a diet, great vegan and gluten-free options are available from 9:00 a.m. to 4:00 p.m. every day.
Butterflies watching
Over 20 species of butterflies are typically recorded in the Reserve during the Summer. If you visit during this period, you will see, observe, and learn much about them. This can be a better way to escape stress during the Summer holidays.
Birds watching
For avid bird lovers and watchers, no better place beats Attenborough in England in terms of avian animals. 
Attenborough is home to several different kinds of birds all year. And this could be your opportunity to see famous birds like the kingfisher.
Wildlife photography
Having a camera with you can be advantageous, as you can take pictures of the surroundings, the arrays of beautiful flowers, and the wide varieties of colorful birds.
You can also document precious moments during your stay at the reserve and share them on social media with friends and family.
However, besides the abovementioned things, visitors can also explore the trails, go hiking or fishing, or take guided tours. If that's not enough, you can visit other nearby attractions, which we will discuss shortly.
Nearby Attractions
Attenborough offers a variety of nearby attractions for visitors to explore. Nature enthusiasts can immerse themselves in the beauty of Attenborough Nature Reserve, a peaceful sanctuary with walking trails and bird-watching opportunities.
Wollaton Hall and Deer Park is a splendid mansion with gardens and a deer park surrounding it. Just a short trip away in Nottingham City, Nottingham Castle stands tall, providing insights into the area's rich history.
For a taste of city life, visitors can explore the vibrant streets of Nottingham with its shopping areas, restaurants, and cultural hotspots, where they can take a chill and relax.
Sports enthusiasts might want to catch a cricket match at Trent Bridge, while those interested in industrial heritage can discover the Nottingham Industrial Museum, which is only about 6.3 miles away.
You don't want to miss out on:
The Serenity of Lake Mathews Estelle Mountain Reserve: A Nature Lover's Paradise
Woodward Reservoir Camping: Unwind and Connect with Nature's Beauty
Rules and Regulations – Attenborough
Here are some essential rules and regulations you must follow during your visit to Attenborough:
By following these simple steps, visitors can contribute to preserving wildlife and ensuring a safe and enjoyable experience for everyone at the site.
Frequently Asked Questions (FAQs)
Do you have to pay for parking at Attenborough Nature Reserve?
Yes, parking at Attenborough Nature Reserve is fee-based. For £45, you may get a yearly parking pass, which costs £3 for the whole day. Members, employees, and registered volunteers of the Nottinghamshire Wildlife Trust who are based at Attenborough are entitled to free parking.
The reserve's entrance is where you'll find the parking lot, open from 8 am to 8 pm. Arriving early is advised, particularly during busy periods, since many places are available.
Is Attenborough nature reserve open?
Yes, Attenborough Nature Reserve is open. Except on Christmas Day, the reserve is available daily from 9 am to 4 pm. The parking lot is accessible from 8 am to 8 pm.
However, certain limitations are in place because of the current avian flu epidemic. Certain reserve areas and the Nature Centre and Café are temporarily closed. On the Nottinghamshire Wildlife Trust website, you may learn more about the limitations.
Where is Attenborough nature reserve?
The Attenborough Nature Reserve can be found in Attenborough, Nottinghamshire, England, 5 miles (8 km) or so southwest of the heart of Nottingham.
With assistance from Broxtowe Borough Council, it is owned and operated by Nottinghamshire Wildlife Trust.
Are pets allowed?
Attenborough has not publicly declared whether or not pets like cats or dogs are allowed. However, check out their official website for more information.
Enjoy Your Vacation At Attenborough Nature Reserve
Attenborough is an ideal spot for birdwatching, with more than 200 recorded species of birds all year round.
With its varied landscapes, including wetlands, woodlands, and grasslands, Attenborough offers residents and migratory birds a haven.
Ornithologists and nature lovers flock to this area to witness the incredible array of feathered wonders in their natural environment. From elegant waterfowl to soaring raptors, Attenborough is a true paradise for birdwatchers seeking an unforgettable experience.
Disclaimer: Vasttourist always strives for content accuracy. Since the time of publishing, travel-related information regarding pricing, schedules, and hours may have changed. Please see individual websites embedded in this post for the most current trip-planning information.

Unless otherwise stated, Vasttourist does not claim ownership of any images used on our blog site. The respectful owners of all visual content have copyright protection. We try to include links to the sources. If any images are your property and you do not want them to appear on our blog, don't hesitate to contact us; we will take them down immediately. We support properly crediting the original writer, artist, or photographer.