Exploring Big Marine Park Reserve: A Natural Gem
Greetings from the beautiful outdoors! Today, we will explore the Big Marine Park Reserve's natural beauty and recreational options.
Situated on the St. Croix between Hugo and Marine in northern Washington County, this park reserve is a magnificent example of the diversity and grandeur of nature.
Be it a passionate wildlife enthusiast, an enthusiastic bird watcher, or someone who enjoys nature's peace, Big Marine Park Reserve has something to offer everyone.
There are plenty of things to do for guests of all ages, from the playground's massive climbing rock and 18-foot slide to the family-friendly swimming beach on Big Marine Lake.
Nothing beats having a fun-filled holiday where all you do is hike, boat, fish, or cool off in the waters during the summer heat. Do you prefer birdwatching or nature walks? The Big Marine Park Reserve is the ideal spot.
Now, let's explore and find out why outdoor enthusiasts and nature lovers should take advantage of Big Marine Park Reserve!
Things to Know Before You Go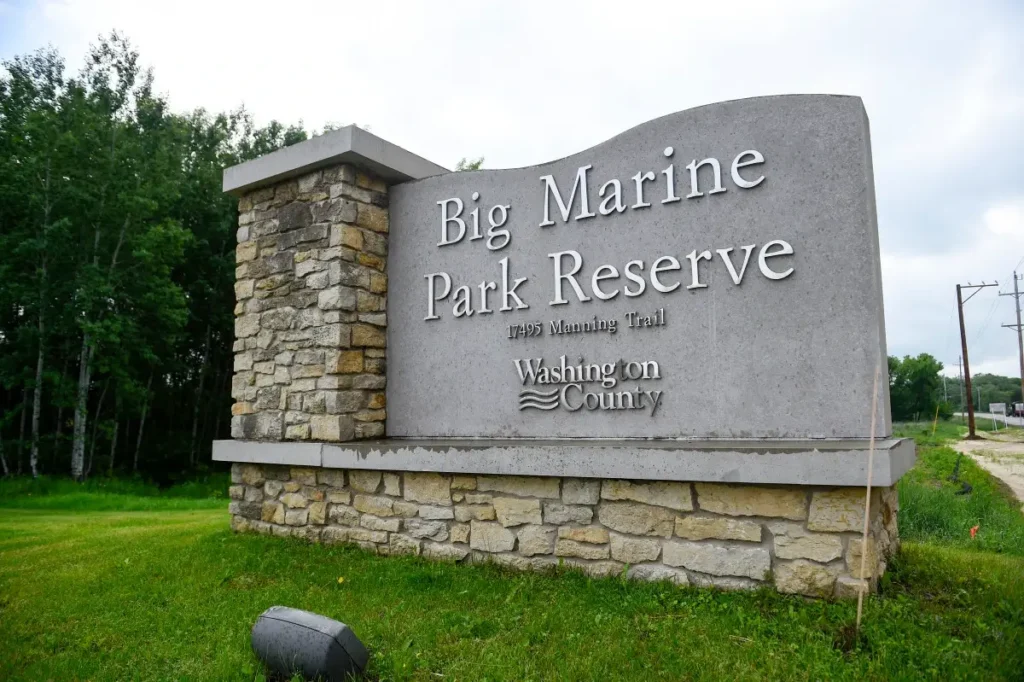 Here are some crucial things you should know before you visit.
Reserve: 1,800 acres
Location: 17495 Manning Trail North Marine on St. Croix, MN 55047
Seasons opened
Open in Summer
 Open in Winter
Features
Bicycling
 Canoe/Kayak Launch
 Cross-country ski trails
 Fishing Pier
 Grilling Area
 Hiking Trails
 Motorized Boat Launch
 Multi-Use Trails
 Park Office
 Paved Trails
 Pavilion
 Playground
 Self-Service Pay Station
 Snowmobile Trails
 Swimming Beach
Recreational activities
Swimming
 Hiking
 Boating
 Wildlife viewing
 Snorkeling
 Relaxing
 Picnicking
 Camping etc. 
Accessibility
Wheelchair-accessible car park
 Wheelchair-accessible entrance
Campground Type
Ground moraine, upland, and wetland
Rates
Washington County Parks Vehicle Permit – Daily: $7
 Washington County Parks Vehicle Permit – Annual: $30
Boat launch hours
Between 6 a.m. – 11 p.m
Wildlife species
White-tailed deer – Red fox
 Eastern cottontail rabbit
 Gray squirrel (Raccoon)
 Beaver – Otter
 Eastern box turtle
 Painted turtle – Bullfrog
 Great blue heron
 Bald eagle – Osprey
 Wild turkey      
 Red-tailed hawk
 Barred owl
 American woodcock
 Eastern Bluebird
Butterfly
Eastern tiger swallowtail butterfly
 Monarch butterfly
 Black swallowtail butterfly
Flowers and Plants
Purple coneflower
 Common milkweed
 Black-eyed Susan
 Wild bergamot
 Swamp milkweed
 Virginia bluebell
 Yellow lady's slipper orchid
 Trillium       
 Jack-in-the-pulpit
 Wild Columbine
Children
Good for kids
 Kid-friendly hikes
 Playground available
Contact information
Main number: 651-430-8200
Email: [email protected]
Official Closing Days
January 16: Martin Luther King Jr. Day
February 20: President's Day
April 9: Easter
September 4: Labor Day
November 11: Veterans Day
November 12: the day after Veterans Day
November 23: Thanksgiving
November 24: the day after Thanksgiving
December 25: Christmas Day
January 1, 2024: New Year's Day
Operational hours
| Days of the Week | Opening Hours | Closing Hours |
| --- | --- | --- |
| Mon – Fri | 6:00 am | 10:00 am |
| Sat – Sun | 6:00 am | 10:00 am |
You may like to check out:
Aquila Private Game Reserve & Spa: Embark on a Safari Adventure in South Africa
Discover the Serenity of Lake Mathews Estelle Mountain Reserve: A Nature Lover's Paradise
5 Must-See Parks and Reserves while on Tanzania Safaris
Brief History and Background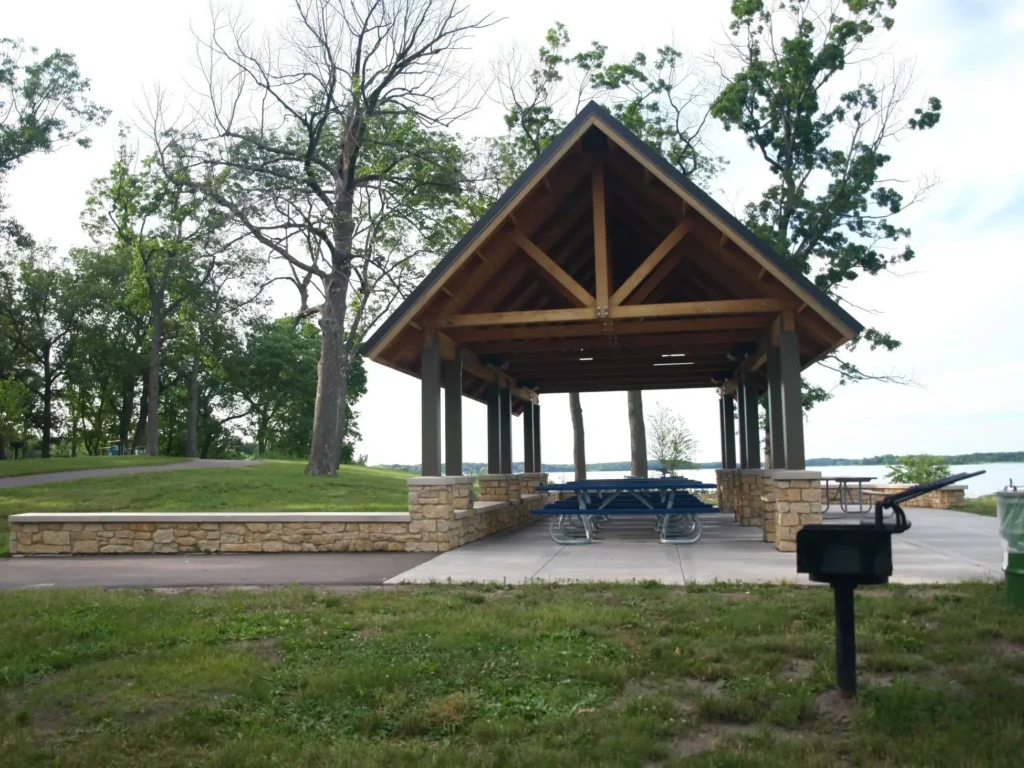 Big Marine Park Reserve is a picturesque natural area in Washington County, Minnesota. Established in 1972, the park encompasses around 1,800 acres of rolling hills, pristine lakes, and dense woodlands.
The park, which the county initially bought to create a public recreation area, has become a popular destination for outdoor enthusiasts.
The park's history dates back to the early 20th century when the area was primarily used for farming and logging. Over time, the land transitioned to recreational use, offering various activities such as hiking, camping, fishing, and boating.
Its diverse ecosystems support a variety of wildlife, making it a popular spot for birdwatching and nature observation.
Efforts to preserve the park's natural beauty and ecological significance have been ongoing, with conservation initiatives and community involvement playing crucial roles. The Big Marine Park Reserve is an escape from urban life and a connection to the region's natural heritage.
What to do When You Visit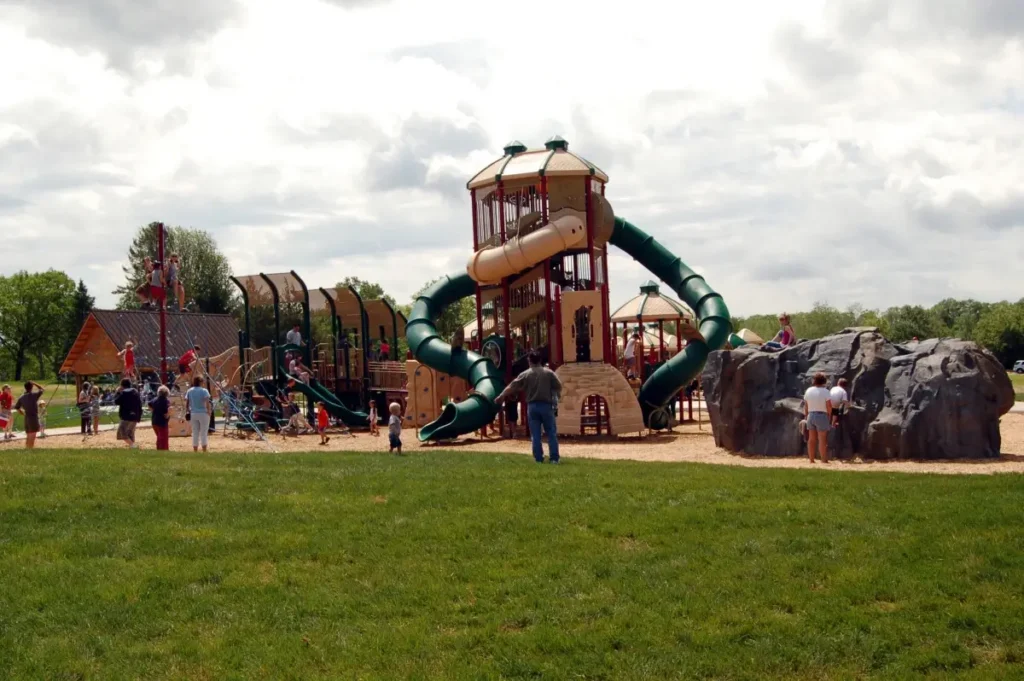 Here are some of the many things you could do when you visit Big Marine Park Reserve:
Hiking and Nature Trails
Through hiking trails, you can explore the park's beautiful landscapes and diverse ecosystems. Visitors can enjoy stunning views of the surrounding nature and spot some wildlife.
Boating and Fishing
Big Marine is a good fishing spot where you can use the park's water access for boating, kayaking, or fishing. The park's water bodies offer an excellent opportunity to enjoy water-based activities.
Picnicking
Have you ever considered where you can spend quality time with family and friends? Big Marine has a designated picnic area where you can unwind, pack a picnic, and spend a leisurely day in the great outdoors.
Wildlife Watching
The park is home to various wildlife, including birds, deer, and more. Bring your binoculars and camera to capture some incredible moments. It's sure going to be fun as you explore wildlife habitats. 
Educational Programs
Check if the park offers any educational programs or guided tours. Learning about the park's history, ecology, and conservation efforts can enrich your visit.
Nearby Attractions
Some unique nearby attractions offer a mix of outdoor adventures, water-based activities, and serene spots to enjoy nature in the Big Marine Park Reserve vicinity. They are as follows:
Lake Elmo
Lake Elmo is a picturesque lake known for its recreational opportunities. Tourists often visit for boating, fishing, and picnicking. The surrounding area might have hiking trails and scenic spots to enjoy nature.
Hardwood Creek Regional Trail
This trail offers a scenic route for winter hiking, biking, and even cross-country skiing. It's a great way to explore the area's natural beauty and stay active.
Croix River
The St. Croix River is a beautiful river forming part of Minnesota and Wisconsin's border. It's known for its stunning views, water-based activities like kayaking and canoeing, and the chance to experience the riverside charm of nearby towns.
Big Marine Lake
Big Marine Lake is another lovely lake in the region, perfect for fishing, boating, and relaxing by the water.
Vets Rest Camp
Vets Rest Camp is a campsite or recreational area dedicated to veterans. It serves as a peaceful campsite for camping, connecting with nature, and participating in outdoor activities.
Read more: Woodward Reservoir Camping: Unwind and Connect with Nature's Beauty
Rules and Regulations: Big Marine Park Reserve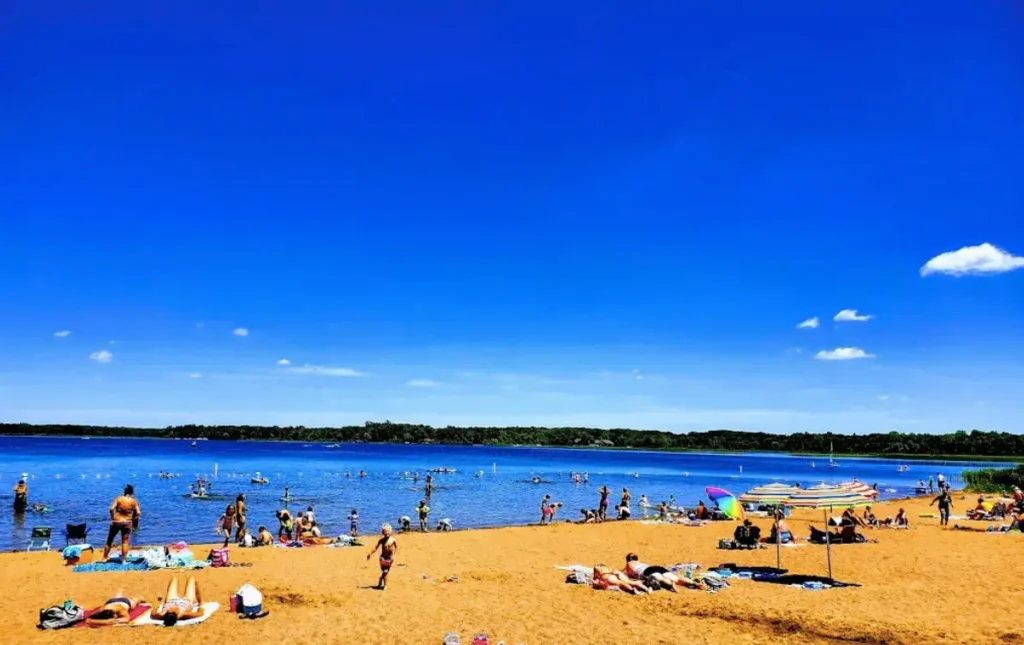 The Big Marine Park Reserve has specific rules and regulations in place for the enjoyment of all visitors. However, compliance with these rules and regulations may result in penalties or expulsion from the park premises.
Parking Policy
Vehicles must be parked only in designated parking areas.
Follow all posted speed limits within the park premises.
Only overnight parking is allowed with prior permission.
Accessible parking spots are reserved for vehicles with valid permits.
Pets Policy
Pets are allowed in designated areas only and must always be on a leash.
Owners are responsible for cleaning up after their pets.
Aggressive or disruptive pets must be removed from the park immediately.
Exotic pets and animals that may disturb wildlife are not allowed.
Reservation and Cancellation Policy
Park reservations must be made in advance through the official booking system.
Reservation cancellations must be made 48 hours before the scheduled visit for a full refund.
No-shows or cancellations made less than 48 hours in advance will not be eligible for a refund.
Reservations are exclusive to the person or group named in the booking and are non-transferable.
Wildlife and Environment
Do not disturb, feed, or approach wildlife within the park.
Stay on marked trails and paths to avoid disrupting natural habitats.
No hunting, fishing, or removal of plants, rocks, or artifacts is allowed.
Properly dispose of trash and recyclables in designated containers.
Noise and Behavior Policy
Respect the park's quiet hours, especially during the evening and early morning.
Loudspeakers, radios, or other noisy devices should not disturb other visitors.
Disorderly conduct, including vandalism and public intoxication, will not be tolerated.
Abide by all posted signs and warnings to ensure personal safety.
Camping and Fires Policy
Camping is allowed only in designated camping areas.
Campfires are permitted only in designated fire pits or grilling areas.
Campfires must be fully extinguished before leaving the site or going to sleep.
Follow fire safety guidelines and park staff instructions to prevent accidental fires.
Before You Go…
In the heart of Minnesota lies the remarkable Big Marine Park Reserve, a haven for those seeking an unforgettable holiday escape. The park offers a spectrum of activities throughout the year, from invigorating hikes to tranquil boating and fishing.
Nature enthusiasts can enjoy birdwatching and nature walks, surrounded by the reserve's pristine beauty. Whether hiking, boating, or simply cooling off in its waters, this reserve promises a memorable retreat, making it a must-visit destination for nature lovers and holiday seekers alike.
Frequently Asked Questions (FAQs)
Can I bring my pet to Big Marine Park Reserve?
Yes, pets are allowed in designated areas of the park, but they must be kept on a leash at all times. However, only assist/guide dogs are usually allowed as pets in the reserve.
Can I engage in birdwatching at Big Marine Park Reserve?
Yes, you can. The park's diverse ecosystems make it an excellent spot for birdwatching. With various bird species residing in the area, you can bring your binoculars and enjoy observing the local avian inhabitants.
Are there any accessibility features for visitors with disabilities?
Yes, they are. Big Marine Park Reserve provides accessible facilities and experiences for all visitors. This might include wheelchair-accessible trails, ramps, accessible restrooms, and more.
Disclaimer: Vasttourist always strives for content accuracy. Since the time of publishing, travel-related information regarding pricing, schedules, and hours may have changed. Please see individual websites embedded in this post for the most current trip-planning information.

Unless otherwise stated, Vasttourist does not claim ownership of any images used on our blog site. The respectful owners of all visual content have copyright protection. We try to include links to the sources. If any images are your property and you do not want them to appear on our blog, don't hesitate to contact us; we will take them down immediately. We support properly crediting the original writer, artist, or photographer.