Union Valley Reservoir Camping: Embrace Nature's Tranquility at its Finest
Welcome to Union Valley Reservoir Camping, an enchanting haven amid breathtaking scenery and an ideal spot for nature lovers. This beautiful location in the Sierra Nevada mountains entices travelers with its calm waters and green surroundings.
Set off on a journey packed with starry evenings spent camping, fishing expeditions, and hiking paths. Union Valley Reservoir provides a memorable experience for everyone, whether you're looking for family entertainment or a solitary getaway.
For nature freaks, discover a hidden gem while traveling between Reno and Sacramento: Union Valley Reservoir. Pitch your tent along the shoreline, and engage in outdoor adventures like fishing, hiking, and stargazing.
Join us as we explore this hidden gem's wonder and discover how the beauty of nature can be found everywhere. Get ready to be enthralled by the unending fascination of Union Valley Reservoir Camping.
Things You Should Know About Union Valley Reservoir Camping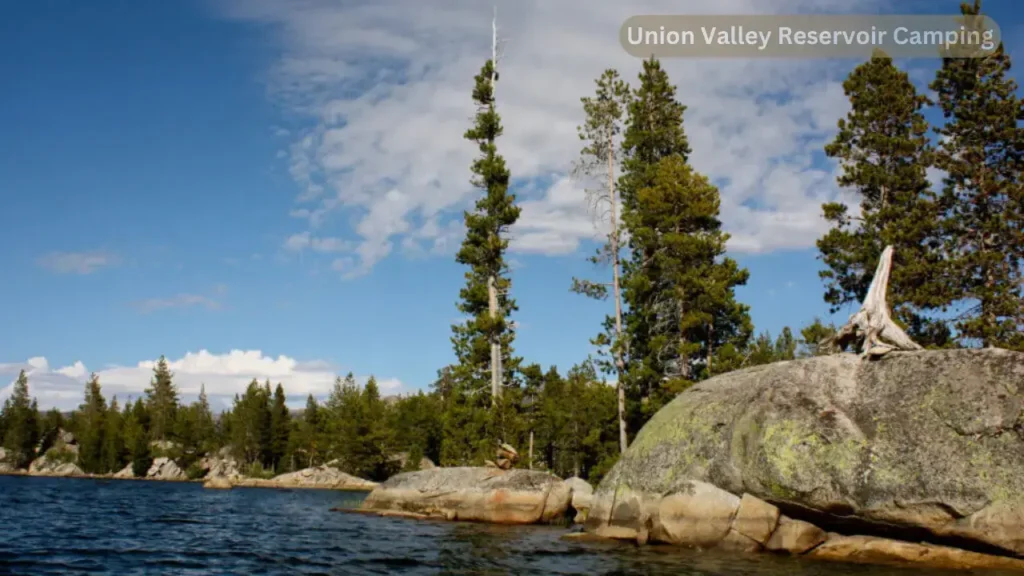 However, here are some things you should know about Union Valley Reservoir Camping:
You may like to check out: Discover the Beauty of Ruedi Reservoir Camping: A Serene Outdoor Escape.
Brief History and Background
Union Valley Reservoir Camping is a popular outdoor recreational destination in the El Dorado National Forest of California, USA.
The reservoir was created in 1963 when the Union Valley Dam was constructed across the South Fork of the American River. The dam's primary purpose was flood control, water storage, and hydroelectric power generation.
The area around Union Valley Reservoir has a rich history, with evidence of Native American settlements dating back thousands of years. In the mid-19th century, during the California Gold Rush, the region witnessed an influx of prospectors searching for gold.
However, the gold rush eventually subsided, and the focus shifted toward logging and timber production.
In the early 20th century, the U.S. Forest Service recognized the recreational potential of the area and began developing campgrounds and trails. The creation of the El Dorado National Forest in 1910 further solidified the preservation and management of the region for public use.
Over time, Union Valley Reservoir Camping gained popularity among outdoor enthusiasts for its scenic beauty, pristine waters, and recreational opportunities.
Today, it offers visitors a range of activities, including camping, fishing, boating, hiking, and wildlife watching. Campers can choose from multiple campgrounds scattered around the reservoir, each offering different amenities and levels of solitude.
As with any outdoor recreation area, responsible camping practices and environmental stewardship are essential to preserve the beauty and ecological integrity of Union Valley Reservoir for generations to come.
You may also like to read more on:
Camp Williams Military Reservation: Discovering Utah's Historic Training Grounds
Discover the Serenity of Lake Mathews Estelle Mountain Reserve: A Nature Lover's Paradise
Things to Do at Union Valley Reservoir Camping
Here are some cool things you can do during your visit to Union Valley Reservoir Camping:
Camping
Set up a cozy campsite with tents, sleeping bags, and camping chairs. You can host a picnic with friends and family, take pictures and spend quality time together.
Swimming
Those who love swimming can enjoy swimming and water activities in the clear waters of Union Valley Reservoir. Come with your swimsuits and everything you need to make your stay memorable. 
Fishing
Union Valley Reservoir is a habitat for a wide variety of fishes. You can go fishing for trout, bass, or other fish species abundant in the reservoir. However, ensure your activities comply with the water authorities to avoid trespassing on any boundaries.
Hiking
You can hike along the reservoir's scenic trails to experience a more fulfilled stay. There are several different pathways to select from at the well-liked hiking destination of Union Valley Reservoir.
There is something for everyone on the paths, which vary from simple to difficult. Beautiful views of the reservoir, mountains, and woods are available to hikers.
Whatever your experience level, Union Valley Reservoir has a path you will appreciate. So put on your hiking boots and discover this incredible location's beauty!
Photographing & Stargazing
You can capture the beautiful sunset and sunrise moments with your camera. And at night, Stargaze and marvel at the pristine night sky away from city lights. Take pictures of the clear night and document precious scenes during your stay. 
Paddle Boarding
Union Valley also provides paddle-boarding opportunities for visitors wanting to engage in something adventurous. Try your hand at paddle boarding or kayaking on the calm waters.
Union Valley Reservoir Camping Grounds
Here is a list of camping grounds you can find at Union Valley Reservoir:
West Point Campground
Located in Pollock Pines, CA 95726, this no-frills campground with eight sites offers a boat ramp and vault toilets for a refreshing stay. Open from June to October, reservations are not required, and the nightly rate is $25.
Wolf Creek Campground
Located on the north shore of Union Valley Reservoir, this modern campground features 44 non-electric sites, including 3 group sites and some tent-only sites.
With amenities like picnic tables, fire rings, and bear lockers, it welcomes visitors from late May to early September, with rates ranging from $28 to $56 per night.
Yellow Jacket Campground
Simple yet inviting, this Kyburz-based campground offers nine regular-size sites and ten tent-only spots. Some areas are reservable, while others are first-come, first-served.
The camping experience includes picnic tables, grills, and fire rings. The nightly rate is $28, with an additional $10 dump fee.
Wench Creek Campground
Set on the reservoir's east shore, this campground boasts nicely paved roads and proximity to the water.
Enjoy the 4.5-mile hike to Bassi Creek Upper Falls and use the provided amenities: flush and vault toilets, fire rings, grill grates, and bear boxes. Sites are available at $28 per night on a first-come, first-served basis.
Azalea Cove Campground
For a unique experience, visit this walk/bike/boat-in-only campground, which is 1/2 miles from the nearest parking area. With ten secluded campsites, privacy is guaranteed.
Campers must bring their ownr water, but picnic tables, campfire rings, and vault toilets are provided. The campground is open from late May to early September and has no fee.
Big Silver Group Campground
Ideal for groups, this campground offers a variety of sites, including three tent sites, four RV-accessible sites, and three walk-in tent sites.
There's a group kitchen area with tables, grills, and a campfire circle. Please note that no water or electricity is available at this campground, located approximately 25 miles from the nearest town. The nightly rate is $145.
Fashoda Campground
Experience the beauty of Union Creek Reservoir while camping at Fashoda Campground. It features walk-to-tent camping with showers, vault toilets, grills, and drinking water. With 30 non-electric tent-only sites available at $28 per night, it promises a scenic and enjoyable stay.
Sunset Campground
Offering breathtaking sunset views, this popular camping area in the national forest is surrounded by towering cedar and ponderosa pines. With 131 campsites, including 30 tent-only sites, this campground accommodates various preferences.
Amenities include picnic areas, showers, a beach, vault toilets, and drinking water. Rates during peak season range from $28 to $56 per night, with additional online registration fees.
Jones Fork Campground
Open from June to October, this simple park provides a tranquil camping experience with vault toilets. It operates on a first-come, first-served basis, and the nightly rates are $10 for a single-family site and $5 for each extra vehicle.
Camino Cove Campground
One of the most beautiful spots on the reservoir, Camino Cove offers 32 first-come, first-serve campsites with fire rings and vault toilets. Although lacking picnic tables, grills, or piped water, camping here is free and rewards visitors with scenic views of the nearby mountain range.
Time to spare? Why not check out Aquila Private Game Reserve & Spa: Embark on a Safari Adventure in South Africa.
Frequently Asked Questions (FAQs)
How can I make a camping reservation at Union Valley Reservoir?
To make a camping reservation at Union Valley Reservoir, visit the official website or contact the managing agency.
They usually offer online reservation systems where you can select your preferred dates and campsite type. Early booking is advisable, especially during peak seasons, to secure your spot and avoid disappointment.
What amenities are available at Union Valley Reservoir campgrounds?
Union Valley Reservoir campgrounds generally offer amenities like picnic tables, fire rings, and vault toilets. Some sites may have potable water, but bringing your drinking water is recommended.
There may be limited or no cell phone service in the area. Preparing camping essentials, including food, cooking equipment, and proper waste disposal methods, is essential.
Are campfires allowed at Union Valley Reservoir, and are there any fire restrictions?
Campfires are usually allowed at Union Valley Reservoir, but following local fire regulations and restrictions is essential. During dry or fire-prone periods, campfires may be prohibited.
Always check with the managing agency or the campground host regarding the current fire conditions and any fire bans to ensure responsible and safe camping practices.
Enjoy Your Camping At Union Valley Reservoir
Union Valley Reservoir is an ideal spot to unwind during your holidays. It offers many amenities, providing guests ample opportunities to relax and rejuvenate.
Whether you enjoy fishing, boating, or simply lounging by the water's edge, this place has everything. You can bask in the warm sun, hike through nature trails, or have a delightful picnic with loved ones.
Union valley reservoir camping reservations are a haven of peace and a surefire way to cool off and make cherished memories.
Disclaimer: Vasttourist always strives for content accuracy. Since the time of publishing, travel-related information regarding pricing, schedules, and hours may have changed. Please see individual websites embedded in this post for the most current trip-planning information.

Unless otherwise stated, Vasttourist does not claim ownership of any images used on our blog site. The respectful owners of all visual content have copyright protection. We try to include links to the sources. If any images are your property and you do not want them to appear on our blog, don't hesitate to contact us; we will take them down immediately. We support properly crediting the original writer, artist, or photographer.