Discover the Beauty of Ruedi Reservoir Camping: A Serene Outdoor Escape
Welcome to the enchanted world of Ruedi Reservoir Camping, where the beauty of nature is shown right in front of your eyes. This beautiful location encourages you to appreciate the serenity of the great outdoors as it is tucked away among the breathtaking mountains.
As you go out on a memorable camping vacation, lose yourself in the peace of glistening waterways and beautiful surroundings. Ruedi Reservoir offers a variety of activities, including exhilarating water sports, beautiful treks, and tranquil retreats.
It's in the stunning Colorado Rockies, surrounded by nature's beauty. This place has everything you need for a chill and exciting camping trip. Now, picture yourself by the serene lake, enjoying the great outdoors.
Join us as we explore this hidden gem's delights, where every second is a monument to the balance between nature and humankind. Prepare to make priceless memories among Ruedi Reservoir Camping's stunning splendor. How does that feel? Well, let's delve into a memorable adventure at Ruedi Reservoir!
But before then, here are some things you should know about Ruedi Reservoir Camping:
Things you should know about Ruedi Reservoir Camping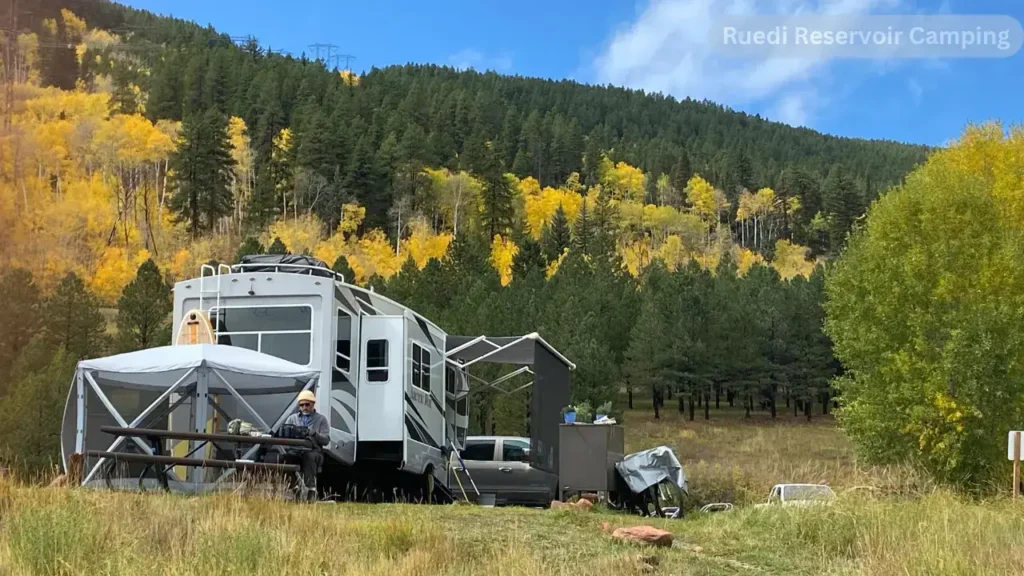 Here are some key features of Ruedi Reservoir Camping:
You may like to check out Aquila Private Game Reserve & Spa: Embark on a Safari Adventure in South Africa.
About Ruedi Reservoir Camping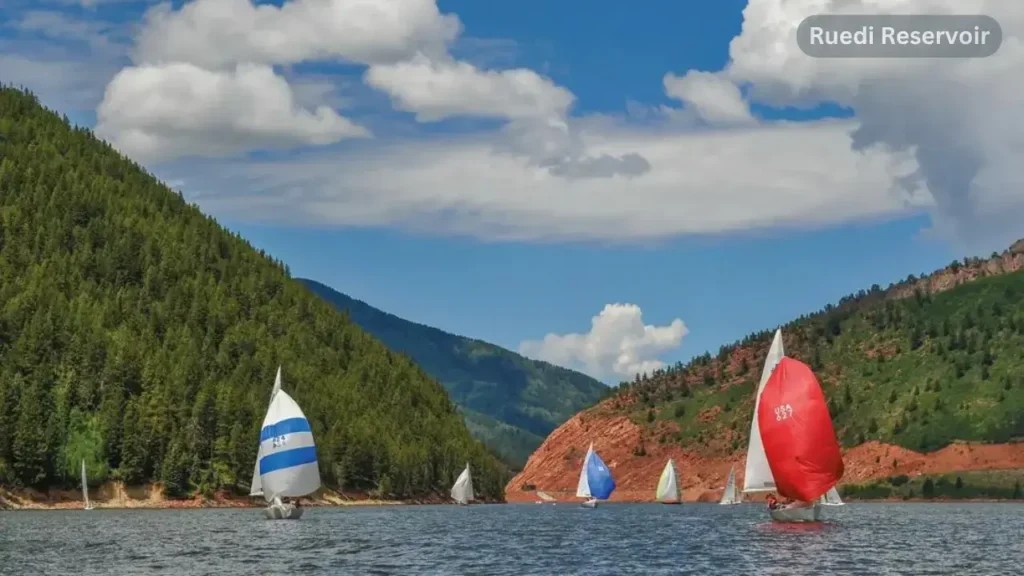 Camping at Ruedi Reservoir officially opens in mid to late May, with lower-elevation campgrounds like Difficult Campground and sites along the shores of Ruedi Reservoir opening first.
The Front Range folks and out-of-state visitors usually occupy local campsites more frequently from June, especially on weekends.
The campgrounds near Ruedi Reservoir offer a range of options. Difficult Campground has 47 sites; nearly 100 spots are available at six campgrounds along the reservoir.
The campsites at Ruedi Reservoir vary in price from $15 to $26 per night. Meanwhile, Redstone Campground offers 39 sites for $34 per night, and Bogan Flats has 37 spots for $25 per night.
While reservations are recommended during the summer, visitors looking to camp at Difficult or any Ruedi location can likely find a spot over the next few weeks without a reservation. Reservations can be made via the recreation.gov website, but they can't be made within four days of the visit.
Campers should also be aware that higher-elevation campgrounds, like Weller, Lincoln Gulch, Portal, and Lost Man, remain closed until the pass opens, which is expected in the first week of June.
Brief History and Background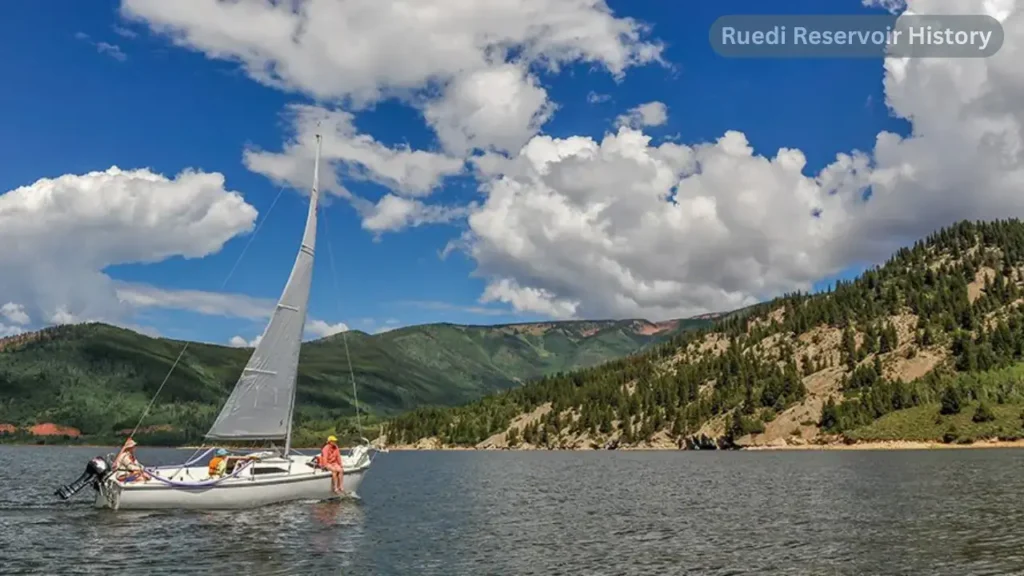 The U.S. Bureau of Reclamation built Ruedi Reservoir in the 1960s, about 15 miles east of Basalt, Colorado. It sits at approximately 7,800 feet and covers an expansive surface area of 997 acres when full.
The primary purpose of building the reservoir was to provide water storage for irrigation, municipal use, and hydroelectric power generation.
The dam's construction involved significant engineering efforts, including diverting the Frying Pan River and creating a storage capacity of 102,373 acre-feet. This water resource has been crucial in sustaining the livelihoods of local farmers and ensuring a reliable water supply for nearby towns and cities.
Moreover, it serves as a flood control measure for the region. Located within the White River National Forest, the reservoir and its surrounding area offer recreational activities such as boating, fishing, and hiking, attracting nature enthusiasts and outdoor lovers from near and far.
Over the years, Ruedi Reservoir has become a popular destination for camping and outdoor adventures, contributing to the region's tourism and enhancing its natural beauty.
Read more on:
Discover the Serenity of Lake Mathews Estelle Mountain Reserve
Capturing Gozo's Magic: Your Ultimate Three-Day Itinerary
Camp Williams Military Reservation: Discovering Utah's Historic Training Grounds
Things to Do When You Visit Ruedi Reservoir
When you visit Ruedi Reservoir, there is a lot to explore. Let's find out:
Fishing
Ruedi Reservoir is known for its excellent fishing opportunities. You can catch trout, kokanee salmon, and more. Make sure to obtain a fishing license and follow the local regulations.
When it's milder outside, and the fish are more active in spring and autumn, you should go fishing at Ruedi Reservoir. Ruedi Reservoir is a handy area to fish since it has a lot of campers and boat ramps.
Ruedi Reservoir offers a range of strategies and baits for anglers to utilize to capture fish. Worms, flies, and lures are a few common types of bait. Trolling is a method for catching lake trout while casting or jigging is for catching rainbow trout and kokanee salmon.
Fishing in Ruedi Reservoir is a lovely and picturesque activity. The reservoir's water is clear and blue, with mountains and trees. Anglers may enjoy nature's tranquility while pursuing some of Colorado's greatest trout.
Boating and Water Sports
The reservoir is perfect for boating, water skiing, and jet skiing. Bring your watercraft or rent one to explore the scenic waters.
At Ruedi Reservoir, several boat ramps make it simple to launch your boat. You may extend your water sports excursion throughout the weekend since the reservoir is home to many campsites.
Ruedi Reservoir is ideal if you're seeking a beautiful area to engage in some water activities. Mountains and woodlands surround the reservoir, and the views are breathtaking.
Hiking
The Ruedi Reservoir is a well-liked hiking location with a selection of paths. There is something for everyone on the paths, which vary from simple to difficult. Beautiful views of the reservoir, mountains, and woods are available to hikers.
Various hiking trails surround the reservoir, offering stunning views of the surrounding mountains and wildlife.
Whatever your experience level, Ruedi Reservoir has a route you will appreciate. So put on your hiking boots and discover this incredible location's beauty!
Camping
Enjoy a night under the stars by camping at one of the nearby campgrounds. Make sure to reserve your spot in advance during peak seasons.
Picnicking
Relax and picnic with family or friends in designated areas around the reservoir. Take pictures together and post them on social media to create lasting memories.
Photography
Ruedi Reservoir provides fantastic photo opportunities, capturing the beauty of nature and the reservoir's clear blue waters. You can take pictures of birds, flowers, and other wildlife species there.
Stargazing
Camp out in the designated areas to gaze at the stars at night without city lights interfering. Mountain ranges encircle the reservoir, which is located in Colorado's White River National Forest. This provides a fantastic setting for astronomy.
There are a few considerations to make if you want to stargaze at Ruedi Reservoir:
Choose a clear night.
Attempt to choose a location hidden from the campsite or marina's lights.
Bring a chair or blanket to sit on and binoculars or a telescope if you have them.
You may experience some fantastic stargazing at Ruedi Reservoir with a little preparation. So get your gear, cuddle up, and go outside to the stars!
Nature Walks
Take leisurely walks along the shoreline or explore nearby nature trails to immerse yourself in the natural surroundings. Take photos and explore the environment around you.
Fall Foliage Viewing
During autumn, the area transforms into vibrant colors, making it a picturesque destination for leaf peeping.
Photographing the Dam
The dam at Ruedi Reservoir is a beautiful sight, making it a favorite location for photographers. The concrete dam is more than 100 feet tall. It is surrounded by mountains and is situated in Colorado's White River National Forest. This provides a stunning setting for pictures of the dam.
When the light is soft, early morning or late in the day is the best time to take pictures of the dam. This will contribute to a more striking visual.
Attempting to get a photo of the dam with the reservoir in the background is another option. This will give the dam a feeling of scale and enhance its magnificent appearance.
Bring your tripod to take pictures of the dam at Ruedi Reservoir. This will assist in maintaining camera stability and preventing fuzzy shots. To reduce glare, pack a polarizing filter.
You may get some breathtaking images of the dam at Ruedi Reservoir with a little forward effort. So go outside and start taking pictures!
Birdwatching
Birdwatchers can spot various bird species around the reservoir, including waterfowl and raptors.
Remember to respect the natural environment, follow local rules and guidelines, and enjoy your time at Ruedi Reservoir responsibly.
Rules and Regulations: Ruedi Reservoir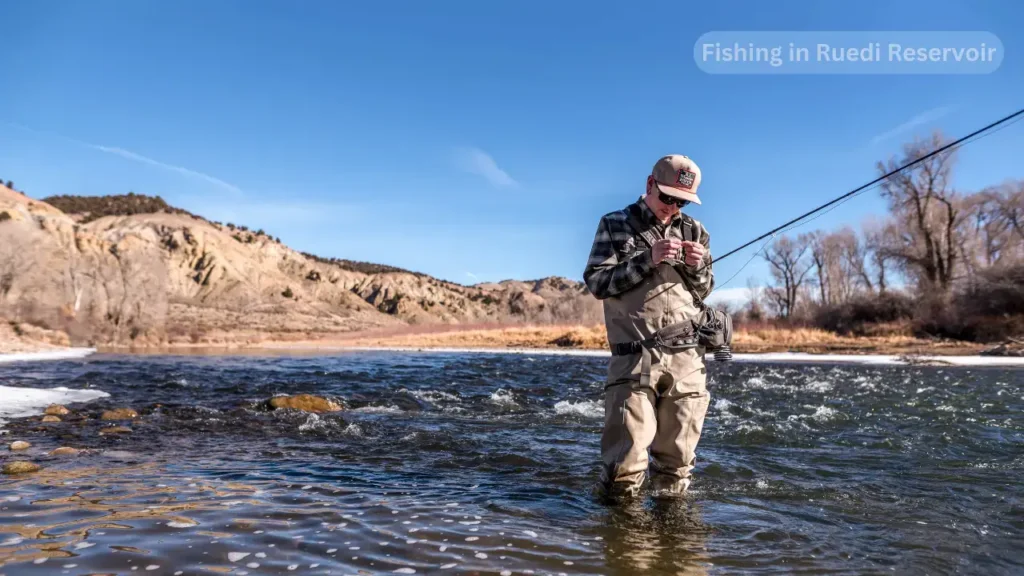 When visiting Ruedi, it is essential to know that certain things are highly prohibited in the camp; hence it is crucial to observe them. However, it is typical for camping areas and reservoirs to have standard prohibitions, which may include things like:
To enjoy your stay at the campgrounds, it is advised that you adhere to all of the do's and don'ts mentioned above. And before you do anything that might be against the rules, seek the attention of the authorities to ensure you are not trespassing on any boundaries.
Frequently Asked Questions (FAQs)
Can I make a reservation for camping at Ruedi Reservoir?
Yes, reservations are required for camping at Ruedi Reservoir. The U.S. Forest Service manages the campgrounds, and you can make reservations online through their official website.
It's advisable to book in advance, especially during peak seasons, to secure your spot.
What amenities are available at Ruedi Reservoir camping sites?
Ruedi Reservoir campgrounds offer various amenities, including picnic tables, fire rings, vault toilets, and potable water sources.
Some campgrounds may also have access to boat ramps, hiking trails, and fishing opportunities, providing a well-rounded outdoor experience for visitors.
Is there a maximum stay limit for camping at Ruedi Reservoir?
Yes, camping at Ruedi Reservoir usually has a maximum stay limit. Most campgrounds enforce a 14-day maximum stay during any 30-day period.
After reaching the limit, campers must vacate the site for at least seven days before returning for another camping period. This rule helps to accommodate more visitors and maintain the camping area's natural beauty.
Before You Go…
Ruedi Reservoir is one of the exciting places you may want to visit when you need to catch some fun. Are you a fishing freak, or do you like swimming or boating? Ruedi has all that for you and more, including relaxing facilities.
During the summer holidays, you can visit Ruedi to feel nature's greatness and interact with other campers here.
Also, ensure to be a responsible visitor and care for the environment. However, if you need help, don't hesitate to ask the local rangers or campground hosts.
Disclaimer: Vasttourist always strives for content accuracy. Since the time of publishing, travel-related information regarding pricing, schedules, and hours may have changed. Please see individual websites embedded in this post for the most current trip-planning information.

Unless otherwise stated, Vasttourist does not claim ownership of any images used on our blog site. The respectful owners of all visual content have copyright protection. We try to include links to the sources. If any images are your property and you do not want them to appear on our blog, don't hesitate to contact us; we will take them down immediately. We support properly crediting the original writer, artist, or photographer.