Heated Accessories to Stay Warm While Traveling
In this article, we will introduce a wide range of heated accessories to keep you warm while traveling. From heated jackets to socks, stay cozy on your adventures.
Heated accessories designed to provide warmth in chilly conditions have revolutionized how travelers combat the chill.
These innovative accessories use the latest heating technologies to give you a comfortable and toasty world, letting you roam new territories while enjoying a warm and snug place.
This article looks at a variety of heated accessories that can be your ultimate travel buddies. Let us discuss the essential items such as heated jackets, gloves, scarves, and blankets.
Essential Heated Accessories While traveling
Heated Socks
Heated socks are a key item to mitigate against the pain of cold feet, particularly during winter journeys or long stays in open spaces.
They maintain a constant warmth so as to ensure enjoyable explorations in snow-capped areas or extended stays outdoors.
Our Recommended: iHood Heated Socks for Men and Women With APP Control 7.4V 3000mAh Battery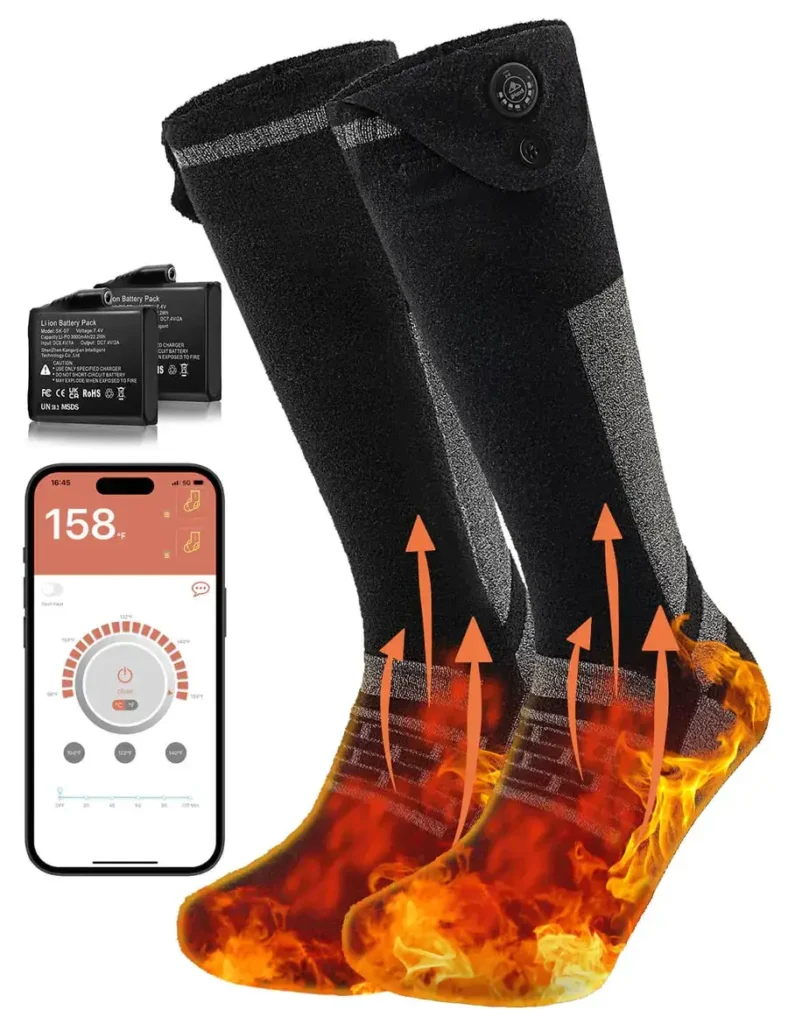 Presenting iHood Heated Socks – the best way to keep your feet warm and comfortable in cold weather. These are the socks designed for both men and women, and the new generation of socks has special features for a better experience.
Your comfort is assured as you make use of the intuitive APP Control to adjust the temperature settings as preferred, ensuring the customizability of warmth throughout the day.
A high-capacity 7.4V, 3000mAh battery powers these socks to provide prolonged heating that can keep your feet warm while you're outside or in chilly weather.
iHood Heated Socks are the perfect companion for all your winter activities, incorporating convenience, comfort, and tech.
You may like to check out Best Heated Ski Socks to Keep You Warm.
Heated Jackets and Vests
Innovative garments, such as heated jackets and vests provide warmth and comfort in cold weather.
They are designed with embedded heating elements that generate and distribute heat throughout the entire garment. They use rechargeable batteries, and users can adjust the amount of heat based on their liking.
Heated jackets usually cover the whole upper body, which includes the torso and the arms. Nevertheless, heated vests are sleeveless so they concentrate on heating the core part while keeping the chest and back warm.
They are made for outdoor activities or everyday use and offer warmth without the bulkiness of having to wear a few layers of clothing.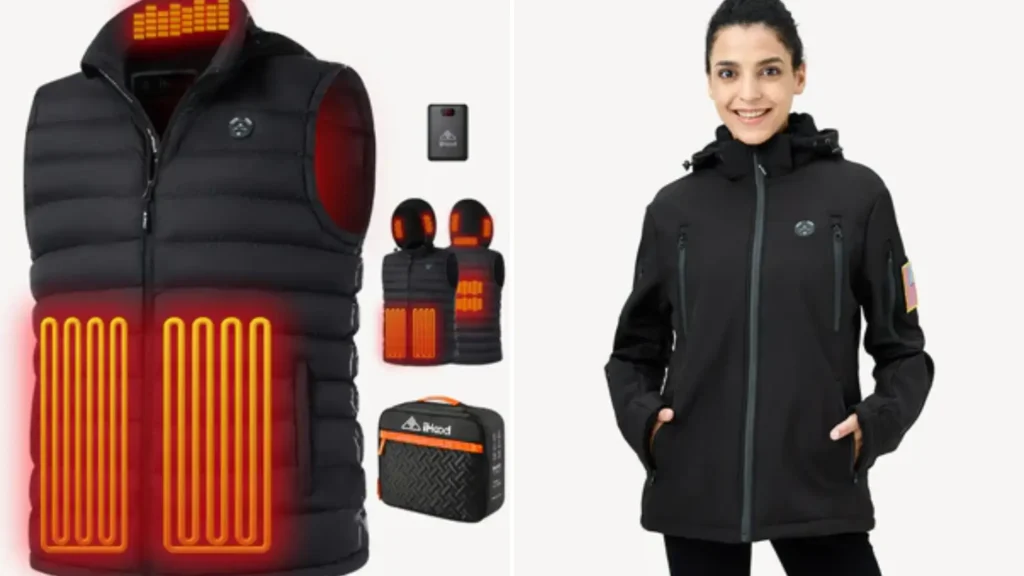 Heated gloves or mittens:
Some heated gloves and mittens contain battery-powered heating elements that consistently warm hands in frigid weather, allowing outdoor enthusiasts like skiers and hikers to maintain comfort and dexterity.
Other models utilize reusable heating packs that can be activated to combat cold and keep fingers functioning freely. Whether battery-powered or reusable heating packs, these gloves and mittens effectively shield hands from freezing temperatures.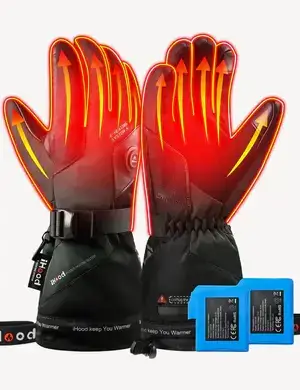 Heated scarves or neck warmers:
Heated scarves and neck warmers offer targeted warmth to the neck area, extending heat to the upper body.
These accessories, often lined with heating elements, keep the neck area cozy and can contribute to overall body warmth. They are practical and stylish, providing both functional warmth and a fashionable accessory for colder days.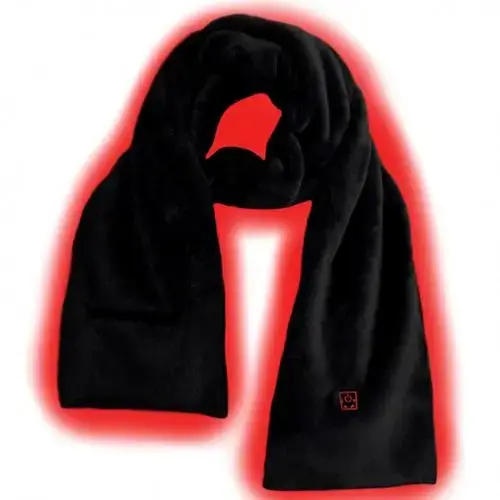 Heated Beanie
Heated beanies provide a convenient solution for staying warm in frigid conditions. Crafted with integrated heating coils, these innovative head coverings generate and circulate heat throughout to shield the head and ears from the bitter cold.
Whether braving below-freezing temperatures during a winter hike through snowy forests or a day on the slopes enjoying fresh powder, a heated beanie ensures comfortable insulation from piercing winds.
The flexible heating elements contour comfortably to the head while rechargeable batteries fuel hours of cozy comfort.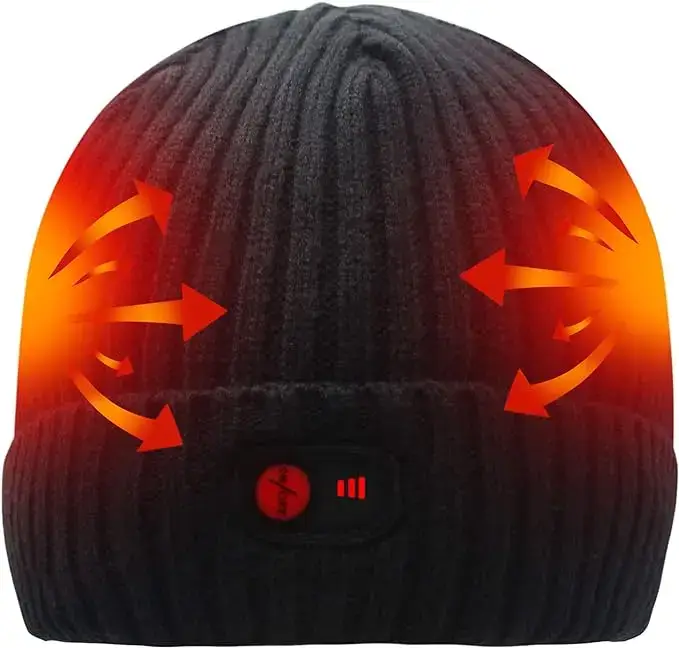 Heated Blanket:
Carrying a heated blanket provides essential comfort during travel, emergency situations, and outdoor activities.
Offering warmth and coziness, it's a versatile accessory that ensures relaxation, well-being, and preparedness, making it an invaluable addition to your essentials.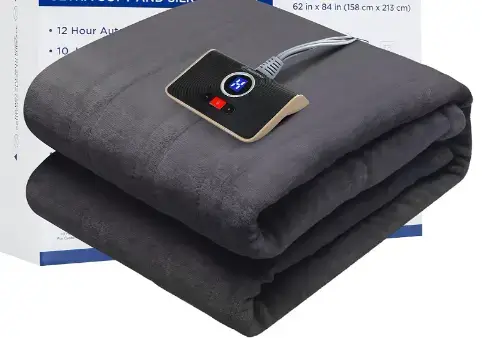 Tips for Using Heated Accessories While Traveling
Heated accessories can make traveling more comfortable. Consider these tips when using them:
Proper Usage and Care Instructions:
Check your destination's voltage requirements. Different countries have different voltage standards, so make sure that your accessory is compatible with the local voltage to avoid damage.
Use a thermal bag to keep your heated accessory clean and organized. They often become dirty and have cables that can tangle easily, so make sure to pack them properly.
Bring a portable power bank to supply electricity if an outlet is not available. Additionally, power banks can be helpful when you have a long journey ahead of you.
Handle the accessory carefully, avoiding any rough handling or impacts that could damage the heating element. Also, make sure that the accessory has cooled down before packing it back into your luggage to avoid any potential fire hazards.
It is vital to follow proper care instructions to maintain item longevity.
When using the item, avoid reckless or careless behavior that may result in damage.If the item is damaged, repair or replace it immediately.
Following all usage and care instructions can help avoid potential injury and extend its lifespan.
To ensure that you can safely and effectively use heated accessories when you travel, it's crucial to adhere to manufacturer guidelines on usage.
Reading the user manual accompanying your heated gear is important. Checking for damage is also necessary for ensuring proper operation and maintaining durability. Take prompt action to fix any problems that may arise.
Layering techniques for maximum warmth
Layering is the key to staying warm in the cold. When putting on multiple layers, start with a base layer that is moisture-wicking and fits close to the skin. Next, add an insulating layer that will trap body heat, such as fleece or down.
Finally, add an outer layer that is waterproof and windproof to protect against the elements. Mix and match these layers based on your activity level and the temperature outside. Don't forget accessories like a hat and gloves to keep your extremities warm.
By layering heated accessories with your other clothing items, you can maximize warmth. For example, donning heated gloves underneath insulated mittens or layering a heated vest underneath a thicker coat can create a sturdy shield against the cold weather.
This coupling of heated gear and insulating layers provides optimal results for cold weather conditions.
Adjusting Heat Levels Based on Weather Conditions:
Be attentive to the weather conditions and adjust the heat settings on your accessories accordingly. On extremely cold days, use higher heat levels for maximum warmth.
Conversely, during milder weather, lowering the heat settings not only conserves battery life but also prevents overheating.
Carrying spare batteries and chargers:
For longer trips, it's wise to carry spare batteries and chargers for your heated accessories. Since these accessories rely on power sources, having backup options ensures you can maintain warmth throughout your journey without interruptions.
Being prepared with spare batteries and chargers offers peace of mind, especially during extended travels.
Final Thoughts
As you embark on your upcoming expedition, it is imperative to keep in mind the significance of remaining warm and at ease.
Incorporating heated accessories into your arsenal presents a practical solution to combat the frigid temperatures. While exploring various options, investing in high-quality brands like iHood can make a substantial difference.
Their commitment to reliability, innovation, and durability ensures that you not only stay warm but do so with trusted, top-notch gear. With iHood, you're not just purchasing a product; you're investing in a travel companion that prioritizes your comfort and convenience.
So, whether you're embarking on a winter escapade or simply navigating the day-to-day chill, consider heated accessories from reputable brands like iHood to elevate your warmth and comfort, ensuring a more enjoyable and memorable journey.