28 Best & Fun Things To Do In Cherokee Tennessee
Have you ever thought of the best things to do in Cherokee? Well, Cherokee is a beautiful place to visit for many reasons. One of the most popular attractions is the Cherokee National Forest, a beautiful and lush forest that provides endless opportunities for hiking, camping, and other outdoor activities.
This scenic nature reserve offers visitors the chance to enjoy the surrounding natural beauty and breathtaking views of the Smoky Mountains.
With so much to do in this area, here are 28 Fun Things to do / Places to visit in Cherokee.
28 Best & Fun Things To Do In Cherokee, Tennessee
#1. Visit the Native American Craft Shop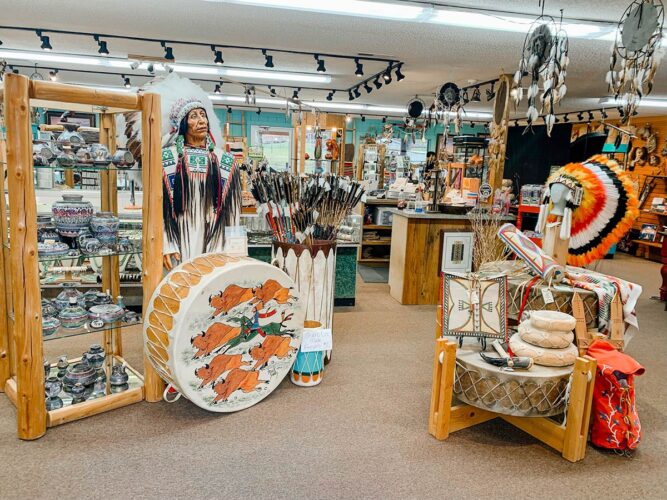 Cherokee was once the capital of the Cherokee Nation, and it is still home to a vibrant Native American culture. To learn more about Cherokee's history, head to the Cherokee Museum of History & Culture. The museum is filled with artifacts from different periods and cultures that offer a fascinating insight into the area's past.
But what makes this place unique is its abundance of native crafts. Visit one of the many local shops to browse through one-of-a-kind items like jewelry made by local artisans, pottery, baskets, drums, and much more. These beautifully crafted items are perfect for gifts or souvenirs that you can take home with you.
One fantastic thing about these shops is their price range: They're affordable! Even if you're on a budget, there are so many options that will fit your budget perfectly. So be sure to add this to your list of things to do in Cherokee.
#2. Explore Snake Adventures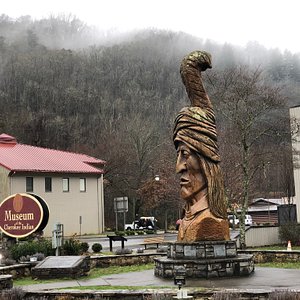 If you're going to visit the Cherokee National Forest, one of the biggest attractions is the chance to see some wildlife. The forest is home to a wide array of different animal species, including bears, coyotes, owls, and many more.
However, certain animals are relatively uncommon in this area. These animals include rattlesnakes and copperheads. Most people who live near the forest know how dangerous these snakes can be if they aren't cautious, but it's important to remember that even though they may be vicious and dangerous, they are still an exciting and fun part of nature. Watching them slither around can be a thrilling experience!
Regardless of your level of experience or expertise with snakes or whether you're visiting for a day or an entire weekend, make sure you take time out of your schedule to see some of these amazing creatures up close. You don't want to miss out on this perfect opportunity!
#3. Tour Saunooke Village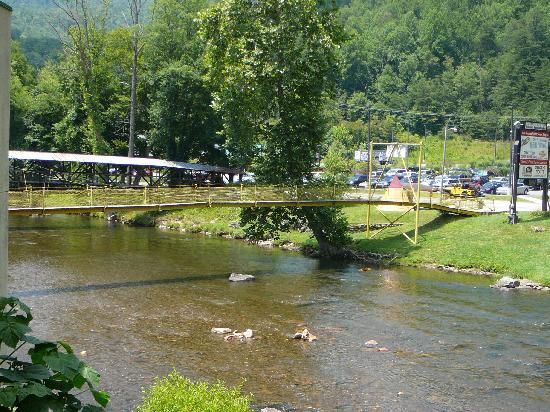 This quaint, beautiful community is the perfect stop for visitors looking to take in some local culture and enjoy a meal at one of the many restaurants in the area.
As you walk down Main Street, you'll see that shops and restaurants line both sides of the road: From small boutiques to big-box stores, there's something for everyone! Even if you don't need anything, it's worth taking a stroll through here to enjoy the beautiful scenery and historic charm.
If you have time on your hands, be sure to check out the local art galleries nearby. You'll find everything from contemporary oil paintings by local artists to vintage photography worldwide.
#4. Cherokee Grand Hotel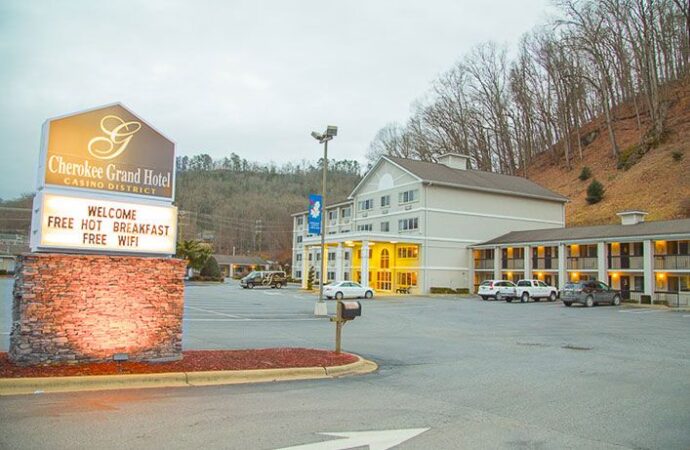 The Cherokee Grand Hotel is the perfect place for a weekend getaway. The hotel offers a variety of amenities that will make your stay more enjoyable.
If you are looking for comfortable rooms and a great location, the Cherokee Grand Hotel is the perfect choice for you. There are also restaurants nearby that offer great food and entertainment to enjoy during your stay.
You can also enjoy these amenities at an affordable price through their package deals and special promotions. To find out more about what this hotel has to offer, visit their website today and be sure to add this to your list of things to do in Cherokee.
#5. Santa Land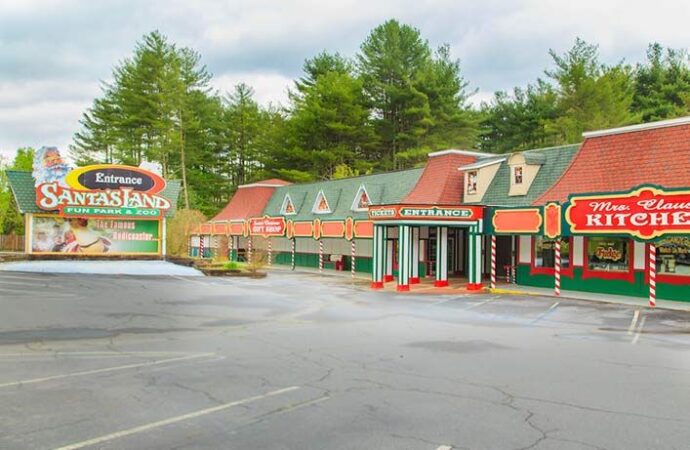 Santa Land is a new type of amusement park created for adults who love Christmas and all its traditions. It's been growing in popularity over the years, which is why it decided to expand from its original location at Arrowhead Park to the next-door shopping center.
Santa Land offers various activities like a sleigh ride, ice skating, and an outdoor carousel. It also hosts seasonal events such as a holiday market, a Christmas craft fair, and live music performances. So come on out and have some fun this winter!
#6. Visit Cherokee Veterans Park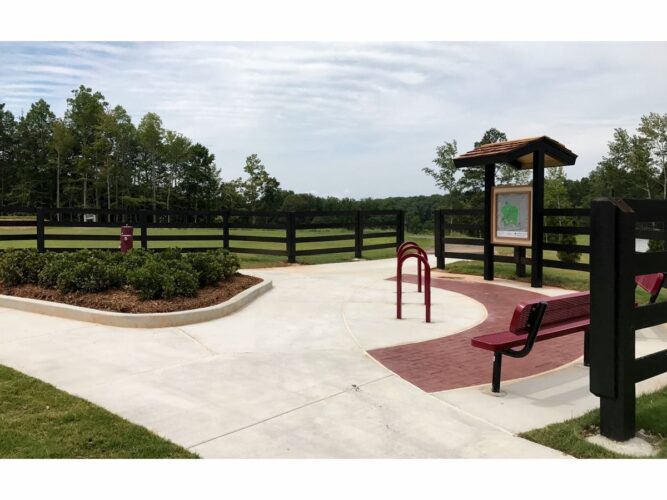 If you're planning a trip to Cherokee, it's essential to visit the Veterans Park on your first day if you want to participate in the local activities and find some peace.
The Veterans Park is located right off the main highway and includes significant memorials that honor those who have served their country. It also includes a monument commemorating Confederate soldiers, which has met with controversy since its release in 2014.
But despite this controversy, visiting this park is a must-do when visiting Cherokee. At the very least, stop by for a few hours to enjoy an outdoor activity or just take in some scenery before heading out into town.
#7. Mingo Falls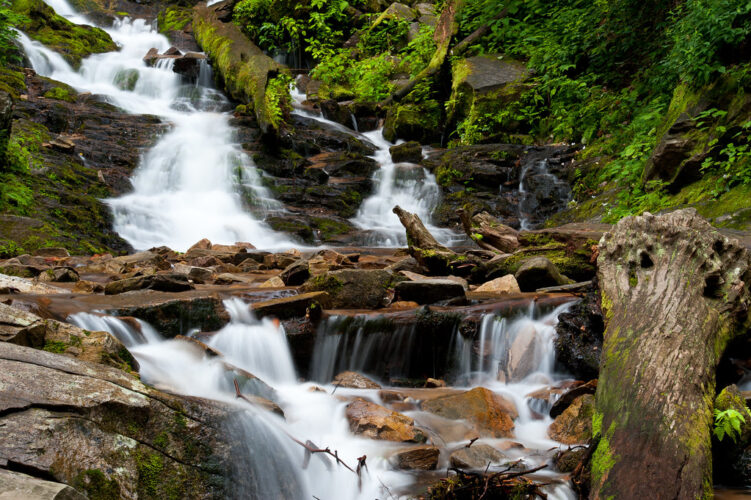 This fall is one of the most scenic spots in North Carolina. It is a great place to hike, kayak, and fish for trout.
Many trails lead to different waterfalls nearby. The falls were created as two tributaries of the Little Tennessee River meet.
Mingo falls can be seen from the parking lot, but many beautiful trails lead up to them. Mingo Falls has been a tourist destination for years, and it remains popular today.
#8. Saunooke Mill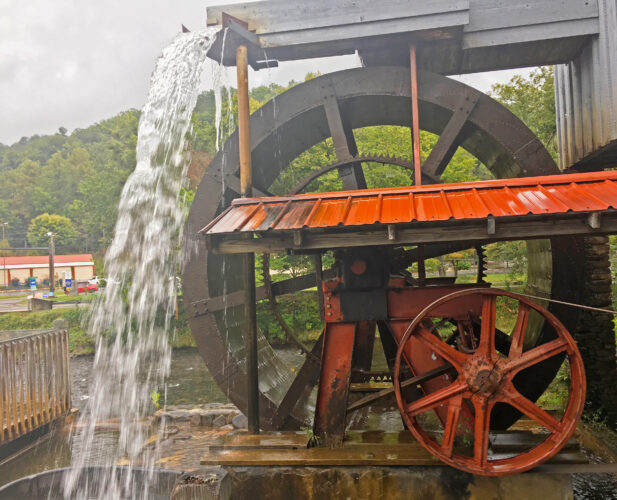 Saunooke Mill was the first mill constructed to help with cotton production. The mill was not only crucial for the establishment of the Cherokee, but it was also an integral part of the American Civil War by supplying building materials for Union troops after their fortifications were destroyed during the battle.
Today, Saunooke Mill is still strong, producing flour, cornmeal, and other goods. The mill has been updated with new technologies to continue its lucrative operation.
In addition to being an important historical site and local landmark, the mill has also become a popular tourist attraction. so be sure to add this to your list of things to do in Cherokee
#9. Stonebrook Lodge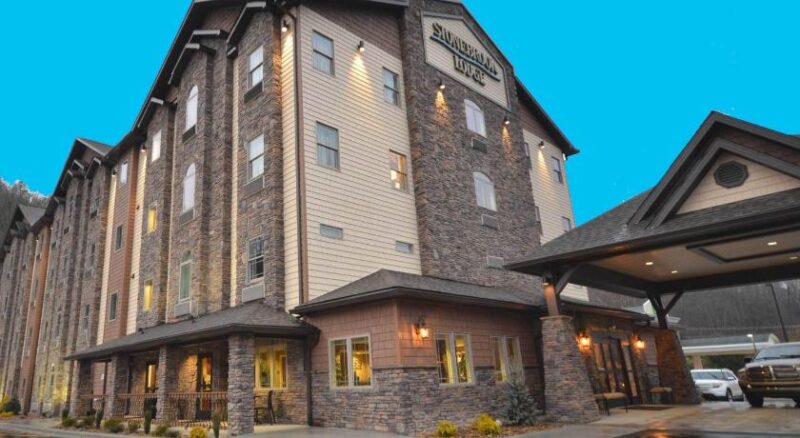 Stonebrook Lodge is an exclusive community located in majestic and beautiful surroundings. The resort features 362 acres of lush natural outdoor space with panoramic mountain views in a quaint and peaceful setting.
Many of the amenities at Stonebrook Lodge are unique to this community, including world-class golf courses, a spa treatment center, and an equestrian facility, among others. With four different golf courses on the property, two lakes, and a swimming pool, this resort offers something for everyone.
Guests may also enjoy year-round horseback riding, hiking, biking, or fishing. They may choose from over 400 acres of private land to explore on their own or take part in guided tours such as jeep tours or ATV tours.
Stonebrook Lodge is an ideal vacation destination for groups of friends or family who want to spend some time away from the hustle and bustle of everyday life. The resort offers many activities that foster fun memories that will last a.
#10. Smoky Mountain Helicopters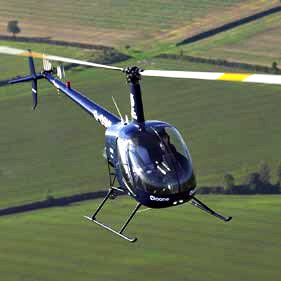 One of the most popular attractions in Cherokee is a helicopter ride to the top of Black Balsam Mountain. It's an unforgettable experience that can provide some fantastic views for those who take a trip up there.
The Smoky Mountains are one of the most scenic places on earth, and you'll be able to tell your friends and family back home about your adventure while you're still here.
The easiest way to get to this mountain is to ride from nearby Gatlinburg. You can buy roundtrip helicopter tours, or you can find packages that include a guided hike up the mountain as well.
This will give you a chance to see some breathtaking views before getting on the ride down. So be sure to add this to your list of things to do in Cherokee.
#11. Essence Lounge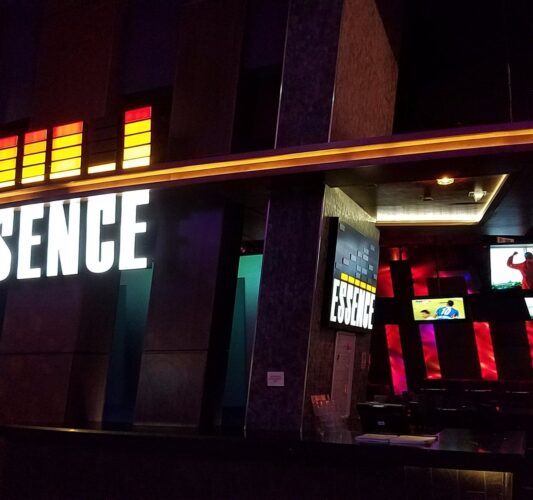 Are you looking for a place to relax and unwind in the middle of an otherwise busy day? If so, Cherokee, North Carolina, has just the spot for you!
The Essence Lounge is a unique bar and lounge where guests can enjoy fine wine, cocktails, local craft beers, and spirits—located on Cedar Street in downtown Cherokee.
The Lounge is the perfect place to meet friends or watch the game with other patrons. As part of their hospitality, they offer a friendly staff ready to help you find your next favorite drink.
#12. End of the trails Horseback Riding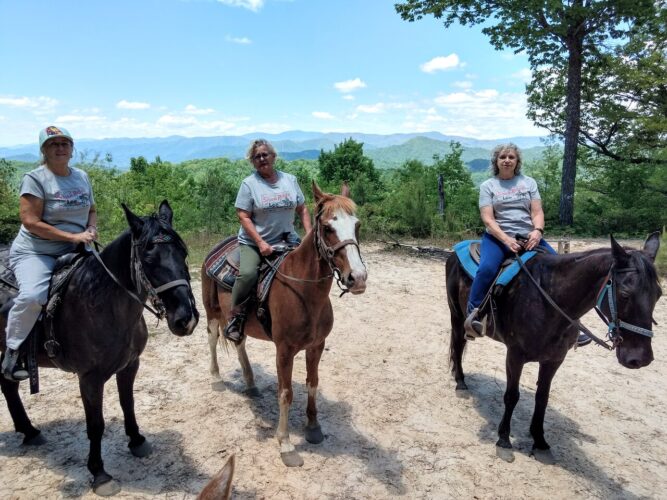 Horseback riding is a popular activity in the forest. If you are looking for an exhilarating and relaxing activity to do while away a day or two, horseback riding may be just what you need.
#13. Qualla Arts and Crafts Mutual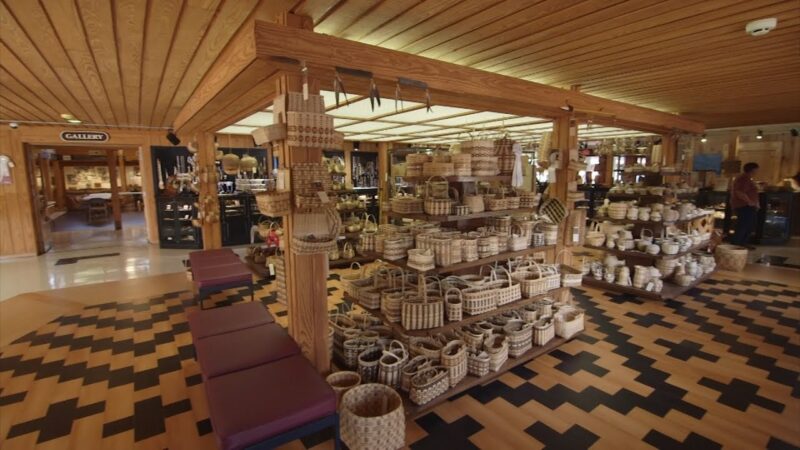 Qualla Arts and Crafts Mutual is a nonprofit organization that supports the artisans who make the beautiful crafts in Cherokee, Tennessee.
This organization is focused on educating artists and teaching them how to market their work to reach more people and continue creating amazing pieces.
If you're looking for a unique gift idea, Qualla Arts and Crafts Mutual sells handmade items as well as some of the area's most popular products. Local artists mostly handcraft these items, so you'll be supporting your community while also giving someone you love a beautiful gift.
A gift from Qualla Arts and Crafts Mutual would be a cherished keepsake that will remain loved for years to come! So be sure to add this to your list of things to do in Cherokee.
#14. Smokemont Riding Stables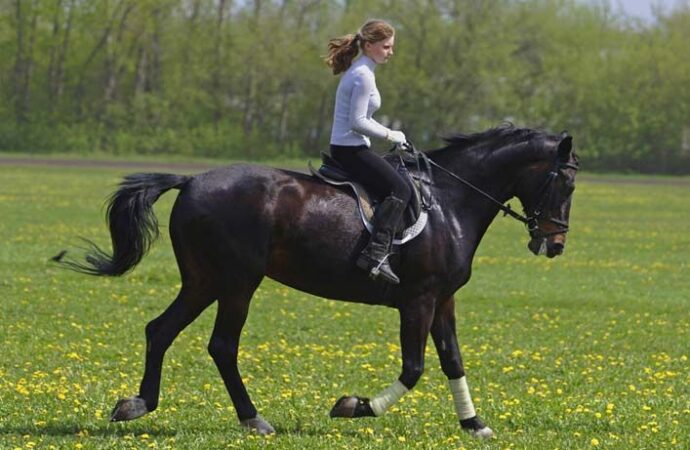 Don't forget that Cherokee is a short drive away from the Smokemont Riding Stables. If you want to go horseback riding in a beautiful environment, this is the place to do it. Whether you want to go riding with friends or on your own, this stable provides a fantastic experience for various riders at all levels of skill.
If you enjoy riding horses or just want to take a break from hiking and see nature up close, the Smokemont Riding Stables are an excellent area choice. For those interested in learning more about horses and horsemanship, this stable offers horseback riding lessons for beginners and experienced riders.
#15. Cherokee Heritage Museum and Gallery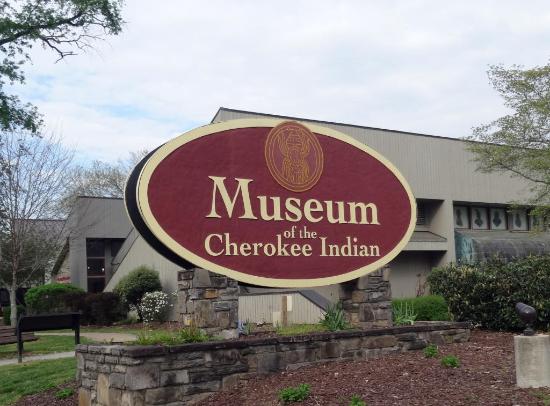 If you're visiting, make sure to stop by the Cherokee Heritage Museum and Gallery. The museum has a library of over 400 books about Cherokee culture, ranging from the creation of the tribe to modern-day life. They also have an exhibition featuring artifacts from throughout the history of the Cherokee people.
The gallery features paintings, pottery, jewelry, and other items made by local artists. In addition to these beautiful pieces of art, they have a rotating art exhibit that features artists from all over the world.
If you're in town during their annual Pow Wow event or for any other occasion listed on their website, be sure to stop by this museum before you head out into town!
#16. Cherokee Visitors Center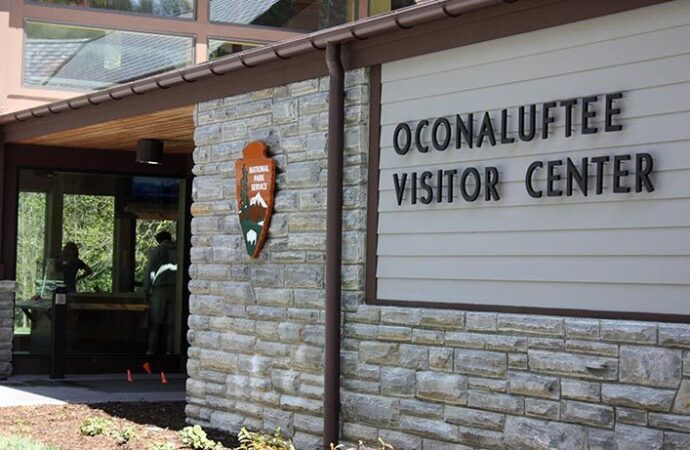 The Cherokee Visitors Center has all sorts of information about the area and its surrounding attractions. You can also get maps, brochures, and other helpful literature at this location.
The center's website also features a wealth of information about the forest and its many points of interest. You'll find a lot of valuable tips on how to prepare for your visit, as well as helpful hints on where to stay or what to do when you're there.
#17. Bear Zoo and Exotic Animals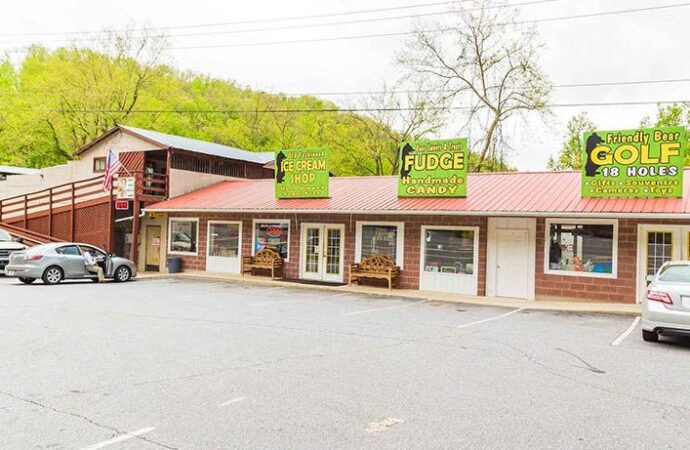 The Cherokee Bear Zoo is one of the best places to visit before visiting this wonderful town. The zoo was established in 1983 and is home to over 200 bears, many of which are zoo residents. They offer a variety of activities for visitors, including feeding time and feeding handouts.
Visitors can also enjoy watching animals play in the outdoor pool or ride on the tram to see their habitats. Another popular attraction is their petting zoo, which features native animals like deer, chipmunks, and bunnies that you can interact with as you feed them.
The animals here come from all across the world, so be sure to check out their exotic and exciting species! So be sure to add this to your list of things to do in Cherokee.
#18. Indian Reservation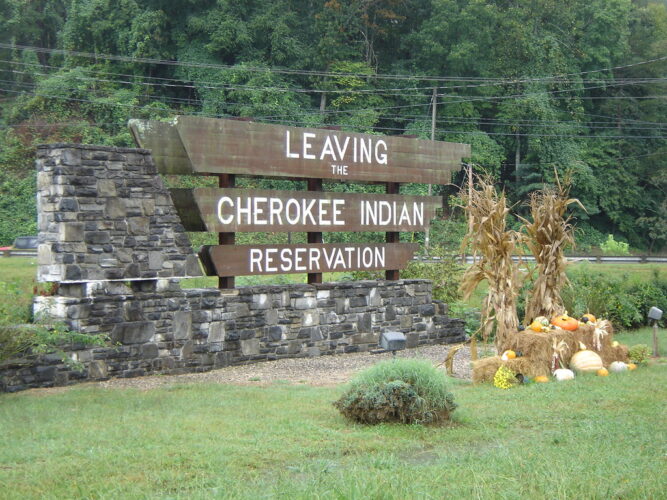 In the Cherokee National Forest, there is an Indian reservation. This section of the forest is home to a tribe of Cherokee Indians that have lived in the area for over a century.
You'll find Native American art at several different locations throughout the forest, and some of their traditions are still practiced today. If you visit this part of the forest, make sure to chat with them and learn about their culture.
Another important thing to do before visiting this part of the forest is to check out what's available for camping. Camping opportunities include tents and RVs at four different campgrounds and backcountry camping opportunities on designated trails. With so many options for camping, it's no wonder that so many people choose to spend their vacations in this region.
While you're in the forest, be sure to pick up one of these map apps that will help you navigate through the woods and find your way back if you get lost. Whether hiking or just strolling around, use these apps to keep yourself safe from getting lost!
#19. Mountain farm museum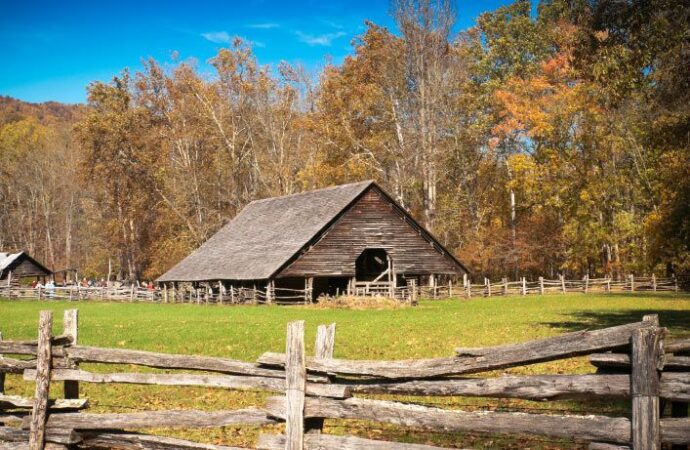 If you're a hiker, this is the place for you. Cherokee National Forest boasts more than 50 miles of hiking trails, including the Appalachian Trail. The area's natural beauty also provides mountain biking and horseback riding opportunities.
If you don't enjoy hiking but still want to explore, check out the Mountain Farm Museum. This museum showcases the history of agriculture in the Smoky Mountains and features exhibits that explain how farming has changed over time. Additionally, visitors can learn about local forestry and timber management while taking in an aerial view of the forest.
The Smoky Mountains are home to five distinctive ecosystems: hardwood forests, temperate forests, subalpine scrub forests, alpine tundra, and bogs.
With so much variety on display around every turn in this beautiful nature reserve, it's easy to see why people flock to Cherokee National Forest day after day.
#20. Casino at Harrah's Cherokee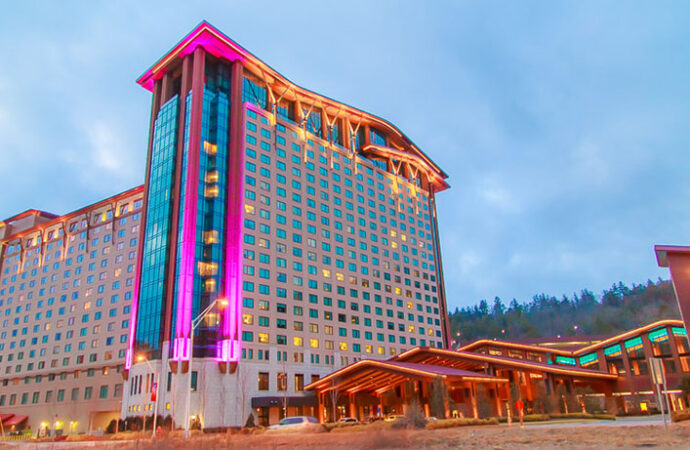 You can't go to Cherokee without playing a round of blackjack at Harrah's Cherokee. This beautiful casino is part of the popular Harrah's chain. It has all the amenities you would expect from a high-class, award-winning casino.
Harrah's Cherokee offers everything from slot machines and Texas Hold 'Em tables to private event space for your next party or corporate event.
Some several restaurants and bars serve up delicious food from all over the world, so you don't have to worry about finding something to eat while you're here either!
#21. Cherokee theaters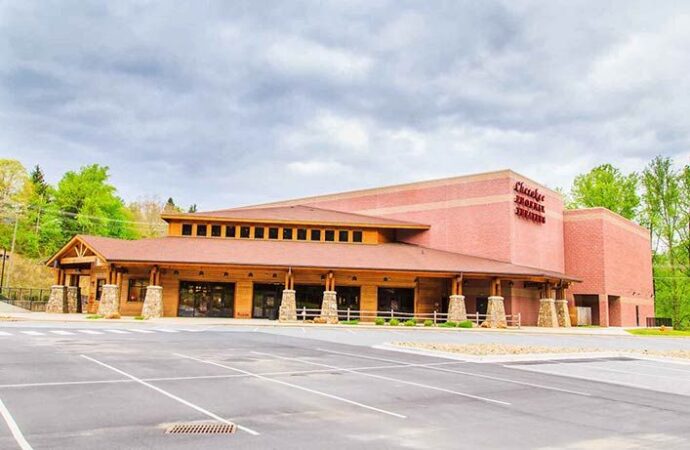 Though many of the theaters in Cherokee are now closed, a few remain open to offer incredible entertainment.
• Arthur Theater: This is one of the few remaining theaters in Cherokee that offers a variety of performances. It's located at the edge of town and has been around since 1878, making it an important part of the community.
• A-Train Theater: Located on the Appalachian Trail, this theater features live performances from some of America's best musicians. The performers have been recognized by Rolling Stone as well as NPR Music.
• Joy Theatre: This theater is known for its diversity; it hosts everything from movies to symphonies to lectures. This theater has something for everyone, from classic films like "Lawrence of Arabia" to concerts from different genres and cultures.
• Mountain Theatre: One of the largest outdoor theaters in Tennessee, this theater can accommodate up to 2,500 people with its beautiful natural setting and scenic surroundings. If you're looking for a unique performance venue with unbelievable views, this should be your choice!
***In addition to these theaters, there are several active churches in Cherokee with performances throughout the year.
#22. Mandara spa
The Mandara Spa is a world-class retreat center located in Tennessee. It's a place for relaxation and rejuvenation for both the body and the mind. 
The Mandara offers a variety of treatments that focus on the body, mind, and spirit.
First, you should know that massage is one of the many treatments available at the Mandara. Massage therapy helps your body relax from all the stresses and strains of daily life. This can help restore balance to your body through detoxification and healthy circulation.
Secondly, you should consider getting a facial treatment at the Mandara Spa. Facials are an easy way to maintain your skin health and help cleanse your pores.
Through cleanser-included exfoliation treatments and deep pore cleansing with steam or foam, facials are a great way to address not only your skin but also any other concerns you might have with active acne or oily skin issues.
#23. Twisted sisters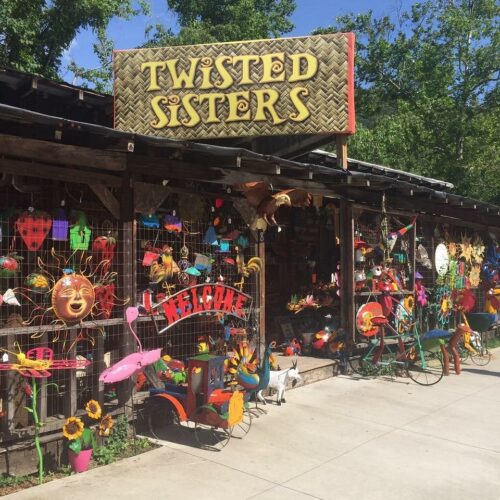 If you're looking to enjoy more than just nature in this beautiful region, you should consider visiting some of the nearby towns and cities. These places offer excellent shopping opportunities, delicious food, and more.
Before you head out into this natural paradise, do yourself a favor and plan a little bit. Here are ten things worth doing before heading out:
– Make a list of 10 things you want to do while visiting Cherokee National Forest
– Create an itinerary with the ten items on your list
– Make sure your itinerary includes the dates that you'll be visiting the area
– Make sure your itinerary includes items such as transportation reservations and any other necessary arrangements or fees.
#24. The Indian store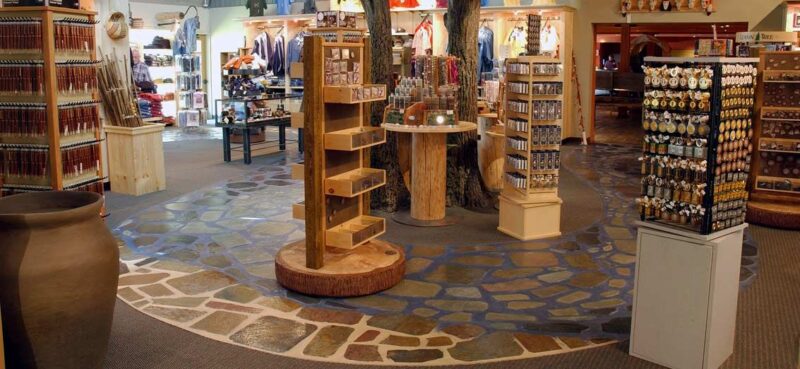 Regardless of whether you're planning a weekend getaway or just stopping by for the day, the Indian store in Cherokee is a must-see.
It is a small shop, but it has everything from homemade bread and spices to traditional clothing, pottery, and jewelry. If you love Indian food, you'll surely want to indulge in some delicacies while in town.
The Indian store also offers cooking demonstrations and classes on making classic Indian dishes. With so many things to do in this area, it's easy to see why this little store is one of the most popular attractions in town!
#25. Motion Makers Bicycle Shop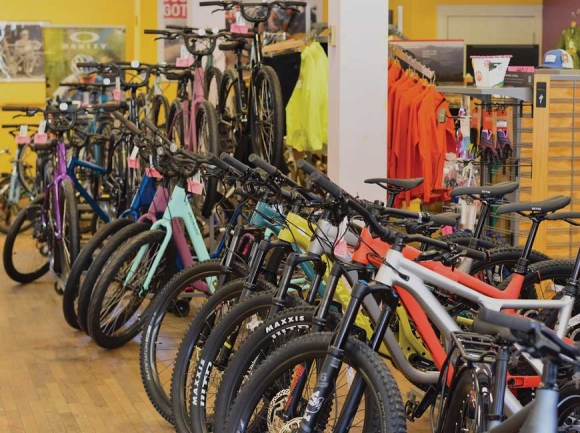 Motion Makers Bicycle Shop is a store in downtown Cherokee, Tennessee, to buy and sell used bicycles. It is the kind of bike shop that seeks to provide affordable tires and services to the local community. They are also open seven days a week, so you can come in any time you want to find a good deal on a bike.
The store offers a wide selection of bikes, including 24-speed road bikes, hybrids, and mountain bicycles. For people looking for more customization options with their rides, they offer custom builds. Motion Makers also has an in-house mechanic who can help customers fix their current bikes or get them tuned up when needed.
If you end up coming into this bike shop, be sure to be prepared – it will probably take you about 45 minutes before you leave! You won't regret it, though – this bike shop has everything from vintage cruisers to modern mountain bikes and everything in between.
#26. R&R Indoor Gem Mine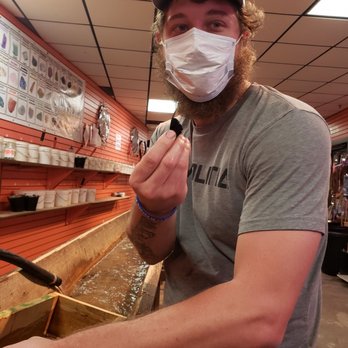 The Cherokee National Forest is home to the amazing R&R Indoor Gem Mine. As its name suggests, this mine has over 6,000 square feet of gemstones to explore, including various rubies, sapphires, emeralds, and even diamonds.
The gemstone treasure hunt is an excellent activity for all ages and can be enjoyed by visitors of all abilities. Each room in the mine has its own unique set of gems and minerals that will intrigue any visitor.
Whether you're looking for a specific type of gemstone or just interested in taking in the sights and learning about their origins on your visit to this beautiful forest, this mine is a must-do activity for any traveler visiting Cherokee.
#27. Wigwam Craft shop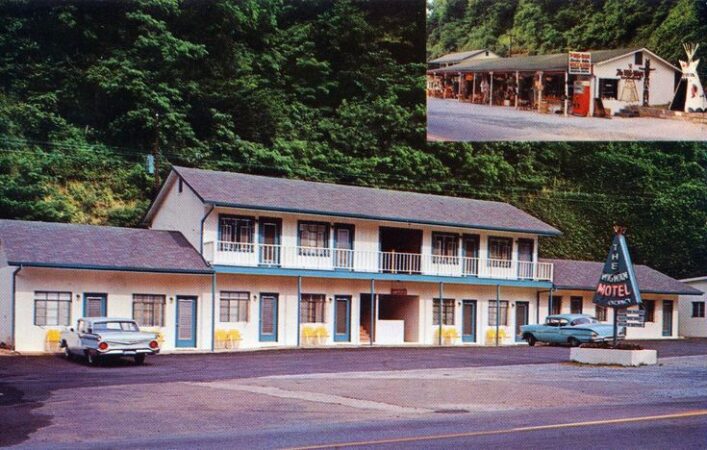 If you're a nature lover, you'll want to visit the Wigwam Craft shop. Located on the Cherokee National Forest, this store offers an array of handmade crafts, jewelry, and other perfect items for nature lovers.
From handmade soaps to beautiful handcrafted pottery, the Wigwam Craft shop has something for everyone in your family. Be sure you add this to your list of things to do in Cherokee.
#28. Fun Park Activities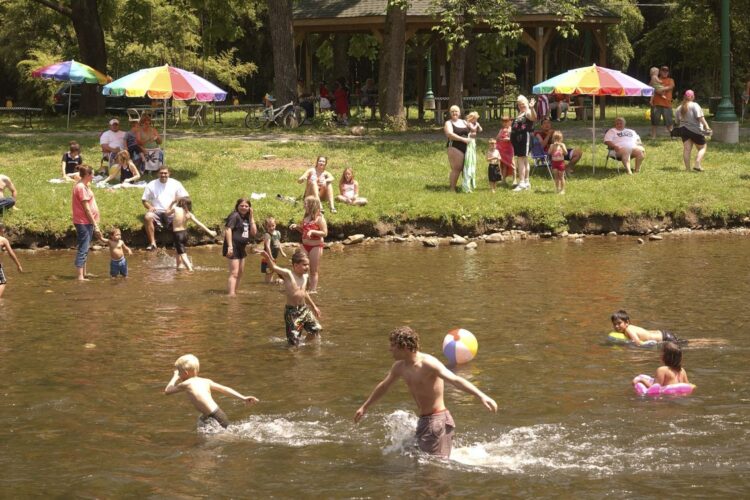 If you're visiting Cherokee, how can you avoid being bored? The answer is easy: attend a fun park activity! From ziplining to go-carts, there are lots of exciting and family-friendly activities to be found in the area.
Ziplining: Get ready for an exhilarating ride through the forest canopy on a zipline tour. You'll soar across the treetops, looking down at the treetop views below you.
Go-Karts: Conclude your visit with a thrilling race through the forest in your go-cart! You'll zoom around bends and turns at over 45 miles per hour on an open track that's perfect for racing.
Rock Climbing Wall: Explore rock climbing opportunities on the walls of Mount Le Conte or nearby Cedar Bluff with this fun and interactive indoor wall. With over 500 routes to choose from, you'll never get bored here.
Where to stay in Cherokee?
If you plan on visiting Cherokee, it's essential to make sure you have a place to stay. Many hotels and lodges in the area provide visitors with a relaxing and affordable night's sleep. It can be challenging to find accommodation if you're not familiar with the area, so take care of this first step before you arrive at Cherokee.
For those who want something a little more luxurious while on vacation, some of the best places to stay are resorts. These properties provide visitors with amenities like multiple pools, spas, golf courses, and complementary activities for guests.
If you're looking for something more low-key but still offer plenty of recreation options, an inn might be your best bet. These small hotels provide travelers with cozy rooms and access to common areas like meeting rooms and fitness centers.
What to eat and drink while in Cherokee
Cherokee is home to the famous Rainbow Springs, a natural hot spring that offers visitors a chance to bathe in the healing waters. If you're looking for something other than water, there are many great places to eat and drink in this region.
A few of the most popular restaurants include The Sugar Shack Café and Smokey's BBQ. For those looking for a unique experience, grab a bite at The Heirloom Cafe or try some wine tasting at Black Stone Vineyard.
This beautiful destination is also home to three breweries—Smoky Mountain Brewery, Southern Appalachian Brewing Company, and Big Frog Brewing Co. With delicious beverages sure to satisfy any palette. Additionally, if you're looking for where to stay, many options range from hotels and motels to campsites and cabins in the area.
How to get around in Cherokee
When visiting a new town, it's important to familiarize yourself with the basic transportation options. In Cherokee, there are a variety of modes of transportation that can take you from point A to point B. Some of these include buses, trains, and rental cars.
If renting a car is your preference, make sure you do your research before heading to the airport or local rental car agency. Here are some things you should know about renting a car in Cherokee:
● The city of Cherokee has an international airport, so if you're coming from outside of the country, it's worth calling the rental car company ahead of time and booking one for pickup at the airport.
● There are both gas stations and convenience stores near this airport. However, many hotels offer complimentary parking when checking in to ensure your vehicle is parked safely while you're enjoying yourself on vacation!
● As with most North America and Europe, gasoline is expensive but not too difficult to find. If your budget allows it consider purchasing some extra fuel in bulk, as it will go a long way toward making your trip more enjoyable and less stressful!
What to pack in your bag
When you're packing for any outdoor activity, remember that sometimes it's the small things that can go a long way. This includes essential items such as extra clothes, food, and water.
In addition to these essentials, you should also pack sunscreen, sunglasses, a first-aid kit (if you know how to use it), and other travel necessities.
If you plan on staying overnight in the nature reserve, then don't forget your camping gear! Here are some items you'll need for an enjoyable night out in the forest:
A tent

Sleeping bags and bedding

Camping stove

Water container with a filter/purifier

Matches and lighters.
Plan Your Trip To Cherokee
If you are searching for things to do in Cherokee, this article has everything you need to know. It's an excellent place for visitors and locals, and the weather is always perfect.
Cherokee is the perfect destination for people who love adventures. With an array of attractions and activities, it's no wonder that it has become the fastest-growing city in Tennessee.
So, start preparing to tour Cherokee on your next vacation. You'll love it and also enjoy the places to visit in Tennesse.
Disclaimer: Vasttourist always strives for content accuracy. Since the time of publishing, travel-related information regarding pricing, schedules, and hours may have changed. Please see individual websites embedded in this post for the most current trip-planning information.

Unless otherwise stated, Vasttourist does not claim ownership of any images used on our blog site. The respectful owners of all visual content have copyright protection. We try to include links to the sources. If any images are your property and you do not want them to appear on our blog, don't hesitate to contact us; we will take them down immediately. We support properly crediting the original writer, artist, or photographer.