25 Best & Fun Things To Do in Fairhope Al (Alabama)
Things to do in Fairhope Alabama can be daunting, especially if you're unsure where to start looking or what things are right for you.
Fairhope, AL has been voted one of the top places to live in the U.S., and with good reason. Whether you're visiting or just passing through, there are plenty of places to visit in Fairhope Al (Alabama) that will entertain you and your family.
If you're visiting the area or living here and want to find some fun new places to go, consider this list of the top 25 romantic things to do in Fairhope, Alabama.
25 Best & Fun Things To Do in Fairhope Al (Alabama)
#1. Go for an Evening Walk Along The Boardwalk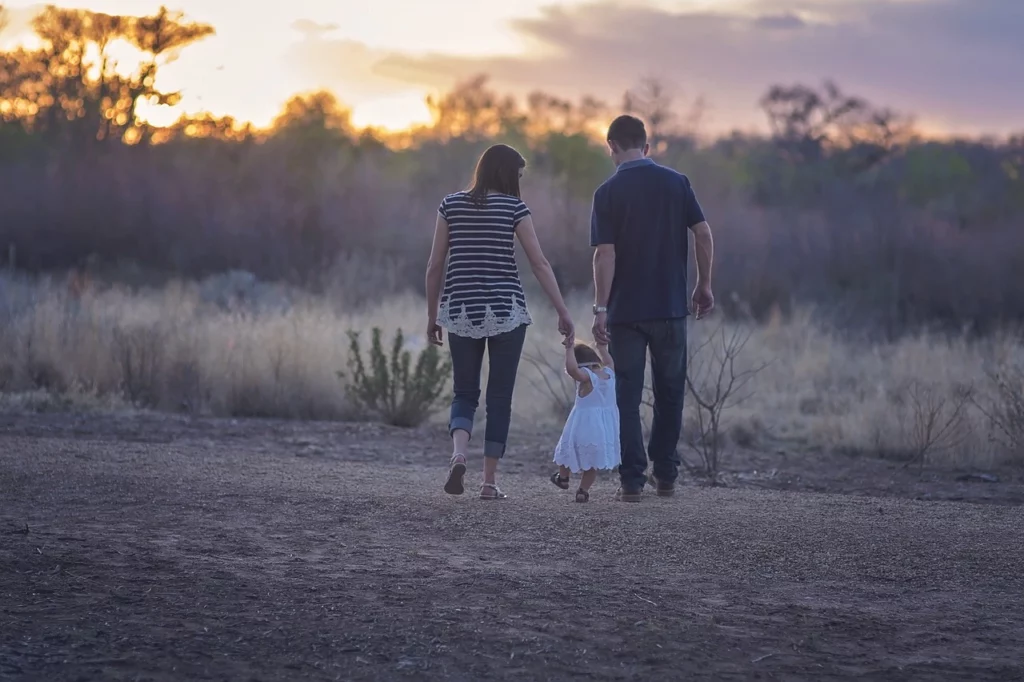 A boardwalk is a great place for an evening walk if you're looking for romantic things to do in Fairhope Al. With picnic benches, rock walls, and amazing views of Mobile Bay, it's easy to see why it's a popular date destination.
If you're lucky, your view might also include dolphin sightings! The park also boasts free Things to do in Fairhope Al.
Bring a blanket and watch an Alabama sunset, play Frisbee or get crafty with some sidewalk chalk. There are even Christmas tree lights that makeup part of a holiday light display through January 1st.
#2. Fairhope Museum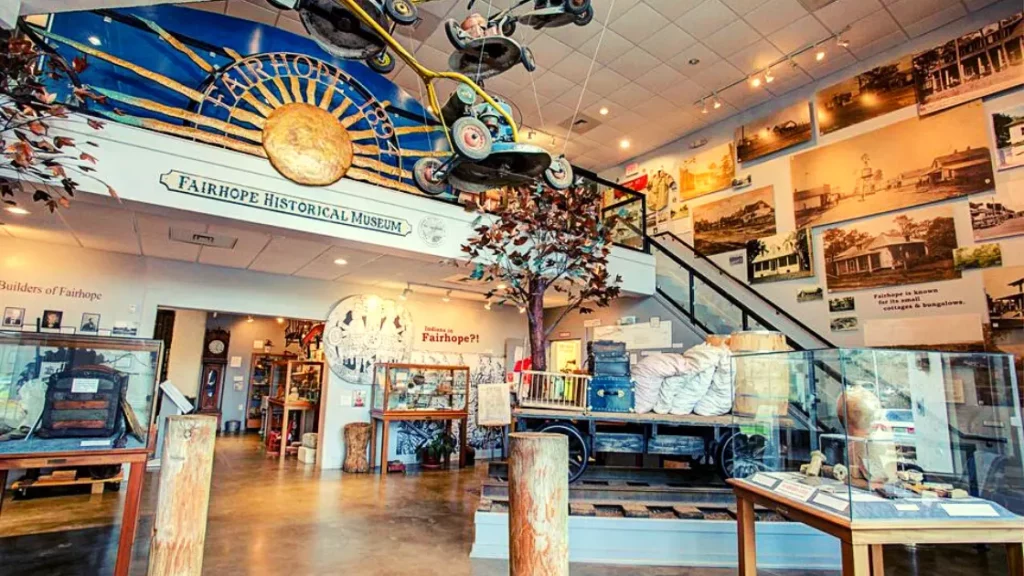 Fairhope Museum is located across from city hall and covers all facets of life in Baldwin County since its inception.
The museum is home to artifacts that tell stories of growth and prosperity in one of Alabama's fastest-growing counties.
Visitors will find a replica of a drugstore owned by Dr. J.B. Martin (for whom Martin Street is named) and photos of famous residents such as Jan Chandler and Sparky Anderson.
They offer free admission with free tours of their new building, completed in 2012. The museum hosts several events and programs throughout each year that are open to all ages.
This is a great way to kill an hour or two while you're waiting for lunch at one of their many restaurants. There's also a large gift shop where you can pick up unique souvenirs for yourself or your friends back home!
Address: 24 N Section St, Fairhope, AL 36532, United States
#3. Weeks Bay Reserve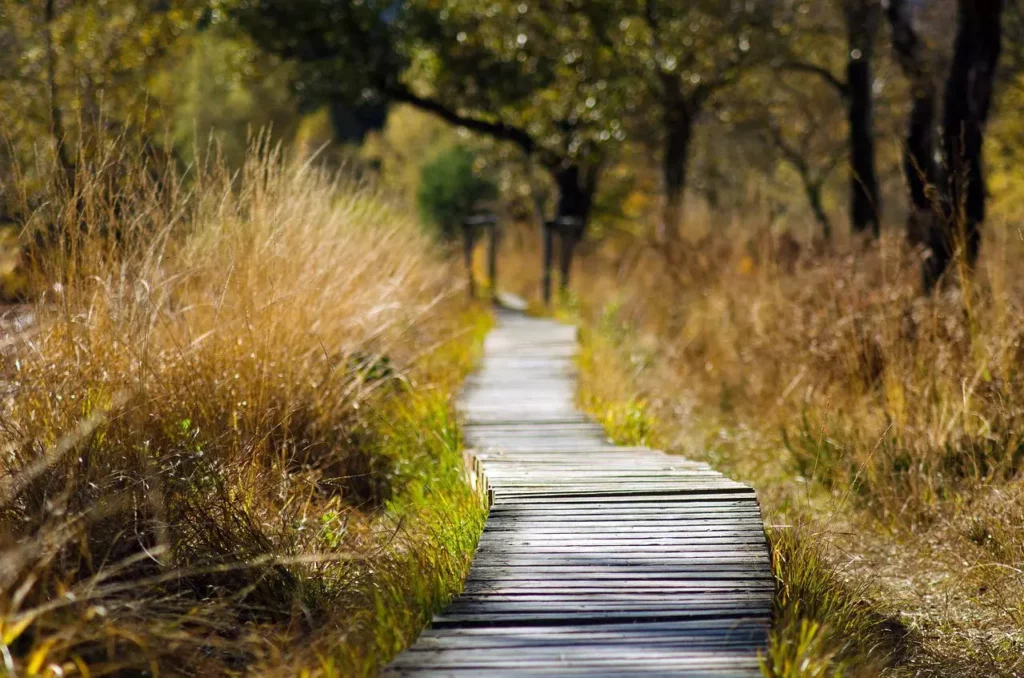 The 50,000-acre Weeks Bay Reserve was formed in 1996 and encompasses beautiful salt marshes, cypress swamps, grassy prairies, and various coastal landscapes.
Several scenic driving routes throughout, but visitors should consider an eco-tour with Weeks Bay Expeditions for an unforgettable experience.
You'll get up close and personal with an array of wildlife, including wild horses, birds, and alligators. Weeks Bay Reserve offers camping opportunities and remote beach areas where visitors can picnic or go clamming by boat.
If you have time for only one thing on your Things to do in Fairhope Al itinerary, make it visiting Weeks Bay Reserve. It's worth every mile!
Address: 11300 US-98, Fairhope, AL 36532, United States
#4. Tolstoy Park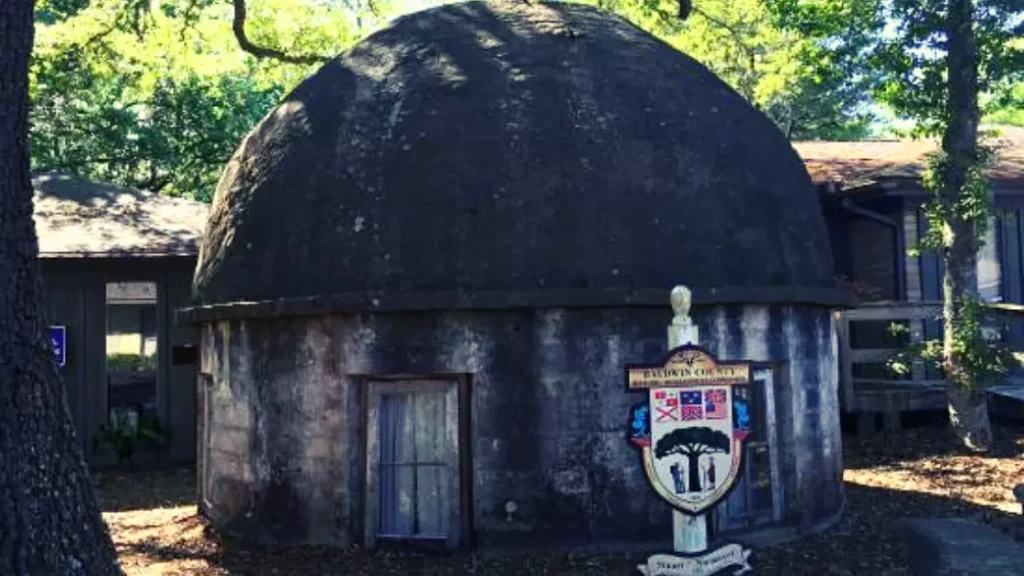 Tolstoy Park is a great place for a long stroll or picnic with your significant other. Grab some friends and head over to Tolstoy Park on a Friday night for live music and open-mic comedy.
This park offers plenty of grassy space for families looking to kick off their shoes, dig their toes into the dirt, and let their kids run free.
This venue offers something for everyone! You can grab an ice cream cone from several concession stands and enjoy them while listening to live music.
The area also features bocce ball courts, swing sets, grills, picnic tables, and walking trails. Have fun at Tolstoy Park!
Address: 22787 US-98, Fairhope, AL 36532, United States
Are you thinking of visiting Alabama, you could also visit Fort Payne in Alabama
#5. Fairhope Brewing Company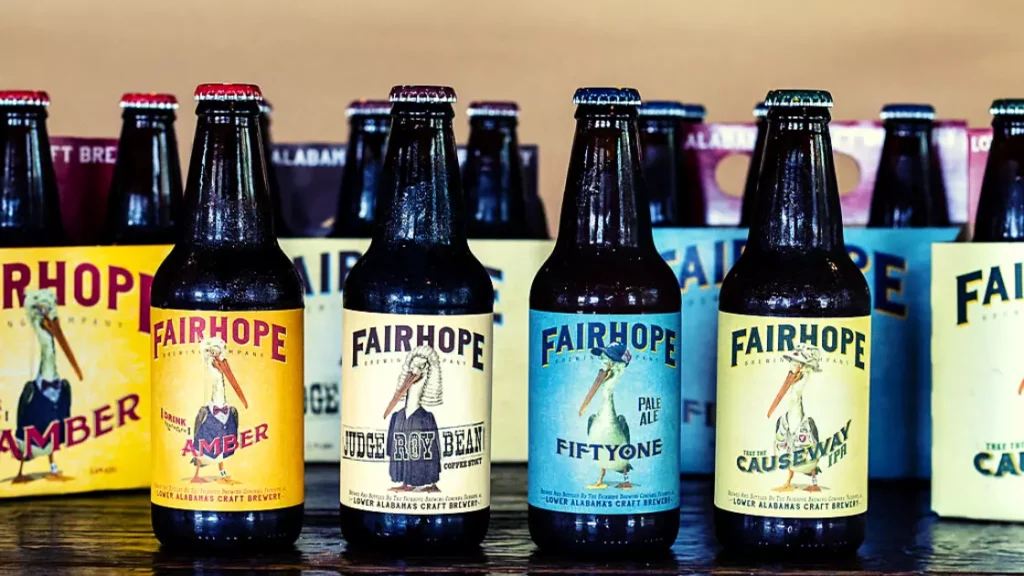 Fairhope Brewing Company's menu changes seasonally; an American eatery that sources locally grown ingredients.
A favourite among locals is fried deviled eggs with chorizo. The restaurant is the best restaurant in Fairhope, al, and it also serves craft beer, wine, and cocktails.
A trip to Fairhope wouldn't be complete without stopping at one of its many art galleries or shopping boutiques. It's also home to restaurants like Seaside Grill (seafood), Cottage Cafe (coffee shop), and La Paz Mexican Bistro (Mexican).
For fun things to do after dinner in town, head over to Hargray for live music, bars, and nightlife until 2:30 a.m., seven days a week during the summer months.
One of Alabama's oldest breweries, Fairhope Brewing Company, has a lot going for it, the beer is fantastic, and there are great deals on growlers during happy hour.
The brewery offers one of Alabama's best tasting rooms. It's big, open, and beautiful. It gets crowded on weekends, so come early.
Address: 914 Nichols Ave, Fairhope, AL 36532, United States
#6. Windmill Market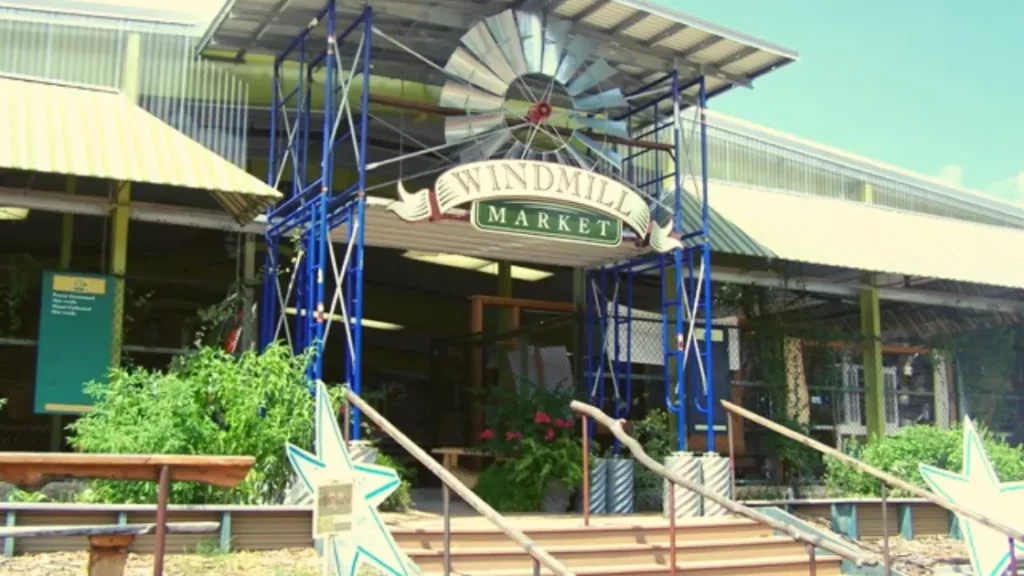 There are a few different markets around town, but Windmill is my favourite. With a great mix of food and art vendors, you're bound to find something fun for everyone.
My kids love going there because they love seeing all of the animals. And, as a bonus, local favourites like Jimmy's are right across from it.
Whatever you do on your trip, or if it isn't related, Windmill Market will be worth your time. It's one of my favourite places in Fairhope!
Address: 85 N Bancroft St, Fairhope, AL 36532, United States
#7. Fairhope's Community Park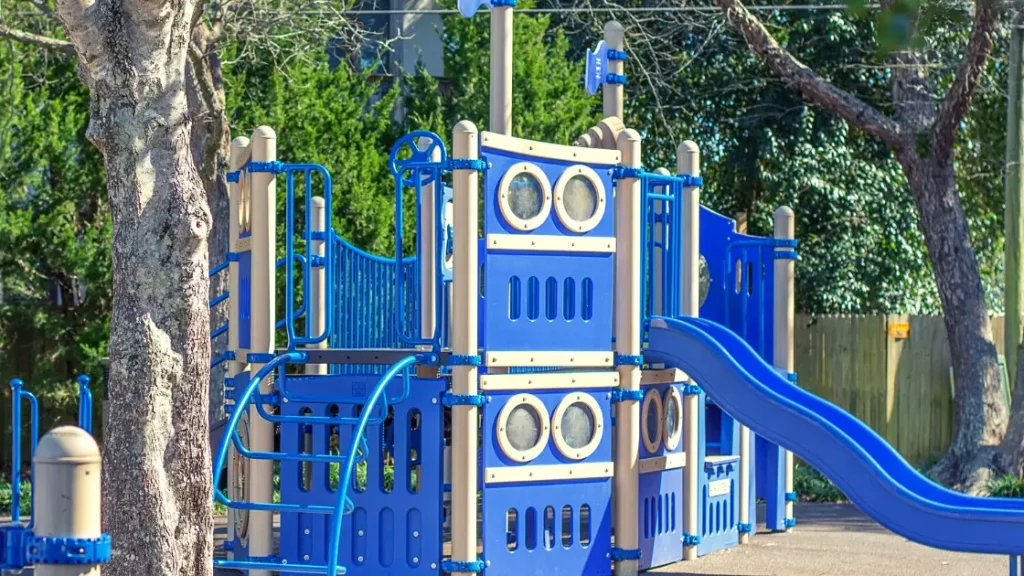 This park boasts a little bit of everything, including amenities such as ball fields, playgrounds, fishing ponds, and walking trails.
Even an event centre can be reserved for special occasions or community gatherings. In short, it's a great option for locals who want to enjoy free things to do in Fairhope AL.
This is also a good place for families with young children who don't want to spend too much money on activities while they're here.
If you want to bring your kids somewhere fun, but are worried about paying for tickets and food afterwards, check out Fairhope's Community Park.
The large lawn areas surrounding these features make it easy to spread picnic blankets or lawn chairs and relax under trees.
Bringing a radio along is always a good idea if you're travelling with kids (or just like having them around). It gives everyone something else to focus on besides each other, which often means more bonding time between family members!
Also, keep an eye out for any events at Fairhope's Community Park; there are plenty throughout the year!
Address: 105 S Church St, Fairhope, AL 36532, United States
Since you love the best things to do in Fairhope, Alabama you would also love the best things to do in Settle, Yorkshire, Denton TX (Texas), and Punta Cana.
#8. Southern Antiques and Accents
If you're visiting Fairhope, Alabama, spend some time browsing through Southern Antiques and Accents. They have a great selection of antiques from all over Alabama.
While you're there, check out their selection of dolls, including antique ones! Other goodies include sterling silver jewellery, framed prints and posters, art books, and signed prints.
While it's easy enough for anyone else to hop onto Google Maps or Yelp for recommendations on what is a must-see when it comes to local shops and restaurants in your city or town. 
Think about how helpful that can be for someone visiting your city from another world!
It's also an opportunity to show off your local businesses and attractions knowledge.
#9. Eastern Shore Art Center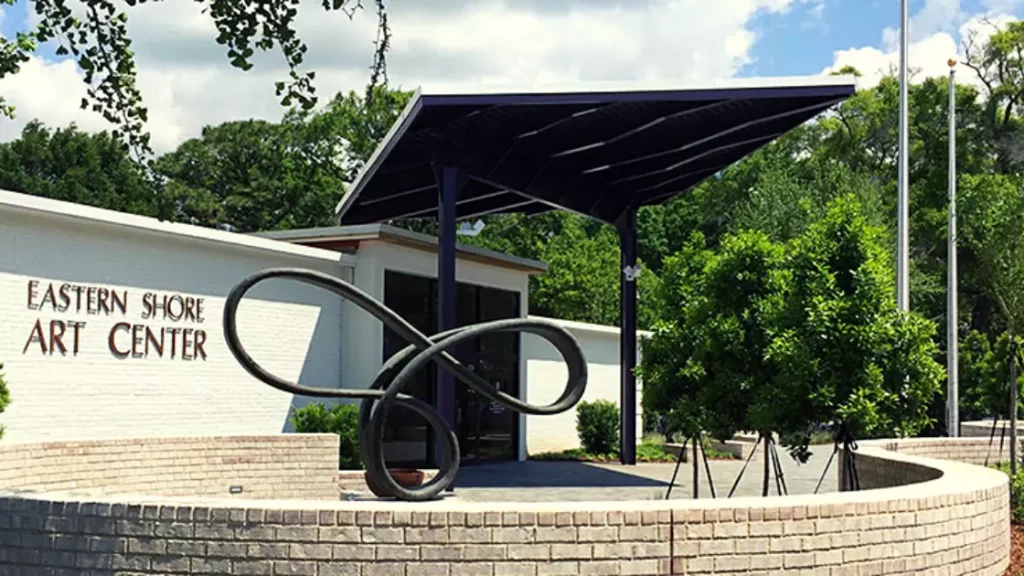 The Eastern Shore Art Center (ESAC) is a 20,000-square-foot gallery and educational facility located at 1001 Birdneck Road in downtown Fairhope.
More than 40 artists are represented here at any given time, including many from Mobile and other parts of Alabama and outside states.
The centre was founded by longtime residents Pat and Jim Hynes to showcase local and regional artwork often for sale and provide classes for amateur artists looking to improve their craft.
ESAC is open daily, Tuesday through Sunday, from 10 a.m. until 5 p.m. and hosts free events such as First Friday every month.
On weekends, visitors can participate in family art activities like Family Fridays and Family Sundays or peruse some works during Gallery Walk on Saturdays from 2 p.m. until 5 p.m., when admission is free for all ages.
Address: 401 Oak Ave, Fairhope, AL 36532, United States
#10. Olde South Antique Mall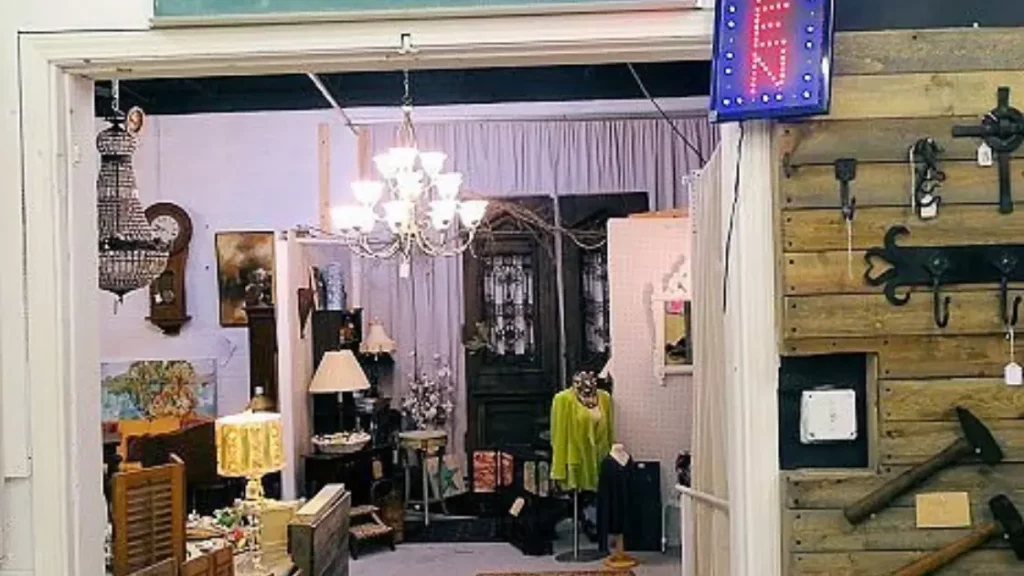 This mall is located on Airport Boulevard. It has over 30 shops and several restaurants. If you're looking for a break from your typical shopping adventure, visit Olde South Antique Mall in Fairhope, AL.
The stores offer everything from furniture and clothing to pottery and toys; you'll be sure to find something unique!
And, when you're ready for a bite to eat, there are several restaurants within walking distance of Olde South Antique Mall.
You won't go wrong stopping by one of these places for lunch or dinner—and it will save you time compared with travelling out of town! For example, suppose you stop by Tony's Pizza & Pasta on Main Street.
In that case, you can choose between 4 different pizza types: cheese pizza, Hawaiian pizza, speciality pizza (such as chicken alfredo), and vegetarian pizzas. To top things off, they also serve up pasta dishes like spaghetti and meatballs and salads!
Whether you have an hour or two to spare or want to grab a quick bite before hitting up another attraction nearby, Tony's Pizza & Pasta offers delicious food.
Address: 505 N Section St, Fairhope, AL 36532, United States
#11. Weeks Bay Plantation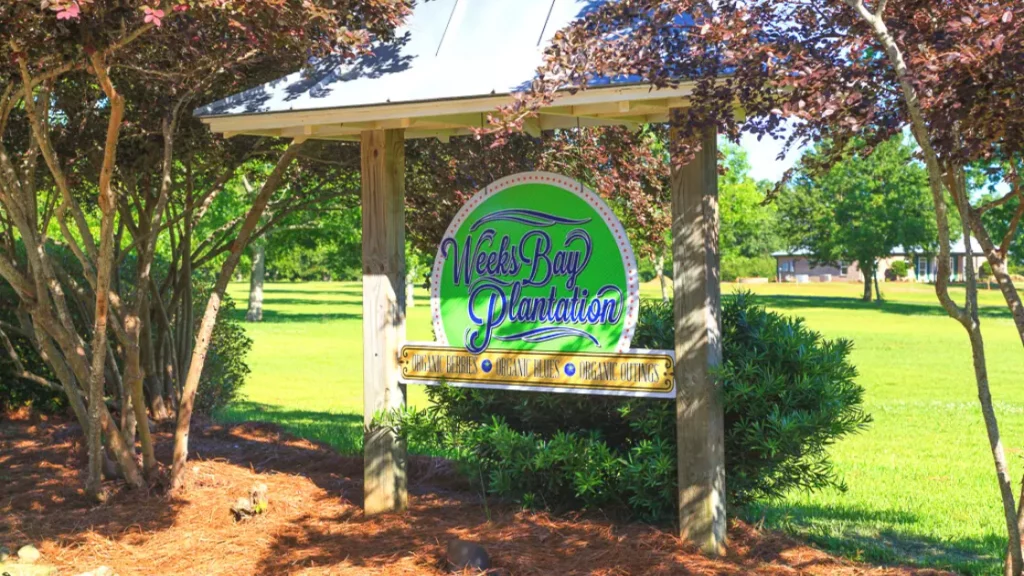 Weeks Bay Plantation is a beautiful place for an outdoor wedding. The ceremony site overlooks Weeks Bay, and there's a gazebo available for weddings.
While there aren't many reviews for Weeks Bay Plantation on Wedding Wire, couples that have gotten married here have given it high ratings for setting, value, and service.
The location also has several additional amenities:
A covered pavilion
A fire pit area with picnic tables and grills
Plenty of parking space
It's owned by Sojourners Campground, which also owns Battle Pointe Yacht Club, so couples can take advantage of amenities at both locations if they book both venues together.
This venue doesn't require you to rent chairs or table linens from them but does require you to bring your own catering company.
Week Bay Plantation charges $3,500 for their ceremony sites and $4,500 for their reception sites (including 150 guests).
If you add on one of their packages, you could pay more, depending on your package type.
Address: 505 N Section St, Fairhope, AL 36532, United States
#12. Christine Linson Gallery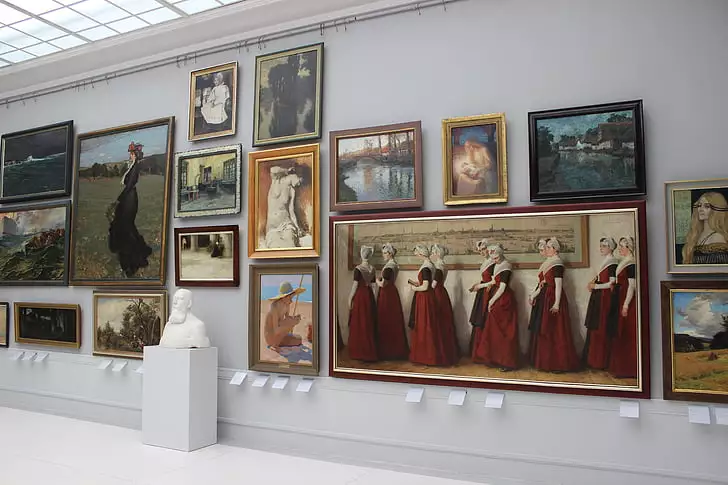 From Jackson Pollock to Keith Haring, paintings, sculptures, and ceramics by all of your favourites are on display at Christine Linson Gallery.
It's located in a former Baptist church built during the 1930s, but be sure to time your visit right because it's only open Friday and Saturday evenings until 8:00 PM. $5 suggested donation, Friday evenings from 6 PM – 8 PM for art viewing and live music provided by local musicians.
If you want more than just one thing from among your list of things to do in Fairhope, Al? You can't go wrong with an evening out at Christine Linson Gallery.
Address: 386 Fairhope Ave, Fairhope, AL 36532, United States
#13. Theater 98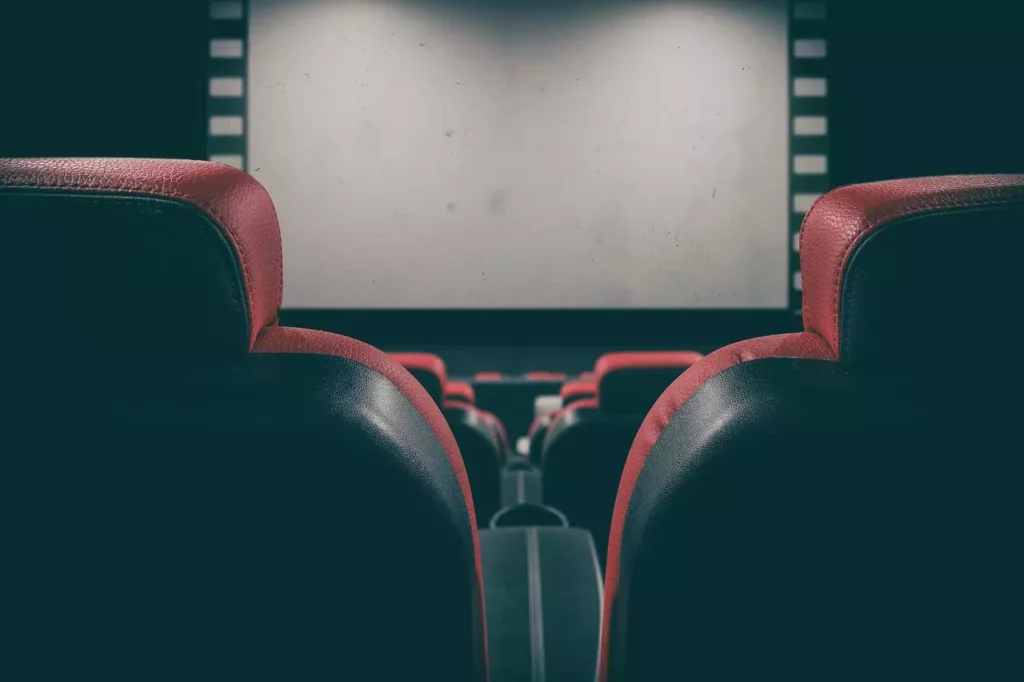 Grab a friend and see a play at Theater 98. it's an intimate theater with about 75 seats, just right for seeing small plays or enjoying an unforgettable night of entertainment without irritating intermissions.
The theater hosts award-winning plays from around the world and local talent. They offer discounted tickets via Goldstar, so you can get cheap things to do in Fairhope AL tickets almost every day of the week!
Address: 350 Morphy Ave, Fairhope, AL 36532, United States
#14. Marietta Johnson Museum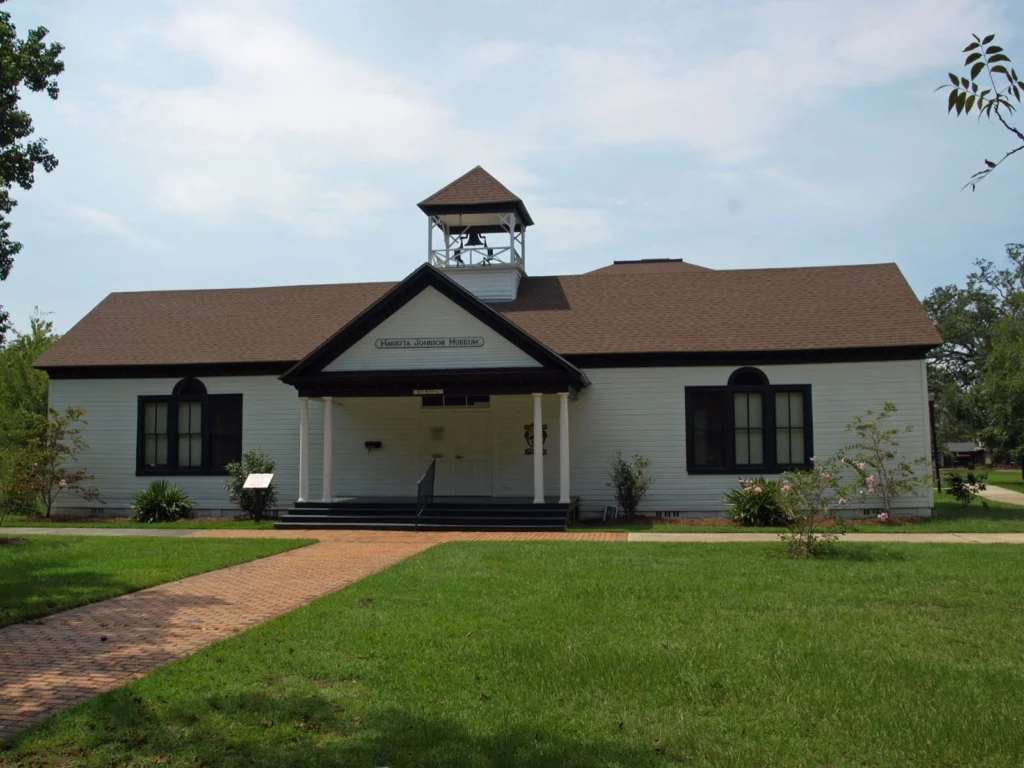 The Marietta Johnson Museum has a lot of personality for such a small building. The museum is home to an impressive collection of folk art and crafts from various cultures worldwide.
It houses more than 1,200 pieces and only takes up about 500 square feet, so you'll want to set aside a few hours if you're planning on checking out everything they have here. They also have other exhibits rotating through, so you can come back repeatedly.
This museum is worth visiting as it has a great deal of character while also being educational at the same time. And that's exactly what you want when looking for things to do in Fairhope, AL.
Address: 10 S School St, Fairhope, AL 36532, United States
#15. Bohemian Park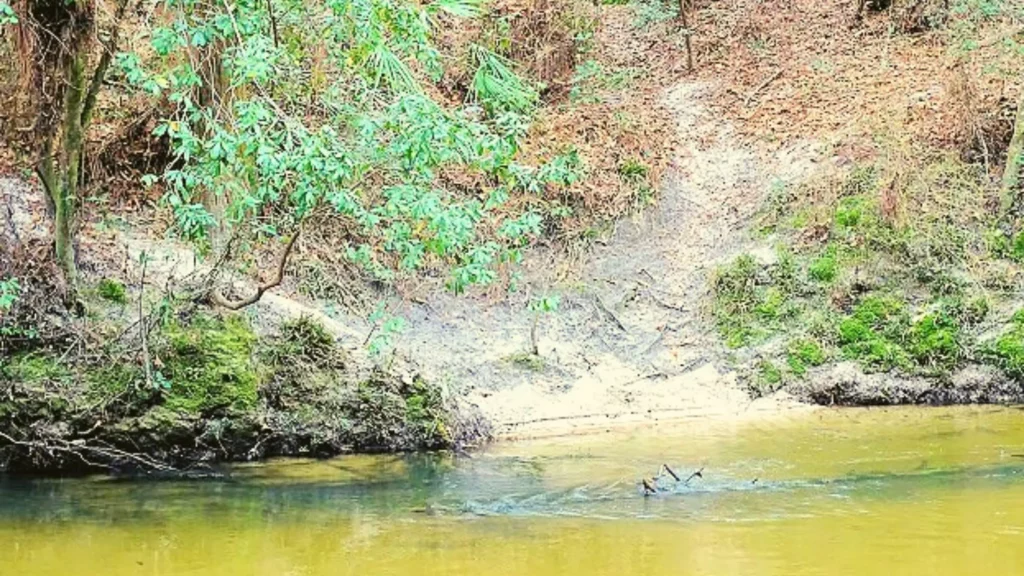 You'll find Bohemian Park on Lakeshore Drive, near downtown. It's one of those places where you can picnic or walk along a winding path while listening to classical music and breathing in clean air.
There are many trees and plants, and yes, it feels like a park should. And best of all? It's free! But if you want more from your visit than just a pleasant afternoon stroll, bring cash for some fresh roasted peanuts or ice cream from Lulu's Southern Style Kitchen.
You won't be disappointed. If you're looking for something a little different, take yourself over to Waterfront Park at sunset.
Watch as boats light up across Mobile Bay before heading back toward town (or hang out at Hooligan's Island bar). If your weekend is full of time with friends and family, there are plenty of options for nightlife in Fairhope, AL.
Address: Co Rd 48, Fairhope, AL 36532, United States
#16. B & B Pecan Co.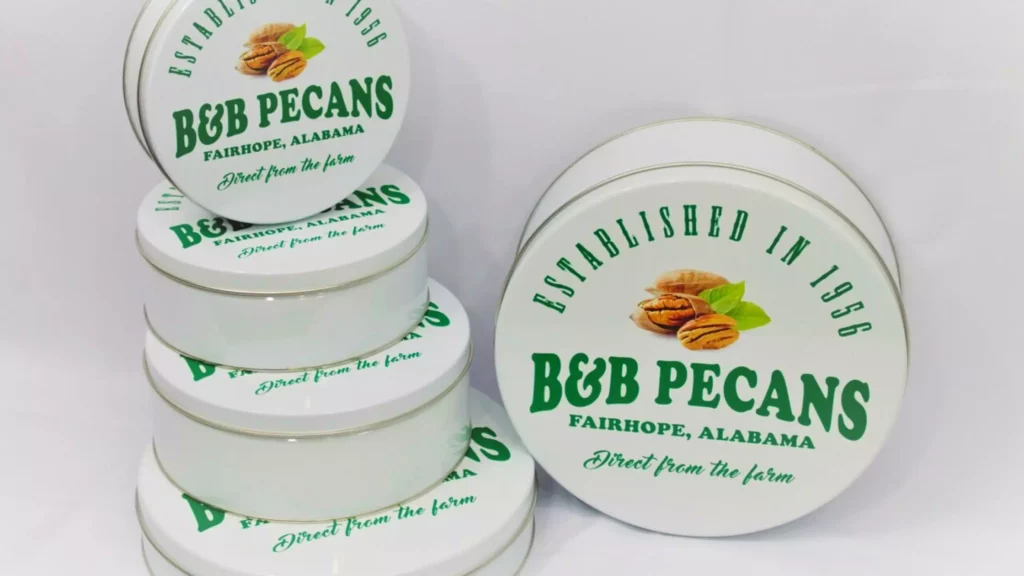 Can't get enough pecans? If you live in or travel through Alabama, check out B & B Pecan Company in Daphne.
They offer gift baskets and free samples of candied pecans and pecan brittle, pralines, and other delicacies made with freshly roasted nuts.
You can even pick up an almond-free, chocolate-covered pecan for someone who claims they don't like nuts!
You can order over the phone or stop by for a visit during regular business hours (Monday through Friday from 9 a.m. to 5 p.m., Saturday from 10 a.m. to 2 p.m., and Sunday from 1 p.m. to 4 p.m.).
If you are thinking about visiting Alabama, you would also love to visit Palmdale in California, Rocky Mount in North Carolina, and Kittery in Maine.
#17. Fairhope Escape Rooms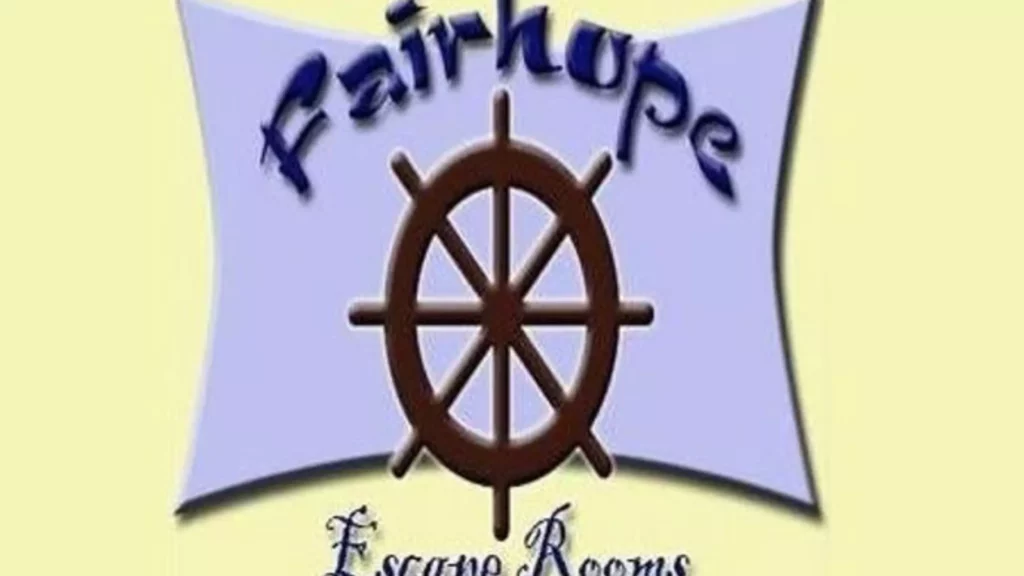 Escape rooms are popping up all over, and they're a great group activity for family, friends, or co-workers. Decide on your theme before you head out, and watch Groupon or Living Social deals.
Escape Room of Fairhope is located near downtown, so it's easy to grab dinner before or after. Plus, their Game of Thrones room just opened!
So if you happen to be one of those people who has no problem standing up during a movie and shouting, What are they doing? That's not what happened!
That's not how that happened! (I swear I wasn't one of those kids). Then definitely check out Escape Room of Fairhope. You won't regret it.
Address: 16151 S Greeno Rd, Fairhope, AL 36532, United States
#18. Oak Hollow Farm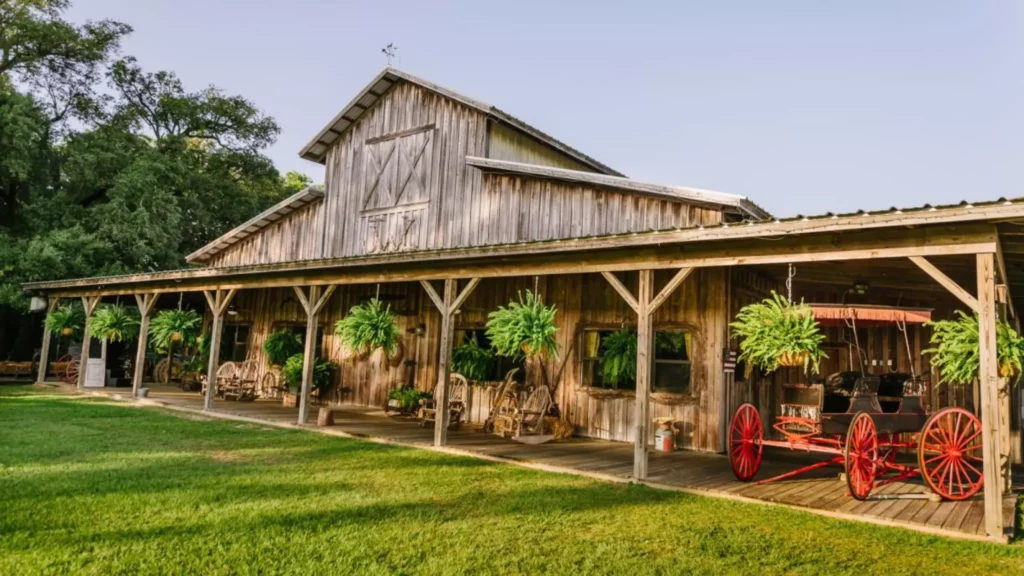 Offering a variety of things to do in Fairhope, AL, Oak Hollow Farm's most recent attraction is a new wedding venue and event centre.
Open seven days a week, Oak Hollow Farm offers visitors a variety of activities, including berry picking, wagon rides, pumpkin picking, and corn mazes.
Their farms also provide visitors with the fresh produce available during their seasonal harvest.
Visitors can also participate in live farm tours led by an experienced guide who will share how crops are grown and harvested at Oak Hollow Farm and what products are available for sale at their markets.
The tour concludes with a sampling of freshly picked fruits and vegetables. The event centre features rustic decor and seating arrangements perfect for weddings or other special events.
It also includes outdoor areas covered by oak trees, providing shade from direct sunlight while still allowing natural light to shine through.
The oak trees lining these outdoor areas serve as ideal photo opportunities for guests attending events at Oak Hollow Farm.
Address: 14210 S Greeno Rd, Fairhope, AL 36532, United States
#19. Rock Creek Golf Club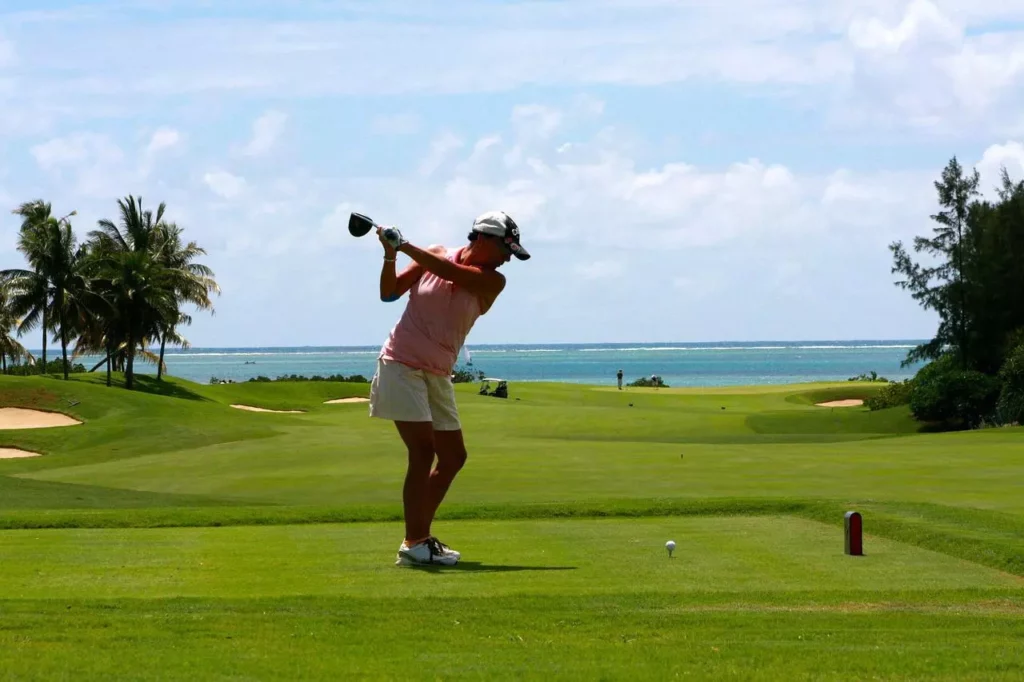 This beautiful and peaceful place is best known for its excellent courses and pure natural beauty. There's nothing more relaxing than enjoying a round of golf at Rock Creek Golf Club on a sunny day.
The club's four 18-hole championship courses, the Prestwick, Trevose, Dunes, and Links are beautifully landscaped and provide challenging but fair tests for golfers.
If you can't hit any balls off the tee on your trip through Fairhope Al., don't worry; both full-service pro shops carry everything you need to get out on a course locally or elsewhere.
Whether you're looking for clubs, shoes, apparel, accessories, or anything related to golfing equipment, Rock Creek has what you need.
And if your swing needs some work before heading out onto one of their pristine greens? No problem! They offer lessons too.
Address: 140 Clubhouse Dr, Fairhope, AL 36532, United States
#20. Fairhope Roasting Company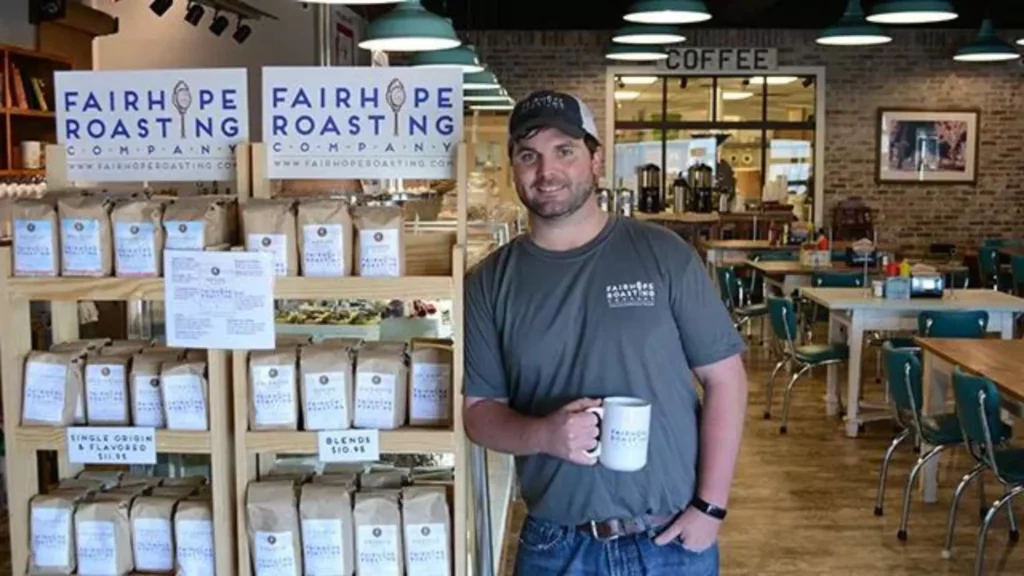 Fairhope Roasting Company offers coffee drinks and freshly roasted fair-trade beans by day and a full bar complete with craft beers, cocktails, and wine by night.
The hot chocolate is a must. Follow them on Facebook or Twitter for daily specials. Sign up for their newsletter here.
The store has an extensive food menu that includes everything from made-to-order paninis to soft-serve ice cream, salads, soups, etc.
This local favourite prides itself on its friendly service. You'll feel like you're hanging out at your neighbour's house when you go there. They even have corn hole (aka bean bag toss) outside if you want a break from shopping!
Address: 759 Nichols Ave, Fairhope, AL 36532, United States
#21. Tongue & Groove Drinkery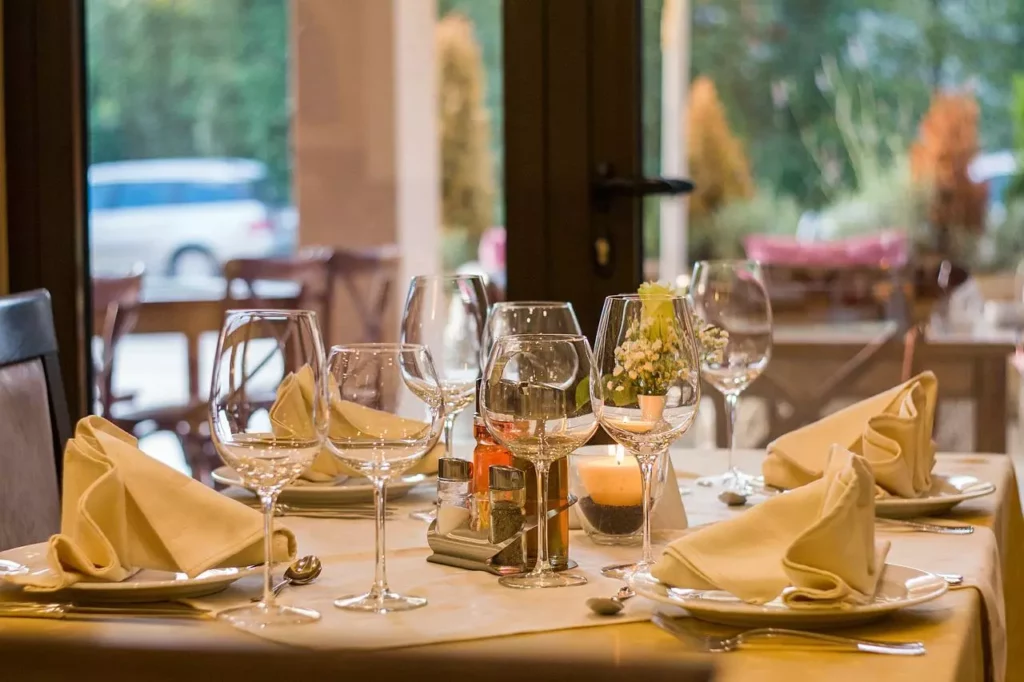 Tongue & Groove is great for grabbing lunch or dinner before a movie. It's only open for dinner on weekdays and all day on weekends, but it's hard to beat their prime rib sandwich at lunch.
They also serve up a mean cup of coffee with your favourite bagel or muffin, which you can enjoy either inside or outside if the weather permits. Want more? Check out our list of things to do in Fairhope, AL.
Plus, check out where we say that The Deck has one of our favourite patios around town! Tongue & Groove, located downtown, offers a variety of local and domestic beers on tap along with some very tasty appetizers.
While it's not quite as busy as some of Fairhope's other hot spots, it's a great place to go if you want a relaxed night out or even want something nice and quiet while watching sports on one of their many TVs.
The food here is reasonably priced and delicious; stop by for dinner or just drinks! Be sure to add this to your list of things to do in Fairhope Alabama.
Address: 77 S Section St, Fairhope, AL 36532, United States
#22. Tom Jones Pottery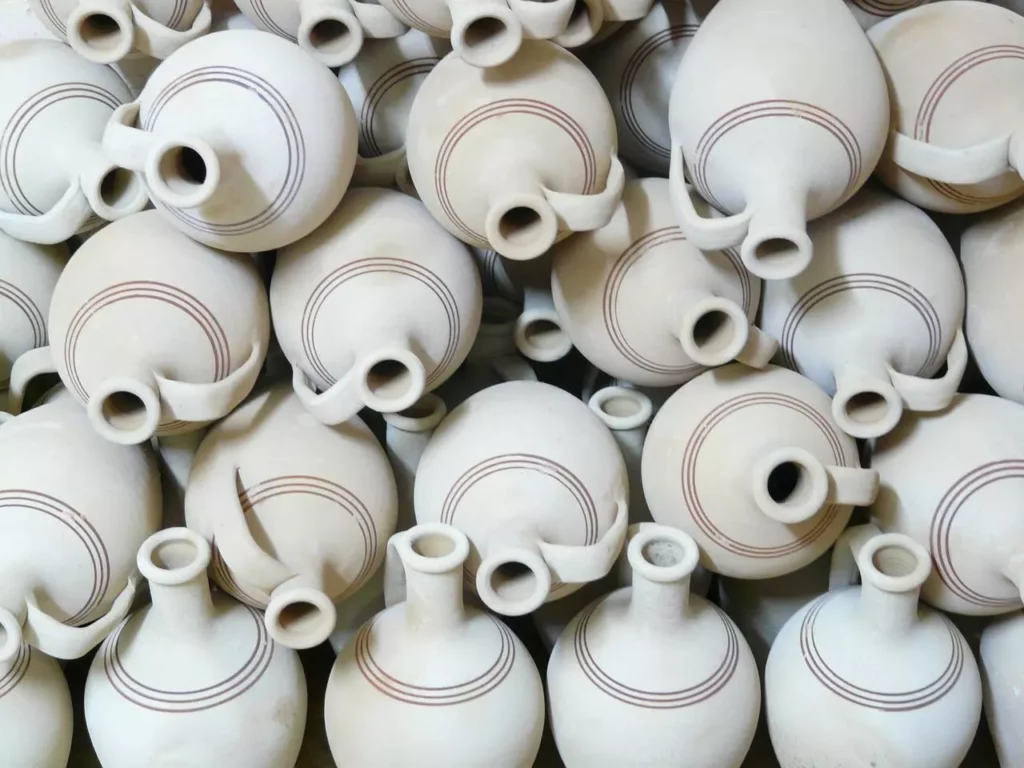 While Tom Jones's sculpture is worth visiting, his on-site pottery studio is perhaps a more interesting place.
The studio hosts summer camps for adults and children and offers pottery parties where you can make your works of art; it also sells its wares to stores around Alabama.
A visit here feels like a trip back when artisan crafts were valued above most other things. And don't worry if you don't have any artistic talent. The staff is happy to help with your project.
It may not be as famous as some of Fairhope's other attractions, but few things are more rewarding than creating something beautiful with your own hands.
Address: 12601 Clay City Rd, Fairhope, AL 36532, United States
#23. The Church Mouse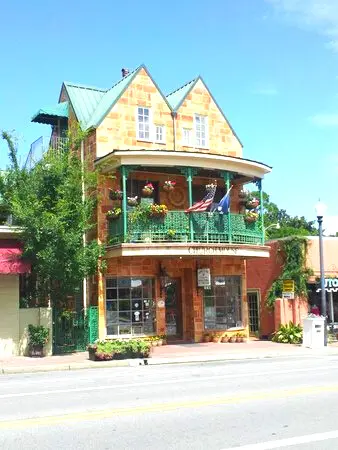 With a name like The Church Mouse, you know that it will be cosy and affordable. They serve a variety of lunch options and vegetarian choices (not limited, but at least 50 per cent of their menu is vegetarian).
The prices are reasonable; I paid about $10 for my veggie quesadilla with guacamole and two drinks. And it was filling. I took home half of my meal.
It's a cute place, with seating inside and outside on an enclosed patio during nice weather. If you're feeling adventurous, try out some kombucha!
I tried blackberry sage kombucha while there, and I don't even like fruit flavours! But it was good. Also, they have a wide selection of teas and coffees from which to choose.
There are plenty of tables, and it's not cramped or crowded here. A great place to spend an afternoon if you want to get away from your computer screen or enjoy a leisurely brunch with friends or family.
Address: 14 S Church St, Fairhope, AL 36532, United States
#24. Southern Exposure Inshore Fishing Charters
It's no secret that Alabama is a great place for offshore fishing charters. But for those anglers looking for something a little closer to home, take advantage of its vast amount of rivers and lakes and book an inshore fishing charter with Southern Exposure Inshore Fishing Charters.
With guided trips available year-round, you can bring your entire family aboard these boats or even enjoy some time on your own while fishing by yourself under the guidance of a captain or mate who can show you how it's done properly.
The guides will also prepare a delicious lunch (with adult beverages available at an additional cost), so don't forget your appetite!
The boats are comfortable and well equipped for both first-timers and seasoned anglers. The opportunity to fish with different species, from black drum to redfish, means you'll have plenty of variety each trip out.
And be sure not to miss their late fall speckled trout season, which kicks off September 15th—perfect timing for families with school starting up again soon!
Address: 10268 Bay Haven Cir, Fairhope, AL 36532, United States
#25. Delatorre Day Spa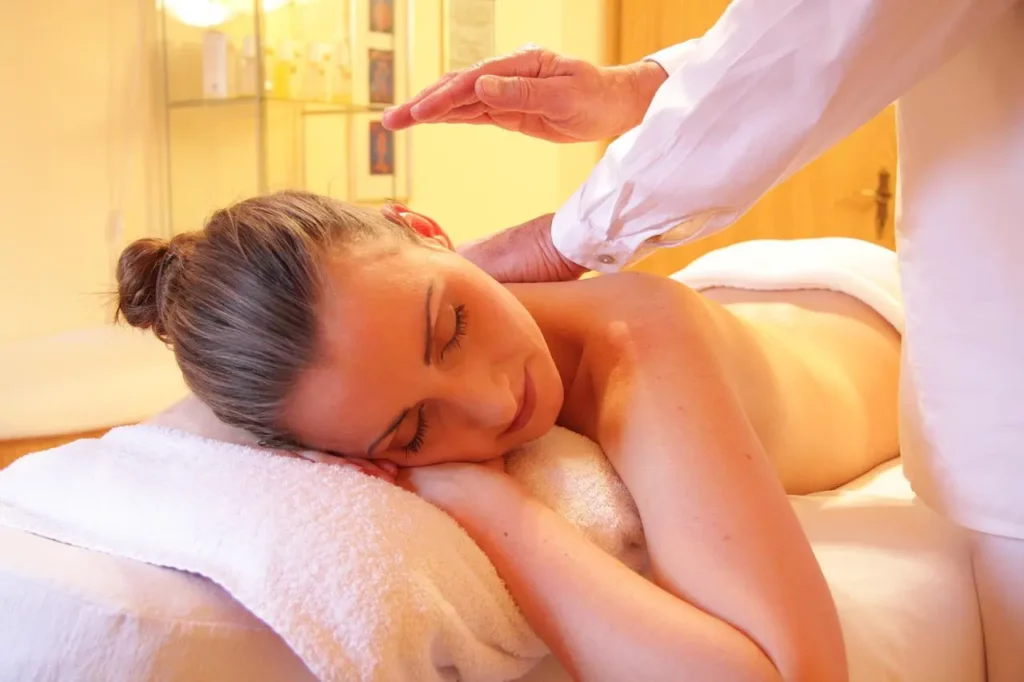 This Delatorre day spa is a favourite of locals because of its knowledgeable and friendly staff. At Delatorre, you can expect a high-quality service at a reasonable price (on average, $100 for an hour-long massage).
Additionally, all employees are trained with and certified in Swedish massage techniques. In fact, during busy times like summer, the wait time can be as long as two weeks!
If you are looking for something different from your normal massages or facials: try deep tissue sports massage therapy or facial packages that include peelings and microdermabrasion treatments.
Address: 412 Swaying Willow Ave, Fairhope, AL 36532, United States
What is Fairhope Alabama known for?
The city of Fairhope is known for its rich cultural events and activities, great restaurants, and quaint shops. This small town's beauty attracts thousands of tourists each year!
Does Fairhope, AL have a beach?
Yes! North Beach Park is a great place to spend an afternoon or evening during your stay. This public beach has plenty of parking spaces, restroom facilities, and lifeguards on duty during peak use times. You can rent lounge chairs and umbrellas or bring your own if you'd like.
Plan Your Trip To Fairhope, Alabama
If you are searching for things to do in Fairhope, Alabama, this article has everything you need to know. It's an excellent place for visitors and locals, and the weather is always perfect.
Fairhope is the perfect destination for people who love adventures. With an array of attractions and activities, it's no wonder that it has become the fastest-growing city in Alabama.
So, start preparing to tour Fairhope on your next vacation. You'll love it and enjoy the places to visit in Alabama.