Viva Aerobus Baggage Fees Review – Worth It or Not?
If you're planning a trip with Viva Aerobus, one of Mexico's leading low-cost airlines, you may wonder if the baggage fees are worth it.
In this review, we'll take an in-depth look at Viva Aerobus baggage fees, so you can make an informed decision before booking your flight.
Read on to learn more about Viva Aerobus baggage fees. We'll review the different types of payments and provide an overall assessment of their value. But first, let's get to know about Viva Aerobus.
Introducing Viva Aerobus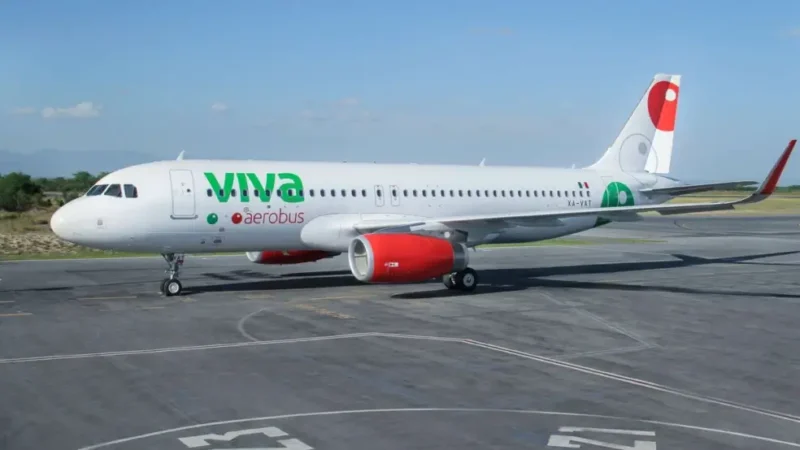 Viva Aerobus is a low-cost Mexican airline based in Mexico City. It is one of the low-cost airlines in Mexico and has become one of the most popular airlines in the country.
The airline operates over five routes to more than 25 cities throughout Mexico. In addition to domestic flights, Viva Aerobus also offers international flights to some destinations in the United States.
Viva Aerobus strives to offer its passengers a comfortable and affordable flying experience with competitive rates and quality service. The airline is known for its emphasis on customer service and commitment to providing a stress-free travel experience for its customers.
Viva Aerobus is renowned for its low fares and cost-effective baggage fees. The airline offers carry-on and checked baggage fees designed to fit different travelers' needs.
Read on, so you will take a closer look at Viva Aerobus baggage fees and determine whether or not they are worth it.
You can check out the best Tips On How To Get A Cheap Airline Ticket.
The Different Types of Baggage Fees
Regarding air travel, Viva Aerobus is known for offering some of the best baggage fees in the industry. With various categories of baggage fees available, passengers can choose the cost that works best for them.
Here's a look at the different types of baggage fees offered by Viva Aerobus: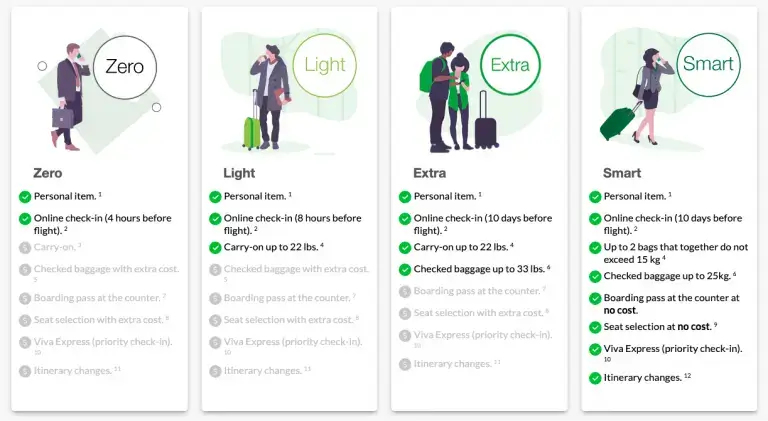 The following is part of the Viva Aerobus (VB) luggage policy for average basic fares.
Free – for one personal item
Free – for one carry-on bag
Baggage check costs vary by ticket class
Depending on the route, there may be additional fees for overweight and oversized luggage.
Sports equipment, subject to any costs that may apply
You may also want to check out the Best Ways On How to Find Cheap Flights and Snag the Best Deals.
What is the carry-on baggage policy for Viva Aerobus (VB)?
As long as each piece of luggage fits within 55 cm x 40 cm x 20 cm, Viva Aerobus (VB) enables each passenger to bring one carry-on luggage.
A personal item such as a purse, briefcase, laptop bag, or camera bag is also permitted for passengers to carry.
The combined weight of the three items cannot be greater than 10 kg.
Additional luggage weighing up to 15 kilograms costs USD 60.
20 kg or fewer additional bags: USD 70
Additional luggage weighing up to 25 kg costs USD 80.
No more than 32 kilograms per additional bag; USD 100
What's Included in the Fee?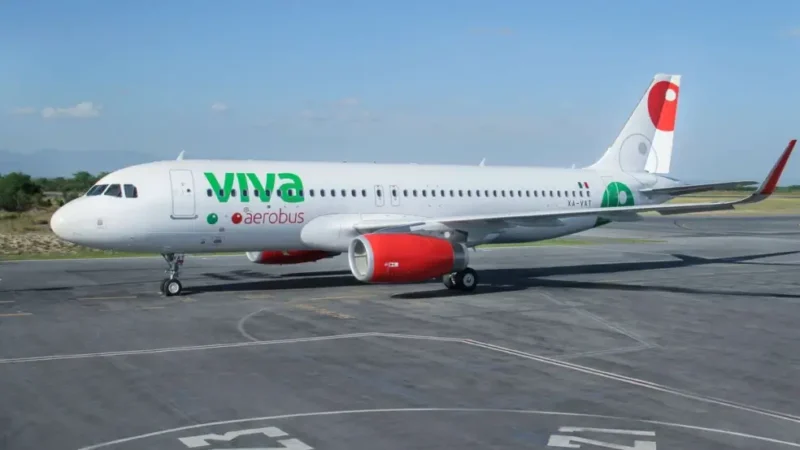 When you purchase a ticket with Viva Aerobus, the fare includes one personal item and one checked bag for free. Additional checked baggage fees apply for any additional bags.
The fees vary based on the route, weight, and size of the bag, as well as whether or not you check in online or at the airport.
For flights to and from Mexico, checked bags must be at most 23kg (50 lbs) for Economy Class or 32kg (70 lbs) for Business Class and may not exceed 158cm (62in) in total dimensions.
Passengers will be charged an excess baggage fee if a bag exceeds these limitations.
Viva Aerobus also offers an extra baggage allowance for sports equipment such as golf clubs, skis, and snowboards.
The fees for this service depend on the route and type of equipment, but they typically range from $30 – $150 per item.
Passengers can also purchase travel insurance and additional perks such as priority boarding, lounge access, and seat selection for an additional fee.
How Much Does it Cost?
Regarding Viva Aerobus baggage fees, there are pros and cons to consider. The costs are lower than many other airlines, making them an excellent option for travelers on a budget.
Additionally, the amount of baggage allowed for free is more generous than most other airlines. However, the fee can add up quickly for those traveling with multiple bags.
Overall, if you're a light traveler and want to save some money on airfare, Viva Aerobus' baggage fees are a good choice.
But if you're planning on bringing a lot of luggage, you may want to consider another airline with a more generous baggage allowance.
According to kiwi, they give you a variety of flights with Viva Aerobus, including prices ranging from $54 for a ticket from Mexico City to Tijuana to $40 for a flight from Cancun to Guadalajara in Mexico to $76 for a flight from Las Vegas, Nevada, to Monterrey.
Beginning at $120 for a round-trip ticket from Chihuahua to Mazatlán, Mexico, and $174 for a ticket from Los Angeles to Mexico City.
Why is the baggage allowance 23kg?
Due to comparable weight restrictions in health and safety standards, the 23-kilogram limit is in place.
The International Air Transport Association (IATA) published a size guideline for bags intended for hand/carry-on baggage in 2015 due to the considerable diversity in these limitations.
Final Thoughts Viva Aerobus baggage fees
Since Viva Aerobus commenced its operations in November 2006, they have been known for its special baggage and flight prices.
Making them commendable and trustworthy to fly with, so when next you want to take a flight from Mexico, let the name "Viva Aerobus" come to mind.