20 Best & Fun things to do in Southern California When Relocating
Looking for the best and most fun things to do in Southern California? Southern California is one of the best places in the United States with its hints of Hollywood, luxurious shopping districts, fun amusement parks, historic missions, and many more.
There's no shortage of fun things if you relocate to the Golden State. You can readily find bliss and feel at home. Once you're done ironing out the details of your big move, from sorting out car shipping companies to unpacking all your boxes, you can focus on exploring your new home.
Many tourists flock to Southern California since it's one of the most fabulous destinations in the country to unwind. The pleasant weather year-round allows you to explore many bucket-list-worthy places, from the bustling Los Angeles metropolitan area to the breathtaking beaches in Santa Barbara.
If you live here, you're lucky because you don't have to pick a few places. You can slowly enjoy what SoCal offers and set a good pace for exploration. Check out this mashup of 20 fun things to do in Southern California.
20 Best & Fun things to do in Southern California When Relocating
#1. Stargazing at Griffith Park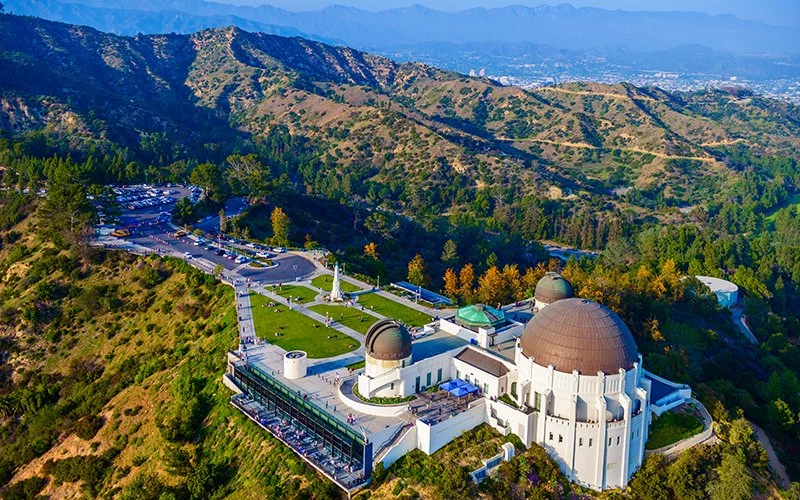 Make time to see Griffith Park, one of the United States' largest urban parks and observatories. Since it opened its doors in 1935, it has been one of the top attractions in SoCal.
Have fun exploring various exhibits; don't leave without looking through a telescope. Take a peek free of charge at the cosmos and starry skies. Since the park sits on a hilltop, you'll be rewarded with an amazing view of the city, surrounding hills, and the Hollywood sign.
The park has many telescopes, and stargazing is permitted almost every night. You can even rent a telescope and take it into the woods to stare at the stars. These are the best stargazing times in Southern California.
#2. Visit the Santa Monica Pier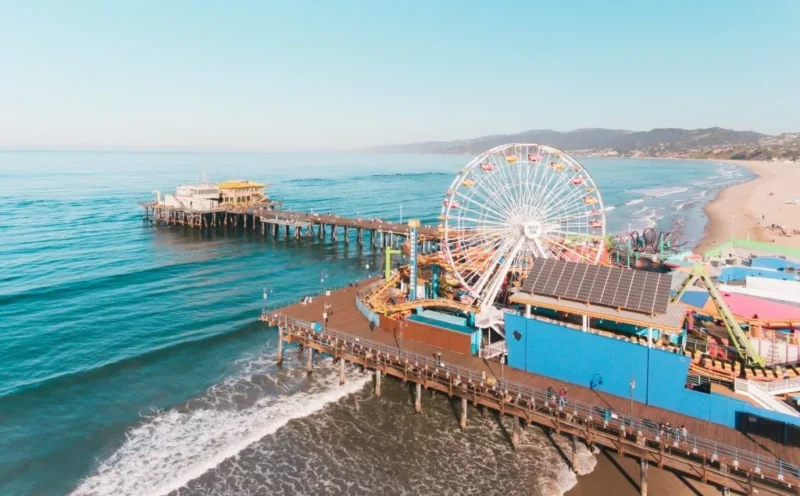 You've likely seen the iconic giant Ferris wheel in Santa Monica Pier in many Hollywood movies and TV shows. It's a landmark home to many restaurants, shops, and gaming arcades. Take a ride at the Pacific Wheel and bask in the breathtaking coastline from more than 130 feet above the pier.
Santa Monica Pier is a Disney-esque amusement park that comes to life at night. Go on a stroll on the boardwalk, ride the Ferris wheel, see a puppet show, and enjoy hot dogs and beer on the beach.
You might spot the Southern California skyline lit up from the beach if you're lucky. These are the best stargazing times in Southern California.
Address: 200 Santa Monica Pier, Santa Monica, CA 90401, United States
#3. Go to Hearst Castle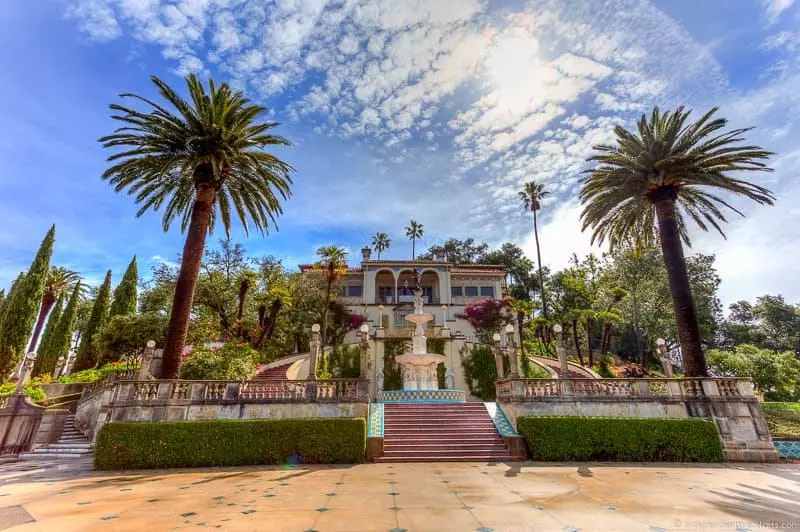 This is one of the most recommended things to do in Southern California when relocating. When you visit Hearst Castle, a National Historic Landmark, you feel like royalty.
Please take a tour and travel back in time to see what it feels like to be a guest here. You'll appreciate this stunning architectural wonder and well-preserved interiors.
If you've got a group of friends (or even just a family) you want to make sure to see, the Thoroughbred Walk at Hourtaspend is a fantastic way to experience life in the saddle.
Address: 750 Hearst Castle Rd, San Simeon, CA 93452, United States
#4. Sample Wine at Santa Ynez Valley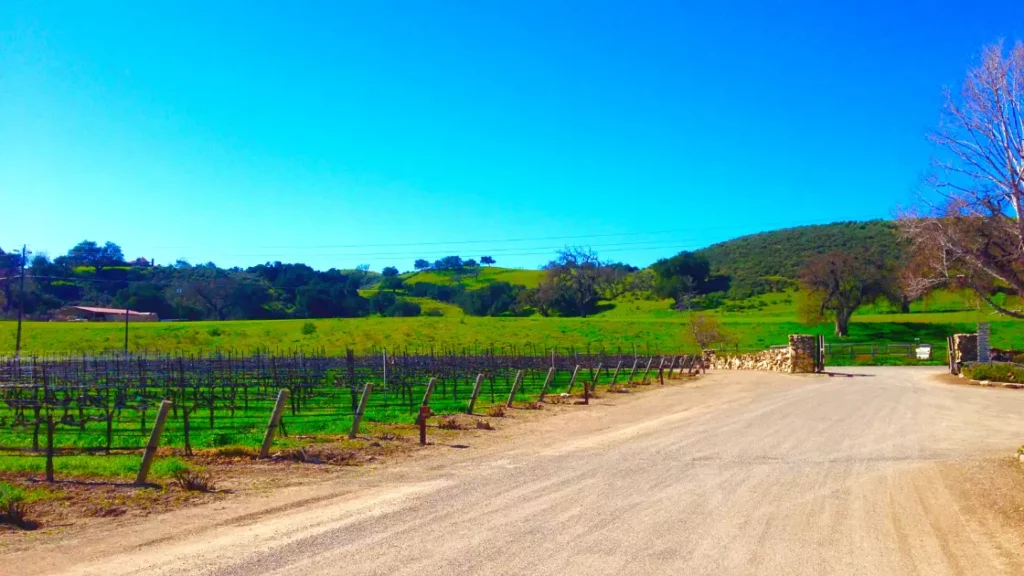 You've probably heard that you should try to drink local wine whenever possible, but what happens when you're relocating and don't have access to a local vineyard?
When that happens, you can still enjoy the benefits of experiencing extraordinary Southern California wines by heading to Santa Ynez Valley in eastern Santa Barbara County.
Sample some great wines while you're there, and you'll be glad you did. Just 120 miles north of LA, Santa Ynez Valley Wine Country is an amazing destination, especially for wine enthusiasts.
Enjoy breathing in the fresh air and snapping pics of the beautiful scenery. Book a vineyard tour or head to Los Olivos to sample different variants.
You may also want to check out the best things to do in Plymouth Massachusetts, Novi Michigan, and bloomington illinois.
#5. Explore the Universal Studios
Get a glimpse of Hollywood glam and movie-making at the Universal Studios theme park. It's great for the young ones and the young-once-upon-a-time.
Tourists worldwide come to enjoy various rides, shows, and attractions. Universal Studios Hollywood is an amazing way to experience the excitement (and colourful history) of moving to a new city. You can take your kids, grandkids, or friends and experience the rides (and the history) together.
#6. Experience Disney Magic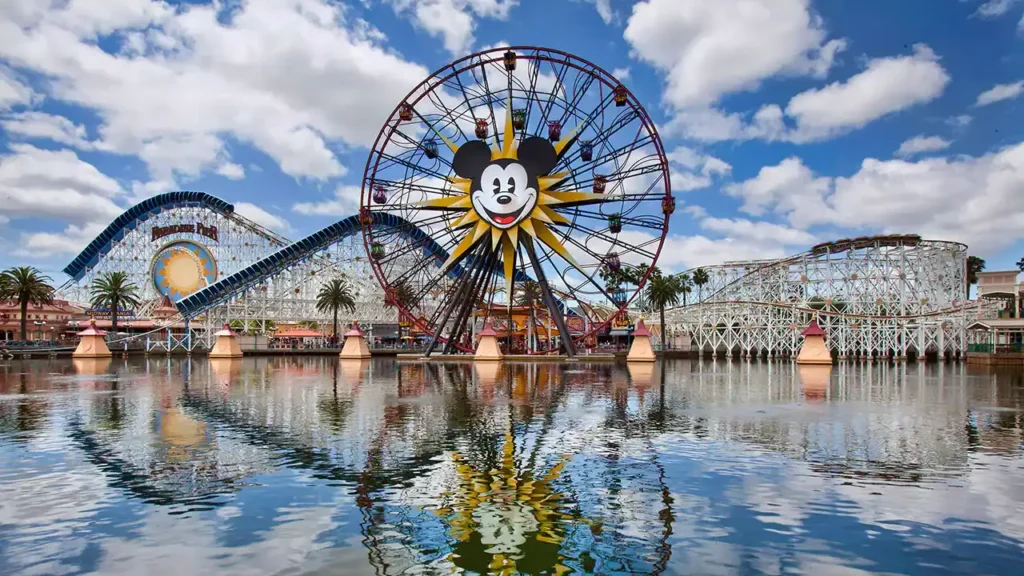 If you've ever wanted to go on a Disney World vacation, you're in luck! Southern California is home to the most Disney-ready city in the U.S.
If you're looking for a fun, easy way to celebrate your move, consider taking a Disneyland tour. A Disney World vacation can cost thousands, so this is a great way to save money while still having a blast. The downside?
It takes at least a full day, and you have to be at the right age because you'll be too young to go on the actual rides. Also, this isn't your vacation if you're looking for an immersive, hands-on experience. As a SoCal resident, experiencing the magic of Disney is a must.
Disneyland is the happiest place on earth because there are attractions for everyone. Sail with pirates, meet fairy-tale princesses, explore outer space, and many more.
#7. Cruise Sunset Strip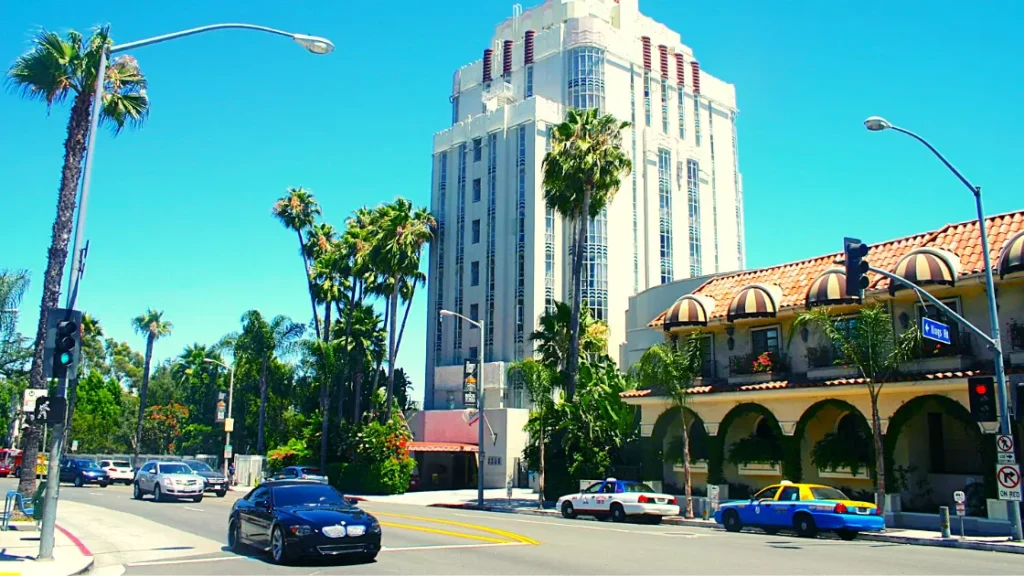 Nothing says "summer's here" like a beautiful sunset over the ocean. But what if the ocean is in France or Italy, or Brazil? Don't worry; sunsets will never be out of season when you take a cruise down the Sunset Strip and see some of Southern California's famous architectural highlights.
From Old Town to Hollywood, take in the kaleidoscope of light and colours as you cruise the Strip and see the best of both coasts. You can select between three cruises: a short flight, an hourlong flight or a full coast-to-coast journey.
To top it off, each tour includes a drink and snack break and a photo shoot. Cruising the Sunset Strip in the heart of West Hollywood is a cultural experience.
Hollywood and Beverly Hills border this 1.7-mile boulevard stretch between Doheny Drive and North Crescent Heights. Peruse high-end shops, dine al fresco, or enjoy after-dark adventures at the Viper Room.
#8. Journey to the La Brea Tar Pits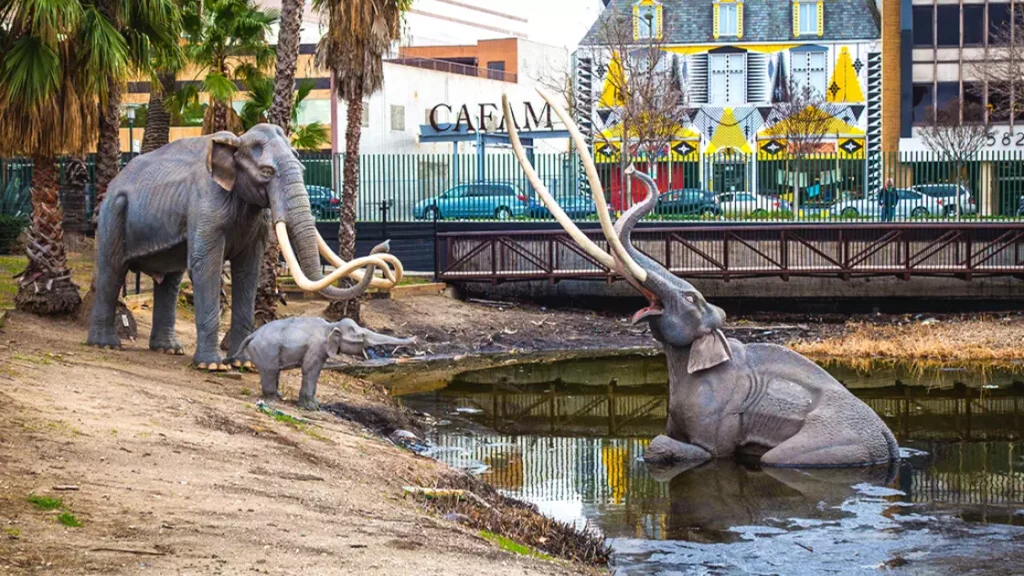 Follow the many suggested tour itineraries at the La Brea Tar Pits Park. You could visit the museum, look at the observation pit, explore viewing exhibits, and learn more about excavations. Discover a different world out here!
One of the most well-known fossil places in the world is the La Brea Tar Pits in the centre of Los Angeles, the site of more than 100 excavations! It's an interesting plot of property. This region had previously been a Mexican land grant, old woodland and savannah, ranch property, an oilfield, and a Los Angeles County Park.
Additionally, visitors may observe the processes of palaeontology as they take place. At public dig sites, staff and volunteers remove fossils from asphalt. Their teams are working on these finds within the museum, situated in the site's heart, in the transparent Fossil Lab.
The Tar Pits offer a thorough account of the many plants and animals that have existed in the L.A. Basin between 50,000 years ago and now.
#9. Dip Toes at Venice Beach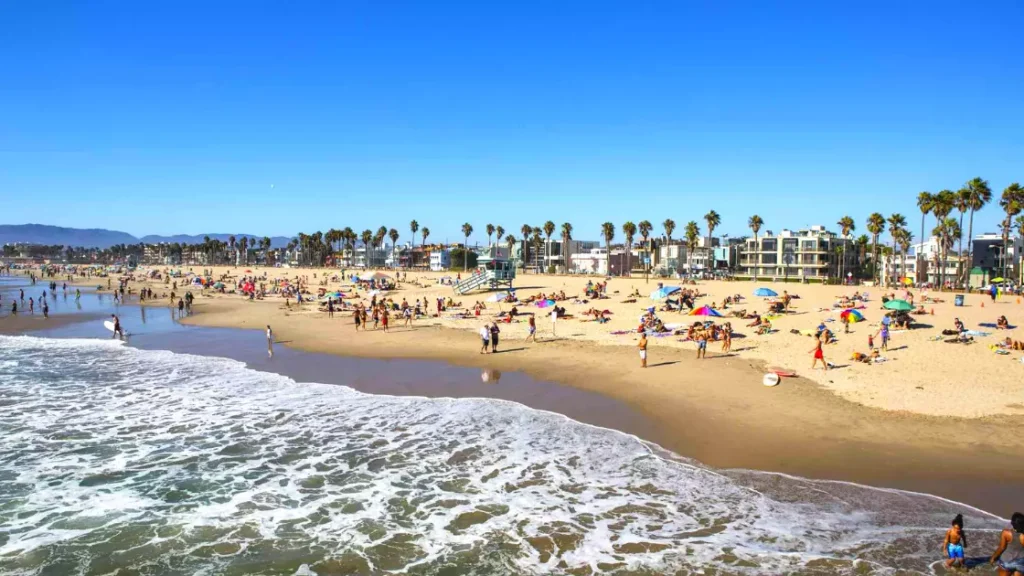 Experience SoCal beach life by heading off to the world-famous Venice Beach. Dip your toes into the glistening Pacific Ocean and frolic in the golden sand.
You can also have fun people-watching as the walkway is usually full of joggers, skaters, cyclists, muscle builders, musicians, dancers, jugglers, and pantomimes. The birthplace of American surfing, Venice Beach, is known for its surfing, but there are tons of other things to do in Venice when you're there.
You can go on free Venice Beach history tours, receive some insider tips on how to get the most out of your visit and discover the hidden Venice Venice Beach gems.
Check out the wild and wacky "Beach BlanketBSD" and eat some authentic Italian food at one of the many great Italian restaurants in the neighbourhood.
If you're looking for a hands-on, water-based activity, check out the Venice Boardwalk's thrilling "canoeing school," in which you board a canoe and are instantly whisked away on a tour of the canals.
#10. Tour a Movie Studio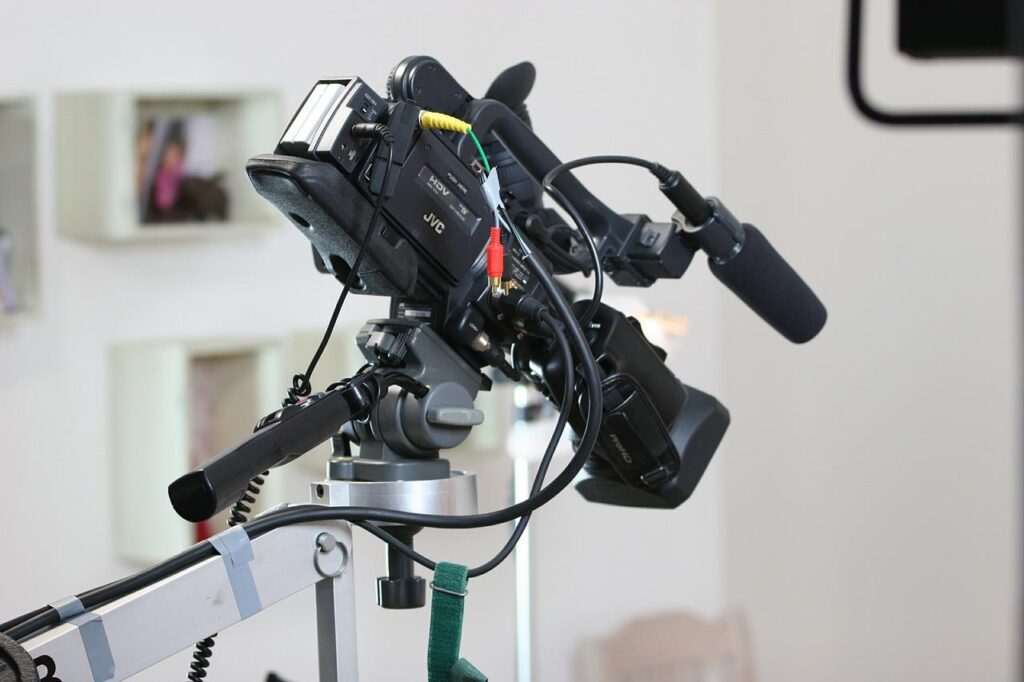 One of the most famous movie studios in the world, California's Historic Movie Palace has been home to hundreds of famous films over the years.
Its most famous tenant: You. Yes, really. The studio tours are intended for advanced ticket holders and are very restricted in what they allow you to see. You can, however, take the self-guided tour, which is a very interesting experience in and of itself.
SoCal is the entertainment capital of the world. Now is your chance to take a studio tour to see how your favourite movies are made. You can book a tour at the Paramount, Sony Pictures, or MGM studios to get a behind-the-scenes look.
#11. Drive Up Malibu Coast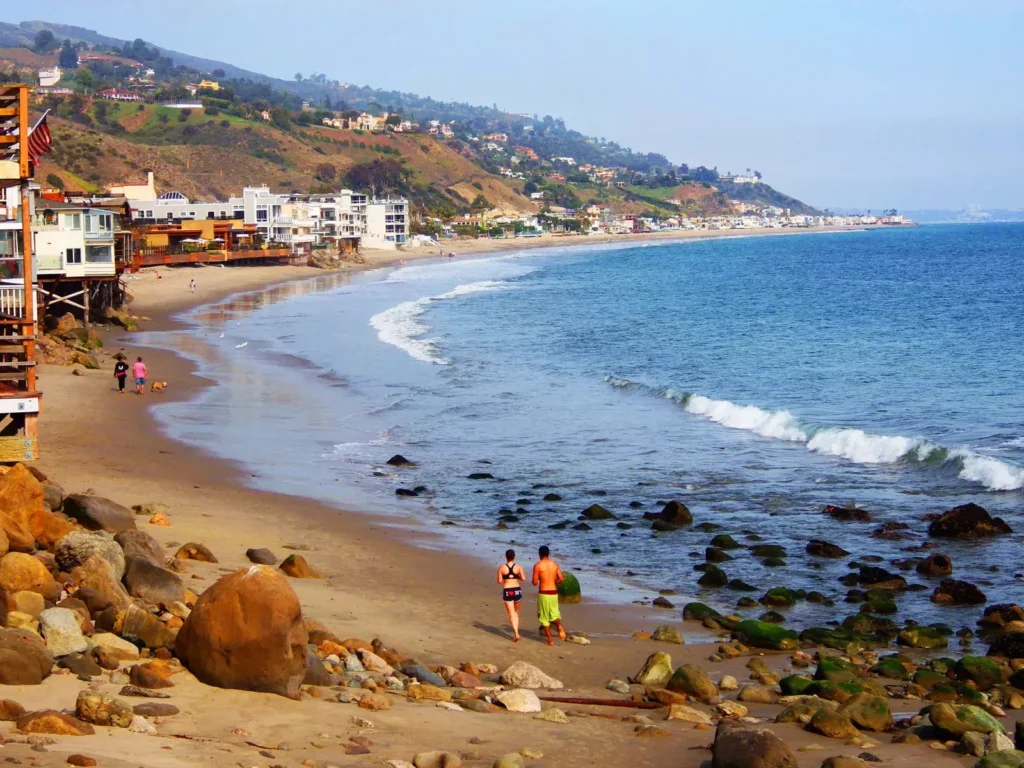 Heading up the coast to Malibu is like stepping back in time. The famous beaches are still there, with all their sand, palm trees and boardwalk. You'll drive up many hilly roads instead of taking the easy Rill Road to the Beach.
Once you're up there, there are tons of things to do, including taking in the rugged beauty of the coastline and enjoying the best views of the Santa Monica and Malibu coastlines. This is not your vacation if you're looking for an immersive, hands-on experience.
Remember Baywatch and Charlie's Angels? Driving up the coast of Malibu beach is truly worth it. Take a weekend beach trip and enjoy the scenic drive. Above the beaches, you can view majestic homes, usually owned by Hollywood celebs.
#12. Snorkel on Catalina Island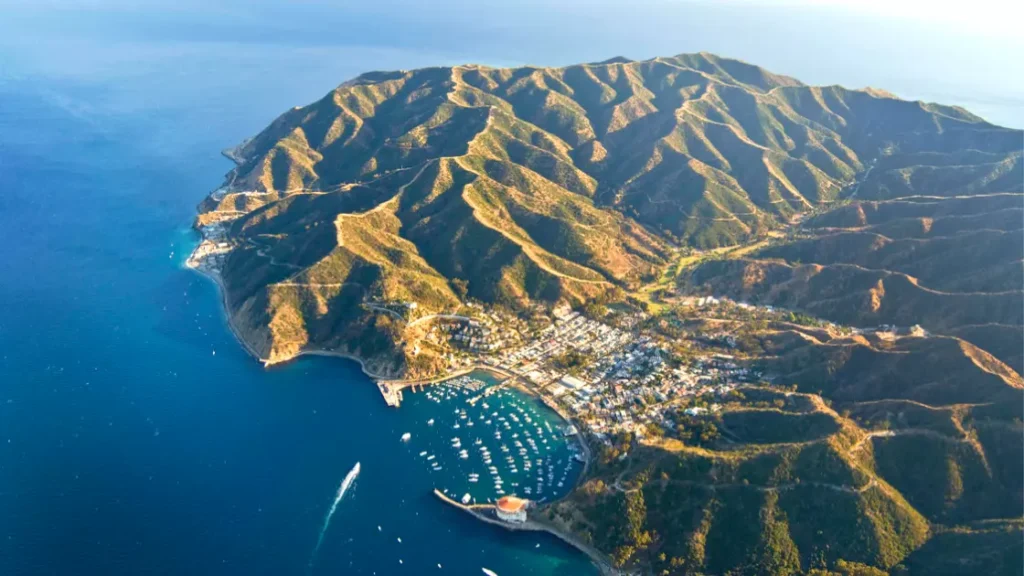 Head up to the coast of SoCal and take an hour-long ferry ride to Catalina Island. The shining waters are crystal clear. You'll have fun snorkelling and looking at an abundance of marine life. You may even swim with the dolphins and sea lions if you're lucky.
When you're moving, you're probably looking for new ways to experience the ocean, and Catalina Island is a great place to start. The island is part of the state of California, and while many people think of it as an Adirondack getaway, it has quite a bit to offer in the way of activities.
You might even encounter a large group of snorkelers on the beaches if you're lucky. There are a few places to rent snorkels and masks, but if you're on a budget, you can always borrow one from the hotel or eat at a few spots around the island.
#13. See the Death Valley National Park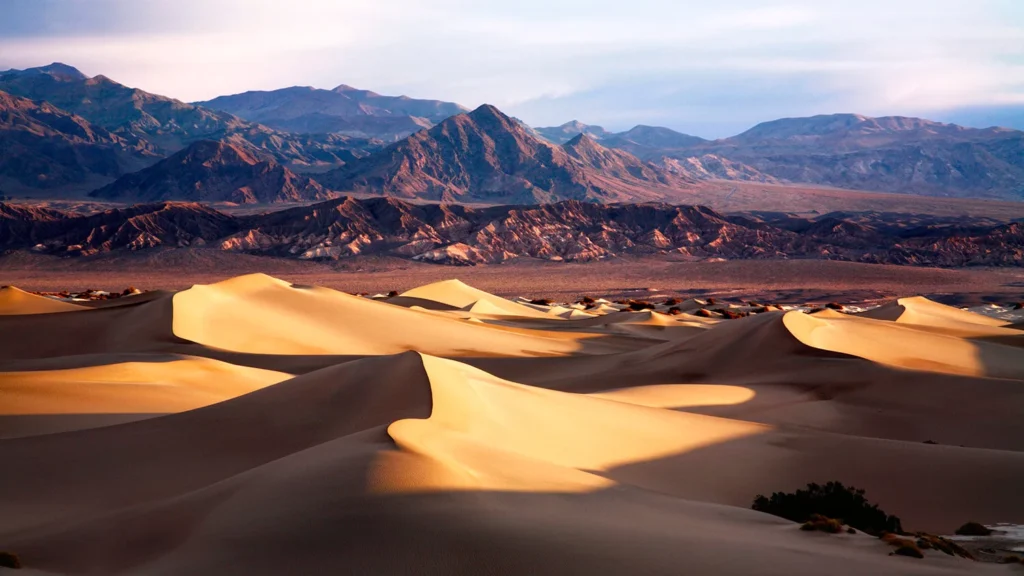 With its ominous-sounding name, taking a trip to the Death Valley National Park is an absolute must. Although it's practically dead and barren in summer due to the intense heat, the spring season fills the desert with brilliant wildflowers.
If you're looking for a destination with extreme heat, Death Valley is perfect for you. There are a few places to stay in the park, but if you're looking for a more private experience, the Furnace of theCreatedHazards is a great option.
You can choose to drive into the park, park your car in a seasonal park campground, or stay at the Furnace. The Furnace is open from mid-June through September, and during that time, you can attend a guided tour of the park. The tour departs at 11:30 am and costs $95 for adults and $56 for children ages 6 to 15.
#14. Climb Boulders at Joshua Tree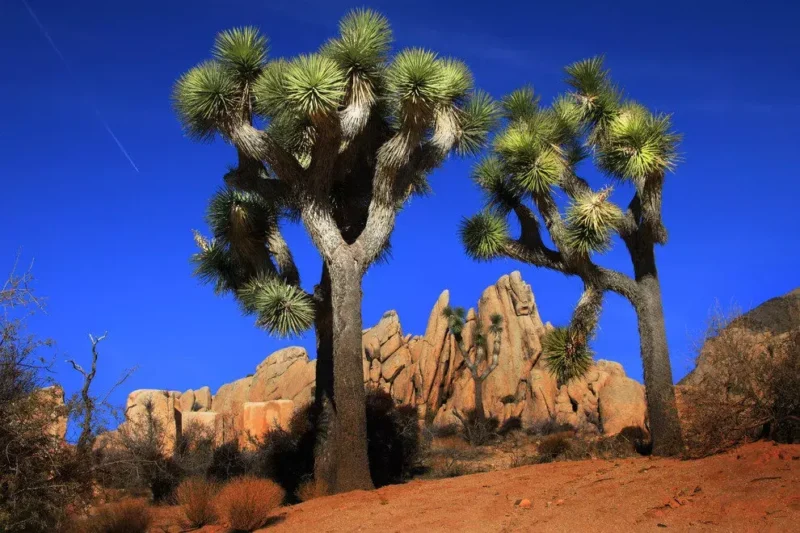 Joshua Tree National Park is two hours east of LA and worth the drive because it lets you step into a different world. It's packed with diverse flora and gigantic boulders that rise hundreds of feet. At night, it's a stargazer's paradise.
The good news is that you can't appreciate the park how it was intended to be viewed. The bad news is that the best time to see the park is during the winter when there aren't a lot of visitors.
So, unless you enjoy the cold, snowy season, you're probably better off staying out of the park altogether and climbing the nearby rocks.
Joshua Tree National Park is best visited in March, May, October, and November. The park is open all year round, but the best times to visit are spring and fall when the average high temperature is 85 degrees.
#15. Weekend Getaway at Big Bear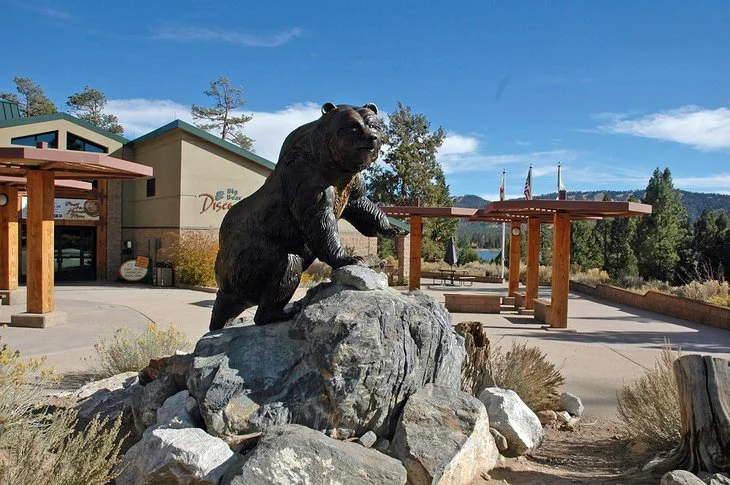 Explore a mountain town 100 miles off LA in the San Bernardino area. The Big Bear Lake is an amazing year-round destination. Go fishing, boating, jet-skiing, kayaking, camping, or hiking in summer.
In winter, you can try snowshoeing or skiing. You'll find accommodation that fits your budget with the many rentals and hotels. Big Bear is known for its wintertime fun, and sure you can always head to the Resort at Big Bear Lake during the winter, but what about the summer?
You can escape the heat and crowds at Big Bear Lake and enjoy the serene views and cooler temperatures at the nearby Big Bear Wilderness. If you're looking for a more spiritual experience, try to meditate in the Big Bear Wilderness's trees. This will surely be an experience you and your family will never forget.
Consider a trip to Texas where you can enjoy your vacation. You can check out the Best Things to do in Waxahachie Texas, Things To Do In San Angelo Texas and Things To Do In Woodlands Texas.
#16. Excursion to Balboa Park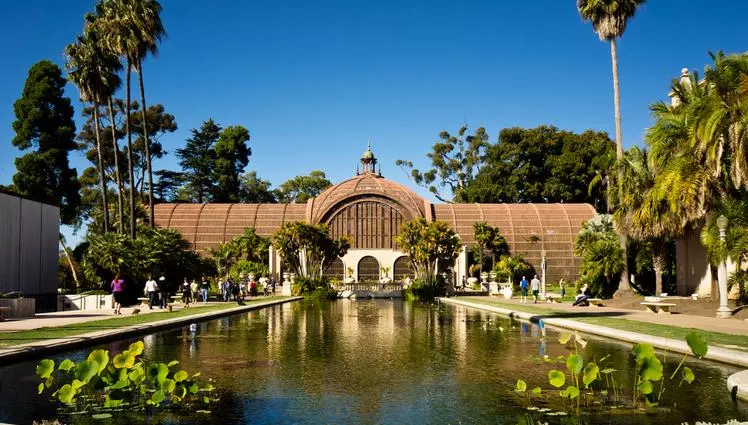 Take a long drive to San Diego and visit Balboa Park, home to one of the world's largest zoos. You can find beautiful gardens and museums in the area.
And since you're in town, bask in the mild year-round climate and visit Coronado Beach, known for its powdery sand.
This is a once-a-year thing that is pretty much only in Balboa Park in San Diego, CA. If you've never been, you're missing out. This is a 15-minute streetcar ride or a one-hour bus ride, and it's so much fun!
#17. Seek Thrill at Six Flags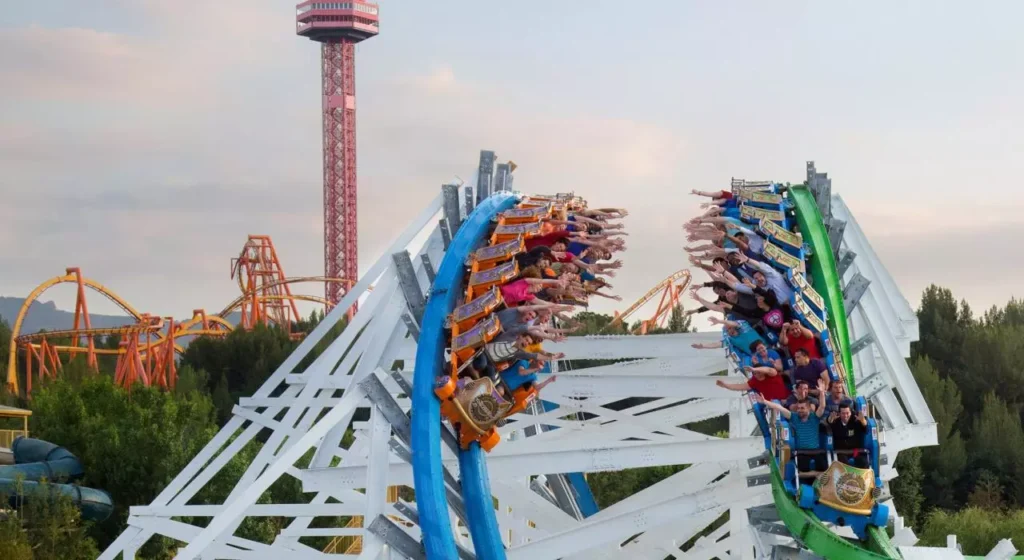 Seek thrill in Santa Clarita and visit Six Flags Magic Mountain. This theme park is a must-see if you're into adrenaline-pumping rides that defy gravity and turn your world upside down.
You can find family-friendly rides, attractions, and shows along the death-defying rides. This is a Southern California thing, and it's not something you'll ever want to do without seeing.
If you're in Southern California, you can travel to the top of the world and ride the highest rollercoaster! Or, you can go to the base and ride the largest Ferris wheel in the world.
Or, you can go to the oldest Roman amphitheatre in the United States, Segerstiehl Gardens, to perform in The Royal Ballet's performance. And, of course, there are the rides at Six Flags.
#18. See the Missions in Santa Barbara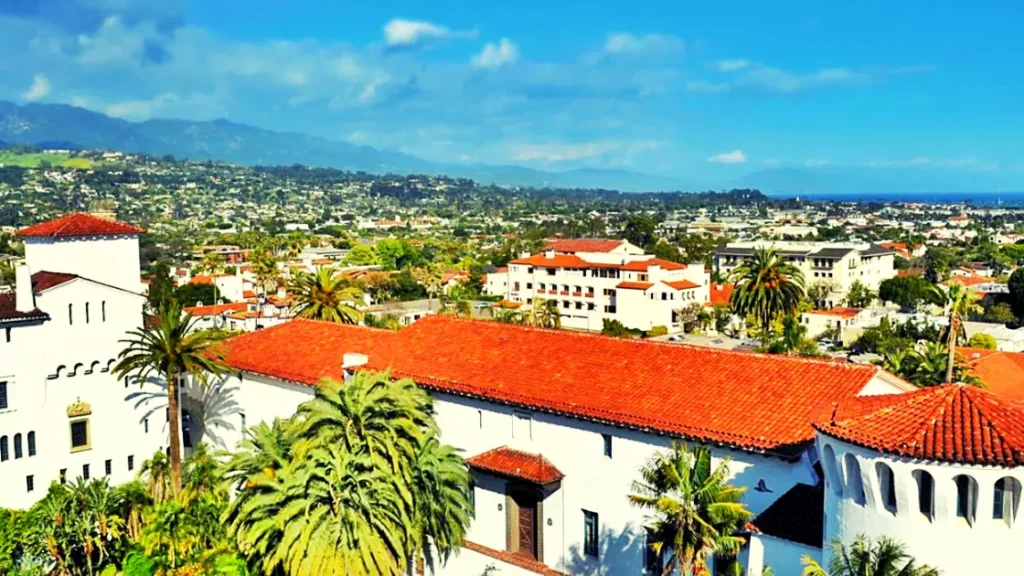 The Old Mission in Santa Barbara is a historic architecture that sets the tone of the town. It dates back to the 1700s and is worth a peek. From there, you can enjoy the beaches and indulge in a seafood feast along the wharf.
Suppose you're in Southern California, head north to the city of Santa Barbara to see the missions. These are some of the most beautiful structures in the world, and they're a must-do if you're in the area.
You can visit the oldest mission still standing, the Mission Santa Barbara, which was built a very long time. You can also visit the second mission, the Mission San Ysidro, which was built earlier and is considered the mother mission of the California missions.
There are plenty of other missions to visit, including the Mission de la Encarnacion (19th century), the Mission San Rafael (19th), Mission San Miguel Arcángel (19th), and Mission San Antonio (19th), and Mission San Antonio de la Capilla (19th).
#19. Ride a Hot Air Balloon in Temecula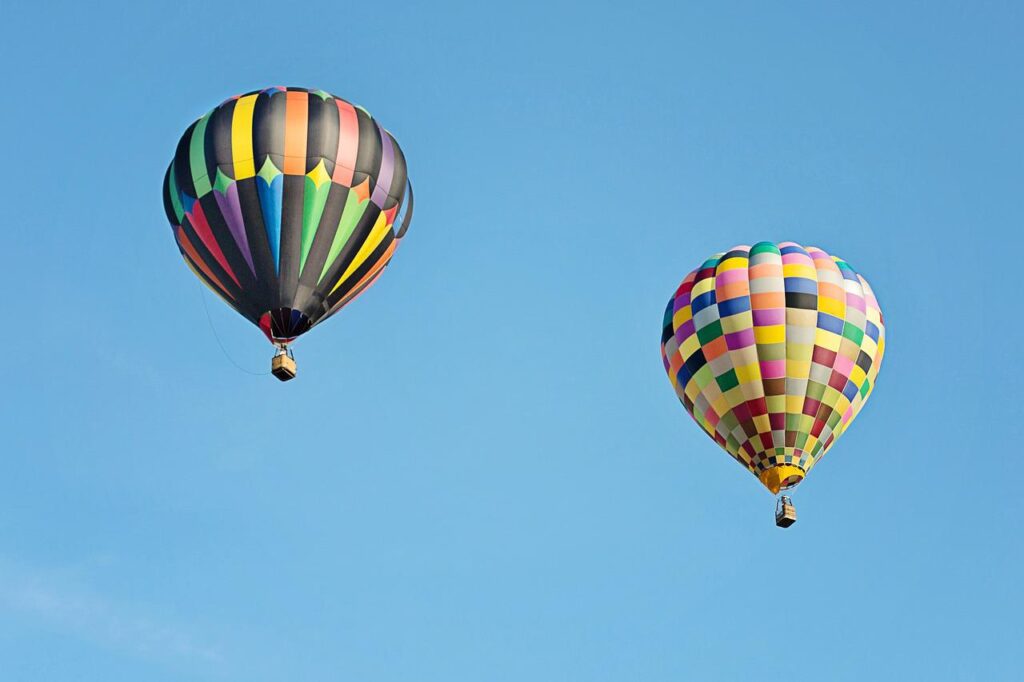 Temecula is worth the drive because of the hot-air balloon rides. You can arrange to ride one and get a glimpse of the majestic views. The area is full of farms that supply restaurants with fresh produce and vine-draped farms that offer wine tastings daily.
This is a charming activity that you can do in Southern California. It's also known as an airship, a type of funicular that takes visitors into the air. To get on a hot air balloon in Temecula, you'll have to book a tour, which is what you'll do at the hotel or the park.
You can choose to go to the city of Temecula, which is in San Bernardino County, or you can go to the park and choose between two hot air balloon rides. The San Gorgonio and Gila balloons go for about $100 for both of you, and they can take you up for about two hours.
#20. Check Out the USS Midway Museum
Soak up history by visiting the USS Midway Museum, one of the most famous naval warships. Check out the aircraft gallery and partake in many activities, from doing a flight simulation to taking an audio tour.
The Midway was the location of several naval battles in the second world war, and its museum has much to remind visitors of the conflict. The museum is quite pricey at $25 per person, but it's well worth the price if you get the chance to visit.
What is Southern CA known for?
Southern California has always been known for its beautiful weather, great beaches, and diverse array of cultures. This is especially true during the summer when many of these cultures come together to enjoy the various events.
The number one reason why people visit Southern California is for the beaches. There are so many amazing beaches to choose from; the best part is that you can enjoy them all year round!
There are also plenty of other attractions worth visiting, whether it be the Disneyland or Universal parks and beaches, there's something for everyone.
What is California's famous food?
Fried pickles? Check. Grapefruit cocktails? You're in luck because these are quite common during the winter months. What's not common is eating at brunch, but that's what you can do at the Scotiabank Grand Luxe hotel in LA.
There are plenty of other great places to eat throughout Southern California, but these are the top three that millions of people visit yearly.
Where can I go when bored in LA?
There are a lot of fun places to go when you're bored in LA, but to be honest, most of them are more fun when you're not in a hurry. So, sit back, relax, and take in the view from the tower at Getty Villa or the view from the top of the world at Nimitz Slope.
Or you can head to the Natural History Museum of California in Long Beach to learn about the animals, plants, and machines that make California what it is.
If you're more of a history buff, the Museum of Latin American Art in downtown Los Angeles will give you a more in-depth view of Latin American culture.
Finally, if you're a foodie, head to the Museum of Time and space in Calabasas to learn about the various cultures that have shaped our modern world. You'll thank me for this!
What are things you can only find in California?
Well, we can't say that we know everything, but these are the things we think you're missing out on while in Southern California.
Surfing – Southern California has some of the best surfing in the world. You're best suited to surfing here if you're an intermediate or advanced surfer.
Firework shows – Southern California is home to some of the best firework shows in the world. You'll likely see some of the most impressive displays at the annual Rose Festival in Pasadena, the 3-Day event in Anaheim, and the Fireworks Festival in San Diego.
Food – Southern California is famous for its food. There are plenty of places to try various regional specialities and world-renowned cuisines like the California "Salmon" and the chipotle "Meatballs."
What should I avoid in California?
Well, as much as we love our beaches, we also need to be careful not to overstay our welcome. While plenty of events and attractions are worth a visit, we recommend going to the coast just once.
Once is not enough time to see all that Southern California has to offer, so we recommend heading back again and again. While we love our beaches, there are plenty of other things to do in Southern California while you're here.
Wildfires, for one, can be a problem as they tend to be very unpredictable. You may even want to avoid going on holiday break as many parents tend to overstay their visits.
Plan your trip to Southern California
We hope that these 20 Best & Fun Things To Do In Southern California When You're relocating take the boredom out of relocating and give you some ideas for your next trip to Southern California.
From surfing to fireworks and everything in between, you're sure to find something you and your family enjoy doing. And if not, life is still relatively easy here.
Beautiful beaches, fantastic weather, and plenty of things to do all year round. You can also bask in panoramic landscapes of breathtaking beaches, beautiful wineries, refreshing mountains, and expansive desert environments.
You can do tons of activities like surfing, glamping, wine tasting, and even skiing in the winter. Picking attractions don't have to be tough when you're a local because you have all the time in the world to plan weekend adventures.
Disclaimer: Vasttourist always strives for content accuracy. Since the time of publishing, travel-related information regarding pricing, schedules, and hours may have changed. Please see individual websites embedded in this post for the most current trip-planning information.

Unless otherwise stated, Vasttourist does not claim ownership of any images used on our blog site. The respectful owners of all visual content have copyright protection. We try to include links to the sources. If any images are your property and you do not want them to appear on our blog, don't hesitate to contact us; we will take them down immediately. We support properly crediting the original writer, artist, or photographer.