Is an 8-person tent too big? How do you decide on tent size?
Whenever we try to get a family tent, most of the recommendations to come on top are 8-person tents. But is an 8-person tent too big for a family tent?
The answer to this question heavily depends on how many people will use the tent. If it's a single person looking for a tent for their backpacking trip, then an 8-person tent will be too big and heavy for them. But if it's for 4 to 6 people, then it's a perfect size.
We recommend getting in-depth into the discussion. You can learn about the reasons and understand which tent size will suit your needs. Let's get going, then. 
Is an 8-person tent too big?
First, let's deal with the main question of whether an 8-person tent is too big.
The answer depends on a variety of factors. One is how many people are going to use the tent. If it's for a single person, then we would say yes, it's too big of a tent.
An 8-person tent can be perfect for 4 to 6 people. With four people, you can have a lot of space to set up a separate kitchen. It's pretty handy when the camping trip goes on for a more extended period.
So, as it stands out, an 8-person tent-only feels too big when two or three people use it. Because erecting an 8-person tent necessitates the participation of at least four people. That's why it's suitable for more than four people, and it's not too big.
You may also like to check out Tips and Tricks to Make Coming up With Your Travel Budget Easier and Euriental Fashion Luxury Travel – Your Ultimate Guide.
What are the problems with a tent that's too big?
What if the 8-person tent was too big? Would that cause a lot of problems? That's what we will be discussing here right now. Whenever you choose too big of a tent, you are likely to come across the following problems –
#1. It doesn't fit the camping site.
The first problem you may encounter is your tent not fitting the campsite. Every camping site has a fixed space for you to set up your tent. If you have a tent that's too large, you will see the tent is not fitting in the defined space on the camping site.
Sometimes you may find a way to fit the tent, but then you will see there is no room to do anything else. You won't even have enough space to light a campfire there. That's a bummer, for sure.
#2. Clearing space for the tent is difficult.
You will need more space when you have a large tent. You can't set up your tent if dirt is on the surface. Cleaning the surface before setting up a tent is a necessity for the most part.
You have to do much more work with a larger tent than usual. You have to clean up a larger area, which requires extra effort and work. It can be tiring, especially when you are low on human resources.
#3. The tent can be heavy to carry around.
Here's the thing: a larger tent has more material, much heavier than a smaller tent. If you are going on a trip where you have to move around a lot for camping, then carrying a heavy tent is probably the last thing you want.
Typically, an 8-person tent will always weigh much more than a 4-person tent. Since it has more material to give you more space, it is only natural that the tent is heavy. But when you have to move around while camping, that can be a troublesome experience for you.
#4. Setting it up will be a difficult task.
A larger tent is quite luxurious due to the space you get from it. But setting it up is equally difficult. You can't even imagine setting up an 8-person tent all by yourself. Because it will be very large for you to handle alone, you can't set it up properly to cover a large area.
Without enough help and support, setting up a large tent is always annoying. The material goes all over the place. There are so many stakes you have to deal with. And, of course, keeping the integrity of the tent can be very tough for a single person.
#5. Extra charges on some camping grounds
Usually, most camping grounds charge for the site based on area size. But sometimes, they choose to charge based on the type of tent you have. Particularly, if you have a larger tent, that might cost you some extra money on the camping site.
You don't want to miss out the Best Travel Moments Adventure and Luxury Travel, and Luxury Travel Luxury Vacations: Absolute Travel.
What are the different tent sizes?
To determine which size is too large or too small for your needs, you must know the different sizes. We will take you through the standard tent sizes for camping trips here.
● 2- man tent
Whether you are a solo traveler or have a partner, a 2-man tent should be enough. They usually have a dimension of 230cm x 160 cm. The height usually goes up to 100 cm.
It's great for one person or two people because of the lightweight and easy-to-carry nature of the tent. Also, it's easy to set up without too much work, and they are affordable.
Something that you may struggle with in a 2-man tent is the space. When two people are inside the tent, you may not have enough space for your gear.
● 4- man tent
A lot of families are out there looking for a 4-man tent. In our opinion, it's the perfect type of tent for a family of 3 people. Usually, a 4-man tent can have a dimension of around 240cm x 220cm. The height varies depending on the particular tent you are getting.
You can get 4-man tents with a lightweight design, so they are easy to carry around. They are also quite easy to set up if you have a helping hand. Inside the tent, you can have enough space for three people, along with some space for gear.
The drawback you may face with a 4-man tent is that sometimes they can be a bit heavy. Also, while it says they are 4-man tents, they don't have enough space to fit four people comfortably.
● 6-man tent
For a party of 4 people or five people, we recommend going with a 6-man tent. A 6-man tent can have a dimension of around 300cm x 300cm. The height can go up to 210cm, making the tent more spacious and roomier. Even taller people won't struggle in such a tent.
The great thing about a 6-man tent is the space available. It's enough to accommodate 4 or 5 people along with their gear. Also, three people working together should be enough to install the tent. These tents also have a pretty good ventilation system to avoid condensation.
The troublesome part of a 6-man tent is the weight. It can be a bit heavy, so moving around with the tent isn't easy. Also, sleeping bags are a necessity when you have a 6-man tent.
● 8-man tent
Now, this is where a lot of people struggle to decide on a tent. Because an 8-man tent is suitable for people up to 6 people with a dimension of 480cm x 300cm, with that kind of space, you can even set up cooking stations inside the tent.
An 8-man tent has the perfect spacing you need for a family. It has enough space to keep all the gears while providing excellent comfort and ventilation. Some of these tents come with doors and windows for an even better experience.
The difficulty starts when people consider an 8-man tent for four people. While the idea can be great for the generous space they get, there are also issues. An 8-man tent can be quite heavy and difficult to set up for four people.
You may need to reserve a separate space for your tent in some campsites. So, that's another thing to consider with an 8-man tent.
Other than these, you can find 10-man tents, 12-man tents and even 15-man tents. These tents are available for people on camping trips as a large group. An 8-man tent is the highest you should aim for when looking for a family tent.
How to choose the perfect tent size for camping?
It's time for us to get to the real deal of this article. How can you find the perfect tent for your camping purposes? A lot of people struggle with this decision-making process.
To ease the process, we will share a step-by-step guide to choosing the perfect tent for yourself.
Step- 1: Choose the type of tent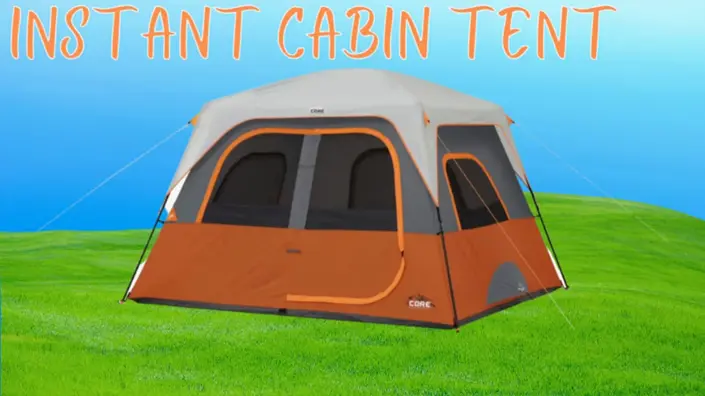 First, you must start with the tent you want for your camping trip. There are a variety of types when you go into tent options. The type of tent depends mostly on the purpose you want it to serve.
For example, you will need a family tent if you go to many camping sites with your family. For a solo traveler, dome tents are good options as they are small and easy to carry.
You can also find specialized tents for backpacking. These trends are easy to set up, take very little space on your baggage, and are lightweight. Aside from that, you can pick tents based on seasonal benefits. For instance, you can find 3-season tents or 4-season tents.
Step- 2: Choosing the shape and size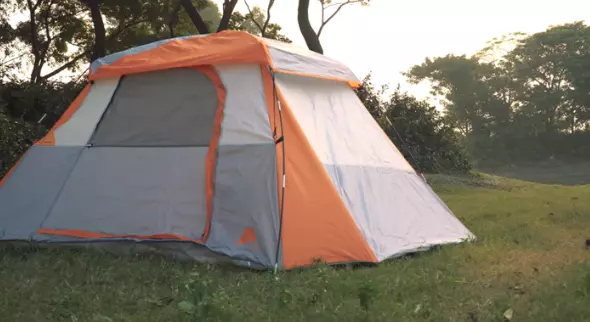 The next thing to decide is the most important part of choosing a tent. You must consider the size and shape you want your tent to be. The size determines the space availability of the tent, whereas the shape defines the strength.
Usually, you come across two kinds of basic shapes for tents. They can either be dome shape or cabin shape. Dome-shaped tents are focused on the strength of the tent. They don't have that much space or height. As for cabin shape, they are all about space.
Coming to the sizes, you must choose a tent based on how many people will use it. A family tent usually starts from the 4-man tent and goes up to the 8-man tent.
It's always better to choose a tent that has a higher number than the actual number of people. For example, if there are four people on the trip, you should go for a 6- or 8-man tent. For six people, it's best to go with an 8-man tent.
That's how you decide the size of a tent. If you go with the exact numbers, it may not work out and feel cramped inside. Also, you may struggle with storing your gear inside the tent.
However, you don't want to go in too big of a tent. As we have already discussed, the problem is associated with having a bigger tent. So, don't go overboard with the tent size you pick.
Step 3: Features of the tent
Once you have the size and shape, you can move on to the tent's features. Well, there is no standard feature to look for in a tent. Things like ventilation, doors, rainfly, ease of setup, and so forth can help you find your choice.
Typically, with more people, you will want a tent that provides good ventilation. Otherwise, you are likely to face condensation issues. Also, if you are camping on a rain-heavy site, you will need a rainfly.
To get easy and proper access, having a door always helps. You can also look for windows with zippers to open the tent for better ventilation.
What features you will receive are heavily dependent on your specific requirements. These are mostly personal, so you have to check out the features of each tent and choose them.
Step-4: Material and component quality
The last things you should look into are the material and component quality. You don't get to see too much difference in the materials or components of each tent. They come with similar quality material for the most part.
Starting with the main tent material, you won't tear resistance in it. It, of course, needs to be waterproof. Materials like nylon, polyester, polycotton and cotton canvas work well. Try avoiding tents that have a pretty thin fabric on them.
As for the poles, you can go with fiberglass poles for their lightweight build. But aluminum poles are the best options if you want strength and durability.
These are the things that ensure you have good quality. Because these components decide the structure and protection benefits of your tent. 
A quick size recommendation for camping tents
Still struggling a bit? Well, no need to worry. We have something more to offer that may help you find a tent of your choice, especially if you don't want to go through that detailed process or don't have any significant preferences.
Below, we have this table for you to choose a camping tent based on the number of people using the tent. Let's take a quick glimpse at that –
| | |
| --- | --- |
| Tent size | Suitable for |
| 2-person | 1 or 2 people |
| 3-person | Two people |
| 4-person | Three people |
| 5-person | 3 to 4 people |
| 6-person | Four people |
| 7-person | Five people |
| 8-person | Six people |
| 9-person | 6 to 7 people |
| 10-person | Eight people |
| 11-person | Nine people |
| 12-person | 8 to 10 people |
| 15-person | 11 to 13 people |
Other than that, if you have a larger group, it's better to go for multiple tents of smaller sizes rather than one large tent.
If you still have some questions to which you can't find the answers, this next part is for you. Here, we will answer people's most common questions regarding camping tents.
Should I get a six-person or 8-person tent?
If you want a tent for six people, then we recommend getting an 8-person tent without any doubt. But if you need a tent for four people, you can get a 6-person or 8-person tent.
How big is an 8-person tent?
Usually, an 8-person tent has a dimension of 14 feet by 10 feet. But there is no standard dimension set for an 8-person tent or any tent. Although most of the time, it will have a dimension of 14 x 10 feet.
How big of a tent is too big?
A good way to determine whether the tent is too big is to use this trick. If it takes more people to set up the tent than the number of people to stay in it, it is probably too big.
How big of a tent do you need?
Typically, you can follow a standard method of getting 20 square feet for a single person. With this kind of dimension on the tent, you can expect pretty good spacing inside the tent. You don't need a tent bigger than that per person.
Before You Go…
To conclude the discussion on is an 8-person tent too big, we can say that it can be big sometimes. But an 8-person tent isn't that big for a family camping trip, especially if four adults are participating in the installation.
We recommend always going through your purpose of getting a tent. Determining the purpose will help you immensely in narrowing down your choices.
Overall, you can find the perfect choice of your tent if you go through the complete process of choosing it. With the help of our step-by-step guide, it shouldn't be that big of trouble for you.
Disclaimer: Vasttourist always strives for content accuracy. Since the time of publishing, travel-related information regarding pricing, schedules, and hours may have changed. Please see individual websites embedded in this post for the most current trip-planning information.

Unless otherwise stated, Vasttourist does not claim ownership of any images used on our blog site. The respectful owners of all visual content have copyright protection. We try to include links to the sources. If any images are your property and you do not want them to appear on our blog, don't hesitate to contact us; we will take them down immediately. We support properly crediting the original writer, artist, or photographer.