Romantic Safari Destinations in Tanzania for Newlyweds
For couples embarking on a new chapter together, a Tanzanian safari honeymoon provides the perfect blend of adventure, relaxation, and beauty, with expansive savannas teeming with wildlife, secluded lodges and camps, and pristine beaches.
Tanzania has captivated honeymooners for decades as a top romantic destination.
Whether you envision hot-air balloon rides over the Serengeti or intimate picnics on a private Zanzibar beach, Tanzania offers newlyweds a wide range of unforgettable experiences.
As you plan the adventure of a lifetime, here are the top safari destinations in Tanzania to consider for your post-wedding celebration.
The Unique Lure of Tanzanian Safaris for Honeymooners
Why do so many couples choose Tanzania for their honeymoon? For starters, the country boasts some of the most iconic and abundant wildlife viewing opportunities in Africa. The sheer density and diversity of animal species are unparalleled, especially during the Great Migration from July to October.
Beyond the wildlife, Tanzania's landscapes create a dramatic and wildly romantic backdrop. From vast savannas to glacial peaks and white sand beaches, the natural beauty provides endless "wow" moments to share with your new spouse.
The opportunities for adventure, cultural immersion, relaxation, and privacy also make Tanzania an ideal honeymoon destination. Whether you prefer action-packed game drives or indulgent spa treatments, Tanzania offers newlyweds the perfect blend. 
The row chart below provides a clear breakdown of the average nightly accommodation costs for four popular safari destinations in Tanzania: Serengeti National Park, Ngorongoro Conservation Area, Tarangire National Park, and Lake Manyara National Park.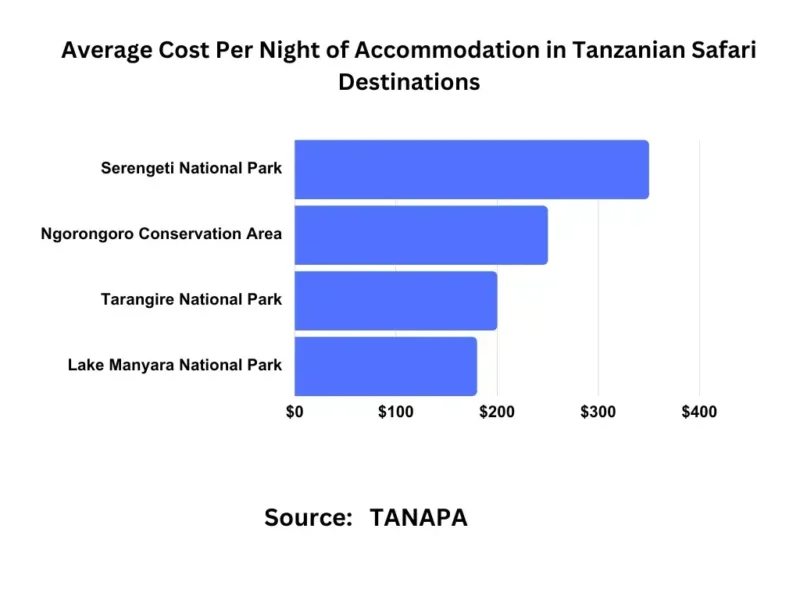 Serengeti National Park: A Natural Stage of Love and Wilderness
For many newlywed couples, a visit to Serengeti National Park tops the Tanzania honeymoon bucket list. Famed for the Great Migration and the "Big Five," the Serengeti provides a romantic wilderness backdrop like no other.
Covering over 5,000 square miles of grassy plains and acacia forests, Serengeti National Park allows you to lose yourself in nature. Herds numbering over 2 million 
wildebeest, a quarter million zebras, and 350,000 gazelles travel across this UNESCO World Heritage Site during their annual migration. Lions, leopards, rhinos, elephants, and more also call this expansive park home.
While game drives offer intimate encounters with the wildlife, a hot-air balloon ride at dawn provides a truly unforgettable perspective. Gently float over the plains as animals awaken and start their day below you. Many lodges can arrange this once-in-a-lifetime experience.
Read more on Exploring Big Marine Park Reserve: A Natural Gem.
Ngorongoro Crater: An Intimate Experience With Nature
Sitting next to Serengeti National Park, Ngorongoro Crater is another must-see destination for honeymooners. The collapsed volcanic caldera covers over 100 square miles of diverse landscapes, from grasslands to swamps to forests, all brimming with unique wildlife.
Recognized as a UNESCO World Heritage Site and Biosphere Reserve, Ngorongoro Crater showcases incredible biodiversity. Explore more about the unique offerings of Tanzania, a land teeming with diverse wildlife and breathtaking landscapes.
On a Honeymoon Safari in Tanzania, couples can expect close encounters with elephants, buffalo, rhinos, lions, hyenas, zebras, and more as they venture on drives along the crater floor.
Above, birds of prey soar majestically while flamingos gather in vibrant clusters along the shores of Lake Magadi, painting a picturesque scene for newlyweds.
Selous Game Reserve: Off-the-Beaten-Path Romance
For an off-the-grid Tanzanian honeymoon experience, head to the Selous Game Reserve. Africa's largest game reserve, at 22,000 square miles, offers much more isolation and fewer crowds. Only the Serengeti tops it for the diversity of wildlife species.
Instead of vehicles, explore Selous on boat safaris along the Rufiji River. Glide past hippos, crocodiles, and elephants gathered at the riverbanks. The intimacy and tranquility of these river journeys provide a uniquely memorable perspective.
Selous is also one of the few places where couples can camp in the bush for those craving a true back-to-nature experience. Pitch a tent on sandy banks along the rivers and under starlit African skies. 
Zanzibar Archipelago: Turquoise Waters and Spiced Air
What better place to relax and recharge after a thrilling safari than Zanzibar? This tropical island paradise off Tanzania's coast seduces newlyweds with its powder-soft beaches, historic Stone Town, and romantic resorts.
Spend your days lounging with drinks in hand on the white-sand beaches or snorkeling in the turquoise waters. Try street food tours and spice farm visits for a taste of Zanzibar's diverse culture and agriculture.
Wander the narrow alleyways of Stone Town, taking in the carved wooden doors, elaborate mosques, and bustling markets.
Zanzibar also shines with its luxury properties for honeymooners. End each day watching the sunset with your beloved over the horizon, toes in the sand.
Tarangire National Park: Baobabs, Elephants, and Quiet Moments
Though smaller in scale, Tarangire National Park shouldn't be overlooked for a post-wedding safari. This 1,600-square-mile park boasts spectacular baobab trees and one of Africa's densest elephant populations.
From June to November, large herds congregate around the Tarangire River. Up to 300 elephants can be spotted at once, along with wildebeest, zebras, buffalo, impalas, and more.
Lions and leopards prowl in the grasslands. The park also provides a sanctuary for rare species like fringe-eared oryx and ash-colored giraffes.
For newlyweds, the intimacy and lack of crowds in Tarangire make it ideal. The park receives only 10% of the visitors that Serengeti and Ngorongoro do, ensuring a more intimate experience. Its open grasslands and floodplains offer abundant wildlife sightings.
You may like to check out Aquila Private Game Reserve & Spa: Embark on a Safari Adventure in South Africa.
Practical Tips for Planning Your Honeymoon Safari
With so many incredible destinations to experience, planning a Tanzanian honeymoon safari may feel overwhelming at first. Use these tips to keep your adventure smooth and stress-free:
Best Times to Visit: June to October for wildebeest migration and comfortable weather. January to March brings green landscapes and bird migrations.

Essential Items to Pack: Binoculars, camera, safari clothing, hat, sun protection, motion sickness remedies, flashlight, and mosquito repellent.

Recommended Itineraries: Serengeti & Ngorongoro Crater, Selous & Zanzibar, or a comprehensive tour including Tarangire.

Saving Money: Take advantage of free stays and special honeymoon packages many lodges offer. Go during shoulder season.

Safety: Use reputable tour operators. Listen attentively to wildlife precaution instructions and always keep your distance.
With mindful planning, Tanzania promises newlyweds an extraordinarily romantic adventure in the heart of Africa's wilderness. Create memories that you will cherish forever as you start your marriage in the midst of natural beauty.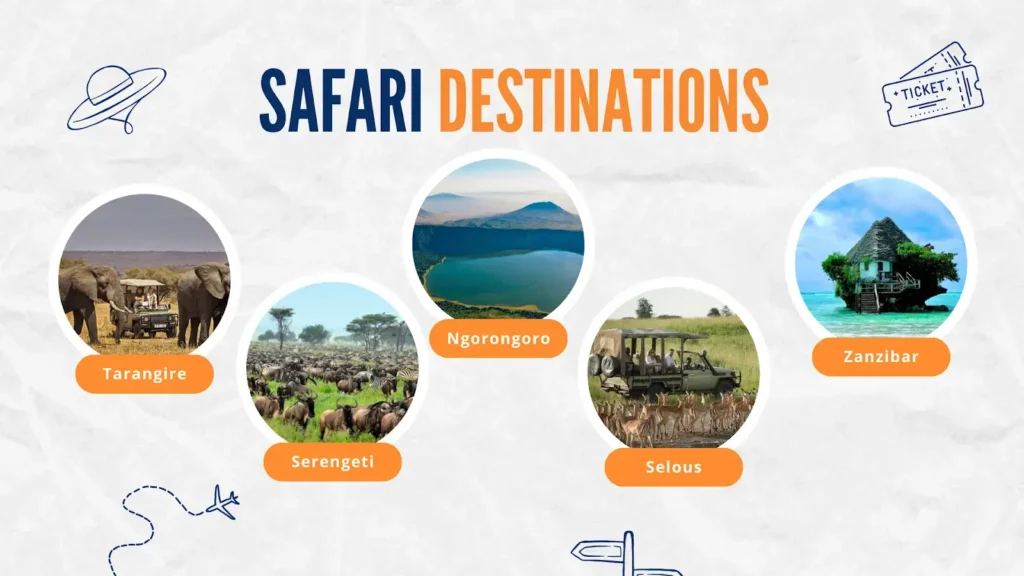 Crafting Memories in Tanzania's Wilds That Will Last a Lifetime
When it comes to safari honeymoons, Tanzania simply can't be beat. Nowhere else matches its abundance of wildlife, diversity of ecosystems, romantic lodges, and a blend of adventures.
For newlywed couples looking to start their marriage with an extraordinary, magical trip, Tanzania promises just that. Under starry night skies and golden savannas, you can reconnect with nature and each other. Tanzania's beauty will rejuvenate your spirit and provide endless jaw-dropping backdrops.
Let the rhythm of the wilderness ignite new passions and dreams between you and your partner as you embark on this next chapter together. 
Will your honeymoon memories be of a candlelit dinner under Mount Kilimanjaro? Or watching Serengeti elephants at sunset? Give your love story the opening it deserves by letting Tanzania work its romance. A lifetime of treasured memories under Tanzania's vast skies awaits you.
Frequently Asked Questions
How safe are Tanzanian safaris for newlyweds?
Tanzania is very safe for tourism and safaris, especially through reputable tour operators. Guides are experts on keeping distances from wildlife and handling emergencies should they arise.
Lodges also prioritize security. Overall, thousands of couples safely enjoy Tanzanian safaris for their honeymoons each year.
Are there specific honeymoon packages available for Tanzanian safaris?
Yes, many tour companies and lodges provide special honeymoon packages. These include extras like sparkling wine upon arrival, fruit baskets, massages, sunset cruises, and complimentary stays or activities. Packages provide added value, a more seamless experience, and touches of honeymoon romance.
Beyond safaris, what romantic activities can couples indulge in?
From Zanzibar, couples can arrange private beach picnics, sunset dhow cruises, and spa treatments. Many lodges offer hot-air balloon rides over the Serengeti.
Cultural visits like Maasai village tours provide immersive experiences. Overall, Tanzania offers newlyweds plenty of ways to customize their ideal honeymoon.