28 Best & Fun Things To Do In Port Aransas, Texas
Are you looking for the best weekend getaway or fun things to do in Port Aransas, TX, with a little more action? Port Aransas is the perfect destination. In addition to beautiful beaches and warm waters, there's plenty to do for your entire family.
Port Aransas is a popular vacation destination for those looking to explore the beautiful beaches of Texas. Whether you're looking for some entertainment, relaxation, or just an excuse to enjoy the beauty and serenity of this coastal town, we have you covered!
These 28 best and fun things to do in Port Aransas will keep you busy all week long. Please look at our list and see what's right for you.
28 Best & Fun Things To Do In Port Aransas
#1. Port Aransas Beach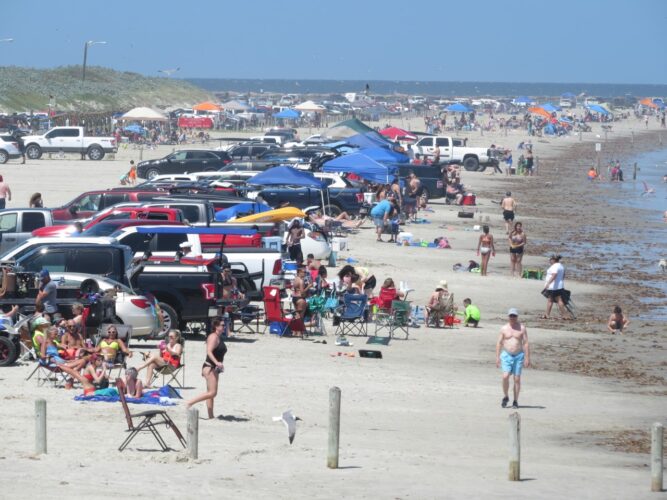 Have you ever thought of a lovely beach where you can play or have fun with your family and friends? Well, Port Aransas beach is one of its kind! As you can see above, the beach is lovely, and most explorers do visit the beach often.
Port Aransas beach is one of the best places to visit in Port Aransas, TX. The beach's sand is fine and powdery, and it is very inviting for surfing and swimming. Along with these great beaches, there are plenty of bars and restaurants to explore.
So if you're considering visiting Port Aransas, we recommend that you visit this amazing beach town!
#2. Ferry System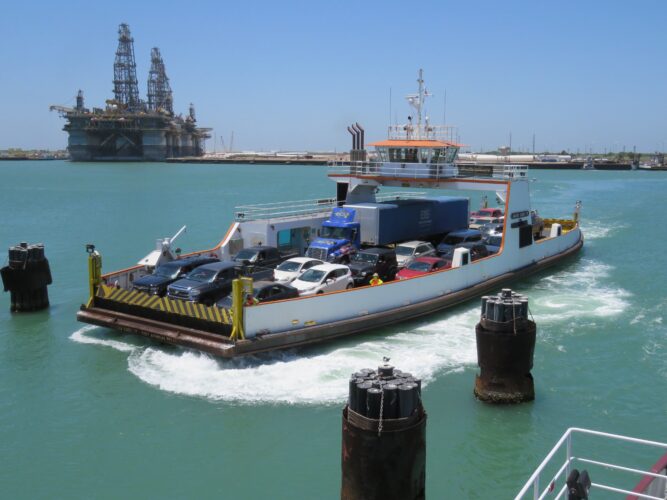 The Port Aransas Ferry System is an essential part of the community. With service to the famous island, Mustang Island. There are six ferries in total: three go to Mustang Island and Port Aransas.
It takes about ten minutes to cross the water. The ferry system is also convenient for locals and visitors to enjoy an alternative route across the water.
A round-trip ticket is $14 for adults and $7 for children. So if you plan on taking a car or boat, be sure to check out the ferry system first! Be sure to add this to your list of things to do in Port Aransas, this weekend.
#3. Mustang Island State Park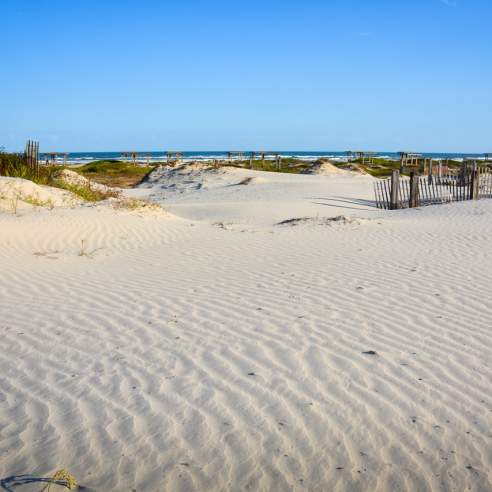 Mustang Island State Park is a 2,902-acre beachfront park located in Port Aransas, Texas. It's a great place for an adventurous day of fishing, picnicking, camping, and biking.
There are over 12 miles of sandy beaches perfect for sunbathing and surfing. The park also offers plenty of opportunities to scout wildlife such as seals and sea turtles from the comfort of the shoreline. Mustang Island State Park is also home to Texas' most beautiful sunset views.
Visitors can sit on the beach and watch the sky turn from shades of orange to shades of pink and purple before plunging into darkness. With a bit of luck, visitors may even get to see a shooting star or two!
You would also like: 28 Best & Fun Things To Do In Pismo Beach
#4. Leonabelle Turnbull Birding Center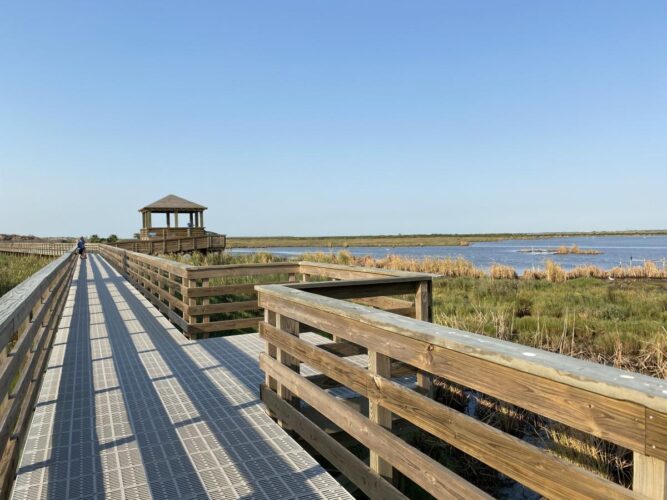 The Leonabelle Turnbull Birding Center is a privately owned, non-profit birding center. The center has four areas that can be accessed when the center is open, and one area is closed off and only available for scheduled events.
There are many things to do at the Leonabelle Turnbull Birding Center for people of all ages, including free walking tours, bird watching with binoculars or telescopes, learning about birds from books or videos, taking a workshop on bird behavior, or simply enjoying the view.
The center offers private group tours and guided walks to take visitors through their observation tower and show them how different birds fly in the air. You can add this park to your list of the best things to do in Port Aransas in December!
#5. Roberts Point Park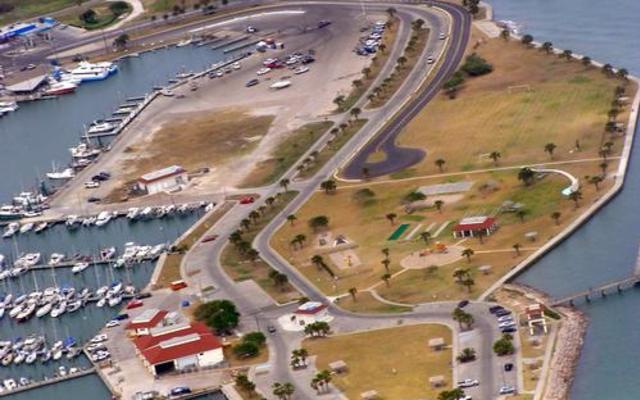 Roberts Point Park is a must-visit destination for those visiting Port Aransas. The park consists of a large sand bar, an observation deck, and a pier. With its clear blue skies, it's easy to see why this beach attraction is so popular.
This is Roberts Point Park in Port Aransas. It's an excellent place for fishing, watching the sunset, and taking some family photos.
It's one of the best places to get away from your daily routine. Come check out this beautiful park and learn more about why locals love it so much.
#6. Nature Preserve at Charlie's Pasture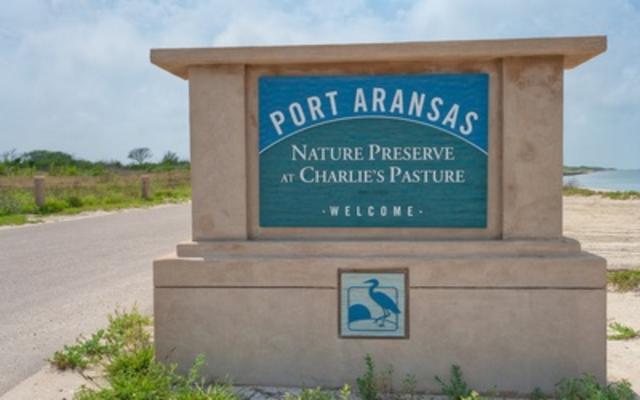 A nature preserve is one of the free things to do in Port Aransas, TX. It is a space maintained by the government or another legal entity specifically for nature. It is often established to protect animals and plants, maintain biodiversity, and prevent environmental degradation.
National parks are a form of nature preserves that are mostly publicly owned. The purpose of nature preserves can be as diverse as conservation, education, research, recreation, or tourism.
Many people visit these areas for the natural beauty and peace that they provide from the hustle and bustle of the city. Charlie's pastures in Port Aransas is one such area that is perfect for your next outdoor adventure.
#7. Texas Sand Fest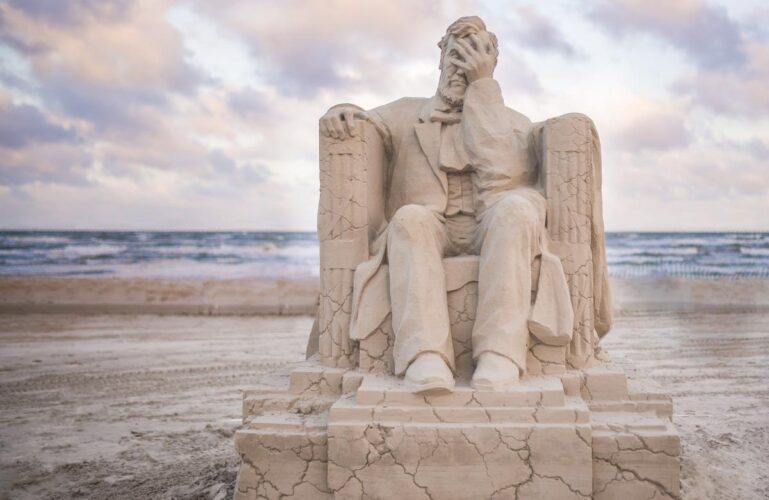 The sand festival in Texas is a unique experience for all who love the beach. The event is held at the end of spring break and features live entertainment and games each day.
Sand Fest also includes various beach-themed activities, so there's something for everyone. Families can enjoy fun games, while kids can get their faces painted like sea creatures, and parents can play on the go with a game of soccer.
The grand finale is an all-day water fight that breaks out on the beach. There will be prizes for the best costumes during the water fight, so bring your wetsuits, or you might lose!
#8. San Jose Island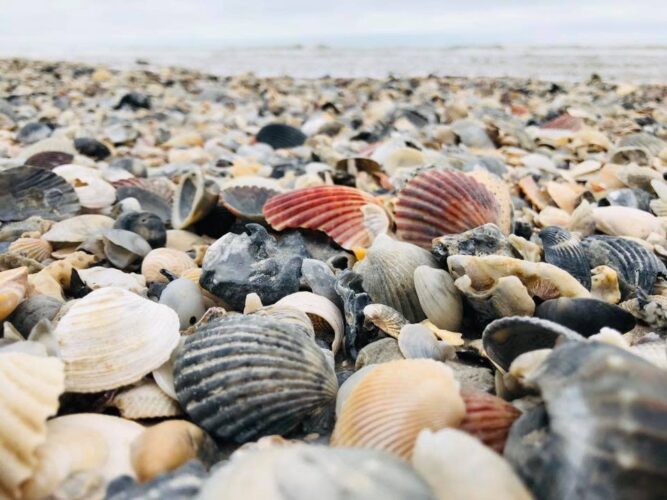 San Jose Island is one of the most romantic things to do in Port Aransas today. Located off the coast of Corpus Christi, it provides a spectacular view and a unique opportunity to explore.
The island is covered with dunes that rise to 100 feet in height and provide a rich habitat for many birds, including the ibis who live on the island year-round.
There are multiple walking trails on this natural wonderland, and each leads to a different vista of the surrounding water and trees.
You'll find more than just serenity on San Jose Island, but also an abundance of marine creatures that make their home nearby, as well as salamanders, armadillos, lizards, and more.
#9. Third Coast Theater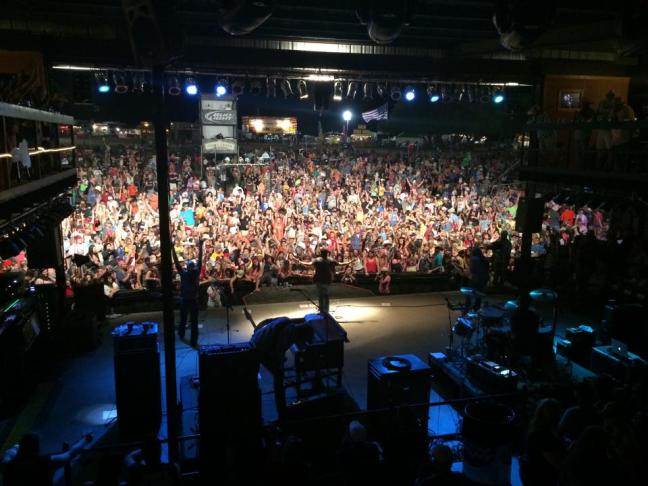 On the Gulf Coast of Texas, a new theater is making waves. The Third Coast Theater opened in Port Aransas on New Year's Eve. During the day, this theater hosts live performances, while at night, it becomes a venue for visitors to enjoy art, music, and movies.
This theater is also one of the few theaters in the state that allows dogs in the lobby area on their leashes. Today, people are more familiar with seeing concerts and movies than with traditional stages of live theater.
Additionally, there aren't many theaters with these features available to the public. With all its features and amenities, this theater is sure to attract many people from around the region.
#10. Light House Lakes Trail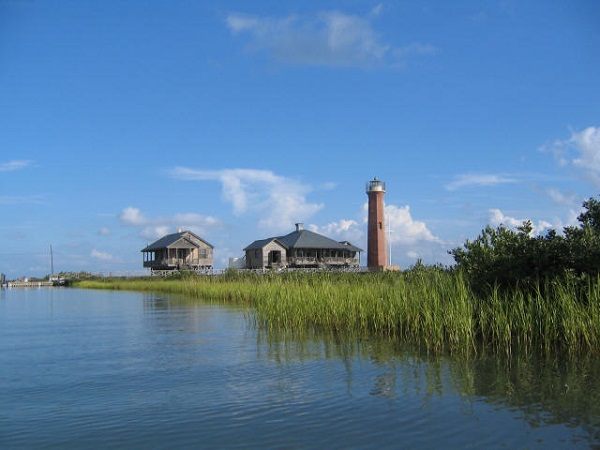 The Light House Lakes Trail is a great place to hike. This trail has over nine miles of stunning views and abundant wildlife. It is essential to be prepared for this hike as it can get hot and humid in the summer months.
If you are planning to go during the hotter months, be sure to bring plenty of water, as well as sunscreen, insect repellent, and a hat or bandana to protect yourself from the sun.
There are several campsites located along the trail, making it easy to spend the night when you are hiking it. Along the way, there are also opportunities for fishing and bird watching.
The trail starts by going straight from where you park your car with a gentle incline until it ends at a bluff overlooking the gulf. This is a fantastic family-friendly hike that will leave you feeling refreshed and energized.
#11. Wetland Park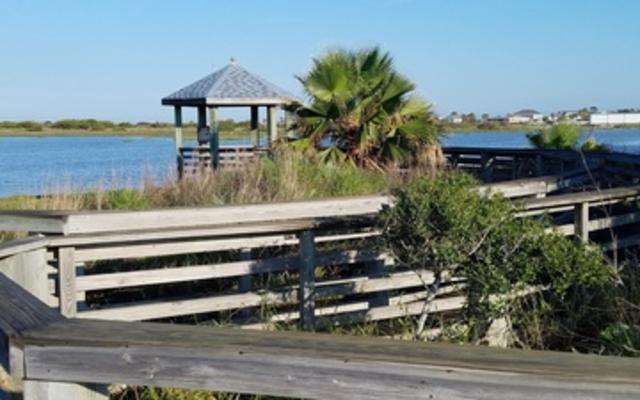 Wetland Park is a beautiful place to visit. Not only does it offer a few amenities for the park-goers, but there are also many amazing things for nature lovers to do in the area. Some of these activities include swimming, fishing, and kayaking.
There are also plenty of trails that lead you through lush forests and down to the beach. You can see some signs of natural wildlife as well, and if you're lucky, you may even see a dolphin or two! Be sure to add this to your list of things to do in Port Aransas.
#12. Chute 'Em Up Parasailing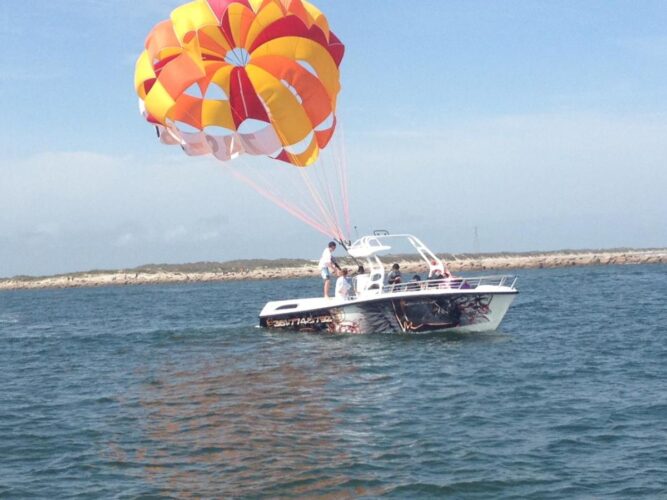 Parasailing is a sport that has been popular in the past but has seen a resurgence in recent years. It is one of the most unique things to do in Port Aransas, Texas. This summer, it's easy to get involved with the sport and find out what it's all about.
The best part about this sport is that you don't need any experience whatsoever. Just grab some friends and go! There are many places where you can get parasailing, so be sure to find a reputable company.
A great way to have fun spending time with your family and friends this summer, or any time of year, is by parasailing near Port Aransas. Be sure to add this to your list of things to do in Port Aransas.
#13. Top Deck Golf Carts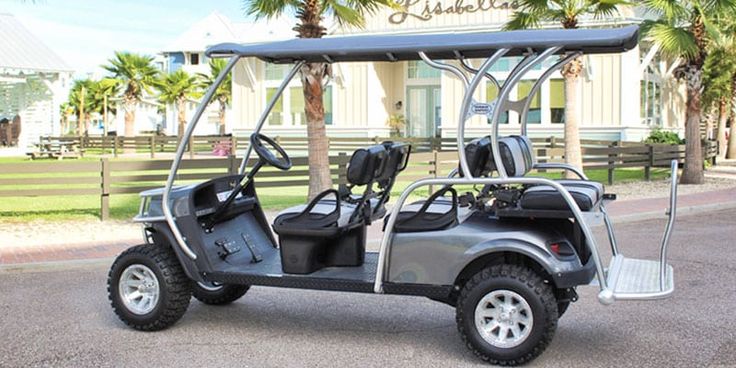 In the past, golfers would have to walk a long distance to get from one end of the course to the other. But now that golf carts are becoming popular, and more people can enjoy playing golf without worrying about getting tired and hot.
For some people, buying a golf cart is not an option due to the high cost of these vehicles. However, you can still enjoy transporting yourself around the course with a golf cart for an affordable price.
You'll be able to take in the beautiful scenery and breathe in fresh air when you ride on top of your vehicle.
#14. Bron's Beach Carts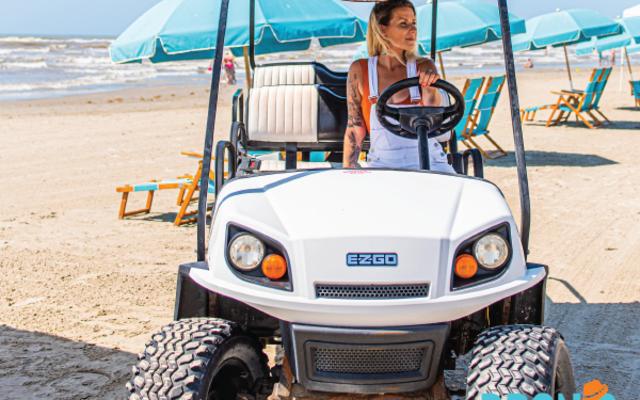 If you haven't been to this Texas town, then you haven't experienced the true beauty of it. It's a seaside paradise with beaches and fishing, and so much more.
One thing you'll have to do is rent a beach cart from Bron's Beach Carts in Port Aransas. These carts are made for all of your beach needs and will make your day go by smoothly.
From relaxing in the sun to riding on the waves, these carts will take care of everything for you. If you're thinking about visiting this gorgeous Place, you should first rent a cart or two from Bron's Beach Carts!
#15. Winton's Candy Company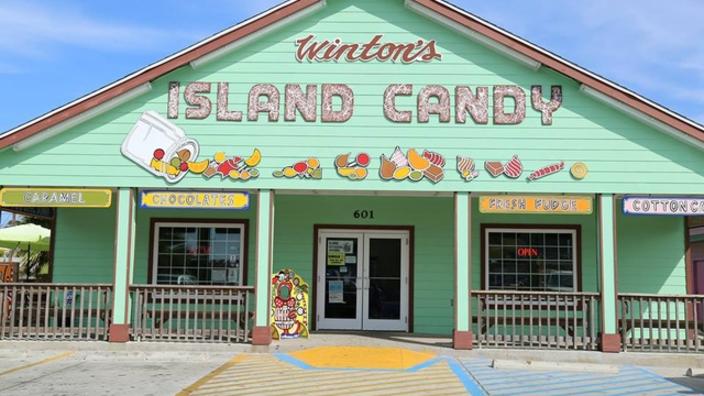 Winton's Candy Company offers a wide variety of confectionery items to choose from. They have a large variety of flavors and types that keep customers coming back again and again, such as their famous fudge and buttercream.
Their products are also available in bulk, making them perfect for corporate orders and events. Winton's Candy Company believes in providing their customers with quality service, so if you ever want to order online or stop by the store, they're always ready to help out.
#16. The Shack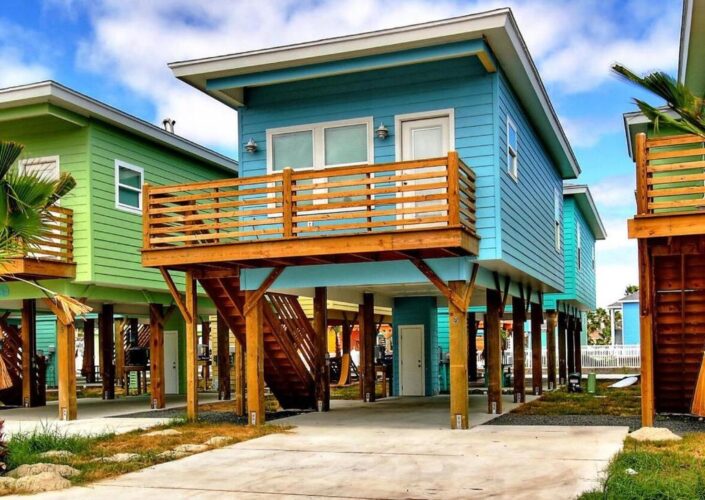 The Shack is a restaurant that offers breakfast, lunch, dinner, and weekend brunch. The Shack has won the Best of Texas award for their seafood, including fish tacos, clam chowder, and shrimp stuffed with crab.
They have also been featured in several magazines, including Texas Monthly, for their service and hospitality. The Shack's executive chef is Dale Dickey, who loves to use local ingredients to make each menu fresh and unique.
If you're looking for a great place to eat with good food, this might be the perfect spot for you! Be sure to add this to your list of things to do in Port Aransas.
#17. Shorty's Place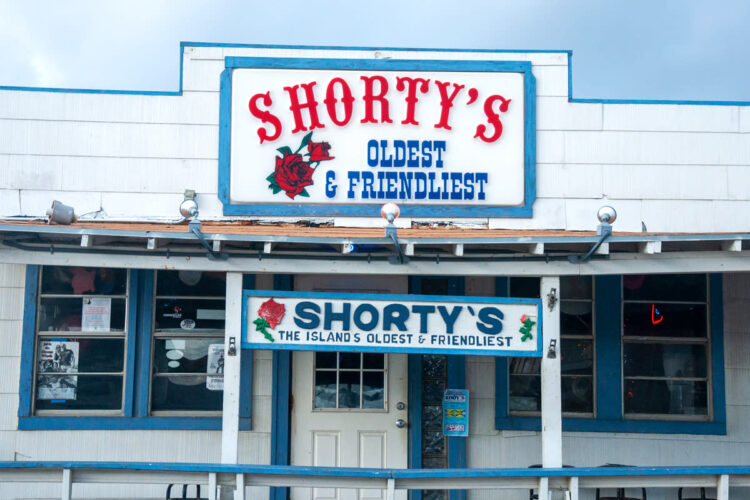 Shorty's Place is a casual, family-friendly restaurant and bar. It has been a staple on the beach for locals and visitors alike.
From its location to its menu, you can see that Shorty's Place values quality service over quantity. Even though it's known for delicious food and drink specials, it also has affordable prices.
It offers customers a laid-back atmosphere with live music every night of the week. What more can you ask for?
#18. Paradise Cart Rentals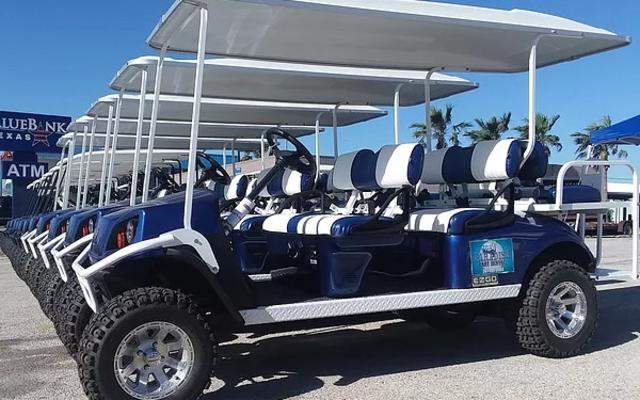 When planning a vacation to the beach, it's best to make sure that you're bringing all of your necessities. If you're going to be staying in a hotel and buying food, there's no need for you to bring anything.
However, if you're renting a truck or renting a house or condo, then you'll need things like chairs, tables, blankets, pillows, and towels. This is where paradise cart rentals come into play.
You can rent carts available in every resort on Fort Myers Beach. They have everything from coolers and beach chairs to umbrellas and beach toys.
You don't have to worry about lugging all of these items with your luggage either because they'll pack them up for you when you go home. Here are some benefits of using paradise cart rentals instead of bringing your items with you.
#19. Lone Star Taste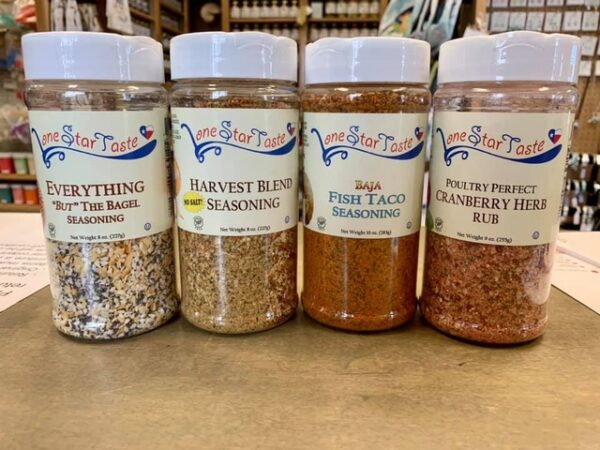 If you are looking to spend a vacation in the Lone Star State or planning a trip and have not decided which destination to visit, then Port Aransas is where you want to be.
It has been known for its beautiful beaches, warm weather, and incredible seafood for some time now. It's also home to some of the best steak in Texas.
#20. Scarlet Lady Dolphin Adventure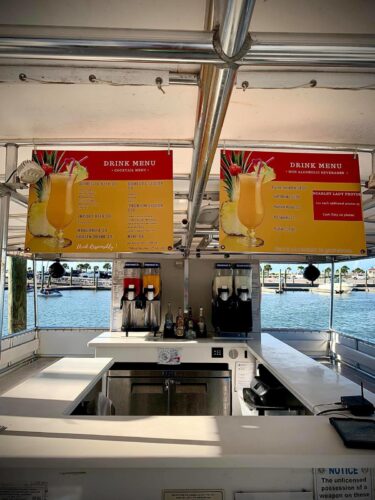 The scarlet lady dolphin is a rare species of dolphin that appears in the Gulf of Mexico. There are only around 1000 of these dolphins worldwide, and they are generally considered to be one of the most endangered species in the world.
The color of their skin is due to a combination of orange, red, and yellow pigments, which have been found in other similar species, such as humpback whales.
Their unique coloring has led to them becoming internationally recognized by governments and organizations, who hope to help protect this population from extinction. Port Aransas is home to two hotspots for the sighting of these charming creatures.
1) Main Beach – Located on the pier near the fishing dock, this beach is a popular spot for spotting marine life, including dolphins. If you stick around for an hour or two, you'll likely catch a glimpse of one or more beautiful creatures!
2) Tar Pile Island – This island lies offshore from Port Aransas, and many visitors come here just for its spectacular.
Port Aransas is home to an abundance of marine animals and life forms that make it a popular destination for visitors of all ages. Be sure to add this to your list of things to do in Port Aransas.
#21. Connoisseur Gifts & Crafts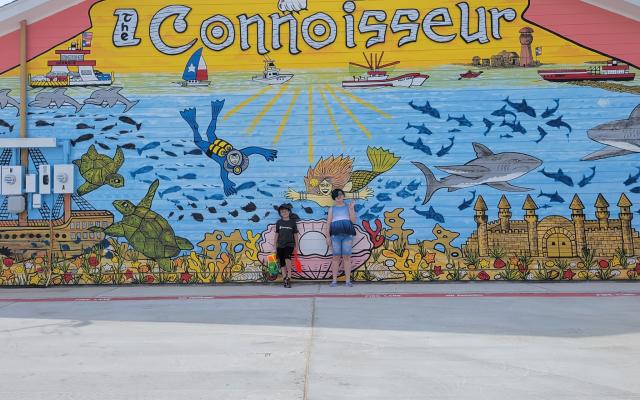 One of my favorite places to find souvenirs is located right on the boardwalk. It's called Connoisseur Gifts and Crafts, and they carry a wide variety of items that make great gifts for every occasion!
Connoisseur Gifts and Crafts carries a wide variety of products, including handmade jewelry, clothing accessories, jewelry boxes, candles for any occasion, hand-painted ceramic dolls, and figurines by talented artisans worldwide representing all different cultures.
Their selection includes everything from one-of-a-kind pieces to classic styles that you can't find anywhere else in Port Aransas. They also have more affordable prices than other retailers on the board.
#22. The Back Porch Bar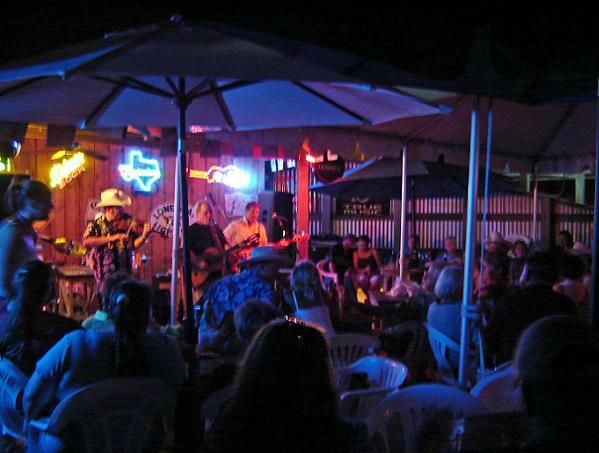 If you're looking for a place to put your feet up and relax, the Back Porch Bar is the Place to go. It's a laid-back environment that offers good times with friends, family, or just yourself.
It also offers live music, which is quite entertaining. The atmosphere here at the bar is one of peace and serenity. If you're looking for a place to go to unwind from a long day, then look no further than the Back Porch Bar.
#23. Island Surf & Kayak Shop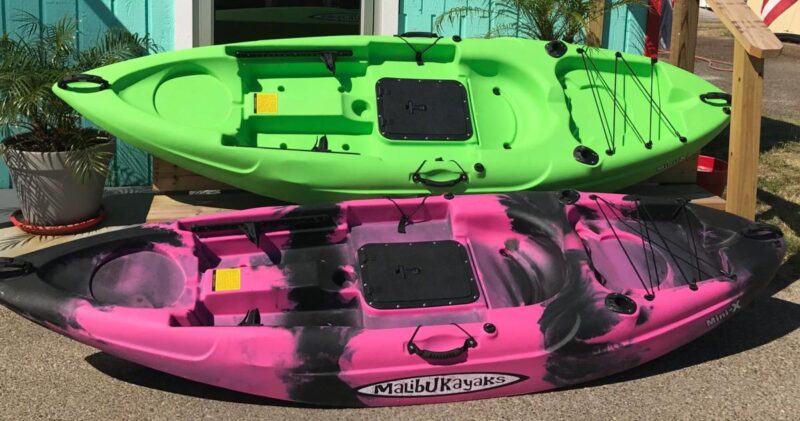 If you're looking to explore the area, one must look no further than Island Surf And Kayak Shop. The store is open from 8 a.m. – 6 p.m., Monday through Saturday, and from 11 a.m.-5 p.m on Sundays and holidays.
With an impressive inventory ranging from surfboards, kayaks, stand-up paddleboards, and more, this shop provides plenty of items for your next trip to the beach or water activities when visiting Port Aransas.
Island Surf And Kayak Shop has been serving the Port Aransas area for over 20 years and offers expert advice for all your surfing needs as well as professional service for repairs and customizations of your gear – for both beginners and experienced practitioners. Alike!
In addition to so much to do in Port Aransas, Island Surf & Kayak Shop has provided locals and visitors with one of the most enjoyable shopping.
#24. The Flat Bar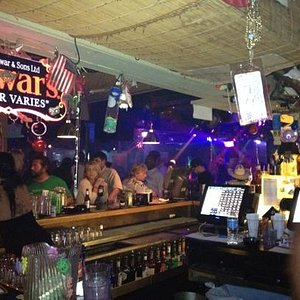 The Flat Bar started as a skateboarding spot but is now renovated and re-branded to accommodate the rest of the community. It's not just for skateboarders anymore.
There are good food spots, live music venues, and plenty of bars. The Flat Bar is still big on skateboarding culture and has a great selection of products for those who love the sport.
Although this Place is famous for many things, the staff members I talked to mentioned that one of their main goals was to create an ambiance that felt like home.
They wanted people to feel comfortable coming in to hang out with friends or meet new people. With all these characteristics, The Flat Bar is worth checking out if you're interested in something different than your typical bar scene!
#25. Treasure Island Bar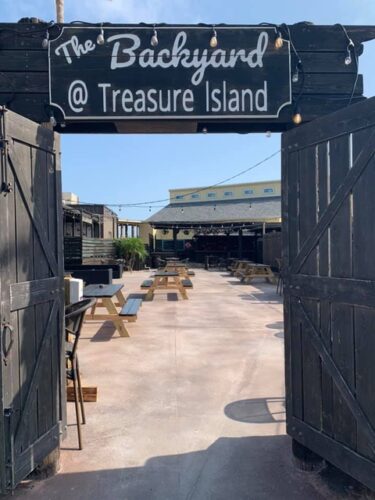 When it comes to the beach, there's no place like home. Known as a tourist hot spot, Port Aransas is always packed with people that come to enjoy the sun and sand. But when it's time to head back to town, you can't beat the convenience of going by way of the bar.
Treasure Island Bar is one of Port Aransas's best-kept secrets with its proximity and beautiful views. With all the hustle and bustle of other bars in town, this hidden gem will make you feel at home and not miss out on any of the fun.
When you want to hang out with friends for a night out on the town but don't want to leave your loved ones at home, head over to Treasure Island Bar in Port Aransas!
This one-of-a-kind bar offers excellent cocktails made from fresh ingredients that are sure to please any palate. Then, kick back and enjoy a live band or DJ spinning tunes until the last call!
#26. Nautical Adventures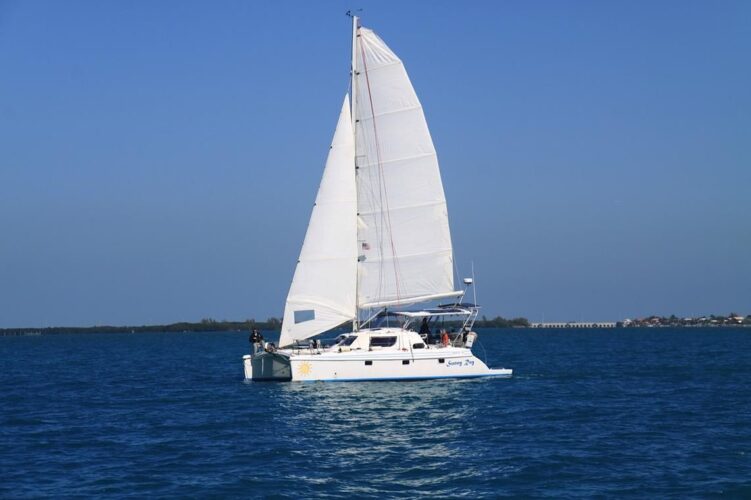 Nautical Adventures was founded by two friends looking for a new adventure that would allow them to explore their love of boating around the Gulf Coast.
They wanted to share their stories from their adventures and provide outstanding service so that other people could enjoy their time in Port Aransas.
Both founders had been dreaming about this dream business that would help put the Gulf Coast on the map as one of America's top destinations from an early age. With Nautical Adventures, they are making this dream come true!
#27. Cars and Carts Rentals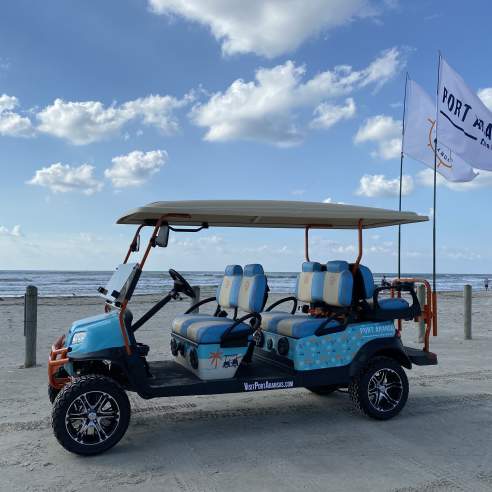 One thing that shouldn't be overlooked from your list is the unique experience of renting a car or cart from Port A Car Rentals.
They offer the perfect transportation option for you and your family or friends to explore this beautiful coastal town. From golf carts to SUVs and minivans, they have something for everyone who visits Port A.
They offer mobile phone apps which make it easy to find your car or cart faster than ever before. The best part is that you can use their service at any time without having to book through their website!
#28. Island Nails and Spa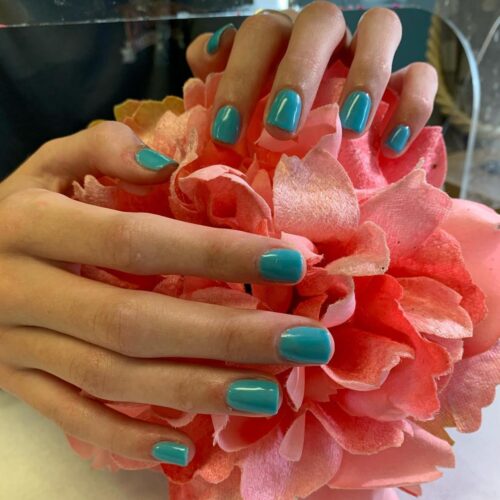 If you've ever been to the coast of Texas, you know that it has a lot to offer. The ocean is stunning, the sand is soft, and the sunsets in a way that makes you feel like anything is possible! You won't want to leave without getting your nails done when you're visiting this beautiful coast.
That's where Island Nails and Spa comes in! Island Nails and Spa offers all kinds of services for your nails! There are regular mani/pedis, manicures, pedicures, acrylics, and gel extensions.
What makes this Place different from other nail salons is that the staff is equipped with the latest technology such as LED lights so that you can have an excellent salon experience without having to worry about the time it takes.
They also offer waxing services. With so many options available for your nails, why would you go anywhere else? Visit Island Nails and Spa if you want.
Plan Your Trip To Port Aransas
If you are searching for things to do in Port Aransas, this article has everything you need to know. It's an excellent place for visitors and locals, and the weather is always perfect.
Port Aransas is the perfect destination for people who love adventures. With an array of attractions and activities, it's no wonder that it has become the fastest-growing city in Texas.
So, start preparing to tour Port Aransas on your next vacation. You'll love it and also enjoy the places to visit in Texas.
Disclaimer: Vasttourist always strives for content accuracy. Since the time of publishing, travel-related information regarding pricing, schedules, and hours may have changed. Please see individual websites embedded in this post for the most current trip-planning information.

Unless otherwise stated, Vasttourist does not claim ownership of any images used on our blog site. The respectful owners of all visual content have copyright protection. We try to include links to the sources. If any images are your property and you do not want them to appear on our blog, don't hesitate to contact us; we will take them down immediately. We support properly crediting the original writer, artist, or photographer.