10 Best Ways to Display Keepsakes from Your Favorite Trips
The memories you create on vacation will almost always be ones you treasure. As much as you'll want to recall the good times, having things like scrapbooks with pictures and memorabilia can make that even more accessible.
It's pleasant to portray keepsakes as a memorializing display for an individual, regardless of how big your family tree is or how closely interwoven your family is.
A passionate traveler may be looking for ways to preserve the memories of their travels at home. Creating travel keepsakes into art demands effort, and finding ways to exhibit them without cluttering your house can be challenging.
Portraying souvenirs from your favorite trips can be done in a few different ways. Read on to learn the best ways to display keepsakes from your favorite trips.
Ways to Display Keepsakes from Your Favorite Trips
#1. Using Travel Photos to Create a Decorative Wall
Framing travel photos is a great way to preserve them. It would be best to use simple frames with identical colors. Any size room can benefit from a simple grid layout that makes it look pleasant and proportional while holding a minimal footprint.
Plan the positioning of the frames before hanging them. Keeping the frames and artwork evenly spaced apart is necessary if you want them to line up nicely.
Using your most pleasing photos, you can also create custom canvas prints. You can be ensured of the highest grade service with Canvaspop's long-lasting and durable canvas.
#2. Making Jars of Travel Memories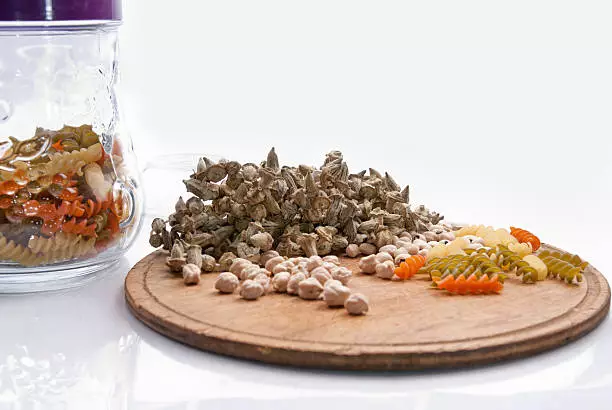 Please make the most of those treasured keepsakes you collect on vacation by putting them in jars instead of hiding them in drawers.
The contents of a little vessel can be filled with only a few objects. Line up the jars on a shelf and label them with the date and location of each trip. Make these memory jars part of your home's decor by setting them on your mantel.
#3. Creating Shadow Boxes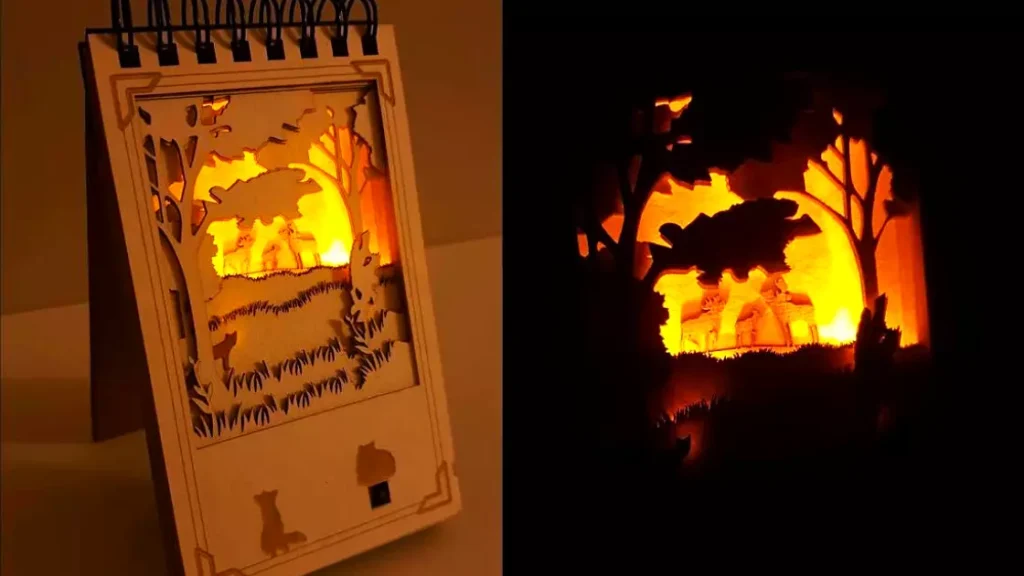 Select a few of your favorite memories from the photographs and take your time going through them. Decide what items you will enclose in the shadow box and what background you will use for it.
Assemble the shadow box after you have positioned your design. It is recommended that you paint the outside and interior of the box accordingly. Your vacation memories will flood back to you as you make this craft.
You can also check out 10 Luxury Travel Trends and Tours For Luxury Travellers and Accommodation
#4. Sand Bottles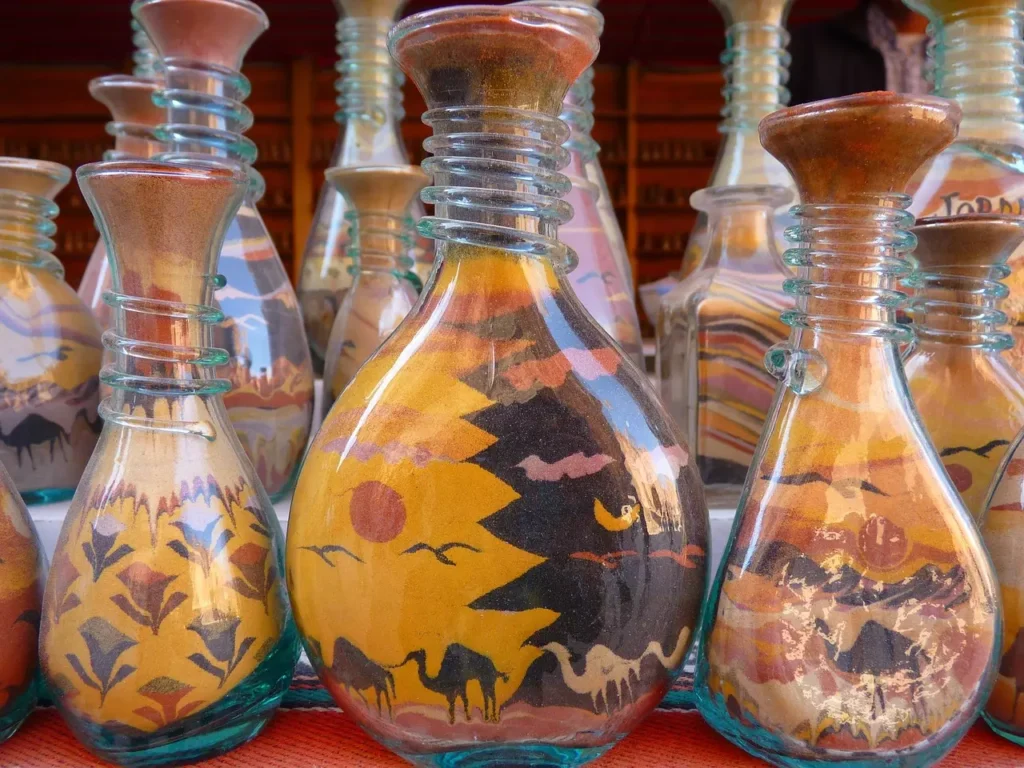 You can create this cute keepsake display by decorating small bottles or jars with sand, shells, or souvenirs. Give it an additional special touch by adding a vacation photo.
This is a simple task that anyone can do, but young children may need assistance from an adult. Keeping beach memories in this way is a unique concept.
#5. Throw Pillows made with Travel Photos
Create a memory-inspired décor with throw pillows that feature photos. The foremost step is to enlarge a photo and print it on linen; rip the backing off. A portion of fusible interfacing can make linen sturdier. Iron the printout's backside to the linen's backside.
Make sure the printout is between scrap fabric and the iron. Assure that the linen is the same size as the printout before ironing. Right sides together, sew a 1/4-inch stitching allowance around the perimeter. Cut the bottom three inches and flip it upside down. Fill the slit with fiberfill and hand-sew it shut.
#6. Custom Coasters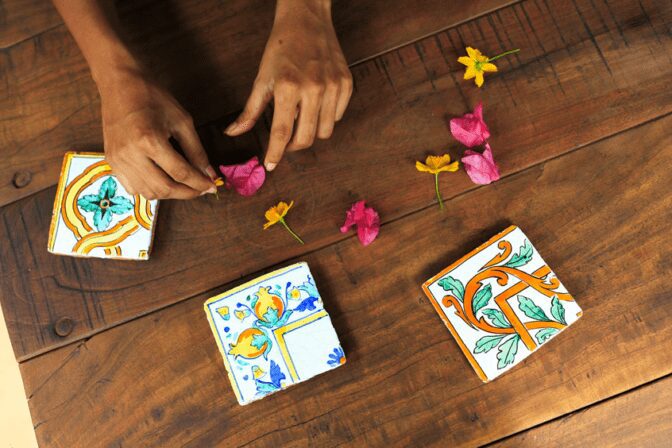 Whether traveling together or alone, these creative coasters are an excellent way to remember your favorite travels. You can turn your do-it-yourself task into a unique and functional piece of furniture that enhances the impression of your home.
With these custom map coasters, you can prevent watermarks on your tables. They may possess some of your family's favored places to visit or one of your unforgettable trips.
As you plan your trip you can also check out the Best Travel Photography Tips You Must Know!
#7. Travel Boxes with Keepsakes
These convenient travel keepsake boxes are an excellent way to reminisce about your trips. The storage containers are not only convenient for keeping your treasures and charms, but they are also fashionable additions to the décor of your home.
Create a bright-hued display box that highlights your local or international travels on your bookshelf. With the names of the places you have visited, you can create custom boxes of your own regardless of whether you have visited foreign destinations or simply hotspots in your city.
#8. Press Book of Flowers
Keeping pressed plants appropriately can prolong their lives for hundreds of years. This indicates that it preserves not only the flowers but also the memories linked to them. Take home some floral keepsakes from your holiday.
Another alternative is photographing wildflowers rather than picking and pressing them, which might be prohibited in some places. You can add a vintage feel to images using Polaroid software. Hang these polaroids on the wall or display them on a table.
#9. Photo Cubes
Get ready to display decorative wooden photo cubes made from your favorite expedition photos. Taking photographs of your life's moments and occasions is a beautiful way to hold on to your memories.
There are never enough travel photos, and this photo cube is one of the best ways to display them. Make your home a picture-perfect home with this art. It is also possible to make these photo cubes with your family by yourself.
#10. Travel Scrapbooks
Think about the most satisfactory locations on your holiday, such as the food you ate or the scenery that took your breath away. It is easy to ignore these details when time passes, but your travel scrapbook is the ideal way to keep them at the forefront of your mind.
Making your scrapbook more appealing and memorable is easy when you work on it. Incorporating layers into your page will give it more proportion and allow you to add more holiday details.
To make it memorable, you can add receipts, postcards, tickets, etc. You can assemble beautiful picture frames with photo corners while keeping your memories. Make sure to position them in each corner of your photos so that they can be easily removed if you rearrange them.
Conclusion
We believe this post will make you aware of the best ways to display keepsakes from your favorite trips.
Enjoy your vacation!