15 Best Restaurants In Fort Wayne Indiana
If you are looking for the best restaurants in Fort Wayne, Indiana, then you are on the right page! Welcome to Fort Wayne, Indiana's culinary adventure! It is a city renowned for its varied and delicious eating options, in addition to its rich history and lively arts scene.
Fort Wayne is a food lover's paradise just waiting to be discovered, with everything from the coziest family-run restaurants to the oldest taverns.
Fort Wayne has a diverse range of culinary options, catering to both typical Midwestern comfort food preferences and international cuisine tastes. Imagine savoring a succulent steak at the locally owned steakhouse, BakerStreet, which serves modern American fare.
Northeastern Indiana's Fort Wayne is well known for its stunning parks, intriguing museums, breathtaking natural landmarks, and animal and plant sanctuaries.
While exploring the city, keep yourself satiated and full by sampling some of their delectable food options.
There's no need to conduct in-depth research after a hard day. Relax while you browse this list of the top 15 restaurants in Fort Wayne that we put together for you.
#1. Oyster Bar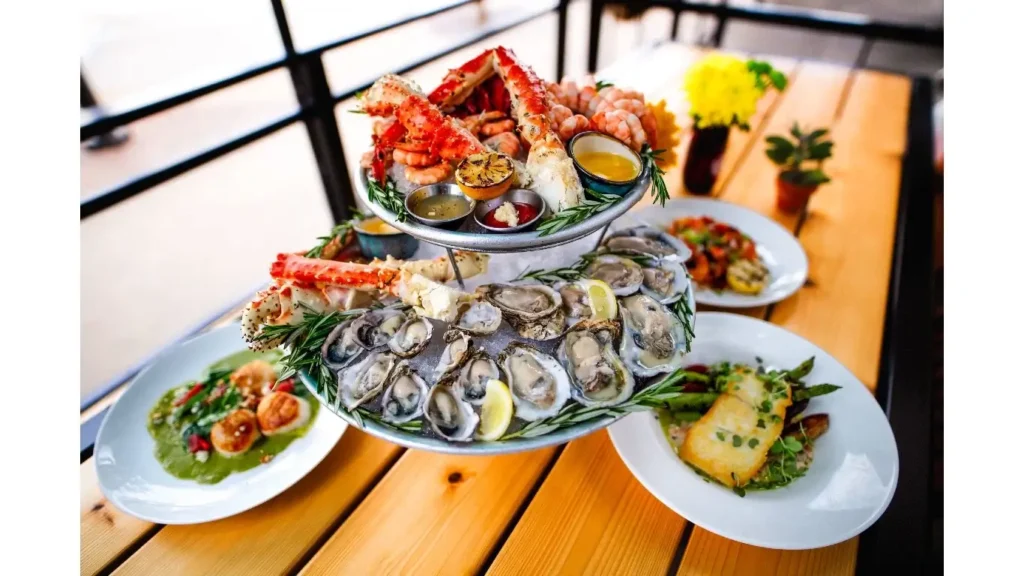 The oldest pub and seafood restaurant in Fort Wayne is Oyster Bar, which has been around since the 1800s. This is one of the best restaurants in Fort Wayne, Indiana, and they're well known for serving the freshest oysters in addition to their cocktails.
Oyster Bar is recognized for its quaint atmosphere, which has mostly stayed the same over the years. The owners worked hard to preserve the memories within the building so that present and future generations would respect them.
If you're looking for a historic environment to unwind after a long day, Oyster Bar will do. Stop by for lunch or dinner if you prefer to avoid drinking.
The ambiance at the pub is informal, warm, and lively, especially in the evenings. Of course, before you go, you must have some of their renowned, traditional oysters. The highest-quality, freshest oysters are what give Oyster Bar its name.
Spend the evening here with a loved one, celebrating a significant event while enjoying a plate of their favorite sea bass special. If you're in the mood for red meat, their filet mignon is an unbelievable thrill because of its suppleness and flavor.
Address: 1830 Calhoun St, Fort Wayne, IN 46802, United States
#2. BakerStreet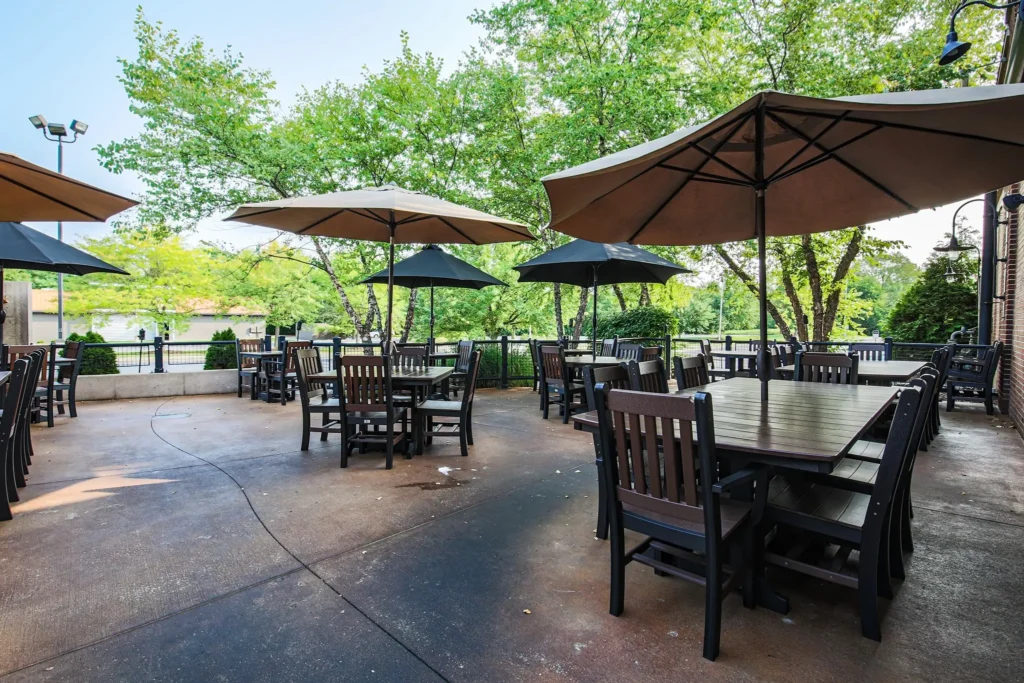 Bakerstreet is a locally owned steakhouse established in 2008 and serves modern American fare. Literally one of the best steakhouse restaurants in Fort Wayne, Indiana.
This restaurant offers gourmet dining. Its sophisticated and elegant interiors have a casual air that makes them feel comfortable and not at all scary. Every bite of the restaurant's signature steaks contains the greatest prime cut that Fort Wayne has to offer.
Fresh seafood is fantastic, and the menu has options for vegans as well. This place is fantastic for special occasions as well, thanks to the reliable service, roomy setting, and vintage appeal of the wooden furniture and brick walls.
Remember to order the house specialty, filet mignon. This traditional steak is a favorite when it is served with asparagus and soy vinaigrette over garlic-whipped potatoes.
Address: 4820 N Clinton St, Fort Wayne, IN 46825, United States
#3. Coney Island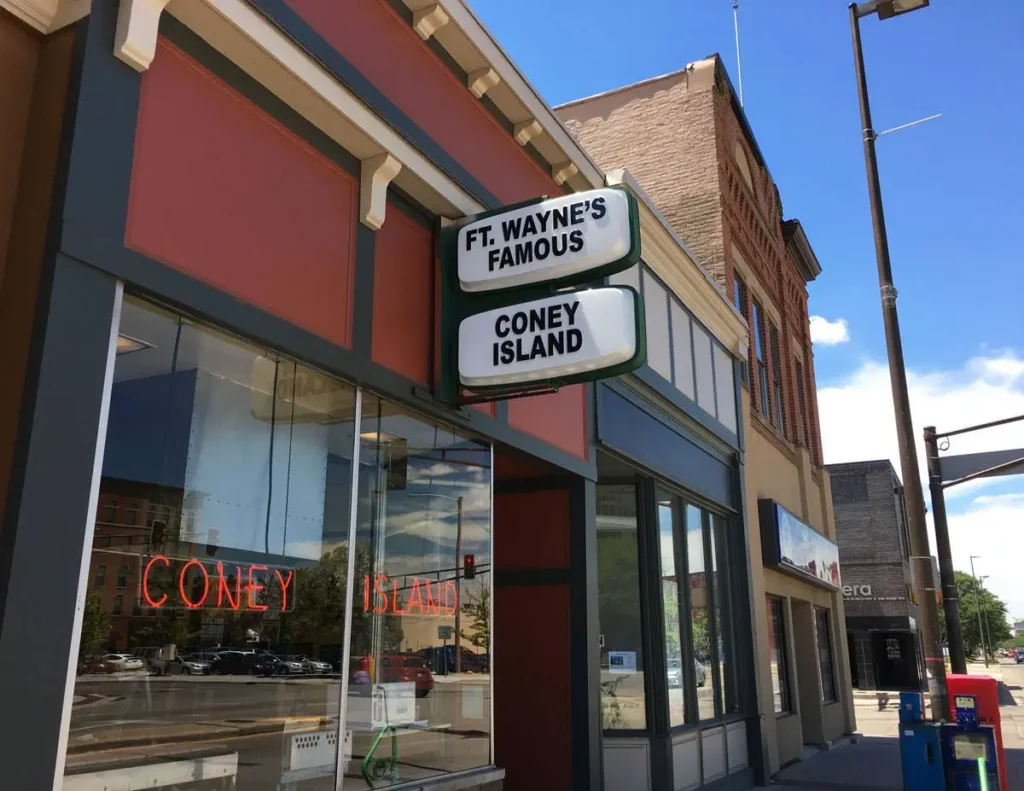 Coney Island is a family-run restaurant on Main Street that opened its doors in 1914. Coney Island is famous for its signature Coney Dogs.
Every person in Fort Wayne's parents' and grandparents' generation has eaten this renowned hotdog, which has been a fan favorite for decades.
Fort Wayne is renowned for its historic eateries in addition to its historic museums. Because of the location and history that Coney Island has retained over the years, and that can still be seen on its walls, it is one of the best restaurants in Fort Wayne. Come and see what this location is known for if you're a foodie who enjoys the history of food.
Have one or two freshly prepared Coney Island hot dogs with homemade secret Coney sauce, mustard, and chopped onions in Fort Wayne, Indiana, downtown.
Address: 131 W Main St, Fort Wayne, IN 46802, United States
#4. Cork 'N Cleaver Steak & Seafood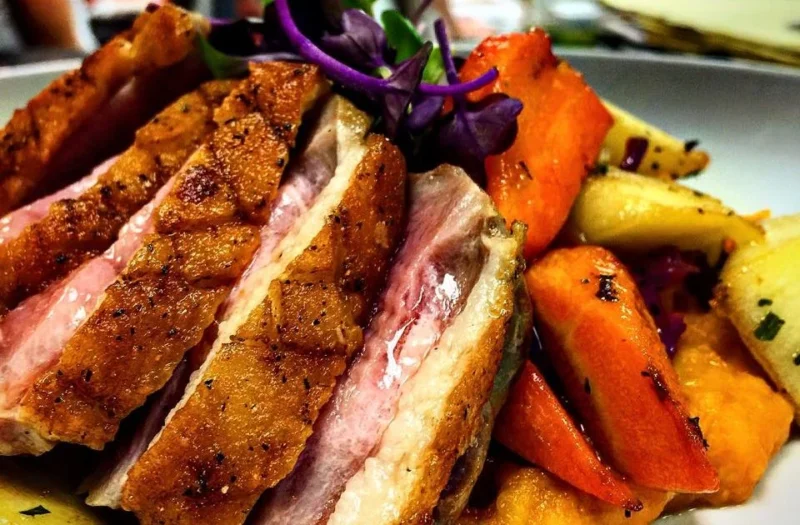 If you are searching for the best places to eat in Fort Wayne, Indiana, then you should check out Cork 'N Cleaver Steak & Seafood. It is a family-friendly eatery that specializes in steaks, seafood, and chops. Since its establishment in 1964, it has expanded to over 80 locations throughout more than twenty states.
Are you looking for some of Fort Wayne's most popular restaurants? Cork 'N Cleaver Steak & Seafood ought to be your first preference. Look at the soft lighting, the menus printed on cleavers, and the cozy, southwestern-ranch-inspired decor.
The entire environment is unique, historic, intimate, and inviting. Perfect for peaceful dinners or family gatherings. Another aspect of this restaurant's popularity with customers is the superb service. Customers can always count on having a great time because of its dependability.
Go to the salad bar first. You may create the ideal salad using the large assortment of ingredients offered at what is thought to be the best salad bar in town.
The Teriyaki Filet Mignon, which is available as an entrée, is popular with customers because of its exciting flavor combination. Do you have a craving for seafood? The Atlantic salmon with blue cheese topping is a favorite.
Address: 221 E Washington Center Rd, Fort Wayne, IN 46825, United States
If you are about to explore Texas for a wonderful vacation, then you would love to check out the best places to eat in Canyon (Texas), Killeen (Texas), Jefferson (Texas), and Temple (Texas).
#5. Paula's On Main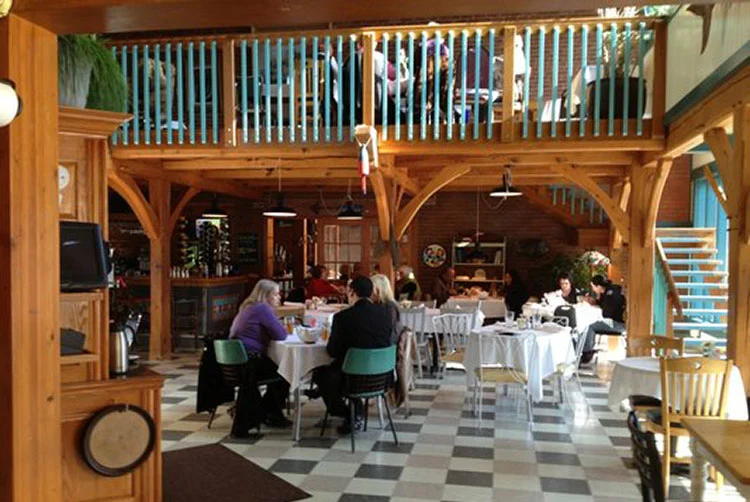 Paula's on Main is a seafood restaurant with a relaxed, pleasing dining atmosphere. They take advantage of the most recent farm-to-table ingredients.
The only thing on the menu at Paula's on Main is the greatest seafood the city has to offer. You can anticipate nothing less, from delectable king crab meals to tasty mussel appetizers.
Paula's is the ideal option for you if you're seeking the top restaurants in Fort Wayne that specialize in every type of seafood dish you can imagine.
Try some of this restaurant's best-selling dishes to enjoy its best offerings. Crab cakes should be the first course. They serve fiery jalapeño tartar alongside their crab cakes, which are generously filled with crab meat. Their renowned almond walleye is another option for an appetizer.
They have delicate flavors that will overwhelm your palate.
Address: 1732 W Main St, Fort Wayne, IN 46808, United States
#6. Biaggi's Ristorante Italiano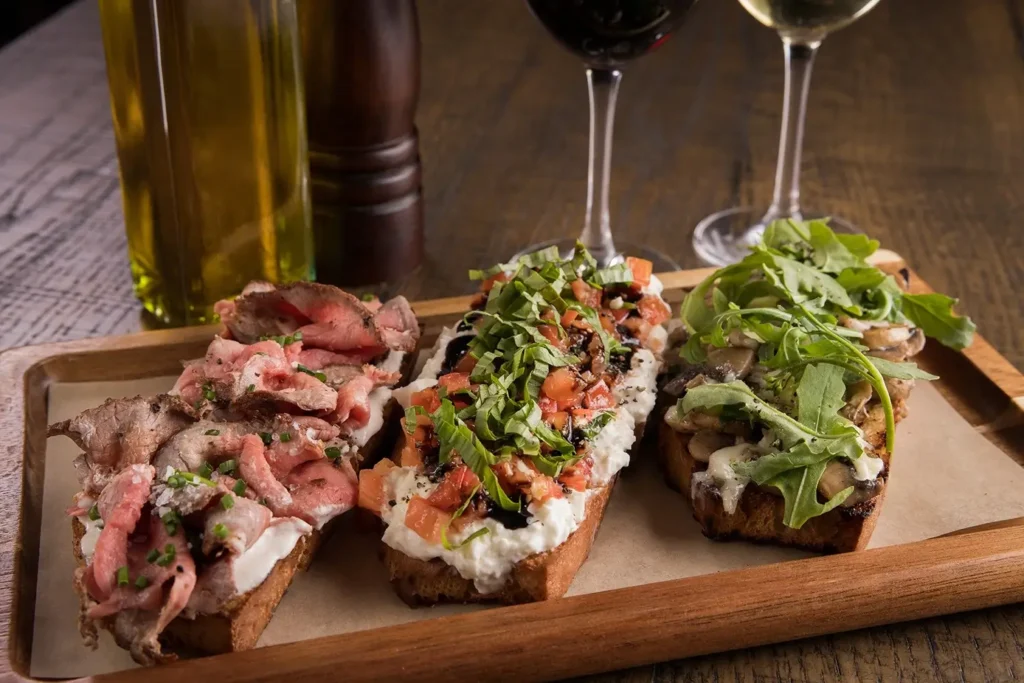 Biaggi's is a casual Italian restaurant that was founded in 1999 and has expanded to 17 locations in 9 states. Biaggi's Ristorante is adept at managing a flourishing business.
They recognize the importance of offering excellent service and make sure that each patient receives the best possible specialized care.
By adhering to this ethos, they were able to draw a loyal clientele who came for the authentic Italian food, as well as the warm atmosphere and first-rate service. If you want a wonderful Italian treat, feel free to visit there.
Although every pasta option on the menu is of the highest grade, we advise choosing a dish from the "signature pasta" section. These menus offer some of Fort Wayne's best dinners.
Address: 4010 W Jefferson Blvd, Fort Wayne, IN 46804, United States
#7. The Hoppy Gnome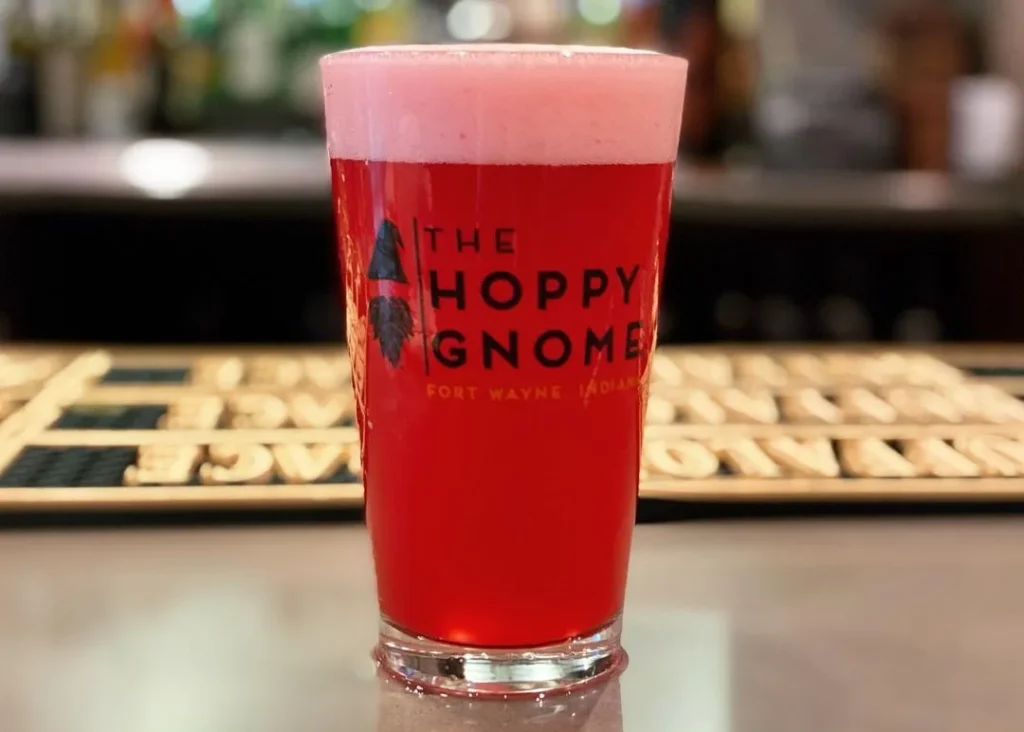 The Hoppy Gnome is a laid-back Bar & Pub restaurant in Fort Wayne, Indiana that focuses on American cuisine with Mexican influences. It debuted in 2015 and is a sister restaurant to BakerStreet Steakhouse and Proximo.
This restaurant serves some of the most special tacos in the area. If you're looking for a unique lunch or dinner, The Hoppy Gnome is happy to serve you and wow you with its menu alternatives.
They not only offer fantastic food but also have top-notch service. The wait staff is attentive, friendly, and helpful. They respond favorably to criticism and make amends by promising enhanced service. Take a culinary journey with their inventive tacos.
Try Dante's Inferno, a taco with jerked chicken, 7 degrees of hell sauce, jack cheese, and sour cream, if you're up for a fiery challenge. Your lunch will be much more exciting as a result. The Hoppy Gnome offers more than just tacos, though.
If you're looking for Fort Wayne's top lunch spot? Try the Asian Tuna Tartare, which features guacamole and sashimi-grade tuna, and savor its refreshing flavor, that will leave you wanting more.
Address: 203 E Berry St, Fort Wayne, IN 46802, United States
#8. Sara's Family Restaurant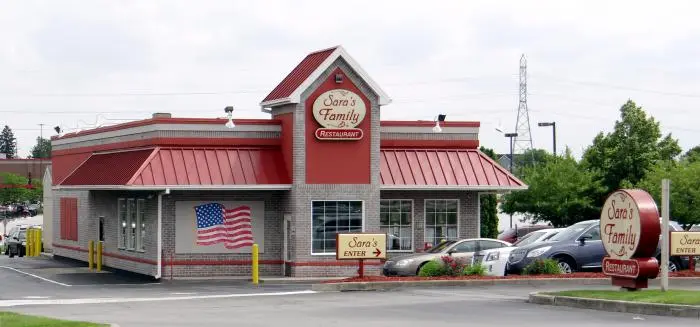 Sara's Family Restaurant is a locally owned and operated restaurant that bears the name of the owner's eldest daughter. If you want to get the best value for your money, visit Sara's family restaurant. You won't regret doing so.
Have you ever encountered a menu that is so wide that choosing what to order is nearly impossible? Their 20-page menu has 16 pages of real food. From a lengthy range of breakfast alternatives to a more limited variety of supper entrees, you will always have options.
You could finish the menu in a couple of months if you came here every day for breakfast, to give you an idea.
Their specialties include hash browns, fried chicken, and sausages that are cooked just right. Customers can order delicious pancakes, waffles, and biscuits at this café.
Try some tasty beer or fine wine after a long workweek. According to reviews from patrons, the Americano at Saras Family Restaurant is excellent. This is one of the best eateries in Fort Wayne, Indiana.
Address: 5792 Coventry Ln, Fort Wayne, IN 46804, United States
#9. Junk Ditch Brewing Company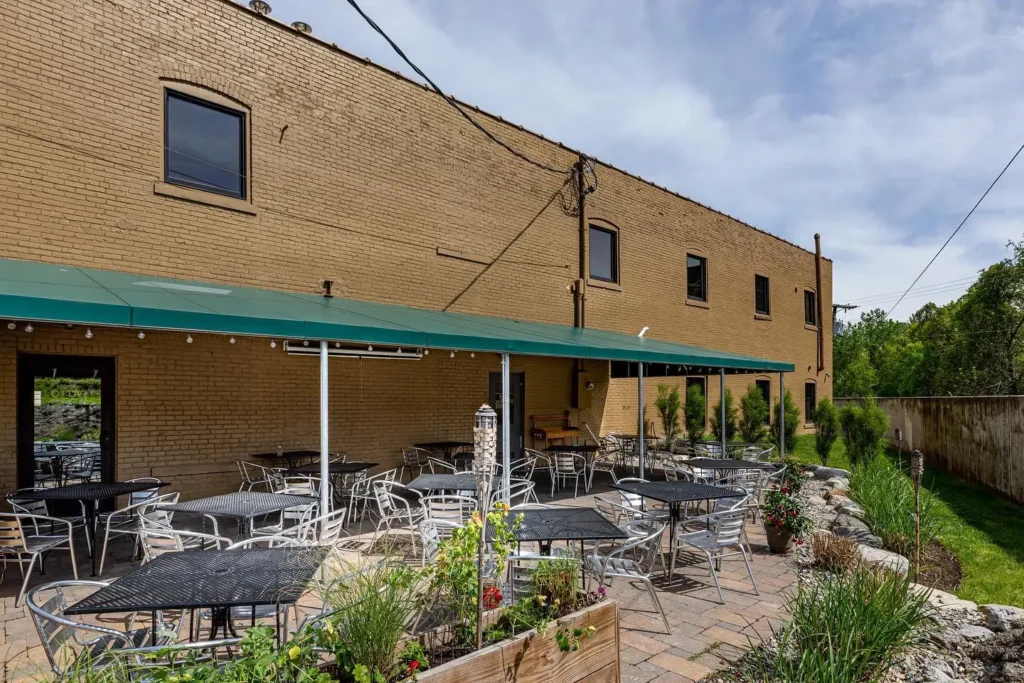 The farm-to-table gastropub Junk Ditch Brewing Company, which offers a range of casual American cuisine, is located in the former Korte Paper Company warehouse.
Enjoy an exciting lunch or dinner at this quaint, industrial-themed restaurant. You can tell you will have a unique eating experience just by the name.
All of the food is prepared from scratch right before your eyes, and they have a wide variety of alcoholic beverages that go great with dinner. Excellent service is also provided. The chuck roast gnocchi is one of the visitors' favorites.
If you need more clarification, choose a secure entree. The Carnitas Poutine, which has cheese crumbles, salsa verde, pickled onion, and pickled jalapeno, is a good option if you have time for lunch.
Address: 1825 W Main St, Fort Wayne, IN 46808, United States
Looking for more restaurants to explore? Check out the best eateries in Rolla (Missouri), Huntington Beach (California), and Clermont (Florida).
#10. Hall's Tavern at Coventry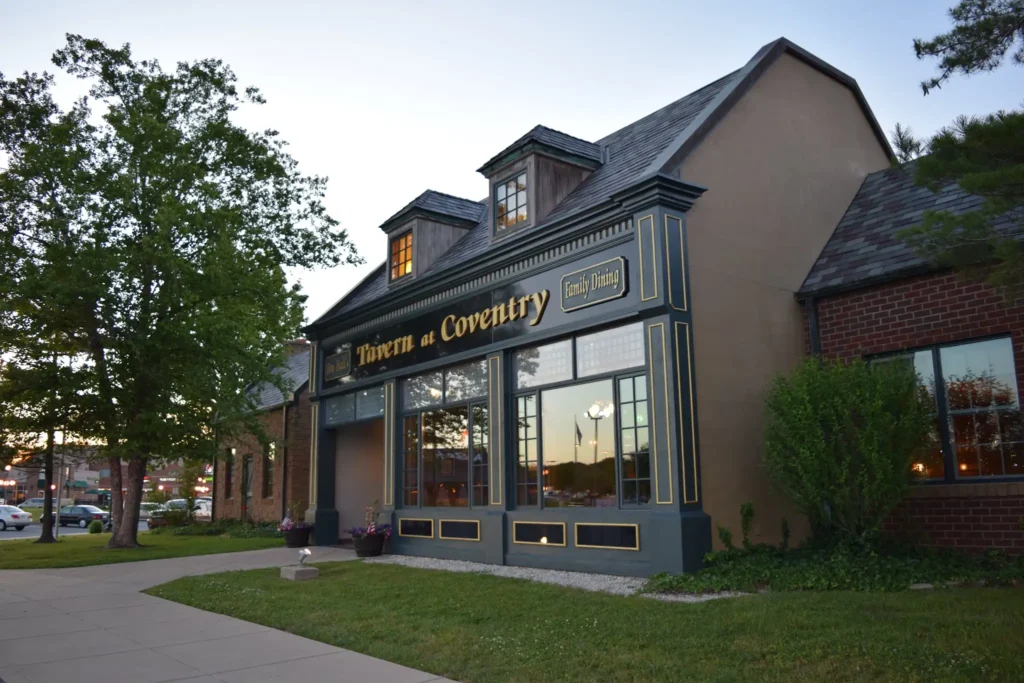 The Tavern is a masterwork by Don Hall. This is a gastropub with a full menu, including brunch, supper, and drinks after.
Every Don Hall's restaurant is trendy, and this one is no exception. If you want to visit a restaurant with an Irish pub feel, this is a great place to go. The Tavern receives a lot of business from patrons because of its dependable service and convenient location close to the Comfort Suites motel.
The Tavern is one of the best restaurants in Fort Wayne to have dinner because of the elegant yet welcoming atmosphere, as well as the delectable fare and beverages.
To make the most of your holiday, have dinner on the house specialty, prime rib. Their homemade horseradish crème is offered on the side with the beautifully cooked steak. You'll savor a mouthwatering concoction of meaty, savory flavors with a hint of horseradish heat.
Address: 5745 Coventry Ln, Fort Wayne, IN 46804, United States
#11. Chop's Steak & Seafood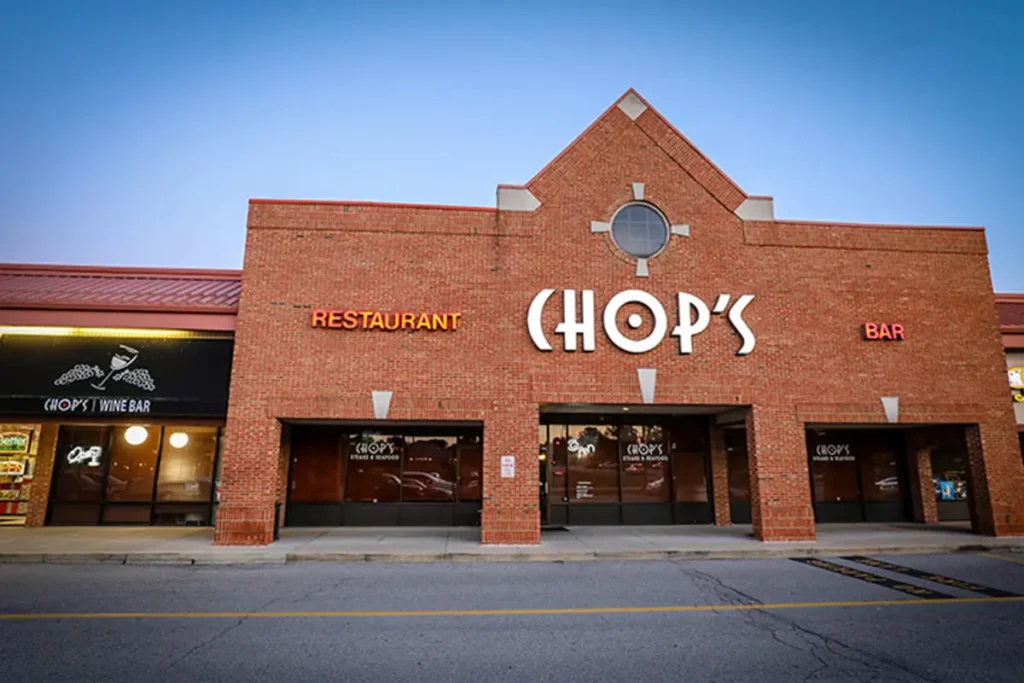 Chop's Steak and Seafood is a pricey eatery on the southwest side of Fort Wayne. It first opened its doors in 2003. The restaurant is open for lunch, supper, and Sunday brunch. Chops offers a variety of cuisines.
Despite their focus on steaks and seafood, they provide much more than that. They offer first-rate service, considerate hosts, and an environment that is suitable for events.
If you're looking for the top birthday restaurants in Fort Wayne, try this one out. Make sure to let them know that the ice cream and brownie are on the house.
To begin your birthday dinner, they serve walleye with a black sesame and nut crust. The filet mignon, which is char-grilled and garnished with horseradish, is a favorite idea for meals.
Your cocktail of choice will help you round out the perfect evening.
Address: 6421 W Jefferson Blvd, Fort Wayne, IN 46804, United States
#12. Don Hall's Gas House & The Deck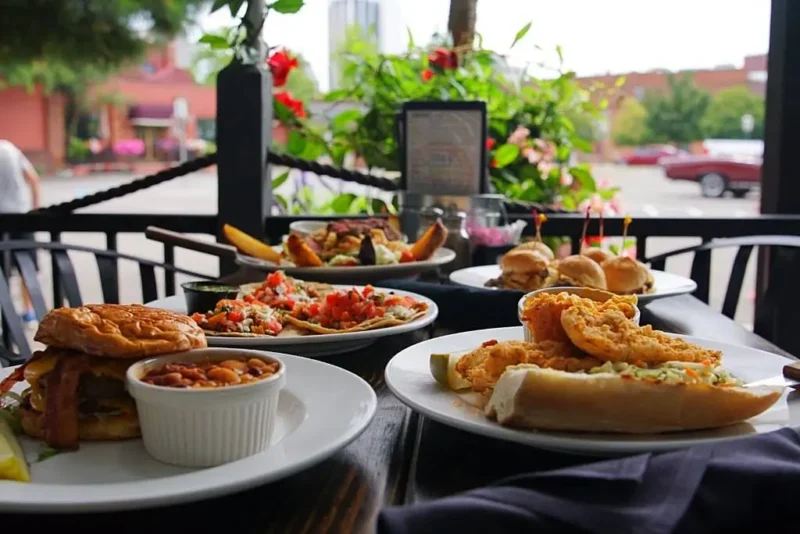 The Gas House is an indoor restaurant, while The Deck is where patrons can dine al fresco at The Gas House. They are a few of Fort Wayne's most cherished Don Hall's eateries.
The Gas House offers both an open atmosphere and delectable food if you're wondering where to eat in Fort Wayne. The fact that this location was established in a former gas plant in the heart of Fort Wayne is one of its coolest features.
Such a distinctive quality elevates your dining experience to a whole new level. Don Hall's famous steaks are not to be missed. The meat is their specialty. Try their well-seasoned and expertly crafted New York Strip steak.
Address: 305 E Superior St, Fort Wayne, IN 46802, United States
#13. Alto Grado Pizza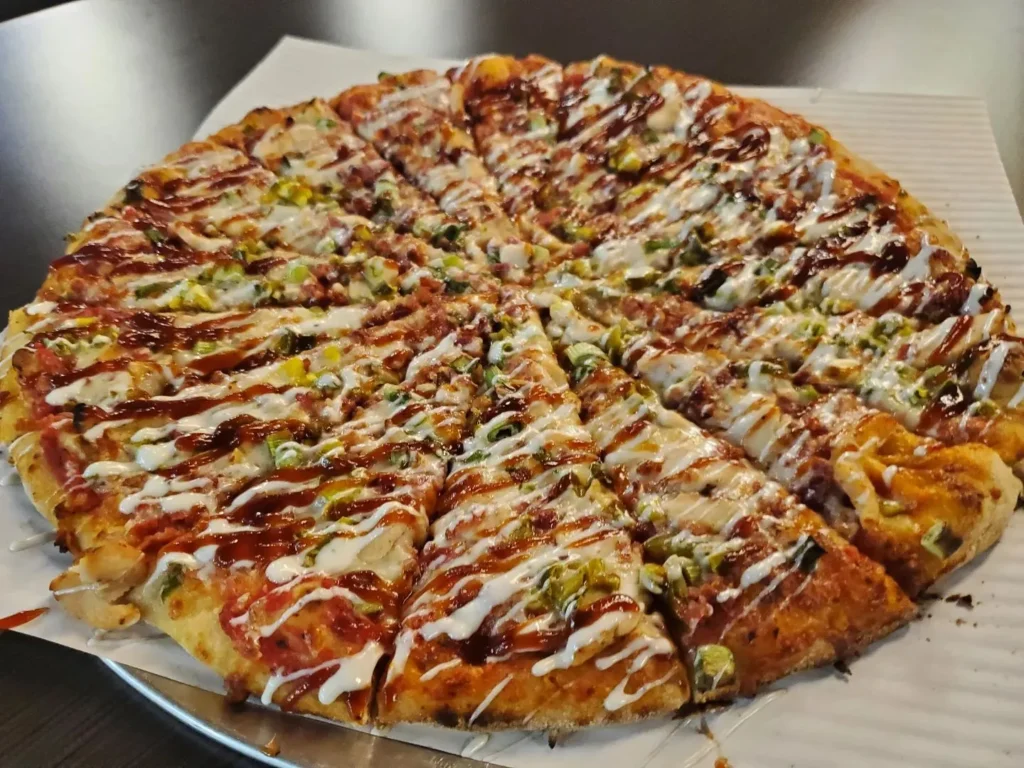 Alto Grado Pizza is a casual pizzeria that offers both indoor and outdoor seating. Their primary goal is to continually provide their customers with outstanding service by employing high-quality parts. On its menu, Alto Grado tries to offer a variety of delicacies.
You can categorize their cuisine as artisanal, gourmet, or farm-to-table. It's a safe place to unwind with some pizza and drink at the end of the day because of how relaxed and easygoing the vibe tends to be.
If you're looking for the best spots in the city to eat hand-pressed, wood-fired pizza, check out Alto Grado! If you're an adventurous pizza lover, we recommend sampling their Detroit-style pies. Its rectangular shape is a nice change from the typical pizzas we see every day.
Another exciting option is their dessert pizza, particularly the S'Mores, which is topped with chocolate and marshmallows and then re-fired to toast the marshmallows.
Address: 111 W Columbia St Suite 102, Fort Wayne, IN 46802, United States
#14. Big Apple Pizza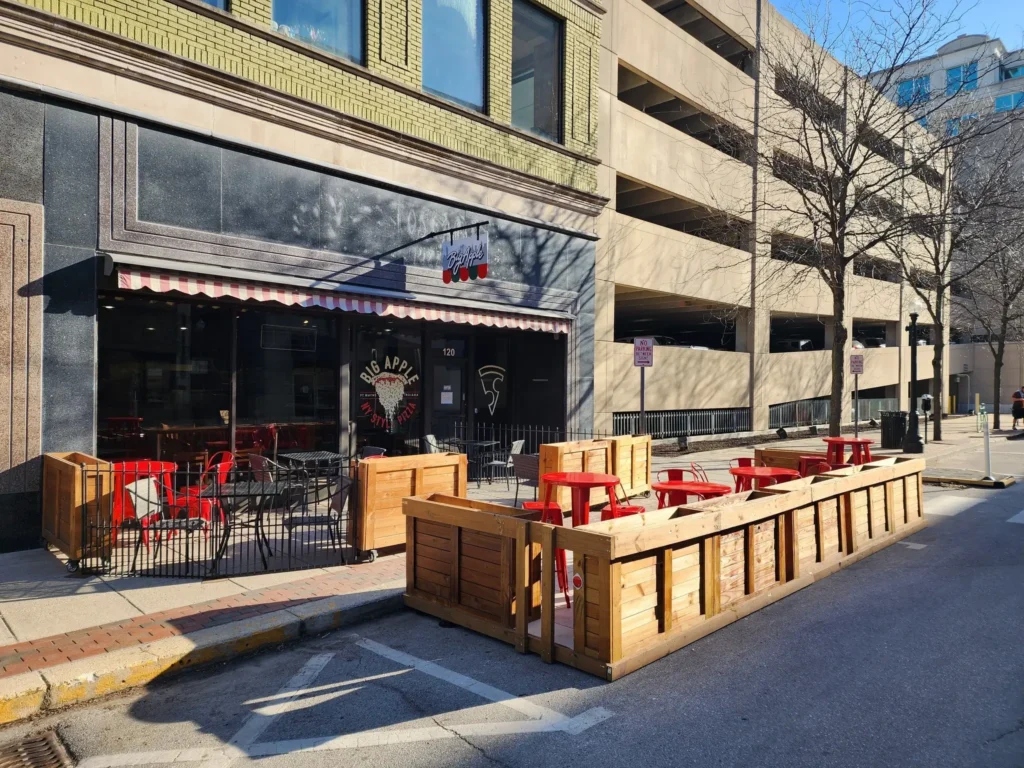 After relocating from New York to Indiana, the owners of Big Apple Pizza decided to create the best New York-style pizza in Fort Wayne.
Everyone enjoys the comfort meal at Big Apple Pizza. Where can you get the tastiest pizza without having to go to New York City? You will unquestionably feel at home if you are from New York.
Visit Big Apple Pizza if you're seeking some of Fort Wayne's best cafes and casual eateries. Make sure to take advantage of the garlic knots, even if the pizzas are the main attraction here!
They are delicious bread pieces that will add flavor to your meal. The Long White Island is outstanding for pizzas. It is an all-cheese pizza with parmesan, mozzarella, and ricotta on top. You can ask for whatever extra toppings you want.
Address: 120 W Wayne St, Fort Wayne, IN 46802, United States
#15. Cindy's Diner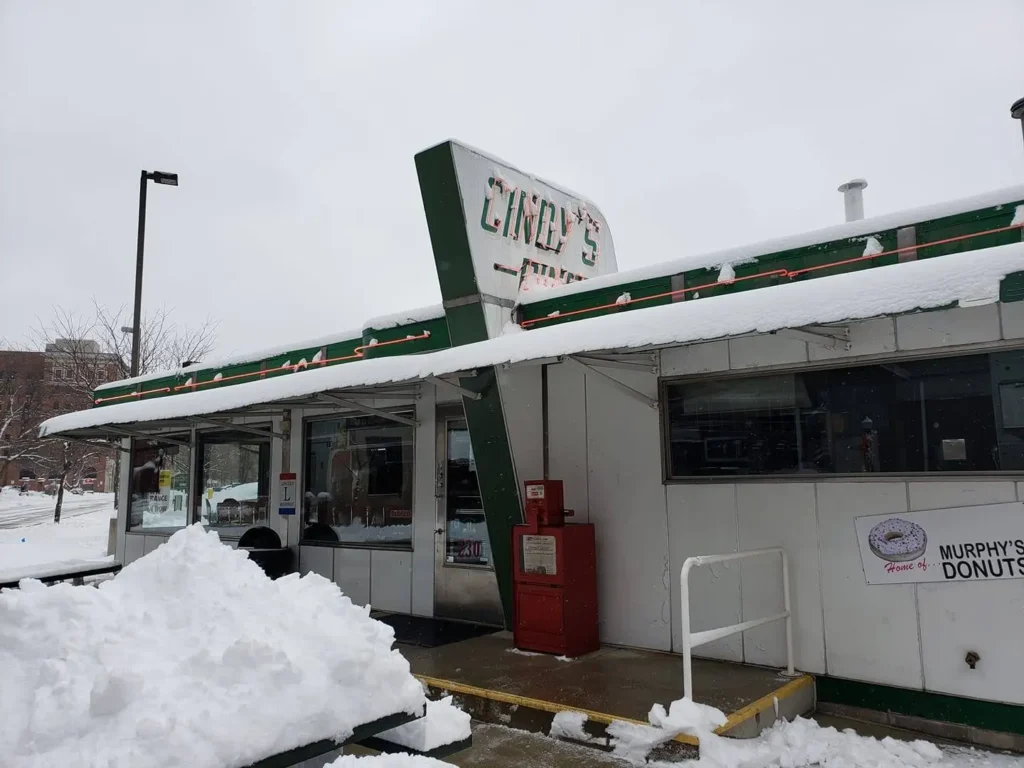 Paul's Diner, currently known as Cindy's Diner, first welcomed Fort Wayne residents in 1960. Since then, locals have started to frequent it for breakfast.
This restaurant provides nostalgic feelings to customers along with its typical breakfast and brunch offerings, with only 15 chairs around the counter in a quaint atmosphere reminiscent of a 1950s diner.
In this modest retro restaurant, you may get quick Fort Wayne meals and step back in time. Don't let the name fool you; the Garbage Plate is a delectable combination of mashed eggs, onions, potatoes, cheese, bacon, and ham.
Every flavor blends to make each mouthful as delectable as the last, so no one flavor shines out. Using either toast or pancakes is optional.
Address: 230 W Berry St, Fort Wayne, IN 46802, United States
Enjoy Your Meal At Fort Wayne
Fort Wayne is a favorite among foodies because it is filled with vintage diners and hot dog stands, menus that highlight local vegetables, award-winning chefs, and a variety of dining establishments.
Visit any of the 15 best restaurants in Fort Wayne, Indiana, if you want to have a memorable dining experience.
Best Restaurants In Fort Wayne Indiana