Check out the 10 exquisite things to do in Fort Wayne, Indiana, United States.
What makes Fort Wayne, Indiana, a beautiful place to tour? Well, if you are a tourist or a traveler, I am here to answer these 10 things to do in Fort Wayne, Indiana.
Fort Wayne is quite a lovely place for vacations, kids friendly, and an excellent place for adventure. It is located in northwestern Indiana, known for its fantastic parks and boulevards that bring together three rivers and neighbors.
Let's get started on the things to do in Fort Wayne.
 Things To Do In Fort Wayne, Indiana.
Fort Wayne Museum of Art
Fort Wayne Museum of arts is a great museum gallery known for its artistic decorations. It is a place to witness preserved arts and exhibitions of creative embellishments.
It renders diverse national and ethnic backgrounds connections through fine art. Its exhibitions include Steven Sorman's archives, a collection of American cut Glass, and Indiana tourism.
 Fort Wayne museum of art also hosts exhibitions of significant collections of their own, school excursions, and other activities for the general public.
The museum of art also has a lending library of about 8,000 books on arts and culture to make your choice of study.
 The museum model of gallery shop offers arts and crafts of 75 different artists, both national and regional artists. Visit today and make the most exquisite vacations.
Location: 311 E main street, Fort Wayne, Indiana 46802, United States. 
Fort Wayne children Zoo
Fort Wayne children's zoo is a unique place to witness in Fort Wayne, Indiana, for a memorable vacation. It is a kid-friendly zoo, where you can tour with your family at ease.
It contains over 1100 animals living the free nature, ranging from land animals, aquariums, birds, reptiles, etc. These animals include monkeys, sea lions, penguins, giraffes, goats, cows, river otters, lemurs, red pandas, etc.
Fort Wayne Children's Zoo is graced with different activities to make your trip a captivating one. It offers an 1860s mini-train where you can ride for fun, the reefs and numerous inhabitants to play, sharks swaying in its aquarium, and other activities.
Looking for a place to experience the best fun at Fort Wayne? This children's museum suits me best.
Its staffs are very easygoing, always ready to guide your every tour, with their help in this zoo, you will enjoy every bit of your adventure. The zoo features playgrounds, picnics grounds, and incredible nature for photography.
Location: 3411 Sherman Blvd, Fort Wayne, Indiana 46808, United States.
Parkview field
Parkview field is one of the places you won't miss out, situated at the heart of Fort Wayne and the home of the Fort Wayne tin caps for baseball lovers and fans worldwide.
Parkview field is quite a large field that can accommodate more than 400,000 baseball fans. It welcomes millions of visitors from far and near annually, making it one of the famous destinations in Fort Wayne, Indiana.
Apart from the baseball field, it also serves other activities (athletics events) such as running.
Parkview Field is a place with rocking memories for its visitors. You can engage in the county's concerts. They have beautiful layouts for wedding receptions, business events, parties, birthdays parties, etc., in its about 11,000 feet space to accommodate your indoor activities.
Location: 1301 Ewing Street, Fort Wayne, Indiana 46802, United States. 
The Embassy Theatre
The Embassy theater is one of the exquisite things to do in Fort Wayne, Indiana. It is a movie theater and an entertainment center, where famous artists such as Louis Armstrong, Tony Bennett, Doris Day, Duke Ellington, and others played live.
The embassy theater is nickname endowing emboyed theatre even before it was completed in 1928. It offers the best movies and entertainment including the famous page theater pipe organ. 
Close to the embassy theater is an attached seven-story building with 250 rooms, called the Indiana hotel, which survived the death of silent movies to become the most famous and popular Fort Wayne venue for a different theater production, both the ones from broadway, Concerts of all kinds and educational programs for the youth.
Today, it is the pride of Fort Wayne because of its historical buildings and organs. The Embassy theater is the center for all events and different kinds of festivals.
Location: 125 W Jefferson Blvd, Fort Wayne, Indiana 46802, United States. 
Lakeside Park and Rose Garden
The Lakeside Park and rose garden is an exquisite lakeside and more. It is situated in a low-lying area, which causes frequent flooding of the St Joseph's river. But after its reconstruction in 1912, it has stood out as one of the famous places to visit in Fort Wayne.
The Lakeside Park and rose garden feature a beautiful garden with varieties of rose beds, pavilions, fountains, etc. 
It is one of the anticipated and favorite places for weddings ceremonies, parties, and other beautiful events, quite a perfect spot for lovers, garden enthusiasts, and flower lovers.
It has a great kid playground, a basketball court for basketball lovers, a tennis court, a smooth Loving path for strolling around the garden, and such incredible sights to marvel at natural features. It also has a great fishing lakeside pool and a world-renowned rose garden. The rose garden is an enchanting paragon of aura in the world fragrance and decor of beautiful colors with more than 1500 roses sprinkled on the bed reflecting pools, exalting and glittering the site.
This is an ideal place for dates, bringing loved ones, and relaxing at the sight of nature. Visit today, and make the most exquisite vacations.
Location: 1401 Lake Ave, Fort Wayne, IN 46805, United States. 
The History Centre
The history center is a great historical site showcasing Fort Wayne's history. It is a place enriched with the fantastic heritage and history of Fort Wayne and Allen County.
The museum and collections and the building itself play a vital role in telling visitors and tourists its historical rank. It was constructed in 1893, initially as Fort Wayne and Allen County's city hall building. But was established as the history center in 1980.
A visit to the history center creates awareness of its houses, preserves, historical artifacts, images, and documents portraying facts about the local community's events so many decades past. It features so many places of interest, such as the jail, gift shops, etc.
Visiting the history center is a perfect way of touring over 26,000 artifacts and thousand of image exhibits.
Location: 302 E Berry Street, Fort Wayne, Indiana 46802, United States. 
Mad Anthony Brewing Company
This is a great place you need to include on your list of things to do in Fort Wayne for a memorable vacation. 
Touring around a city is quite fun but will be more fun when you have the best brews to taste. While in Fort Wayne, I recommend Mad Anthony brewing company as the best brewery to taste beers and wines.
For more than 18 years, the mad Anthony brewing company has welcomed tourists and visitors with great menus, live music, and beer lovers. 
They have both children and adult menus, which makes it kids friendly. Its sumptuous menu includes shareable appetizers, beverages, salads, pub favorites, tacos, burgers, sandwiches, pizzas, desserts, etc. All can be gotten at affordable rates.
Their styled Chicago delicious sliced deep dish pizza is one of its highly recommended menus, and you wouldn't like to miss this. Indiana northerners who go to this company do so either in the congregation or collectively to relax with an isle of award-winning hand-crafted ale or lager. 
The Mad Anthony brewing company brews 2,000 barrels of beer annually with signatures like Gabby blonde lager, seasonal ales such as snow plowed winter ale and summer daze, etc.
Location: 2002 Broadway, Fort Wayne, Indiana 46802, United States. 
African /African American Historical Museum
African /African American historical museum is one of the unique places to visit in Fort Wayne. It was founded in 1999 to preserve African and African American history and culture through varying collections and programs.
This historical museum displays arts portraying the early African resident's cultures. A visit to the African/African American historical museum brings displays and exhibitions of the history of Africans, who decently reside in the Allen country from its earliest time till today. You will also witness the African collection of public Arts and displays.
As a visitor in Fort Wayne, touring an African/ African American history museum should be on the top list of things to do for better knowledge of the African and African American history of different collections and arts.
Location: 436 E Douglas Avenue, Fort Wayne, IN 46802, United States. 
Allen County War Memorial Coliseum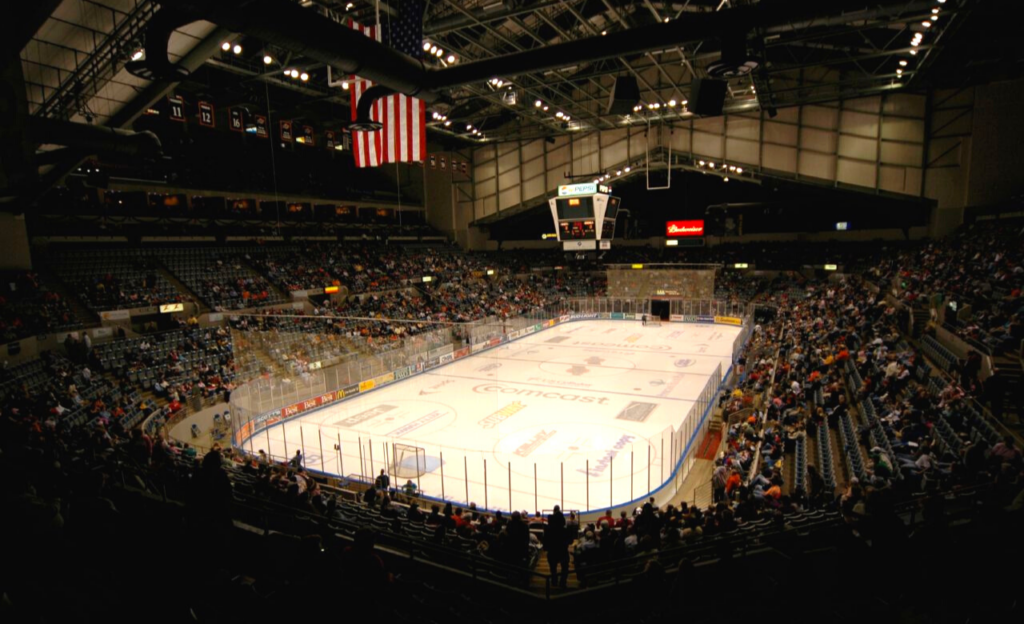 Allen county war memorial coliseum is a lovely place in Fort Wayne for a life-changing experience. It preserves the war history that took place in the past centuries.
When you talk about memories of the Allen county war and its war historians, Allen County War Memorial Coliseum is perfect. 
The memories created in this coliseum are one of the best for tourists. It is a diverse purpose arena of over 13,000 seats constructed in 1952. Visitors can walk through the halls used for major dynamic, professional, and amateur sporting events, political rallies, and others.
This arena is used in promoting and exhibiting different activities of diverse entertainment, educational, athletics, and business-related events.
Other activities are skating, basketball, hockey, etc., and all play vital roles in the history of Allen County.
Location: 4000 pamell Avenue, Fort Wayne, Indiana 46805, United States. 
Arena Dinner Theatre
The Arena Dinner theatre is an excellent theater associated with the American Association theatre, the community arts council of Arts United States, and the Indiana community theatre league. As a visitor, this is another exciting place to visit in Fort Wayne.
Arena dinner theatre is one of the most beautiful places in Fort Wayne, where engaging activities are carried out. The theatre is devoted to living shows and production. 
The annual seven shows and productions are done in its historic building, featuring Indiana famous actors and actresses, both professionals and amateurs.
Visitors always come to Arena dinner theatre to receive good tidings. Make your trip a very memorable one with just a tour around Arena dinner theater to enjoy great entertainment and sumptuous meals prepared at the theatre's kitchen.
Location: 719 Rock hill, Fort Wayne, Indiana 46802, United States.
Final Thought
Fort Wayne, Indiana, is a fantastic place to adventure on every vacation. It is a place that showcases the uniqueness of nature through its entertainment. 
To make that trip an exquisite one, the above mention top 10 things to do in Fort Wayne, Indiana, will serve as a great guide.
Bon Voyage!
Disclaimer: Vasttourist always strives for content accuracy. Since the time of publishing, travel-related information regarding pricing, schedules, and hours may have changed. Please see individual websites embedded in this post for the most current trip-planning information.