20 Best and Fun Things to do in Dubai That Will Make Your Trip Unforgettable
Looking for the best things to do in Dubai? Well, Dubai is the global leader in architectural gems, the number one in shopping, and the most visited for its gastronomic offerings.
Dubai has become one of the fastest-growing cities in the world, and there are plenty of things to do here if you're visiting. Whether you want to eat, drink, shop or relax on the beach, Dubai has all that and more.
Most people think Dubai is a fantastic spot for family vacations and romantic holidays alone. But, this is not the reality. You are spoilt for choices when traveling to Dubai for the utmost fun, thrill, and entertainment. And this list of fun things to do in Dubai won't disappoint your expectations.
20 Best and Fun Things to do in Dubai That Will Make Your Trip Unforgettable
#1. Experience Wholesome Fun at the Dubai Mall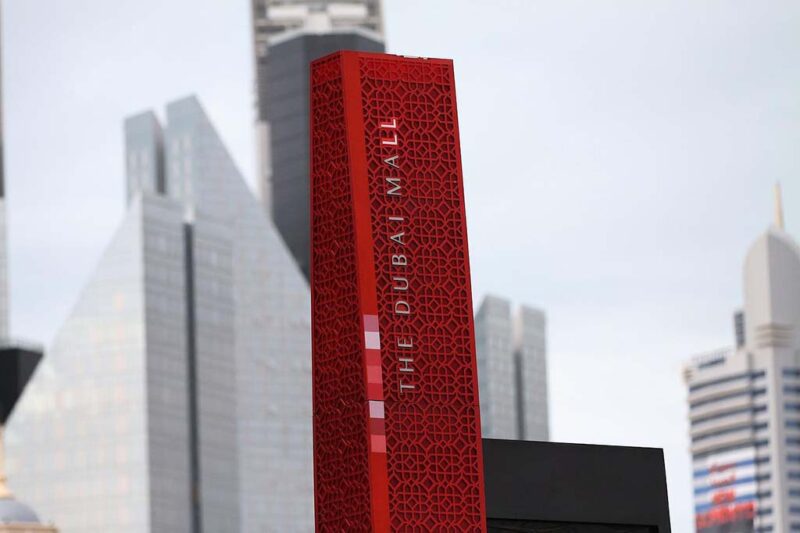 It may sound weird, but the Dubai Mall, next to the world's tallest building (Burj Khalifa), is not just a place to shop. Beyond 1,200 outlets, it is a paradise for adventurists and leisure seekers.
There is Dubai Ice Rink for an ice skating adventure like no other, and VR Park Dubai, where you can take in the finest rides and attractions in Virtual Reality and Augmented Reality.
Ekart Zabeel is another spot at the Dubai Mall available for fun lovers. Please don't leave your kids behind; they can have the edutainment session of their lifetime at KidZania Dubai.
As a bonus, you can watch the captivating aquatic performance at the Dubai Fountain, found outside the mall. For maximum savings, you can purchase a combo pass including Burj Khalifa tickets, one or more Dubai Mall experiences, and an abra ride at Burj Lake.
Address: Financial Center Street, Along Sheikh Zayed Road, Next to Burj Khalifa – Dubai – United Arab Emirates
#2. Ride down the Slide at Sky Views Dubai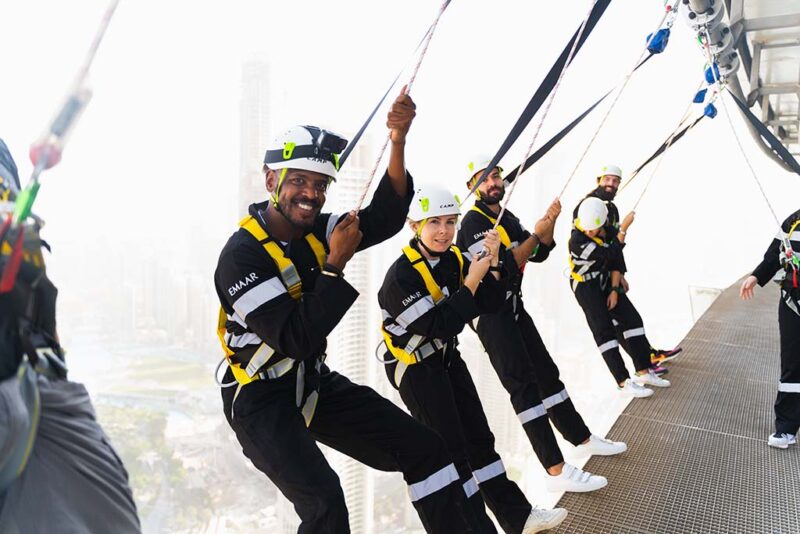 Sky Views Dubai is the city's newest vantage point at the height of 219.5 meters in Address Sky View Hotel. What makes it different from others is the exhilarating yet pleasantly amusing activities it offers, such as the Glass Slide and the Edge Walk.
As the name hints, the Glass Slide allows you to ride down a glass-enclosed slide from the hotel's 53rd to its 52nd level.
This is a thrilling session, being the first of its kind in the Middle East. On the other hand, the Edge Walk is for anyone who wants to up the adventure and fun quotient.
#3. Dubai Aquarium & Underwater Zoo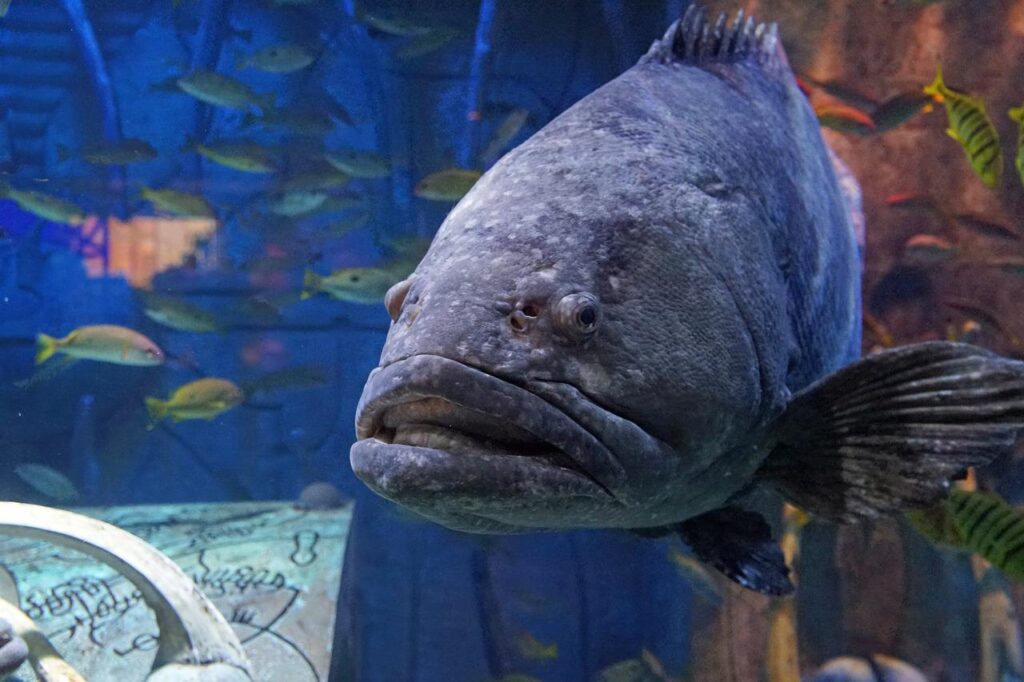 One of the coolest places to visit in Dubai is the Dubai Aquarium & Underwater Zoo. Located inside the massive Dubai Mall, this aquarium is home to over 140 species of aquatic animals. You can watch them swim around from the underwater glass tunnel or get up close and personal with a shark or ray during a feeding session.
Other fun activities at the aquarium include scuba diving with sharks, swimming with stingrays, and interacting with penguins. And if you want to see what it's like to be a dolphin, try out the Sea Life Theatre, where you can go backstage and walk through some sets before watching an entire show.
There are also interactive exhibits that let you feed dolphins and other marine life and learn about conservation efforts by talking to trainers and participating in hands-on activities.
No wonder this place was named one of CNN's Must-see Wonders of the World. This is also one of the best things to do in Dubai Mall.
Address: Unit SF – 115 – شارع المركز المالي، – Downtown Dubai – Dubai – United Arab Emirates
#4. Walk 50 years into the Future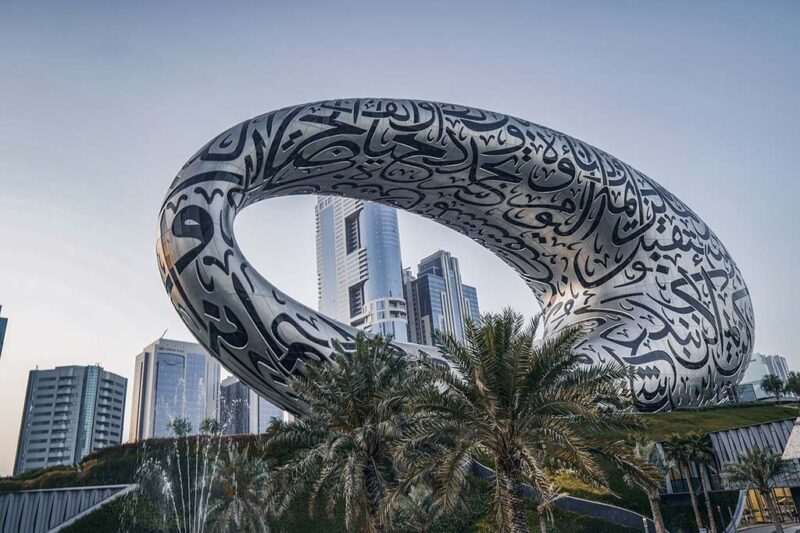 Thinking about the future is an amazing experience; imagine how fun it would be to walk into the future in real! Yes, you can do it at the brand-new Museum of the Future.
It is so futuristically designed that it will transport you 50 years forward. Relish robot-prepared coffee, look around for flying exhibits and discover the most high-tech in science, space, wellness, nature, and more.
Moreover, enjoy an up-close and detailed look at the museum's incomparable architecture that resembles a massive ring as you stand at the museum's exclusive viewing deck. So when you asked what to do in Dubai? You can reply, walking 50 years into the future.
Address: Sheikh Zayed Rd – Trade Centre – Trade Centre 2 – Dubai – United Arab Emirates
#5. Watch Snow Cinema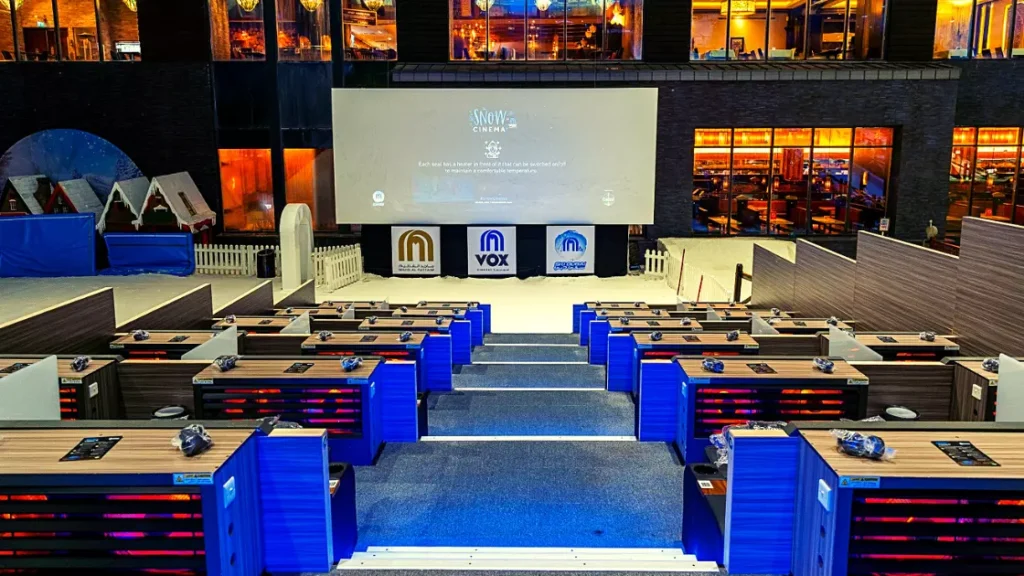 One coolest and most unique thing to do in Dubai today is watching a movie at Snow Cinema. Set against the stunning backdrop of the ski slope, you can experience first-hand what it's like to watch a film in a winter wonderland.
With comfortable bean bags, blankets, and hot drinks available, it's the perfect way to escape the heat and enjoy some quality entertainment. Most recently, Disney's new release Frozen has been shown here.
You can also watch and enjoy your favorite movies amidst an authentic snowy background. Snow Cinema is the country's first-of-its-kind cinematic experience brought to you by VOX Cinemas in conjunction with Ski Dubai.
It is located at the Mall of the Emirates, and you can add several cool experiences with the right ticket choice, such as Penguin Encounter and Snow Park access.
Planning a road trip to Qatar? We have got you covered! Here are some of the best things to do in Qatar for Vacation.
#6. Unlock the Code at Dubai's Escape Rooms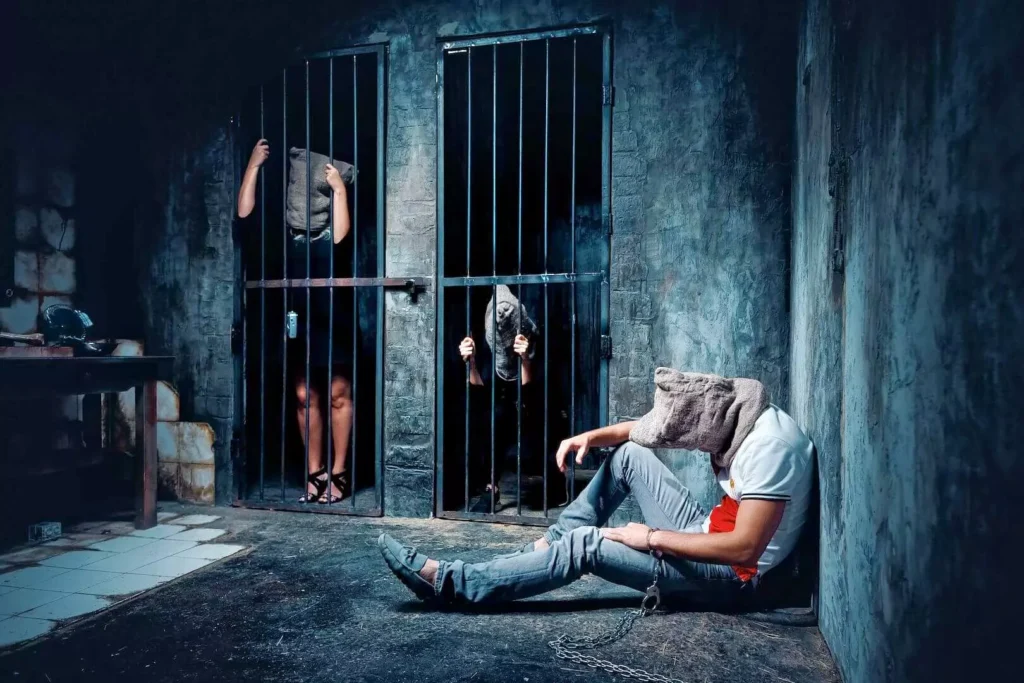 Visiting Dubai's escape rooms is one of the best ways to build or bond with your family or team with a generous sprinkle of excitement and thrill.
In most cases, you and your group will be locked up inside a room, where you will be required to solve puzzles, decode challenges and participate in certain physical activities to escape the room within the stipulated time frame.
The top options in this category are Escape Hunt, Deep Dark Dubai, NoWayOut, Phobia Escape Games, and Countdown Challenge. They mostly come with diverse themes, making the whole experience more activity-packed and delightful.
#7. Desert Safari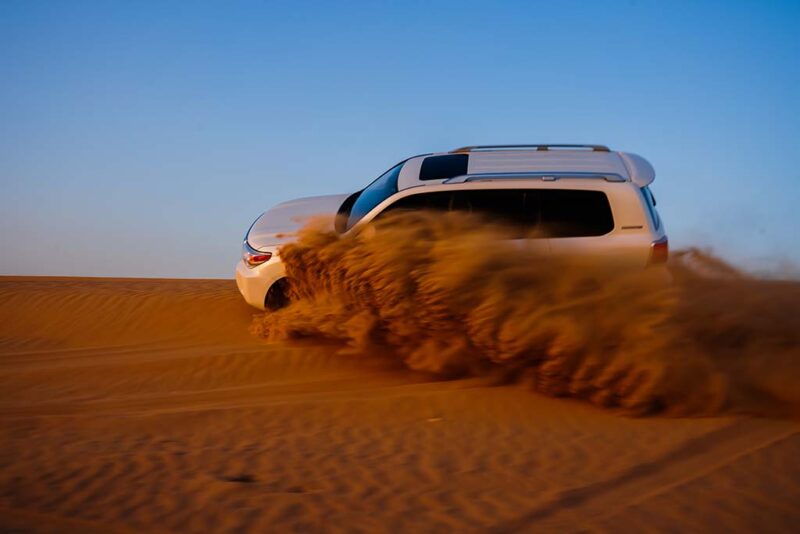 Who said going to Dubai is all about its indoor attractions and urban adventures? Take a fully guided desert safari in Dubai, and you will realize that this Arabian metropolis is more than that.
An electrifying drive over the desert sands will blow you away as you will be enveloped by the astounding beauty and serenity of the desert. Follow it up with camel rides, quad biking, and sandboarding.
Desert safari in Dubai allows you to marvel at the raw nature and glimpse into the Bedouin culture and heritage. Enjoy Shisha-smoking, get your hands adorned with henna designs, and watch falconry, to name a few.
Choose evening or overnight desert safari, including BBQ dining, camping facilities, and traditional shows like Belly Dance and Tanura.
#8. Visit the Museum of Illusions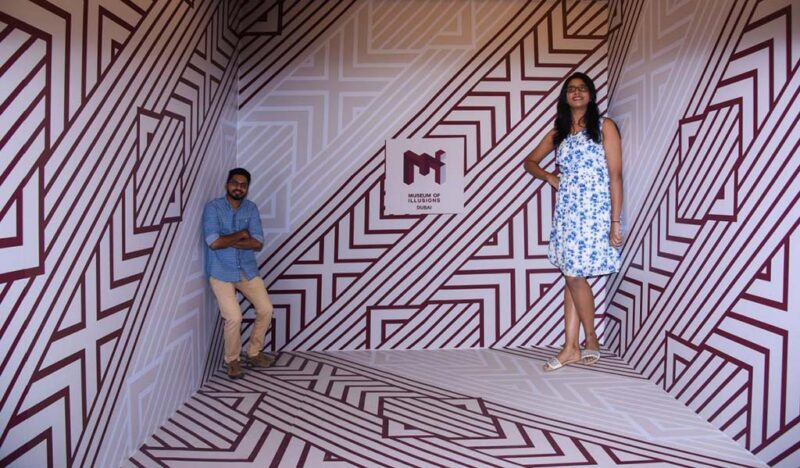 If you're looking for a fun and unique activity, check out the Museum of Illusions. With over 80 optical illusions, it's sure to entertain everyone in the family.
And if you get bored of looking at paintings, there are also holograms, an infinity room, and even a laser maze. You can easily spend a couple of hours exploring all the different exhibits.
You should also know that Museums are generally not considered fun places to visit. But, this museum in Dubai's Al Seef area offers you the most immersive and interactive experience. It is filled with attractions and activities that would excite your eyes, trick your brain, and mostly perplex your thoughts.
Be prepared to see and feel here a world of illusions, thanks to its incredible exhibits that are as amazing and unique as the Anti-Gravity Room, Infinity Room, Infinity Tunnel, Kaleidoscope, Chair Illusion, Ames Room, Magic Tunnel, Head on the Platter, and the Vortex Tunnel.
Address: Al Seef – Dubai Creek – Dubai – Dubai – United Arab Emirates
#9. Enjoy a Ride on Ain Dubai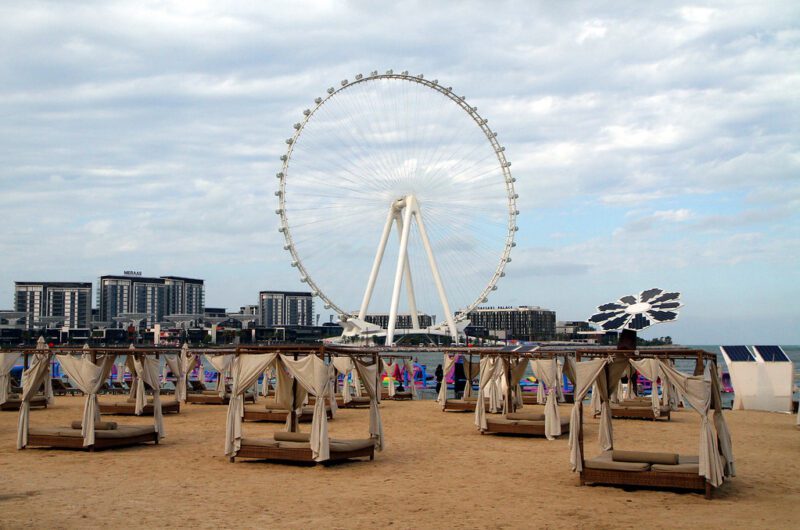 It is one of the most recommended Dubai things for a fun-filled holiday. Designed at the height of over 250 meters, it is the world's largest observation wheel.
Forty-eight fully air-conditioned and enclosed cabins are categorized into standard and private cabins. Whichever cabin you opt for your ride, one thing is sure you will get to experience an extraordinary ride on Ain Dubai.
Be enveloped by the most striking views that stretch over Palm Jumeirah, Dubai Marina, Bluewaters Islands, etc., on your approximately 40 minutes ride. It is located in Dubai's waterfront neighborhood of Bluewaters Island.
Address: Bluewaters – Bluewaters Island – Dubai – United Arab Emirates
#10. Snap some cool Selfies with Celebrities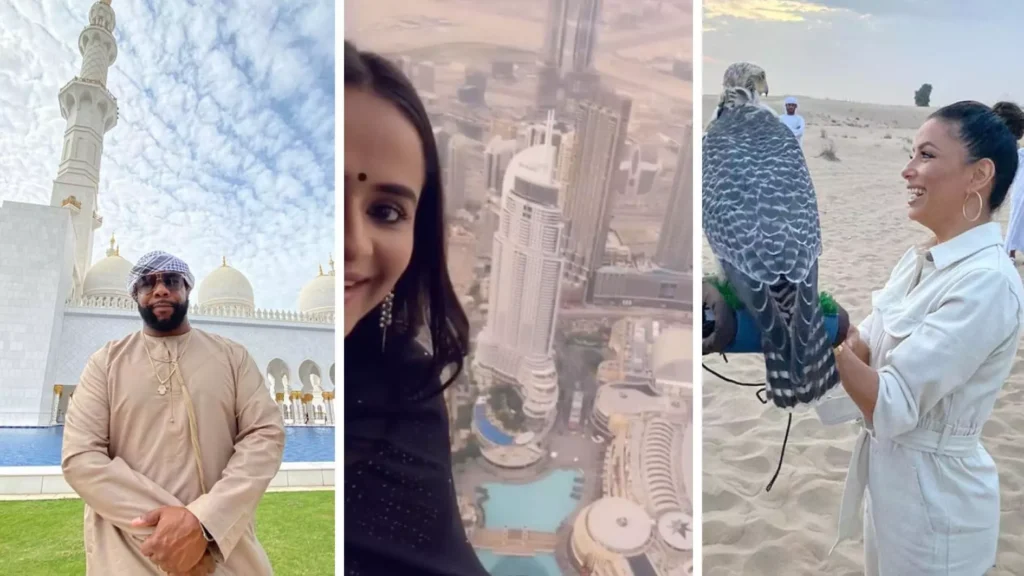 With its location in different parts of the world, the iconic Madame Tussauds Museum is renowned worldwide for its life-size wax statues of personalities representing almost all categories of fame.
You will find the Middle East's one and only Madame Tussauds Museum in Dubai means you can expect to have some unforgettable moments with your favorite celebrities from sports, music, fashion, politics, and movies, among others.
Strike a chat with them and pose for some unbelievable snaps that would look nothing short of real. It is placed adjacent to Ain Dubai at Bluewaters Island.
#11. Elevate Your Theme Park Fun at Dubai Parks and Resorts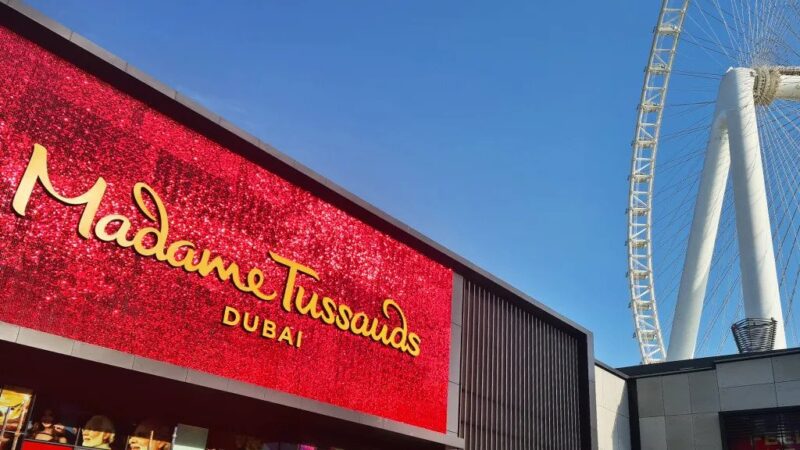 It doesn't matter if you are a fan of exciting rides or not; make sure that you make a stop at one of its theme parks. Each of them is so incredibly themed that it deserves a visit in its own right.
Besides several accommodation choices plus a dedicated dining and retail area, it houses four parks, including Motiongate Dubai, Bollywood Parks Dubai, LEGOLAND Dubai, and LEGOLAND Water Park.
For an all-inclusive experience, visit Dubai Parks and Resorts, the first integrated theme park attraction in the Middle East.
Have you thought of travelling to Texas for an adventurous trip to explore their culture? Check out our selections of the best things to do in Corpus Christi Texas, sugar land Texas, Waxahachie Texas and San Angelo Texas.
#12. Try the World's Longest Urban Zipline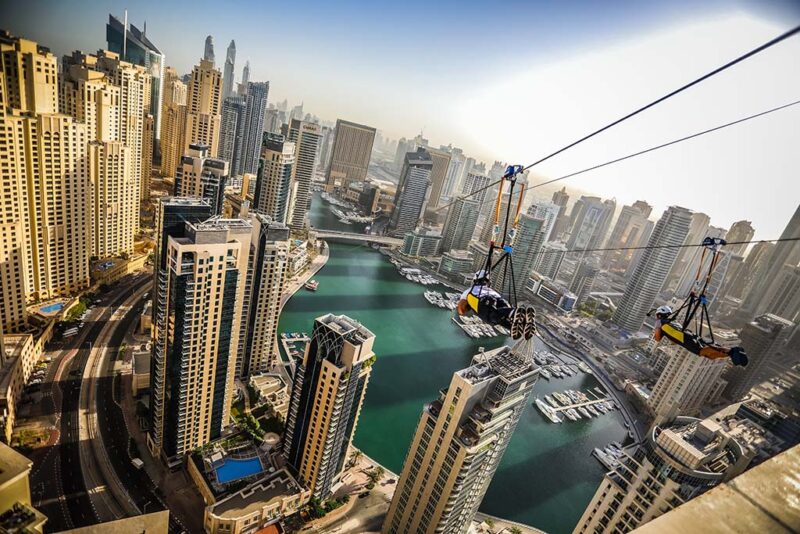 Whether you love daring thrills or simply looking for an exciting way to fly over the region's architectural marvels, XLine Dubai at Dubai Marina is your go-to destination in Dubai.
It is not only the longest urban zipline but also the swiftest and steepest of its kind. Delight in the stunning views over the marina as you zipline at an astonishing speed of about 80 kilometers per hour along this one-kilometer-long course.
With two lines laid out side by side, you can enjoy this activity with your spouse, friend, or little ones. Be sure to visit this weekend.
#13. Spend a Day at Aventura Parks Dubai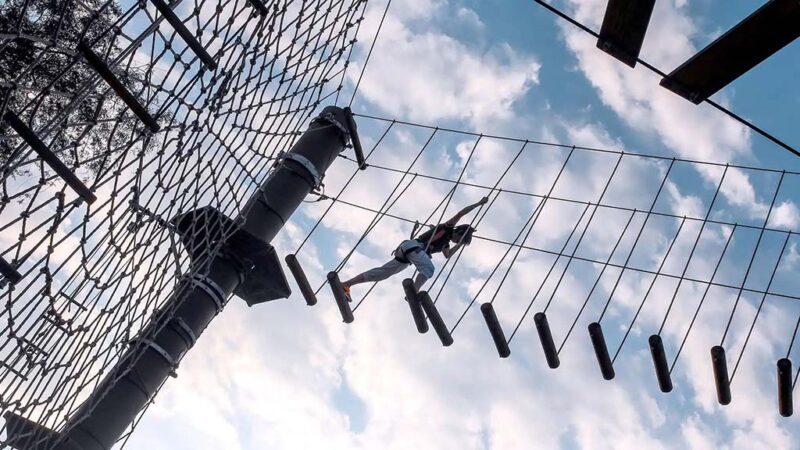 If the above zipline experience is not enough, visit Dubai's largest zipline park at Aventura Parks. Placed amidst the trees in Mushrif Park, this 35,000 square meters park offers over 80 obstacles with activities and games for all age groups.
The best part is that it allows for fun-filled, action-packed moments amidst the most refreshing natural landscape.
Address: Mushrif Park، Gate 1، POB 30929 – Dubai – United Arab Emirates
#14. Spice Souk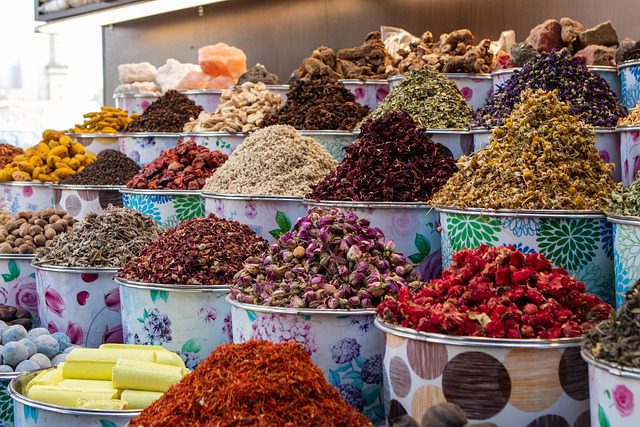 The Spice Souk is one of the most popular tourist attractions in Dubai. It is a vibrant market where you can find spices from all over the world. The market is located in the Deira district and is open daily from 8 am to 10 pm.
If you love spices, then this is the place for you! You can find everything from saffron to cardamom, and there are plenty of vendors to bargain with. Be sure to haggle for the best price, and don't forget to try some of the samples before you buy!
There's also a free cooking demonstration at 3:30 every day, and it's always a great way to learn about new recipes. Not only that, but it offers delicious food tasting opportunities so you can get an idea of what foods to make when you get home.
In addition, if shopping isn't your thing, consider visiting the Old City souks on Fridays or Saturdays for a lively atmosphere full of musicians and storytellers performing throughout the area.
Address: 41 34th St – Deira – Al Ras – Dubai – United Arab Emirates
#15. Arrive Like Royalty – Burj Al Arab Water Taxi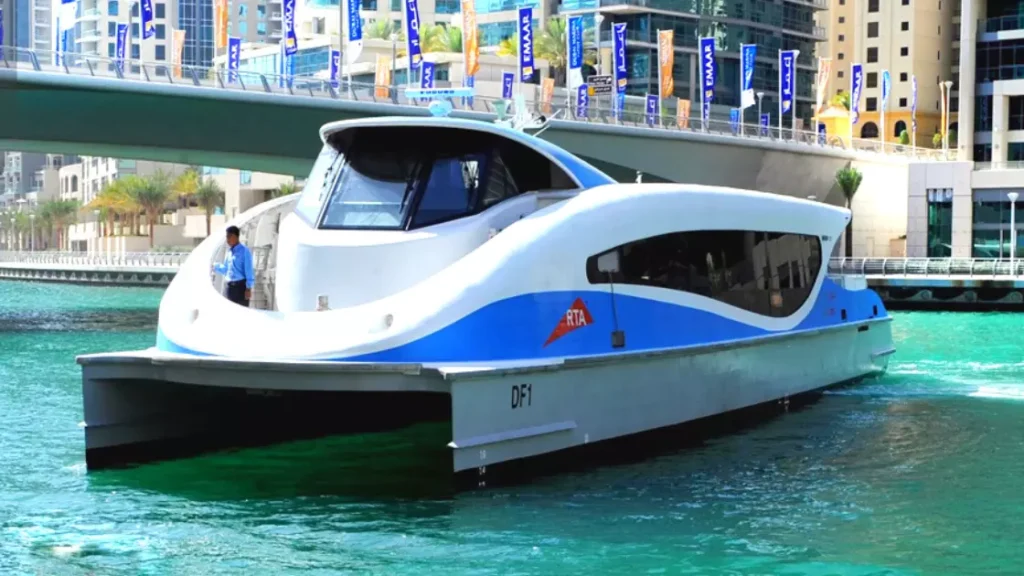 Skip the standard tourist traps and ride like royalty on a Burj Al Arab water taxi. This iconic hotel is a destination with its luxurious accommodations and over-the-top amenities.
Sit back and relax as you glide past other world-famous landmarks like the Palm Jumeirah Island and Atlantis, The Palm. Don't forget to snap a selfie with the Burj Al Arab as your backdrop!
#16. Visit Burj Khalifa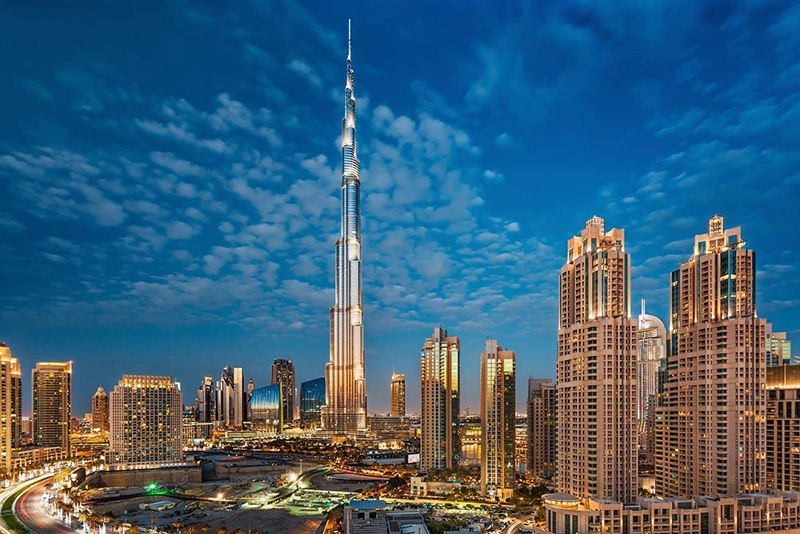 No trip to Dubai is complete without a visit to the Burj Khalifa, the tallest building in the world. At 2,717 feet tall, the Burj Khalifa is an impressive sight both day and night.
Be sure to take the elevator to the top for incredible city views. And if you're feeling adventurous, you can even go on a glass-bottomed balcony! It's one of the most exciting things to do in Dubai for couples that will make your trip unforgettable.
Along with the spectacular view, you'll see something unique at the top of this building: a mini bar where happy hour lasts all day long.
Guests can enjoy drinks like beer or wine and indulge in local dishes from more than 50 restaurants around the world like Mexican, French, Indian or Lebanese cuisine. A reservation is required before heading up – so be sure to book it before you arrive in Dubai!
#17. Walk on the Wild Side at Jumeirah Mosque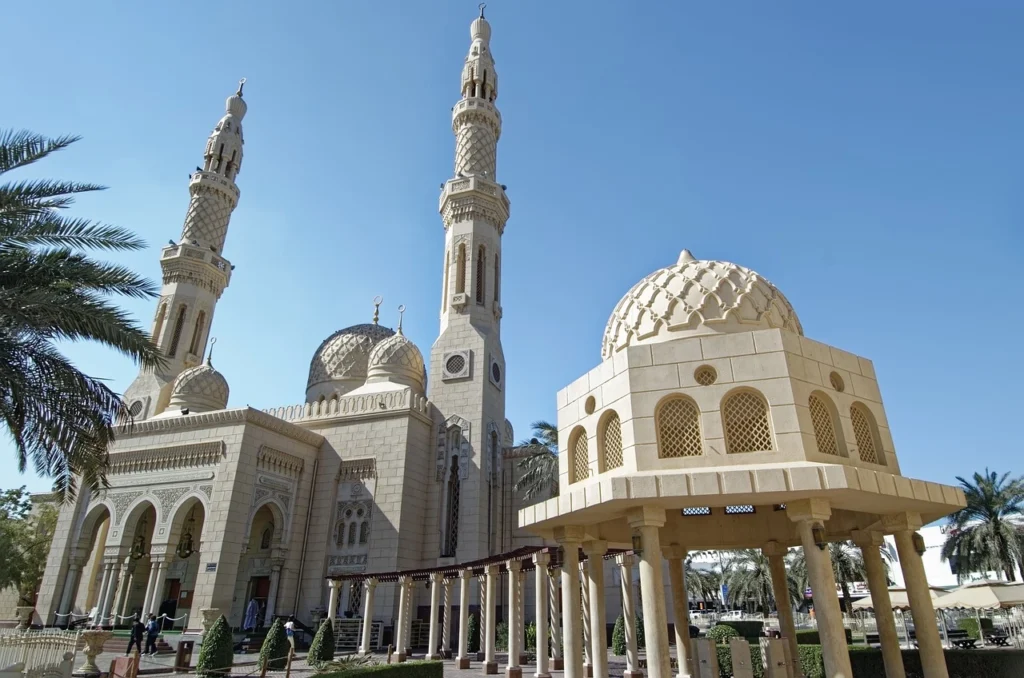 Walking on the wild side at Jumeirah Mosque is one of the best things to do in Dubai this weekend. Not only will you get to see one of the most beautiful mosques in the world, but you'll also get a taste of true Arabian culture.
The mosque is open to non-Muslims during certain hours, so check before you go. Once inside, you'll be blown away by the intricate details of the architecture.
Be sure to dress respectfully when visiting the mosque – women should cover their hair and shoulders, and men should wear long pants.
Another thing to note is that photography is not allowed inside the mosque. But don't worry! You can snap your shots outside! As soon as you exit the mosque, head left for a walk through Heritage Village and enjoy some time with goats and other animals from all over the region.
Address: Jumeirah – Jumeirah 1 – Dubai – United Arab Emirates
Travelling around California? Take a look at some of the best things to do in West Covina California, Gilroy California and San Bernardino California.
#18. Ride Bikes with Nature at Arabian Ranches Lake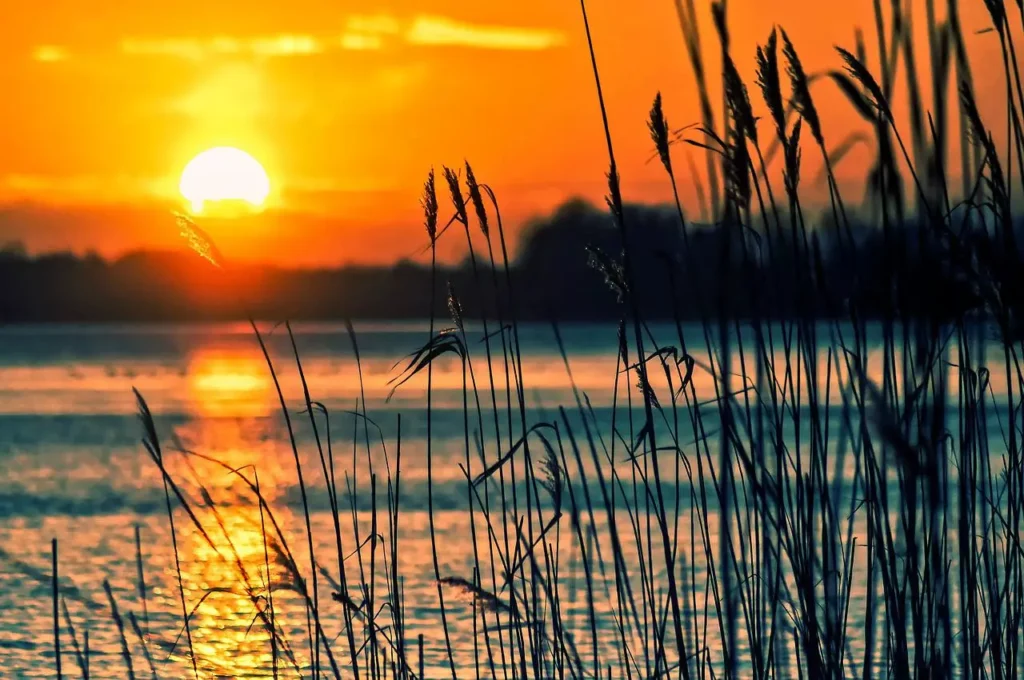 Whether you're looking for leisurely activity or something to get your heart pumping, riding bikes at Arabian Ranches Lake is a great option. The scenery is beautiful, and it's a great way to explore the area. Plus, it's a fun way to get some exercise!
Plenty of rental companies will provide you with everything you need, so all you have to do is show up and enjoy the ride. Alternatively, if you're feeling adventurous and want to try biking through dunes, tour operators offer this type of experience.
There are tours for people at every level – from those who have never ridden a bike to those who regularly participate in bike races.
You'll also find cycling clubs throughout Dubai, which offer beginner lessons and meet-ups. And even if biking isn't your thing, it's worth checking out the scenic roads while driving (although be sure not to speed!).
#19. Experience Abu Dhabi Through a Private Driver Tour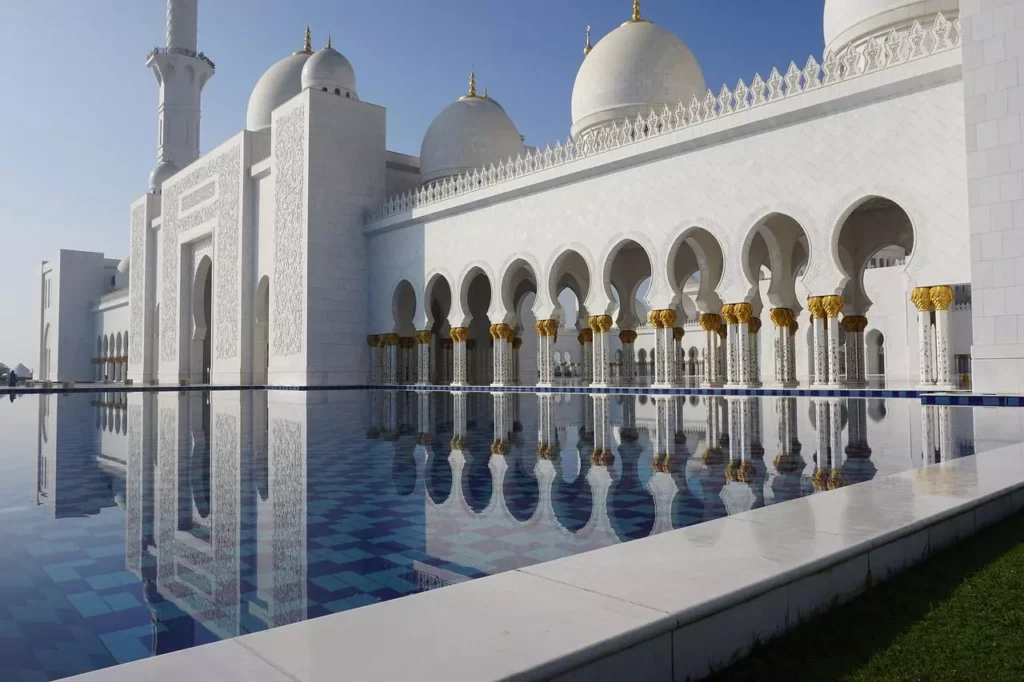 We recommend booking a private driver tour if you're looking for a more personal and intimate way to see Abu Dhabi. This way, you'll have your local guide who can customize the tour according to your interests.
Plus, you'll get to avoid the crowds and have a more relaxing experience. Here are some of the best things to do on a private driver tour of Abu Dhabi:
#20. See Old Meets New at Deira Corniche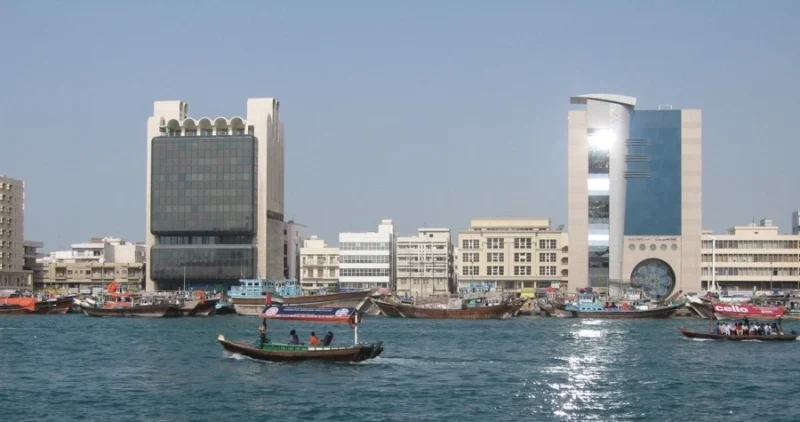 There's something special about Deira Corniche. Maybe it's the way the old meets the new, with traditional wooden dhows bobbing next to glass-and-steel skyscrapers.
Or maybe it's the never-ending line of stalls selling everything from spices to souvenirs. Whatever it is, a walk along Deira Corniche is a must-do when you're in Dubai. It doesn't matter if you come during the day or at night – there are always people around!
What is Dubai known for?
Dubai is a city in the United Arab Emirates known for luxury shopping, ultramodern architecture, and lively nightlife.
Burj Khalifa, an 830m-tall tower, dominates the skyscraper-filled skyline. At its foot lies Dubai Fountain, with jets and lights choreographed to music. Atlantis, The Palm, is on artificial islands just offshore, a resort with water and marine-animal parks.
What is forbidden in Dubai?
A few things are forbidden in Dubai, which travelers should be aware of before they visit. These include: drinking alcohol in public, bringing drugs into the country, wearing revealing clothing, sharing a room with someone who is not your spouse and who is of the opposite s*x, and engaging in public displays of affection.
It is also important to respect the local culture and customs, including not taking photos of people without their permission.
What is very famous in Dubai?
When it comes to shopping, Dubai is a paradise. The city is home to some of the world's biggest and most luxurious malls. If you're looking for high-end brands, you'll find them here. Dubai is also known for its amazing nightlife.
There are countless bars and clubs to choose from, each with its unique atmosphere. And, of course, no trip to Dubai would be complete without a visit to the Burj Khalifa, the tallest building in the world.
Dubai is also famous for its modern tourist destinations, like the Burj Khalifa, the tallest building in the world, and retail centers that feature enormous aquariums and indoor ski slopes.
Can you hold hands in Dubai if you are married?
Yes, you can hold hands in Dubai if you are married. However, there are a few things to keep in mind:
~Public displays of affection are generally not well-received in Dubai.
~While holding hands are allowed, respecting local customs and culture is important.
~Remember that Dubai is a Muslim country, so alcohol is not allowed in public.
Is Dubai expensive to visit?
No, Dubai is not expensive to visit. It's quite affordable. There are plenty of free and low-cost activities to keep you busy, including visiting the beach, exploring the city's many parks, and checking out the Dubai Museum. Plus, there are plenty of restaurants and cafes to choose from, so you won't have to spend much money on food.
How much should I budget for a trip to Dubai?
When most people think of Dubai, they think of luxury. And while there is no denying that Dubai is a place where you can find some of the most opulent hotels and finest restaurants in the world, it doesn't have to be all about spending big bucks.
There are plenty of activities in Dubai that are either free or very reasonably priced. So whether you're on a budget or simply looking to have fun, here we have discussed 20 of the best things to do in Dubai.
Plan Your Trip To Dubai
The majority of Dubai's attractions are designed in such a way as to offer absolute amusement and enjoyment. And this list contains some of the most distinct and extraordinary among them.
So, what is the wait for now? Create your Dubai travel program by picking out a few or all of the above suggestions and start planning an Arabian holiday worth exploring and chilling.
If you're looking for a fun-filled, action-packed vacation, look no further than Dubai! From exciting activities like desert safaris and dune bashing to relaxing at one of the many luxury spas, there's something for everyone in this bustling city.
And with its rich culture and history, there's plenty to learn. So whether you're looking for adventure or education, Dubai is the perfect destination. Whether you've been before or are planning your first trip, these are 20 fun things that should not be missed during your time in Dubai.