10 Best Restaurants in Addison TX (Texas): A Dining Guide
A dining guide to the best restaurants in Addison, TX, can come in handy when you're planning an evening out with your family or friends and want to find somewhere that has great food and an atmosphere at affordable prices.
Addison, TX has a lot to offer, and with all the great restaurants to choose from, it can be hard to know where to eat!
We've put together this guide on 10 of the best restaurants in Addison that will make your mouth water and help you find what you're looking for, no matter what kind of dining experience you want.
These restaurants cover the town from end to end, making sure there's something for everyone! Find out more about each restaurant below!
What are the Best Restaurants in Addison TX (Texas)
#1. Chamberlain's Steak & Chop House
Chamberlain's has long been known as one of the best restaurants in Addison for lunch. The fresh seafood and steaks are to die for!
When you're looking for a great place to have lunch or dinner with friends or family members, check out Chamberlain's Steak & Chop House.
Enjoy a delicious meal and make some new memories. It doesn't get much better than that! If you've never been here before, it's definitely worth a trip out to explore all they have on offer.
Chamberlain's serves up some amazing dishes at affordable prices that will leave your taste buds tingling with excitement and satisfaction. The seating area is cozy and nicely decorated, so you'll feel right at home when you walk through their doors.
Top Review: "First time at Chamberlain's and I really enjoyed their starter bread. The ciabatta bread was so good. I had a filet mignon with a side of potatoes & green beans. I have to say that those green beans were cooked to perfection. And the seasoning was very good, in my opinion. I enjoyed a nice dinner & good service." ~ Marybelle P.
Prices: $$
Address: 5330 Belt Line Rd Dallas, TX 75254
#2. Kenny's Wood Fired Grill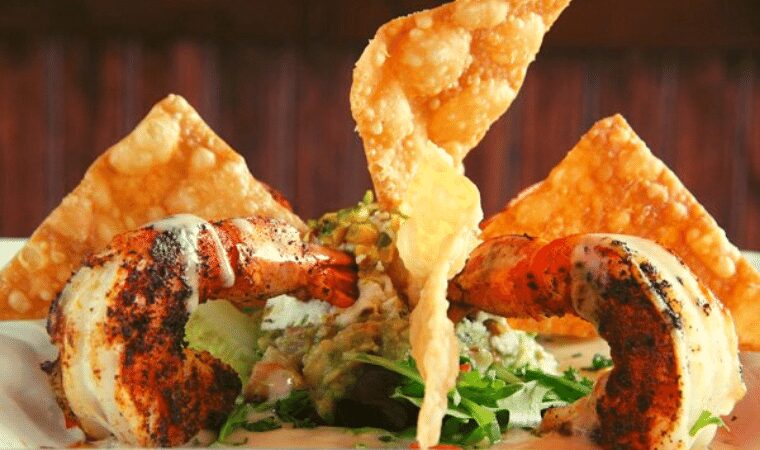 If you're looking for a great restaurant with wonderful food that offers a nice atmosphere, Kenny's Wood Fired Grill should be your first choice.
They have an excellent menu of delicious items from which to choose, and they offer a full bar with a knowledgeable staff who can make some amazing drinks. Enjoy crab cakes there!
This is one of the best Casual restaurants in Addison, tx town for lunch and dinner time because it offers everything you could want. The portions are large, and their prices are very reasonable too.
It is such a fun place to eat out anytime because they also host great events every year where visitors can come together and enjoy live music while eating incredible meals cooked right there on site.
Top Review: "Food and service was amazing! Will be back. Definitely gave the 5 star Kenny's experience, although no one does it better than Kenny's Italian Kitchen, which you should check out!" ~ Alicia M.
Prices: $$
Address: 5000 Belt Line Rd Ste 775 Dallas, TX 75254
Since you love Addison restaurants you would also love to eat at the restaurants in Grapevine and Honduras.
#3. Kenny's Italian Kitchen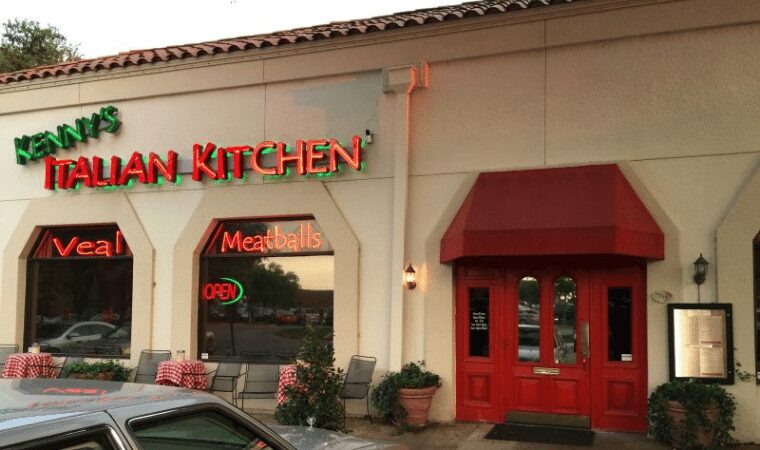 You'll find Kenny's Italian Kitchen off Highway 75 near Belt Line Road in Addison. The restaurant offers authentic Italian food with a menu that includes pizza, pasta, and steak.
The restaurant is family-friendly, with a special menu for kids and a convenient location for those looking to grab lunch before work or dinner after a long day at work.
If you want to try something new but don't know where to start, try one of Kenny's many specialty items like Chicken Parmesan or Eggplant Rollatini. Ensure to add this to your list of restaurants in Addison, TX.
Top Review: "Kenny's is the best Italian places I've had in Dallas, I had the lasagna which is always a baseline for me for new Italian restaurants and I did not disappoint. That with the truly authentic Italian ambience sold me for life!  Kenny's is my new go to for Italian, It's like what mama used to make!" ~ Joe R.
Prices: $$
Address: 5100 Belt Line Rd Ste 764 Dallas, TX 75254
#4. Fogo de Chao Brazilian Steakhouse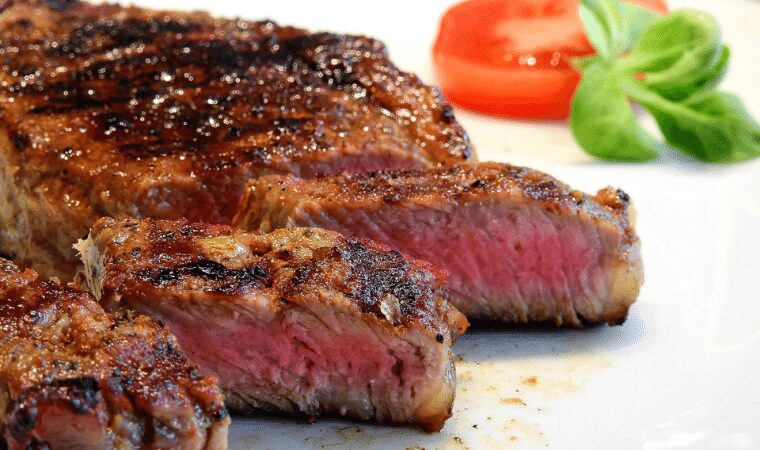 The long waits (sometimes an hour or more) at lunch might not deter you from trying out Fogo de Chao Brazilian Steakhouse.
The servers bring endless meat cuts and all-you-can-eat sides to your table on skewers. Over a dozen cuts of meat here, including filet mignon, ribeye, and picanha. They also have chicken, sausage, and lamb if beef isn't your thing.
In addition to all that meat, they offer up salads, beans, rice, and some fresh fruit during dessert time, which is included with the cost of your meal.
Address: 4300 Belt Line Rd Addison, TX 75001
#5. Ida Claire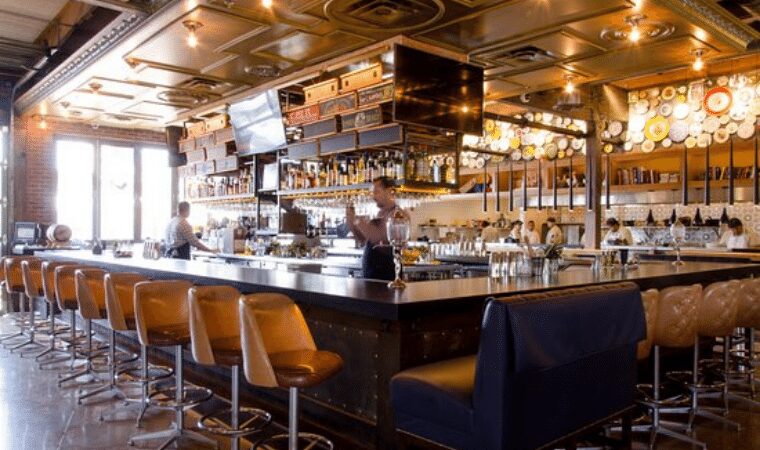 This Ida Claire restaurant is one of our favorites in Addison. It's ideal for brunch with a group or lunch with friends during work.
The shrimp and grits are some of our favorite dishes here and any of their po'boys (we like to order two!). If you have a sweet tooth, their beignets are out of control and so delicious.
I highly recommend dining on their patio to enjoy their beautiful landscaping and shade trees. Their bar area is also great for grabbing drinks before dinner if you want to avoid an unnecessary wait time.
This restaurant has a relaxed vibe without sacrificing great service or quality food. I would put Ida Claire at the top of my list when recommending restaurants in Addison, TX!
Top Review: "This place is AMAZING! Lisa helped make my husbands birthday so very special! We'll be back to just see her! Food is amazing, service is great, and drinks are so refreshing! PJ was an awesome waiter and also made the lunch so special! Thank you all!" ~ Alexa E.
Address: 5001 Belt Line Rd Addison, TX 75254
#6. Torchy's Tacos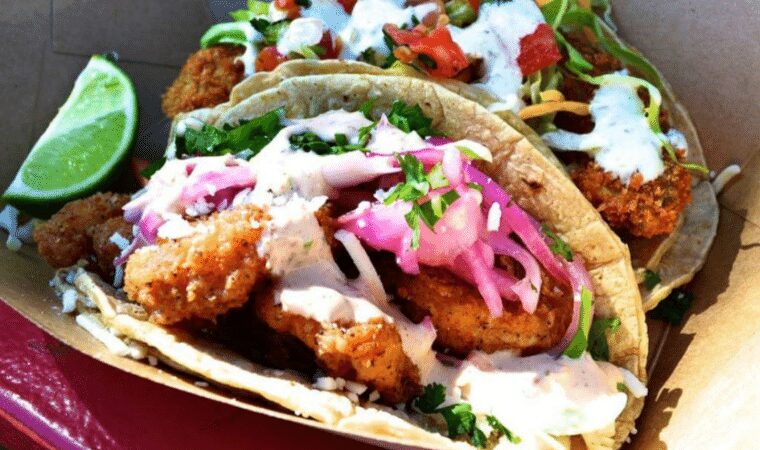 Torchy's Tacos is one of many new restaurants in Addison, TX. The Mexican restaurant serves tacos made with fresh ingredients and topped with homemade hot sauce.
The best place to sit at Torchy's is outside, but if you can't snag a table or prefer to eat inside, you can get fast service and still have time to catch a soccer game on TV. You will enjoy eating here so much that you will want to stop by weekly, if not daily.
Top Review: "The bar has a Cheers atmosphere with people from the neighborhood and beyond who get together every day. The bartenders know all the regulars and vice versa. The tacos and other items, especially the house salad and queso, are to die for! And don't get us started on the house margaritas." ~ Teena M.
Address: 14760 Preston Rd Ste 124 Dallas, TX 75254
You might also love Guatemala City and Rosemont restaurants.
#7. Texas de Brazil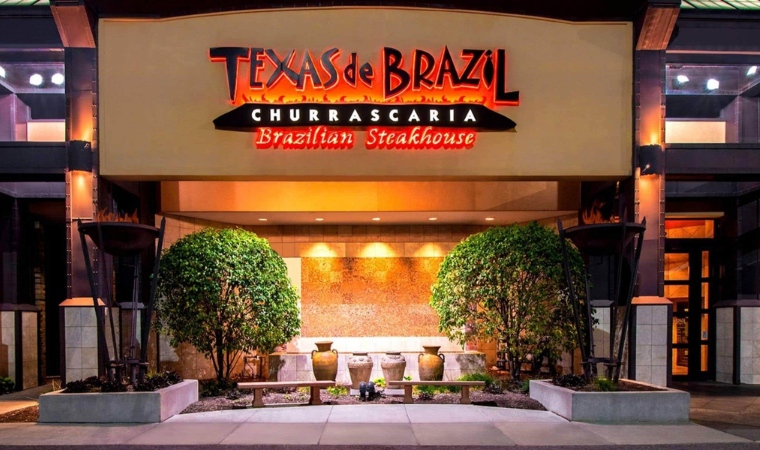 At last count, there were over 18 Brazilian steakhouses in Dallas-Fort Worth alone. Some of them are good and some not so much; others you may not even have heard of (like Fogo de Chão).
But when it comes to food quality/variety and atmosphere, few restaurants can hold a candle to Texas de Brazil. The chain is an authentic all-you-can-eat Brazilian churrascaria with a wood-fired steakhouse motif.
It does cost a bit more than other options at $55 per person, including drinks, but it's well for those who love barbecued meats and fresh salads or vegetables.
Top Review: "Top notch ! I thoroughly enjoyed their food ! The meats were flavorful and the food bar had a plethora of items to satisfy your palate." ~ Ron K.
Address: 15101 Addison Rd Addison, TX 75001
#8. Nate's Seafood and Steakhouse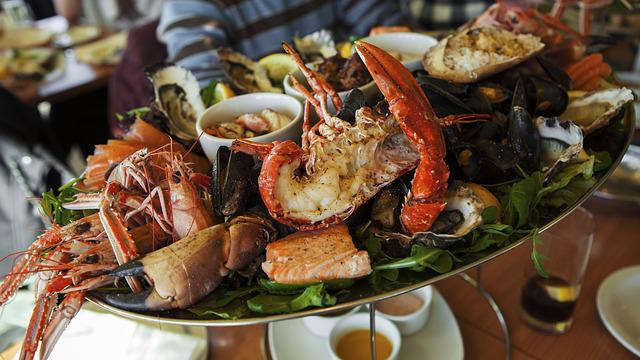 Fish and steak are ideal proteins to grill, and Nate's Seafood and Steakhouse expertly mix them.
Be sure to try out its all-you-can-eat lobster night on Wednesdays. You can also get an even bigger bang for your buck with its meal deal: One full lobster tail or shrimp dinner and a side of coleslaw and bread plus tea or coffee for $14.95 per person.
With specials like that, it's no wonder why Nate's Seafood is considered one of the best restaurants in Addison.
Top Review: "Great place , good food , remind me of jersey shore style. Tried salmon with dirty rice and steamed vegetables! Loved it" ~ Irina T.
Address: 14951 Midway Rd Addison, TX 75001
#9. Maple Leaf Diner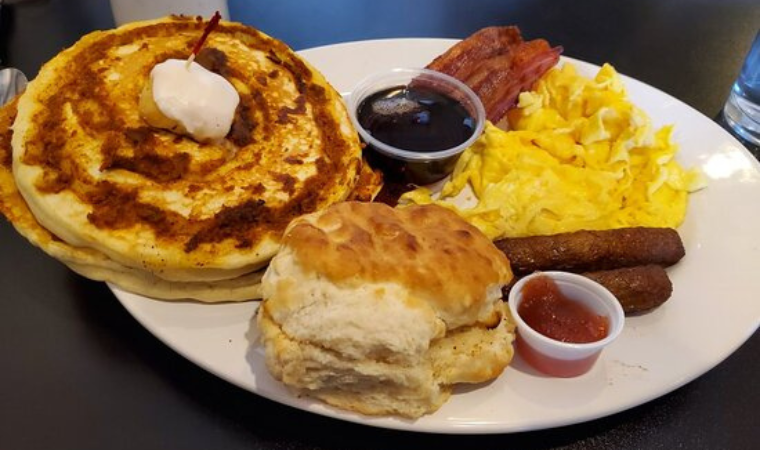 Breakfast is served all day at Maple Leaf, and it's a good option if you're looking for an affordable way to start your day.
The pancakes come highly recommended and are made from scratch with fresh milk. Lunch items include sandwiches and burgers with fries or onion rings as sides. There's something on the menu for everyone here!
Try their famous chicken fried steak when you stop by on your lunch break or enjoy a delicious dinner with friends and family after work. You won't be disappointed!
Top Review: "Maple Leaf Diner has fantastic food with an even better staff! You can't go wrong with any of the food options there, but I love the chicken fried steak and poutine. My wife loves the chicken fried chicken." ~ Calloway B.
Address: 12817 Preston Rd #129, Dallas, TX 75230, United States
#10. Mi Cocina Galleria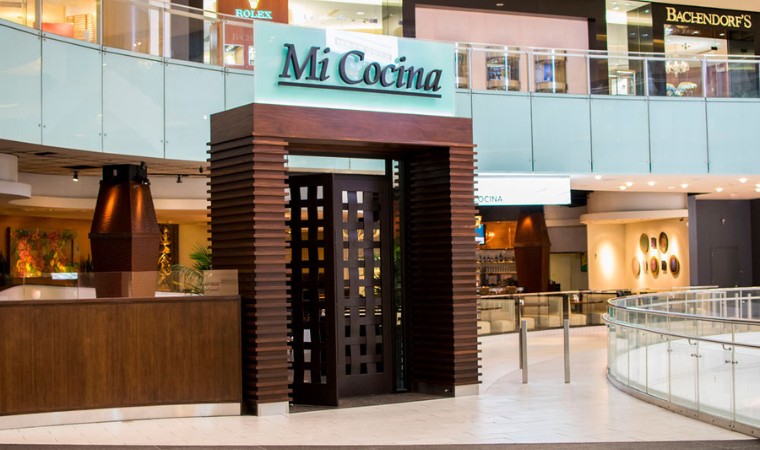 This is one of several Mi Cocina locations throughout Dallas-Fort Worth. The restaurant features some great Mexican food favorites and serves them up quickly, so you can get back to your day.
Mi Cocina Galleria has lunch specials to help keep your budget in check, as well as a number of special dishes. We recommend ordering their variety platter with all-time favorites like tacos and fajitas.
This is also one of the best places to eat in Addison, Texas.
Top Review: "The food and drinks here are straight-up amazing. Definitely our favorite tex-mex in Dallas. You HAVE to get the Mambo Taxi while there, but make sure you have a sober sally to drive you home, or are taking a lyft/uber. Mi Cocina is famous for these strong, delicious drinks." ~ Kelsey S.
Address: 13350 Dallas Pkwy 100 Level One Next to Ice Rink Dallas, TX 75240
Enjoy Your Meal at Addison TX Restaurants
Plan to have a satisfying and healthy lunch. Whether you prefer pizza or pub food for lunch when you're at work or school, the chances are that your choices are limited to just one or two restaurants.
Plan and bring a packed lunch to enjoy good food while avoiding fast food. If there's no healthy option where you work, try talking to management about offering healthier options on their menu.
Your health is worth it!