The 10 Best Trendy Restaurants in Grapevine
Are you ready to explore the best restaurants in Grapevine main street? Well, Grapevine, Texas, is known as the place where the Texas Wine and Grape Growers Festival takes place every October, but there are plenty of restaurants in Grapevine worth visiting all year round!
Grapevine, TX, has become increasingly popular as one of the best tourist destinations in the Metroplex area. With so many good places to eat in Grapevine, it's hard to know where to go first.
From small taco shops to fine dining establishments, Grapevine boasts various restaurants that cater to all kinds of tastes.
If you plan to visit Grapevine soon or live there and want some new dining options, here are ten trendy restaurants in Grapevine you can't miss.
10 Best Restaurants in Grapevine
#1. Cafe Italia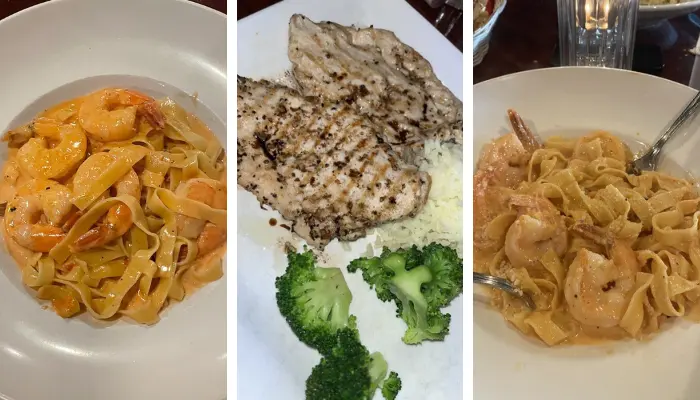 Top of our list is Cafe Italia, a delightful Italian restaurant that offers authentic dishes made from scratch. The brick oven pizza is particularly good! One of its specialties is freshly-made ravioli stuffed with cheese and veggies.
Cafe Italia also serves a variety of traditional pasta and steak dishes. From crispy pizzas to savory beef pasta, there's something for everyone here, and it's all prepared with care by passionate chefs who take pride in their work.
Café Italia's menu has something for every taste bud, so you don't have to worry about getting bored when you visit!
They score high on creativity, too; some of their creative menu items include seafood risotto and, goat cheese & roasted garlic flatbreads.
Top Review: "I love to shop/dine local, and Cafe Italia did not disappoint. We had lunch with friends here, and it "felt" like a dinner service thanks to the kind and attentive staff and good food". ~ Marci P.
Prices: $$
Availability: Open from Monday to Sunday from 11 am to 9.30 pm.
Address: 505 W Northwest Hwy, Grapevine, TX 76051
#2. Mi Dia From Scratch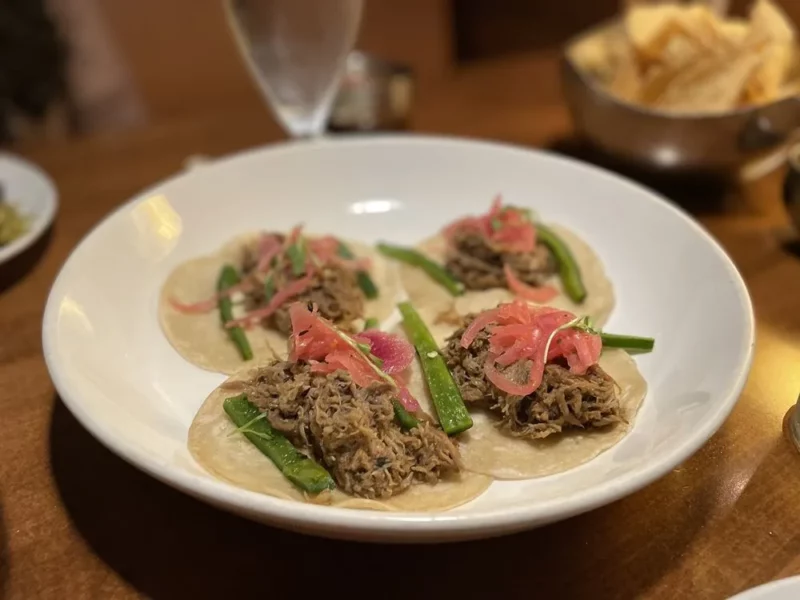 Good food doesn't have to be complicated. But when it comes to good Mexican food, there are a few things you should know before you decide to start cooking on your own.
This is why Mi Dia is recognized as one of the Mexican restaurants in Grapevine. Luckily, Mi Dia From Scratch has five of their best recipes that even inexperienced chefs can follow, complete with color-coded photos and easy-to-follow instructions.
Start with one of their salsas: They're bright, colorful, and delicious. Then, an appetizer or two (or three) tamales are a good bet if you like spicy food.
For dinner? Toss your choice of meat (beef, chicken, or pork) on a hot grill and make sure it's cooked through before serving.
Top Review: "In short: some of the best Mexican cuisine we've ever had stateside. Their menu features all the "usual" Mexican fare you are already familiar with, but they also have some unique offerings that you must check out".~ Godley V.
Prices: $$
Availability: Open from Monday to Sunday from 11 am to 10 pm.
Address: 1295 S Main St Grapevine, TX 76051
#3. Oldwest Cafe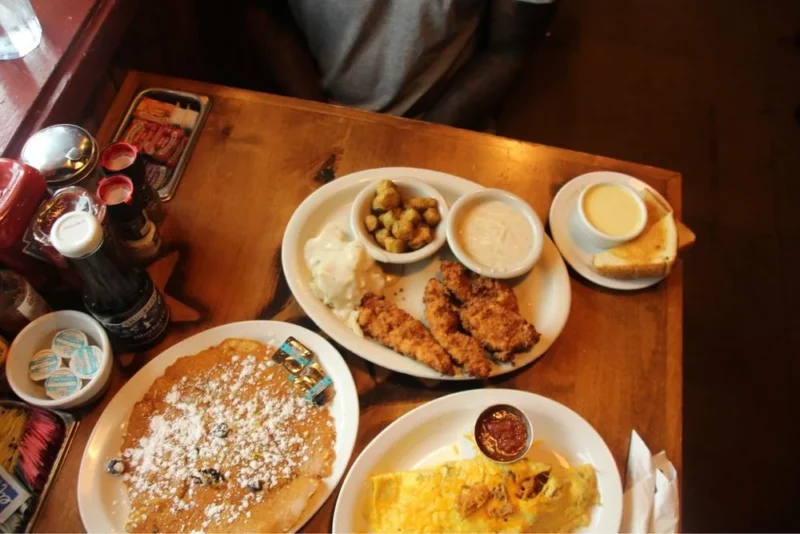 This inviting restaurant offers plenty of comfort food favorites like chicken fried steak and homemade desserts. But it also serves up some unexpected surprises, including a range of vegetarian-friendly dishes and vegan options.
Don't miss the fried green tomatoes with basil pesto or their famous avocado fries! They're always fresh, never frozen, and cooked how you like them, not to mention they taste amazing.
Add an extensive wine list and unique mixologists behind these concoctions, and you have a dining experience worth making a special trip for.
Oldwest is also great for meeting friends on weeknights for happy hour or weekend brunch. While there are many nice restaurants in Grapevine, no other restaurant has much to offer as Oldwest Cafe!
Top Review: "Amazing Breakfast and worth any wait to eat here. Great staff and food was amazing. Whole family wanted to come back 2nd day we were in town and did not disappoint the 2nd day. Loaded up the 2nd day with omelettes, cinnamon rolls, and skillet". ~ Jonathan B.
Prices: $$
Availability: Open from Monday to Sunday from 11 am to 10 pm.
Address: 600 W Northwest Hwy Ste A Grapevine, TX 76051
#4. Pappadeaux's Seafood Kitchen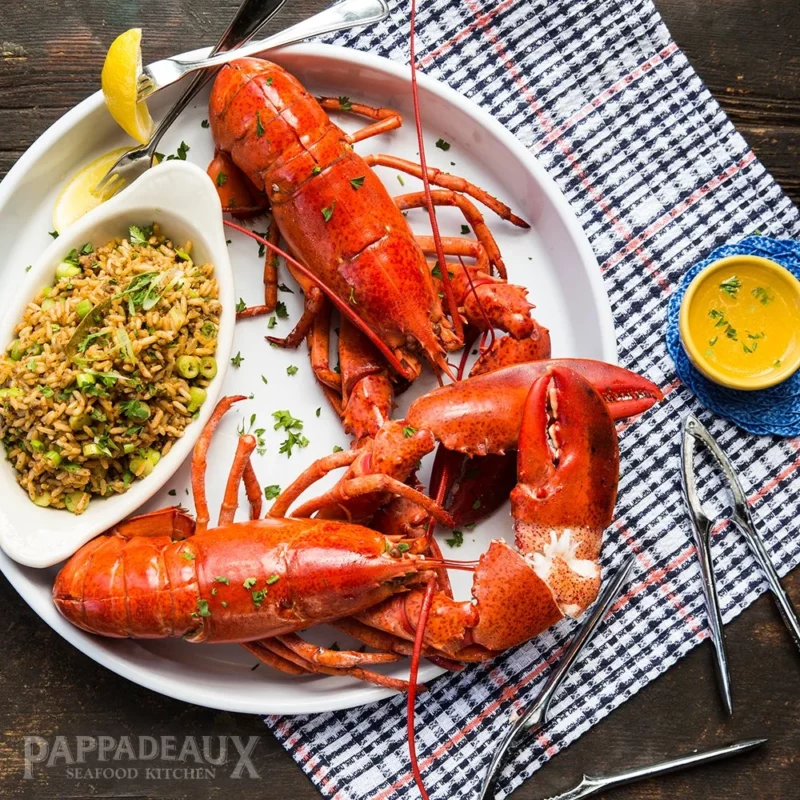 If you're looking for some of Texas' best seafood, Pappadeaux's Seafood Kitchen is a must. Savor delicious dishes that combine French and Spanish influences with American flavors to create signature New Orleans-style recipes.
Popular favorites include gumbo, crab-stuffed flounder, and shrimp scampi over linguine. As a bonus, try adding one of their amazing selection of wines or cocktails to your meal for a truly unforgettable experience.
Top Review: "This place is long overdue for a review! My fiancé and I travel often cause of his work. He is an electric engineer for Panasonic, so Texas is one of his main places to go to every year. We come here so often, that I forget to write a review. The food is so enjoyable that I eat everything before I can even take pictures. LOL!" ~ Doris T.
Prices: $$
Availability: Open from Monday to Sunday from 11 am to 8 pm.
Upcoming Special Hours: Sun 2022-05-08 from 10 am to 8 am and Sun 2022-06-19 from 10 am to 8 am.
Address: 600 W Hwy 114 Grapevine, TX 76051
You might also check out the Best Restaurants In Guatemala City for an unforgettable dining experience.
#5. Big Fish Seafood Grill & Bar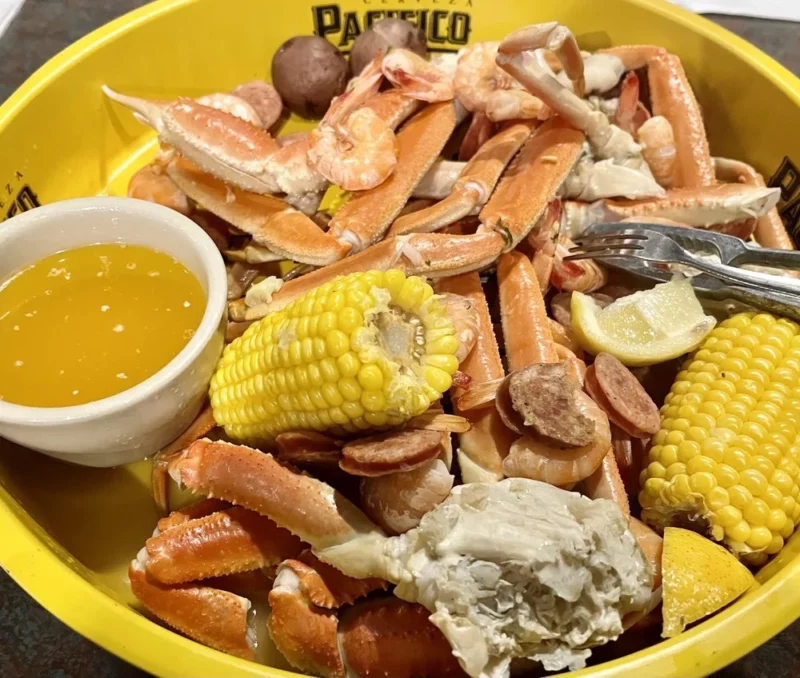 One of Dallas-Fort Worth's best seafood restaurants. Big Fish offers a massive variety of fresh fish and other seafood, all sourced from local fishers, with an excellent wine list, both foreign and domestic.
As you might expect from a good seafood restaurant on Lake Grapevine, there is also an impressive beer selection.
The dining area is spacious and modernly decorated. Many guests opt to sit outside under a covered porch overlooking Lake Grapevine.
Overall, Big Fish Seafood Grill & Bar is one of DFW's best restaurants for upscale dining with all your favorite seafood dishes and much more. It's worth checking out! (Insider Tips: Big Fish features $1 oysters on Monday nights.)
Top Review: "Love this spot! I came to see Christmas lights and shop around but ended up remembering my dinner the most. If you get here on a weekend, it is smartest to put your name on their list as soon as you arrive so you can walk around town while you wait for their call. We were told to expect a 1.5 hour wait but it ended up being less than 40 minutes on a Saturday around 7 pm." ~ Asma S.
Prices: $
Address: 414 S Main St Grapevine, TX 76051
#6. Winewood Grill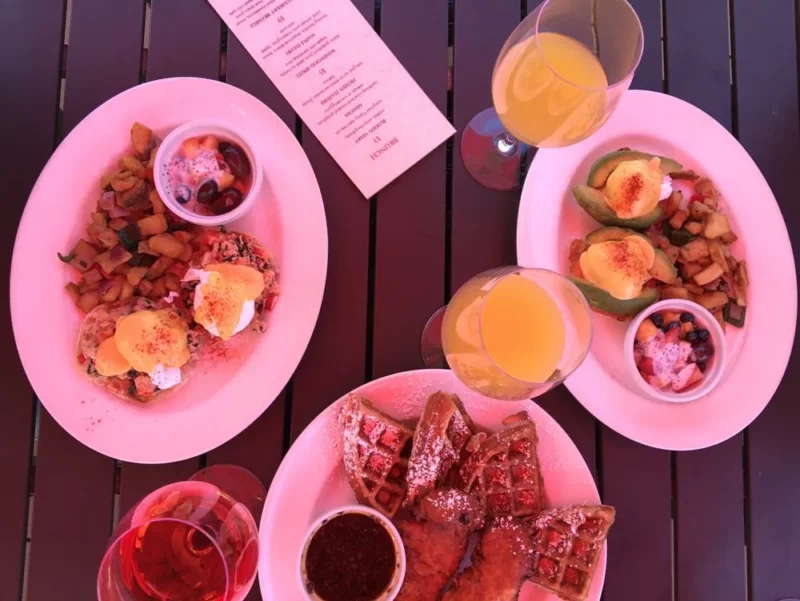 Of all the fun places to eat in Grapevine, TX, is Winewood Grill, which has stood strong for more than 20 years. It's one of those places that personifies Texas cuisine, offering authentic Tex-Mex flavors on its menu.
Stop by for some chicken-fried steak or a plate of enchiladas, and you won't be disappointed. The restaurant also boasts a full bar with an assortment of domestic and imported beers, wine, and mixed drinks. (If you visit during happy hour, grab yourself a margarita.)
With simple yet delicious fare at reasonable prices, Winewood Grill is worth trying if you find yourself in Grapevine while taking care of business or on vacation!
Top Review: "My friends and I went to Winewood yesterday afternoon after exploring some wineries on Main Street. This restaurant did not disappoint. At 3 pm there weren't many people in the restaurant. Our server, Allie, blew us away. She knew the menu thoroughly and was able to suggest delicious appetizers and wine. She accommodated my friend's nut allergy as well. We all loved the crab cakes and oysters Rockefeller. My friends and I shared the Sauvignon Blanc. It was a great time!" ~ Joanna M.
Prices: $
Address: 1265 S Main St Grapevine, TX 76051
#7. Main Street Bistro & Bakery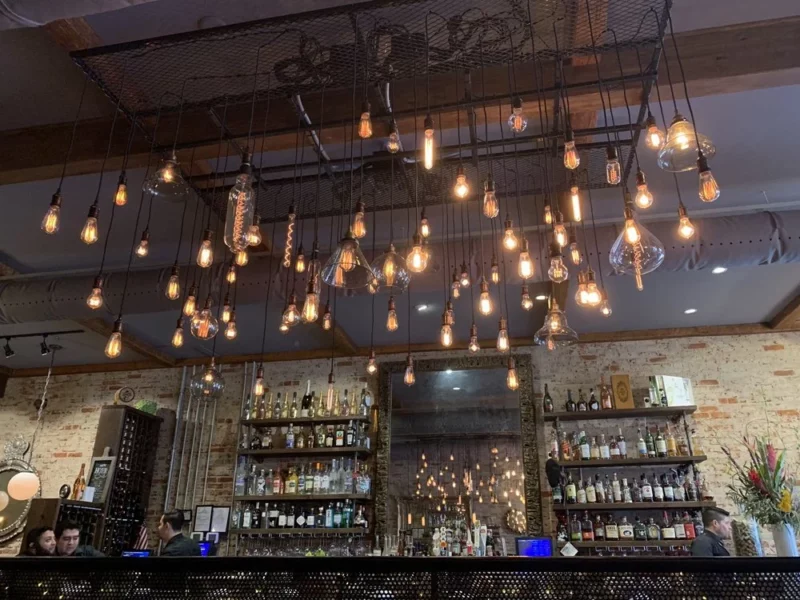 Each dish on Main Street Bistro & Bakery's menu is as refined as it is flavorful, and each detail of its modern decor reflects a sense of artistry.
Whether you're after fresh meat and seafood dishes or simply a classic hamburger and fries, you can rest assured that your meal will be impressive and delicious.
The restaurant's bakery offers specialty sweet treats like cinnamon rolls, donuts, scones, pies, and much more. With live jazz music offered every weekend by local artists, Main Street Bistro & Bakery continues to be a trendy mainstay among Downtown Grapevine restaurants.
Main Street Bistro & Bakery is a charming spot located downtown, serving breakfast, lunch, and dinner. The restaurant also offers catering services for all occasions. They offer live music Thursday through Saturday night, with complimentary wine and beer flowing all evening.
Top Review: "We really enjoyed this place for brunch. One side is the bakery. So cute and so many yummy options. So many different coffees to choose from. We were smart however and did not indulge in the sweets bc we were about to eat." ~ Amber M.
Prices: $$
Address: 316 S Main St Grapevine, TX 76051
You might also check out the Best Restaurants in Rosemont for an unforgettable dining experience.
#8. Esparza's Restaurante Mexicano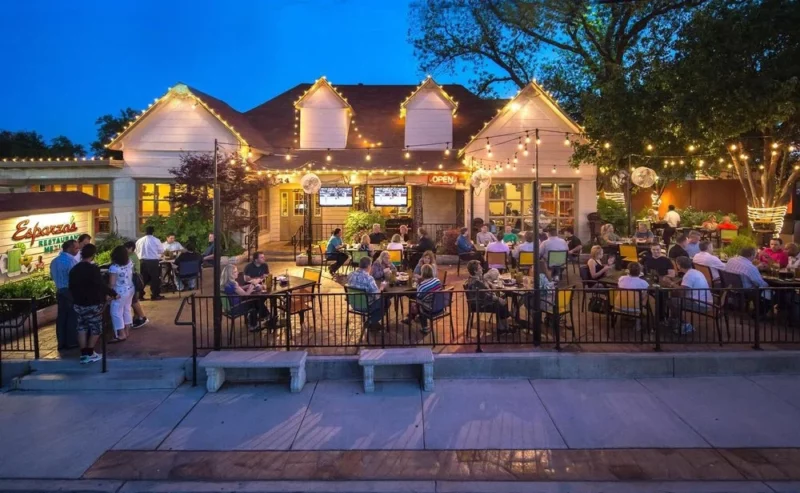 Southwestern cuisine meets Tex-Mex in a tasty combination at Esparza's, popular Mexican restaurants in Grapevine serving up made-from-scratch dishes.
Try their signature guacamole or shrimp fajitas. Be sure to save room for dessert: The fried ice cream is delicious.
If you've never been to a Mexican restaurant, Esparza's is where you'll find out why people love them so much.
The service is friendly and attentive without being overbearing, and there are plenty of options for picky and adventurous eaters alike.
Top Review: "Came to Esparza's not once but twice while in Texas to meet up with some friends. This place is great for groups as they have a big giant restaurant and outdoor patio – which is perfect when the weather is nice." ~ Jeff D.
Prices: $$
Address: 124 E Worth St Grapevine, TX 76051
#9. Hop And Sting Brewing Company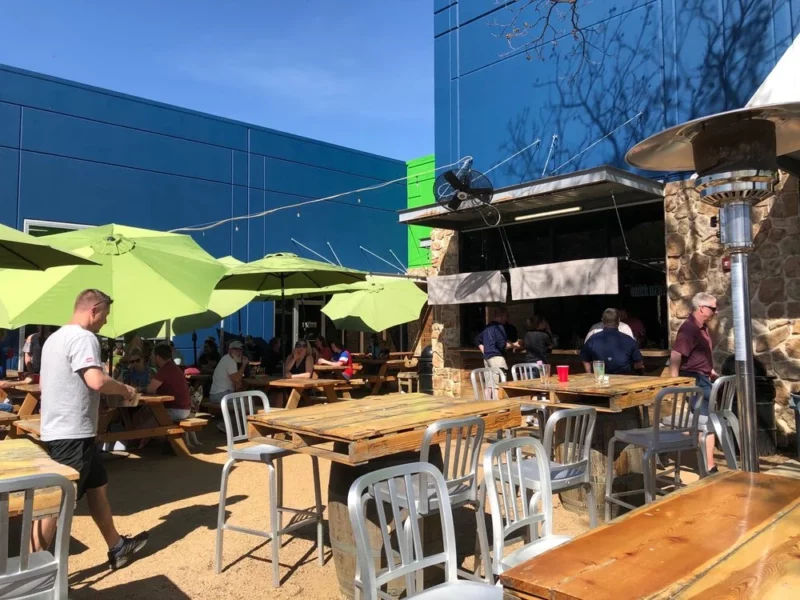 Hop and Sting Brewing Company is an American-style brewpub that offers a nice twist on typical bar food. The pub serves housemade craft beers, cheeses, cured meats, salads, and sandwiches for lunch or dinner.
Try one of their popular small plates like hop fry fish & chips; beer-battered cod with a side of chips and garlic aioli, or pickled slaw (which you can also get as a sandwich).
Hop and Sting's menu also features brunch options such as brioche French toast topped with vanilla bean mascarpone, orange zest, and cranberry glaze. Enjoy your meal!
Top Reviews: "Very relaxing environment to enjoy a few drinks and food. There's a food truck out back to order bbq or some Mexican food. Dog friendly and staff was friendly too." ~ Eva S.
Prices: $$
Address: 906 Jean St Grapevine, TX 76051
#10. Dino's Steak & Claw House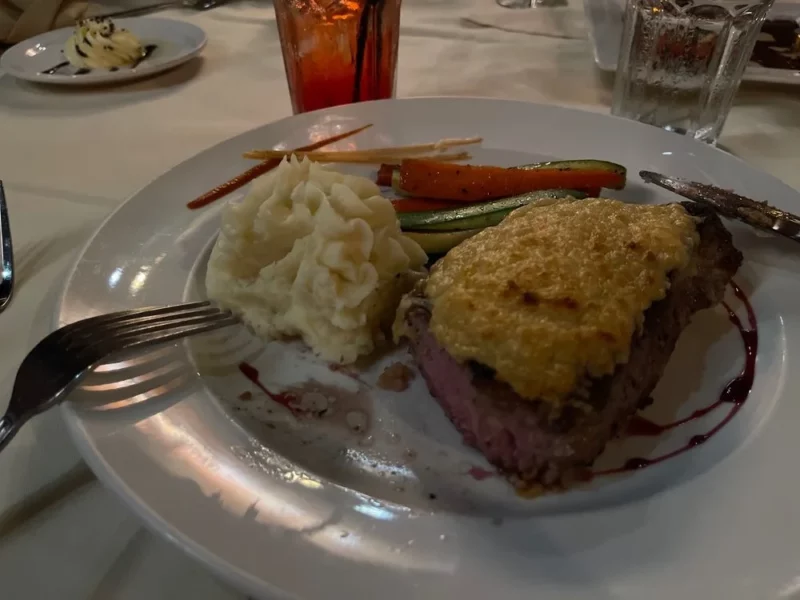 The name might throw you off a bit, but Dino's Steak & Claw House is one of our favorite places to enjoy an upscale steak dinner.
If you're into surf and turf, Dino's got a delicious seafood sampler for two to pair with your juicy beef; if it's more red meat you crave, try their prime rib or ribeye with some sautéed mushrooms.
It will be hard to resist dousing everything in their signature blue cheese dipping sauce! And for dessert?
A DinoSlicer platter of fresh-baked chocolate chip cookies that are just begging to be dipped into a pint of homemade Chocodilla ice cream. Who said eating healthy was trendy?
Top Review: "We came to here to celebrate an award being won and this was a really good place for that. The food was good, the service was great and the ambiance of the restaurant is really nice." ~ Robyn C.
Prices: $$
Address: 342 S Main St Grapevine, TX 76051
Conclusion
There's no better place to start than downtown for the best restaurants in Grapevine. From quick lunches to more formal dinners, there's a restaurant for just about any occasion. What are you waiting for?
Make time to try these ten best trendy restaurants in Grapevine. Just be sure not to skip dessert. You wouldn't want to leave town without trying one of their famous restaurants' desserts!
If you have been to any of these listed restaurants, please drop your honest reviews in the comment section below!
Disclaimer: Vasttourist always strives for content accuracy. Since the time of publishing, travel-related information regarding pricing, schedules, and hours may have changed. Please see individual websites embedded in this post for the most current trip-planning information.

Unless otherwise stated, Vasttourist does not claim ownership of any images used on our blog site. The respectful owners of all visual content have copyright protection. We try to include links to the sources. If any images are your property and you do not want them to appear on our blog, don't hesitate to contact us; we will take them down immediately. We support properly crediting the original writer, artist, or photographer.