Top 13 Best Breakfast in Gatlinburg TN (Tennessee)
Looking for where to get the best breakfast in Gatlinburg TN? Gatlinburg, Tennessee, is one of the most popular tourist destinations in the southeastern United States, and it's no secret that breakfast is the most important meal of the day, so it's best not to skip it.
If you're planning on spending some time in Gatlinburg, TN, you'll be happy to know that you can find plenty of great options for breakfast here as well! You can be sure to wake up energized and prepared to take on whatever the day throws at you after eating one of these special-tasting meals.
These 13 cafes and diners have the best breakfast food in Gatlinburg, TN, so come hungry! Whether you're craving pancakes, biscuits, gravy, or even eggs benedict, you can find exactly what you want at any of these fine establishments.
Let's Get started,
Where to get the Best Breakfast in Gatlinburg TN (Tennessee)
#1. Pancake Pantry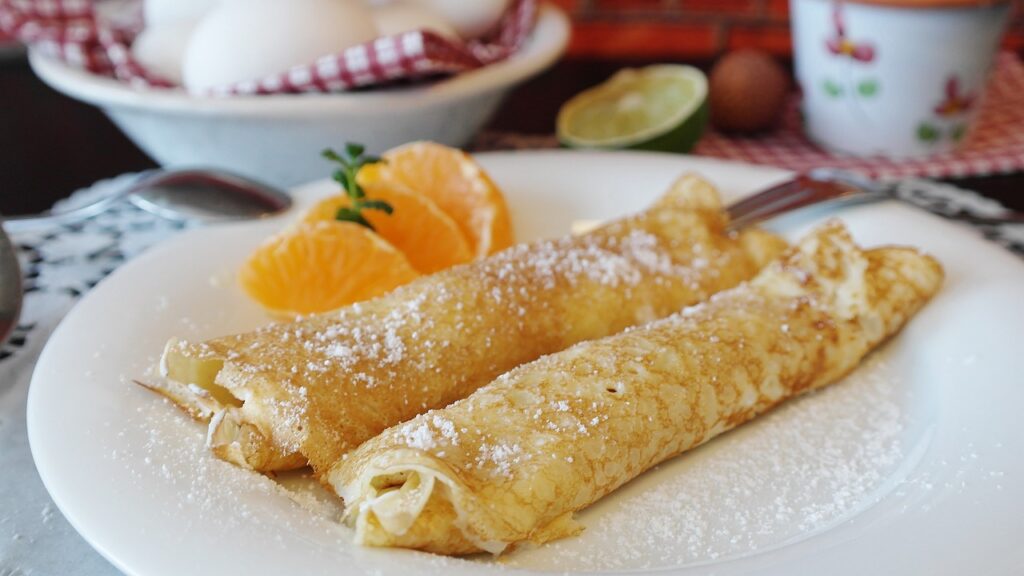 Pancake Pantry takes pride in being Tennessee's first pancake specialty restaurant. Venture to the Pancake Pantry, one of Gatlinburg's original breakfast restaurants. Pancakes have been served in these restaurants for more than 60 years.
Pancake Pantry is one of the places you have to go in Gatlinburg for pancakes. They offer 24 different pancakes and crepes, ranging from traditional buttermilk pancakes to Swedish lingonberry crepes.
The Pancake Pantry also serves delicious waffles and omelets. They used to only take cash, but recently they also started taking debit and credit cards.
The unique slate roof of Pancake Pantry is in Gatlinburg's "Village," which is a group of shops and restaurants. The Village has an Old World/European style and is great for walking off your meal.
It's a sweet crepe rolled out thin, filled with Georgia peach compote, topped with whipped cream, and dusted with powdered sugar.
Reviews: "Always great food. Great service. Food is always fresh and hot. Don't let the long line keep you from going. That line moves pretty fast. And definitely worth the wait." ~ Susan C
Address: 628 Parkway, Gatlinburg, TN 37738, United States
#2. Log Cabin Pancake House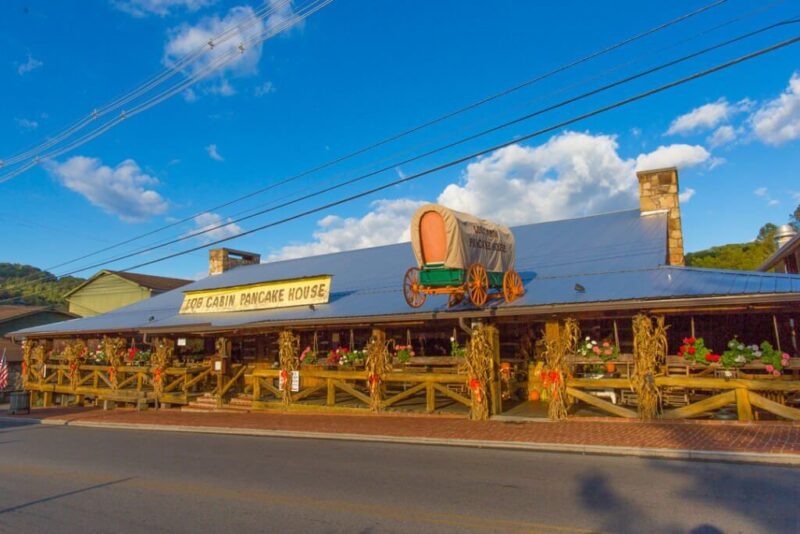 Log Cabin Pancake House serves some of the best pancakes in Gatlinburg. You'll feel like you've stepped into a log cabin in the woods with a real fireplace. They serve some of the best breakfasts in Gatlinburg and are located just off the main road.
Each of the pancake options at Log Cabin Pancake House comes with four pancakes, and you can top any of them with chocolate chips, blueberries, or nuts. Their pancakes come in various flavours, including cornmeal, whole wheat, and buckwheat.
Their Spicy Apple French Toast, with hot-spiced apples and two sausage links, is their most popular dish.
Review: "A super traditional, quirky breakfast place lined with stuffed animals and hungry patrons! We got sat by the fireplace(which sadly was off)), the hostess was attentive and the food was served quickly! Everyone was so sweet, and professional the bacon was crisped to my version of perfection, and the peaches were melted in your mouth yummy! I also got and really liked the hot chocolate finally, a not-watery-tasting cocoa! No complaints here, I was a happy tourist in this homey-styled restaurant"
Address: 327 Airport Rd. (Previously, Historic Nature Trail, Gatlinburg, TN 37738, United States
#3. Tennessee Jed's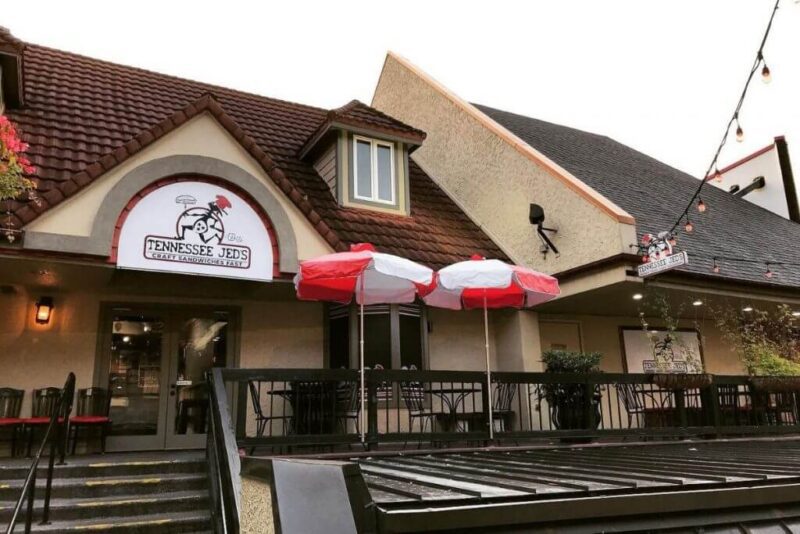 Gatlinburg's hidden gem, Tennessee Jed's, is a great place for breakfast in Gatlinburg, away from the crowds. Their name references the Grateful Dead's 1972 song "Tennesee Jed." And they have friendly staff and laid-back brunch spots there.
Tennessee Jed's is open for breakfast and lunch. Surprisingly, Jed's does not serve pancakes in Gatlinburg! They do, however, have an excellent egg and cheese sandwich. Their breakfast sausage is fresh and made locally, making it an excellent addition to your breakfast sandwich.
The most unusual dish at Tennessee Jed's is a "Frito Pie!" A traditional Frito Pie consists of Frito chips, chili, and cheese, but it can also be loaded with sour cream, tomato, and onion.
Review: "Came in here on a mini vacation and were pleasantly surprised by how wonderful everything was. The food was out of this world and the staff was super friendly. The location was also super convenient, only minutes from our hotel. My husband and I would encourage any and all to stop by for a great meal"
Address: 631 Parkway Suite A8, Gatlinburg, TN 37738, United States
#4. Crockett's Breakfast Camp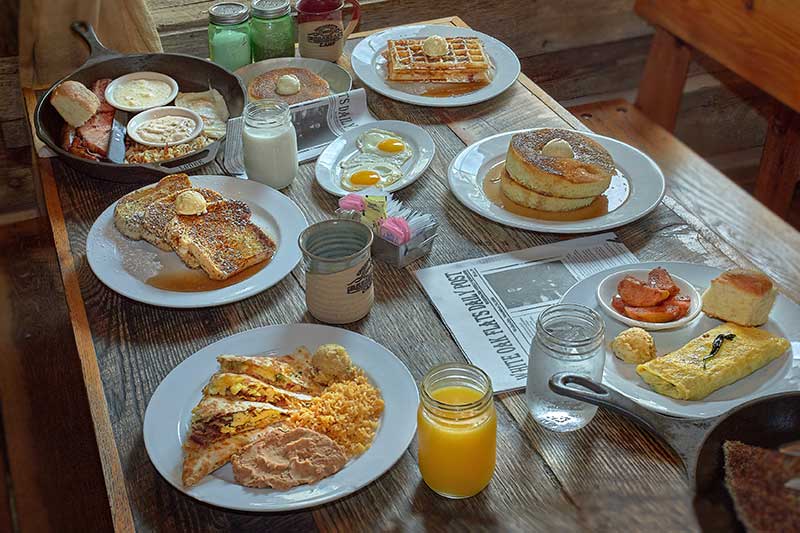 Crockett's Breakfast Camp, named after a nearby mountain, is one of Gatlinburg's best breakfast spots.
Crockett's Breakfast Camp pays tribute to his legacy by serving delicious Southern fare. Try their Huntcamp Skillets, which come with a biscuit and gravy, potatoes, grits, a griddlecake, steak, ham, or bacon. They're also famous for their fried cinnamon rolls, which are worth the calories!
The views of the mountains from this restaurant are worth it alone! You can choose from eggs, bacon, sausage, or ham with any bread, including English muffins, biscuits, or toast.
They have omelettes and French toast if you want something more substantial! All of this food will keep you full for hours. The prices range from $4 – 12 per plate, depending on your order.
Address: 1103 Parkway, Gatlinburg, TN 37738, United States
You may also want to check out the best restaurants in Salem Oregon, Pullman Washington, Galveston (Texas), and Charleston West Virginia.
#5. Trish's Mountain Diner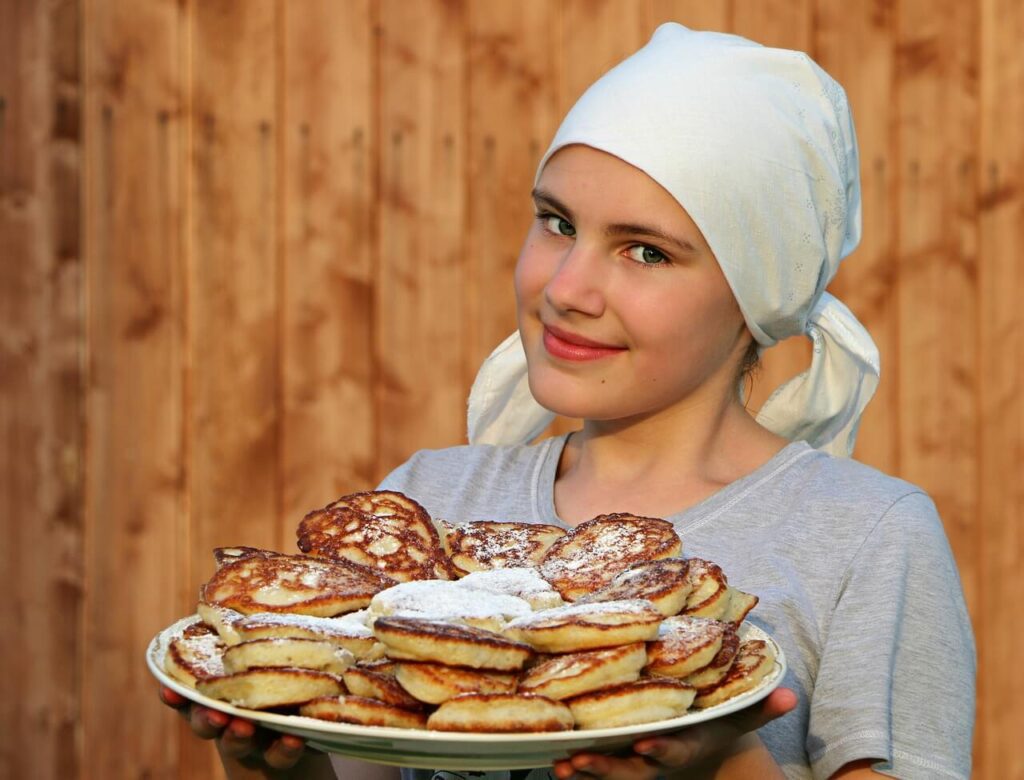 The diner provides a peaceful respite from Gatlinburg's bustling downtown area.
With its smiling faces, sweet aroma of comforting diner food and cute decor, you'll feel right at home when you walk in.
After you've settled in, you can start filling your stomach with hearty breakfast classics and sandwiches. There's also a light menu for those looking for a healthy breakfast, such as pancakes.
Their breakfast options are light, fluffy, and incredibly soft. You can enhance its flavour by adding a variety of toppings, such as coconut, blueberries, and chocolate chips, for a small fee.
Review: "Great service. Clean, family-friendly. It was busy, but the food came out quickly. We had the meat omelette, eggs over easy with home fries and bologna (my wife loves bologna). We'll definitely be back here."
Address: 3614 East Pkwy, Gatlinburg, TN 37738, United States.
#6. Donut Friar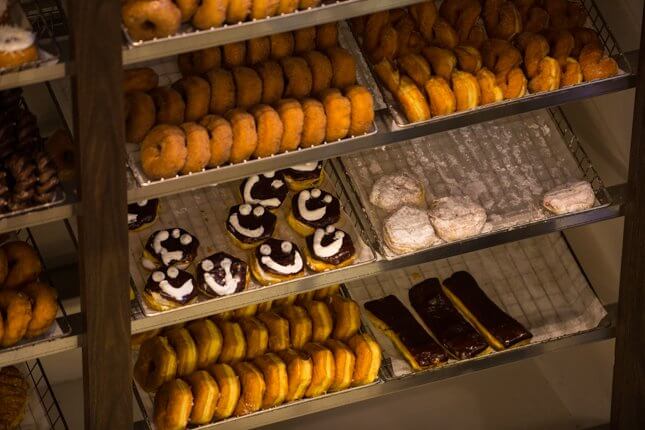 This downtown restaurant has been pleasing taste buds with its aromatic, made-from-scratch doughnuts since 1969.
They don't just make delicious homemade doughnuts; this doughnut shop serves some of the best food in Gatlinburg, from cinnamon rolls to eclairs.
They also have a coffee bar that serves espresso-based drinks such as latte, espresso, and cappuccino.
Their eclair is a decadent, fresh, and soft pastry filled with rich custard and topped with chocolate frosting.
Address: 634 Parkway #15, Gatlinburg, TN 37738, United States
#7. Little House of Pancakes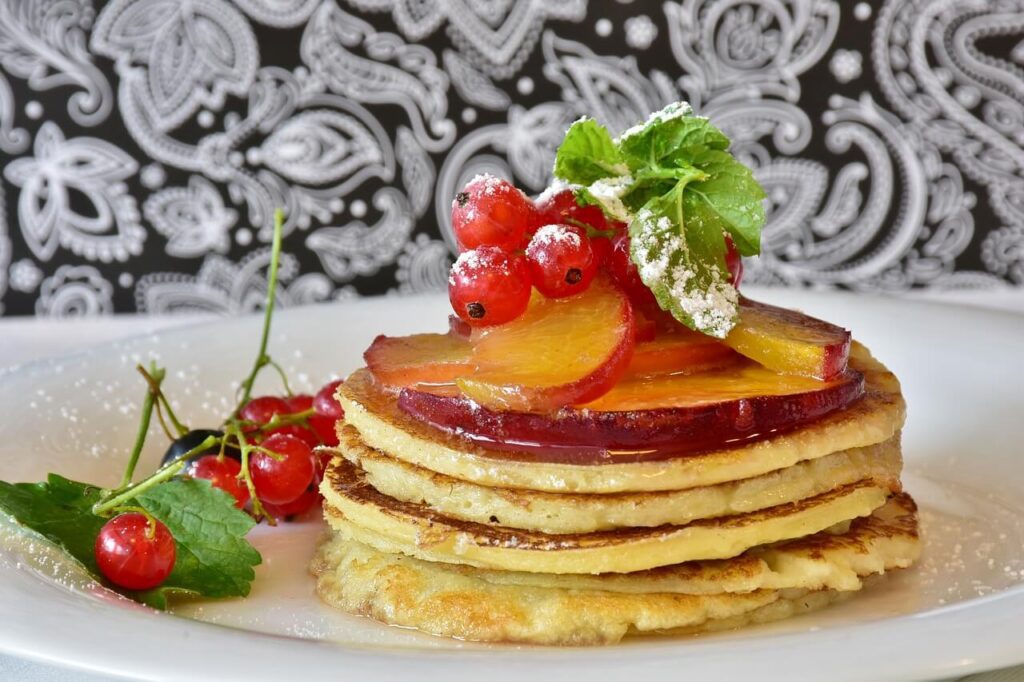 Little House of Pancakes is an excellent choice for a delicious breakfast in Gatlinburg. They serve mildly sweet and light pancakes and fresh and tasty omelets.
The restaurant also offers a vegetarian-friendly lunch menu. Try their breakfast option, including pecan pancakes, for a taste of the South and delicious pancakes loaded with pecans and topped with sweet whipped butter.
It's also smothered in the restaurant's renowned homemade syrup to enhance the flavor.
Address: 807 East Pkwy, Gatlinburg, TN 37738, United States.
You don't want to miss out on the best restaurants in Garden City (Kansas), Lawrence (Kansas), Mandalay Bay, and Sherman (Texas).
#8. Buckhorn Inn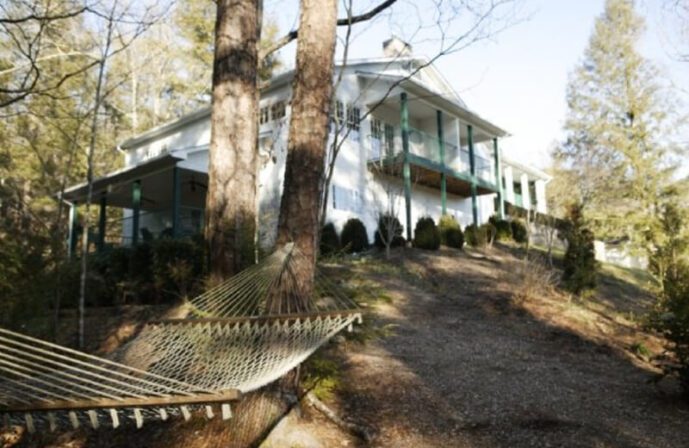 This inn is located in the Great Smoky Mountains National Park and has a dining room that serves elegant meals.
A delicious and filling breakfast at Buckhorn Inn is a great way to start the day in Gatlinburg. This inn will satisfy your breakfast cravings, whether they are muffins or fruits.
The area also offers a variety of teas, hot chocolates, coffee, and fruit juices. It also provides guests with breathtaking views of the Great Smoky Mountains National Park.
Their top breakfast option, "huevos rancheros," is flavorful and filling, with a flour tortilla topped with sour cream, eggs, cheeses, and zesty salsa.
Address: 2140 Tudor Mountain Rd, Gatlinburg, TN 37738, United States
#9. Timbers Log Cabin Restaurant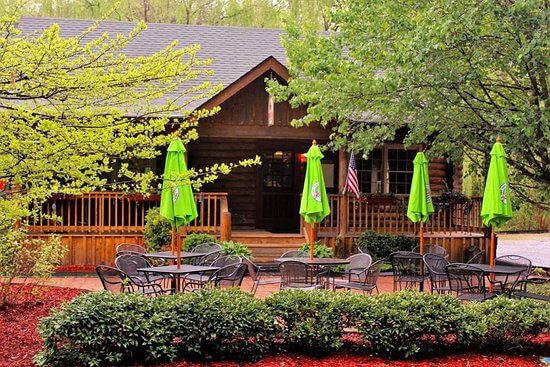 This log cabin restaurant is located in Gatlinburg's Art and Craft Community and serves hearty meals to families. It is a cozy spot where locals go for a hearty breakfast.
This restaurant, run by a husband-and-wife team, serves delectable breakfast plates with a fusion of flavors.
And, as the name implies, this restaurant has a cozy, country-log cabin vibe.
Guests rave about their bacon, saying their strips have crispy, amusing, fatty, and satisfying bites with sweet, umami, and salty flavors when cooked to perfection.
Address: 600 Glades Rd #10, Gatlinburg, TN 37738, United States
#10. Flapjack's Pancake Cabin, Downtown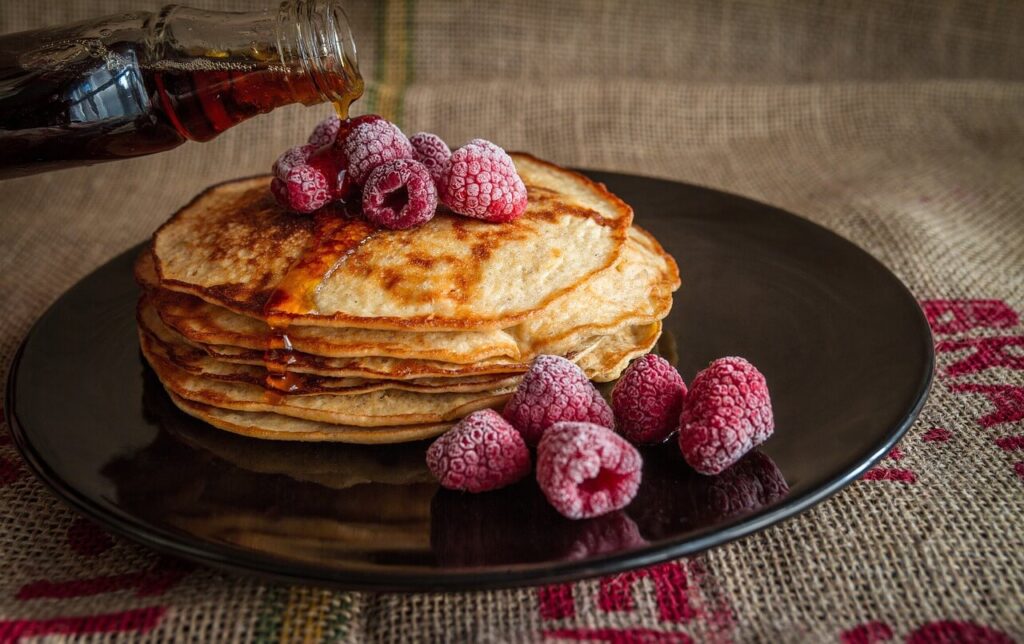 This family-friendly breakfast chain is a go-to spot for pancakes and is located right in the heart of downtown Gatlinburg.
Flapjack's Pancake Cabin serves all your breakfast favorites and classics in one location.
While fluffy pancakes dominate the menu, the restaurant also serves a variety of other well-prepared breakfast items.
It's one of the best places to eat breakfast in Gatlinburg for families, with an easygoing vibe and kid-friendly eats.
Their top breakfast option, the "Spanish skillet," is a flavorful dish that includes onions, cheese, green peppers, eggs, and savory chorizo and is served with salsa and sour cream.
Address: 956 Parkway, Gatlinburg, TN 37738, United States
#11. Elvira's Cafe
This hidden gem is located in Wears Valley and has a devoted following for its homemade breakfast fare. Elvira's Cafe is one of the excellent breakfast restaurants in Gatlinburg.
This cafe serves a tempting seasonal Southern-inspired menu with a Russian twist. The best part is that it's unpretentious and devoid of tourist trappings.
Get yourself a platter of their country ham. Their tender country ham, which is expertly prepared, will take your breath away with its perfectly salty, nutty, smoky, and sweet flavors.
Address: 4143 Wears Valley Rd, Sevierville, TN 37862, United States
#12. Mel's Classic Diner
The family-owned diner in Pigeon Forge stands out with its retro style, generous food portions, and chrome interiors.
The decor at Mel's Classic Diner is good for Instagram. It has neon lights, jukebox music, a metal-tone texture on the ceiling, and checkered floors.
Customers enjoy home-cooked breakfast specials, juicy hamburgers, and massive banana splits.
Try their gut-busting breakfast from their father: It's a hearty breakfast with biscuits, flavorful country-fried steak, crispy hashbrowns, and eggs.
Address: 119 Wears Valley Rd, Pigeon Forge, TN 37863, United States
#13. Sawyer's Farmhouse Restaurant
When Sawyer's Farmhouse Restaurant first appeared on the Pigeon Forge scene in 2014, the locally-owned eatery quickly became a local favorite.
Sawyer's Farmers is technically located outside the city limits of Gatlinburg. Nonetheless, it deserves a place on the list of one of the best Gatlinburg breakfast restaurants. After all, it is only a 17-minute drive from Gatlinburg.
This popular tourist and local hangout also serve filling breakfast meals that will keep you full for hours. Furthermore, everything at this restaurant is homemade, including crepe batter, syrups, and pancakes.
Try their "mountain man platter." It's a filling breakfast with tasty specialities like French toast, pork sausage gravy with biscuits, eggs, and crisp bacon.
Address: 2831 Parkway, Pigeon Forge, TN 37863, United States
Time to Spare? why not check out the best restaurants in Abilene (Texas), Canton (Texas), Erie (Pennsylvania), and Dodge City (Kansas).
Enjoy Your Meal In Gatlinburg TN Restaurants
We hope that reading this list of the best breakfasts in Gatlinburg has helped you make the right decision! If you're looking for some of the best breakfast places in Gatlinburg, Tennessee, look no further!
These 13 places serve up hearty dishes with plenty of variety. Whether you're craving something sweet or savoury, these restaurants will satisfy any appetite. What's your favourite meal to start your day?