Top 15 Best Restaurants in Galveston TX (Texas)
Give your visit to Galveston an exciting twist by experiencing the amazing culinary service at some of the best restaurants in Galveston. Galveston is home to many amazing seafood spots where you can enjoy freshly caught seafood and other authentic meals.
The list of restaurants in Galveston is quite long, but there are restaurants you shouldn't afford to miss, as they offer the most delicious food you can find in Galveston. How do you discover the best? We've got you covered!
This article covers 15 of those restaurants you shouldn't miss. These restaurants are well known for their amazing food, great environment, and satisfying service, so prepare for an exciting culinary experience. Here are the 15 best restaurants in Galveston TX, that is a must-visit.
What are the Best Restaurants in Galveston TX (Texas)?
#1. Shrimp and Stuff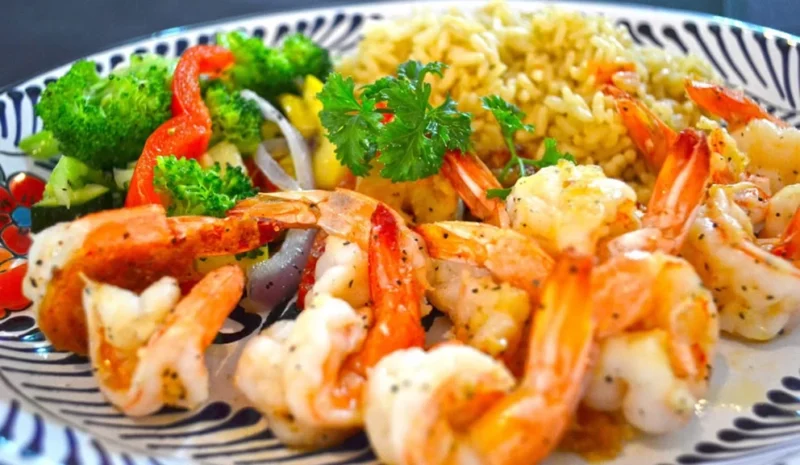 For juicy seafood and freshly prepared dishes, check out Shrimp and Stuff. The restaurant offers freshly caught, battered shrimp seafood, including breakfast treats such as toast, eggs benedicts, salmon & eggs, pancakes, breakfast sausage, waffles, and many other delicious treats.
As one of the best seafood restaurants in Galveston, TX, you can come by for breakfast, lunch, and dinner. They offer a good selection of breakfast beverages, including iced tea, coffee, cranberry juice, orange juice, and craft mimosas.
The lunch and dinner menu has seafood items ranging from crabs, crawfish, boiled shrimp, Italian salads, sandwiches and tacos, oysters, catfish, tilapia, and non-seafood options such as grilled chicken breast, chicken fried steak, Cajun pasta, and others.
All sides and desserts are house-made, including sauces. Offerings such as beer, cocktails, wine, spirits, vegetarian options, small plates, and a kids' menu are all available. You'd experience satisfying dining in Shrimp and Stuff as they offer excellent service.
Address: 3901 Avenue O, Galveston, TX 77550, United States
#2. Yamato Japanese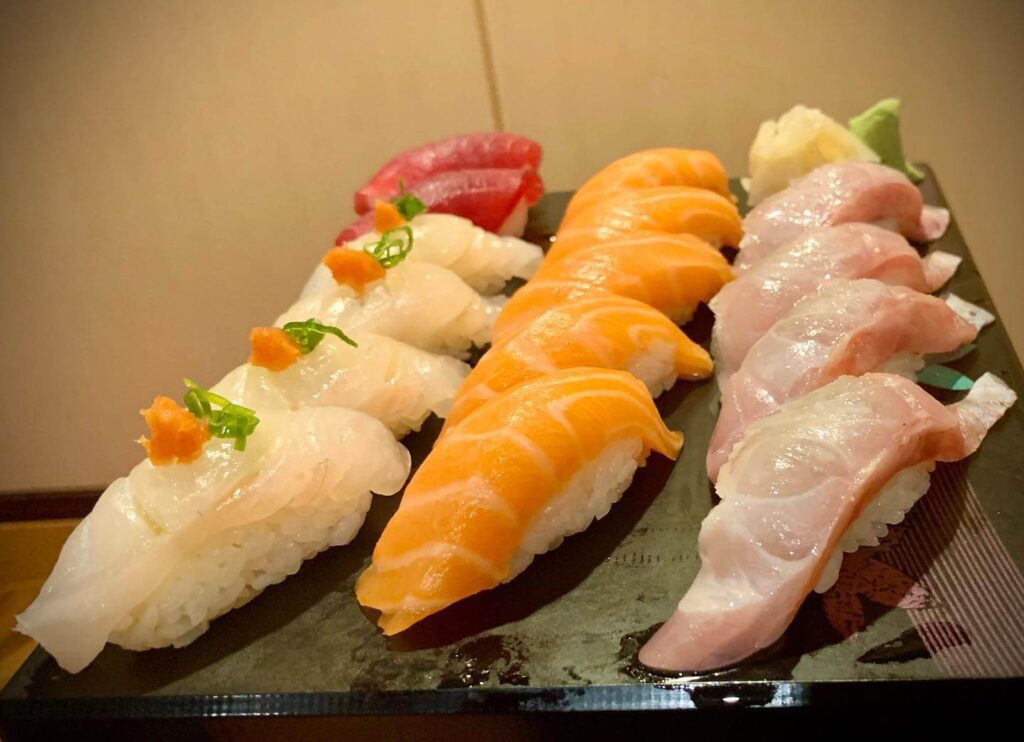 Next on our list of top places to eat in Galveston, TX, is Yamato. This restaurant is among the top restaurants in Galveston, and they are known for their specialty rolls that attract people from different towns.
The restaurant in Galveston has also gained popularity for its specialties with Asian flairs, such as sushi, Teriyaki Beef and Chicken, Tori Maki, Beef Tataki, and lots more. You'd also enjoy their seafood, as they offer a delicious selection. It would be best if you tried their steak, shrimp, scallops, nigiri, or sushi. They are amazing.
The food is not just amazing. The environment also is, as the restaurant features a cozy and romantic environment where you can come for lunch or dinner with a loved one, family, or friends. The place is quite fancy, and the waiters are just so nice.
If you have special diet needs, you wouldn't have to worry about Yamato Japanese, as there's provision for special diet diets, including vegetarian and Vegan needs. Their menu includes cocktails, beer, coffee, spirits, and wine.
Address: 2104 61st St, Galveston, TX 77551, United States
#3. Leon's World Finest Bar-B-Que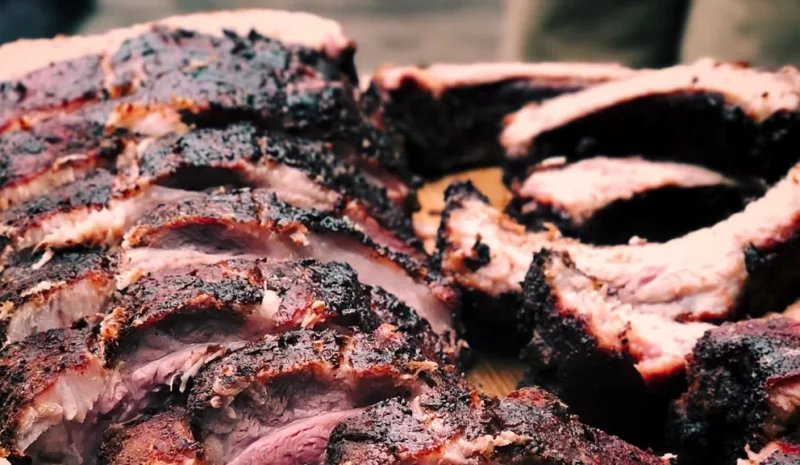 If you are into smoked meat, you must visit Leon's World Finest Bar-B-Que. This restaurant is great at offering varieties of flavors and unique tastes, making them one of the best steakhouses in Galveston.
They use the freshest and finest quality ingredients while offering you meals such as prime beef brisket, bbq beans, turkey leg, smoked brisket, and many other delicious bbq plates. You'd also enjoy their sandwiches, spicy rice, bread pudding, boudin, and salad plates.
They also offer to dine in and take away with no contact delivery. Leon's World is also a great hangout for beer and wine. It's great for group dining and other casual hangouts.
The dining space is casual and friendly. Customer service is satisfying, and the staffs are hospitable. Try Leon's World Finest Bar-b-que today, and you'd be glad you did.
Address: 5427 Broadway Avenue J, Galveston, TX 77551, United States
Looking for more culinery in Texas? Why not check out the best restaurants in Sherman (Texas), Abilene (Texas), Waxahachie TX (Texas), and Canton (Texas).
#4. Gadio's Seafood Restaurant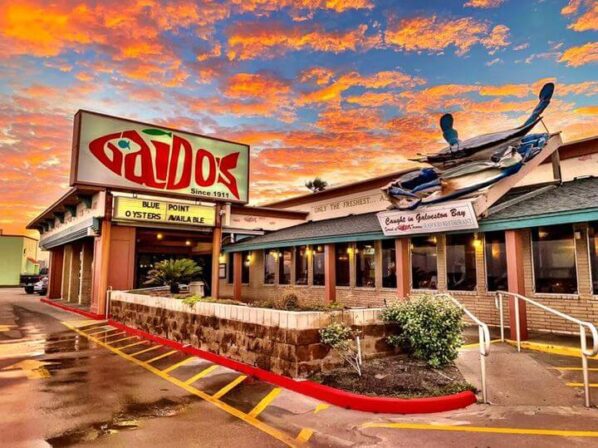 There are a lot of amazing Seafood restaurants in Galveston, TX, and Gadio's Seafood restaurant is one of those spots you shouldn't miss. This restaurant stands out as one of the longest-running in Galveston and has been praised for its long years of service.
This restaurant is still one of the best in town. Their menu is organized and covers items such as pasta, seafood, soups, salads, and meat plates. You'd enjoy freshly caught seafood prepared in the best style. Watch out for their classic seafood menu.
Everything there is special and distinctively delicious. You'd also enjoy non-seafood plates like cowboy ribeye, and center cut filet, chicken panini, and pork chop sapporito. Pasta is also great here. There are many healthy options and diet-based plates too. Drinks such as beer, cocktails, coffee, tea, and wine are also available.
Reservations are accepted, and reservations for dinner and lunch are highly recommended. Come with family or friends to enjoy the amazing dishes at Gadio's seafood restaurant.
Address: 3828 Seawall Blvd, Galveston, TX 77550, United States
#5. Maceo Spice and Import Co.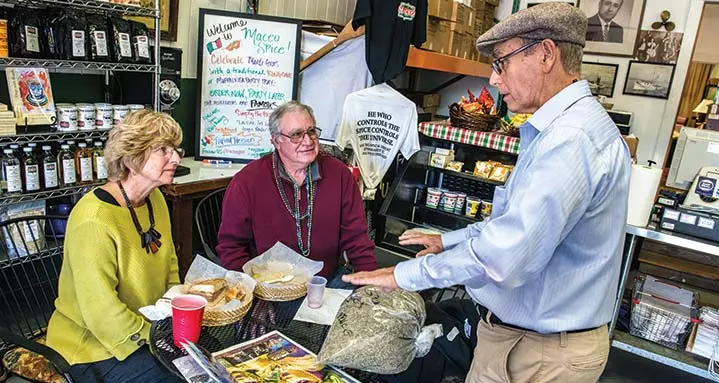 Here is a great spot for those who desire a unique dining experience. Maceo Spice and Import Co. feature a great spot where you can enjoy favorites such as muffuletta inside, meatball sub, spaghetti meatballs, potato salad, pasta salad, shrimp and crab gumbo, and lots more.
They offer outdoor seating, dine-in, takeaway, and delivery. Other offerings, such as comfort food, quick bite, and coffee, are available.
The dining space is casual with a cozy atmosphere. The restaurant has a store where you can buy spices; after a good meal, you can go shopping.
Address: 2706 Market St, Galveston, TX 77550, United States
#6. Gypsy Joynt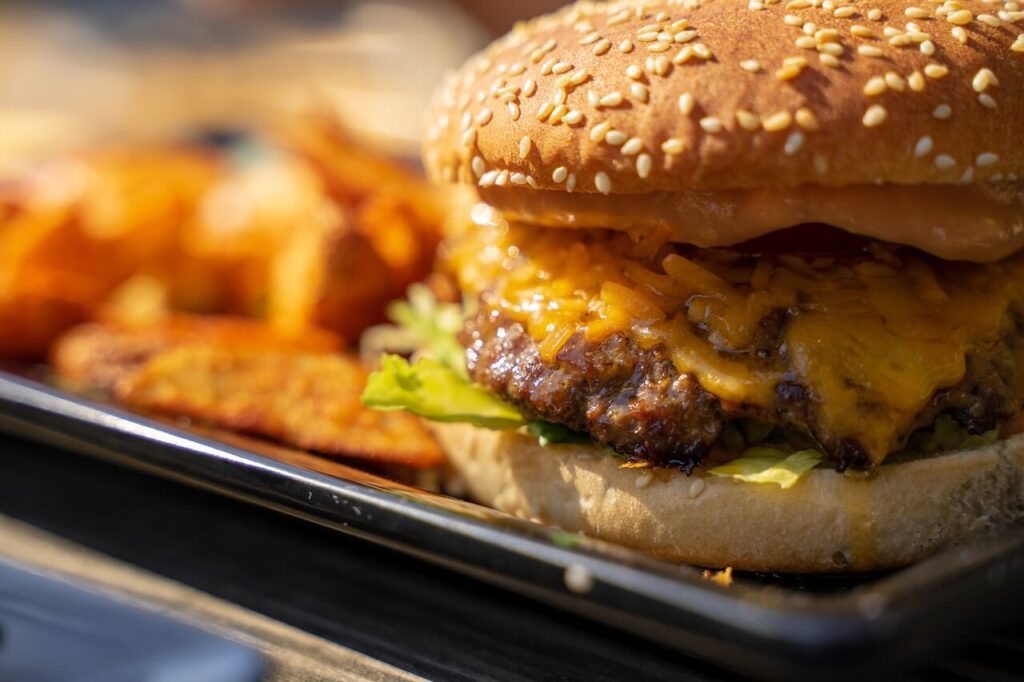 Family-owned and operated restaurants are always the best place to enjoy home-cooked meals, and Gypsy Joynt is no different. They offer quality meals, including salads, snacks, desserts, biscuits, sandwiches, and burgers.
Their favorite meals include:
Sweet potato tots.
Jumbo wings.
Fried Brussels sprouts.
Garbage pizza.
Pulled pork sandwiches.
An American burger.
This restaurant might become a favorite spot if you like healthy plates. Meat lovers also gather around this restaurant for a sumptuous meal. Dishes for kids are also served here. Other items include coffee, tea, vegetarian options, and vegan options.
Address: 6105 Stewart Rd, Galveston, TX 77551, United States
#7. The Spot

The Spot is great for quality comfort and organic plates prepared from scratch. They serve sandwiches, seafood, salads, soups, and dessert prepared with quality ingredients. You'd also enjoy mouthwatering burgers and a great drink selection.
Their seafood meals are prepared with freshly caught seafood and locally sourced ingredients. They always come out juicy and delicious. They offer a relaxing spot with a friendly vibe, as the place features open-air deck seating with gulf views.
The place has a lively vibe, as they entertain, such as live music. Cocktails and beers and late-night food are also served here. The popular crowds are groups, tourists, and university students. Other accessible services include outdoor seating, a bar on site, free Wi-Fi, vegetarian options, waitperson service, and credit card payment.
Address: 3204 Seawall Blvd, Galveston, TX 77550, United States
If you are in Texas, Then you can check out the best restaurants in Lake Jackson (Texas), Greenville (Texas), Gainesville (Texas), and Addison (Texas)
#8. Brews Brothers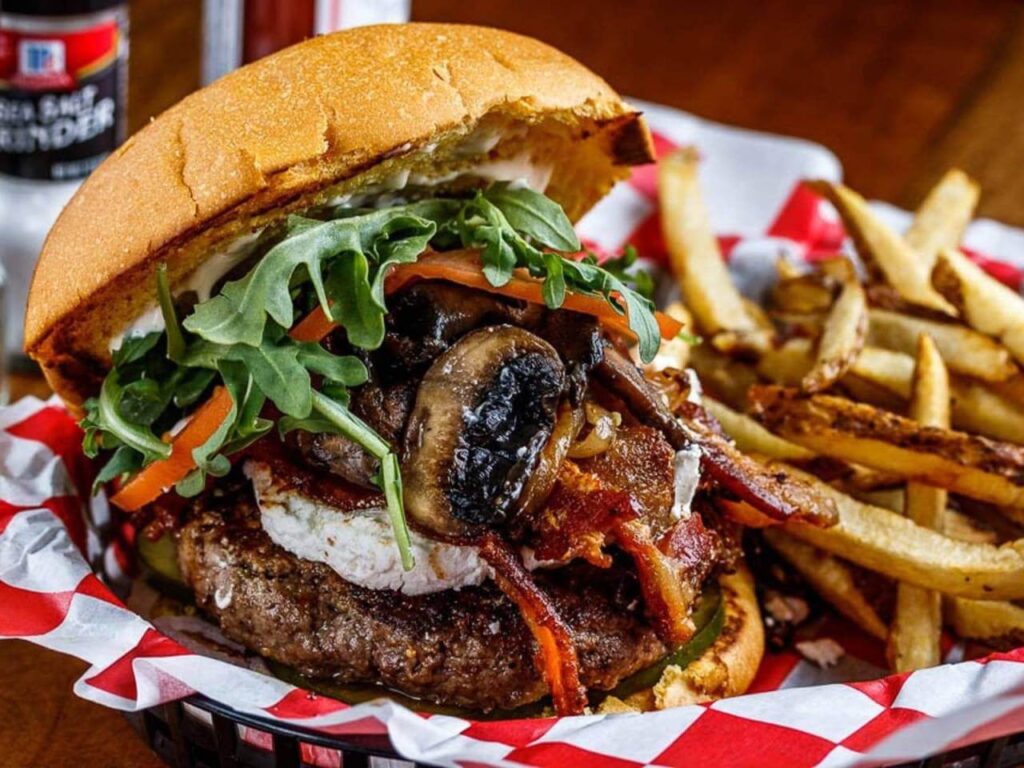 Brews Brothers is a trendy drinking spot near Sangerfest Park. This restaurant is great for cocktails, fresh wine, and craft beers. It's also a great spot for brewing burgers, chicken wings, fries, quesadillas, and creative light bites.
You'd also enjoy avocado fries, house salads, boneless wings, sandwich salads, and baskets. Their service is fast, and their service is top-notch.
Other accessible services include vegetarian options, credit card payment, outdoor seating, street parking, free Wi-Fi, and vegan options. When looking for the perfect spot for a fun or date night, consider visiting Brews Brothers.
Address: 2404 The Strand, Galveston, TX 77550, United States
#9. Grotto Ristorante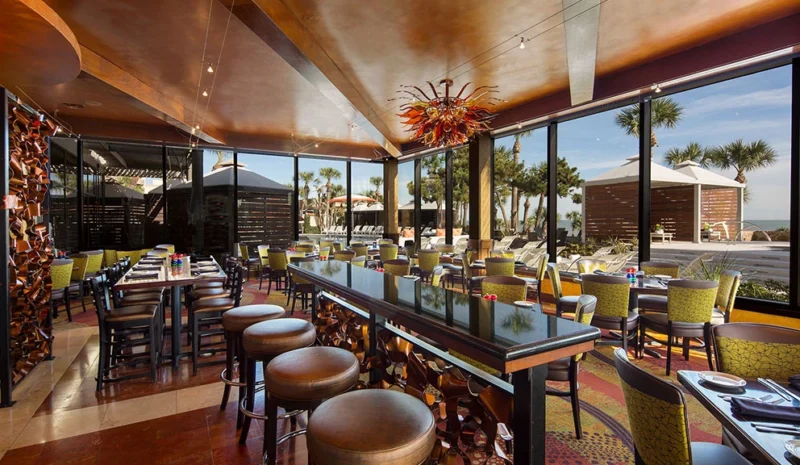 For an amazing Italian culinary experience, you should visit Grotto Ristorante. This restaurant features a stylish dining space with a sophisticated atmosphere. The dining is airy and features large windows with lovely views.
With Grotto Ristorante, you'd experience the originality of Italian cuisine, as they serve Italian cuisine prepared with locally sourced ingredients and in the local Italian way. Their menu features an extensive collection of Italian classic and domestic wines and craft cocktails.
You'd find pasta, seafood, pizza, soups, and salads. Look forward to signature dishes like Neapolitans thin crust pizzas, Veal Kickerillo, Pollo Frances, House-made pasta, and fish selections.
This upmarket restaurant is considered one of the best in Galveston, TX, particularly because of its old-world charm and excellent service.
Address: 5222 Seawall Blvd, Galveston, TX 77551, United States
#10. Etcetera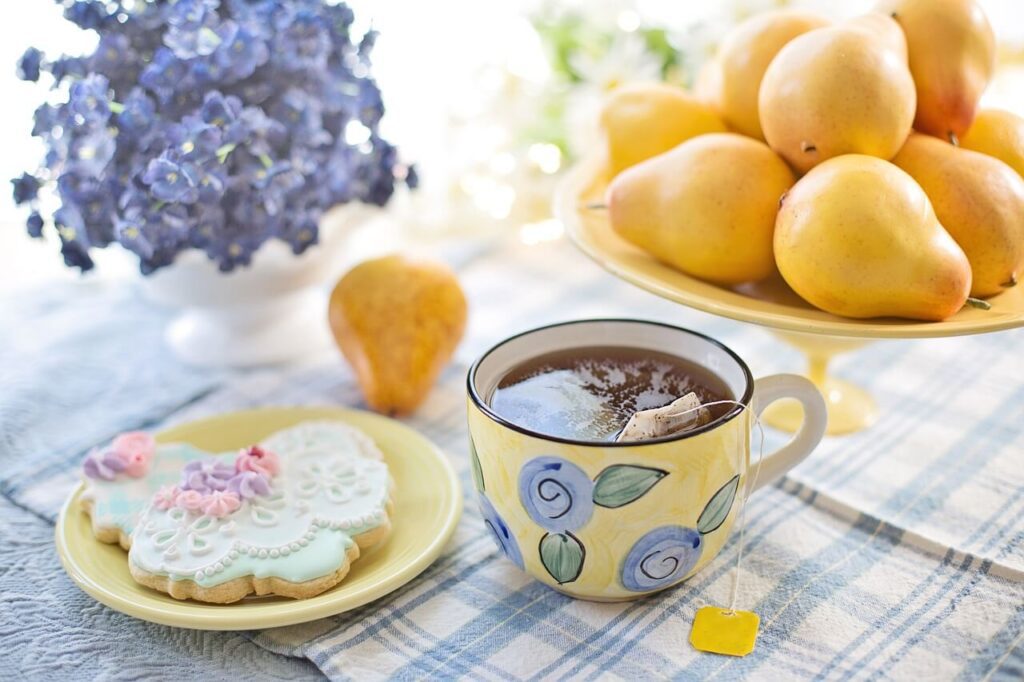 Etcetera is another great restaurant you wouldn't want to miss. There, they serve elevated sandwiches, Panini, salads, and soups. They offer the very best of American fares, presented in a contemporary dining space with a cozy atmosphere.
Special diets, such as vegetarian and vegan options and gluten-free options, are covered. You'd find hickory smoked turkey Panini, Cuban sandwich, Norwegian smoked salmon, Greek feta cheese salad, herbed split pea soup, Black Angus roast beef salad, and many other contemporary cuisines.
The dishes here are affordable and of high quality. The service is generally fast and reliable. The environment is healthy and cool. They offer indoor and outdoor seating so you can go for cozy or airy dining.
Other service options like takeout, delivery and curbside pickup are available if you can't dine in. The place is an option for all crowds and is LGBTQ+ friendly.
Address: 2317 Mechanic St, Galveston, TX 77550, United States
You may also like to check out the best restaurants in Charleston West Virginia, Garden City (Kansas), Lawrence (Kansas), and Mandalay Bay
#11. Cajun Greek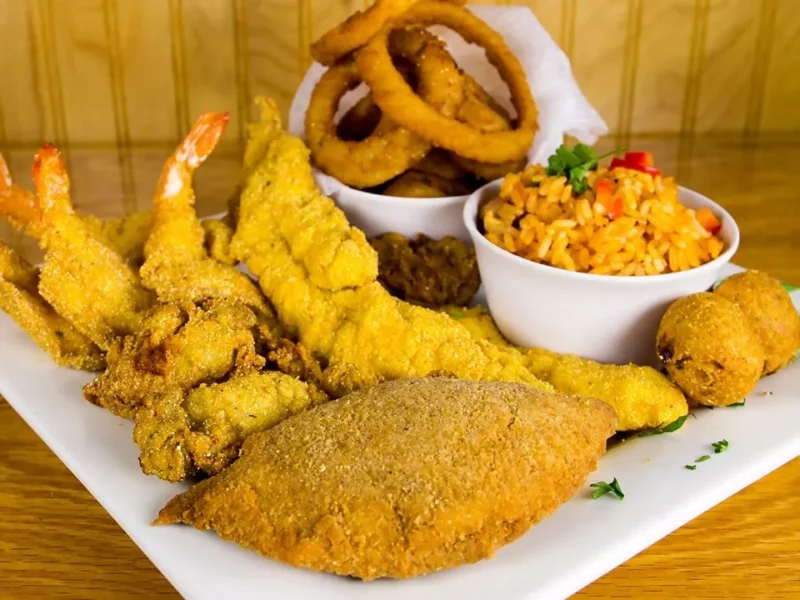 Cajun Greek is a unique seafood spot great for dishes such as Cajun crawfish, crab cakes, crab bisque, oysters on the half shell, classic gyro, and fried calamari. They also serve grilled items, salads, burgers, live seafood shack, Mediterranean plates, and desserts.
The service here is great; the waitpersons are organized and helpful. The ambiance is relaxing, and the place looks homely. You'd hardly have something to complain about here. Diet needs are strictly considered, so if you have one, do well to inform the waiters.
Kids are also welcome, as there's a well-crafted menu for kids. The prices of food are affordable, and the restaurant offers value. If you are looking forward to experiencing the local food in Galveston, then Cajun Greek is a good choice. Do well to visit with family or friends, and you'd come back again.
Address: 2226 61st St, Galveston, TX 77551, United States
#12. Rudy and Paco Restaurant and Bar
Rudy and Paco Restaurant and Bar is an excellent Latin American restaurant where you can enjoy quality food in a great environment.
This restaurant has gained attention due to its excellent service and unique menu. They serve the freshest seafood and tastiest prime steaks with a Latin-American flair.
Offerings include bread pudding, crab cakes, fried plantain chips, chocolate mousse cake, crab bisque, filet mignon, sea scallops Granada, escargot, and many more, all available.
Other items on the menu include cocktails, wine, coffee, spirit, and beer. Accessible amenities include a bar on site and free Wi-Fi. Reservations are accepted, and dinner reservation is highly recommended.
Address: 2028 Postoffice St, Galveston, TX 77550, United States
#13. Saltgrass Steak House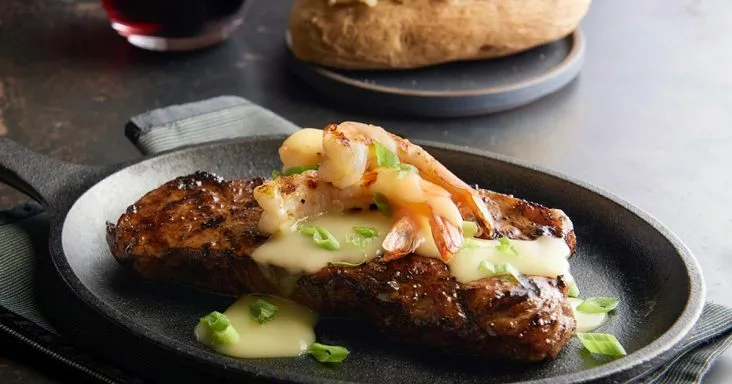 Saltgrass steak house is a wonderful steakhouse with wood and Texas-themed décor. They offer a meaty menu, with a full bar that offers an extensive beer, wine, and cocktail menu. Saltgrass steakhouse is famous for its award-winning certified Angus beef steaks.
Their steaks are perfectly cooked, and all bread, sides' soups, and desserts are made from scratch daily. Saltgrass Steakhouse isn't just a great spot for delicious steaks.
They are also good with chicken plates. You can come by for a drink or watch your favorite sports game. There's space for everyone and a favorite dish for all. Come with friends or family and enjoy great food at a reasonable price.
Address: 1502 Seawall Blvd, Galveston, TX 77550, United States
#14. Mario's Seawall Italian Restaurant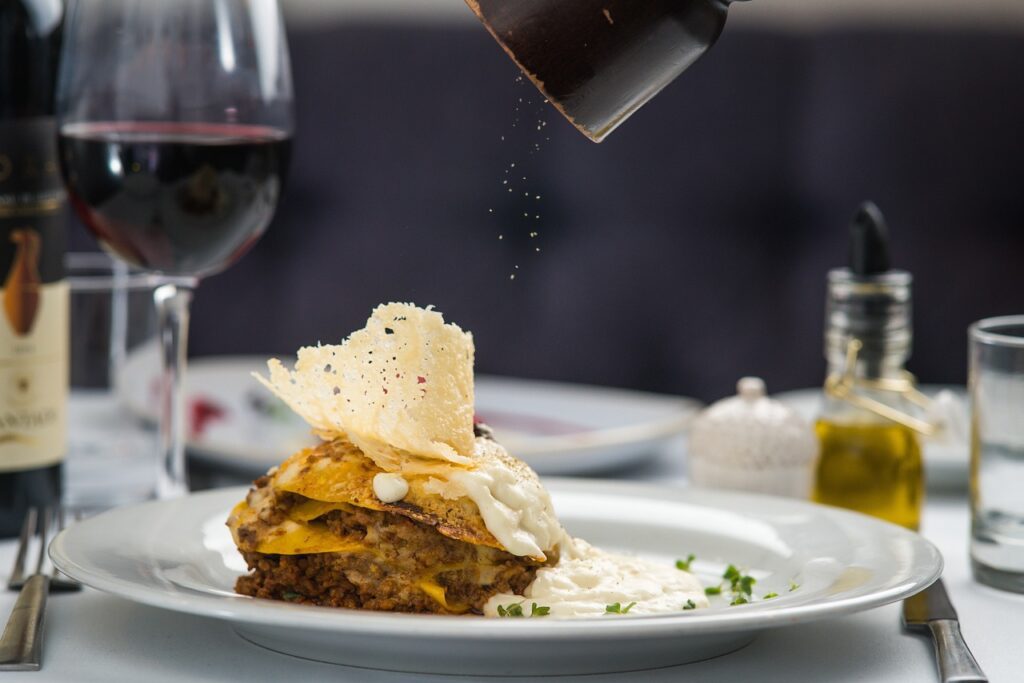 Mario's Seawall Italian Restaurant is another great Italian restaurant in Galveston, TX. You can enjoy the best of traditional Italian cuisines, from pasta, pizza, and Italian entrees such as lobster ravioli and gelato. This restaurant is quite classy, with a spacious dining room and mosaic walls.
You'd enjoy seafood Alfredo, tiramisu, Italian nachos, chicken Parmigiano, toasted ravioli, key lime pie, and lots more. The dessert here is also amazing, and the dressings are made from scratch. Their service options range from dine-in to outdoor seating, takeaway, and curbside pickup.
Available offerings cover small plates, late-night food, vegetarian plates, salad bar, comfort food, kids menu, wine, spirit, coffee, beer, and cocktails. They also offer catering, an on-site bar, and free Wi-Fi services.
Address: 628 Seawall Blvd, Galveston, TX 77550, United States
#15. Number 13 Prime Steak and Seafood
Nothing beats the taste of the sumptuous seafood and steak served at Number 13 prime steak. The restaurant not only boasts of upmarket refined dining space, but they are also the best for customer service.
The chefs specialize in preparing authentic seafood and steak dish prepared with high-quality and locally sourced ingredients. Their dining options include brunch, lunch, and dinner, and they provide guests with offerings such as comfort foods, organic dishes, cocktails, wine, beer, and a kid's menu.
Special diet needs are also taken care of here. The restaurant has a nice and relaxing terrace seating with water views. There is also a bar where they serve a collection of fine wine, wonderful hand-crafted cocktails, and a beer selection.
Some popular dishes here include steak fries au Poivre, deluxe 13 cheeseburger, scallops, daily oyster selection, bread pudding, and oak grouper.
Address: 7809 Broadway St, Galveston, TX 77554, United States
Time to spare? Why not read more, about the best restaurants in Erie (Pennsylvania), Dodge City (Kansas), Minocqua Wisconsin, and Fayetteville (North Carolina)?
Enjoy Your Meal at Galveston TX restaurants Open
We've considered the top 15 must-visit restaurants in Galveston, TX. These restaurants offer excellent service, from great food to an amazing environment. Pick the restaurant that suits your taste, and you will have a wonderful dining experience.
Disclaimer: Vasttourist always strives for content accuracy. Since the time of publishing, travel-related information regarding pricing, schedules, and hours may have changed. Please see individual websites embedded in this post for the most current trip-planning information.

Unless otherwise stated, Vasttourist does not claim ownership of any images used on our blog site. The respectful owners of all visual content have copyright protection. We try to include links to the sources. If any images are your property and you do not want them to appear on our blog, don't hesitate to contact us; we will take them down immediately. We support properly crediting the original writer, artist, or photographer.