10 Best Restaurants in Plymouth MA for a Wonderful Dining Experience
Are you looking forward to discovering the best restaurants in Plymouth, MA? Restaurants in Plymouth MA offer various culinary services, resulting in exploring local and continental dishes.
There are so many exciting food destinations in Plymouth, MA, from pizza spots to smokehouses, seafood spots, French restaurants, Thai restaurants, American restaurants, and lots more.
If you are familiar with Plymouth, you'd agree with me that there are so many amazing restaurants to explore. Now the problem is, which do you begin with? Not to worry, in this article, we'd be offering you an amazing selection of the ten best restaurants in Plymouth, MA, that will take your dining experience to the next level.
These restaurants are nothing short of amazing. From the food, drinks, and service to the environment, we are sure you'd love them! So let's get started. You can check out the best things to do in Plymouth, MA.
10 Best Restaurants in Plymouth MA, for a Wonderful Dining Experience
#1. Eat Bay Grille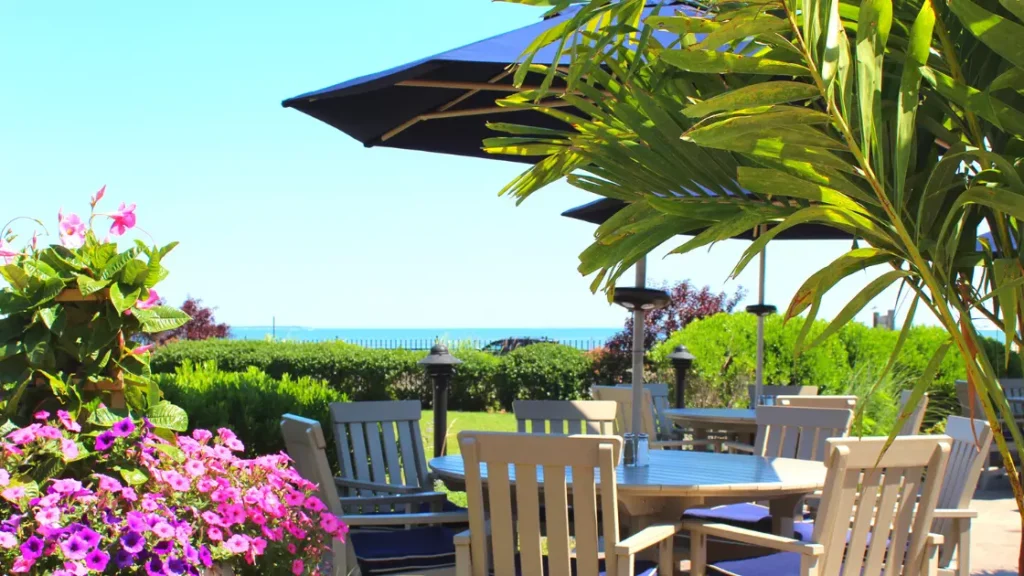 Eat Bay Grille is one of the amazing seafood restaurants in Plymouth, MA, where you can enjoy traditional New England seafood and steak dishes. The eatery is great for enjoying comfort foods, healthy options, small plates, and late-night food.
They focus on serving classic and contemporary dishes. They offer a wide menu covering appetizers including Risotto balls, Beef Carpaccio, Stuffed Quahogs, and lots more, soups, salads, raw seafood, sandwiches, burgers, and entrees such as Fish Tacos, baked scrod, chicken piccata, fried shrimp, and delicious dessert.
What's good food without a fitting drink? Eat Bay Grille offers a wonderful cocktail option and an impressive wine and beer collection. Regarding cocktails and Wine, Eat Bay Grille will surprise you with their amazing selections.
You'd not only enjoy the food and drinks here but also experience a pleasant environment. They feature an enchanting natural view that sets the perfect mood to enjoy delicious food. It is quite relaxing here in Eat Bay Grille. With the organized service, great food, and intriguing view, Eat Bay Grille can easily become your favourite.
Address: 173 Water St, Plymouth, MA 02360, United States
#2. Salt Restaurant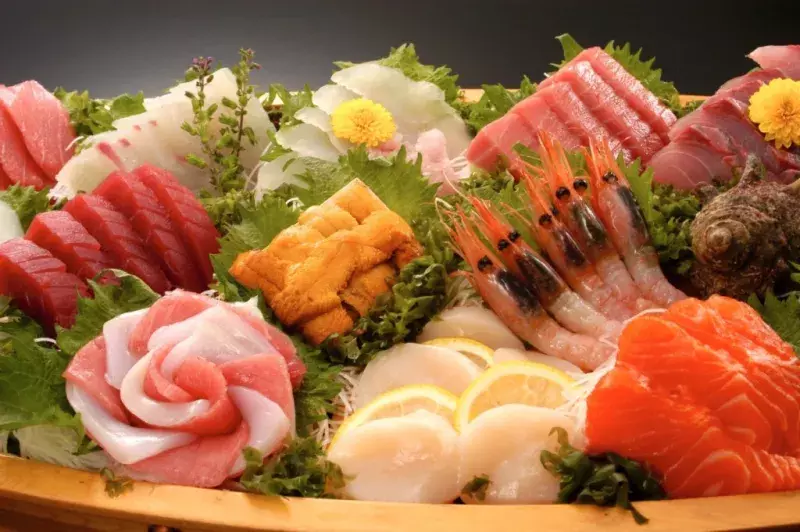 Salt Restaurant has to be on the list of top restaurants in Plymouth, MA. Like they are just good at what they do. Their service is on point, their food is delicious enough to satisfy your cravings, and the environment is great.
They specialize in serving classic American fare, presented in a unique and tasty style. Their menus feature a raw bar option including oysters, tuna tartare Tostado, sahimi, American Wagyu beef tartare and lots more. Salt restaurant features a fancy restaurant that offers fine dine-in service and outdoor seating.
Seafood such as Lobster and scallops are on the menu. You could also go for noodles, chicken dishes, dumplings, rice bowls, and desserts. They are all delicious.
You will discover a fine selection of wines and craft cocktails. They know how to make great cocktails that will wine your heart. You can also enjoy their draft beer at the bar. You have many great options, including beer on the bottle and can.
Address: 170 Water St, Plymouth, MA 02360, United States
#3. Surfside Smokehouse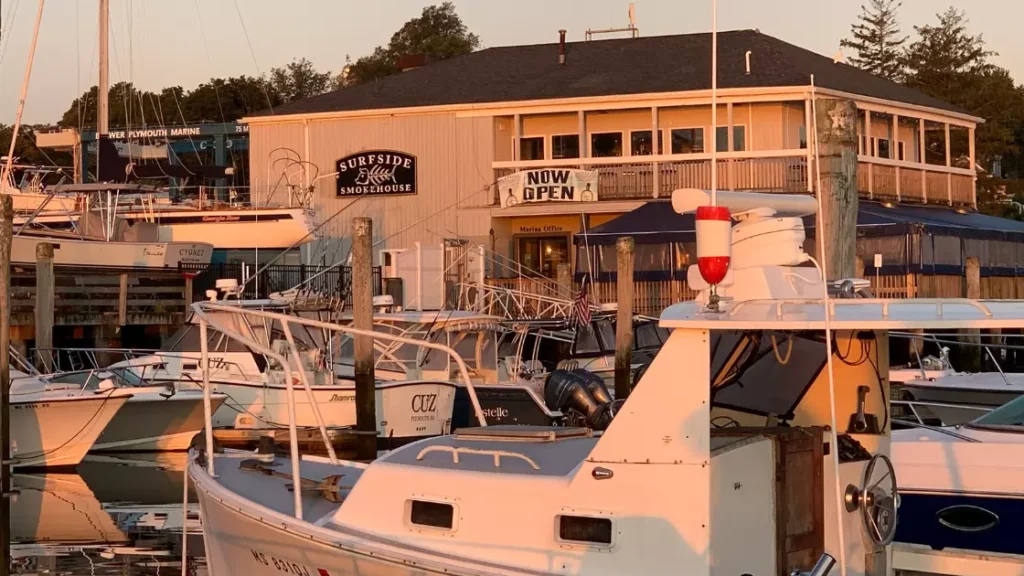 Another great waterfront restaurant is the Surfside Smokehouse. They offer freshly caught seafood and bbq dishes in a casual dining space. This place is a good place to eat if you want to experience the serenity of the seaside. It's also a good destination for an exciting dining experience.
You'd experience seafood and grills prepared the New Zealand way. Their menu ranges from the raw bar, appetizers, soups, salads, entrees, and desserts is a handful of authentic dishes prepared with fresh ingredients. You can enjoy your meal with a delicious cocktail or a draft beer.
You can also ask for your dish to be paired with a glass of wine, and you will be offered a fitting wine. Whenever you want to enjoy traditional southern and New Zealand seafood, think Surfside Smokehouse.
Address: 14 Union St, Plymouth, MA 02360, United States
You would also love to check out the best restaurants in Qatar, Novi Michigan, findlay Ohio and bloomington illinois
#4. The Tasty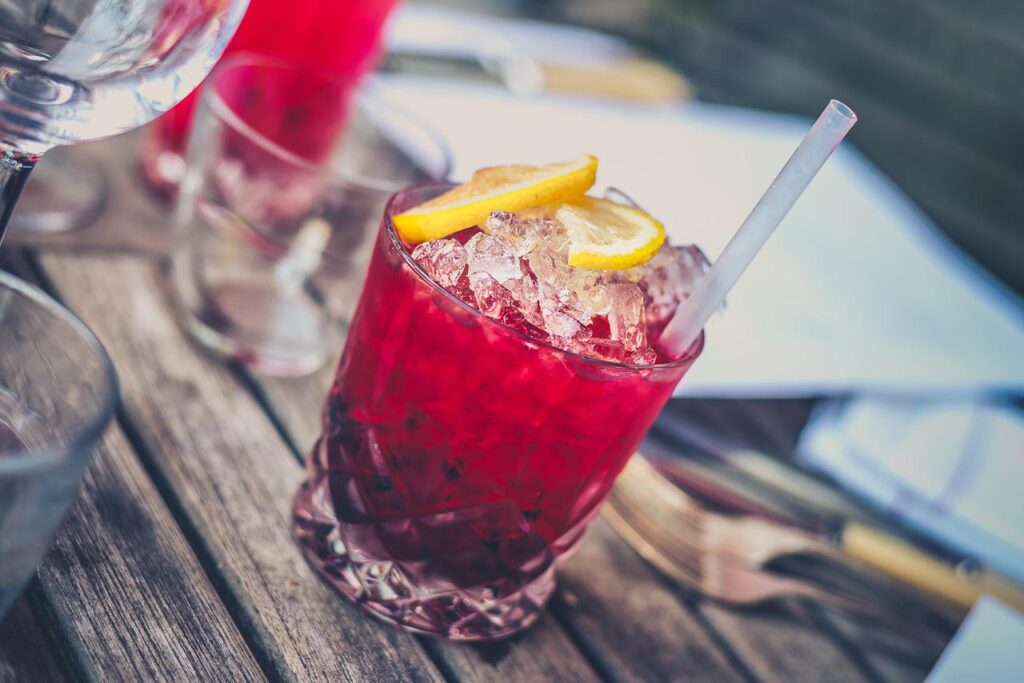 Next on our list is The Tasty restaurant. This restaurant is an upscale gastro pub known for offering varieties of flavours. The Tasty restaurant features a creatively designed dining space with a classy atmosphere and friendly environment.
This eatery is a neighbourhood favourite and lives up to the praise, serving authentic and well-crafted global favourites and seasonal New England dishes. Their dishes are prepared with locally-sourced farm produce and cooked to perfection.
You are offered a classic cocktail, wine, and beer selection to complement the great food. The service is centred on hospitality and ensuring the satisfaction of customers. You'd feel welcomed here, so you can relax and enjoy your meal.
Address: 42 Court St, Plymouth, MA 02360, United States
#5. Mallabar Brasserie
Mallabar Brasserie is a modern French restaurant in Plymouth, MA, that features fine dining, contemporary French food, classic cocktails, and wine selection. Mallabar Brasserie is a classy restaurant with impressive culinary service.
They have high-quality steak dishes, seafood, salads, seasonal entrees, and lots more. They offer an impressive wine list, including local and international selections, delicious cocktails, bloody Marys, garden parties, and pear. In addition to quality food, Mallabar Brasserie offers quality service.
The staffs are super friendly and attentive, and their table service is impressive. You should try out the dishes in Mallabar Brasserie; their food is to die for!
Address: 15 Main St Ext, Plymouth, MA 02360, United States
#6. Cork + Table Kitchen and Bar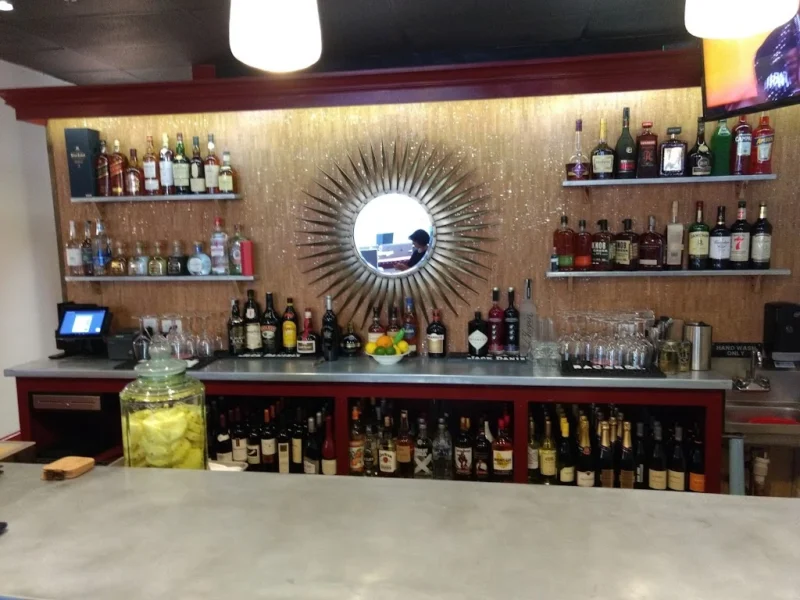 Explore the flavours of American cuisines in Cork + Table Kitchen and bar. This eatery serves delicious American cuisines with a Southern flair.
This eatery features bistro-like dining with a lively atmosphere. The place is highly recommended by the locals and has an impressive 4.8 rating on Google.
They do not just have a good rating but are really good. Their menu features authentic contemporary American dishes such as shrimps & grits, fried chicken, grilled oysters, burgers, sandwiches, and desserts. Cork + Table Kitchen and bar features a full bar where they serve wines, cocktails, and beer.
They offer over 90 different wines with wine and glass options, a unique selection of craft cocktails, and varieties of beer.
Address: 23 Court St, Plymouth, MA 02360, United States
You may also check out related post in the united states on the best restaurants in Cullman Alabama, Mandalay Bay, and Quincy MA.
#7. Leena's Kitchen
Leena's Kitchen is one of Plymouth's favourite Italian restaurants that serves modern Italian cuisines prepared in traditional Italian style. They feature stylish casual dining and a classy atmosphere.
Their menu covers pasta, snacks, salads, vegetable bowls, meat dishes, fish dishes, pizza, and dessert. You are offered many options, so you can easily find a meal that will satisfy your cravings. More options include wine, cocktails, and beer.
You'd enjoy their craft cocktails, and their wine selection will impress you. Your perfect dining is never complete without poor service, but yours will be complete, as Leena's kitchen offers quality service, friendly staff, and a healthy environment.
Other accessible services include vegetarian options, waiter service, a private parking lot, a full bar, free Wi-Fi, takeout options, happy hour specials, and lots more. Leena's Kitchen offers you a taste of Italy, so if you are craving Italian dishes, I'd recommend you dine at Leena.
Address: 63 Long Pond Rd, Plymouth, MA 02360, United States
#8. Dillion's Local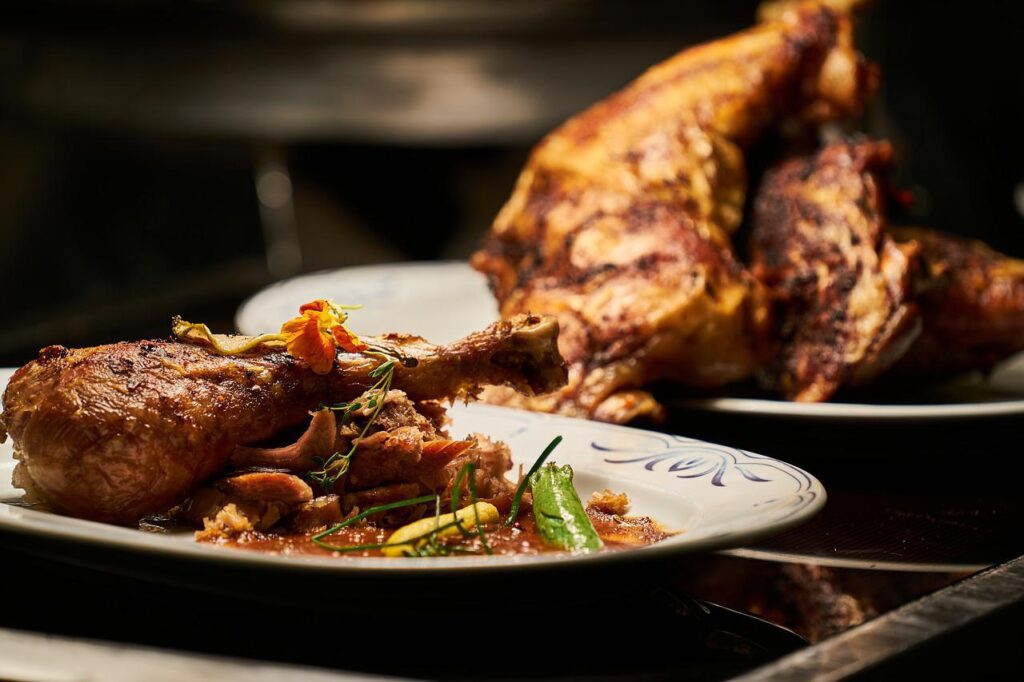 Family restaurants are always the best place to enjoy home-style meals, and Dillion's Local makes a good choice. They offer comfort foods, small bites, small plates, late-night food, and dessert in casual dining seating.
You can come in for lunch, brunch, or dinner anytime; it is a great time to enjoy their international-inspired dishes ranging from steak, pie, pizza, chicken wings, vegetables, burgers, seafood, sandwiches, and salads to soup.
You can start with your favourite dishes such as clam chowder, Guinness fish & chips, cheese pizza, shepherd pie, and lettuce wraps, among the many dishes they offer. While enjoying our meal, you could wash it down with a delicious cocktail, fine wine, or a craft beer- all available at the bar.
The place is organized, and their customer service is great. There's limited seating in Dillion's Local, and they do not take reservations, but you can call ahead of time, especially if you are coming for dinner.
Address: 21 S Park Ave, Plymouth, MA 02360, United States
#9. Kogi Bar and Grill
Discover delicious Korean stews & dishes plus sushi and cocktails in the Kogi bar and grill. They serve freshly cooked dishes in traditional Korean style with locally sauced ingredients.
They serve ramen, including spicy ramen, sushi, seafood, kimbap, Korean burritos, bulgogi, pork belly, tuna, salmon, seaweed salad, and lots more. The popular dishes include cucumber kimchi, sashimi sampler, bulgogi, bibimbap, fried pork dumplings, and miso soup.
Kogi Bar and Grill feature a well-designed and attractive dining room with a lively atmosphere. They offer the best kinds of grill and are a really good place to enjoy spicy food.
The place has a full bar, offers trendy dining seating, outdoor seating, takeout, waiter service, catering, vegan options, catering service, TV, free Wi-Fi, and accepts reservations. You need to visit Kogi Bar and Grill; their incredible food and drinks!
Address: 8 Court St, Plymouth, MA 02360, United States
#10. The Mea Thai Cuisine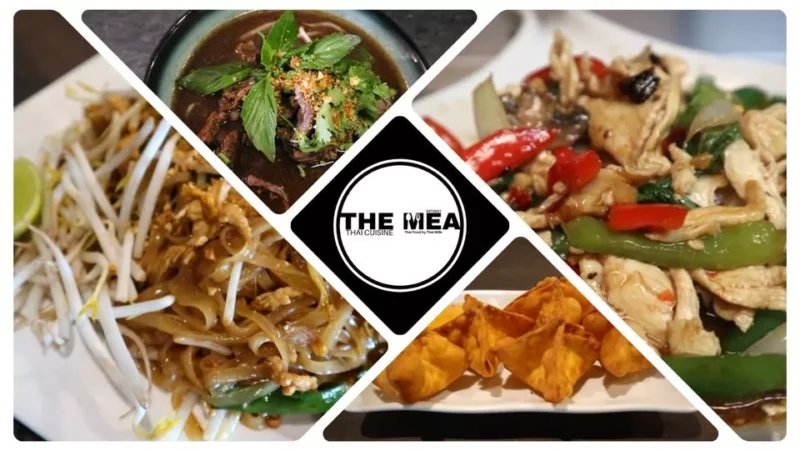 If you are craving Thai cuisines, then The Mean Thai Cuisine is the perfect restaurant in Plymouth. They serve authentic Thai cuisines plus cocktails, wine, and beer in a casual dining setting.
Their menu includes a handful of palatable dishes ranging from appetizers to noodle soups, fried rice, soups, Thai curry, noodle stir-fries, E-saan dishes, seafood, and Thai-stir fried and desserts.
They offer wide options, all you have to do is pit the taste that suits your taste and cravings and enjoy. For drinks, they serve Thai iced tea, Thai iced coffee, green tea, hot tea, and soda.
Their dining options include dine-in, takeout, and delivery. The Mea Thai Cuisine is open to all, and you can come with friends, family, or alone to enjoy classic Thai dishes.
Address: 60 Court St, Plymouth, MA 02360, United States
Enjoy your meal in Plymouth, Massachusetts
Restaurants in Plymouth offer great culinary service and intriguing sights. There are so many flavours, new and old, to try out. You can start with our list, and you'd surely enjoy your dining experience.
Do well to visit the official sites of your preferred restaurant to get more information on reservation plans, prizes, and days of activities.
Kindly give us feedback on your dining experience in Plymouth, MA and if your favourite restaurant is not on our list, do well to let us know in the comment section, and we will consider adding it to our list. Do have a great meal.
Disclaimer: Vasttourist always strives for content accuracy. Since the time of publishing, travel-related information regarding pricing, schedules, and hours may have changed. Please see individual websites embedded in this post for the most current trip-planning information.

Unless otherwise stated, Vasttourist does not claim ownership of any images used on our blog site. The respectful owners of all visual content have copyright protection. We try to include links to the sources. If any images are your property and you do not want them to appear on our blog, don't hesitate to contact us; we will take them down immediately. We support properly crediting the original writer, artist, or photographer.