Top 17 Best Restaurants in Fayetteville NC (North Carolina)
Choosing the best places to eat in Fayetteville, North Carolina, can be tricky. The city has about 100 restaurants, but that's not the whole story. If you're looking for the best restaurants in Fayetteville, North Carolina, you've come to the right place! Locals love this city and its amazing restaurants.
Fayetteville, North Carolina, has a lot to offer visitors, from the natural beauty of Fort Bragg to the country charm of rural Cumberland County. Outstanding and unusual dishes are perhaps not the first thing that springs to mind when thinking of this modest sanctuary.
At first appearance, it's simple to believe that you'll be forced to indulge in meals from strip malls or chain restaurants to sate your appetites.
Whether you're looking for an upscale dining experience or want something to eat that won't cost too much, we can help you out! Here are a couple of Fayetteville's top eateries to help you plan your trip, especially if you're a foodie!
What are the best restaurants in Fayetteville NC?
#1. Antonella's Italian Ristorante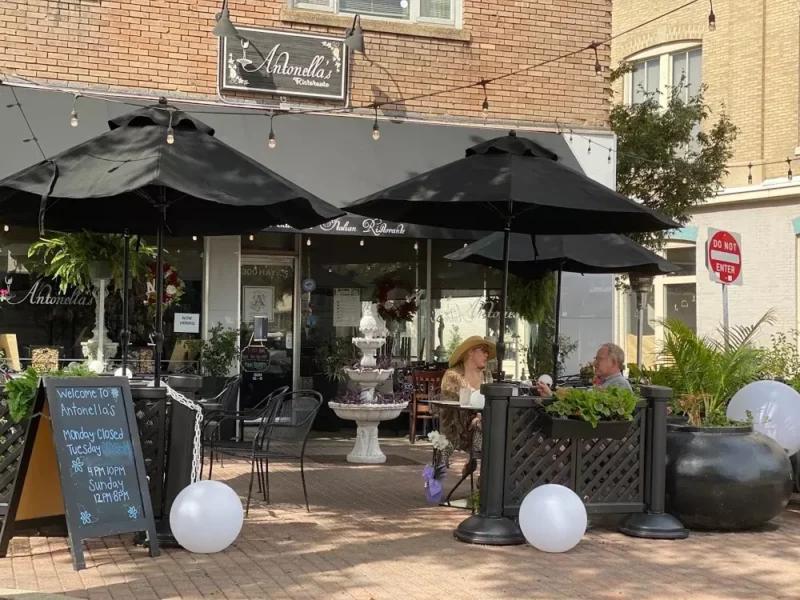 This is, by far, Fayetteville's best restaurant. There are several different types of classic dishes available here. Any locally made portions of pasta are guaranteed to delight, but the Fried Meatball Ravioli and the Frutti del Mare are two very popular options.
This restaurant promotes gourmet dining in Fayetteville in an elegant but relaxed style with its black canopy and patio umbrellas outdoors.
Its dazzling ceiling and light brick walls allow you to sit inside and still feel luxurious.
For your appetizer, consider the Baked Lasagna Dip, and for your main course, the Chicken Taormina with sauteed spinach and parmesan garlic fries is unquestionably a treat.
Address: 300 Hay St, Fayetteville, NC 28301, United States
#2. MaryBill's Cafe And Elbow Room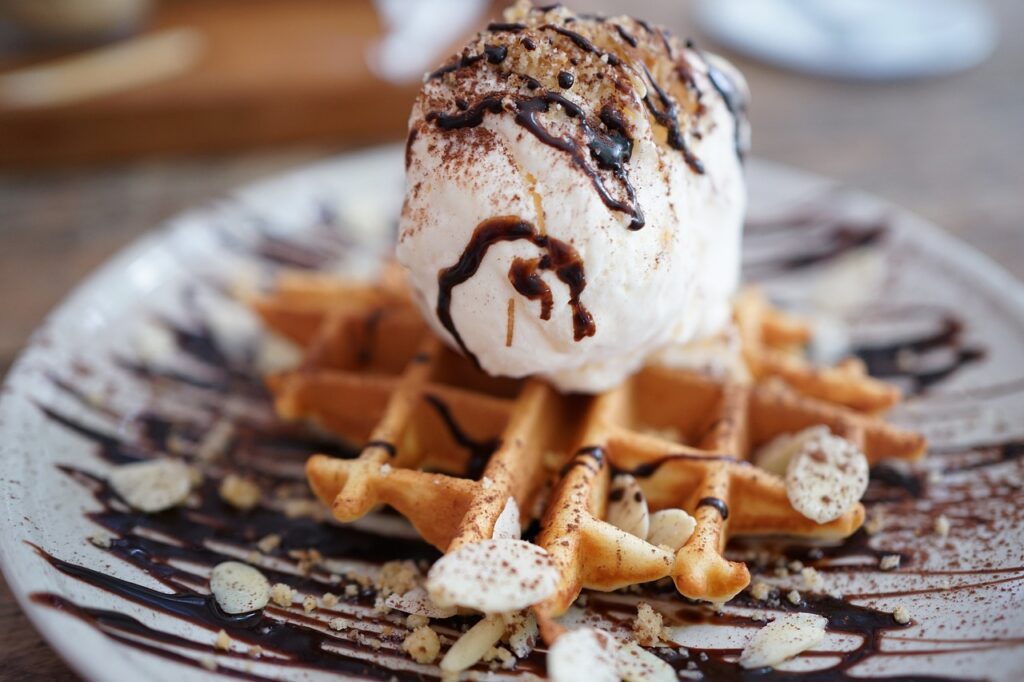 MaryBills Cafe & Elbow Room is an easy-going family-owned cafe in Eutaw Village that offers classic American fare. 
We can tell from the name that it will be an amazing place with a welcoming neighborhood atmosphere that makes American meals so much fun. It's a popular spot for locals and tourists, so you might need to be ready for a brief weekend wait.
You'll find all the standard fare on the menu, including omelets, waffles, and breakfast burritos. If you see a slice of cake left, definitely get it because they create fresh sweets every day and frequently run out. Fayetteville is a haven for Southern hospitality.
It's one of the best restaurants in Fayetteville, NC, for breakfast and lunch because of its homey atmosphere.
Address: 801 Elm St, Fayetteville, NC 28303, United States
#3. Luigi's Italian Chophouse and Bar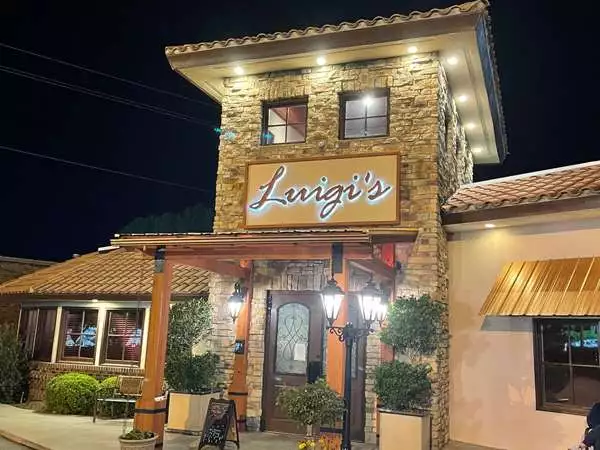 Luigi's Italian Chophouse and Bar is an Italian restaurant founded in 1982, the eatery is renowned for its welcoming ambiance and wide range of wine options.
The restaurant's cozy atmosphere, complemented by a large brick fireplace, gives it a rural cottage feel. The place also sets the right tone for a romantic date or a family night.
The best meal to eat in this restaurant is the Zucchini Fritti for your starter and the Veal Chop Formaggio with a baked potato.
Address: 528 N McPherson Church Rd, Fayetteville, NC 28303, United States
#4. Mash House Brewery & Restaurant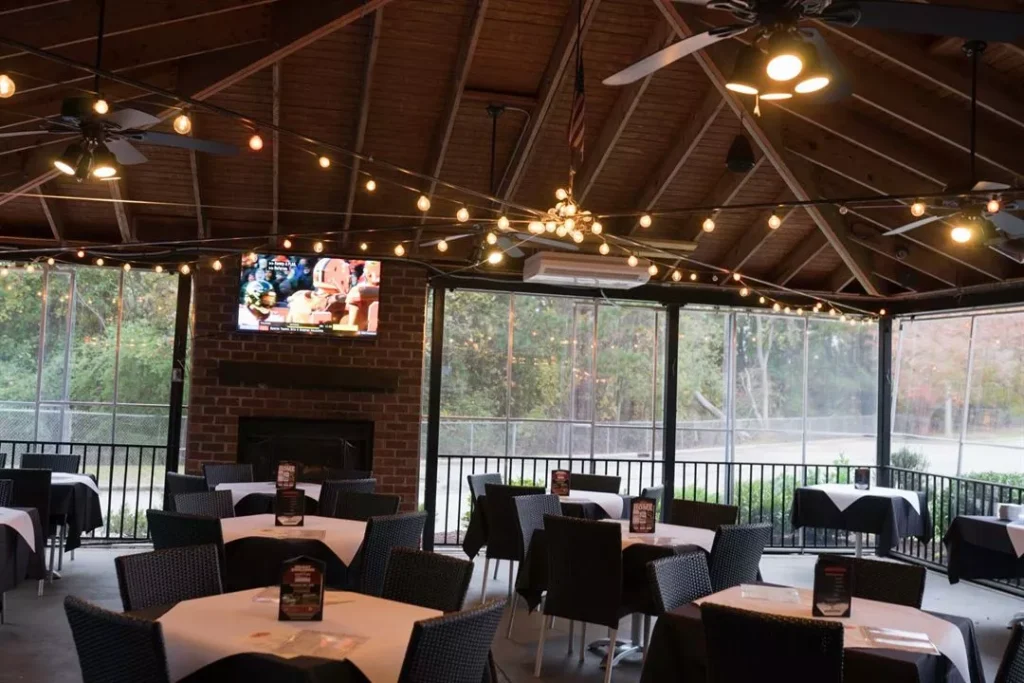 One of the best neighborhood restaurants in Fayetteville is this one in particular. It is well known for its craft beer and bar food.
Because of its stunning aesthetic and beautiful design, you won't even believe you're at a neighborhood bar.
If this is your first visit, consider ordering the Beer Queso or Mash House Pretzels. Or go for the tasty and straightforward Ghost Burger with Onion Rings for dinner.
Another substantial dish to choose from if you want something to sate your appetite is the jambalaya "Our Way." You don't need to miss out!
Address: 4150 Sycamore Dairy Rd, Fayetteville, NC 28303, United States
#5. Circa 1800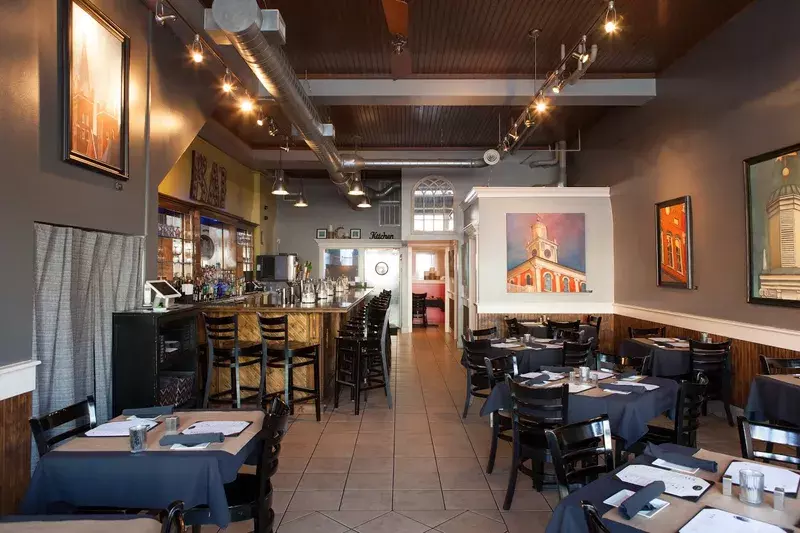 Circa 1800 is a modern Southern American eatery downtown that specializes in steak and wine.
This restaurant's cozy environment, enhanced by its art-filled walls, upscale bar, and elegantly served entrees, makes it a top pick among the best restaurants in the area.
One of their finest dishes is a bowl of the House Soup (tomato-based) and a plate of grilled filet tips.
Address: 108 Person St, Fayetteville, NC 28301, United States
Planning a road trip to Carolina? You might also want to check out the best restaurants in FLORENCE (South Carolina), Bangor Maine, Gainesville Florida, and Athens Ohio.
#6. Blue Moon Cafe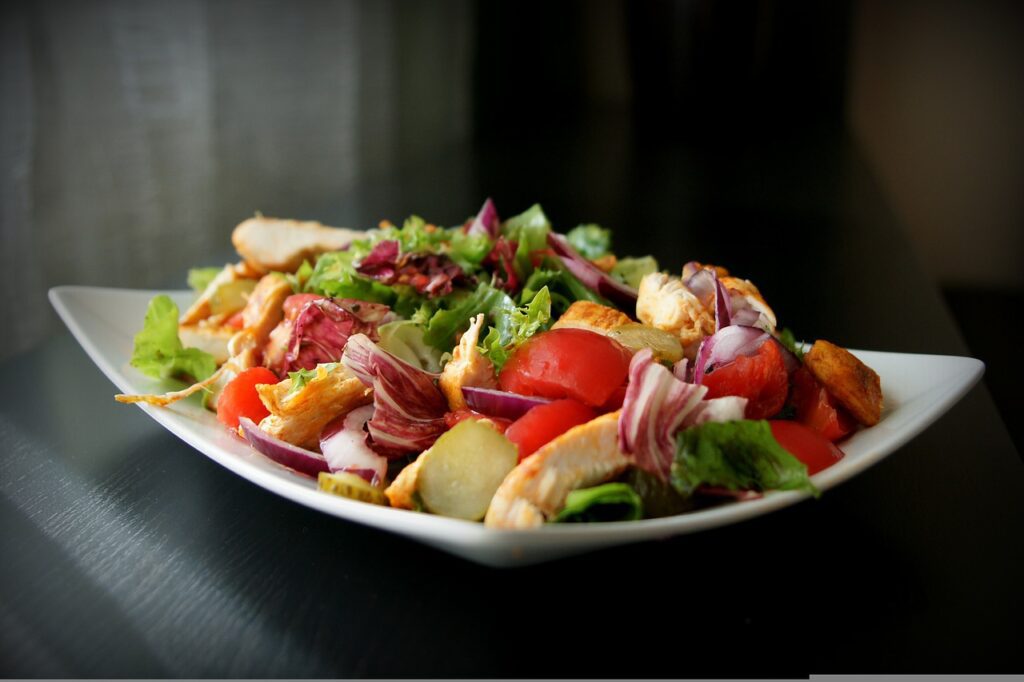 For more than ten years, downtown Fayetteville has been home to the trendy Blue Moon Cafe. Small tapas were initially available on the menu, which has now grown to include a variety of delicious and healthful dishes.
This place has a lot of art and music, which fosters a sense of community and appreciation.
The decor is modern and laid-back, and the patio is a lovely place to relax and enjoy a meal. Various drinks are available, including specialty coffees, sparkling roses, and local craft brews.
Address: 310 Hay St, Fayetteville, NC 28301, United States
#7. Bubba's 33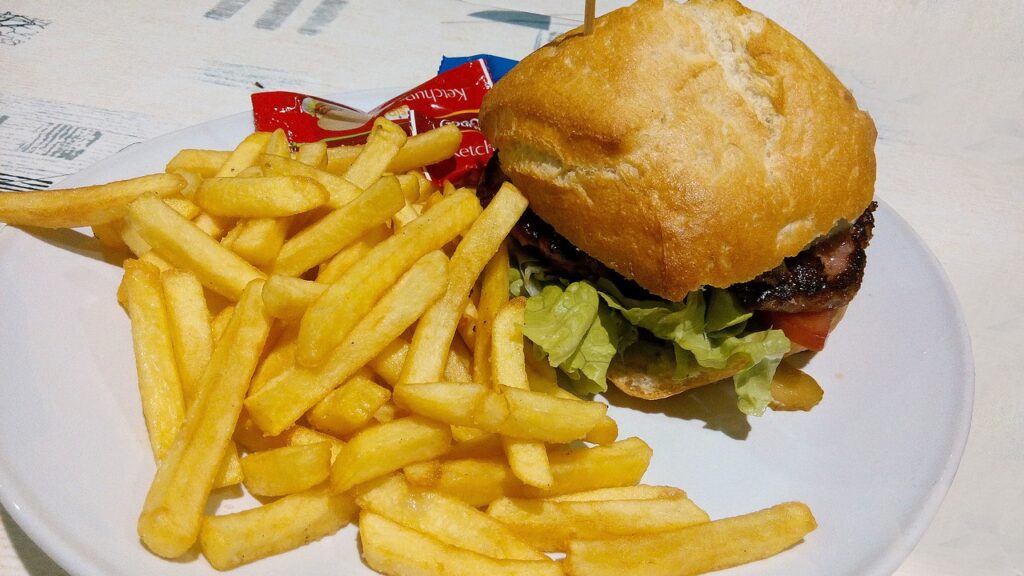 Bubba's 33 is a casual American restaurant that offers pizza, burgers, and beer in Westwood Shopping Center.
This restaurant is popular with locals for several reasons, including the well-stocked bar, the sign's bright lighting, and the comfortable booth tables.
Its laid-back atmosphere and comforting fare are ideal for hungry diners looking for some laid-back restaurants.
Make the Signature Ribeye or Chicken & Bacon Mac & Cheese your main course.
Address: 500 Westwood Shopping Center, Fayetteville, NC 28314, United States
#8. Texas Roadhouse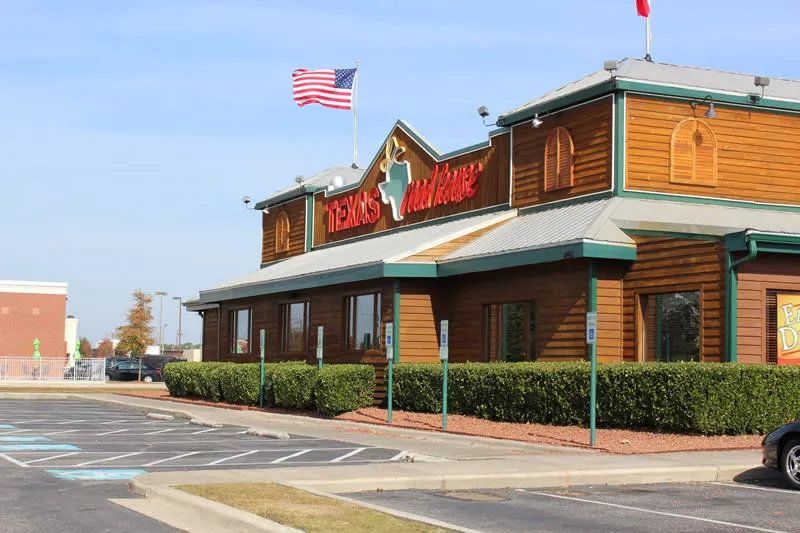 Texas Roadhouse is a popular steakhouse restaurant in the Southwest, distinguished by its Texas-themed interior design.
If you're a barbecue lover searching for a restaurant in Fayetteville, go no further than this well-known chain.
Its Texan furnishings and traditional barbeque seasonings will make you feel right at home. Use boneless buffalo wings as your appetizer to keep things simple.
The Smokehouse Burger with a side of house salad can also be used to fill you up.
Address: 4195 Sycamore Dairy Rd, Fayetteville, NC 28303, United States
#9. 316 Oyster Bar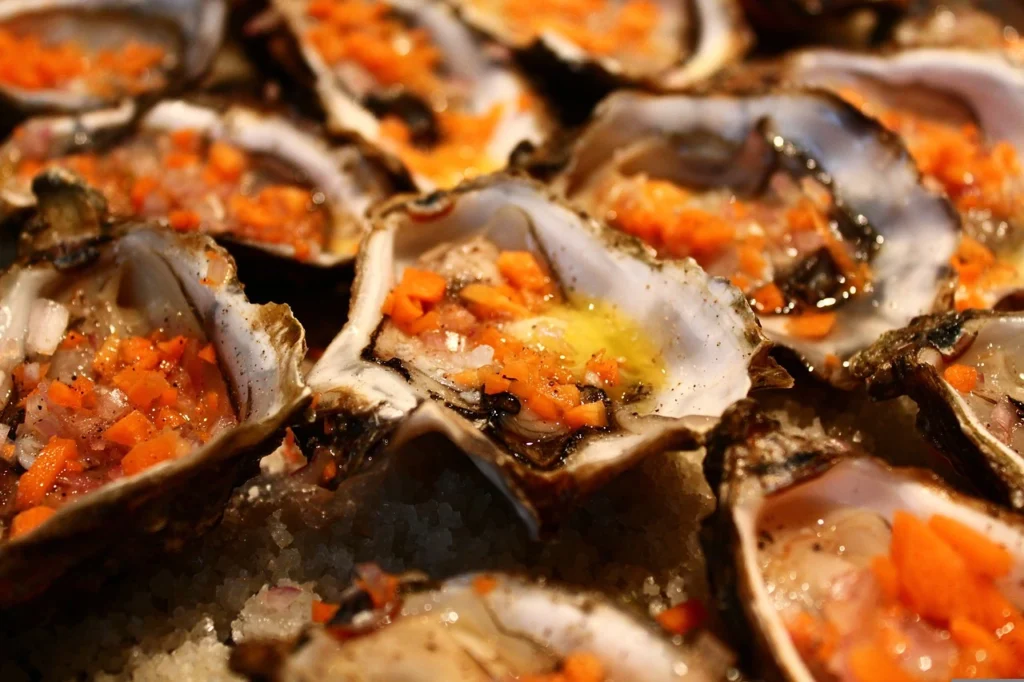 316 Oyster Bar is also one of the fast food restaurants in Fayetteville, NC, known for its seafood cuisine and grill. The place is also known for its oyster dishes and brightly lit bar.
The restaurant provides a pleasant and joyful atmosphere that will make you feel like you're partying as you eat.
If you are a true seafood fan, it serves some of the best meals in Fayetteville, so make sure to check it out on your next visit.
The Snow Crab Legs or the Parmesan Roasted Oysters are delicious options for seafood enthusiasts. You can also order a plate of the Filet Mignon & Lobster Tail so that you may enjoy the best of both worlds.
Address: 316 Owen Dr, Fayetteville, NC 28304, United States
You can also check out this culineries in the United States, you don't want to miss out the best restaurants in Evanston (Illinois), Jefferson City (Missouri), Minocqua Wisconsin, and Lake Jackson (Texas).
#10. The Fried Turkey Sandwich Shop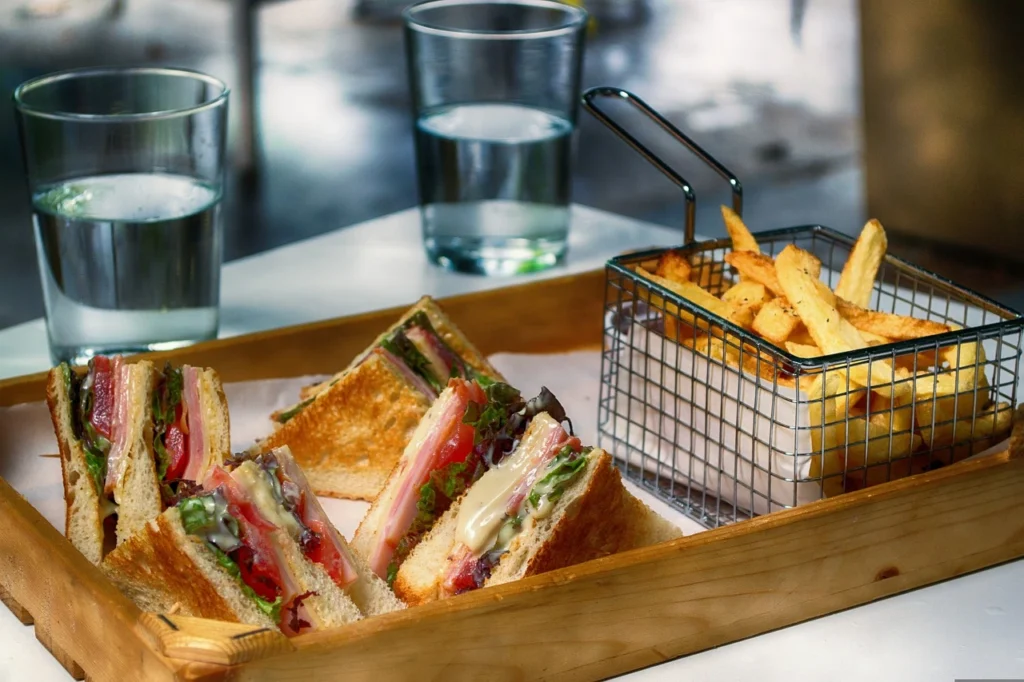 This is another amazing restaurant in the city. The Fried Turkey Sandwich Shop is a local sandwich chain in downtown Fayetteville.
This deli is one of the most well-liked places to try if you're looking for straightforward meals in Fayetteville that will make you feel at home.
Although the establishment's exterior and interior are modestly furnished, its broad sandwich menu will delight any eater.
Their Turkey Day Sandwich with a side of fries is a must try. Add this to your list of places you need to visit.
Address: 2318 Paintersmill Dr, Fayetteville, NC 28304, United States
#11. Mi Casita Hope Mills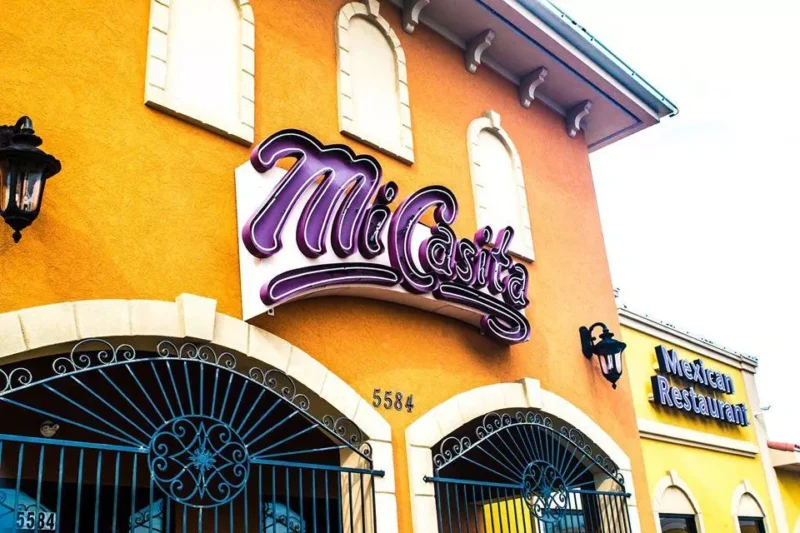 Mi Casita Hope Mills is a casual Mexican restaurant specializing in burritos, tacos, steaks, seafood, & drinks.
The eatery is beautified with colorful walls and decor, and its delicious Mexican dishes are why it's one of the best breakfasts in Fayetteville.
You won't just fill your tummy with delicious food while dining here, you'll also have a great time and feel like you're in a fiesta.
Get the El Combo, which includes an enchilada, taco, burrito, chalupa, and chile Relleno, to make the most of your trip.
Address: 5584 Camden Rd, Fayetteville, NC 28306, United States
#12. Pharaohs Legacy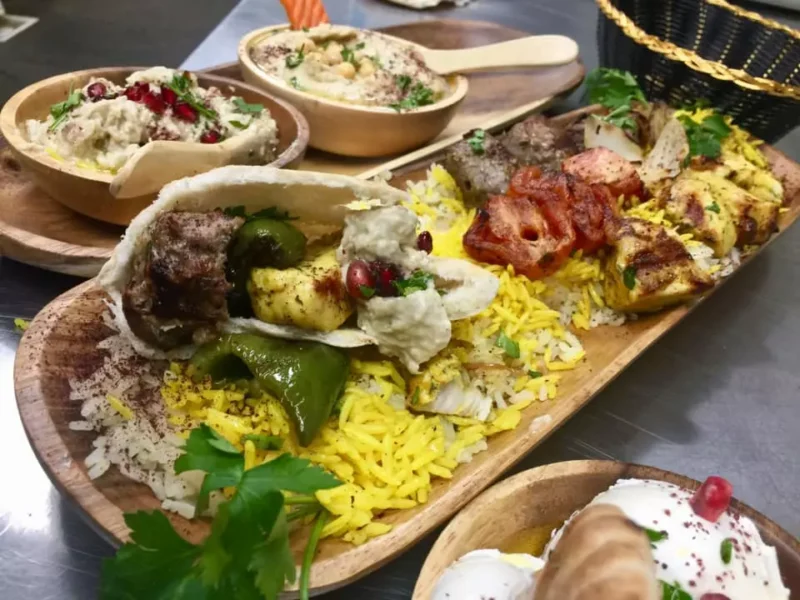 This is a family-owned Mediterranean restaurant and bar in Traemoor Village. It's undoubtedly one of the best places to eat in Fayetteville, especially if you prefer eating more special flavors.
You can choose between the Lamb Gyro or Falafel Gyro Platter with a side of Tabbouleh salad. And for your appetizer, pita bread served with Tzatziki sauce is a good choice.
Delicious Mediterranean spreads on wooden platters only improve this restaurant's dining experience.
3010 Traemoor Village Dr Suite 100, Fayetteville, NC 28306, United States
You may also want to check out Best Restaurants in Little Rock Arkansas, Best Restaurants in Hurricane Utah, and Best Restaurants in Albrightsville PA.
#13. Mission BBQ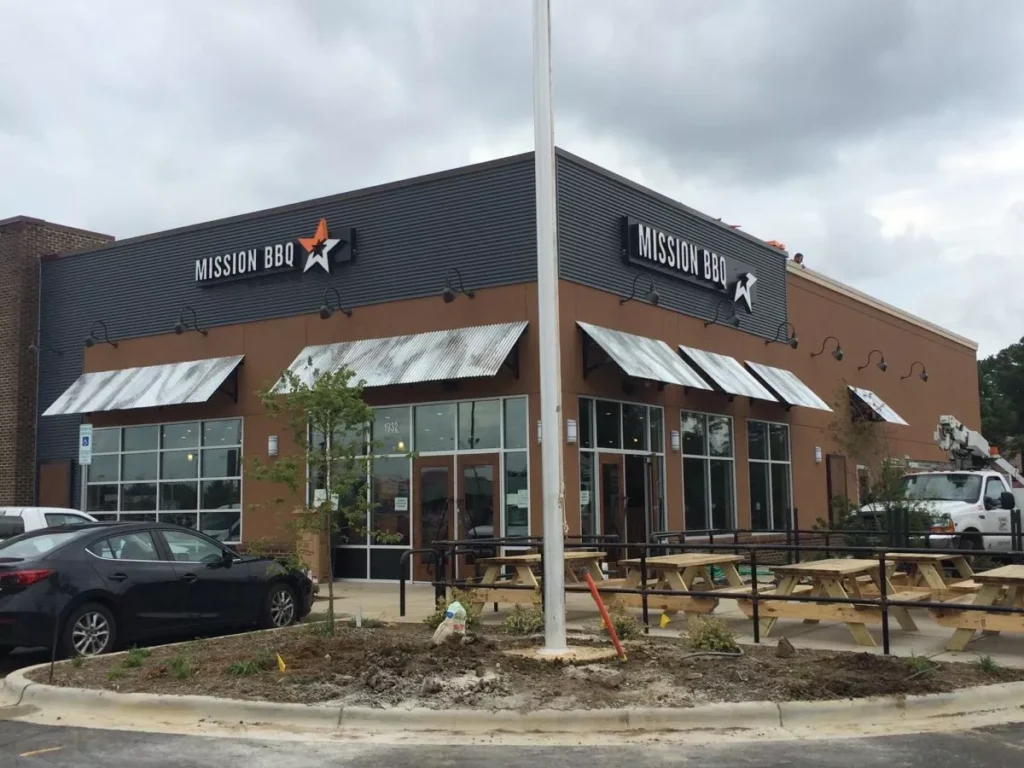 MISSION BBQ is a laid-back barbecue restaurant serving delicious American BBQ dishes and is also popular for its soldier and first responder memorabilia.
Despite having a simple exterior, this restaurant is among the coolest and best in Fayetteville, thanks to its memorabilia-filled interior and traditional barbecue fare. Indeed, serving brisket, biscuits, and mac & cheese in a basket with a paper lid is the epitome of tradition.
With the Meat Sampler, which includes brisket, pulled pork, turkey, chicken, and sausage, you can sample the restaurant's barbecue. You can also accompany it with sides like cold slaw, baked beans, and Maggie's Mac-N-Cheese.
Address: 1932 Skibo Rd, Fayetteville, NC 28314, United States
#14. The Sweet Palette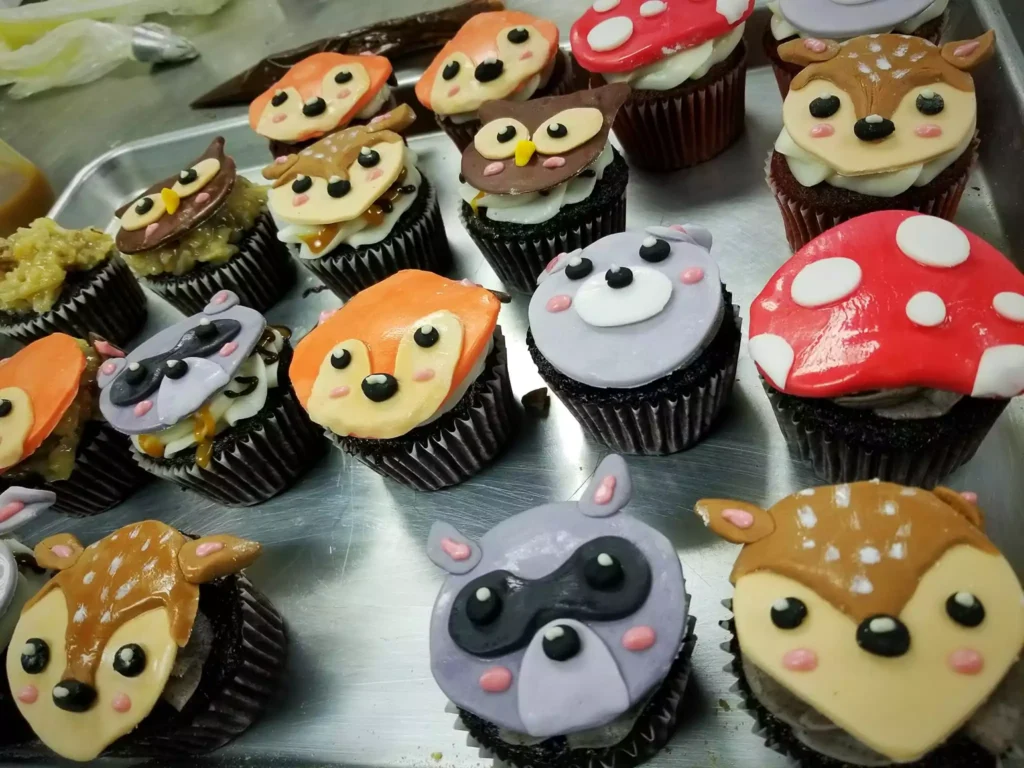 Where are my cake and pastry lovers? This restaurant is just for you! The Sweet Palette is a local bakery known for its downtown cakes and cupcakes.
Because of its comfy chairs and extensive selection of pastries, this bakery is popular among nearby restaurants if you have a sweet tooth. It's relaxing to spend the day here eating cupcakes and drinking coffee.
Purchase a variety of cupcakes to sample, such as the Banana Pudding with German Frosting for a unique flavor and the Turtle with Nutella for a more traditional flavor.
Address: 101 Person St, Fayetteville, NC 28301, United States
#15. Huske Hardware House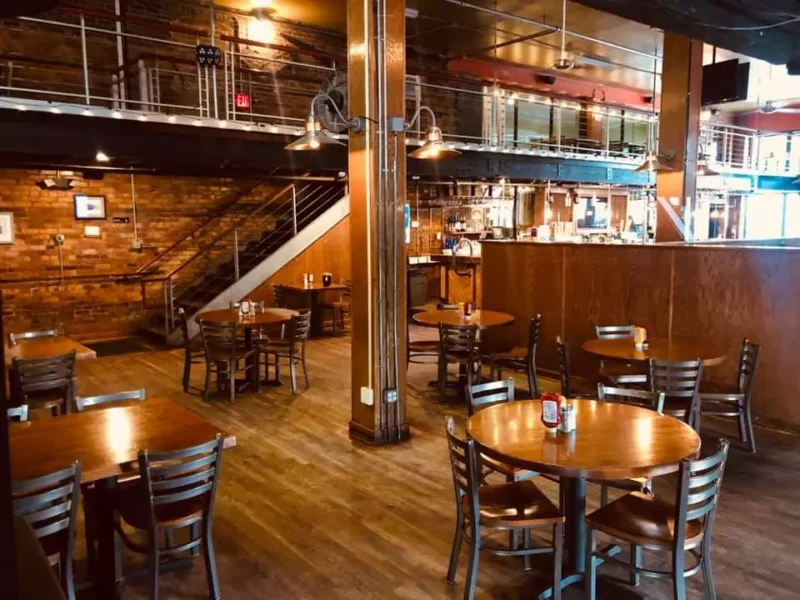 Last but not least is Huske. This is the oldest brewpub in Fayetteville, which serves a British-style pub fare. It is housed in a renovated hardware store structure that has been a mainstay of the city for more than a century.
It's a fantastic Fayetteville restaurant and brewery dedicated to producing excellent craft beer and delectable comfort cuisine to go with it. Warm and rural is the ambiance.
There are many alternatives on the menu, fish, and chips inclusive. They also sell half-pound beef burgers and thick-cut ribeye steaks.
The most popular choices are the poutine and the fried green tomatoes. You should check it out.
Address: 405 Hay St, Fayetteville, NC 28301, United States
#16. Pierrot's Italian Bistro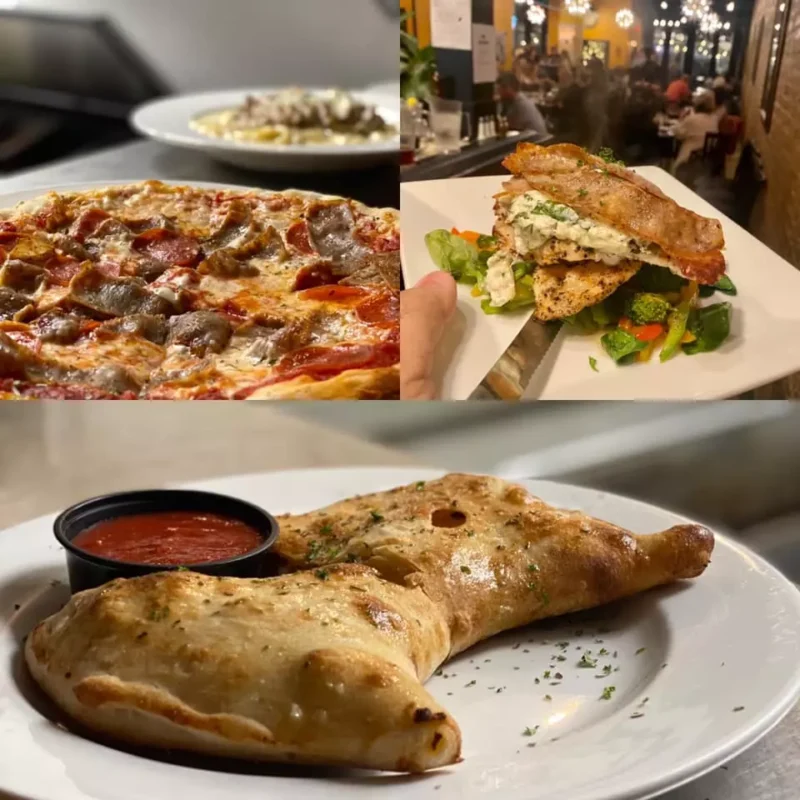 Pierrot's Italian Bistro is a family restaurant in midtown Fayetteville.
A city jewel, this restaurant highlights uncovered block facades and antique hardwoods, all of which make an enjoyable environment.
You can partake in an extraordinary determination of wines, and this place's food, beverages, and air are noteworthy.
Dishes at this comfortable restaurant incorporate servings of mixed greens, stone-prepared pizzas, pasta dishes, and treats.
Address: 217 Hay St, Fayetteville, NC 28301, United States
#17.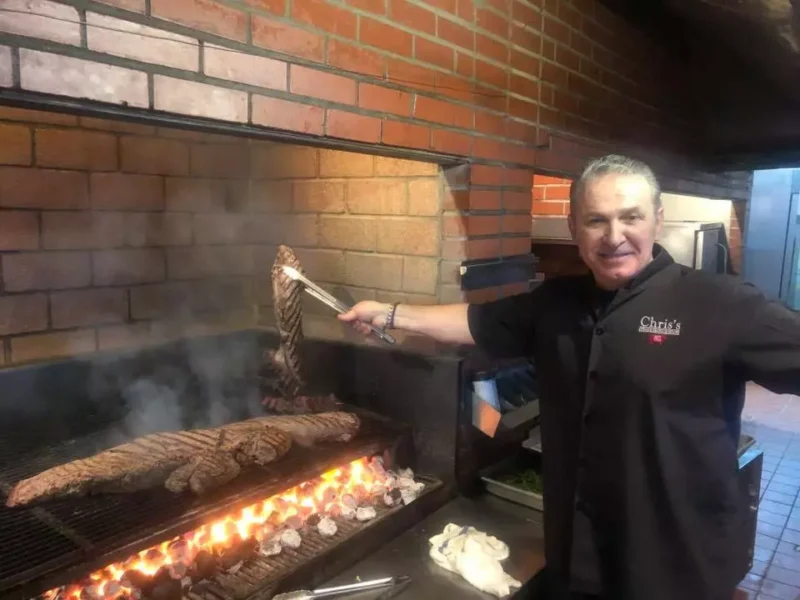 Chris Poulus has controlled Chris' Steak and Fish House for over 50 years. Fayetteville's amazing steakhouse was established in light of one objective: to serve the greatest fish and steaks.
This goal is reflected in the food they serve and the dash of greatness in the assistance advertised. This is the principal justification behind the progress of the restaurant.
The restaurant's menu incorporates new Atlantic seafood, hand-cut Angus hamburger, house-made fortes, and a broad determination of fine wines.
Supper at Chris' Steak and Fish House is open daily until 5:00 p.m. m. Shutting time is at 10:00 p.m., however, on Sundays, it will be at 9:00 p.m.
Address: 2620 Raeford Rd, Fayetteville, NC 28303, United States
Enjoy Your Meal in Fayetteville, North Carolina
Now that you've seen some of Fayetteville, North Carolina's best eateries, it's up to you to decide which one you want to visit first. There is surely something about Antonella's ristorante that makes people want to sing its praises.
Mind you, if you are a pizza lover, I would advise you to avoid the subs, judging from the reviews, pizza is on its best day, a 9/10, but its worst, 6/10, and the wings are really good.
Anyways, there are certain reasons for the restaurants mentioned above made the top ranking. But if you're eager and want to experience things for yourself, visiting each and trying them out won't be a bad idea.