15 Best Restaurants In Erie PA (Pennsylvania)
Have you heard of the stunning American city with a lakefront? It is in Pennsylvania, in Erie. It is among the most beautiful cities in America and one of the top vacation spots for foodies.
The city features every type of restaurant you want, serving anything from Italian to Thai cuisine. In addition to the culinary options, the region also provides a variety of restaurants that will suit your appetite and your budget.
It is the ideal vacation destination for foodies as you discover its many excellent restaurants serving creative pasta dishes, decadent pastries, premium steaks, savory poultry, tasty appetizers, and more.
There is a dinner option for any diet, price range, age of the guests, special occasion, and related criteria.
If you're a food lover looking for a traditional flavor on a budget, head to Erie, Pennsylvania. We've carefully hand-picked the top fifteen best restaurants in Erie, PA, for you to explore when you visit the city.
What are the Best Restaurants In Erie PA (Pennsylvania)?
#1. Lawrence Park Dinor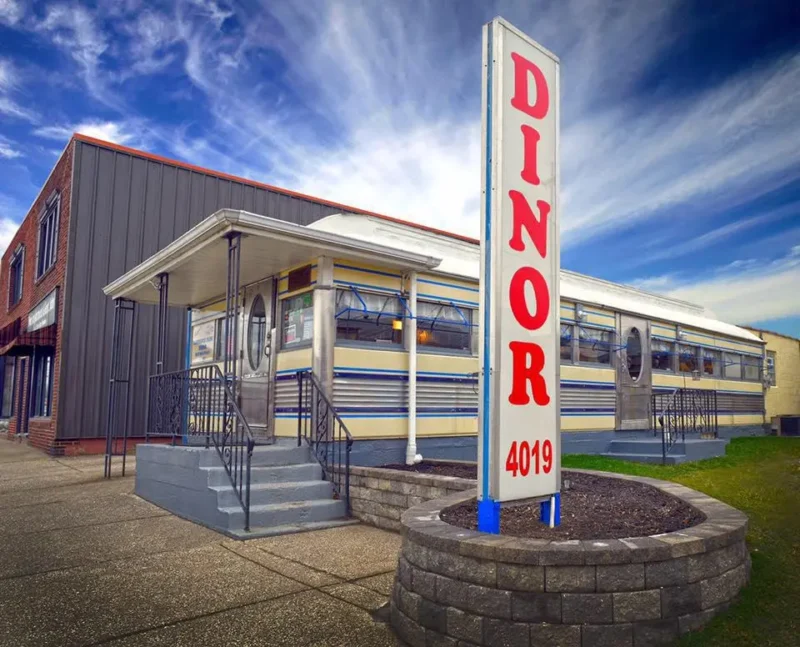 Lawrence Park Dinor is a family-style restaurant located in a historic train car. It was established in 1984. This restaurant provides various breakfast options, attractive furnishings in a relaxed setting, handcrafted pies, hearty soups, and more.
You can order an omelet with American cheese, onions, and crispy fries for breakfast. They should be included, as well as a spiced Greek sauce.
If you are searching for one of the best-rated restaurants in Erie to enjoy a tasty traditional American plate, proceed to Lawrence Park Dinor.
Try a Park Dinor Club triple-decker sandwich. Their cuisine includes toasted bread, lettuce, mayo, tomatoes, ham, bacon, and American.
Address: 4019 Main St, Erie, PA 16511, United States
#2. Lucky Louie's Beer Wieners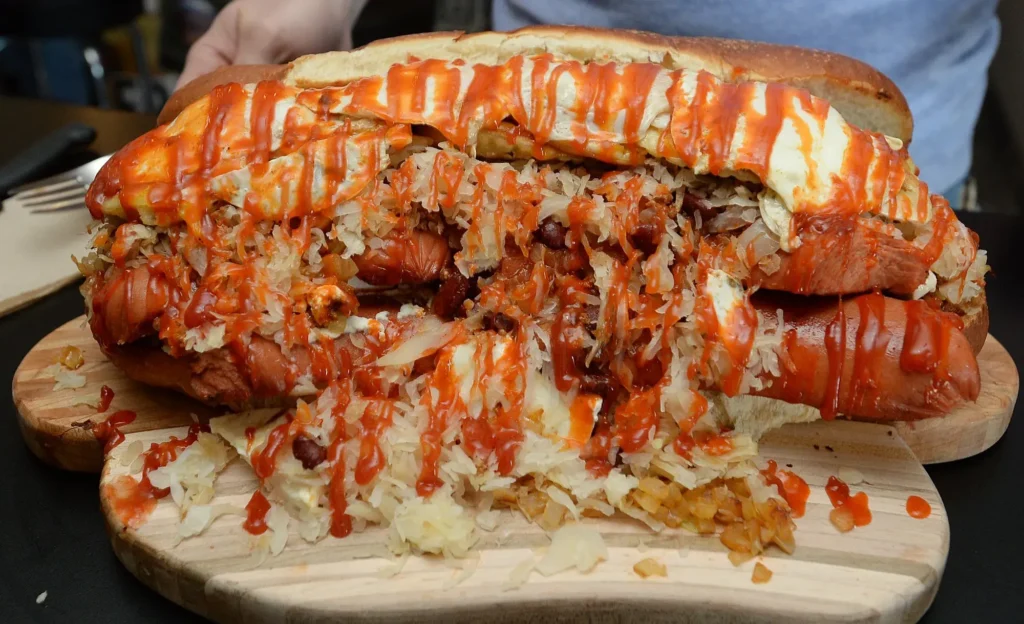 Lucky Louie's beer wieners are one of the stylish informal restaurants to eat with friends or someone special. You may catch up on old times while enjoying great meals and draft beer in this laid-back setting. Order If you want to eat a delicious wiener, it's always sunny.
The Philly steak is grilled and topped with mozzarella, peppers, onions, and a creamy cheese sauce.
I suggest Blazing Saddles if you have a penchant for the daring. It includes grilled pineapple, baked beans, cream cheese, bacon, caramelized brown sugar, Thai chilies, and Sriracha.
Address: 8238 Perry Hwy, Erie, PA 16509, United States
#3. Cloud 9 Wine Bar and Restaurant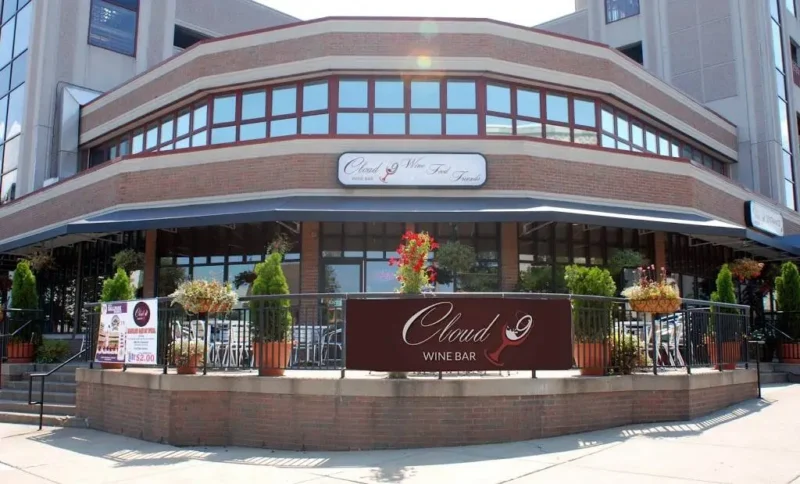 Cloud 9 Wine Bar and Restaurant is one of the most sought-after eateries in Erie, PA, where you can relish delicious food and beer in Erie, PA. This restaurant would offer you a lifetime culinary experience you would never forget in a hurry.
Meet up with your friends for a beer. This restaurant is an excellent option if you want to go on a date or even simply to hang out and want something that tastes so good that you won't be able to put it down. It's among the best dishes you'll ever have at this establishment.
The cum bar at this restaurant is one of the best things you will ever eat.
Address: 25 E 10th St, Erie, PA 16501, United States
#4. Calamari's Squid Row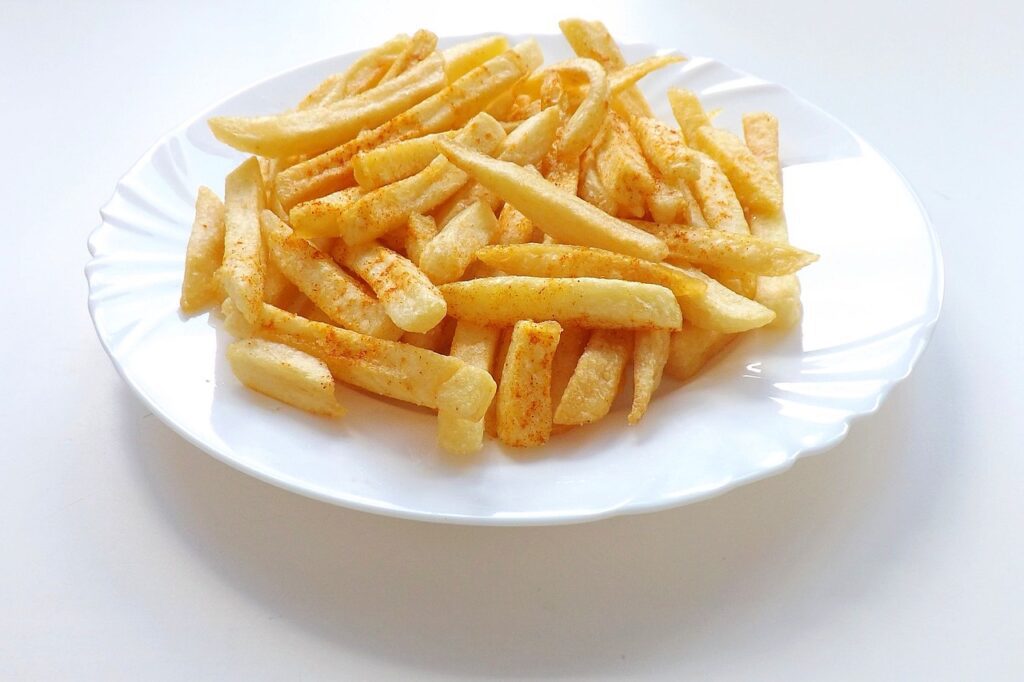 Are you seeking something that is aesthetically stunning? If so, Calamari's Squid Row is the right choice for you. With just one bite, the spinach and artichoke dip will have you saying, "Wow."
If you finish the chocolate caramel dip, you'll be tempted to eat more. because even people who share it won't be able to complete it.
The interior decoration is so skillfully carved that it will make you feel snug and at ease. You should check it out. Also, remember that Calamari Squid Row is one of the best places to eat in Erie, PA.
Address: 1317 State St, Erie, PA 16501, United States
If you are travelling around Pennsylvania? You can also check out the Best Restaurants in Albrightsville Pennsylvania.
#5. Colao's Ristorante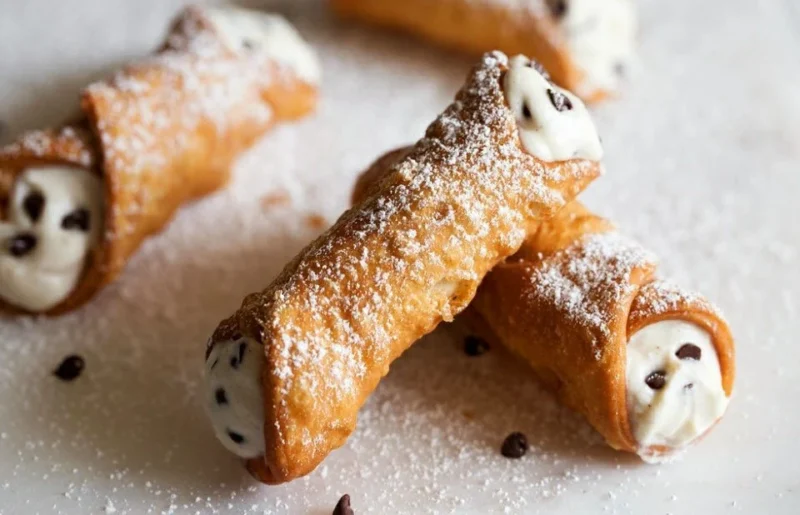 Do you know what makes this restaurant exceptional and different? The American dream is reflected in the design of this restaurant, which is based on Italian cuisine. It's one of the top restaurants in Erie, PA, for a fantastic dining experience.
The restaurant has the most incredible Italian food in the area and serves delicious dishes. The restaurant has a reputation for having pleasant waitpersons that can advise you on the best menu options.
As soon as you enter the restaurant, the exquisite decor will capture your attention.
Address: 2826 Plum St, Erie, PA 16508, United States
#6. Mi Scuzi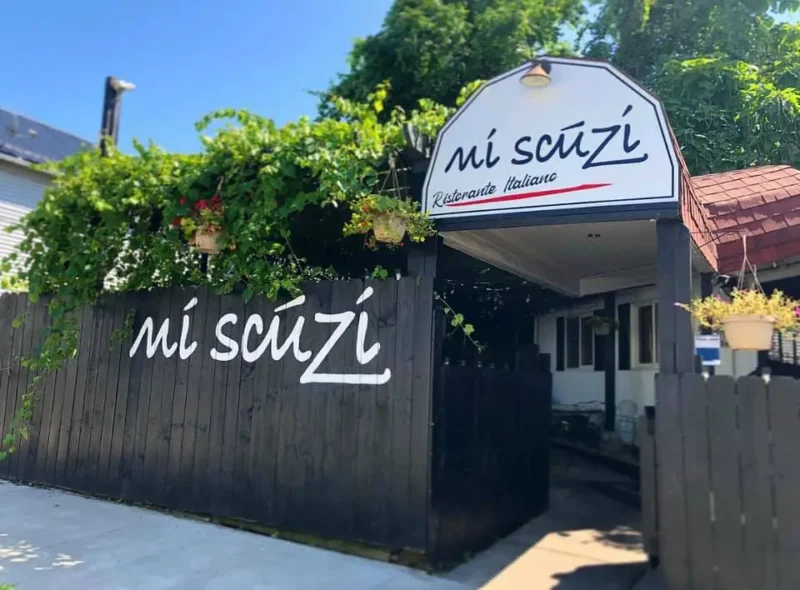 This restaurant is one of the most sought-after for dinner, with its excellent selection of delectable Italian cuisine and premium wines.
It offers indoor and outdoor dining options, friendly service, freshly made pasta, a cozy atmosphere, and a private setting.
The Pollo Alla Vodka is an excellent way to try a household favorite. A vodka sauce, gnocchi stuffed with Asiago, and fresh basil are served with breaded chicken breast.
If you are a lover of seafood-based cuisines, then get the Cioppino. It consists of linguine pasta with tomato and garlic sauce, black Sicilian mussels, littleneck clams, calamari, and shrimp.
Address: 2641 Myrtle St, Erie, PA 16508, United States
#7. Molly Brannigans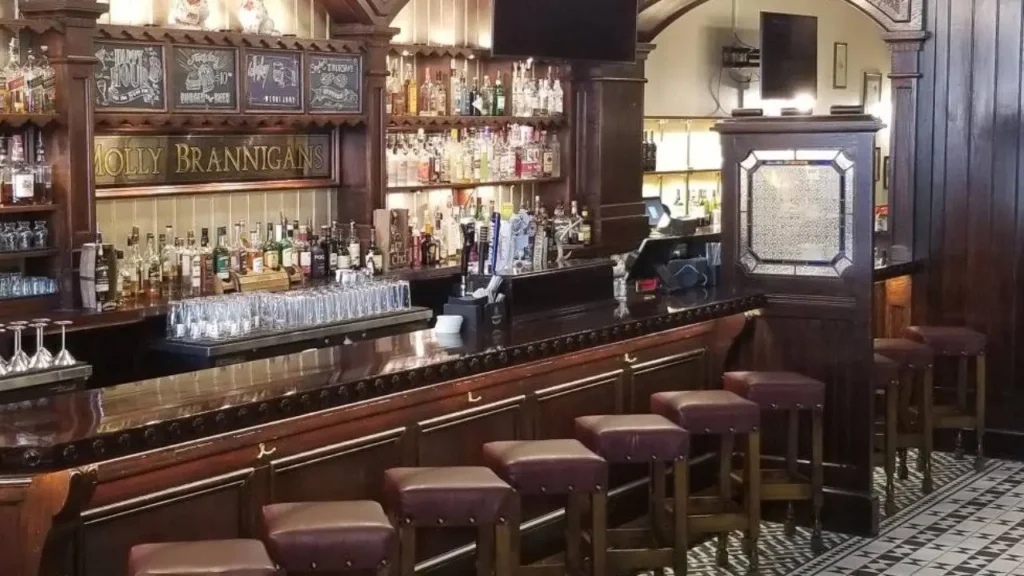 The restaurant exalts Irish cuisine to the core. Are you tired of dining in a place with similar tastes? The same meal each day? Then check out Molly Brannigans.
At first entrance, you would be struck by its Warm and welcoming atmosphere. The hospitality here is unrivaled except only by her cuisine, of course.
Anticipate the delicious homemade Irish fare and a bit of the unexpected, hand-crafted cocktails and fresh lunches.
The restaurants have delicious, unique cuisines that will make you feel at home from the first bite. Aside from their delectable dishes, it would help if you visited to take in a pleasant atmosphere.
In addition to the extraordinarily high-quality food and interior design, you will also have a superb alcoholic concoction. Isn't that fantastic right now?
Address: 506 State St, Erie, PA 16501, United States
Read More:
#8. Pineapple Eddie Southern Bistro
The Pineapple Eddie Southern Bistro is one of the best restaurants in Erie, PA, also known as Eddie's. It was established in July 2011, serving Southern and Caribbean-style cuisine.
Eat at Pineapple Eddie's Southern Bistro, one of the greatest restaurants in the city, to unwind after a day of sightseeing and exploring.
It is a heaven for foodies, with a full-service bar serving magnificent alcoholic concoctions and a variety of delicious daily specials, dinners for every diet, and other delectable offerings.
If you want to make salad your appetizer, try Eddie's Chop Salad. Mixed greens, bacon, red onion, tomatoes, bleu cheese, and cucumbers are a few of the ingredients.
To try a flavorful chicken-based dish, order the Coconut Curry Chicken. It consists of chicken stewed with sweet potatoes, onions, and green peppers in a hearty coconut curry sauce. Steamed rice is provided as a side with it.
Address: 1402 W 10th St, Erie, PA 16502, United States
#9. Bayfront Grille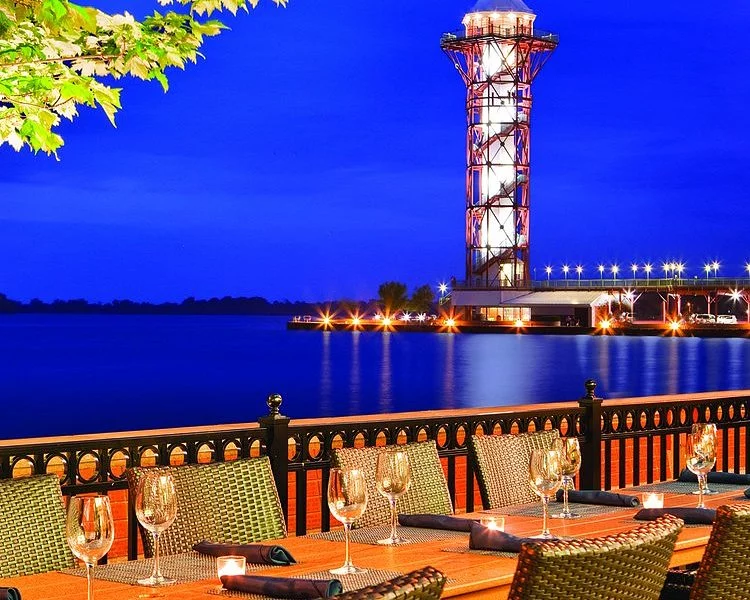 Do you want to spend your special day at the best birthday restaurants in Erie? The Bayfront Grille is my top pick at that point.
It is also the ideal location for great dining in Erie, with an attractive atmosphere, top-notch service, and artistically arranged food made by trained chefs. You may have a delectable vegetarian supper by ordering Cauliflower Fried Rice. It contains carrots, garlic, shallots, red peppers, soy, sweet corn, and broccoli.
On the other hand, If you have gluten sensitivity, the rich treat Gluten-Free Chocolate Torte is perfect for you. It includes whipped cream, fresh berries, and raspberry sauce.
For a more exclusive experience, it features a private dining room with captivating views, a fixable setup based on your preferences, a customizable menu, and a team of skilled event planners.
Address: 55 W Bay Rd, Erie, PA 16507, United States
#10. Firebirds Wood Fired Grill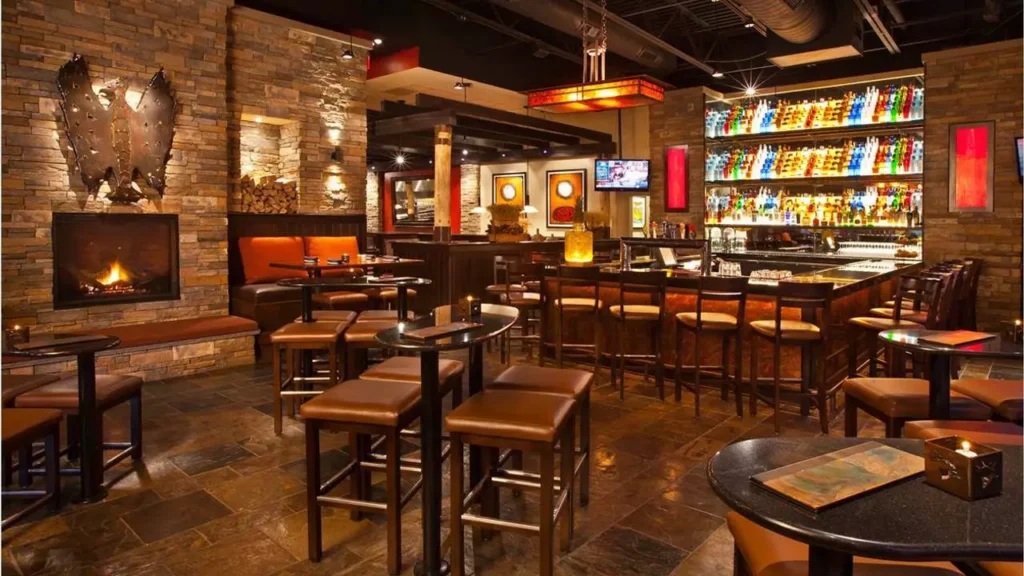 To have a fantastic dining experience in Erie, PA, head to firebird wood grill. This is one of the best places to taste hand-cut aged steaks and specialty-made cocktails at this eatery.
It features an elegant setting with lodge-themed decor, a welcoming atmosphere, delectable food with strong tastes, and quick service.
For a mouth-watering steak dinner, Try the Roasted Garlic Sirloin. Served with roasted garlic thyme butter, it is a center-cut sirloin that has been wood-grilled.
I recommend the striped bass if you love to eat white meat. The dish consists of striped bass with big shrimp, a pilaf of ancient grains, Key lime butter sauce, and asparagus.
Address: 680 Millcreek Mall Blvd, Erie, PA 16565, United States
#11. McGarrey's Oakwood Cafe
Take advantage of the chance to eat in this beautiful establishment, where a variety of Irish cuisine is served, along with the pleasure of fine wine.
The intriguing fact you learn about this restaurant is that it has a sizable dining room that can hold many people at once.
The atmosphere is very different, the location is cozy, and the lighting in the pub setup is stunning. The Reuben is a household favorite; once you try it, I have a good feeling it will also become your favorite.
Address: 1624 W 38th St, Erie, PA 16508, United States
You don't want to miss out the best restaurants in Gainesville Florida, Athens Ohio, Evanston (Illinois), and Jefferson City (Missouri).
#12. Oliver's Rooftop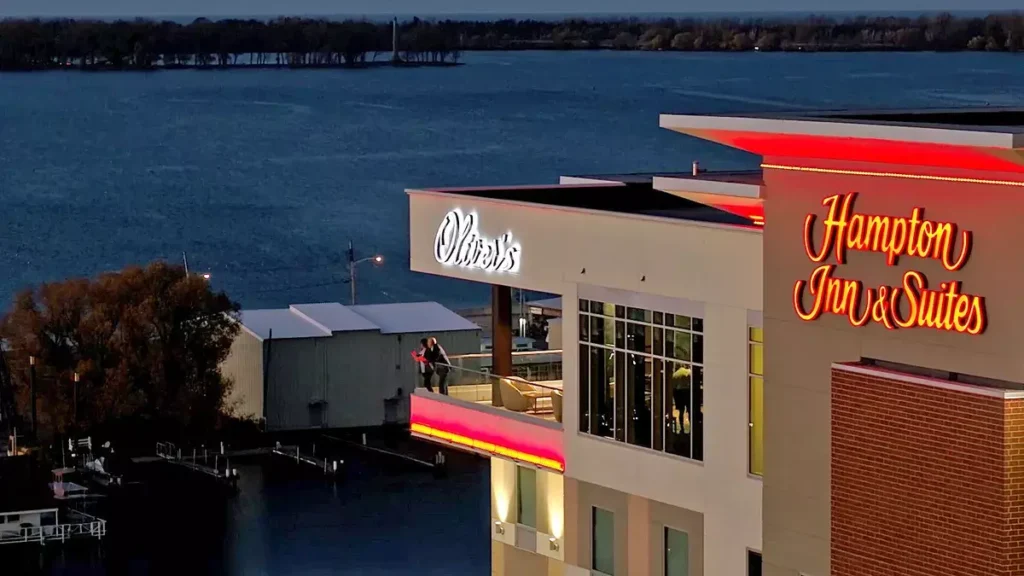 Oliver's Rooftop is a highscale restaurant in Erie, PA, that would take care of the remainder of the big day with their unique cuisine, Be it your first date, anniversary, or any other special occasion. Their delectable gluten-free delicacies will impress your date for the evening.
It is the most romantic place in the city and has an excellent riverside dining location. The skilled cooks will cater to your preferences and won't disappoint you.
The scallop tostadas are one of their unique dishes you should try, especially if you're looking for something new, different, and creative to satisfy your cravings.
Address: 130 E Front St, Erie, PA 16507, United States
#13. Like My Thai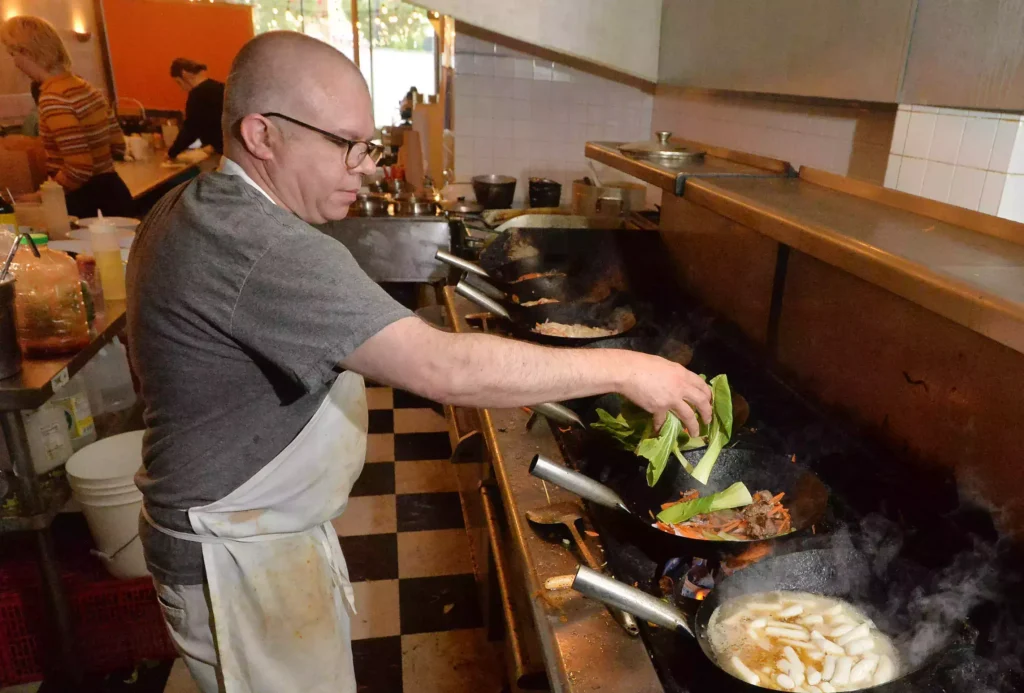 If you want me to describe this restaurant to you, I'd like to use the word "wonderful" as my sole adjective.
Order the bacon grape flatbread to liven up your beer game at the restaurant, which has some quantities and is described as having a casual atmosphere.
My Thai's excellent Thai wings, which are their trademark, will melt in your tongue like peace and have a smokey, tangy flavor. You will be able to enjoy the best cuisine in the area thanks to the balsamic glaze, onions cooked in beer, and grape halves.
Address: 827 State St, Erie, PA 16501, United States
#14. The Cork 1794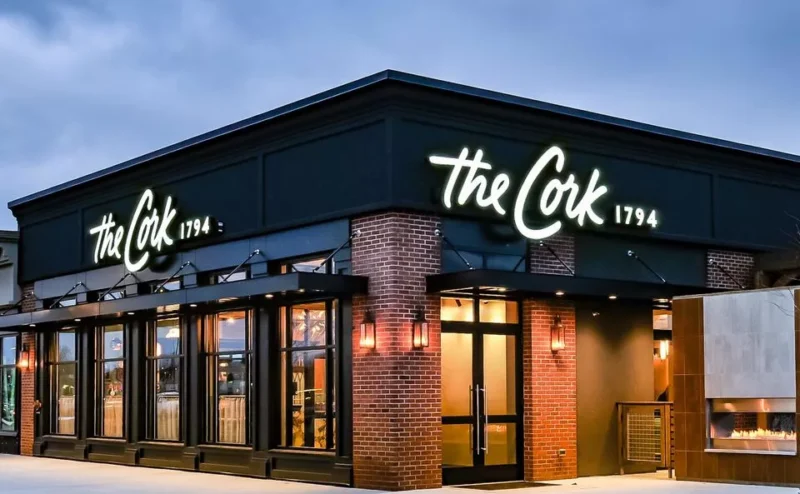 Get a break from typical restaurants near you by discovering many unique Erie eateries, like the Cork 1794.
You should take your buddies or someone special to this restaurant, and I assure you they will love it. The inside has a distinctive style, and the sporadic live music events make it more appealing.
For your breakfast, Try the famous Crab Benedict. These two crab cakes are served with hollandaise, poached eggs, and home fries on English muffins.
Try the short rib gnocchi if you go for dinner. It has tomato sauce, lemon ricotta, braised red wine, and fried sage.
Address: 900 W Erie Plaza Dr, Erie, PA 16505, United States
Time to spare? Why not check out the best restaurants in Minocqua Wisconsin, FLORENCE (South Carolina), Clermont Florida, and Amazing Restaurants in Lake Jackson (Texas).
#15. The Brewerie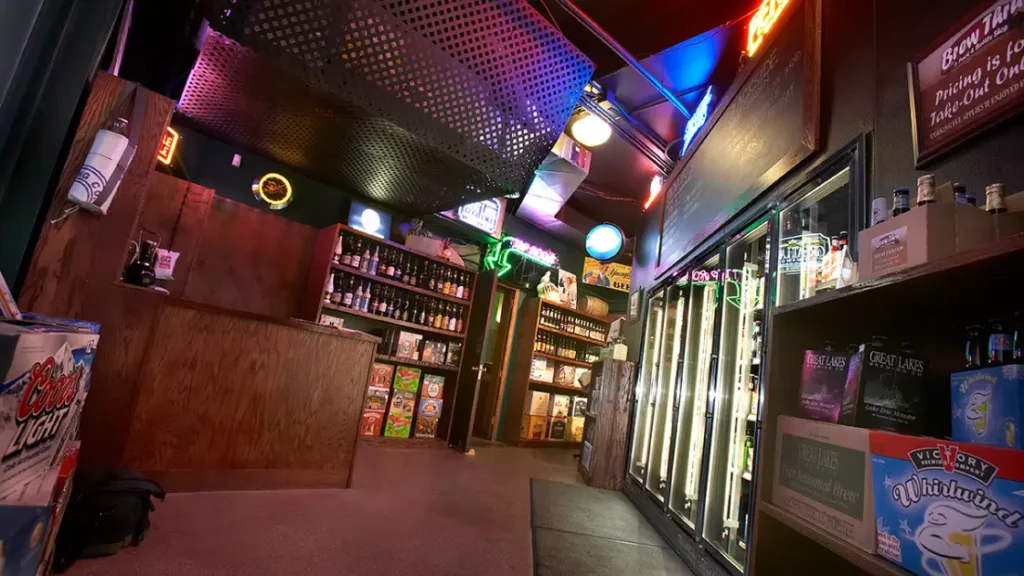 Brewerie is a restaurant and brewery that debuted in 2006. In Erie, Pennsylvania, it is a popular restaurant. This is true because the restaurant meets every dietary requirement.
They consistently work to give their customers a unique experience, and they do this by offering a diverse menu with dishes that draw inspiration from many different places.
You should check out Brewerie if you want to eat in a local establishment serving food prepared with the finest ingredients; it is the perfect place to do so.
The establishment has a unique architectural design, expertly prepared food, a lively, well-lit bar, a welcoming ambiance, and a wide variety of refreshing beers.
As you will learn, it is the ideal vacation spot for foodies.
Address: 123 W 14th St, Erie, PA 16501, United States
Enjoy Your Meal In Erie Pennsylvania
Erie, is a great place for tasty dishes! Be sure to enjoy your holiday in the city by visiting any of Erie's top restaurants listed above.
We've carefully hand-picked these restaurants especially for you. This is your chance if you're a food enthusiast who likes to try every eatery.
Go to any of the restaurants mentioned above and relish your day! I trust you would be happy if you did.