20 Best & Fun Things to Do in Galveston TX (Texas)
Looking for the best things to do in Galveston TX? Galveston is one of the most visited vacation spots in the United States due to its stunning beaches and historic center.
Galveston was recognized as the biggest and richest town in the state throughout much of the 19th century, and for a brief time, it even served as the Republic of Texas's capital.
The beautiful mansions and ancient structures still reflect the elegance of the city. You'll want to return again and again because of the stunning Victorian architecture, never-stop festivals, and amazing outdoor activities.
While many visitors, especially in the summer, come to Galveston primarily to laze on the beaches, there are also a ton of other things to do in Galveston, Texas, including touring on the Galveston Trolley, bird watching, fishing, and water sports, as well as visiting museums and dining at top-notch establishments.
We've compiled a list of the top things to do in Galveston, Texas, to help you plan your next trip.
What are the Best Things to Do in Galveston TX (Texas)
#1. Stewart Beach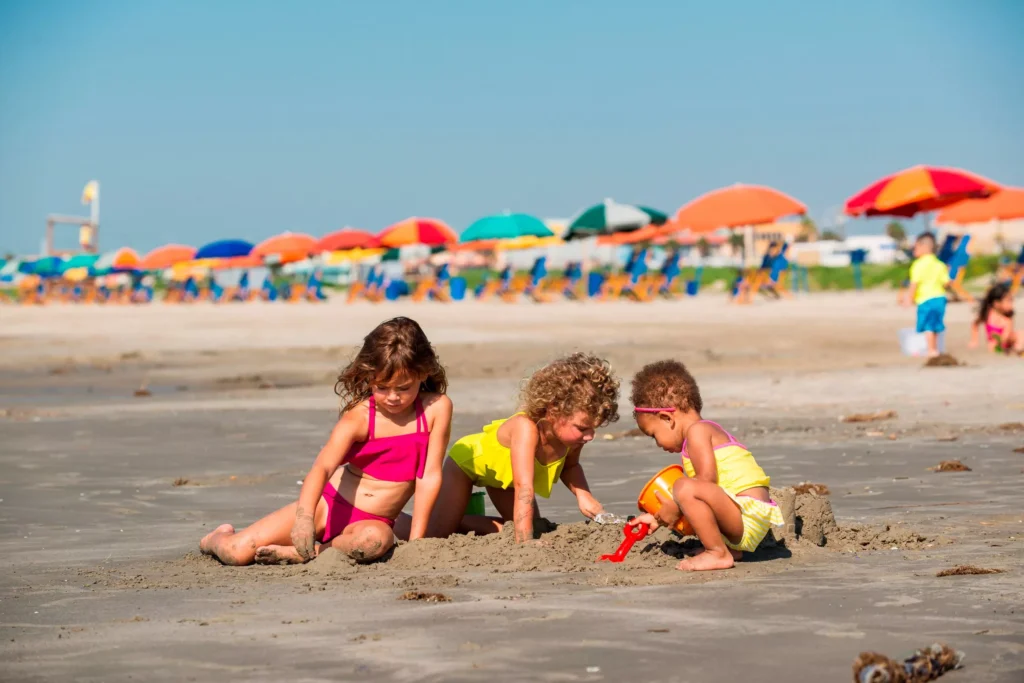 Stewart Beach is one of Galveston, Texas's most popular beaches. Stewart Beach is the ideal beach day destination for families. It is located on the northern end of Galveston's renowned Seawall.
Stewart Beach is a must-visit place when you visit Galveston. It has a lot of facilities, including a kids' playground, chair, umbrella rentals, showers, restrooms, and food stands, as well as a stunning view of the Gulf of Mexico. Also, lifeguards are available, watching over the warm, white beach and quiet waves.
If you want to experience more nature and outdoor recreation, go to Galveston Island State Park on the west of this beach. Here, you can go boardwalk walking, kayaking through the bayou, and bird-watching on either the bay or the ocean side.
#2. The Strand Historic District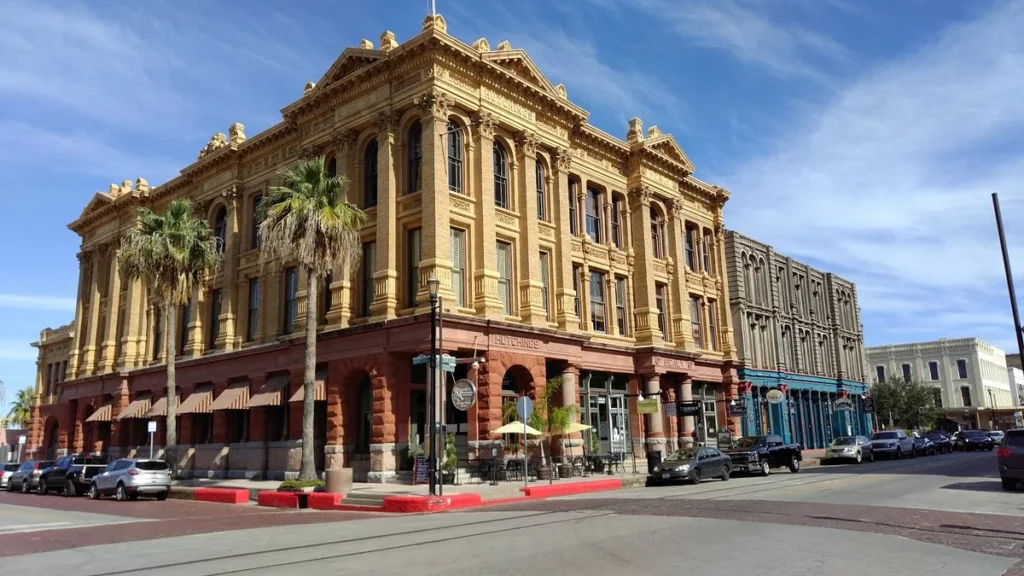 The Strand Historic District, popularly known as "The Strand," is a National Historic Landmark District located in the heart of Galveston, Texas. It comprises several stunning Victorian structures that now serve as boutiques, restaurants, galleries, and local shops.
This building houses Galveston Railroad Museum, where your self-guided tour will begin. Give this well-known museum at least 30 minutes.
You should check out one of the bars or stop by one of the mom-and-pop restaurants along The Strand, a five-block historic district close to the pier, for a bite to eat.
Also, ensure you visit the shops on the Strand and remember that many of them made it through the hurricane that killed more than 6000 people in Galveston in 1900.
Walking down The Strand is free, and you will have a great day with the breathtaking scenery.
Address: 2100 The Strand, Galveston, TX 77550, United States
#3. Bishop's Palace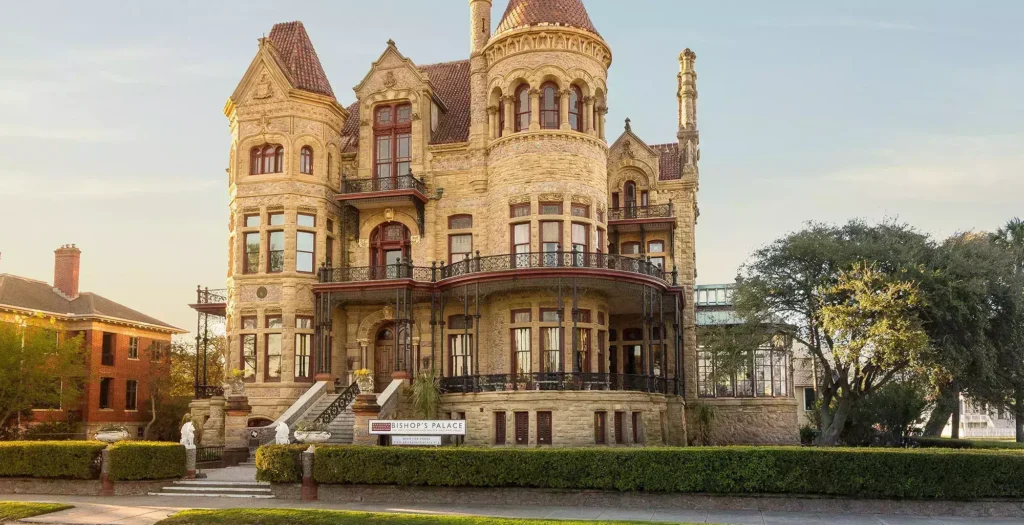 Bishop's Palace is also known as Gresham's Castle. This castle is one of the best places to visit in Galveston, Texas. Its also one of the major tourist attractions in Galveston, Texas, which Colonel Walter Gresham built at the turn of the 20th century.
The Victorian-style house is a designated National Historic Landmark and is accessible daily for visits. Inside the house are many treasures for visitors, such as a stunning architectural design, beautiful stained-glass windows, and several bronze dragon statues.
During the tour, guests can explore the house's numerous historical artifacts and discover more about the state's past. Although younger children might not enjoy the trip, it is reasonably priced.
Thanks to the self-guided audio tour, you may be confident that you comprehend the functions of each item inside the house.
Address: 1402 Broadway Avenue J, Galveston, TX 77550, United States
Planning a road trip to Texas? Why not check out the best things to do in Lake Jackson (Texas), Waxahachie (Texas), Kerrville (Texas), and San Angelo (Texas)
#4. Moody Gardens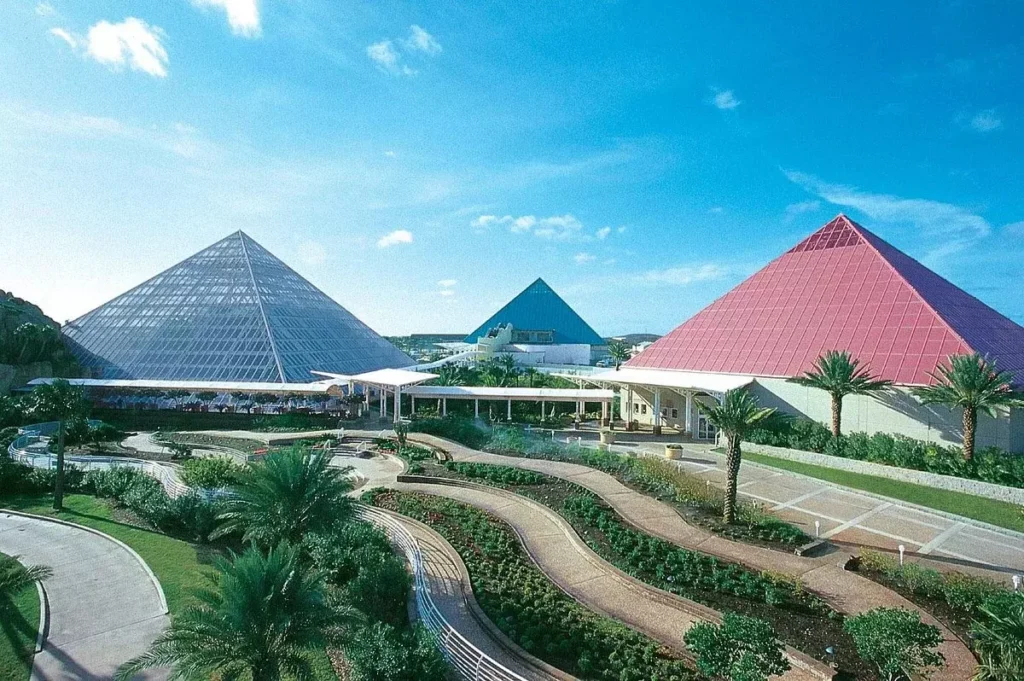 Moody Gardens is a lovely place to be if you are looking for what to do in Galveston, TX. It is a 242-acre attraction complex that offers its guests various entertaining activities. It's one of the top tourist destinations in Galveston and a favorite among locals.
If you want to take advantage of everything Moody Gardens offers, plan to spend the whole day there. Although some consider this one of Galveston's more expensive activities, most don't mind the extra cost because there is so much to see and do for the entire family.
The Giant River Otter Encounter and Public Penguin Encounter are Moody Gardens' animal attractions, and the Aquarium Pyramid lets guests swim with their favorite creatures.
Also other attractions and activities include:
The Reef Rescue Virtual Experience.
A ropes course.
The Rainforest Pyramid.
A 3D.
A 4D special effects theater.
A Discovery Museum.
A zip line.
Address: 1 Hope Blvd, Galveston, TX 77554, United States
#5. Schlitterbahn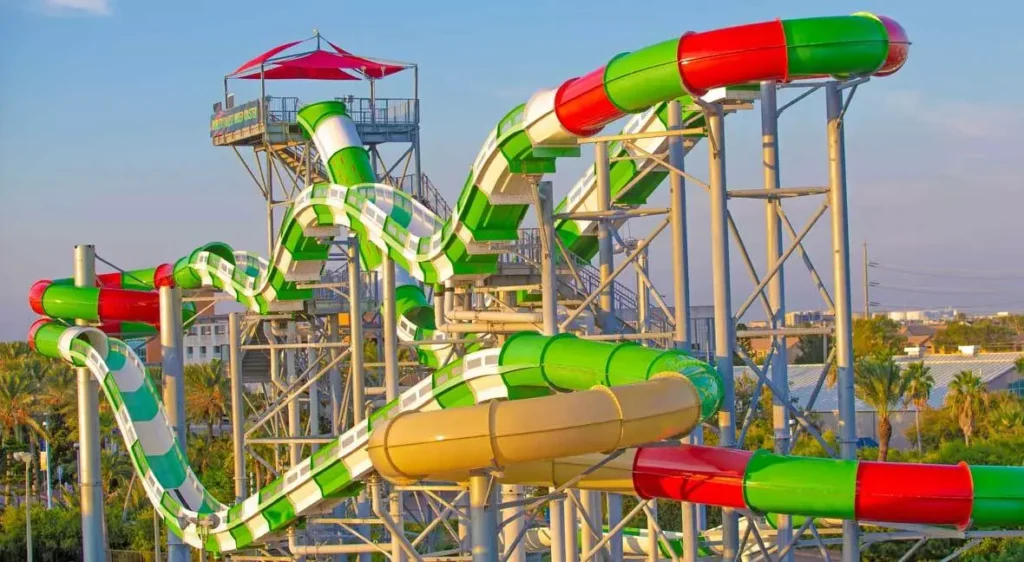 Schlitterbahn is a 26-acre island waterpark that offers guests numerous amazing activities. It is Galveston's biggest water park and offers year-round enjoyment for kids of all ages and adults who are still children at heart with hundreds of fantastic excursions.
It has more than 30 cutting-edge, high-adrenaline attractions, including the distinguished Transportainment three-river system.
The Wasserfest part of the waterpark converts into an indoor park in the winter so that it may remain open year-round, even though many experiences are only available during certain seasons.
In addition to the renowned Torrent Tidal Wave River, there are three-speed, four-tube slides, three kid-friendly activity spaces, a heated pool, a private beach, a surfing wave, and three kids' activity zones.
The Flying Eagle gondolas allow you to soar 101 feet in the air, giving you the best perspective of Galveston. The park also houses Rohr and the MASSIV Monster Blaster, the tallest water coaster in the world! Guess what? This is also one of the best things to do in Galveston for free.
Schlitterbahn will entertain you for days with exciting private cabanas to make your picnic or party.
Address: 2109 Gene Lucas Blvd, Galveston, TX 77554, United States
#6. Pleasure Pier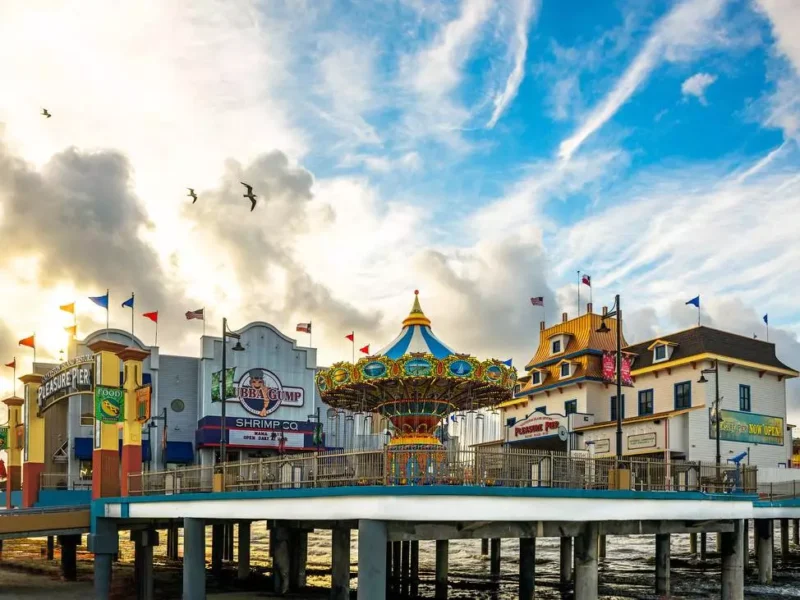 Pleasure Pier is the most famous structure on the street of Seawall. The pier's roller coasters and colorful buildings can be seen from far away along the beachfront, sticking out into the ocean like a carnival on stilts.
Pleasure Pier was built on the site of its predecessor, devastated by a hurricane in 1961. This 1,130-foot-long pier, which was opened in 2012, features several enjoyable rides ideal for people of all ages, games and activities, a restaurant, and other amenities.
Pleasure Pier is filled with fantastic family activities and a wonderful way to pass the time if you're in Galveston with kids. Have fun with any entertaining rides at the Pleasure Pier, such as the Cyclone, Rock N Roll, Galaxy Wheel, and Iron Shark Roller Coaster. Of course, the kiddie carousel is there for the little Kids.
From Memorial Day to Labor Day, the Pleasure Pier is open daily. During the winter, it is only open on weekends.
Address: 2501 Seawall Blvd, Galveston, TX 77550, United States
#7. Galveston Naval Museum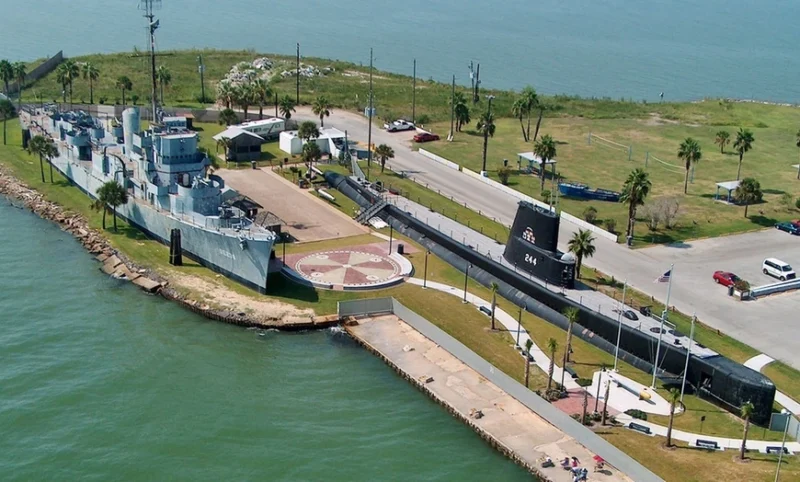 Galveston Naval Museum is one of Galveston's most magnificent historical buildings. Visitors to the Galveston Naval Museum can see iconic World War II vessels while learning about American history on either a self-guided or guided tour of the facility.
Visitors can visit torpedo compartments and weathered decks while learning about the sacrifices, mystery, and history of the crews keeping watch aboard these warships.
The World War II submarine USS Cavalla sunk the IJN aircraft carrier Shokaku, which took part in the attack on Pearl Harbor in 1941. Enter the ship and walk through the cramped passageways to observe how sailors operated and survived during the conflict.
Galveston Naval Museum is a place you shouldn't miss out on during your visit to this city.
Address: 100 Seawolf Park Blvd, Galveston, TX 77554, United States
Are you about to embark on an adventure to Texas for a memorable vacation? You can also check out the best things to do in Victoria (Texas), Castroville (Texas), Rockport (Texas), and Killeen (Texas).
#8. Bryan Museum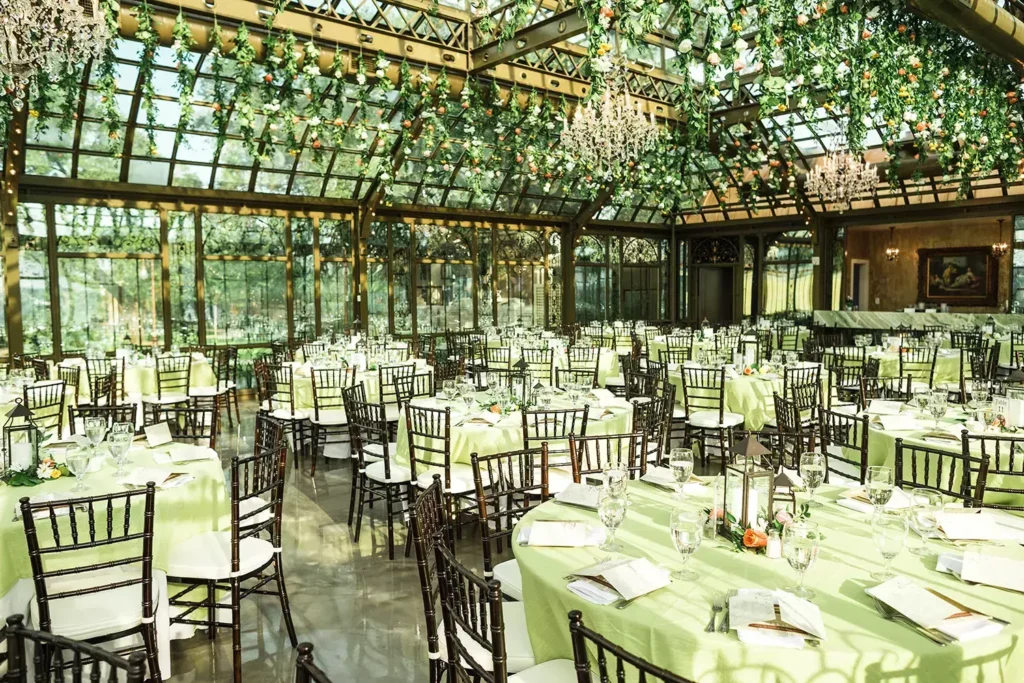 This museum exhibits a varied collection of over 70,000 art and artifacts from the American West, spanning over 12,000 years. It is housed in a gorgeous historic structure, previously the Galveston Orphans Home.
Everything from Native American history to the Spanish Colonial Period and Texas Independence is included in the permanent collection.
The Texas Masters Gallery shows the art of Texas-born painters and those who journeyed through the area and captured it on canvas. Additionally, there are artworks by many artists, including Andy Warhol, all over the museum.
The best way to enjoy the collection and learn about its history is to take a tour. However, iPads on displays best describe the items and their significance.
Address: 1315 21st St, Galveston, TX 77550, United States
You can also check out the best restaurants in Galveston, Texas.
#9. Galveston Port Bolivar Ferry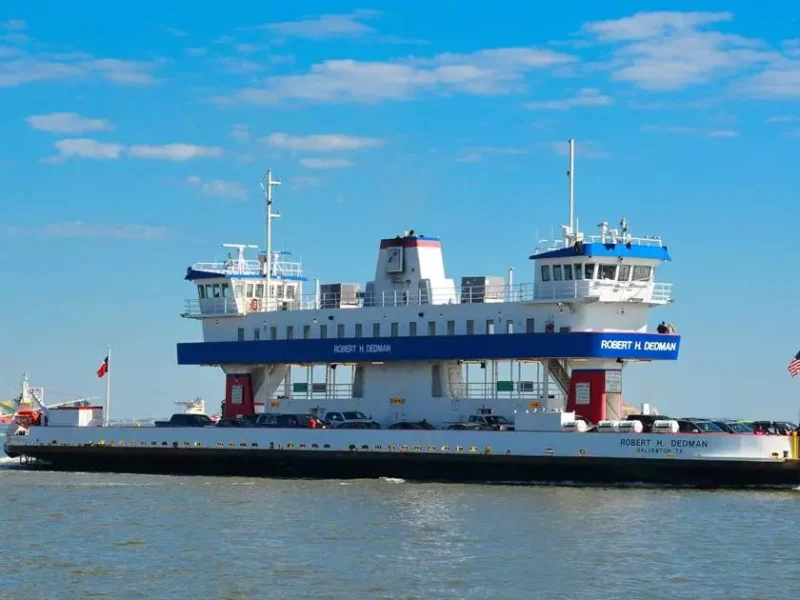 The Galveston Port Bolivar Ferry is the best option if you're looking for an enjoyable and cost-free activity. The Ferry runs between the island and the Port Bolivar Peninsula and provides beautiful scenery as you tour through it. You also see dolphins that surface below the water and the Point Bolivar Lighthouse.
The Galveston-Port Bolivar ferry is worth exploring, even if it is a unique on-water experience. Aside from the historic lighthouse, you may tour the Bolivar Flats and Fort Travis.
Visitors can check out the two original bunkers built at Fort Travis, constructed in 1898 to defend Galveston Harbor. You can add this to your list of things to do in Galveston for couples.
#10. The Ocean Star Offshore Drilling Rig & Museum
The Ocean Star Offshore Drilling Rig & Museum doesn't sound like it would be a particularly alluring destination, but it's one of Texas's top attraction sites.
The museum is situated on a decommissioned oil rig. The museum has three floors of displays and two outdoor spaces where drilling equipment is shown.
The Offshore Drilling exhibit, which delves into the challenging process of drilling for gas and oil in the ocean, is the tour's high point.
You can begin an interesting self-guided tour of its three floors, where you can see the drilling machinery and some interesting displays and videos.
Address: 2002 Wharf Rd, Galveston, TX 77550, United States
#11. Moody Mansion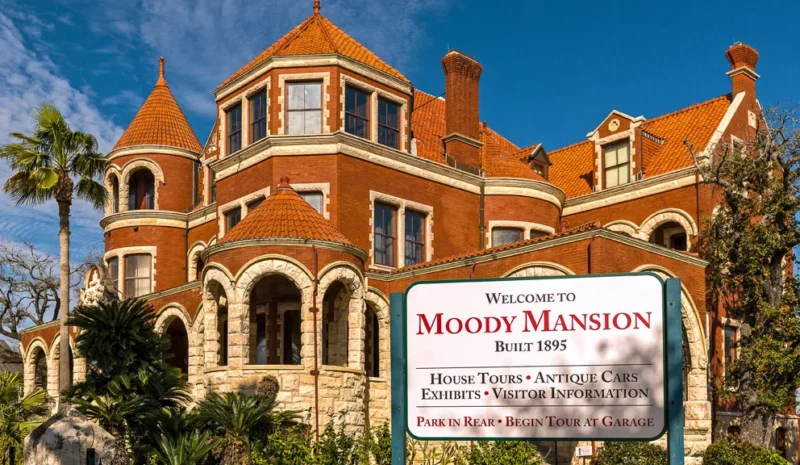 The Moody Mansion is listed on the National Register of Historic Places. It is one of Galveston's most historic structures, distinguished from a distance by its vivid red brick facade. 
This 28,000-square-foot house was built in 1895 of the same age as the Bishop's Palace and the opera house.
The mansion, once W.L. Moody's residence, is now a public museum. Visit this mansion to see how it has been decorated to highlight the house's distinctive designs.
You'll find a variety of vintage Cadillacs, antiques, and period furnishings as you explore the 20 rooms on show, all of which originally belonged to the Moody family.
Take a tour with a guide to discover more about the house and the family.
Address: 2618 Broadway Avenue J, Galveston, TX 77550, United States
#12. Galveston Railroad Museum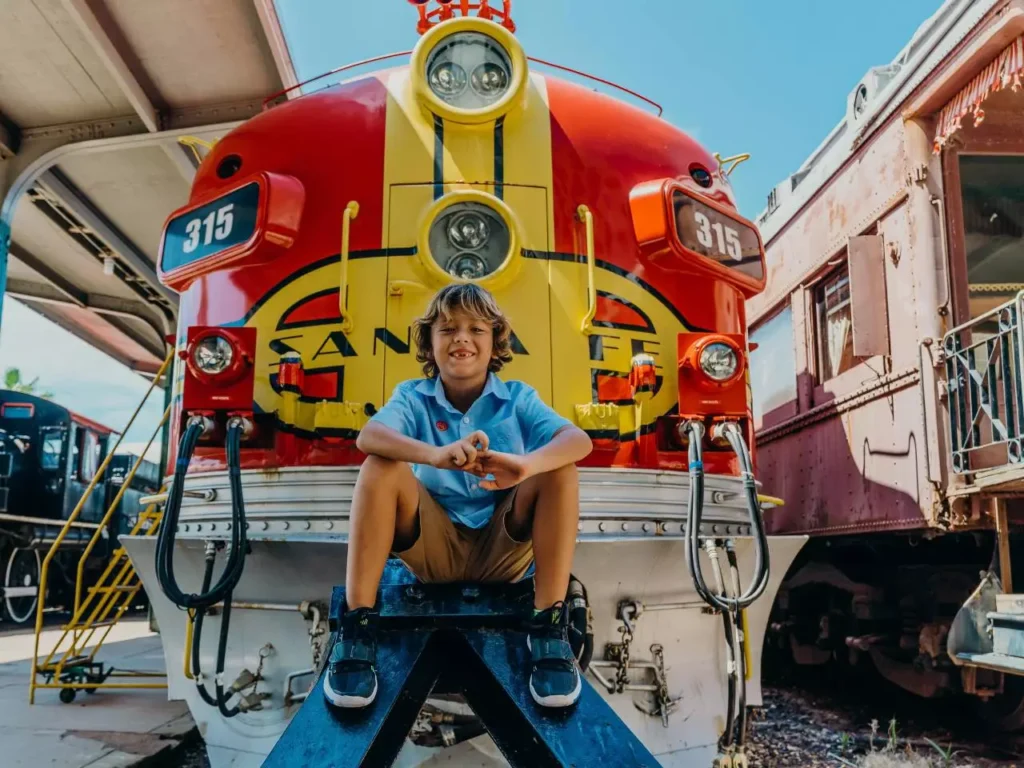 The Galveston Railroad Museum is another one of the top attractions in Galveston, Texas; it's full of fascinating items and well worth a visit. Since it opened more than 30 years ago, the Galveston Railroad Museum has served the local community by showcasing the evolution of rail travel.
The museum successfully achieved that goal by amassing the largest collection of rail relics, memorabilia, and railroad rolling equipment. The museum contains:
A one-mile track.
More than 40 pieces of inventory.
The greatest collection of dining car cutlery in the Southwest.
The museum offers a train excursion every Saturday to any interested guests. Visitors can learn more about railroads and their history in Galveston and Texas through permanent and temporary exhibits.
Address: 2602 Santa Fe Pl, Galveston, TX 77550, United States
#13. The Grand 1894 Opera House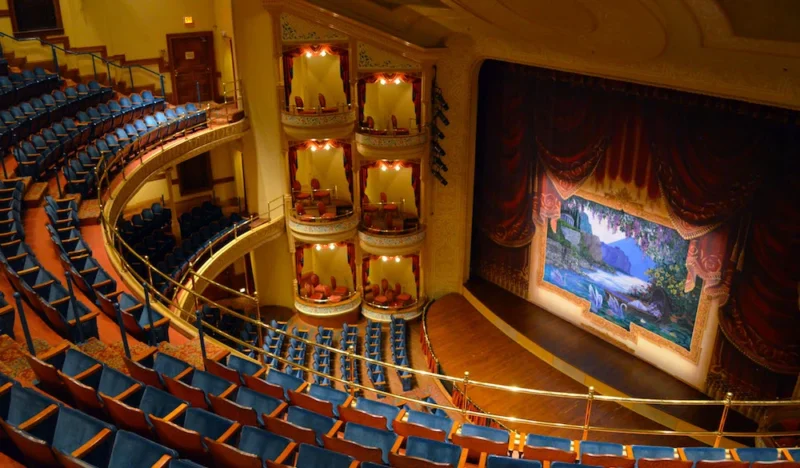 Check out the Grand 1894 Opera House performance if you're looking for something to do in Galveston with your special someone.
The Grand 1894 Opera House has been a part of Galveston's history and is recognized on the National Register of Historic Places.
Visitors can Catch the spectacular performance held throughout the year, including musical performances, wine and cuisine festivals, and others. The theater hosts art shows and other important events.
Visitors can also rent the opera house for lavish meetings, receptions, and parties.
Seeing a show at the Opera House is an intimate experience you will always remember, regardless of the show you watched.
Address: 2020 Postoffice St, Galveston, TX 77550, United States
If you are in Texas, you may also like to check out fun things you can do in Corpus Christi (Texas), Katy (Texas), San Marcos (Texas), and Fun Things To Do In Denton (Texas)
#14. Galveston Arts Center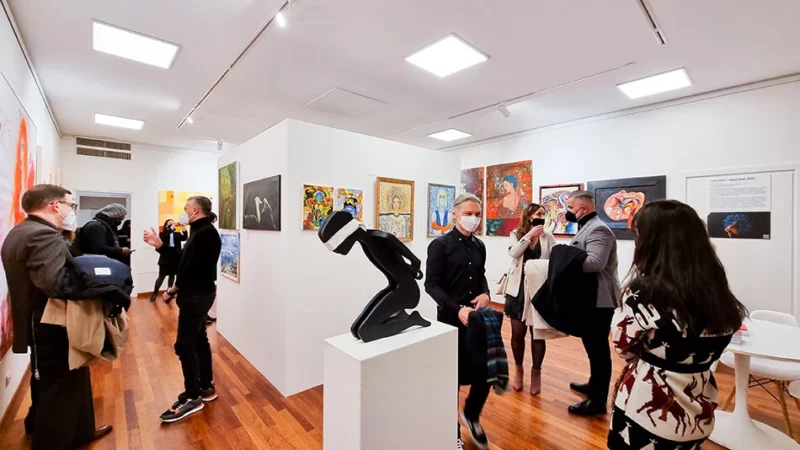 The Galveston Arts Center is one of the unique things to do in Galveston this weekend. It offers a wide variety of artwork on display. This is something you shouldn't miss out on, especially if you are fascinated by the arts.
Galveston Arts Center offers the opportunity to see something different from what you're used to, and it might even widen your range of interests.
Keep an eye out around every corner because visitors frequently comment that this gallery has unique, odd, and unusual exhibits and works of art.
There are art classes and courses available for interested individuals.
Address: 2127 The Strand, Galveston, TX 77550, United States
#15. Baywatch Dolphin Tours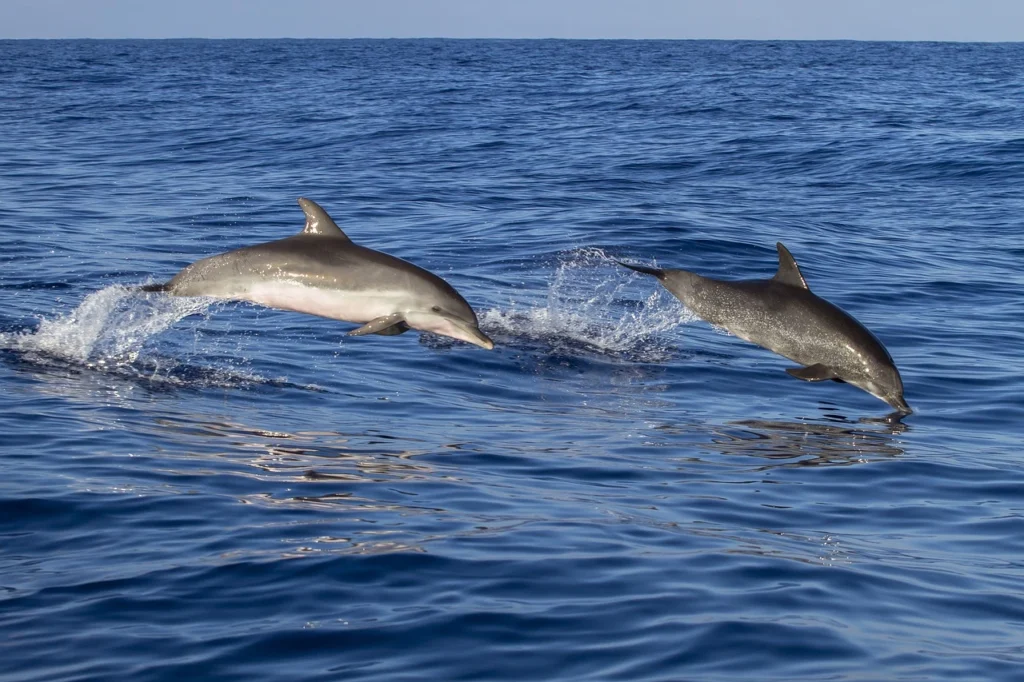 BayWatch Dolphin Tours is a family-run company situated at In Pier 21 Galveston, Texas. BayWatch Dolphin Tours allows visitors to see dolphins up close in their natural habitat.
Visitors will learn about the history and nature of dolphins in the area and have a chance to watch dolphins swim and play in the water for 45 minutes. Visitors are also taken on a boat trip.
The Baywatch Dolphin Tours provides a wonderful and educational experience. Snapping the dolphins is encouraged as well.
Address: 2100 Harborside Dr, Galveston, TX 77550, United States
#16. Seawolf Park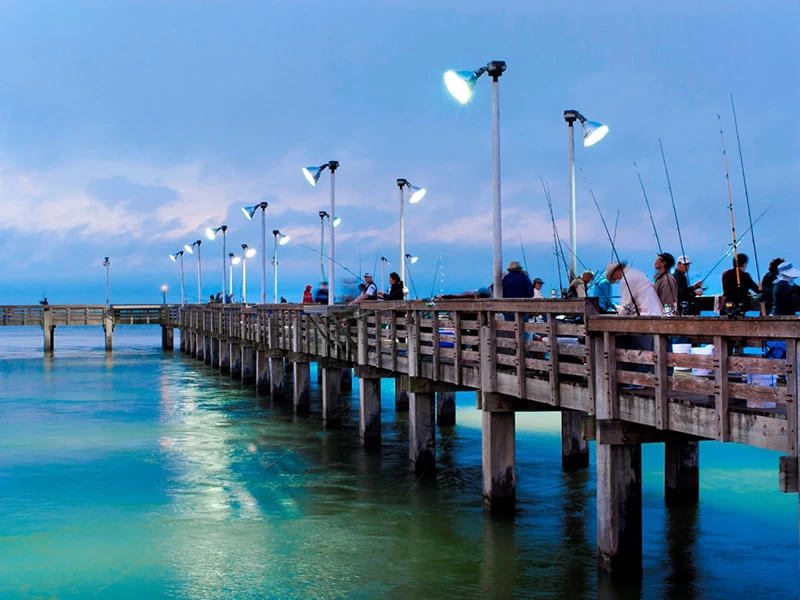 Have you ever wished to board a submarine without leaving Galveston? You can take advantage of this chance by visiting Seawolf Park in Galveston, Texas.
The Seawolf Park offers wonderful attractions for people of all ages, such as a Nice playground, a picnic space, fishing and crab-catching at a nearby river, and a lot of fascinating history. You can also check out the museum at this park to learn about the fascinating history of marine life in Galveston.
Your visit to Seawolf Park and the associated museum will undoubtedly be a lot of fun, but there will also be a lot of learning involved.
Address: 100 Seawolf Park Blvd, Galveston, TX 77550, United States
17. Galveston Island State Park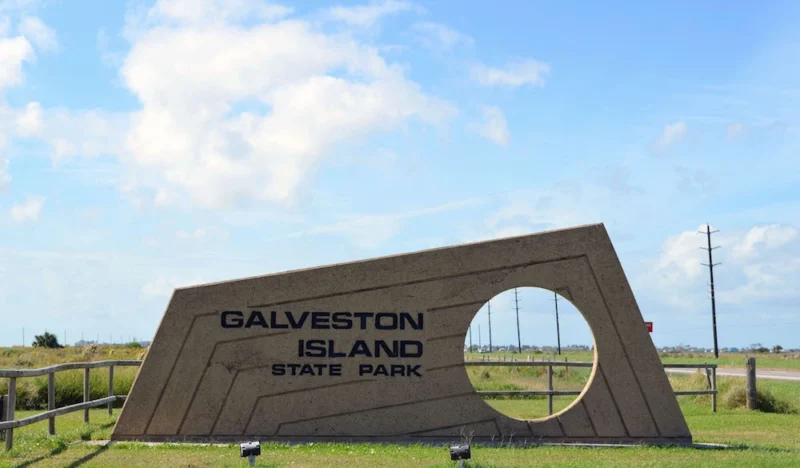 Galveston Island State Park is open to the public and is free to enter. Numerous exciting activities are available at Galveston Island State Park for everyone on the crew. This is a must-visit site to enjoy some outdoor activities.
Galveston Island State Park is divided into four distinct areas and is never congested, contrary to popular belief.
It is a wonderful family vacation spot. Families who detest large crowds and desire free Galveston attractions should make this stop today.
Couples frequently choose Galveston Island State Park as their wedding or honeymoon location. Camping is available for guests who would love to extend their exploration.
Address: 14901 FM3005, Galveston, TX 77554, United States
#18. Tree Sculpture Tour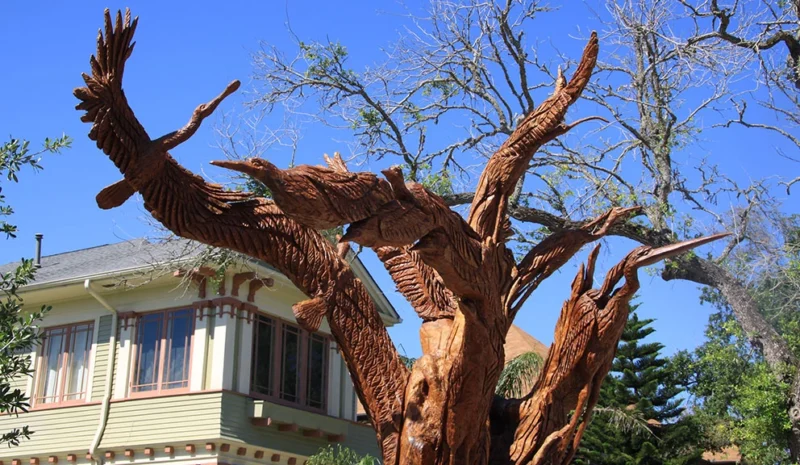 Visitors can enjoy an amazing treasure hunt at the Tree Sculpture Tour. At you get to see some amazing sculptures that have been transformed into tree sculptures by local sculptors working on this project since 2009.
The artists are transforming the tree stump sculptures into beautiful artworks of some Nationalists, angels, dogs, birds, fishes, and others.
It started as a means for the locals to deal with the tragedy of the previous city disaster, the storm of 1900 that pulled down a lot of trees and turned it into one of the most popular tourist destinations in the city.
Time to spare? Why not check out the best things to do in Sugar land (Texas), Temple (Texas), Lubbock (Texas), and Lubbock (Texas).
#19. Galveston Farmers Market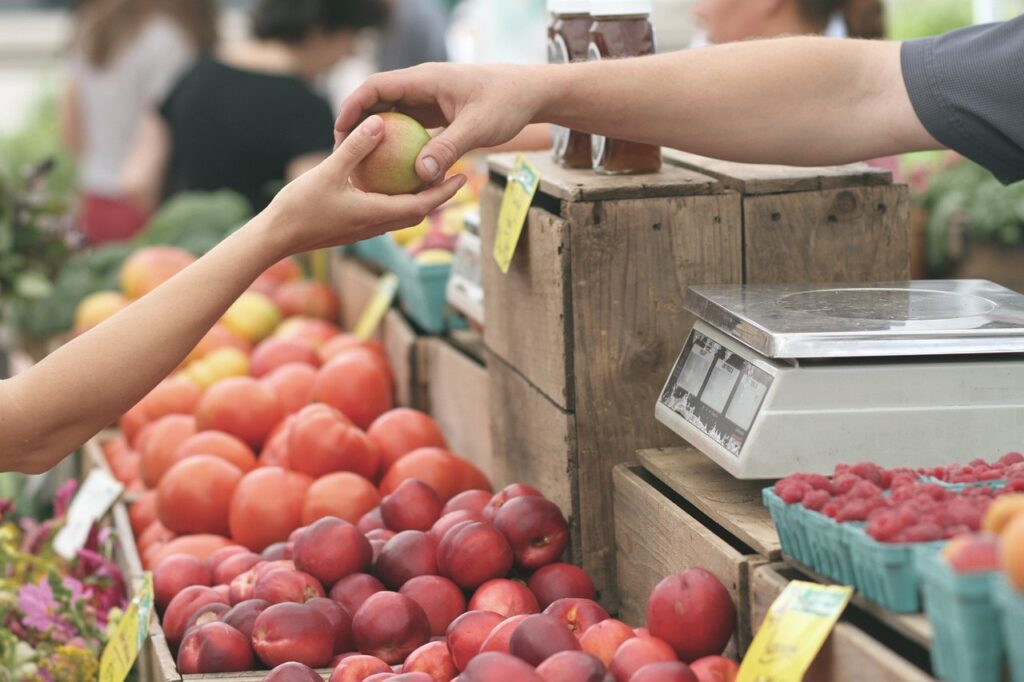 Even though going to a farmer's market might not be one of the first things you intend to do when planning a vacation, this one is worth your time. The Galveston farmers market provides a variety of locally farmed food. You can use it to prepare your favorite dishes.
Traders at the Galveston Farmers Market also sell fresh bread, jams and jellies, herbs, salsas, cheese, honey, and baked products. On the weekends, the Farmer's Market also hosts cooking classes. All ages are welcome to the cooking classes.
The Farmer's Market offers visitors a ton of entertainment as well. You get entertained by different bands, comedians, singers, and others.
Address: 3304 Market St, Galveston, TX 77550, United States
#20. Hotel Galvez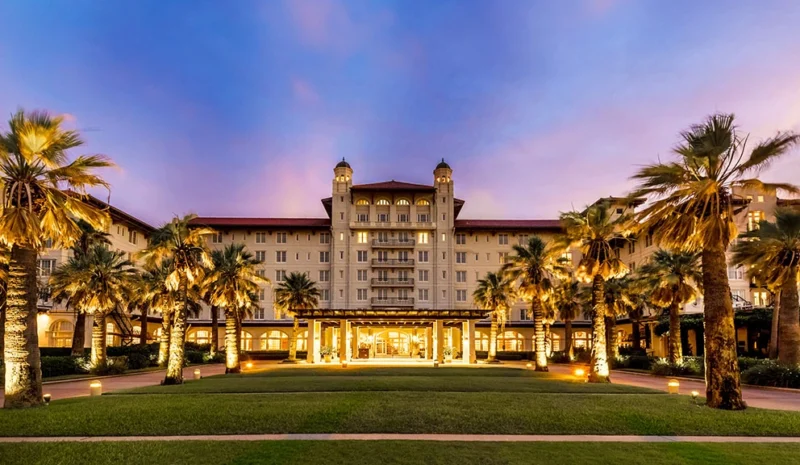 Hotel Galvez is one of the most visited spots in Galveston because of its exciting ghost tour. The ghost tour is always fun for everyone, including couples, families, and groups of friends. This is a tour that you don't want to miss if you believe in ghosts or have a strong interest in the supernatural.
Although it is suitable for all ages, it is advisable to check whether the tour is suitable for kids on a case-by-case basis.
The Ghost Tour, held at night once a month, gives a one-and-a-half-hour tour of Galveston, Texas's most haunted locations near woodland, during which you'll hear many tales that will make the hair on the back of your neck stand.
After the night tour, packages are available for those who would like to add a three-course supper at the Galvez Bar & Grill.
what is Galveston Texas known for?
Visitors come from all over the world to visit Galveston, Texas, because it is a special city with a vibrant history and culture.
Galveston, also referred to as the "Playground of the South," is well-known for its stunning beaches, exciting nightlife, and historic buildings.
Galveston's charming historic district, the Strand, is home to a number of the city's most well-liked attractions, including eateries, shops, and art galleries. The Texas Seaport Museum and the Galveston Railroad Museum are just two of the numerous museums in the city that visitors can explore.
Fishing, birdwatching, and water sports are all popular pastimes in Galveston, and history buffs will appreciate exploring the city's numerous historic homes and structures.
Galveston is undoubtedly a must-visit location for anyone visiting Texas because there is so much to see and do there.
Is Galveston Texas a good place to live?
Texas's coastal city of Galveston has a lot to offer its citizens. It's not surprising that a lot of people are drawn to this special city given its pleasant climate, gorgeous beaches, and charming historic district.
Galveston also has a vibrant sense of community, with year-round celebrations and events that bring locals together. As with any city, Galveston does face some difficulties, such as sporadic flooding and a higher cost of living than in some Texas cities.
A person's priorities and preferences will ultimately determine whether Galveston is a good place to live. Galveston might be a wonderful place to call home for those who value a laid-back coastal lifestyle and a close-knit community.
Is Galveston Texas safe?
Anyone considering relocating to or traveling to Galveston, Texas, must take safety into account. With a crime rate that is lower than the national average, Galveston is generally a safe city.
Galveston does, however, experience crime, especially in some areas, like any other city. Basic safety measures that both visitors and residents should take include locking windows and doors, avoiding dark, isolated areas, and being aware of their surroundings.
In addition, Galveston may experience extreme weather, such as hurricanes and flooding, which could be dangerous. Overall, Galveston can be a safe place to live or visit if people follow common sense safety precautions and are aware of potential weather hazards.
Plan Your Trip to Galveston, Texas
Galveston, Texas, will leave you with wonderful memories and lasting impressions, no matter what state you travel from. It's a popular tourist destination and one of the best places in Texas to live and visit.
Galveston is a top vacation destination because it has so much to offer that every visitor will be satisfied with. Having learned what to do in Galveston, it is time to create the ideal journey for your vacation.
Places to Visit in Galveston Texas
Disclaimer: Vasttourist always strives for content accuracy. Since the time of publishing, travel-related information regarding pricing, schedules, and hours may have changed. Please see individual websites embedded in this post for the most current trip-planning information.

Unless otherwise stated, Vasttourist does not claim ownership of any images used on our blog site. The respectful owners of all visual content have copyright protection. We try to include links to the sources. If any images are your property and you do not want them to appear on our blog, don't hesitate to contact us; we will take them down immediately. We support properly crediting the original writer, artist, or photographer.