10 Best Things to Do in Nantucket (Massachusetts)
Nantucket, MA, is a leading tourist destination among history enthusiasts, surfers and watersports lovers, nature lovers and adventurers, celebrities, beachgoers, partiers, and foodies.
It may be a small and remote island 30 miles off the coast of Cape Cod, but the "Little Grey Lady of the Sea" has some of the most beautiful beaches, the most significant number of pre-civil war buildings in the country, and remarkably conserved nature and wildlife.
It is also home to some of the leading restaurants, the most exclusive galleries and boutiques, and the most expensive New England and east coast waterfront properties.
Here are ten ideas for making the most of your vacation in Nantucket.
#1. Get the feel of living like a local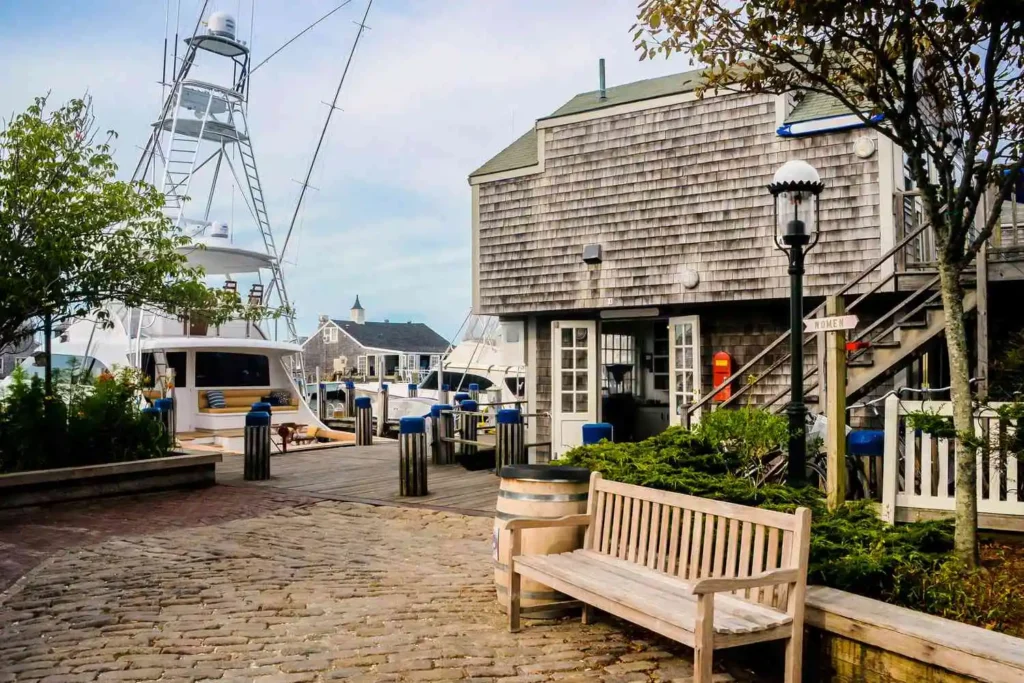 Owning a house or property on the island of Nantucket is limited to the few lucky homeowners who have inherited or have had the means to buy one.
Recently, a local property was sold at a record-breaking price for the entire New England coastal region.
The good news is that you can still experience what it feels like to live in one of the island's fantastic houses, mansions, or cottages, even if you are not a billionaire.
You can do that by booking one of the hundreds of short-term residences offered in all neighborhoods of Nantucket. Small beach lofts, cute cottages, historic and new houses, and stately mansions are offered, which you can choose from.
#2. Ride a bike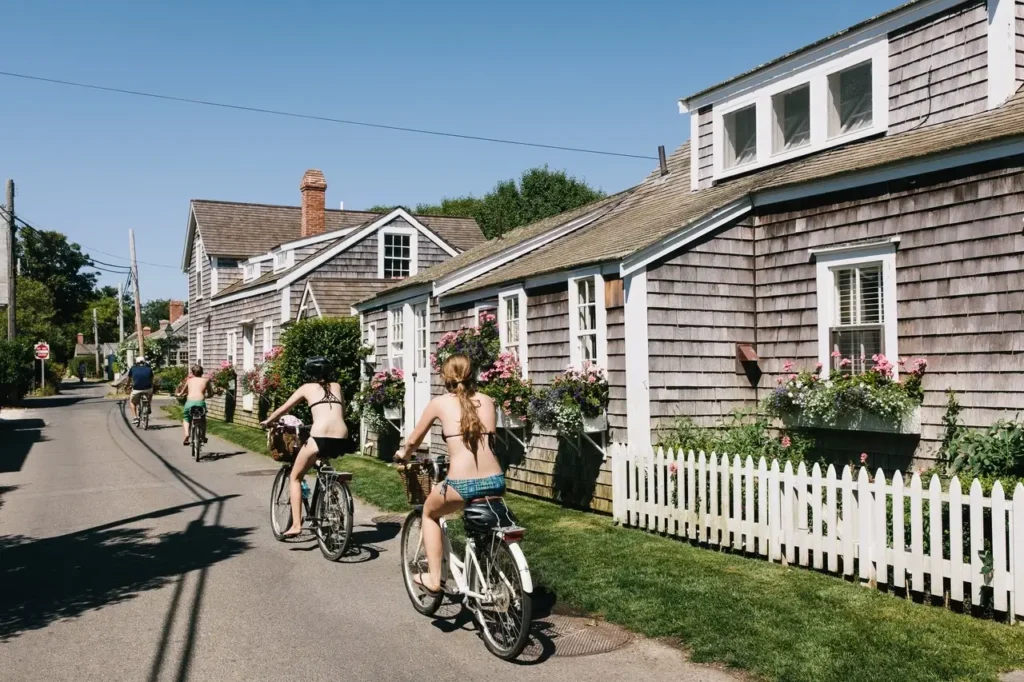 The best, cleanest, and cheapest way to get around the island of Nantucket is via bike. You can bring your bike, rent one, or get one for free when renting certain houses.
The island is a mere 14 miles long, is no wider than 3 to 5 miles, and has an extensive network of walking and bike paths.
So, it is easy to get around even if you are not much of a cycler.
Plus, you can enjoy the island's views, sounds, and atmosphere best while riding a bike.
#3. Stop by the Juice Bar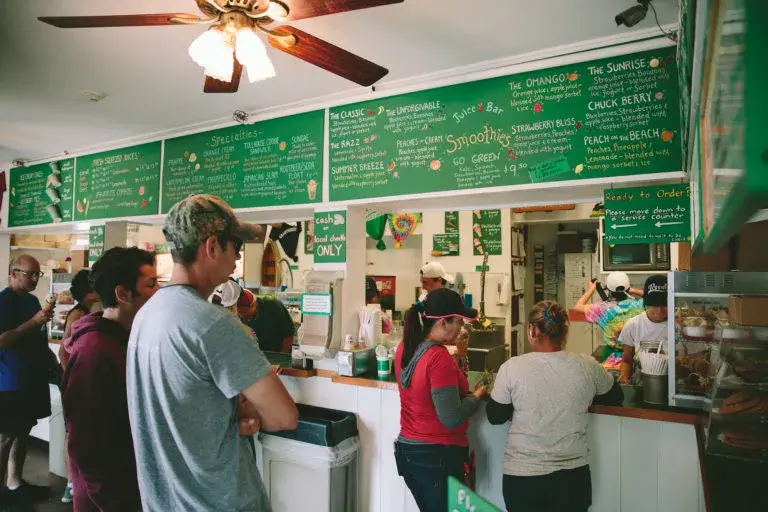 This is more than just a place where you can drink fresh juice. The Juice Bar is the absolute best place to eat one-of-a-kind homemade ice cream on the island and possibly in the state.
You can choose among more than 40 unique flavor options and will be served the best ice cream scooped in a wonderfully tasty home-produced waffle cone.
You can also enjoy some delicious sorbet, frozen yogurt, a smoothie, freshly squeezed juice, and baked goods at this popular eatery.
Planning a road trip around Massachusetts, You may like to check out the best things to do in Plymouth (Massachusetts), and Great Barrington (Massachusetts).
#4. Go shopping on Main Street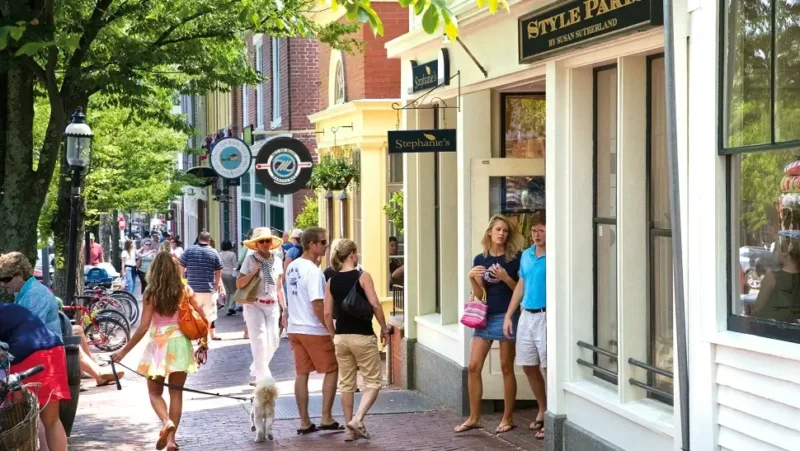 The postcard-like cobblestone Main Street is not only a beautiful historic landmark. Still, it is also home to some of Nantucket's most exclusive and fashionable boutiques, shops, and galleries.
Be prepared for some high-end shopping and prices at boutiques like Style Paris, Vis-à-vis, Erin Hillel, Southern Tide, Breezin' Up, and Stephanie's Nantucket, where you can buy the latest and most fashionable apparel, jewelry, accessories, and other items.
One of the most iconic shops there is Murray's Toggery Shop. You can get a pair of legendary Nantucket Reds pants or other items from this iconic preppy coastal collection there.
#5. Experience the Nantucket Atheneum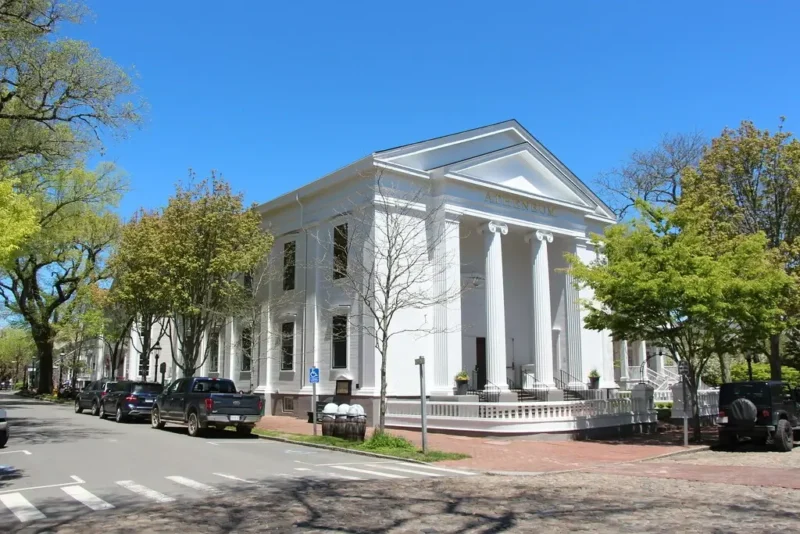 The Nantucket Atheneum is the only public library housed in one of the island's most impressive and grand buildings in a Greek revival style.
The interior of the Atheneum is more like an art gallery or museum than a public library, with multiple paintings, sculptures, and other artwork you can admire.
The library has a dedicated kid's wing called the Weezie Library, and it also has a quiet and beautiful garden where you can sit down and relax away from the crowds. This one of the best places to vist in Nantucket.
#6. Visit the Whaling Museum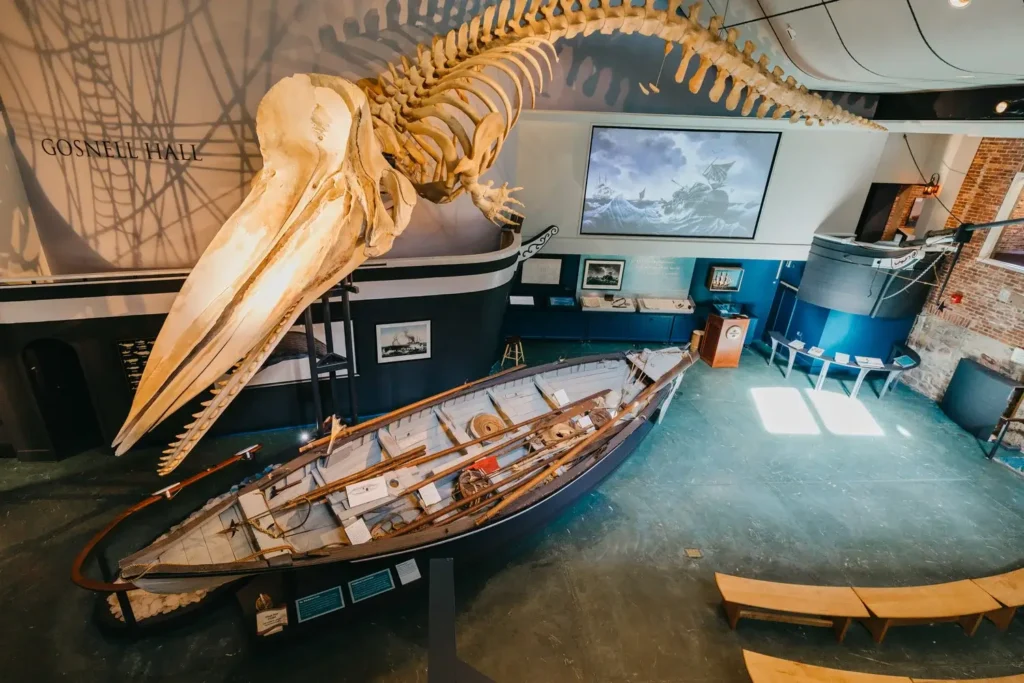 The Whaling Museum is no doubt the number one attraction on the island. It is housed in what used to be a whale oil candle-making factory Downtown.
The museum has thousands of unique exhibits from the glorious whaling years of the island.
One unique item is the real giant sperm whale skeleton hanging from the ceiling. Another is the first original Fresnel lens from the lighthouses. And, of course, there are exhibits from the original whaling ship and captain who inspired the writing of the novel "Moby-Dick" by Herman Melville.
Are you about to embark on an adventure to Texas for a wonderful vacation? You may like to check out the best places to visit in Rockwall (Texas), Round Rock (Texas), Beaumont (Texas), and Galveston (Texas).
#7. Dip your toes in the sand at Jetties Sandbar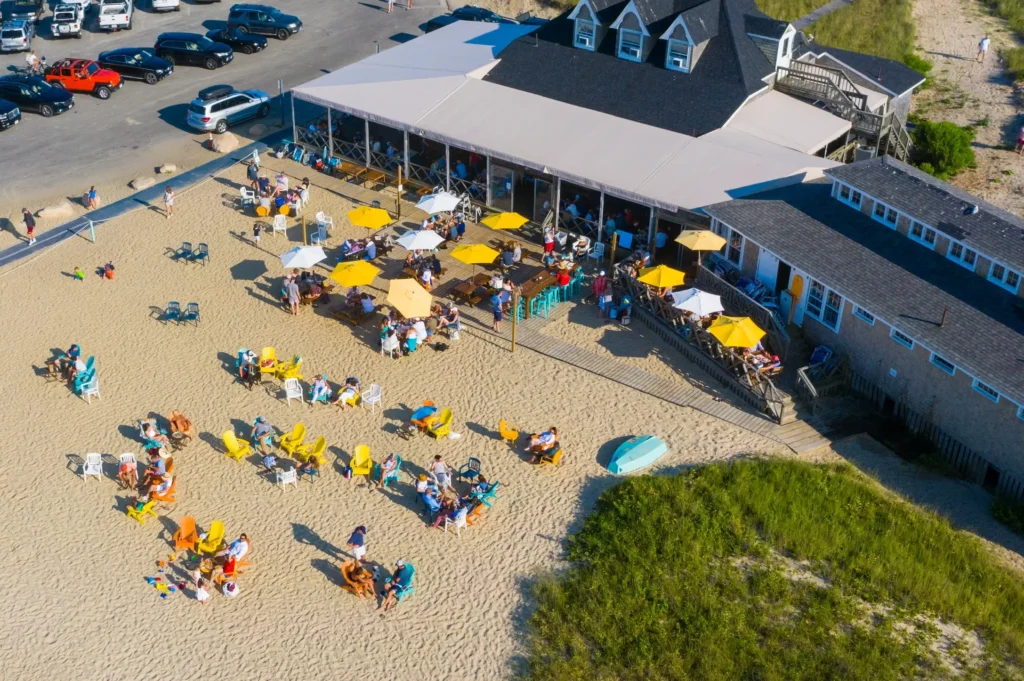 As one of the best things to do in Nantucket this weekend, Jetties Beach is among the most popular and beloved beaches on the island. It is only 10 minutes from town and on the Nantucket Sound shore, so the water is much calmer, shallower, warmer, and safer than the open ocean.
The beach has all the amenities you need to spend a wonderful day on, including restrooms, a playground, a skate park, volleyball nets, a pavilion, and lifeguards.
It is also home to the Jetties Sandbar Restaurant and Bar, where you can enjoy sipping on a cool cocktail or rose while eating delicious freshly caught oysters, lobster rolls, and other gourmet dishes right there on the soft sand of the beautiful beach.
#8. Enjoy the sunset at Galley Beach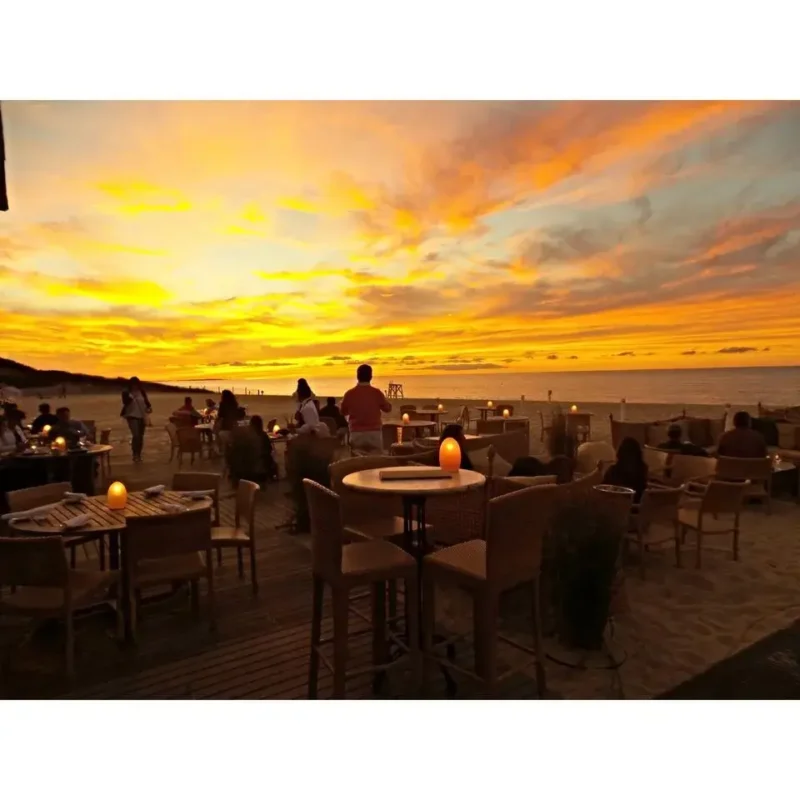 Galley Beach is one of the most exclusive fine-dining restaurants on the island.
The high-end waterfront restaurant and bar have award-winning menus and wine lists, Michelin-star level food and service, and a history of more than 100 years.
One of the best ways to enjoy a glass of chilled rose or a crafted cocktail is at the restaurant's beach bar or the open-air canopied lounge alongside the fire pits in the sand while watching the sunset over the ocean.
Book a table at the restaurant in advance if you plan to visit Galley Beach.
#9. Join a cruise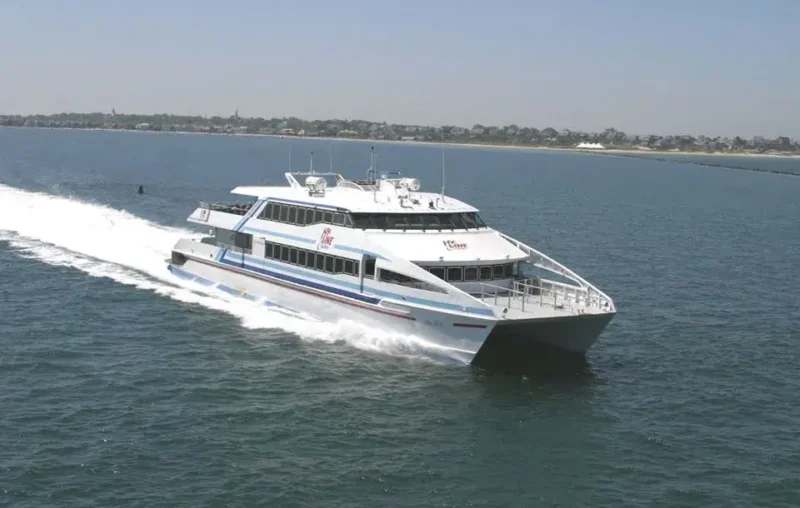 You can go on various cruises and excursions offered on the island. Different cruises suit people of all ages, interests, and tastes. 
Some of the best ones to pick are the Sunset Cruise, the Cocktail Cruise, the Ice Cream Cruise, or the Critters Cruise.
You can also embark on a more extended excursion and go on a seal, whale spotting, or sports fishing cruise.
In any case, admiring and exploring the beauties of the island of Nantucket is done best from the sea. If you are looking for what to do in Nantucket then join a cruise.
#10. Spoil yourself with a meal at Straight Wharf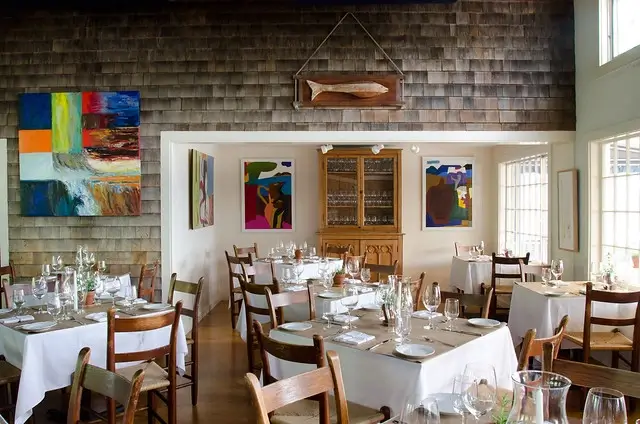 Straight Wharf is another culinary leader on the island. The upscale restaurant offers stunning elevated dishes, including Day Boat Scallops, iced Nantucket Oysters, Spice Crusted Sustainable Catch, and other gourmet dishes prepared with the freshest and best sustainable seafood and products from the island.
The restaurant's bar is known for some of Nantucket's best handcrafted mixed drinks. This also one of the best places to visit in Nantucket.
Time to spare? Why not check out the best places to visit in Las Vegas, Jackson (Tennessee), Dahlonega (Georgia), and Albrightsville (Pennsylvania).
Frequently Asked Questions
what is Nantucket known for?
Off the coast of Massachusetts in the United States, the island of Nantucket is known for its attractiveness. The numerous antique mansions and buildings that still survive today are evidence of its illustrious past as a major whaling center in the 19th century.
Nantucket is renowned for its stunning beaches, picturesque ports, and attractive downtown district that is home to a variety of shops, galleries, and eateries.
In addition, Nantucket is a well-liked location for outdoor pursuits like cycling, sailing, and fishing.
Is Nantucket a good place to live?
For individuals who value a small town vibe and a slower pace of life, Nantucket might be a fantastic spot to call home. The community is close-knit, and there is a strong feeling of history and tradition on the island.
However, there are several drawbacks to living on Nantucket, including a high cost of living, few options for employment outside of the tourism sector, and a reliance on ferries or airplanes to travel to the mainland.
In addition, the island's population increases during the popular summer months, which may give the impression that it is congested and crowded. Nantucket's suitability as a place to reside ultimately depends on personal tastes and considerations.
Is Nantucket safe?
Generally speaking, Nantucket is regarded as a safe place to visit or live. Violent crime is uncommon on the island and there is a low crime rate.
Nantucket is not crime-free, like any community, so visitors and locals should exercise the same caution they would anywhere else.
It is advised to lock doors and windows and avoid leaving valuables unattended in automobiles or on the beach because petty theft can be a worry, especially during the busy tourist season.
Visitors and locals should use caution when swimming, boating, or indulging in other water-based activities because, as with any coastal area, there are potential risks related to water activities, such as rip currents and powerful waves.
Plan Your Vacation To Nantucket
In summary, Nantucket is a really unique location that provides a distinct fusion of history, culture, natural beauty, and outdoor activity.
There are so many things to do in Nantucket, from learning about the island's extensive whaling history and strolling through the quaint center to unwinding on gorgeous beaches and indulging in top-notch cuisine.
Nantucket has something to offer everyone, whether they are history buffs, foodies, nature lovers, or just looking to relax and get away from the daily grind.
So why not book a trip to this beautiful island and see for yourself why it is so well-liked? Nantucket is unquestionably a gem of the New England coastline with its fascinating history, lovely atmosphere, and countless attractions and activities.
Things to Do In Nantucket