10 Best Things to do in Singapore with Family
Are you searching for the best things to do in Singapore with family? Then you are on the right page! Singapore, a vibrant and dynamic city-state, is a fantastic destination for families seeking unforgettable experiences.
Singapore provides a plethora of family-friendly attractions and activities to explore. From the thrilling rides at Universal Studios to the educational experiences at the Science Centre, there is something for every family member to enjoy.
Take advantage of Wild Wild Wet Singapore's aquatic fun or Snow City Singapore's snowy adventures. Plan your trip to Singapore and create lasting memories with your loved ones in this vibrant city-state.
Singapore is known for its mix of cultures, iconic landmarks, and countless attractions. Singapore offers many activities that will delight visitors of all ages.
Whether you're seeking thrills, cultural immersion, or quality time together, here are ten must-try activities to enjoy with your family in this enchanting city.
What are the Best Things to do in Singapore with Family?
#1. Experience Thrill at Wild Wild Wet Singapore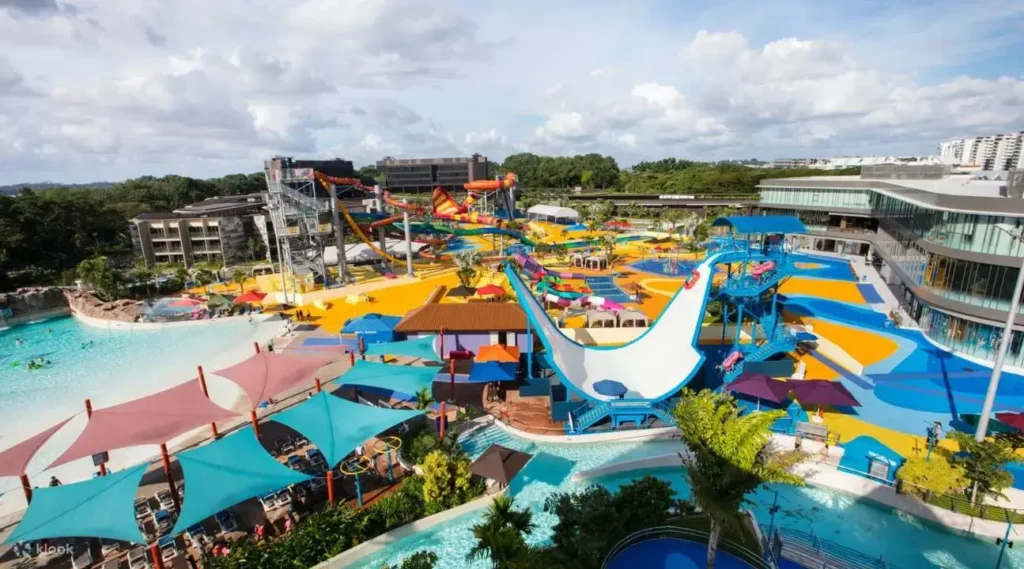 Wild Wild Wet Singapore is an exciting water park that offers a full day of thrilling aquatic adventures for the entire family. By booking Wild Wild Wet Singapore tickets, visitors enter a world filled with exhilarating water slides, wave pools, and engaging water play areas. 
Spanning a vast area, this expansive water park features a diverse range of attractions to cater to different preferences and age groups. From heart-pounding slides that induce screams of excitement to leisurely lazy rivers perfect for a relaxing float, Wild Wild Wet has something for everyone.
So, seize the opportunity, and prepare to dive into a day filled with splashes and excitement in this captivating water park adventure.
#2. Visit Universal Studios Singapore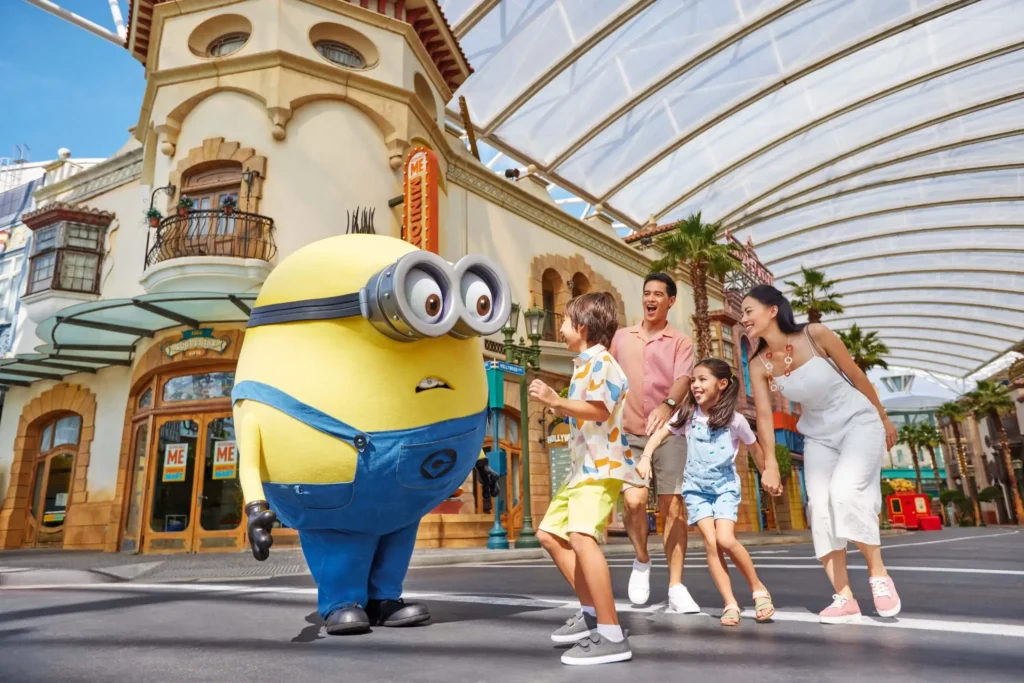 One of the most popular family attractions in Singapore is Universal Studios. Located on Sentosa Island, this theme park offers a thrilling experience with many rides and attractions based on popular movies and TV shows.
From the adrenaline-pumping roller coasters to entertaining live shows, Universal Studios Singapore guarantees a day of fun and excitement for the whole family.
#3. Have Fun at Snow City Singapore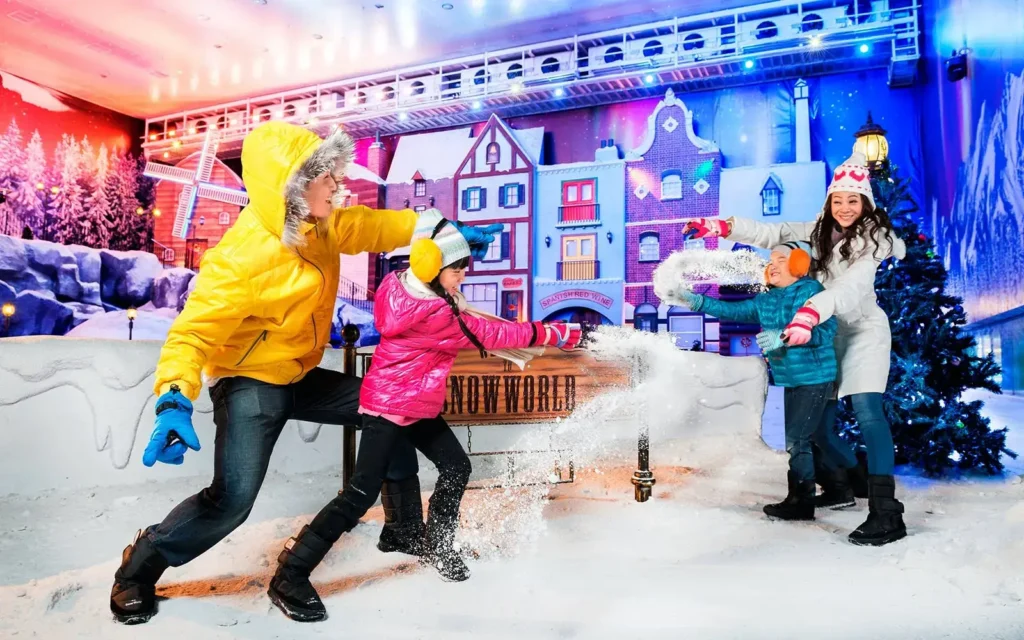 Snow City Singapore is a captivating attraction offering a unique wintry experience amidst the tropical cityscape. With Snow City Singapore tickets, visitors can immerse themselves in ice and snow, enjoying various exciting winter activities.
This indoor snow center provides a delightful escape from the heat, enabling families to engage in playful snowball fights, construct charming snowmen, and even try snowboarding and skiing.
Using advanced technology, Snow City Singapore ensures a realistic and enjoyable winter wonderland suitable for all ages. Beyond being an enchanting place for kids to encounter snow, this attraction also offers adults a refreshing and entertaining experience.
You may like to check out 10 Best Adventure Activities to Do in Dubai.
#4. Wander around Gardens by the Bay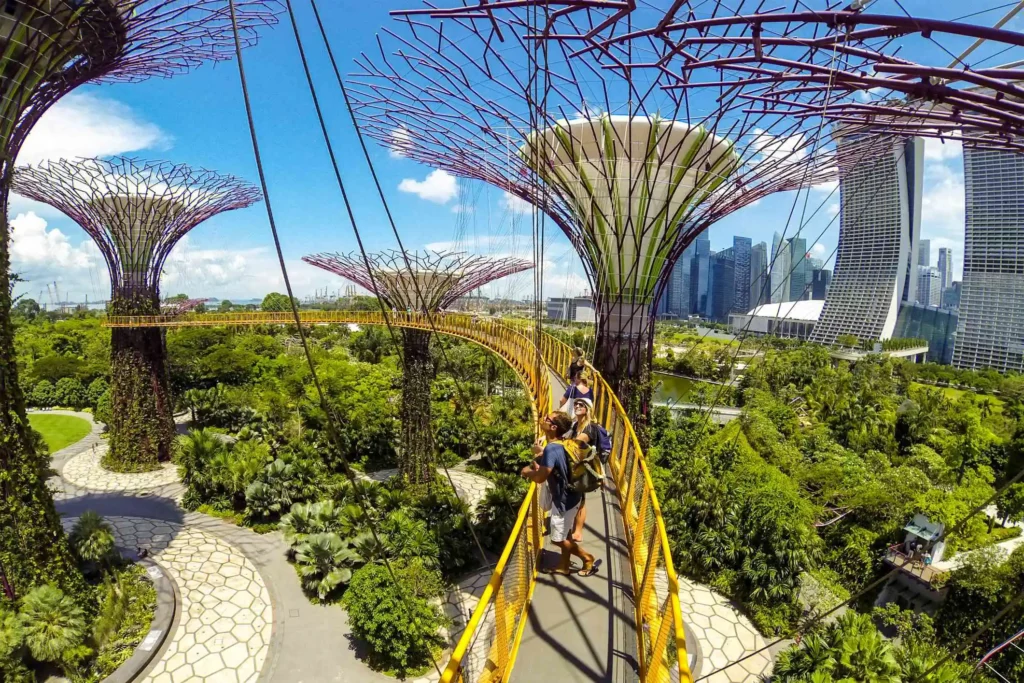 Gardens by the Bay is a must-visit destination for families in Singapore. This stunning nature park showcases beautifully landscaped gardens, futuristic architecture, and the iconic Supertrees.
Kids will love the Children's Garden, a dedicated play area with water play features, a treehouse, and interactive exhibits.
The Cloud Forest and Flower Dome are also worth exploring, offering a glimpse into different ecosystems and exotic plant species.
#5. Explore Science Centre Singapore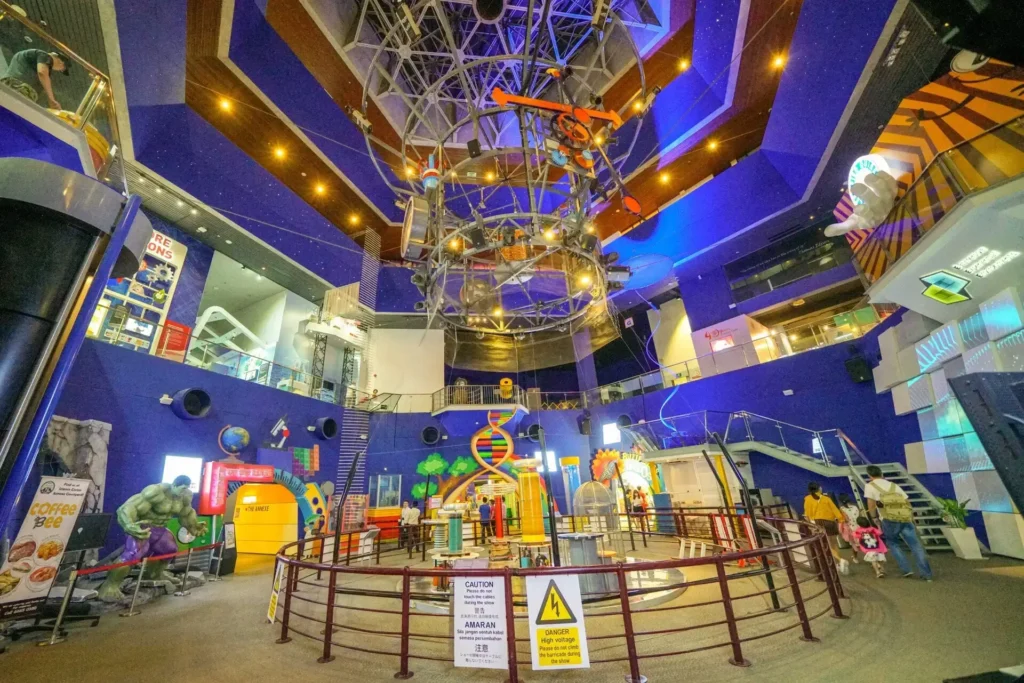 The Science Centre Singapore is a fantastic place for curious minds. It houses numerous interactive exhibits, science-themed galleries, and an outdoor water play area.
The highlight is the Omni-Theatre, a dome-shaped theater that presents breathtaking science documentaries on its massive screen.
The Science Centre Singapore encourages learning through play for children of all ages with hands-on experiments and engaging displays.
#6. Get Immerse in Singapore Flyer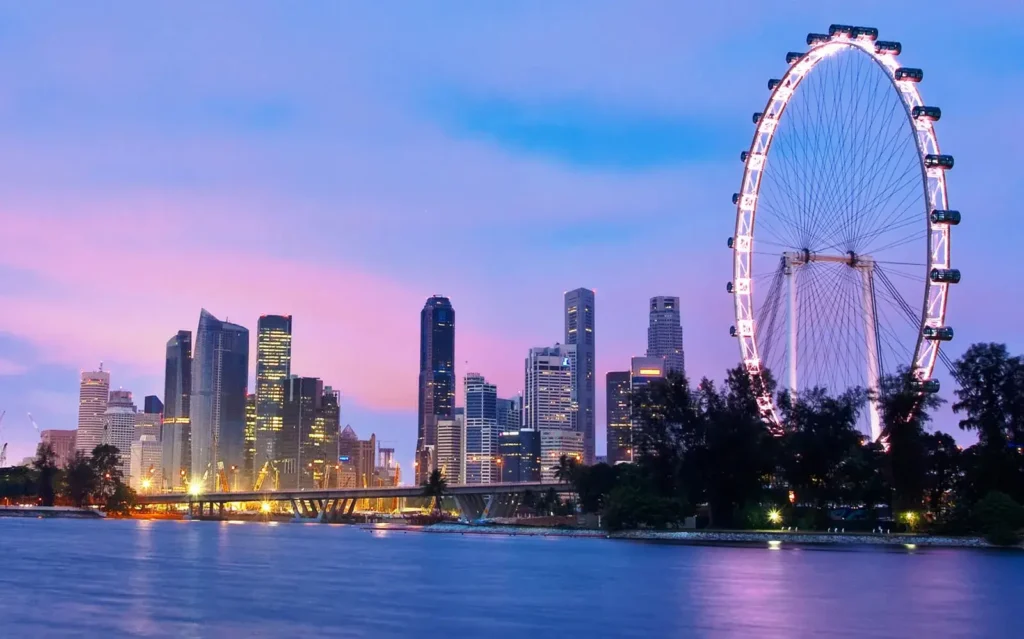 Get a bird's-eye view of the city by riding the Singapore Flyer. As one of the world's largest observation wheels, it offers stunning panoramic views of Singapore's skyline and landmarks.
The cabins are air-conditioned and spacious, making it a comfortable experience for the whole family. Remember to bring your camera to capture the breathtaking vistas from the top.
The Singapore Flyer is a must-see attraction if you're in Singapore. You can see all of the city's significant landmarks from the summit, with breathtaking views. The Singapore Flyer is a fantastic location for a family vacation or a romantic date.
#7. Explore Singapore Discovery Centre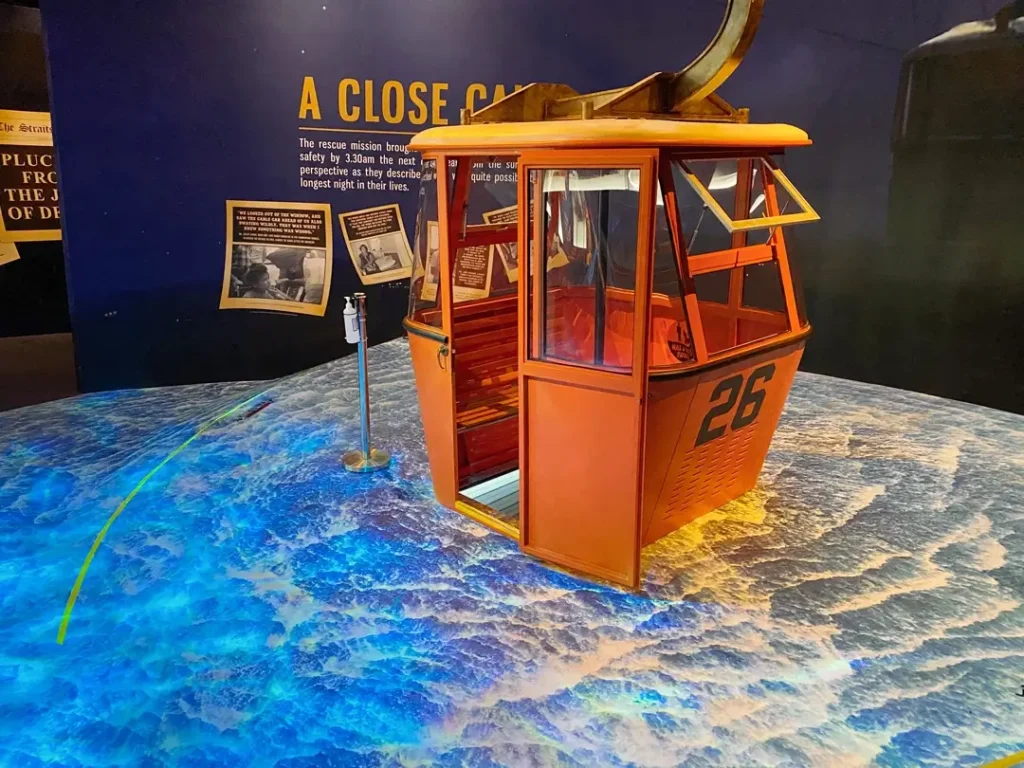 The Singapore Discovery Centre combines education and entertainment, making it an excellent choice for families. This interactive museum showcases Singapore's history, culture, and technological advancements.
Visitors can learn about the nation's achievements and challenges through multimedia exhibits and immersive displays. The center also features a 4D theater, a virtual reality simulator, and outdoor adventure trails.
Looking for more thrills around? read more at 5 Products That You Must Take On Your Next Travel Adventure!
#8. Visit Singapore Zoo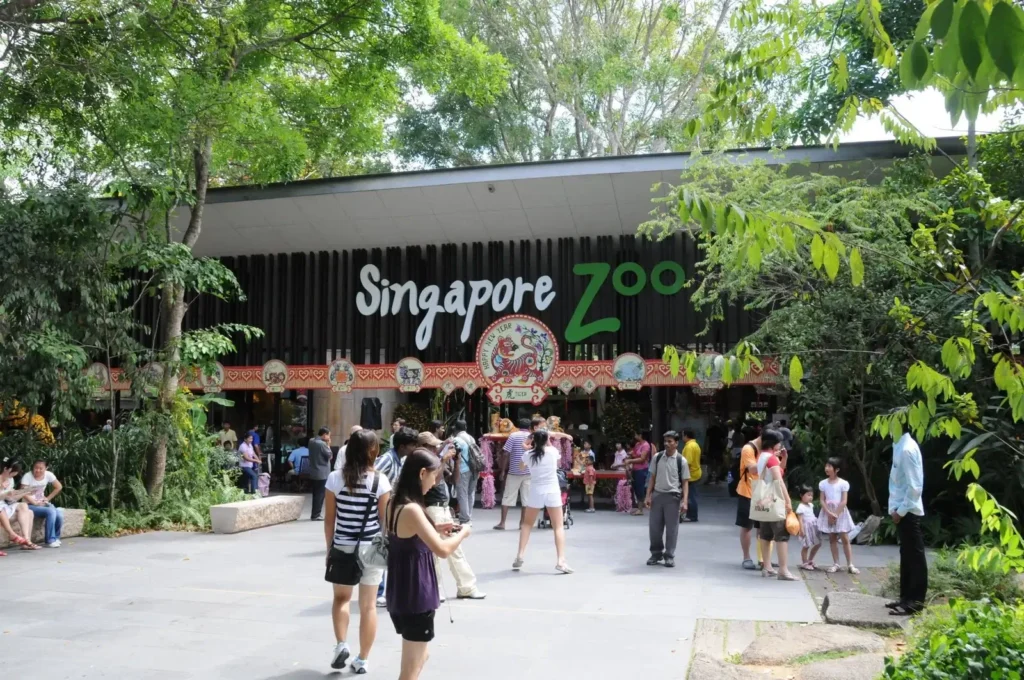 For an up-close encounter with wildlife, head to the Singapore Zoo. Known for its innovative approach to animal conservation, the zoo offers a unique and immersive experience.
Visitors can enjoy various animal shows and interactive exhibits and even have breakfast with orangutans. The zoo's open concept makes it a memorable and educational adventure for kids and adults.
The Singapore Zoo is renowned for its open design, which enables guests to observe the animals in their natural environments. Numerous educational initiatives are offered in the zoo to assist visitors in learning about the animals and their conservation.
Visit the Singapore Zoo if you're in Singapore; it's a must-see destination. It is a lot of fun and a fantastic location to learn about animals and their habitats.
#9. Discover S.E.A. Aquarium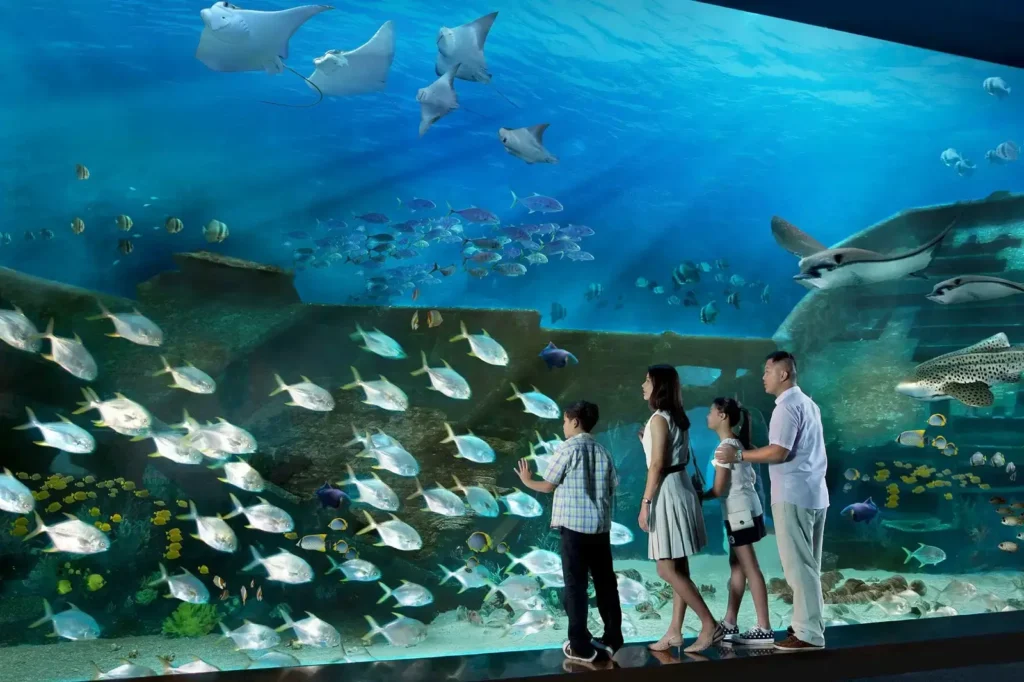 Dive into the fascinating world of marine life at the S.E.A. Aquarium. Located on Sentosa Island, it is one of the largest aquariums in the world, housing over 100,000 marine animals across various habitats.
Families can explore the exhibits, including a walk-through tunnel surrounded by sharks and rays. The aquarium also offers interactive programs where visitors can learn about conservation and participate in feeding sessions.
The aquarium's underwater tunnels allow visitors to stroll around them while viewing the animals swimming above them. Visitors can also learn about the animals and their habitats at many interactive exhibits.
The S.E.A. Aquarium is a must-see site if you're in Singapore. It is a fantastic location to learn about marine life and witness some of the most incredible animals on the planet.
#10. Stroll around Singapore Botanic Gardens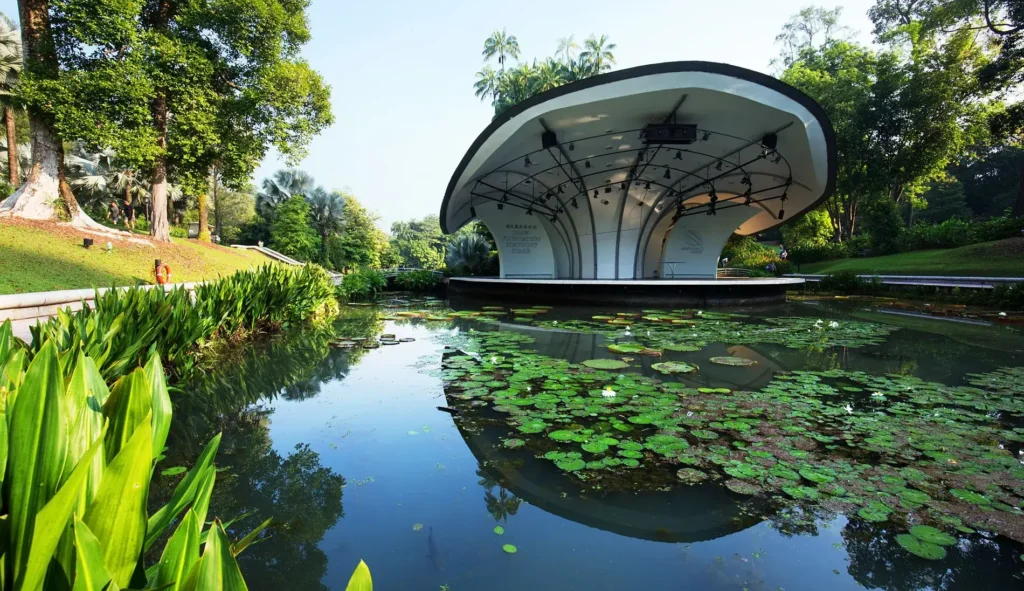 Stroll or picnic at the Singapore Botanic Gardens, a UNESCO World Heritage site. This lush oasis offers a tranquil escape from the bustling city.
Kids can explore the Jacob Ballas Children's Garden, a dedicated area with interactive play features, a treehouse, and educational exhibits about plants and nature.
The Botanic Gardens also hosts regular concerts and events, making it a delightful destination for the whole family.
Before You Go…
Singapore is a beautiful destination for family travel. All ages, from small children to senior citizens, can enjoy a variety of attractions. Here are a handful of the top family-friendly activities in Singapore.
These are just a few of the numerous family-friendly activities in Singapore. You can choose from various attractions so that everyone will be entertained.
Disclaimer: Vasttourist always strives for content accuracy. Since the time of publishing, travel-related information regarding pricing, schedules, and hours may have changed. Please see individual websites embedded in this post for the most current trip-planning information.

Unless otherwise stated, Vasttourist does not claim ownership of any images used on our blog site. The respectful owners of all visual content have copyright protection. We try to include links to the sources. If any images are your property and you do not want them to appear on our blog, don't hesitate to contact us; we will take them down immediately. We support properly crediting the original writer, artist, or photographer.