10 Best Adventure Activities to Do in Dubai
Looking for the best Activities to Do in Dubai? Dubai, the dazzling city of modern wonders and luxurious experiences, invites travelers from around the globe to embark on an extraordinary adventure like no other.
From the soaring heights of the Burj Khalifa to the enchanting Dolphin Show Dubai, there is something for everyone in this vibrant metropolis.
But the excitement doesn't stop there; Dubai offers many thrilling adventures to pump your adrenaline.
Immerse yourself in the perfect blend of tradition and innovation as you explore the bustling souks, pristine beaches, and captivating architectural marvels. Here are the top 10 exciting activities to make your Dubai journey unforgettable.
What are the 10 Best Adventure Activities to Do in Dubai?
#1. Dubai Helicopter Tour: Soar like a Bird, Behold the Wonders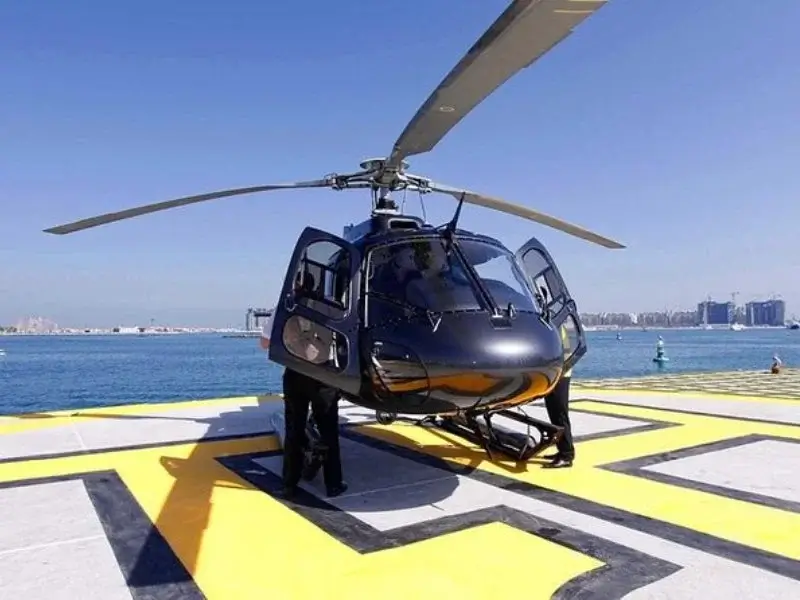 Start your adventure with a Dubai Helicopter Tour, a mesmerizing journey that takes you above the city's iconic attractions. Marvel at the impressive Palm Jumeirah, the luxurious Burj Al Arab, and The World Islands.
Get a bird's-eye view of Dubai's magnificent skyline as your helicopter soars gracefully through the clouds.
With breathtaking panoramas in every direction, this thrilling experience will leave you and your friends in awe of Dubai's architectural wonders.
#2. Hot Air Balloon Ride in Dubai: Float Above the Desert Sands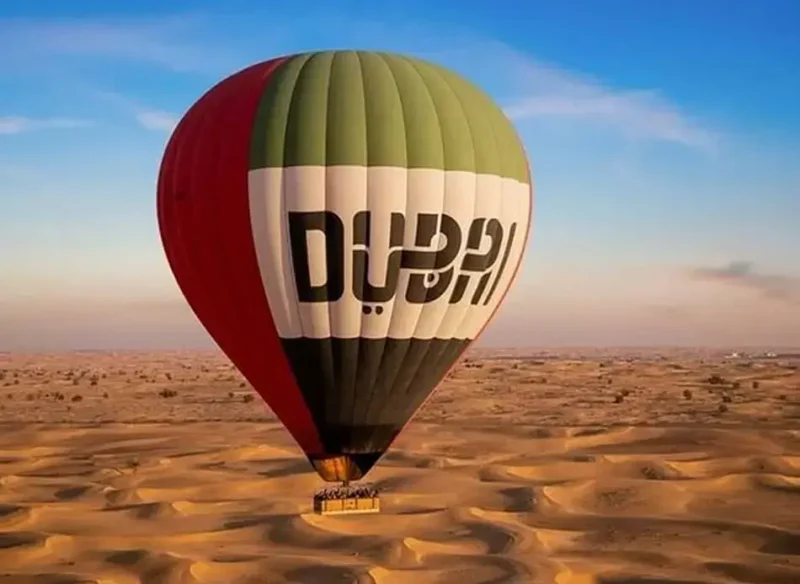 Experience the magic of the desert from a different perspective with a Hot Air Balloon Ride in Dubai. As the sun rises, soar gently above the golden sand dunes and watch the desert come alive with colors.
The tranquil ride offers a serene escape from the bustling city, allowing you to appreciate the vastness of the desert and its mesmerizing beauty.
Capture stunning photos as you glide through the sky and make memories to cherish forever.
#3. Dubai Desert Safari: A Dune Bashing Adventure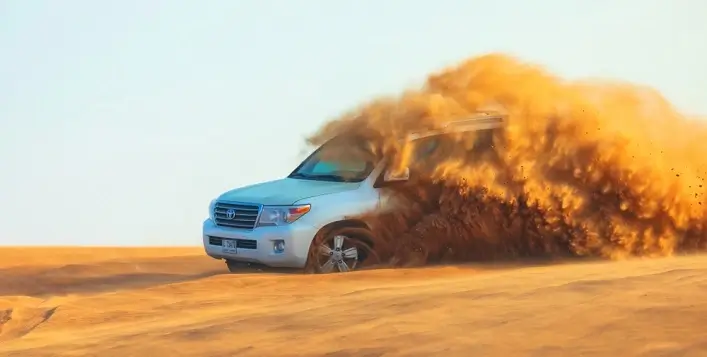 Immerse yourself in the thrill of a Dubai Desert Safari as you embark on a thrilling journey through the golden sands in a 4×4 vehicle.
Hold tight as your skilled driver takes you on an adrenaline-pumping dune bashing experience, where you'll ride the undulating dunes like a roller coaster.
After the exhilarating ride, try sandboarding, a thrilling activity that lets you glide down the dunes on a board. End the adventure with a taste of Arabian hospitality, enjoying a traditional meal under the starlit sky.
You may like to check out the Best Adventures to Try in the Dubai Desert, and also Tips on How to Enjoy Dubai Like a Local.
#4. Skydiving in Dubai: An Adrenaline Rush Like No Other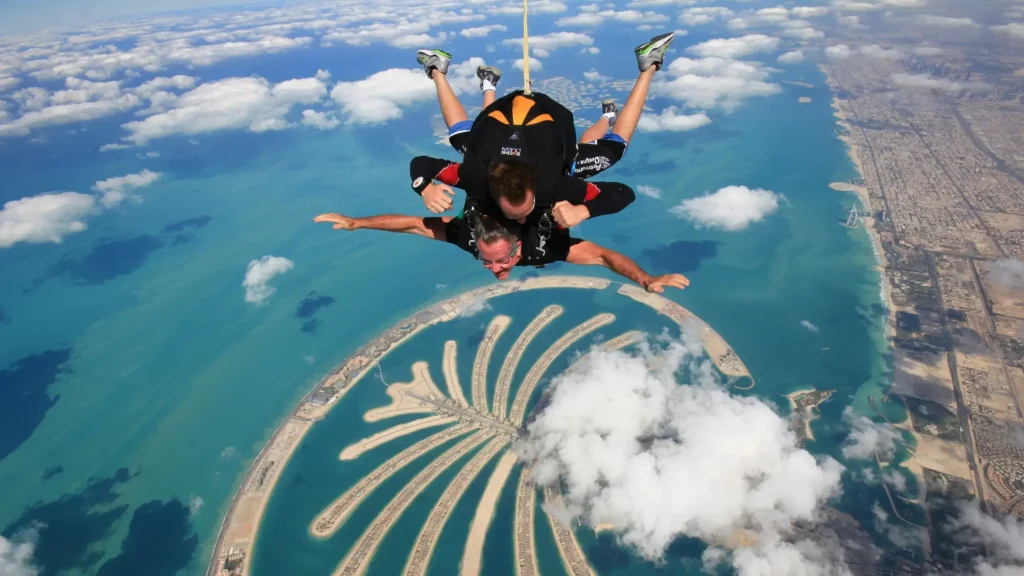 For the ultimate adrenaline rush, go skydiving in Dubai. Feel the surge of excitement as you jump from an aircraft at staggering heights and freefall through the sky.
As you parachute down, soak in breathtaking views of Dubai's iconic landmarks, including the Palm Jumeirah and Dubai Marina.
This heart-pounding experience will be etched in your memory forever, leaving you with an unmatched sense of accomplishment.
#5. Jet Skiing in Dubai: Speed over the Arabian Gulf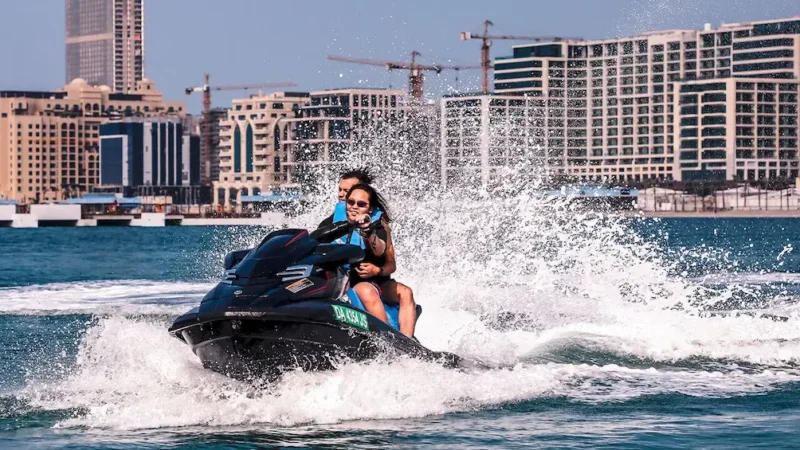 Head to the azure waters of the Arabian Gulf and indulge in the thrill of jet skiing in Dubai. Feel the wind in your hair as you zip across the glistening waves, taking in the stunning coastal scenery.
Whether you're a novice or an experienced rider, jet skiing offers an exhilarating adventure and a refreshing way to beat the heat.
So, grab your friends, hop on a jet ski, and feel the adrenaline rush as you conquer the waves.
#6. Flyboarding in Dubai: Defy Gravity on Water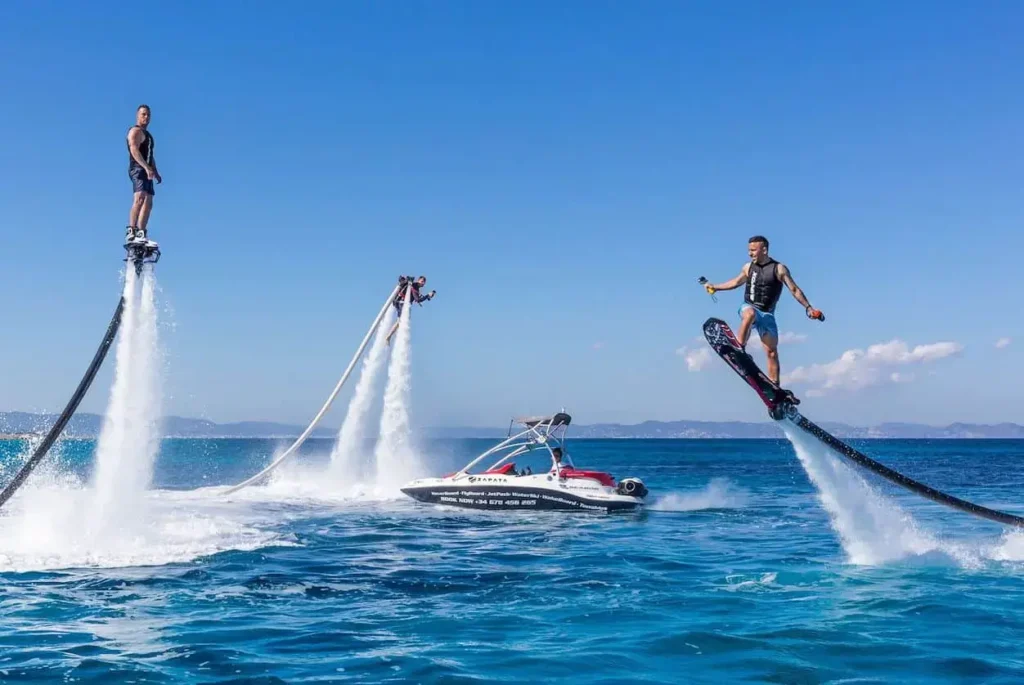 Take water sports to the next level with flyboarding in Dubai. Strap on a flyboard propelled by high-pressure water jets and experience the sensation of flying above the water's surface.
Mastering the art of balance and control will have you performing daring maneuvers in no time. It's an activity that combines excitement and adventure, promising an unforgettable experience for you and your friends.
If you are about travelling to Dubai for a wonderful vacation, you can check out An Ultimate Guide to Choosing Hotels and Resorts in Dubai.
#7. Dubai Autodrome: Unleash the Speed Demon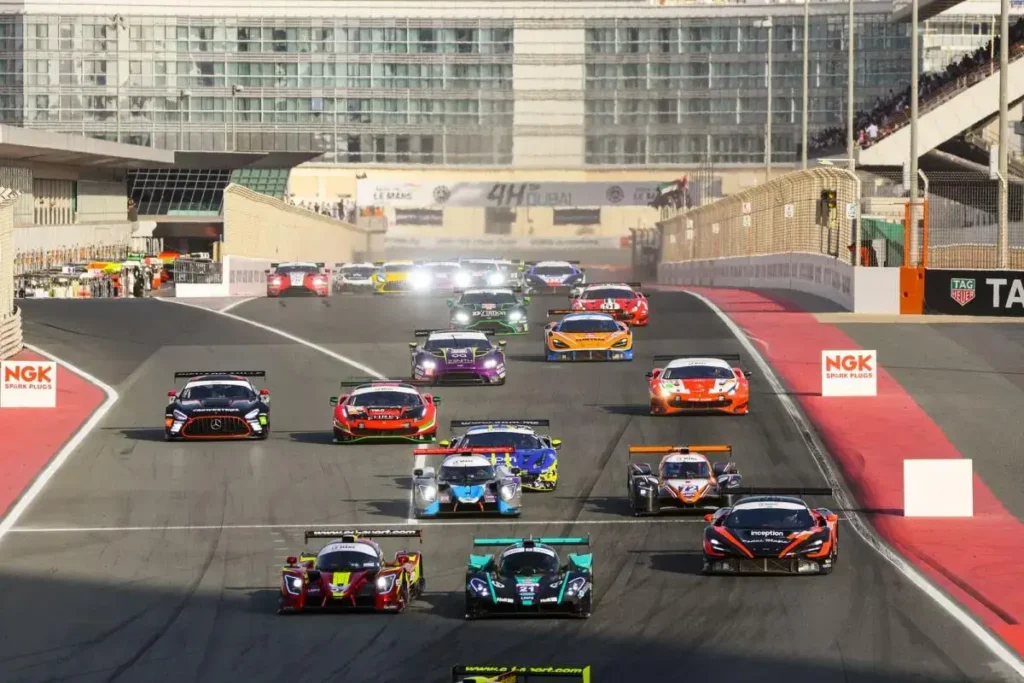 For the speed enthusiasts in your group, a visit to Dubai Autodrome is a must. Experience the thrill of driving high-performance cars on a professional race track.
Choose from a selection of supercars, including Lamborghinis, Ferraris, and Porsches, and feel the power as you zoom down the straightaways and navigate through challenging corners.
It's a unique opportunity to channel your inner race car driver and create unforgettable memories.
#8. Scuba Diving in Dubai: Explore an Underwater World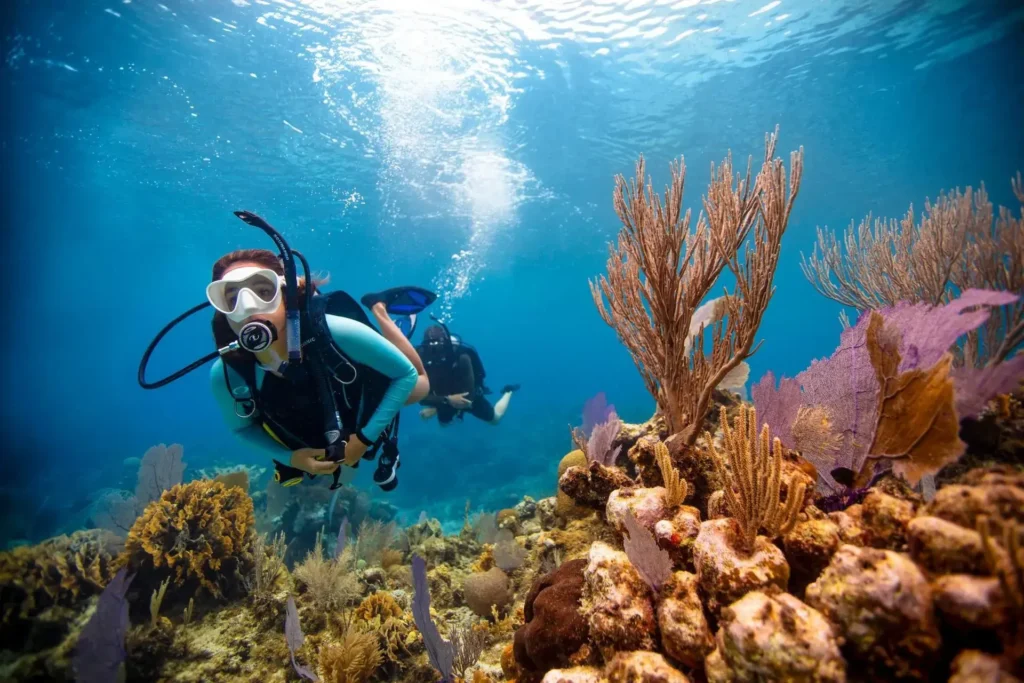 Dive into the depths of the Arabian Gulf and discover the hidden treasures beneath the surface. Scuba diving in Dubai offers an incredible opportunity to explore vibrant coral reefs, encounter colorful marine life, and witness fascinating shipwrecks.
Whether you're a certified diver or a beginner, numerous dive sites are suitable for all levels of experience.
It's a chance to immerse yourself in a captivating underwater world and create lasting memories with your friends.
#9. Indoor Skydiving at iFLY Dubai: Experience the Thrill of Flight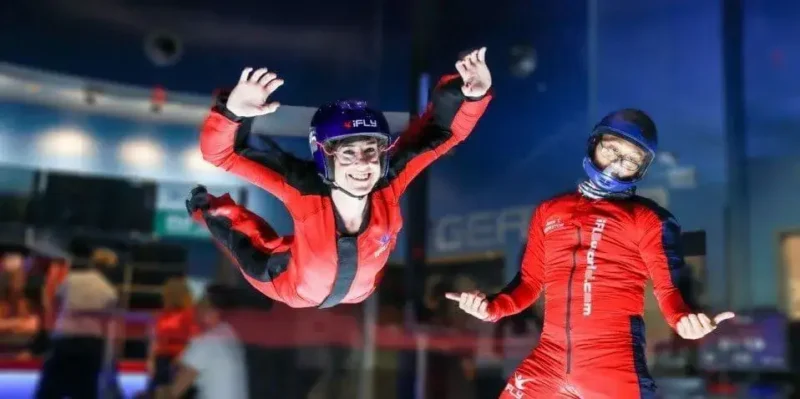 If you've ever dreamed of flying like a superhero, Indoor Skydiving at iFLY Dubai makes that dream a reality. Experience the sensation of skydiving without jumping from a plane.
A vertical wind tunnel generates powerful updrafts, allowing you to float effortlessly in mid-air. An experienced instructor will guide you through the exhilarating experience, making it safe and enjoyable for everyone. It's a unique adventure that will leave you feeling like you've conquered the skies.
#10. XLine Dubai Marina: Zip Line Across the City Skyline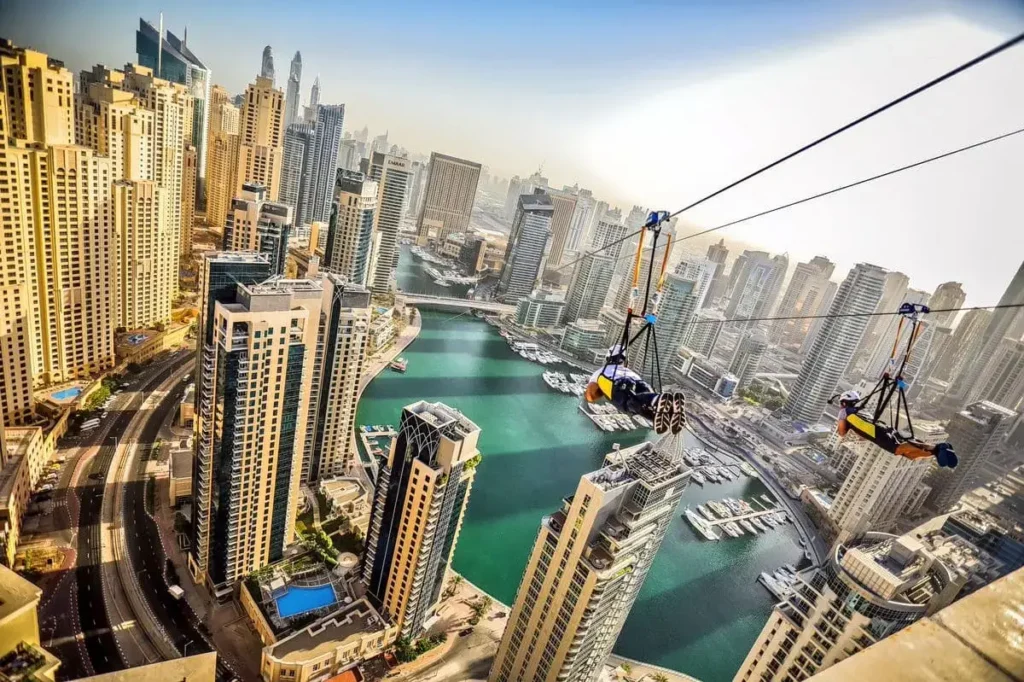 End your Dubai adventure with a dose of adrenaline on the XLine Dubai Marina, one of the world's longest urban ziplines.
Glide across the city's skyline from Amwaj Towers to Dubai Marina Mall, reaching up to 80 kilometers per hour.
The stunning views of the marina and the rush of flying through the air make this a thrilling finale to your Dubai escapade.
Time to spare? You may also read more on 5 Best Attractions in Dubai You Can't Miss!
In Conclusion
Dubai is a playground for adventure seekers, offering various thrilling activities that cater to every taste.
Whether you want to soar above the city on a helicopter tour, float serenely in a hot air balloon over the desert, or experience an adrenaline rush through dune bashing and skydiving, Dubai has it all.
So, gather your friends, pack your bags, and get ready to create unforgettable memories as you embark on the ultimate adventure in this mesmerizing city. With its perfect blend of luxury, innovation, and excitement, Dubai promises an experience.
Disclaimer: Vasttourist always strives for content accuracy. Since the time of publishing, travel-related information regarding pricing, schedules, and hours may have changed. Please see individual websites embedded in this post for the most current trip-planning information.

Unless otherwise stated, Vasttourist does not claim ownership of any images used on our blog site. The respectful owners of all visual content have copyright protection. We try to include links to the sources. If any images are your property and you do not want them to appear on our blog, don't hesitate to contact us; we will take them down immediately. We support properly crediting the original writer, artist, or photographer.