4 Best Adventures to Try in the Dubai Desert
You have seen the Burj Khalifa; you have even gone up to the Observation Deck to gaze down at the incredible view of Downtown Dubai and visited At.mosphere on the 122nd floor to try its lavish Golden Billionaire Burger.
You have watched the Dubai Fountain light, water, and sound show, shopped till you dropped at the Dubai Mall, had the 24-carat gold cappuccino at Burj Al Arab, and posed for the obligatory picture at the Dubai Frame. What else can you do in Dubai?
Adventure awaits in Dubai if you want it. How about a Dubai safari? Eighty percent of the land area of the United Arab Emirates is desert, after all. And while you're in the desert, you can try driving a quad bike, dune buggy, or motorbike.
#1. Desert Safari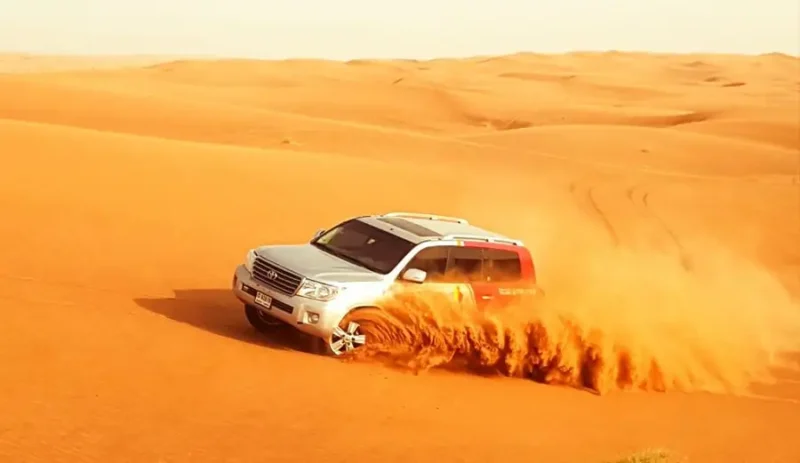 A desert safari is one of the most compelling ways to experience the Dubai desert's natural beauty. You have two choices: a morning safari or a night safari.
A morning safari typically starts way before sunrise, with a pick-up from your hotel or designated meeting point in a 4×4 vehicle. Your driver will take you to the desert and, once there, take you on an exciting ride across the desert.
The spectacular view as the sun rises over the horizon to illuminate the desert is one of the primary highlights of a morning safari.
A night safari goes the same way as a morning safari, with your driver picking you up from your hotel or the tour's designated pick-up point and an over an hour-long drive to the desert followed by driving across the dunes.
This time, however, the breathtaking sunset views are a significant highlight, with the setting sun hanging low like a gigantic golden orb suspended against the backdrop of the reddish-orange sky and the burnished copper expanse of the sand dunes.
The spectacular desert sunrise and sunset views aside, driving up and down the dunes (i.e., dune bashing) in a 4×4 sports utility vehicle (SUV) can be exhilarating.
It takes special driving skills to know when to accelerate and decelerate to remain stable in the shifting sand. Thus, going on a desert safari with a reliable desert tour provider is best. You can check out the best things to do in Dubai that will make your trip more stunning.
#2. Quad Biking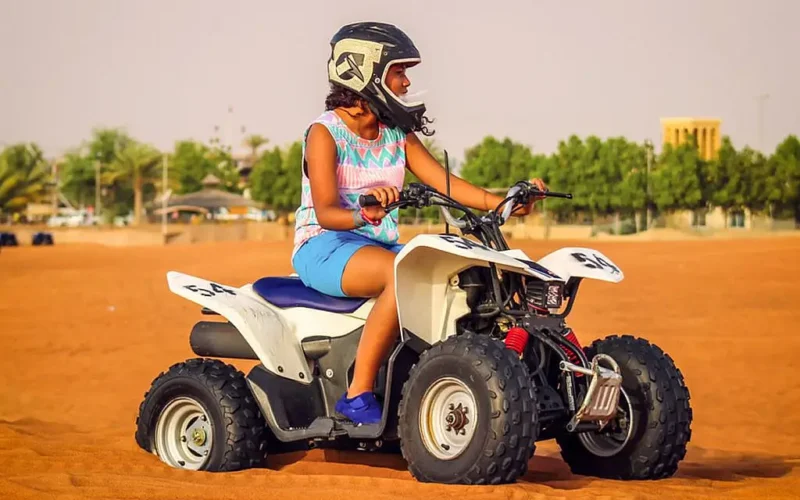 Dubai's vast desert is perfect for those who enjoy off-road experiences and breathtaking scenery, and a Dubai desert quad biking tour is an adventure you'll never forget. So, if you're up for an adrenaline-packed day of dune bashing in the desert, quad biking is the way to go.
Quad bikes, or all-terrain vehicles (ATVs), are four-wheeled vehicles specifically designed for off-road use. They have high power and torque; their engines typically range from 350 to 700 cc for desert driving.
They have wide tires and a sturdy frame that can handle rough terrain. Quad bikes are easy to operate and offer a unique way to explore the desert landscape.
A quad bike tour usually starts with a safety briefing and operation instructions. Once you are comfortable, you can begin your journey through the desert with an experienced guide leading the way.
Your guide will take you through the dunes, and you'll be able to appreciate the stunning views of the desert landscape.
The vast stretch of sand dunes and the endless horizon is a sight to behold. The wind in your face, the sound of the engine, and the freedom of the open desert will give you an incredible sense of adventure.
Quad biking suits all skill levels, from beginners to experienced riders. Quad bike tour operators usually offer options on ride duration, engine power, and experience level.
Looking for more travel experiences, why not check out Books That Will Inspire Your Next Adventure?
#3. Dune Buggy Driving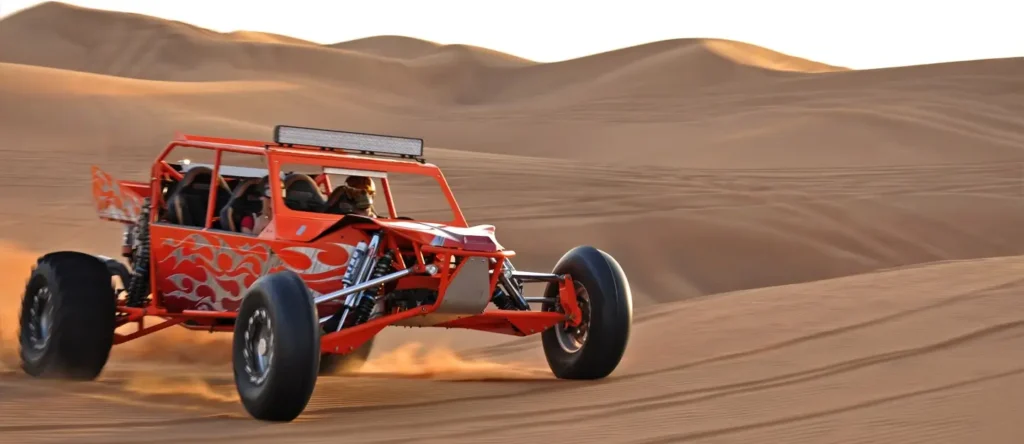 Do you want more power than a quad bike can provide? Perhaps you want company as you go dune bashing in the Dubai desert's 30-foot-high dunes. In that case, book a dune buggy instead of a quad bike.
A dune buggy is a specially designed four-wheeled off-road vehicle that, like the quad bike, can handle the rough and rugged terrain of the desert. However, unlike the quad bike, which looks like a four-wheeled motorcycle, the dune buggy has more of a car-like or jeep-like form factor.
Dune buggies, like quad bikes, have squat tires explicitly designed to give them traction in shifting sand terrains.
Unlike quad bikes, however, they can carry up to two (two-seater) or up to four (four-seater) passengers, including the driver. Additionally, at 1,000 cc, they have more significant engine displacement and are thus more potent than quad bikes.
Besides these differences, a dune-bashing tour on a quad bike or a dune buggy flows the same way. A dune buggy desert driving tour starts with a safety briefing and operation instructions. An experienced guide also leads the way in either case.
#4. Motorcycle Dune Bashing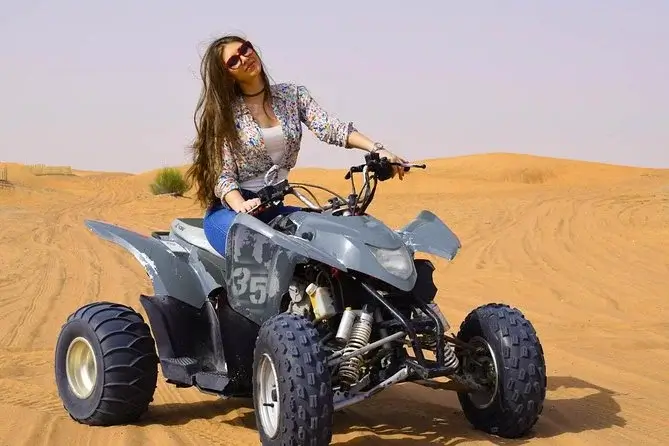 For the best thrill, how about dune bashing on a motorcycle? Unlike a quad bike or a dune buggy, a two-wheeled motorcycle (say, a KTM 450 cc) presents quite the challenge.
Balancing has always been critical when motorcycle riding, but it becomes extra onerous when riding on shifting sand.
Motorcycle riding also offers a unique kind of pleasure aside from giving a great sense of accomplishment.
It provides a level of freedom and control unmatched by other off-road options. With only two wheels, you have more control over the vehicle and can easily navigate tight spaces, allowing for a thrilling and unique ride.
A motorbike is significantly lighter with its lightweight frame, powerful engine, and nimble handling. Thus, you can hit higher speeds and take more risks than you would with other off-road vehicles. This makes it a perfect choice for those looking to push their limits.
Choose Your Adventure
Dubai offers more than majestic towers, luxurious hotels, gold-plated burgers, and great experiences. The Dubai desert is a trove of adventure and natural beauty.
Whether you're looking for a thrilling adventure or an escape from the city's hustle and bustle, the Dubai desert has something for you.
Go on a desert safari and go dune-bashing in a 4×4 SUV. You can do the same on a quad bike, dune buggy, or motorbike.
Each of these activities offers a unique way to experience the Dubai desert, whether through the thrill of speed, balancing, navigation, or the freedom of the open desert.
Adventures to Try in the Dubai Desert