Exploring the Best Charms of Lancaster County: Diverse Tours for Travel Enthusiasts
If you are about to explore the charms of Lancaster County, then you are on the right page Lancaster County was established in 1729, carved out of Chester County, one of the three original counties in Pennsylvania.
The county is mainly known for its Amish community, which settled here in the early 18th century seeking religious freedom.
They've preserved their way of life, primarily resisting modern conveniences, which adds an intriguing historical and cultural layer to the region.
When it comes to picturesque landscapes, rich cultural heritage, and an aura of serenity, Lancaster County, now lovingly known as Amish Country, shines like a hidden gem waiting to be explored.
This idyllic region in Pennsylvania offers many captivating tours that cater to the desires of avid travelers, couples seeking romantic getaways, and families searching for memorable adventures. Here are five popular Amish tours in Lancaster, PA, that provide an insight into the county's many charms:
#1. Float Above Lancaster With Lancaster Balloon Rides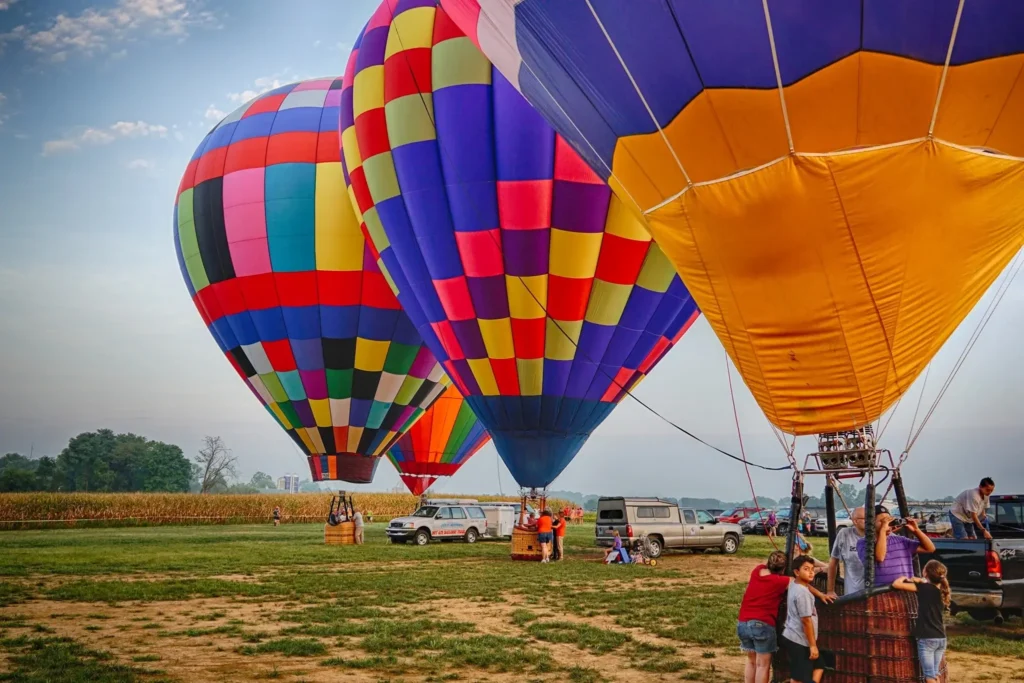 Address: 2727 Old Philadelphia Pike, Bird-in-Hand, PA 17505
Phone: (800) 723-5884
Lancaster County's beauty reaches new heights with the exhilarating experience of Lancaster Balloon Rides. A hot air balloon's distinctive vantage point offers an unrivaled opportunity to appreciate Lancaster County's scenic beauty.
Floating gently above the landscape, you witness the stunning patchwork quilt of fertile farmlands, quaint farmhouses, and winding roads weaving through the countryside. It's an immersive experience that reveals the intricate patterns of nature and human endeavor.
Additionally, hot air balloon rides simultaneously encapsulate a sense of adventure and tranquility. The excitement of the ascent, coupled with the calmness of drifting with the wind, offers an incredible feeling of freedom.
It's a chance to disconnect from the hustle and bustle of everyday life and soak in the tranquil beauty of the world from a bird's-eye view.
#2. Get To Know the Amish Country Through an Amish Farm Tour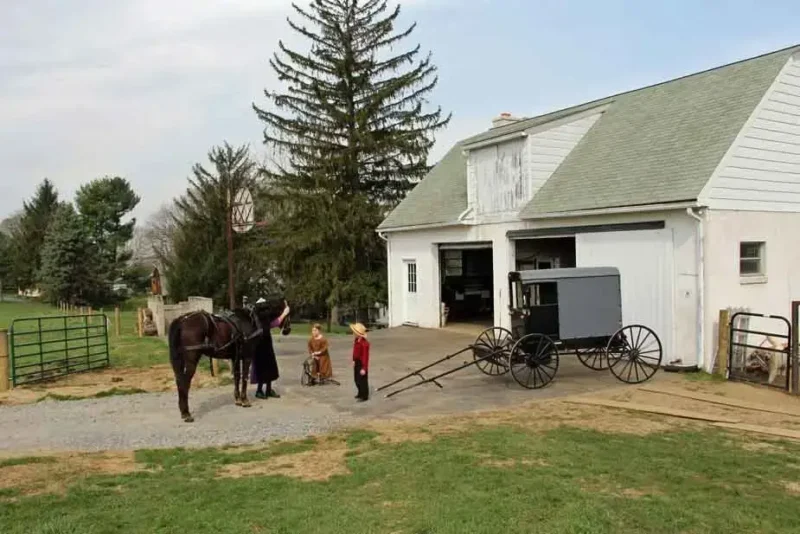 Address: 262 Paradise Lane, Ronks, PA 17572
Phone: (717) 687-7929
For those who wish to unravel the captivating lifestyle of the Amish community, an Amish farm tour stands out as a must-experience journey.
Amid the rolling hills and tranquil farmlands, visitors can step back in time and witness the simplicity, craftsmanship, and hospitality that define the Amish way of life.
One notable highlight is the Old Windmill Farm, a beacon of authenticity and tradition. Here, guests can immerse themselves in the rhythm of Amish life, exploring picturesque farmlands, learning about traditional practices, and engaging in hands-on experiences.
From milking cows to crafting handmade goods, the Amish farm tour provides unparalleled insight into a world where time seems to stand still.
You may like to check out How to Overcome Jet Lag when Travelling?
#3. Explore Lancaster From Above With Smoketown Helicopters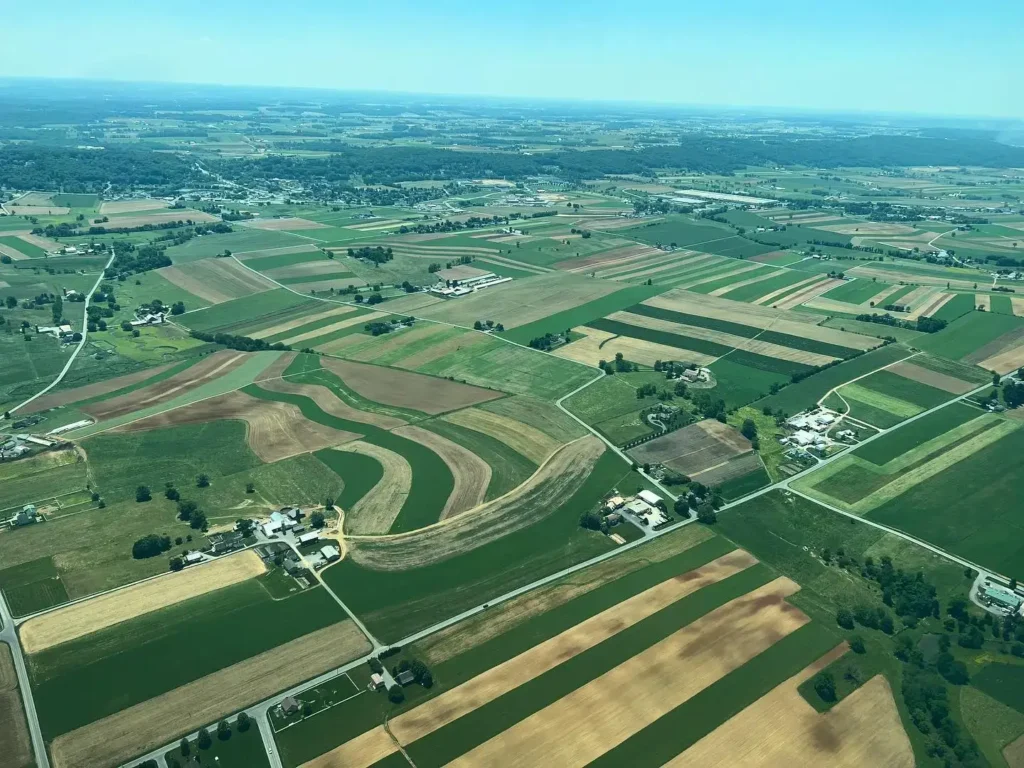 Address: 311 Airport Drive, Smoketown, PA 17576
Phone: (717) 344-4871
Smoketown Helicopters offers an exhilarating aerial perspective for those seeking an adrenaline-infused encounter with Lancaster County's beauty.
The bird's-eye view from a helicopter provides an unrivaled overview of the landscape, allowing you to appreciate the geography and topography of the region in a way that is simply impossible from the ground.
Additionally, helicopter tours can quickly cover vast distances, making them an efficient way to see various sights and landmarks in a single trip.
Lastly, the thrill of flying in a helicopter adds an element of excitement and adventure to the tour, making it a memorable experience that stands out from typical ground-level excursions.
#4. Traverse the Amish Country Through Scooter Tours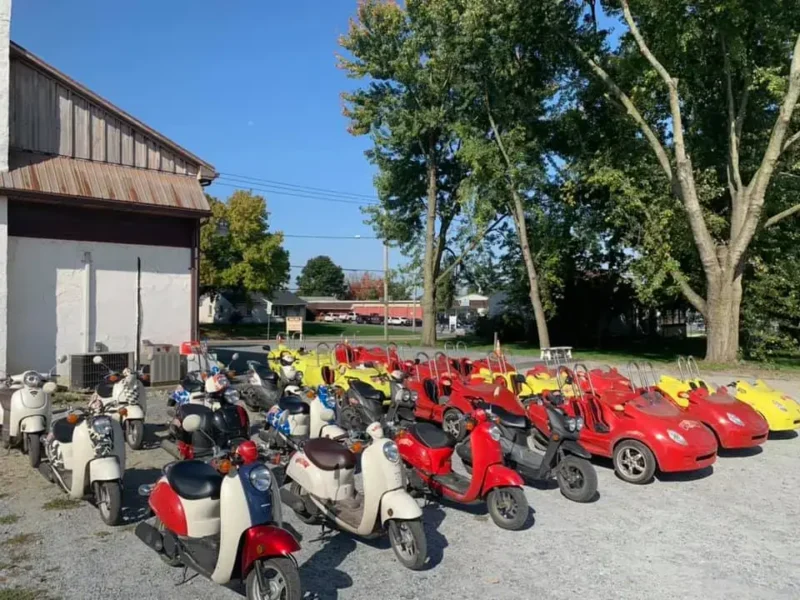 Address: 246 N Decatur St, Strasburg, PA 17579
Phone: (717) 584-8064
Embrace a sense of freedom as you explore the winding roads and scenic byways of Amish Country aboard a scooter!
Strasburg Scooter Tours allows you to embark on a captivating journey with guided scooter tours across Strasburg and its neighboring Amish countryside. It's nothing like your run-of-the-mill bus tour of Lancaster County!
On a scooter tour, you'll traverse the back roads of Amish Country, passing by farmlands and quaint communities as you make your way toward charming destinations.
With experienced guides leading the way and providing insight into the area's culture and history, it's an unforgettable experience that allows you to immerse yourself in the beauty of Lancaster County truly.
#5. Learn a Different Kind of History With a Ghost Tour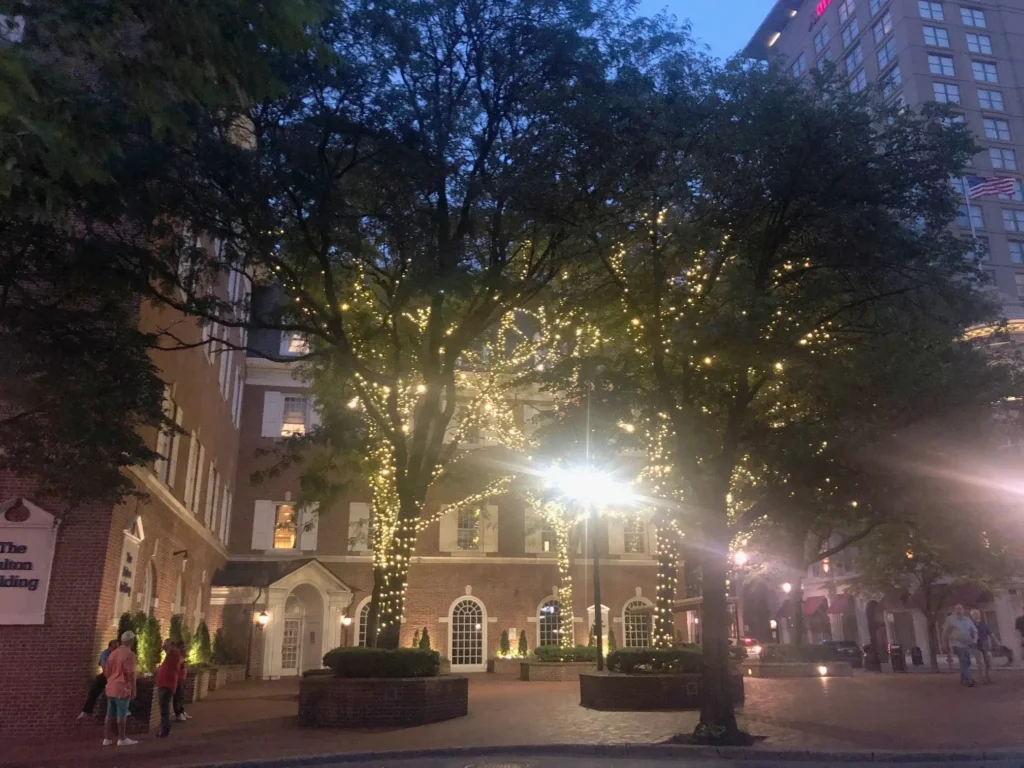 Address: Penn Square, Lancaster, PA 17603
Phone: (717) 687-6687
For those who relish mystery and intrigue, Lancaster County's ghost tours offer a unique way to delve into the past. You can go on a mesmerizing walking tour lit by twinkling candlelight in the core of Pennsylvania Dutch and Amish territory.
In the historic city center of Lancaster, uncover the deeply buried enigmas of one of the country's most ancient cities, filled with spine-chilling stories of spectral watchmen, deadly hexes, and ill-fated romances.
A ghost tour in Lancaster County is an excellent way to experience the area's rich history from a different perspective. It adds a twist of the supernatural to the traditional historical narrative!
On these tours, you'll hear fascinating and sometimes eerie tales about the area's former residents and long-standing buildings steeped in centuries of history. It's a unique tour offering an exciting alternative to traditional sightseeing options!
#6. Embrace the Unforgettable in Amish Country
Lancaster County, Pennsylvania, embodies timeless beauty, captivating culture, and an unwavering commitment to tradition. With a wide array of tours catering to every type of traveler, this charming region promises experiences that transcend the ordinary.
Whether floating above the landscape in a hot air balloon, connecting with the Amish way of life on a farm tour, or soaring through the sky in a helicopter, Lancaster County invites you to uncover its treasures, one captivating tour at a time.
Go and pack your bags, gather your loved ones, and start a journey that will leave you with a lifetime of memories!
Time to spare? Why not check out Travel In Style Without Compromising Comfort: 4 Tips to Consider.
Exploring the Charms of Lancaster County
Disclaimer: Vasttourist always strives for content accuracy. Since the time of publishing, travel-related information regarding pricing, schedules, and hours may have changed. Please see individual websites embedded in this post for the most current trip-planning information.

Unless otherwise stated, Vasttourist does not claim ownership of any images used on our blog site. The respectful owners of all visual content have copyright protection. We try to include links to the sources. If any images are your property and you do not want them to appear on our blog, don't hesitate to contact us; we will take them down immediately. We support properly crediting the original writer, artist, or photographer.