20 Best & Fun Things To Do In Leesburg VA (Virginia)
Looking for the best things to do in Leesburg VA? Then you are on the right page. This charming city is situated close to the picturesque Potomac River banks.
It was founded in 1740 and has remained a small town with a rich history due to its proximity to Washington, D.C.
However, it has experienced significant expansion and development over the last few decades, becoming the largest town in Virginia. This has led to a special blending of historical and contemporary attractions in the region.
Many locations are in store for kids and adults, including historic homes, scenic parks, and water leisure facilities. There are so many things to do in Leesburg that you can extend your trip by one or two days!
Choosing which attractions or places to visit in Leesburg might take time and effort. Well, we've compiled a list of the best, the brightest, and the most beautiful things to do in Leesburg, Virginia, to help you plan your next trip.
What are the Best Things To Do In Leesburg VA (Virginia)?
#1. Inside Ski Training Center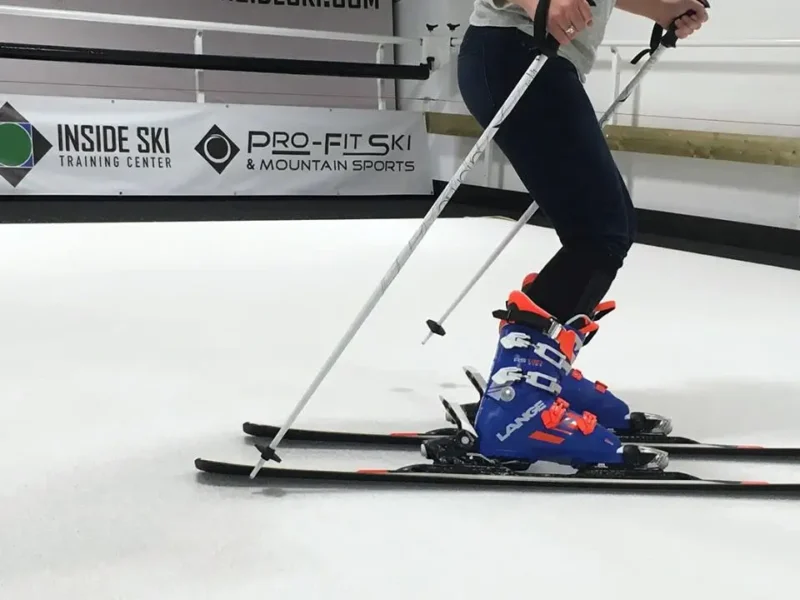 One of the best places to visit in Leesburg, Virginia, is to explore Inside Ski Training Center. The Inside Ski Training Center is a haven for skiers looking to hone their abilities and enjoy the rush of skiing all year long.
This state-of-the-art building offers an indoor ski slope with a unique rotating carpet system that mimics the feeling of gliding on snow.
Skiers of any skill level can benefit from the center's expert coaching and specialized level-appropriate training plans.
Inside Ski Training Center in Leesburg is the ideal location to improve your skiing skills and maintain a high level of adrenaline throughout the entire year, thanks to its qualified instructors, state-of-the-art equipment, and natural slopes.
Address: 34-B Catoctin Cir SE, Leesburg, VA 20175, United States
#2. Rust Nature Sanctuary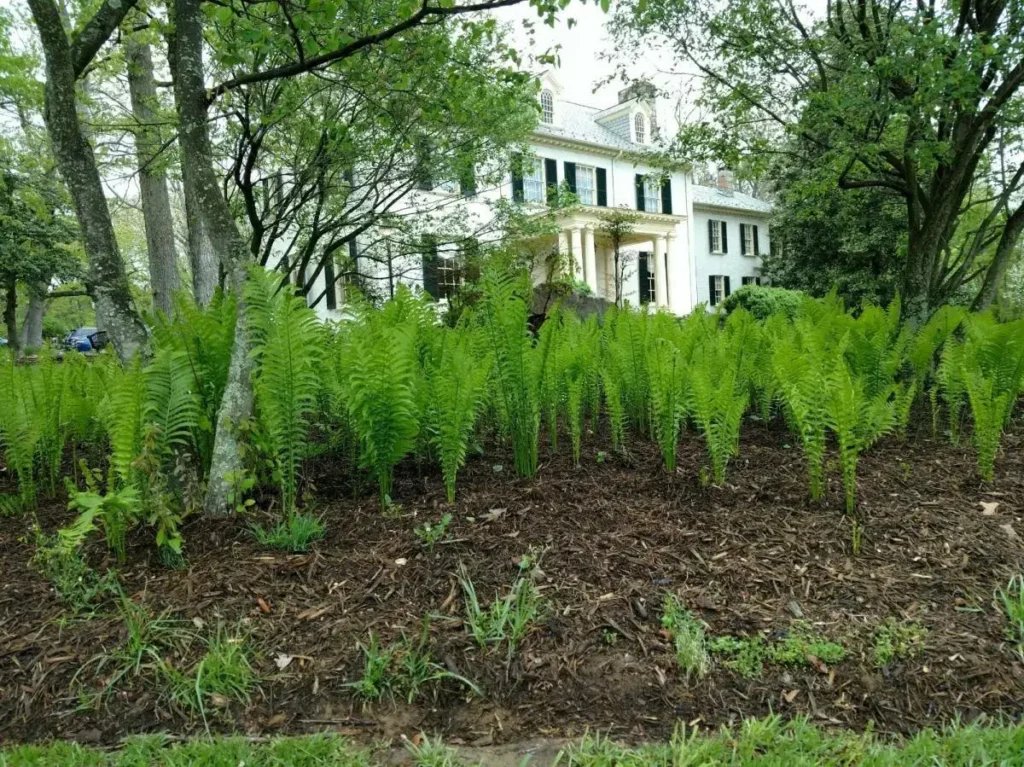 Rust Nature Sanctuary has impressive historical structures and is one of many natural attractions in Leesburg.
The 68-acre attraction has woodland sections home to native plants and animals, sheltered walkways, and a large pond surrounded by towering reeds.
The Rust Manor, a magnificent residence frequently used for photo shoots, weddings, and other events, is one of this location's most striking features.
This building's immaculate exterior and classic architecture meld perfectly with the surrounding vegetation, transforming it into a secret paradise you shouldn't miss.
Address: 802 Childrens Center Rd, Leesburg, VA 20175, United States
#3. Morven Park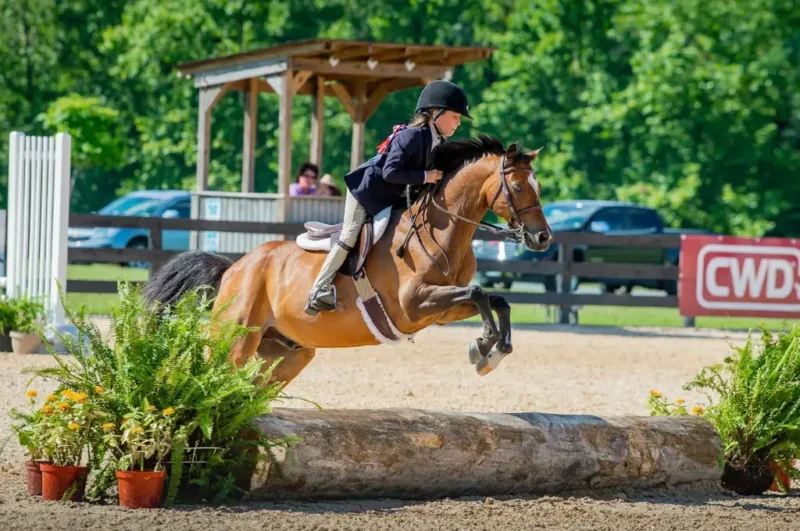 Morven Park is a large park with 1,000 acres rich with historical tales about Leesburg. This facility is home to the Morven Park Mansion, Winmill Carriage Museum, and the Museum of Hounds and Hunting, in addition to its charming forests and lush ground.
These buildings give visitors a look at life several centuries ago, including activities like foxhunting, horseback riding, and horse-rearing. The park also includes countless miles of lovely horseback riding trails, open fields, and natural trails.
Horse trials, dressage, and other national equestrian contests are frequently held at the renowned Morven Park International Equestrian Center.
There's something for everyone in this large park, whether you're a history enthusiast, a nature lover, or a sports enthusiast. Add this to your list of fun things to do in Leesburg, VA, this weekend.
Address: 17339 Southern Planter Ln, Leesburg, VA 20176, United States
Looking to embark on a memorable journey to Texas? With our carefully curated list of places you must visit, explore a world of opportunities by checking out the best things to do in Rockwall (Texas), Round Rock (Texas), and Beaumont (Texas).
#4. Loudoun Museum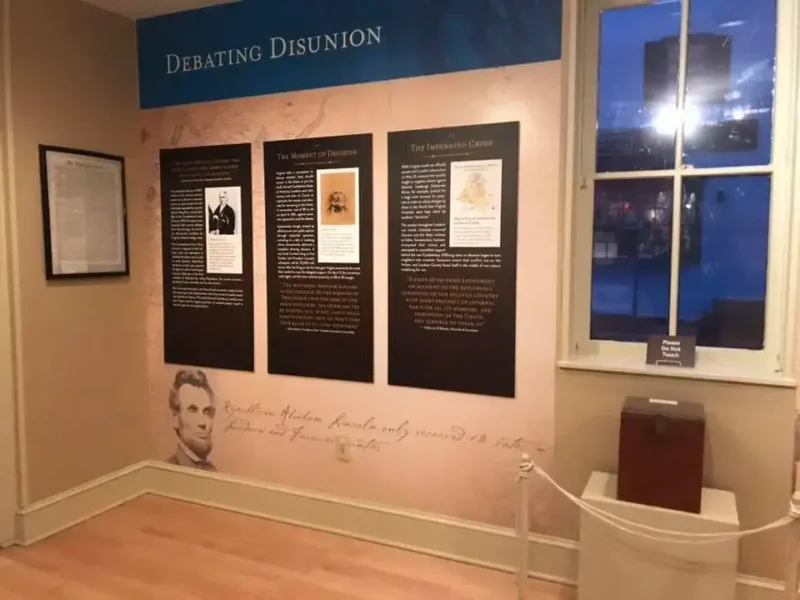 The charming Loudoun Museum honors the rich culture and heritage of Loudoun County. This building, which was recently renovated, houses both ongoing and one-time exhibits that focus on the area's history.
The county's history will come to life before your eyes in this log cabin-style building. Some collections here include old maps, beautifully preserved textiles, and even furniture used by long-dead people.
The county played a significant role in the Civil War when Virginia broke away from the Union; some artifacts highlight those events.
Even though the museum is small, the sheer volume of displayed items will keep you enthralled and stunned for several hours.
Address: 16 Loudoun St SW, Leesburg, VA 20175, United States
#5. Leesburg Animal Park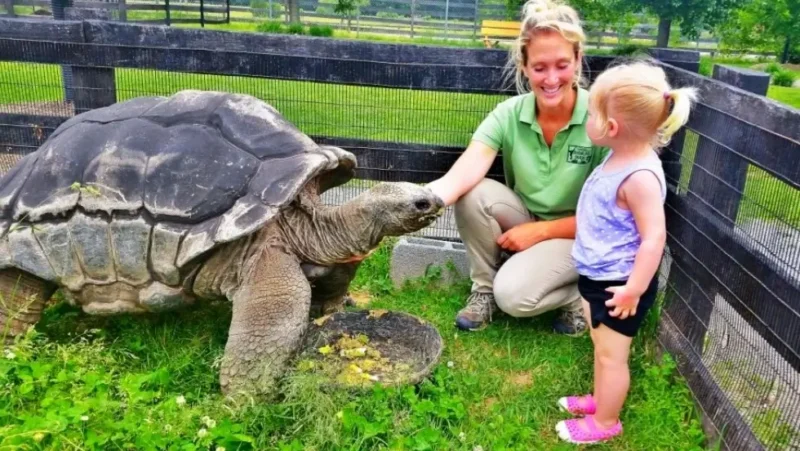 Visit Leesburg Animal Park if you want to have a fun time on your trip to this city. This small zoo is home to a variety of exotic animals from all over the world, and it has a variety of environments for each one of its inhabitants to enjoy.
There are magnificent zebras, curious lemurs, vibrant parrots, and tropical iguanas. Visit the park's petting zoo to play with, feed, and interact with animals. You will have opportunities to pet-friendly goats, camels, llamas, and even old tortoises.
The Pumpkin Village, open in the fall, is another popular attraction nearby, especially for children. Numerous pumpkins are distributed throughout the park, including orange, green, smooth-skinned, bumpy-fleshed, and oddly shaped veggies.
There are also horseback rides, haystacks, field trips, and other activities. If you are looking for what to do in Leesburg, Virginia, then visit the Animal Park In Leesburg.
Address: 19246 James Monroe Hwy, Leesburg, VA 20175, United States
#6. Oatlands Historic House & Garden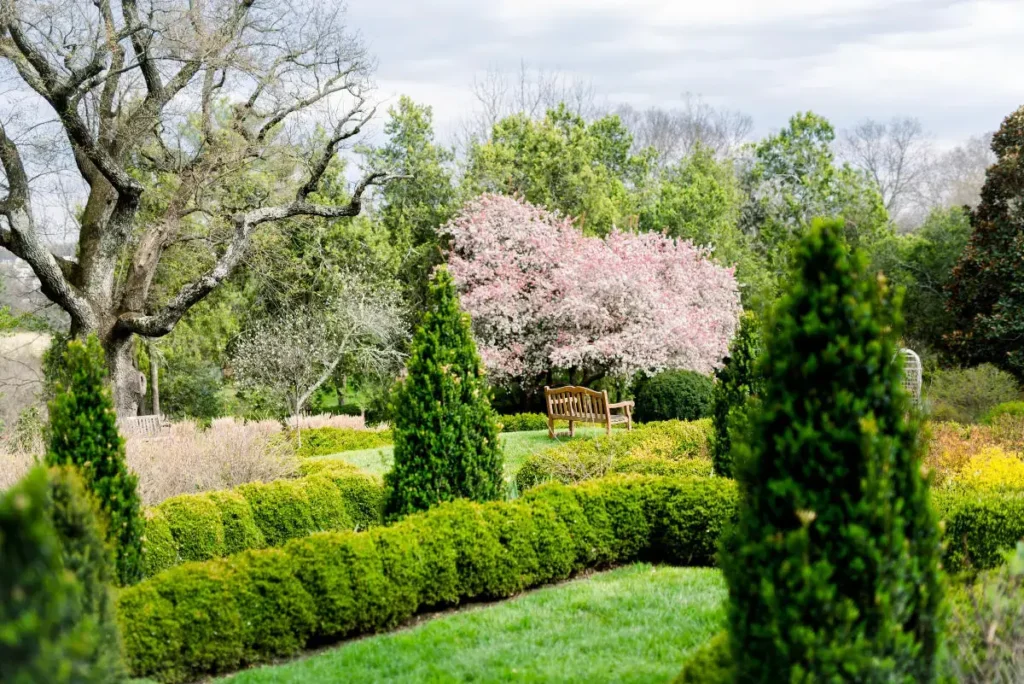 Oatlands Historic House & Garden is one of the most amazing places to visit on your trip to Leesburg. You may be surprised to learn that the Oatlands Historic House & Garden estate was built in 1810, given its unmistakably clean exterior.
The site is an estate with various old buildings, including cottages, barns, and carriage houses. Your eyes will be drawn to the majestical house because of its attractive design.
It is a charming National Historic Landmark open to visitors from March to December because of its tall columns, exquisite windows, and exact architecture.
Enroll for a tour to see all the antique furniture, objects, and portraits displayed in the rooms if you wish to see the equally regal interiors.
Address: 20850 Oatlands Plantation Ln, Leesburg, VA 20175, United States
#7. Battlefield Regional Park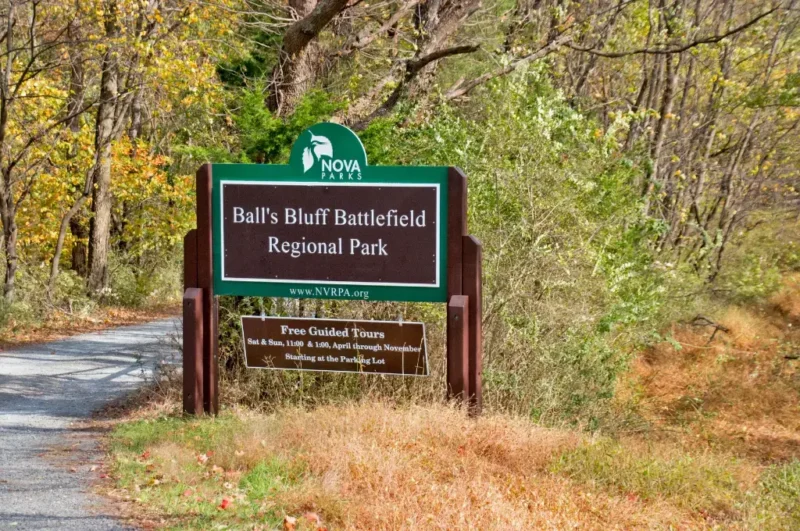 You can always anticipate visiting a site where a significant battle was fought in a severely conflicted area during the Civil War. One such location is Ball's Bluff Battlefield Regional Park, near the Potomac River.
It is special because it is the only location north of the Capital where the Union suffered a defeat in combat. Senator and friend of Lincoln Edward D. Baker passed away after being humiliated by the Confederate Army.
Many weapons of war are dispersed across the rather tranquil park since the battlefield has been rebuilt so visitors can get a sense of how fighting functioned at the time. You can take a guided tour to view and learn everything about the canons, tombs, and memorials that dot the grounds.
Apart from its historical significance, the park is renowned for its lush grounds and picturesque riverbank setting. You are welcome to stay and enjoy the serene atmosphere while exploring the park's pathways.
Address: Balls Bluff Rd NE, Leesburg, VA 20176, United States
#8. Leesburg Premier Outlets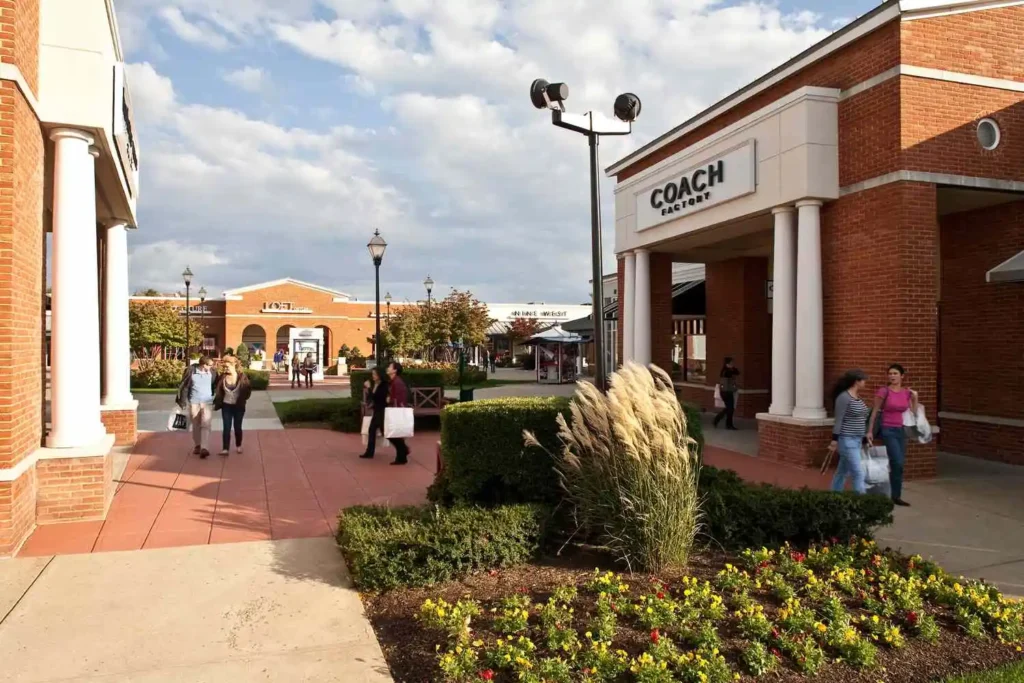 Leesburg Premier Outlets is a popular shopping destination with more than 100 different retailers in Northern Virginia. Visitors can browse a selection of luxury goods and retail establishments.
The whole food court, restrooms, and pedestrian areas of the shopping center have all just undergone renovations.
The renovations include the modern courtyard, seating areas, dining rooms, a fire pit sculpture, a children's play area, and digital directories.
The best selection of high-quality products, footwear, travel accessories, and clothing for every occasion can be found at Leesburg Premier Outlets.
Address: 241 Fort Evans Rd NE, Leesburg, VA 20176, United States
#9. Red Rock Wilderness Overlook Regional Park
Visit Red Rock Wilderness Overlook Regional Park if you want to avoid getting wet but still want to see vistas of the Potomac River.
The park's winding nature trails and wooded areas are great for leisurely family visits, but the river's unobstructed views are the real draw.
If you want to capture beautiful scenery images to post on social media or share with friends, this is the place to do it.
The colors are exceptionally stunning in the fall, and your photographs will be even more gorgeous thanks to the orange, yellow, and brown hues.
Address: 43098 Edwards Ferry Rd NE, Leesburg, VA 20176, United States
Whether you're a history nerd eager to explore historic sites, a nature lover looking for breathtaking vistas, or a foodie eager to savor delicious meals in Tennessee, you can check out the best places to visit in Jackson (Tennessee), Morristown (Tennessee), and Clarksville (Tennessee).
#10. Raspberry Falls Golf & Hunt Club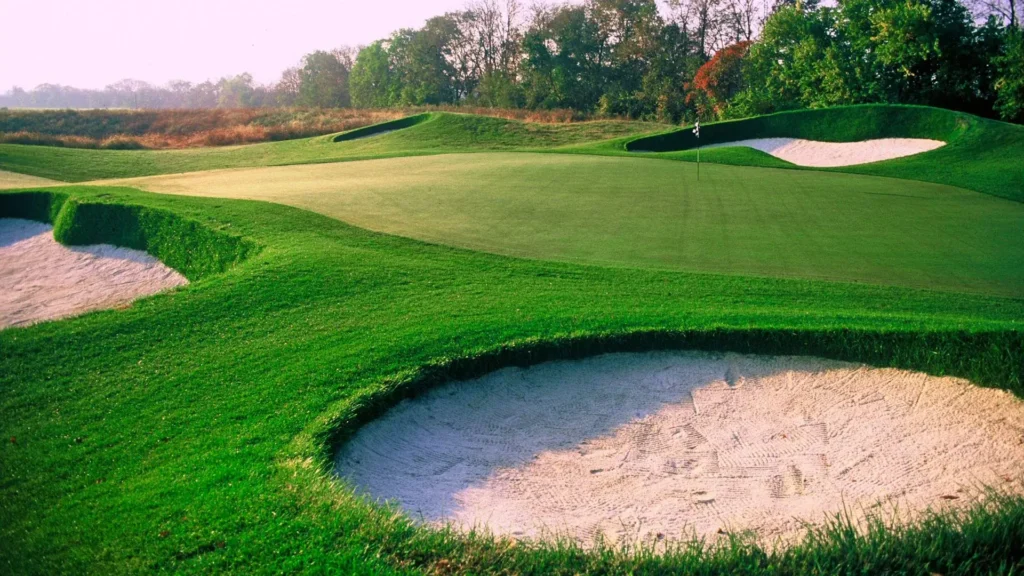 The Raspberry Falls Golf & Hunt Club is a fantastic location to hone your skills and hit a hole-in-one, whether you're a beginner or a seasoned pro.
The 18-hole course is a lush, well-kept facility with babbling streams, stone walls, and picturesque, though difficult, rolling terrain.
The Catoctin Mountains in the distance provide stunning views that enhance the experience on the course. You'll discover that you like the surroundings as much as the gameplay.
After your round, visit the golf club's restaurant, Hunter's Grill. If you're hungry after your game, there is a range of filling comfort foods, including wraps, sandwiches, and wings.
Address: 41601 Raspberry Dr, Leesburg, VA 20176, United States
#11. White Ferry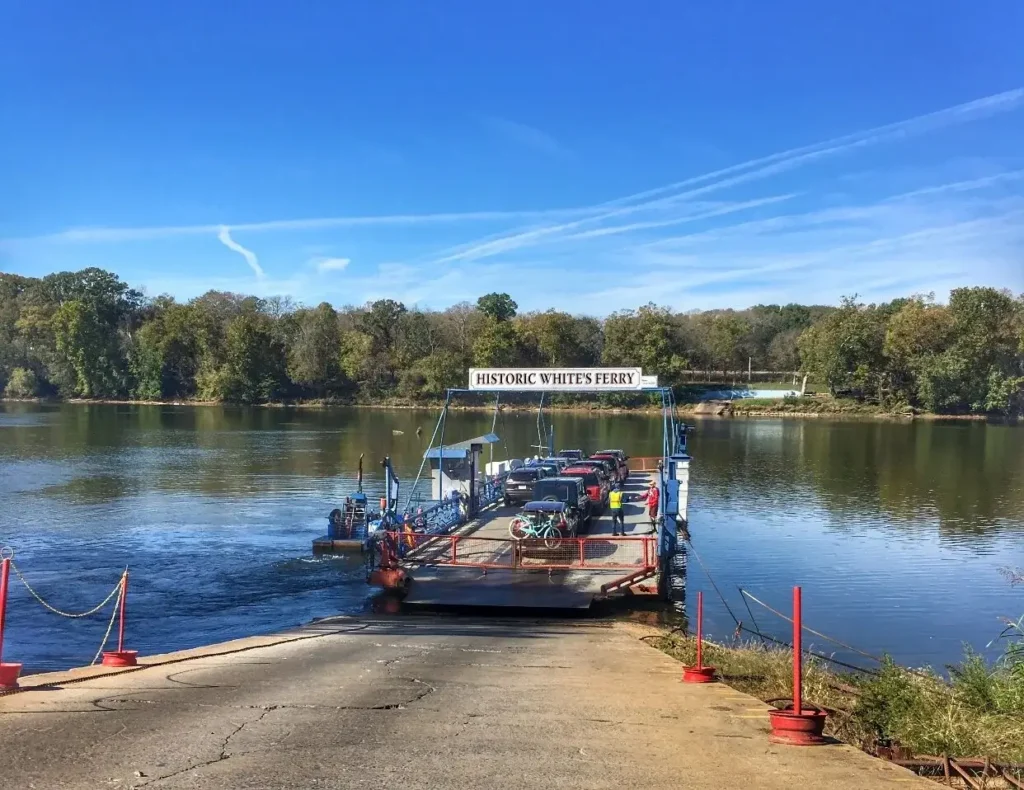 The historic White's Ferry in Leesburg, Virginia, established in 1786, continues to be a vital transit route between Maryland and Virginia, carrying almost 800 people every day when it is operating. The Confederate Civil War General Jubal A. Early is remembered by the name of the white ferry.
The ferry transports cars, trucks, and people daily from 5 am to 11 pm, barring floods and freezing weather.
Groups use the ferry for various occasions; a pavilion is available for larger gatherings. You can also lease boats, canoes, and picnic places. The stores around this place sell groceries, snacks, and drinks, including beer.
#12. Ida Lee Park Recreation Center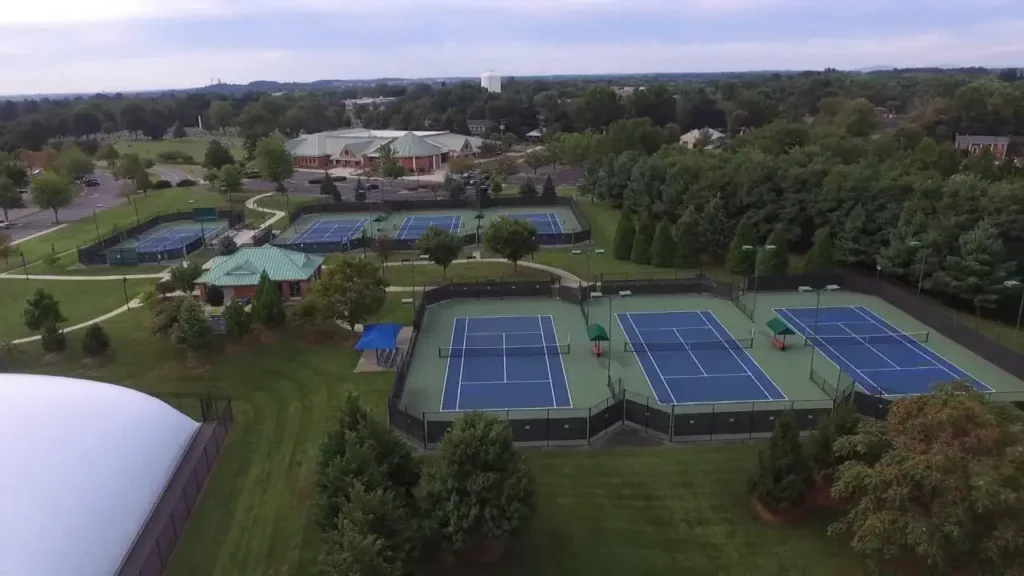 The Ida Lee Park Recreation Center is great for those who enjoy sports and physical activity. The town's top location for many active recreational pursuits is this 71000 square foot facility.
There are many locations to work up a sweat and get your heart pumping, from tennis courts to baseball diamonds.
The center has two indoor swimming pools with attentive lifeguards and up-to-date amenities for those who want to swim a few laps.
You can use the gym equipment at the fitness center to try cardio or resistance training. After a challenging workout, visit the gazebo with a view of the park's lush grounds.
After several hours of active exercise, you'll feel relieved and calmed by the pleasant sight. Add this to your list of things to do in Leesburg, Virginia, today.
Address: 60 Ida Lee Dr NW, Leesburg, VA 20176, United States
#13. Olde Izaak Walton Park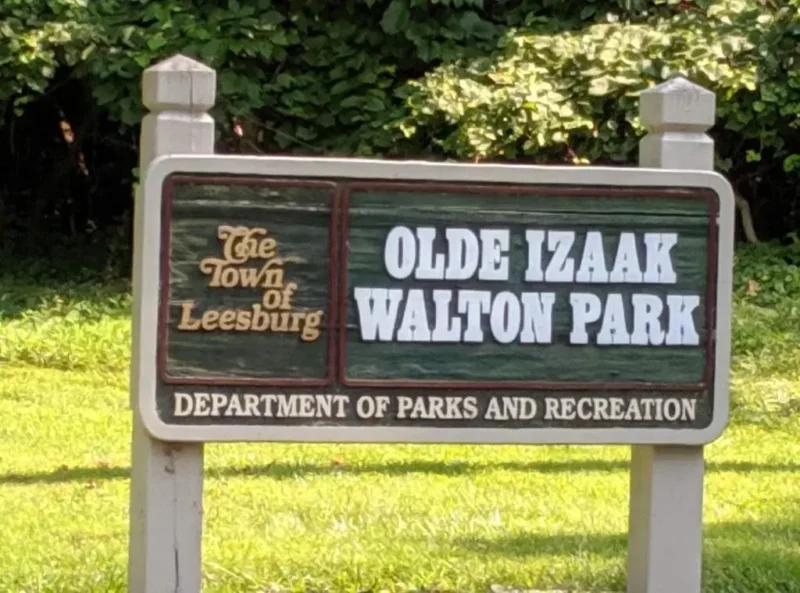 Olde Izaak Walton Park, a 21-acre attraction, is ideal for a fun-filled day outside with your family. The main attraction here is the large pond with charming outlooks, which stands out in addition to the expansive grounds and scattered sections of forest.
The pond's smooth, mirror-like surface is a popular hangout for neighborhood birds and waterfowl, so you can expect to see ducks swimming and foraging for food there.
Head to the fishing pier with your hook and line to catch largemouth bass and black crappies swimming in the deep if you want to join their quest and see some of your own.
The facility has a dog park where animals of all breeds and sizes can play and interact with one another for those bringing their four-legged companions.
It would help if you tried exploring the park's numerous trails and seeing the wildlife in the area. This is also one of the best places in Leesburg, Virginia.
Address: 850 Davis Ct SE, Leesburg, VA 20175, United States
If you are looking for more thrills around Georgia, then you will love to read this post on Gainesville (Georgia), Dahlonega (Georgia), Statesboro (Georgia), and Valdosta (Georgia).
#14. Casanel Vineyards & Winery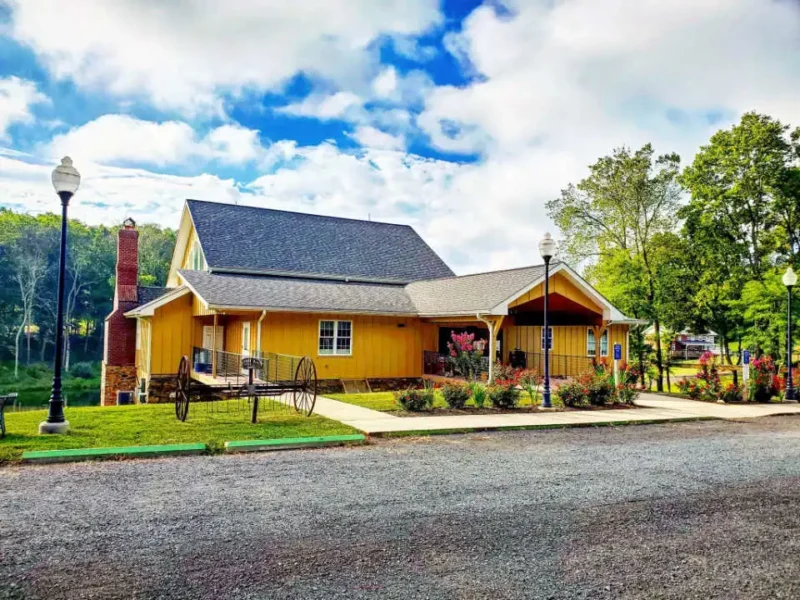 The small but dedicated crew at the family-run Casanel Vineyards & Winery works tirelessly to give its customers the best wine and experience possible.
Casanel Vineyards & Winery's main objective is to continue cultivating premium grapes because they love them.
They are in the perfect setting to generate their winemaking style and tastes because of their special terroir in the heart of the Middleburg AVA near Leesburg, Virginia. Their fundamental principles in the basement are harmony, elegance, and discipline.
Casanel Vineyards & Winery seeks to highlight each wine's unique qualities while highlighting the potential of its grapes in the bottle.
Address: 17956 Canby Rd, Leesburg, VA 20175, United States
#15. Lansdowne Resort and Spa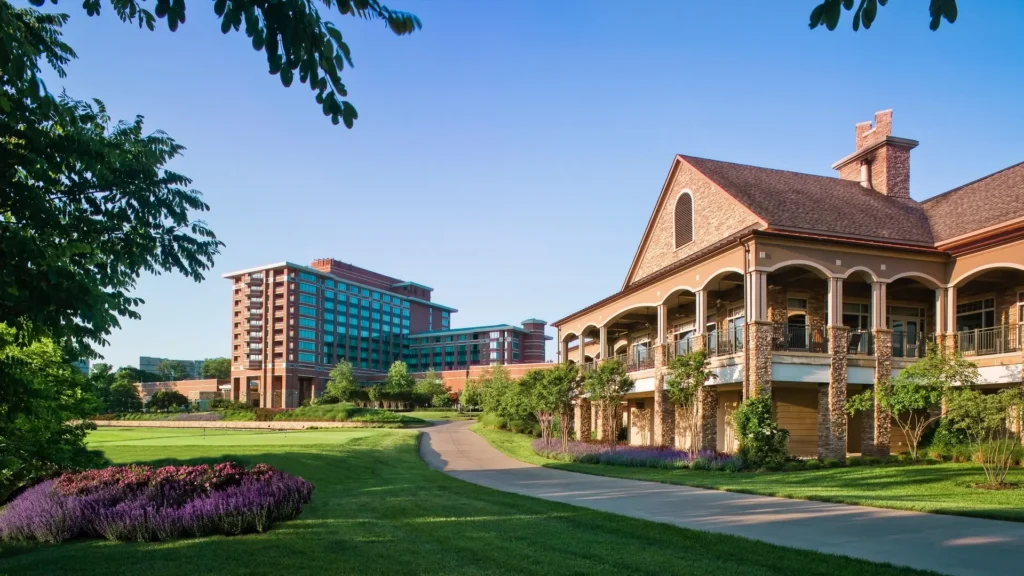 At Lansdowne Resort and Spa, everything focuses on enabling guests to enjoy life-long learning.
The Lansdowne Resort & Spa is a haven for golfers, a peaceful place for gatherings, and the perfect vacation spot for families and couples. Explore amazing opportunities for your health and relax completely. You can also expect to play some friendly golf or work successfully.
The spa at Lansdowne Resort and Spa offers conventional treatments, modern therapies, and salon services.
The Resort and Spa's finest facilities, furnishings, amenities, and spectacular views provide a tranquil getaway for your refreshing body pampering.
Address: 44050 Woodridge Pkwy, Leesburg, VA 20176, United States
#16. Leesburg downtown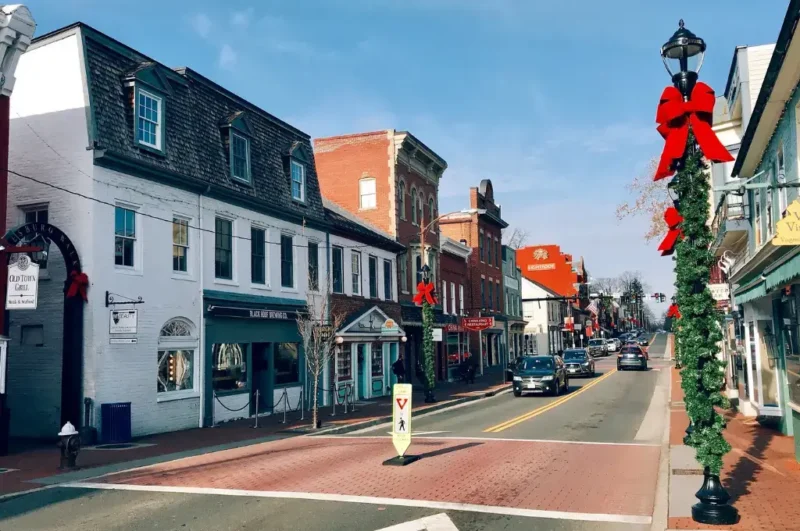 Leesburg's downtown is one of the state's best-preserved and most picturesque you shouldn't miss out on your trip to this city. Due to its varied tourist attractions, visitors come to Leesburg's Historic Downtown worldwide.
Discover cultural attractions, museums, breweries, award-winning vineyards, boutiques, antique shops, and companies of all sorts, from little start-ups to enormous conglomerates.
The establishments are surrounded by charming architectural town centers with more than 250 years of hospitality and history.
They are a community that represents the individual shops, restaurants, and businesses that no shopping center can match in Leesburg, Virginia's downtown historic district.
#17. Stone Tower Winery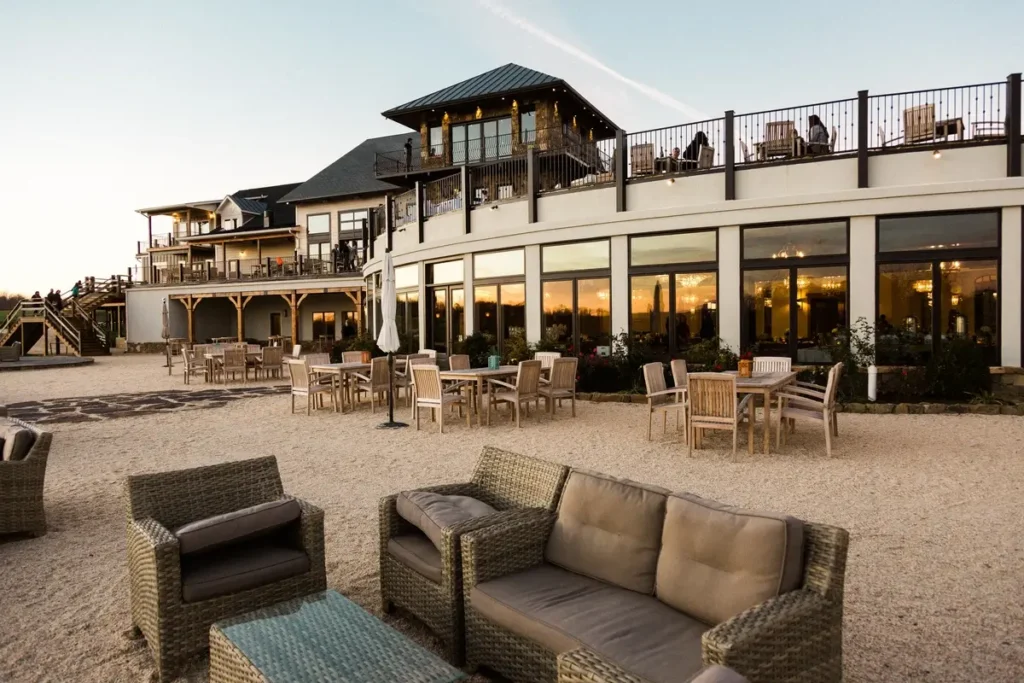 Numerous vineyards and wineries are strewn around the less populated areas surrounding Leesburg because this region of Virginia has the perfect temperature for cultivating beautiful grapes.
The Stone Tower Winery is one of the most popular places here and is a must-visit location for wine enthusiasts.
Visitors are entranced by the estate's spectacular views when they set foot on its enormous grounds and structures.
You can take a wine-tasting tour and try some of their specialty drinks. You will taste the additional layer of flavors that Virginia Soil adds to these drinks in the highest caliber, full, fruity, and fragrant bottles.
Buy a bottle or two before you leave to bring home and open on special occasions. Take advantage of this…
Address: 19925 Hogback Mountain Rd, Leesburg, VA 20175, United States
#18. Shocktober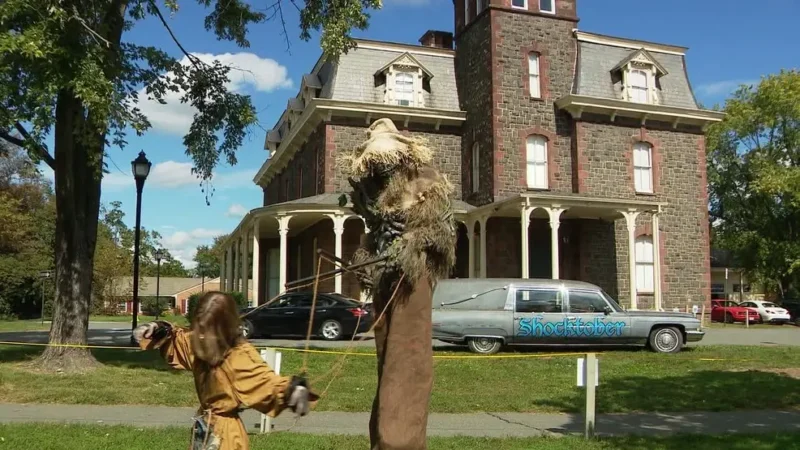 Visit Shocktober to experience the exhilaration of exploring a haunted place while being pursued by monsters.
This Halloween event at the Arc of Loudoun will thrill you with its midnight terrors, unearthly creatures, and scary monsters.
No matter where you find yourself, whether in the creepy grounds around the estate or its shadowy halls, horrific sights and ghosts always chase you. So, invite your pals and enjoy yourself while being pursued by zombies and other ferocious creatures.
The best part is that the money from your ticket goes to the Leesburg-based nonprofit Arc of Loudoun, which supports persons with disabilities.
Address: 601 Catoctin Cir NE, Leesburg, VA 20176, United States
#19. Dodona Manor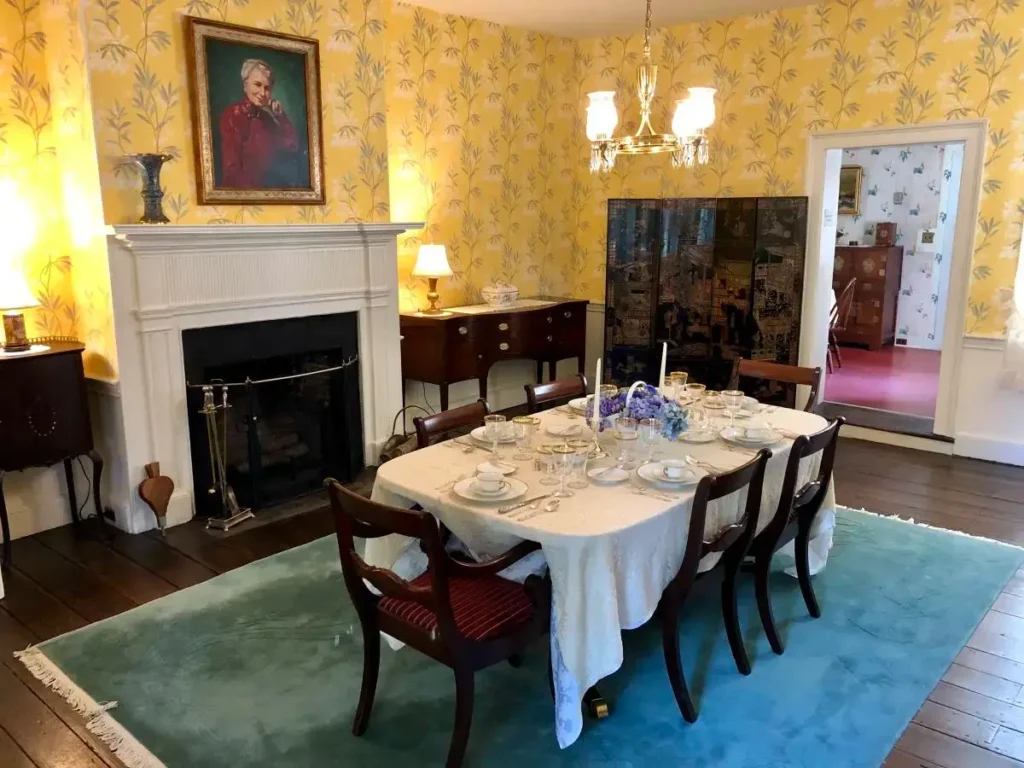 General George Catlett Marshall lived in Dodona Manor while serving as the nation's defense secretary under President Truman. The mansion comes from the ancient Delphic shrine, also home to many oak trees.
The George C. Marshall International Center restored and converted the house into the tourist destination it is today to return it to its Marshall-era appearance. This house is distinctive due to its expansive gardens, tiled patios, and crisp, cream-colored exterior.
The interiors have melancholy areas where Marshall and his family's possessions are on display as a reminder of the illustrious lives they led.
Take a look into the life of a man who had a significant impact on World War II can be found in the halls.
Address: 312 E Market St, Leesburg, VA 20176, United States
#20. Willowcroft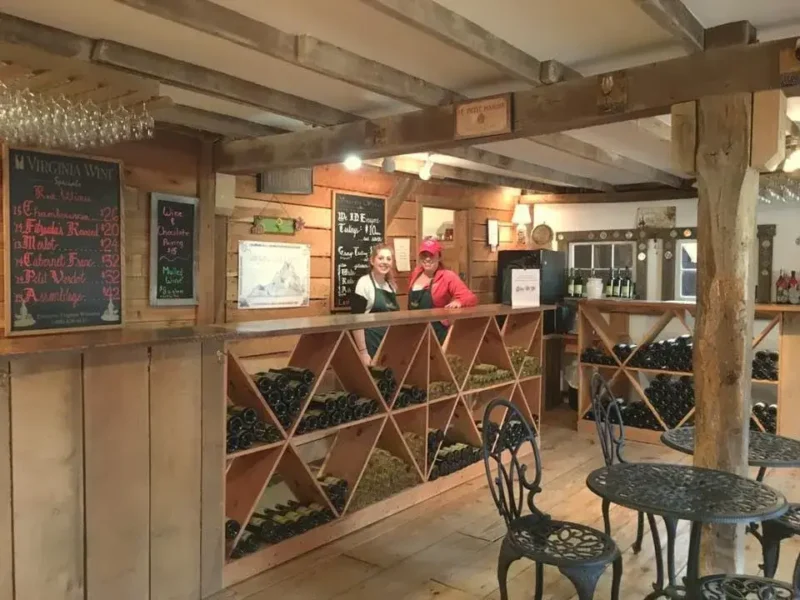 Willowcroft is another exciting place you shouldn't miss out on visiting Leesburg. Wines from Willowcroft that have received national accolades have frequently been produced thanks to their meticulous attention to detail in the vineyard and winery.
Visit the tranquil area to sample the wines that have won awards and enjoy the winery's charming rustic setting inside an old red barn.
Willowcroft frequently hosts events and guided tours; two sizable entertainment spaces are available for private events.
Address: 38906 Mt Gilead Rd, Leesburg, VA 20175, United States
How to Plan for a Trip to Leesburg Virginia
A delightful combination of history, charm, and natural beauty can be found in Leesburg, Virginia, tucked away in the charming Loudoun County.
Whether you are drawn to Leesburg by its fascinating history, beautiful surroundings, or thriving food scene, it is a popular travel destination.
In this extensive guide, we will walk you through the necessary steps to organize an unforgettable trip to Leesburg, Virginia.
Choosing the Right Time to Visit
A successful trip to Leesburg depends on choosing the right time to go. Spring (March to May) and fall (September to November) are ideal for outdoor activities and exploring the countryside because of the pleasant weather and vibrant foliage.
Winter (December to February) offers a cozy atmosphere and the possibility of seasonal activities, while summer (June to August) offers warm weather for outdoor festivals and events.
Where to stay?
Leesburg offers a variety of accommodation options to accommodate different tastes and price ranges. If you want to learn about the town's fascinating history and experience individualized service, consider staying in quaint beds, breakfasts, or historic inns.
In contrast, luxurious inns and resorts have convenient settings and comfortable amenities. You can check out Bookings.com.
Think about proximity to attractions, ease of access to transportation, and the kind of experience you want when choosing your lodging.
What to Pack for a Trip to Leesburg, Virginia?
We advise you to carry the following items with you:
Comfortable Walking Shoes: Make sure to have good walking shoes because you'll be doing a lot of walking throughout the city. I've cherished the Brooks brand shoes I've worn for years. I've linked them here for guys and women; see it here.
Power bank: When exploring, we always have a power bank with us that is completely charged. In this manner, we can plug in our phone and recharge it on the road if the battery is becoming low. For navigation and photography, we rely extensively on our phones. Thus, this device is essential for us.
Bottle water: When exploring, we prefer to take an insulated, reusable water bottle.
Travel journal: Making a list of the locations and activities you wish to accomplish while traveling is possible with a travel journal. This saves time and ensures that you make the most of your journey. You might look up interesting and hidden locations to visit!
Backpack: Whether planning a trip to North America or just going on a day hike, backpacks are necessary. Backpacks allow you to carry your items in one easy-to-manage location. They also allow you to keep your valuables close and safe.
Frequently Asked Questions(FAQ)
What is Leesburg VA known for?
Leesburg, Virginia, is well known for its extensive past, quaint downtown, and picturesque surroundings. As Loudoun County's county seat, it provides a distinctive blend of historic locations, including the well-known Morven Park and a thriving arts scene.
There are many wineries and vineyards to visit in Virginia's renowned wine country, which has a gateway to Leesburg.
Leesburg, Virginia, is a destination that enchants visitors with its small-town charm and cultural allure thanks to its charming shops, fantastic dining options, and proximity to natural beauty.
Where is the best place to live in Leesburg, VA?
It's important to investigate the various neighborhoods in Leesburg, Virginia, as you consider where to live because each one offers different benefits.
Historic Downtown Leesburg, with its attractive architecture, lively neighborhood, and proximity to stores and restaurants, is one area that is in high demand.
Lansdowne, well-known for its opulent amenities, golf courses, and picturesque surroundings, is another well-liked option.
Ashburn Village provides great schools, recreational amenities, and a close-knit community for those looking for a family-friendly setting.
The ideal location for every resident in Leesburg ultimately depends on their personal preferences and lifestyle.
Is Leesburg VA an excellent place to live?
Many people think Leesburg, Virginia, is a great place to live. It provides a high quality of life thanks to its fascinating history, stunning scenery, and vibrant community.
The community is proud of its top-notch schools, low crime rate, and thriving economy. Residents participate in various leisure activities, such as visiting historical sites and going on hikes in nearby parks.
Additionally, the proximity of Leesburg to Washington, D.C., offers chances for employment and cultural encounters.
With all these advantages, Leesburg, Virginia, is a fantastic place for people and families looking for a friendly, welcoming neighborhood.
Is Leesburg, VA, Safe?
Leesburg, Virginia, is renowned for its dedication to the security of both its citizens and visitors. The community has a proactive police force that upholds security and a low crime rate.
Programs involving the community and neighborhood watch initiatives bolster a feeling of security. Leesburg's reputation as a safe community is also aided by its well-kept public areas, well-lit streets, and responsive emergency services.
Leesburg, Virginia, offers a warm and secure environment for everyone, whether exploring the historic downtown, participating in outdoor activities, or just taking a stroll through the streets.
Plan Your Vacation To Leesburg, Virginia
In conclusion, Leesburg, Virginia, is a charming city providing tourists with various experiences. Leesburg offers something for everyone, from taking in the natural beauty of its parks and trails to exploring its rich history in the historic downtown area.
Enjoy the culinary delights of Virginia's world-famous wine region, the mouthwatering fare at neighborhood eateries, and the friendly hospitality of the locals.
Leesburg has everything you could want, whether looking for outdoor activities, cultural experiences, or a peaceful getaway.
Use this list as a guide when planning to travel to this lovely city so that you can experience the best attractions! Discover the best parts of this charming town and make lifelong memories you'll never forget.
Disclaimer: Vasttourist always strives for content accuracy. Since the time of publishing, travel-related information regarding pricing, schedules, and hours may have changed. Please see individual websites embedded in this post for the most current trip-planning information.

Unless otherwise stated, Vasttourist does not claim ownership of any images used on our blog site. The respectful owners of all visual content have copyright protection. We try to include links to the sources. If any images are your property and you do not want them to appear on our blog, don't hesitate to contact us; we will take them down immediately. We support properly crediting the original writer, artist, or photographer.