20 Best Things to Do in Gainesville GA (Georgia)
If you are looking for the best things to do in Gainesville GA, you are on the right page. Every city carries a charming atmosphere that sets it apart from all the rest. Gainesville is a vibrant city in Hall County in northern Georgia, about 55 miles northeast of Atlanta.
Surrounded by beautiful nature, Gainesville draws visitors worldwide with its stunning scenery, fascinating history, and fantastic art and cultural scenes.
Gainesville offers its tourists a remarkable and gratifying experience because of its historical and natural features. There are a lot of amazing things to do and something to satisfy all interests in this city.
Everyone can find something to enjoy in Gainesville, whether you're here for an exciting day trip, a weekend vacation, or a family-friendly excursion. You'll find yourself engaged for hours and hours every day, no matter what activities you choose from this list, because Gainesville is filled with opportunities and experiences.
There are so many things to do in Gainesville, Georgia, that you can extend your trip by one or two days! In this article, we've compiled a list of the best, the brightest, and the most beautiful things to do in Gainesville, GA, to help you plan your next trip.
What are the best things to do in Gainesville GA (Georgia)?
#1. Explore Lake Sidney Lanier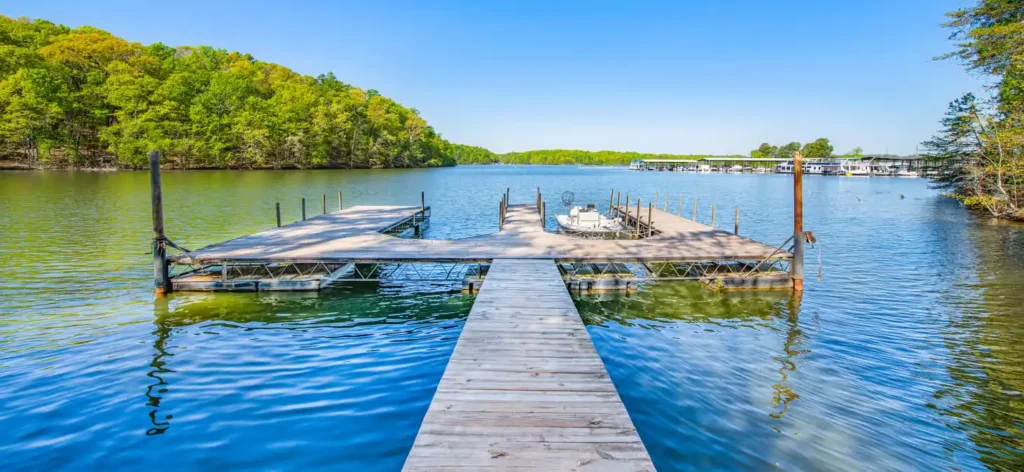 Lake Sidney Lanier Is one of the major attractions places to visit in Gainesville. Lake Sidney Lanier was built in the 1950s as a dam for the Chattahoochee River.
This lake, which has the name of a Georgia poet, has more than 621 miles of shoreline because of the numerous finger-shaped outcroppings in the water.
At Lake Sidney Lanier, you can sail around the lake's waters to see breathtaking scenery. If sailing isn't your thing, you can engage in various water sports, such as jet skiing. You can also relax on the lake's beaches at the water park and resort.
Address: Gainesville, GA 30506, USA
#2. Visit Don Carter State Park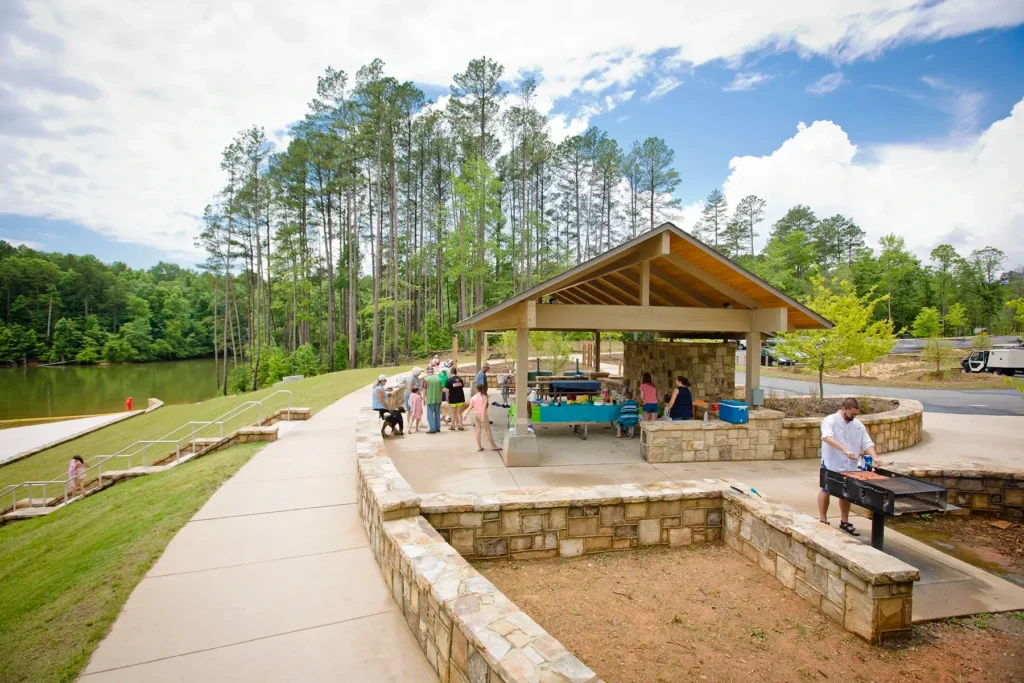 Every vacationer hopes to relax and have fun while visiting this city. Don Carter State Park is one of the several places in Gainesville where you may go to enjoy yourself.
Don Carter is not just the newest park in the state but also the first state park to be situated on the 38,000-acre Lake Lanier. This park is located near the lake's northernmost point.
The amenities at this facility allow anyone to try out a wide variety of water sports. You can cool off at the large swimming beach with sand and a bathhouse while you're here.
Boat ramps are also in the park, giving visitors convenient access to the water. You can ride or hike across the multi-use trail towards a hardwood forest.
Address: 5000 N Browning Bridge Rd, Gainesville, GA 30506, United States
#3. Pay A Visit To Kinsey Farm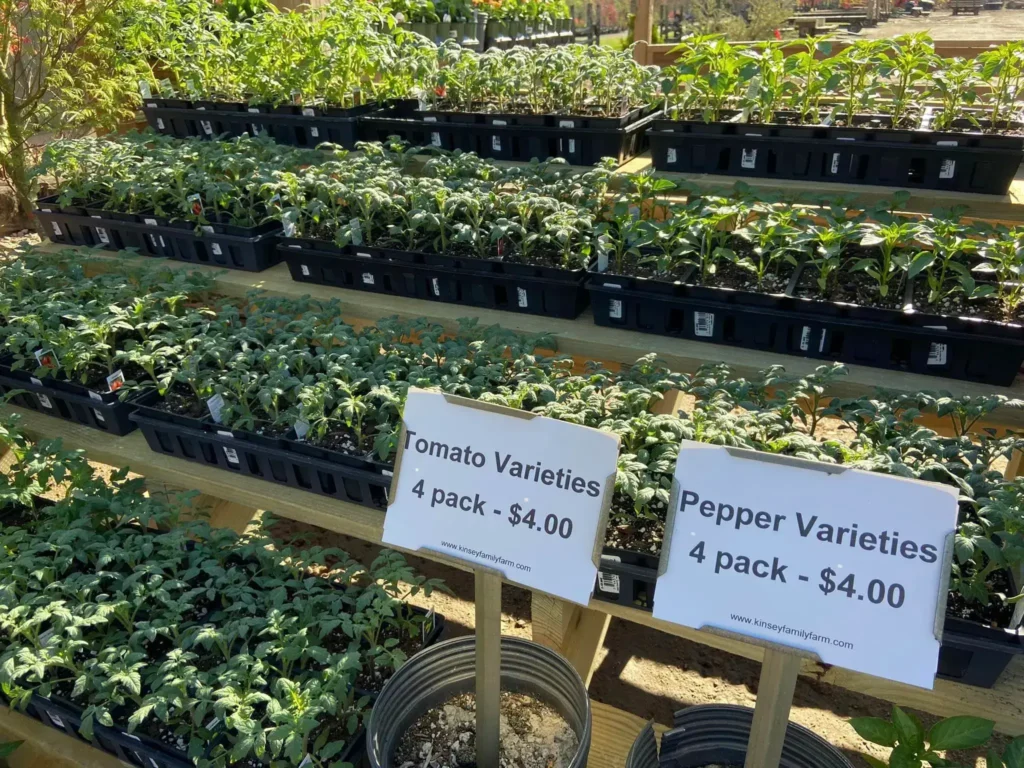 If you don't visit Kinsey Farm to have fun and feel good with your friends and family, your trip to Gainesville won't be complete. You can engage in engaging, entertaining, and instructive activities while visiting this family-run farm.
You can pick up some plants at the farm's plant sales outlet while enjoying a beautiful view of the city's natural surroundings. You can also buy equipment and accessories for your garden at home.
You can come here in the fall to choose the perfect pumpkin for your Jack-o-Lantern. You can also come here to select some decorations for the winter holiday season. Even a fresh Christmas tree can be cut here! This is also one of the best places in Gainesville, GA.
Address: 7140 Jot Em Down Rd, Gainesville, GA 30506, United States
#4. Explore Chattahoochee-Oconee National Forest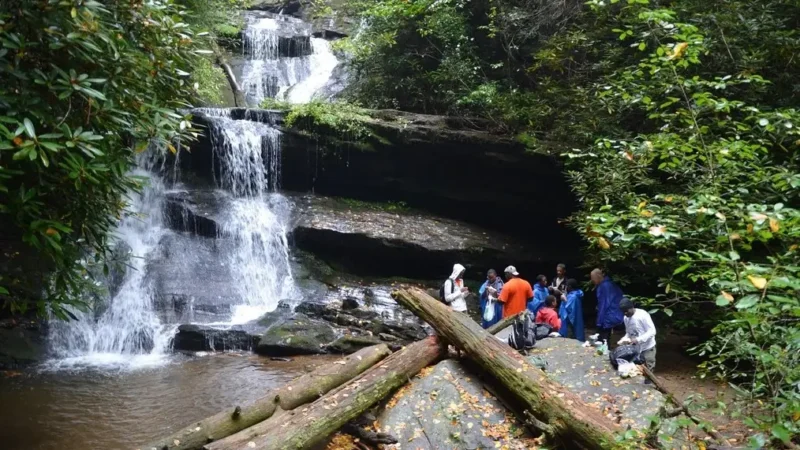 The best natural resources and outdoor leisure opportunities in Georgia can be found in the Chattahoochee-Oconee National Forest.
The forest spans 26 counties and is located on 867,000 acres of land. It offers 850 miles of walking trails, picnic spots, campgrounds, stunning streams, rivers, and other recreational options.
The forest draws a sizable population of nature lovers and hikers from various locations because it is home to different fascinating natural species of flora and animals, including black bears and bobcats.
The highest point in Georgia, Brasstown Bald, the roaring Anna Ruby Falls, and other features may all be found in the national forest. There are many lovely natural views of the terrain.
An interactive map is also accessible to make your visit simple and enjoyable. So if you are asked what to do in Gainesville, GA, you can explore the national forest.
Address: 1755 Cleveland Hwy, Gainesville, GA 30501, United States
#5. Have Fun At The Splash Zone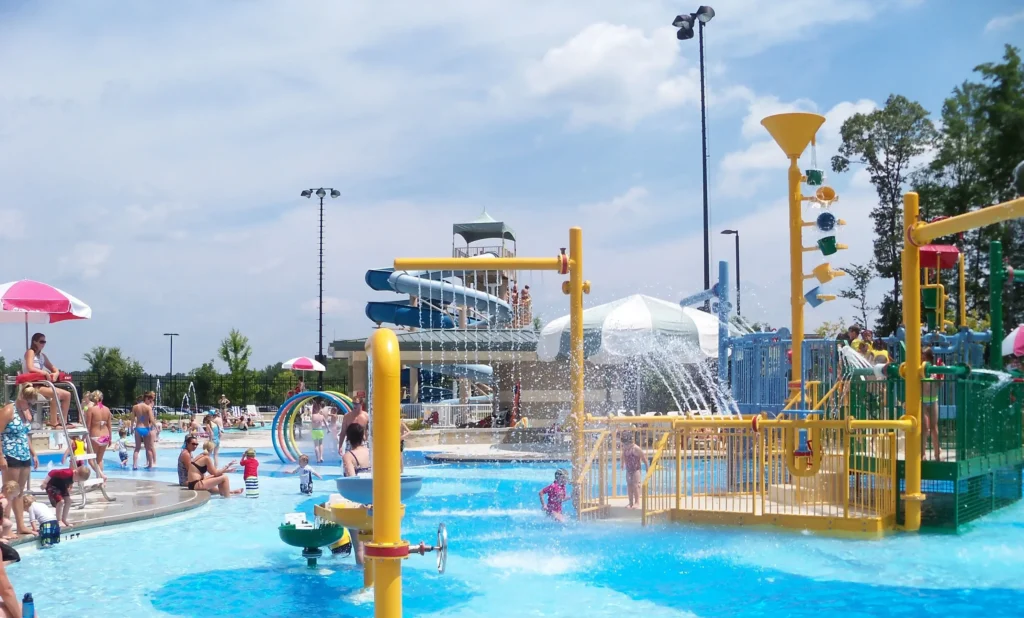 A water park called The Splash Zone has several water features, including water slides, a lazy river, and a kids' play area. In addition, the park provides services like locker rentals, dining options, and a gift shop.
The summer months of Memorial Day weekend through Labor Day weekend are when the park is typically open. Gainesville and Hall County residents are eligible for reduced rates on admission fees, which vary depending on age and place of residence.
Overall, families and individuals looking to beat the summer heat and have aquatic fun in the sun frequent the Splash Zone.
Remember to visit the Splash Zone, one of the best things to do in Gainesville, GA, today, at the Frances Meadows Aquatic Center, especially if you want to have fun with your family on your trip to Gainesville.
Address: 1545 Community Way, Gainesville, GA 30501, United States
Are you about planning your vacation to Georgia? You can check out the best things to do in Dahlonega (Georgia), Statesboro (Georgia), and Valdosta (Georgia).
#6. Atlanta Botanical Gardens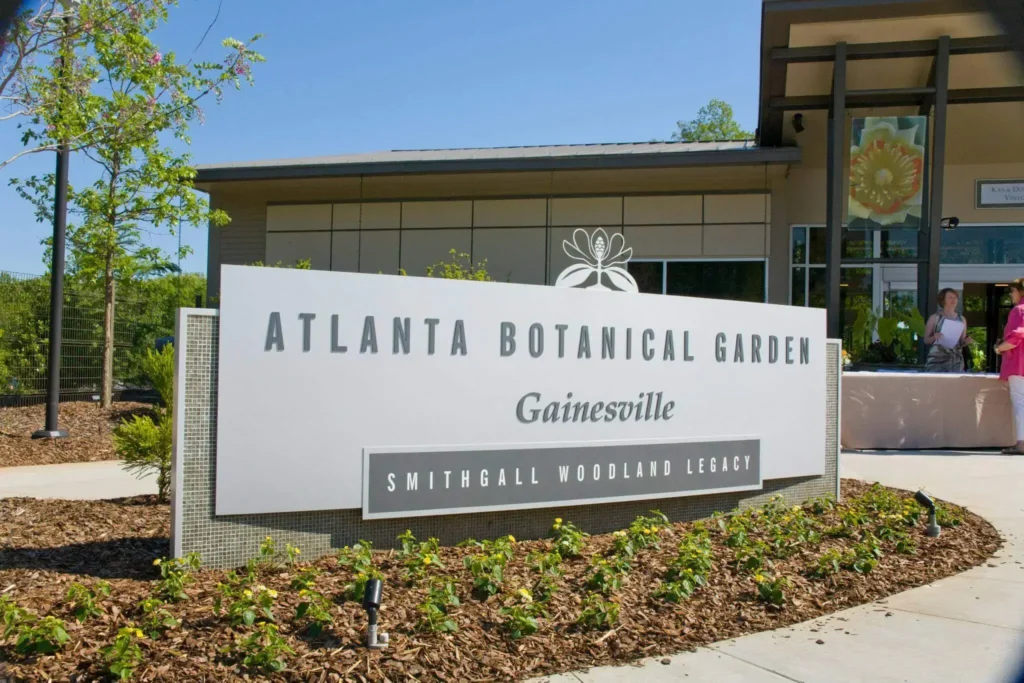 Atlanta Botanical Gardens is one of the hidden gems in Gainesville, Georgia; you should check it out. Gainesville is a stunning city surrounded by grand natural scenery, and anyone interested in learning more can do so by visiting the Atlanta Botanical Gardens.
The gardens have several small wooded walks that take you to an exhibit of the state's indigenous plant and animal species. It also has the lovely "Forest Pond," which is a great place to hang out if you're close to the visitor center because it's covered in waterlilies.
In addition to the various natural treasures in the vicinity, the garden's abundance of flower varieties will amaze you.
Address: 1911 Sweetbay Dr, Gainesville, GA 30501, United States
#7. Northeast Georgia History Center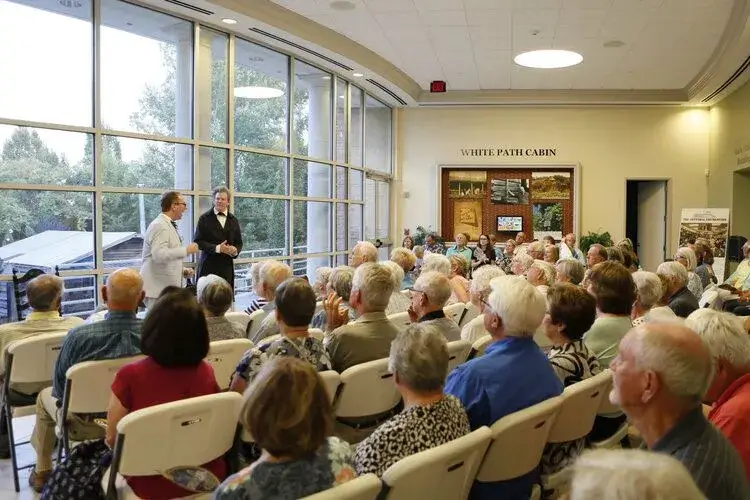 Visit the Northeast Georgia History Center to learn more about the city. This location, which operates like a museum, is devoted to preserving and educating people about the history of this Georgian region.
The Northeast Georgia History Center collection includes relics and pictures of ancient sites dating back 11,000 years. Even a wooden hut from the 18th century, which once belonged to White Path, a significant Cherokee leader, can be found here.
The exhibition "The Land of Promise" is also on display there, and it tells the history of the area and its inhabitants from the earliest known periods of history to the present.
In addition to these, the facility is home to a folk art gallery and the Northeast Georgia Sports Hall of Fame.
Address: 322 Academy St NE, Gainesville, GA 30501, United States
#8. Elachee Nature Science Center
Elachee Nature Science Center is one of Gainesville's most well-liked family attractions. Everyone can learn about the environment and how to enjoy it here, young and old.
Over 35,000 students are supported and served by the science mentioned above center, and about 30,000 visitors to its natural park and museum. This fantastic science museum is located amid the 1,500-acre Chicopee Woods Nature Preserve in North Georgia.
Gainesville's educational tourism site also offers a curriculum to nearby school programs instructing kids about ecology. No one can dispute this natural paradise's beauty, even though it seeks to educate people.
Address: 2125 Elachee Drive, Gainesville, GA 30504, United States
#9. Quinlan Visual Arts Center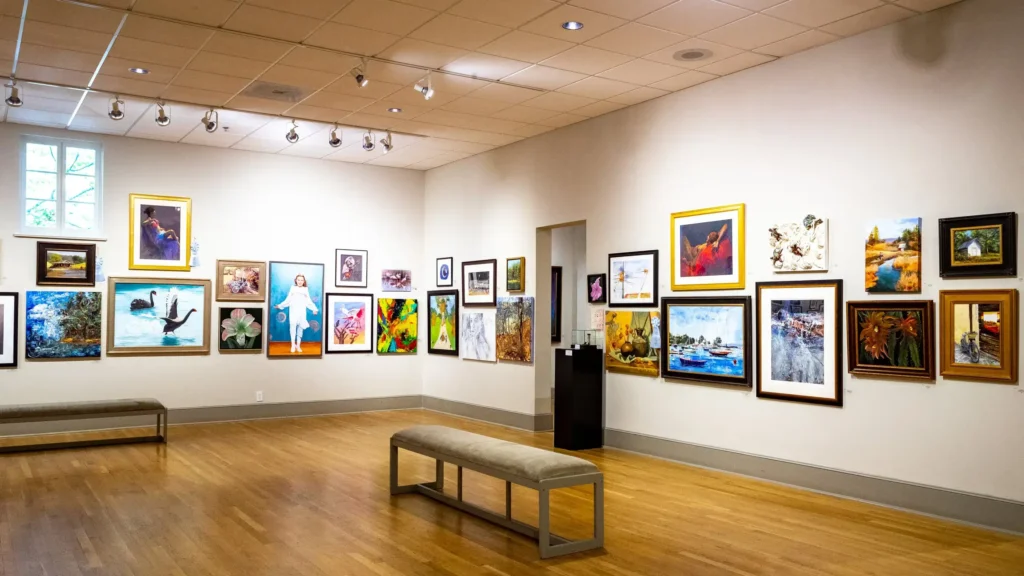 The city values arts and culture as essential components of its identity and its extensive history. The Quinlan Visual Arts Center, one of the city's major art hubs, was established in 1946.
This gallery is committed to showcasing visual arts and introducing the public to their beauty. This visual arts center comprises five galleries you can see when you come.
Every year, more than seven exhibitions are held at each gallery. It contains collections of many visual art mediums, such as sculptures, paintings, and photography.
Visit its galleries to be astounded by the magnificent creations of gifted painters throughout the area.
Address: 514 Green St, Gainesville, GA 30501, United States
If you are about to embark on an adventure to Arizona, you can check out the best places to visit in Williams (Arizona), and Yuma (Arizona). You may also like to check out the best things to do in Clovis (New Mexico), and Artesia (New Mexico).
#10. Piedmont Hotel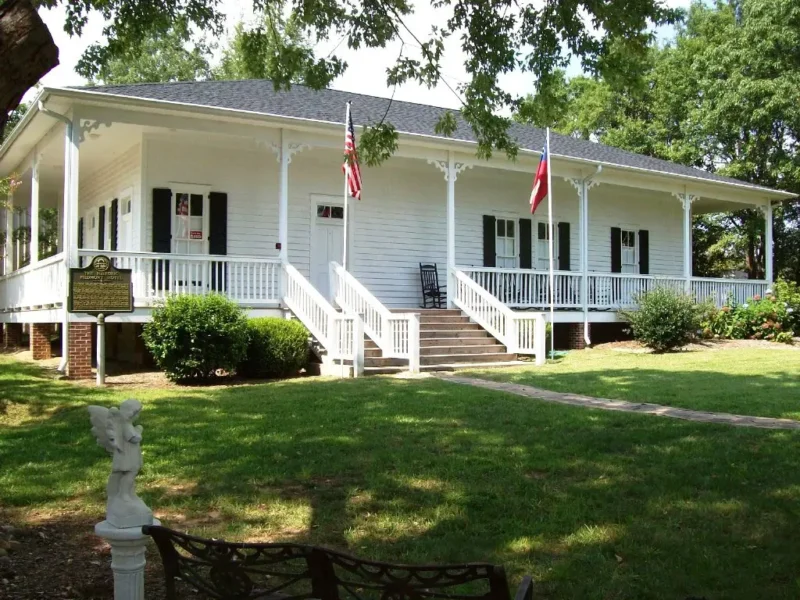 There are so many historic sites and landmarks in Gainesville. Piedmont Hotel is one of the most popular attractions to learn about the history of this city. Lt. General James Longstreet had his political headquarters at the Piedmont Hotel, built in 1876.
This hotel hosted several notable historical individuals, including former US President Woodrow Wilson.
Piedmont Hotel was nearly destroyed in 1918. However, a last-minute choice ended up being the ground floor section of one wing's savior. You can currently enter the hotel's north wing. It underwent a renovation to serve as the general's memorial.
Address: 827 Maple St, Gainesville, GA 30501, United States
#11. Scott's Downtown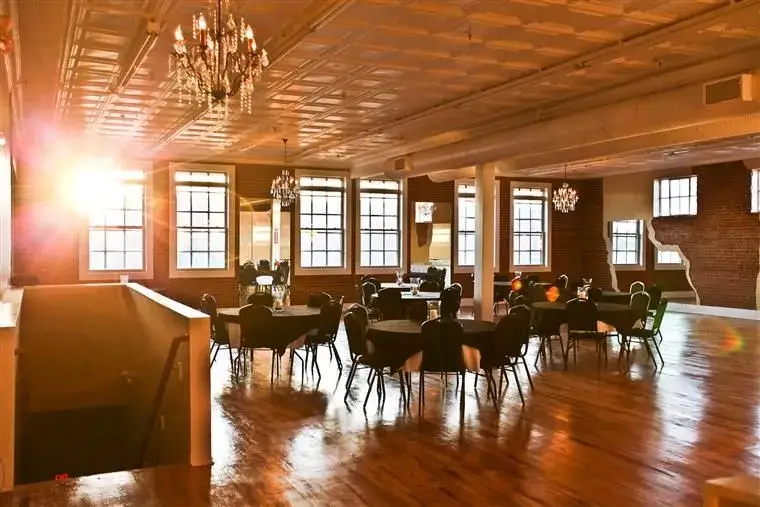 Scott's Downtown is one of Gainesville's most popular dining establishments. The restaurant is committed to serving only the best food to its customers.
They have good relationships with their customers and offer the best dining experiences for guests, with excellent dishes, exceptional service, and a fantastic wine, liquor, and beer menu.
A man by the name of Scott owns the eatery in the neighborhood. These delicious dishes are made with locally obtained ingredients, and he supervises food preparation.
Their menu offers prime Angus Beef, Chilean sea bass, butter-poached lobster, and other seafood delicacies.
Address: 131 Bradford St NE, Gainesville, GA 30501, United States
#12. Chattahoochee Golf Club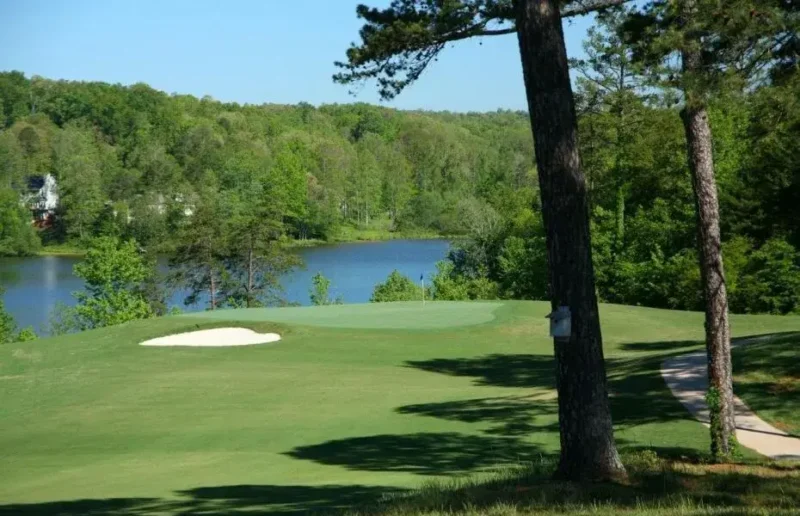 Chattahoochee Golf Club is one of the top public golf courses in North Georgia. It's a great place to play golf for scratch and amateur golfers alike. The golf course is on 183 acres of farmland, and part of its design includes easy passage.
The Chattahoochee River and North Georgia Mountains can be seen in the background as the golf course is in a picturesque area. With its narrow fairways, water hazards, and strategically placed bunkers, it offers a variety of challenges for golfers of all skill levels.
The Chattahoochee Golf Club also has a practice area, a putting green, and a pro shop that is fully stocked. A clubhouse that outside parties can rent for events like weddings and business gatherings is also available at the club.
Overall, golf enthusiasts from the Gainesville region and beyond enjoy visiting the Chattahoochee Golf Club. It can be an excellent place to spend a day on the links because of its beautiful setting, challenging course, and practical amenities.
Address: 301 Tommy Aaron Dr, Gainesville, GA 30506, United States
#13. Gainesville Solar Walk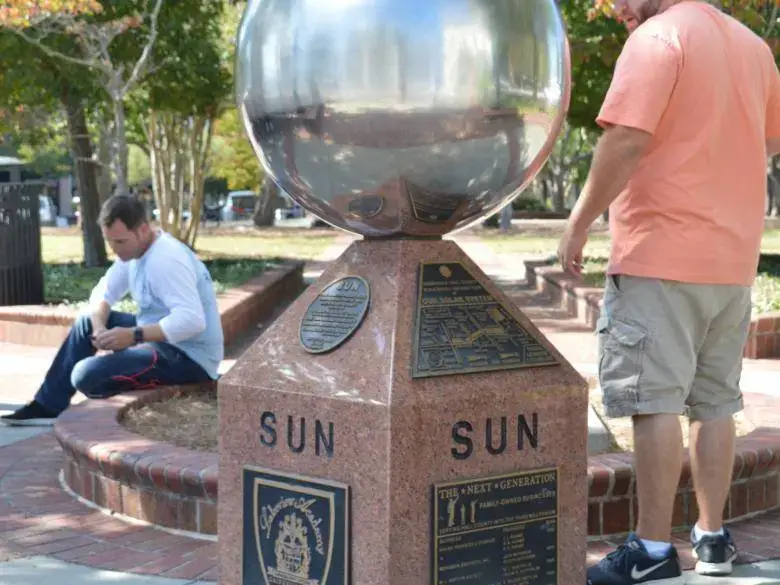 Did you know there are opportunities to learn more about the solar system in Gainesville?
A scale replica of the solar system stretches from the city's center to the end of Longwood Park on Lake Lanier. You can take a walking tour of this model, which is 1.8 miles long (3.6 miles round way), to learn new information about the vicinity of the Earth in space.
North Georgia Astronomers produced the scale model and tour for their "Millennial Project." The model's scale states that you will have traveled 4 billion miles into space once you complete a circular journey. You will also gain knowledge of the other celestial bodies in our solar system, including the planets.
Address: Spring St SW, Gainesville, GA 30501, United States
#14. Laurel Park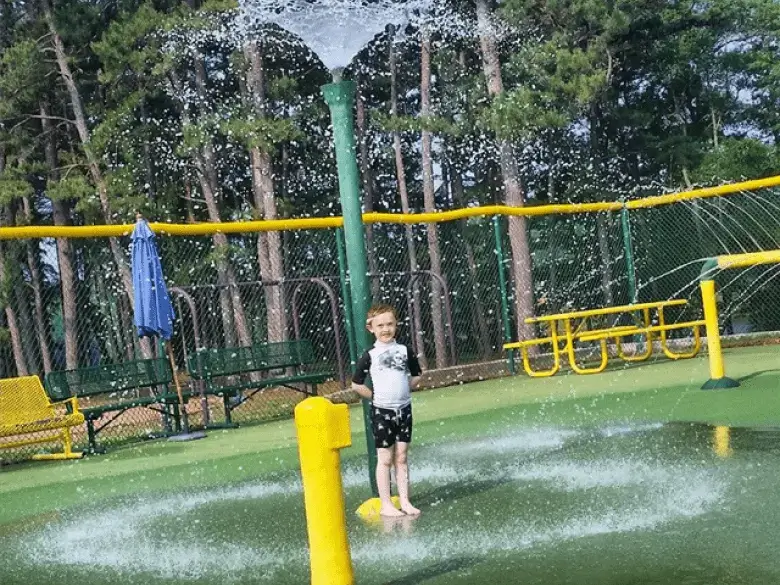 Gainesville's largest boat ramp has its home in Laurel Park. The 350-foot-long and 1,048-foot-tall giant boat ramp was built in this way to provide visitors and locals access when the weather is dry. A staging area, fishing competition, more parking spaces, and facilities were also built as part of the park.
The park is pet-friendly; you are welcome to bring your pet along as long as they are restrained at all times and off the playing grounds. It features several amenities, including a splash pad, playground, grills, picnic spaces, complete facilities, a pavilion, and more.
You can create beautiful memories with family and loved ones here.
Are you looking for more thrills around Tennessee? Check out the best places to visit in Jackson (Tennessee), Morristown (Tennessee), and Clarksville (Tennessee).
#15. INK (Interactive Neighborhood for Kids)
INK (Interactive Neighborhood for Kids) is another family vacation you should check out on your visit to Gainesville.
This neighborhood children's museum promotes young children's use of and growth in their imagination. It has displays that young children and toddlers of all ages can enjoy.
While learning about a variety of establishments that they could encounter in the neighborhood, your children can also have fun and role-play here.
If you intend to take your kids on vacation, feel free to include a visit to this museum in Gainesville.
Address: 999 Chestnut St SE, Gainesville, GA 30501, United States
#16. Smithgall Arts Center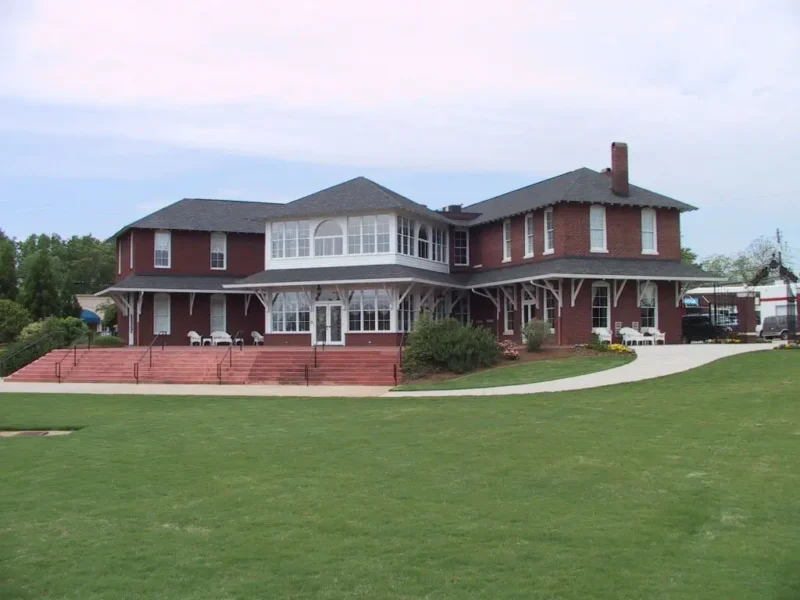 The Smithgall Arts Center is another important center for the arts in Gainesville. This institution is run by "The Arts Council," It occupies a prominent position in the city's arts and cultural landscape.
Its goal is to promote and exchange works of art from many fields. It keeps its treasures and holds concerts in a former railroad depot constructed in 1914.
You can see jazz performances and other performing arts stages there and the visual arts throughout your visit. Visit this gallery while you're in Gainesville to see the beauty of art in all its forms.
Address: 331 Spring St SW, Gainesville, GA 30501, United States
#17. Downtown Drafts
What good is a vacation Without a wonderful beer? It would help if you stopped by when exploring this city. The Downtown Drafts is a special beer store that sells handcrafted brews. The beer store is family-owned and -operated.
It has a warm, inviting atmosphere and a sizable area for tasting beer from local and even out-of-region breweries. You can always find whatever you're looking for on the beer menu, which features everything from IPAs to milk stouts.
If you're not the embodiment of beer, there is a storefront in the city center where you may pick from a range of appetizers, gourmet sauces, and glassware.
Address: 115 Bradford St NE, Gainesville, GA 30501, United States
#18. Green Street Walking Tour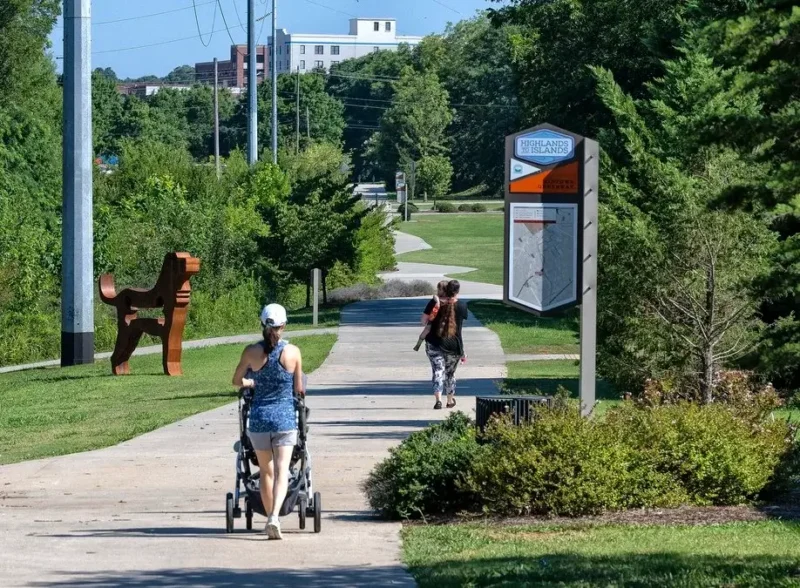 Given the city's lengthy history, numerous walking tours are available in different parts of Gainesville. A walking tour of Gainesville's historic Green Street, which can be found in the city center, is one thing you should do while there.
By allowing you to visualize life in the 1800s and 1900s, you may learn more about Green Street's past at this location.
You can use a local guide here to learn more about the neighborhood, the structures, and the houses that line the streets. The city's Visitor Center has the map available if you're interested in doing the tour.
If you're traveling with friends, you can reserve group tours before your trip. So if you are asked what to do in Gainesville, Georgia, you can visit the green street walking tour.
#19. Gainesville Theater Alliance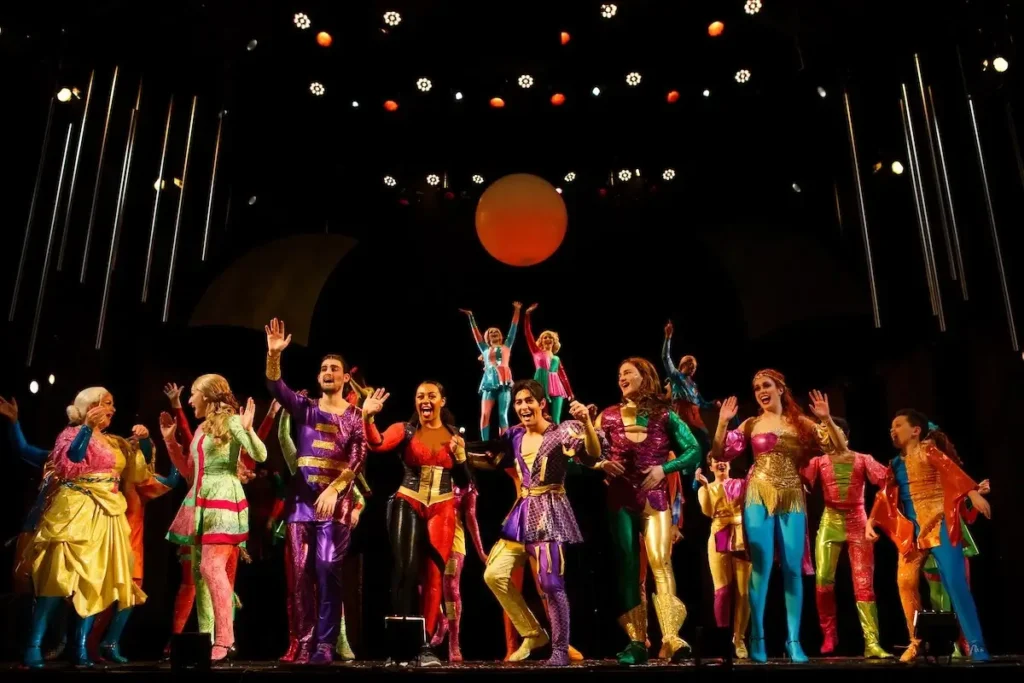 Take advantage of all of the plays by the Gainesville Theater Alliance (GTA) on your visit to this city. Gainesville Theater Alliance's productions were formed to collaborate with students, professionals, and the community; it aspires to encourage learning and growth via the performing arts.
The actors, designers, and technicians who work on the GTA productions are both amateur and professional. The elaborate sets, costumes, and lighting designs used in many of the productions help to give audiences immersive and exciting theatrical experiences.
Overall, the Gainesville Theatre Alliance is a thriving and involved member of the Gainesville, Georgia, cultural scene. The GTA's productions are worth checking out, whether you're a theater enthusiast or just looking for a fun night out.
This skilled ensemble, which has received national recognition, arranges productions of well-known plays and musicals. It would help if you didn't miss out on the wonderful performance of this theater because it's one of the best places to visit in Gainesville, Georgia.
Address: UNG Performing Arts Building, 2900 Landrum Education Dr, Oakwood, GA 30566, United States
#20. Beulah Rucker Museum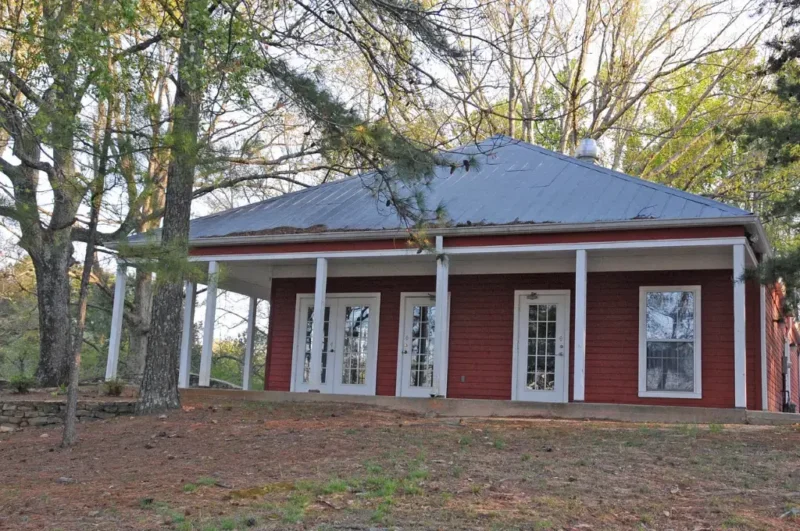 Are you curious about some of the Georgians who inhabited this area? If so, Beulah Rucker Museum will describe one such person's life narrative.
This location, housed in a building from the late 1800s, features a collection that tells the tale of its namesake. This African-American lady devoted her life to using education to better the lives of the people in her community.
Take advantage of visiting this museum if you want to understand more about the history of African Americans in the area and the significance these individuals had in the neighborhood.
Address: 2101 Athens Hwy, Gainesville, GA 30507, United States
Time to spare? You may like to check out the best things to do in Falmouth (Massachusetts), Nantucket (Massachusetts), Albrightsville (Pennsylvania), and Bayfield (Wisconsin).
How to Plan for a Trip to Gainesville, Georgia?
Planning a trip to Gainesville, Georgia, can be exciting and rewarding. The best time to go, where to stay, what to pack, and what activities and restaurants are nearby should all be considered to maximize your trip.
Let's consider the following:
Choose the Right Time to Visit
Depending on what you want to do and see, you should decide when is the best time to visit Gainesville, Georgia. The spring and fall seasons are ideal for outdoor pursuits like biking, hiking, and discovering the area's natural beauty.
Swimming, boating, and fishing are excellent Lake Lanier water sports during the summer. However, the summer can be scorching and muggy, so dress appropriately.
Even though winter can be chilly and rainy, many indoor activities are still to enjoy, like going to the Georgia Mountains Center or touring the local galleries and museums.
Where to stay?
Gainesville offers a variety of lodging choices, from modest hotels and motels to opulent resorts and vacation homes. The Hampton Inn Gainesville, Holiday Inn Express & Fairfield Inn & Suites, and The Guest Lodge Gainesville are well-liked choices.
There are a lot of bed and breakfasts and vacation rental homes in the region if you want a more distinctive and customized experience.
What to pack for your trip?
We advise you to carry the following items with you:
Comfortable Walking Shoes: Make sure to have good walking shoes because you'll be doing a lot of walking throughout the city. I've cherished the Brooks brand shoes I've worn for years. I've linked them here for guys and women; see it here.
Power bank: When exploring, we always have a power bank with us that is ultimately charged. In this manner, we can plug in our phone and recharge it on the road if the battery is becoming low. For navigation and photography, we rely extensively on our phones. Thus, this device is essential for us.
Bottle water: When exploring, we prefer to take an insulated, reusable water bottle.
Travel journal: Making a list of the locations and activities you wish to accomplish while traveling is possible with a travel journal. This saves time and ensures that you make the most of your journey. You might look up interesting and hidden locations to visit!
Backpack: Whether planning a trip to Georgia or just going on a day hike, backpacks are necessary. Bags allow you to carry your items in one easy-to-manage location. They also allow you to keep your valuables close and safe.
Plan your activities
Visitors can engage in various activities in Gainesville, including outdoor excursions, cultural encounters, and family-friendly attractions.
The Chicopee Woods Nature Preserve's hiking and biking trails, Lake Lanier's boating and fishing opportunities, the Georgia Mountains Center's tours, and the Gainesville Theatre Alliance's visits are a few more well-liked activities.
Please plan and reserve a spot for any activities or attractions you're interested in because some may require it.
Dining Options
Gainesville has a diverse dining scene with options ranging from fast food chains to fine restaurants. Scott's Downtown, Atlas Pizza, and 2 Dog Restaurant are well-liked neighborhood favorites.
The region offers tours and tastings and has several wineries and breweries. Especially on weekends or during the busiest travel times, do your research and reserve a table at any restaurants you're considering.
Frequently Asked Questions
What is Gainesville GA known for?
Gainesville, Georgia, is known for its beautiful natural surroundings, including Lake Lanier and the Chattahoochee River. Outdoor enthusiasts flock to the area to enjoy hiking, biking, and water activities.
Gainesville is well-known for its extensive history, which can be explored at several museums and historic locations, including the Gainesville Historic District and the Northeast Georgia History Center.
The city also has a thriving arts and culture scene, with various theaters, music venues, and galleries showcasing local talent.
Gainesville is a must-visit location in Georgia because it offers a distinctive fusion of the state's natural beauty, history, and culture.
Where is the best place to live in Gainesville, Georgia?
The preferences and needs of each person will determine where Gainesville, Georgia, is the best place to live. Mundy Mill, Cresswind at Lake Lanier, and Longstreet Hills are popular residential areas in Gainesville.
With access to amenities like parks, shopping, and dining, these communities offer a blend of urban and suburban living.
Further, neighborhoods near Lake Lanier, like Flowery Branch and Oakwood, provide waterfront living and recreational opportunities. Ultimately, it's crucial to research and tour various neighborhoods to find the best fit for your needs and budget.
Is Gainesville GA safe?
Gainesville, Georgia, is frequently considered a safe city to live in or travel to. The city has a lower crime rate than the national average, with property crimes predominating over violent crimes.
The Gainesville Police Department is dedicated to ensuring the community's safety and has implemented several programs to deter and lessen crime.
To be safe, you should lock your doors and windows, be aware of your surroundings, and stay away from high-crime areas, just as you would in any city.
Gainesville provides both residents and visitors with a secure and friendly environment.
What is Gainesville GA nickname?
Georgia's Gainesville is frequently called the "Queen City of the Mountains" or "Queen City." Due to the city's thriving industrial and commercial activity in the late 1800s made it the "Queen" of the surrounding area, so the moniker "Queen City" was born.
The phrase "of the Mountains" has been added to acknowledge the city's breathtaking natural beauty and location at the foot of the Blue Ridge Mountains. The moniker is still widely used today and captures the spirit and history of the city.
Plan Your Vacation To Gainesville Georgia
In conclusion, Gainesville, Georgia, provides tourists and locals with various recreational opportunities. There is something for everyone to enjoy, from discovering the city's rich history and culture to taking in its stunning natural surroundings.
Visitors can enjoy Lake Lanier, hike through the Blue Ridge Mountains, or visit the region's many historical sites and museums.
In addition, the city has many places to eat and shop, and the arts and culture scene is thriving. Gainesville is an exciting and lively city highly recommended for anyone looking for a mix of exploration, relaxation, and adventure.