Omu Resort, Ibeju Lekki (All You Need To Know)
It's a holiday period to have the best fun activities with your family, loved ones, and friends. You must buy some holiday tickets to have the most fascinating and memorable experience. And one of the best places you can buy those tickets is from the Omu Resort in the Ibeju Lekki area, Lagos.
The Omu Resort is open for all parties, whether you want to go there with your kids, go on a date, go for a business meeting, organize a luxurious party for your employers, or want to have fun all for yourself.
Hence, in this article, I'll review all you need to know about the Omu Resort before visiting the location, some of the activities you can enjoy at the Resort, and some important information you need to know about the Omu resort.
An Overview of Omu Resort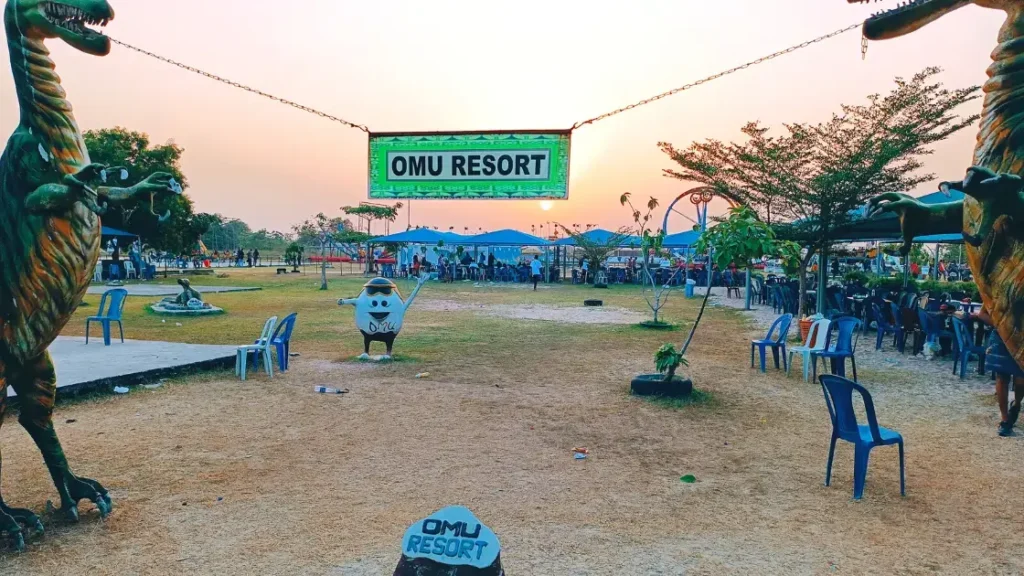 When finding the best location for your loved ones to experience wildlife and have fun in Lagos State, Nigeria, Omu Resort is one of the places you can think of.
It is not just a place for vacations or having fun with friends and families; it's also a place for educational programs, for instance, when children go on school excursions to be educated and entertained about the world of wildlife preservation and conservation.
The Resort is located within the Ibeju area in Lekki, Lagos State, Nigeria. It was built on twenty-two hectares of land that faces a large water body that oversees the lagoon. And if you'd want to get there, you don't have to worry because I will direct you to the next heading/section below.
Furthermore, this lovely place known by most Nigerians and tourists was founded by Mr Dipo Bally but is managed by the Wood Fields And Theme Park. This company specializes in recreational and wildlife preservation.
In addition, Omo Resort has been operating for over a decade now in such a way that both foreigners and Native Nigerians know about the resort.
Not only that, but the Ibeju Lekki Local Government also met with the founder acknowledging the impact the resort has made on the economy of the local government area and also in Nigeria.
And, unlike other resorts where it may be difficult to get food when hungry, the Omu Resort has different food dealers you can call, and what you order will be delivered within a few minutes.
So what else will you like to know about this amazing place? Read on as I continue telling you about the place.
Omu Resort Photos, Location, And How to Get There
Omu Resort is at number 1 Asiwaju Bola Tinubu way, Ibeju 105101, Lekki, Lagos, Nigeria. And if you'd want to get there without knowing your location, there are different ways for you.
Firstly, You either chatter an Uber driver to take you there or if you're driving yourself to the Resort, you can use Google Maps by inputting the address.
If you don't want to take an Uber driver and can't use Google Maps, here's a more detailed way to find the Omu Resort.
First, when you reach Ajah, you head out from the axis, moving through your right side. You will find some schools and then the Mayfair Garden.
After you have passed the area, you will come across the Elemoro Police Station. When you reach there, slow down and look to your left for some blue roof signifying Elemoro Shopping Complex.
When you find it, you will find a U-turn around, make the U-turn heading toward the roof you saw, and then find a road staying on Bola Tinubu Road.
Enter the road finding the signpost to the resort. Along there, you will locate the Omu Resort.
But why go through the pain of locating the Resort yourself when you can use your Google map by typing Omu Resort or even chattering an Uber driver to take you there?
What are the Fun Things to do In Omu Resort?
#1. I Paid a Visit To David's Sanctuary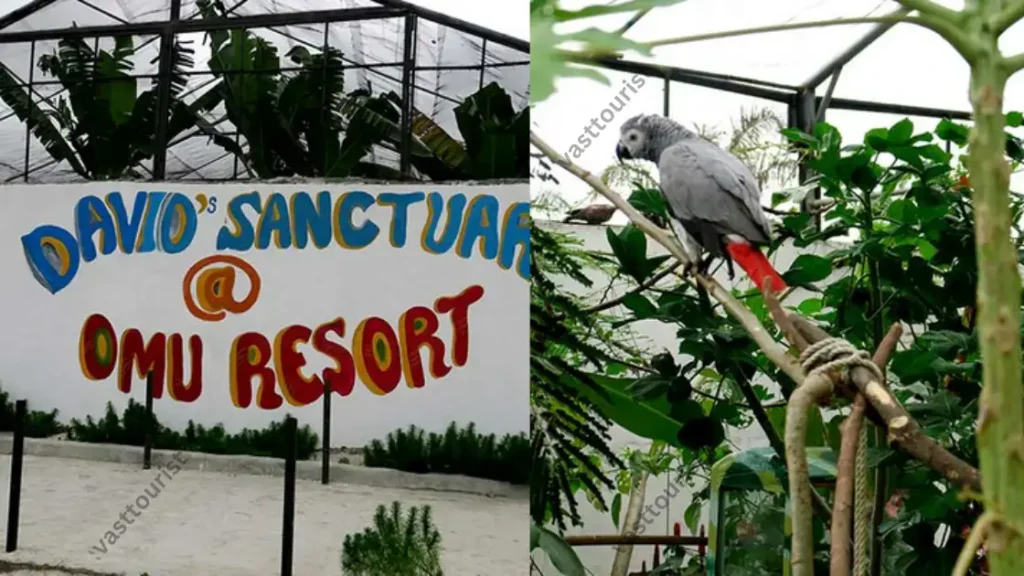 On my first day at Omu Resort, I visited David's Sanctuary. I don't know about you, but for me, I'm the type of person that loves listening to the sounds of birds, perceiving the fascinating smells of flowers, and viewing beautiful aquatic animals which are all present at the sanctuary.
There I found Parrots of different colours and species, beautiful flowers, and aquatic animals. So, if you'd like to love nature, especially when it comes to viewing beautiful flowers and meeting with beautiful aquatic animals and birds, you can give this place a shot whenever you come around.
Furthermore, you will be able to see and admire the beautiful flowers in the sanctuary and be educated about them and why nature is so important to us.
#2. Participated In The Kart Racing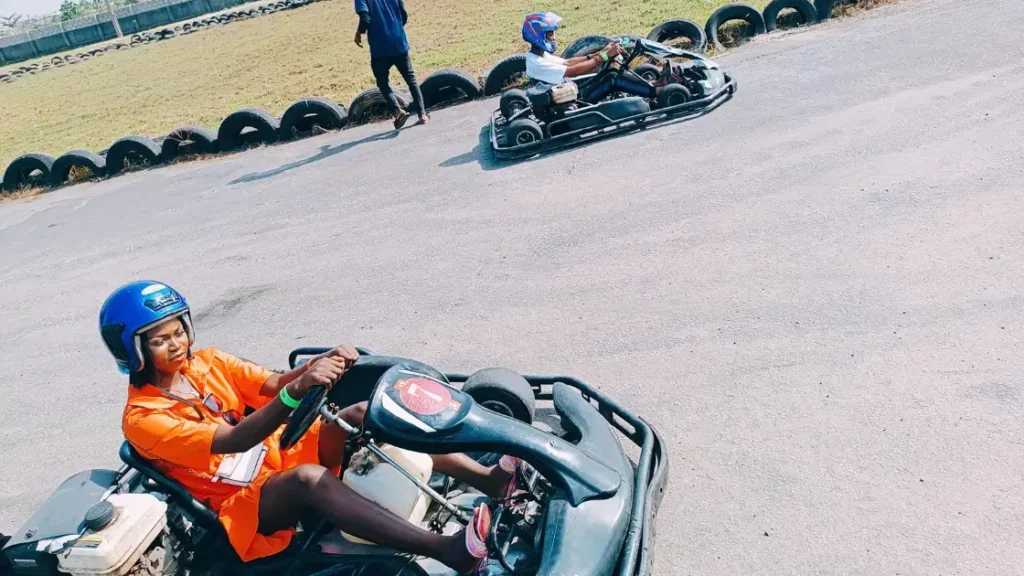 Go-kart is a global racing game, just like every other race game. And if you'd like to participate in racing with others at the resort, the amount is just ₦3,000 for adults and kids ₦2,500 for 3 laps.
I enjoyed racing because my friend and I was trying to see who would win the race and, for some reason, who was best known to us. But fortunately, I won the race competition.
So, if you're with your siblings, family, or spouse, you can try kart racing at the Omu Resort and see who can drive better. But it will be more fun if you race under a bet, just like I did.
#3. Go for Archery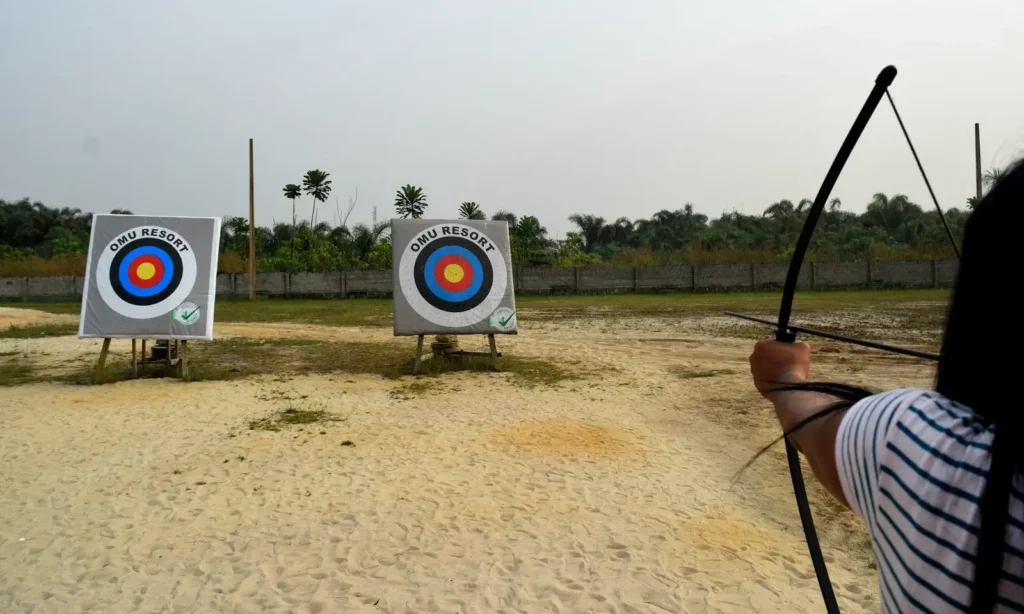 If you are a fan of DC movies, then you might have come across "The Arrows", who grow up to be a vigilante saving the city with his Archer.
If you'd watch that series, then you might have every reason to practice archery whenever you visit the Omu Resort because you'd want it to feel like being an Archer.
And also, when participating in the Archer, you get this feeling of wanting to target the middle point on the Archer board. So, when you visit the Omu Resort, go for Archery.
#4. Check Available Animals at the Zoo
So now, what next can you do to make your visit to Omu Resort fascinating and memorable? I would recommend you check out the available animals at the Zoo in the Resort.
When I visited the area, I came across different types of animals, including Ostrich, Python, Zebra, Monkey, Antelope, and their special Lion named Simba.
When I visited, the Zoo management showed us the different animals available there and how they feed, and also took beautiful wildlife pictures of the animals.
#5. Play Wet in Tide's Wet & Wild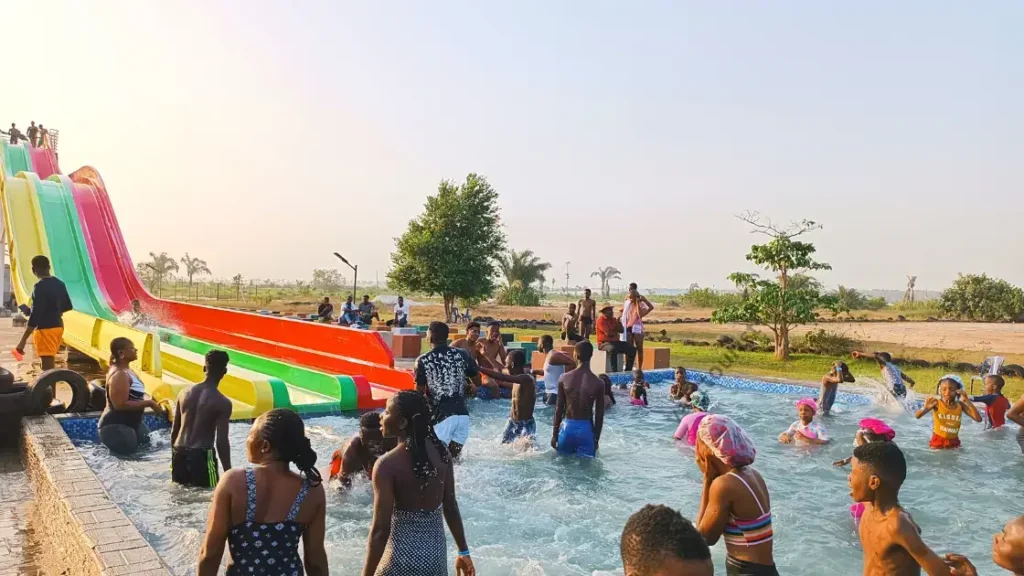 Do you want to play with your kids and friends in the water? Then you can go down to the Tide's Wet And Wild at the Omu Resort.
You will enjoy the memorable activities at the location, such as getting wet with your kids and loved ones, and as you know, the weather of Lagos used to be hot, and with you playing wet in Tide's Wet And Wild, you will be able to avoid the hot weather in Lagos.
The Omu Resort also has a swimming pool, so if you find this one condensed, you can choose to go for the swimming pool to avoid the hot weather.
Since you are enjoying the post on Omu resort, you can also check out the best Books That Will Inspire Your Next Adventure.
#6. Go Kayaking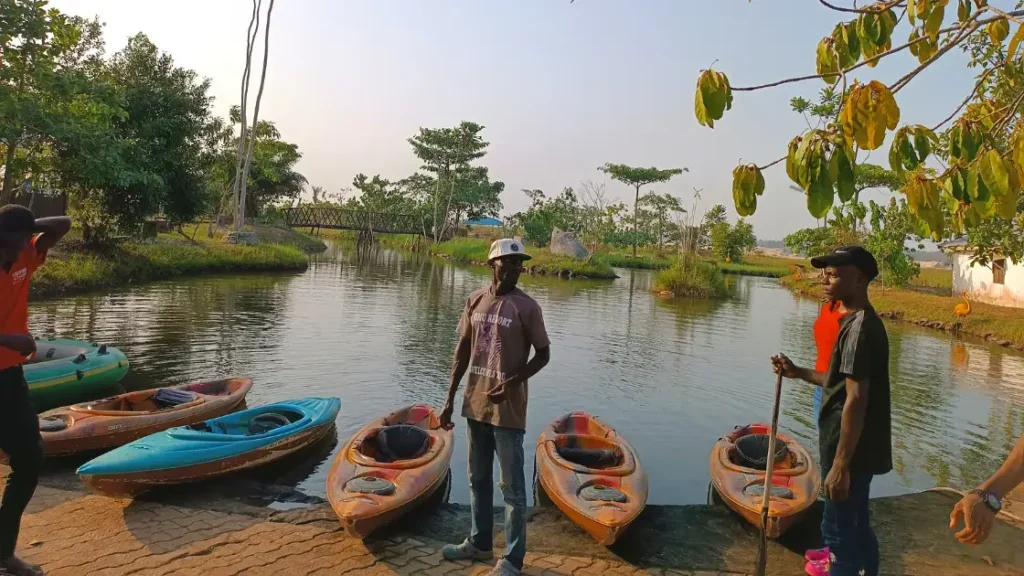 Even if you don't know how to kayak, you will be taught how to do so by the Omu Resort team. But it will be a bonus for you if you can kayak.
If kayaking is not among the activities you can do in the ticket you bought, you can buy a separate ticket only for kayaking for the sum of ₦2,500 for yourself.
But overall, if you want to enjoy kayaking without paying a huge fee just for yourself, it'd be better to buy it with the ticket you are ordering online. And to me, I think this is one of the best activities you can enjoy on the water whenever you visit Omu Resort.
#7. Enjoy Mini Golf Playing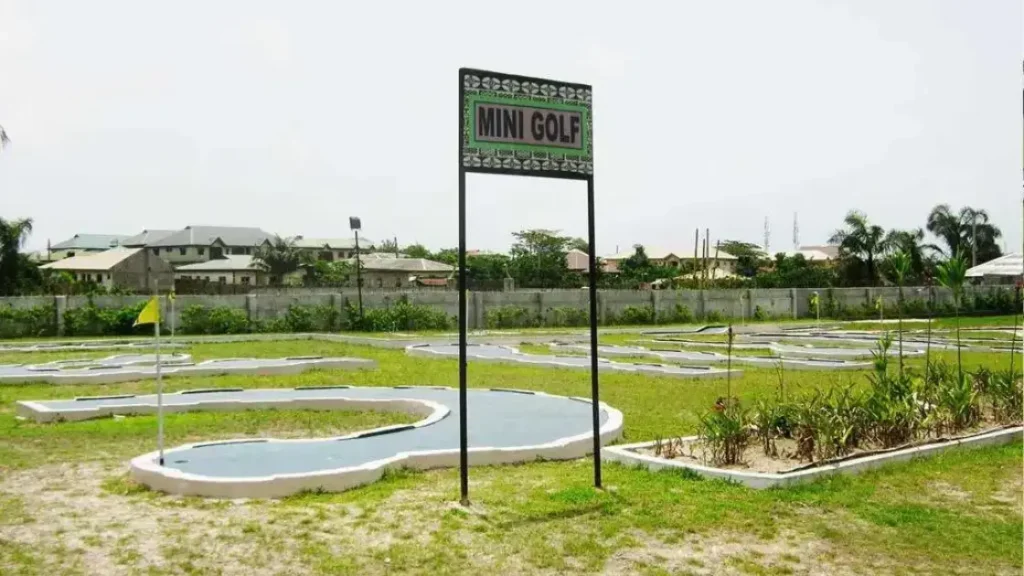 Do you know that playing mini golf can help set your thinking right and also helps you know how the other person you are playing with thinks?
Well, if you don't know, give it a try. And just like my visit to Omu Resort, I can testify it was my first-day playing mini golf, but the feelings I got playing it was entirely different, like I've been playing it for a while now. 
However, I won't explain those feelings because there's no way I can, except you find yourself with the golf stick, trying to pull the ball into the hole. 
#8. Go Horse Riding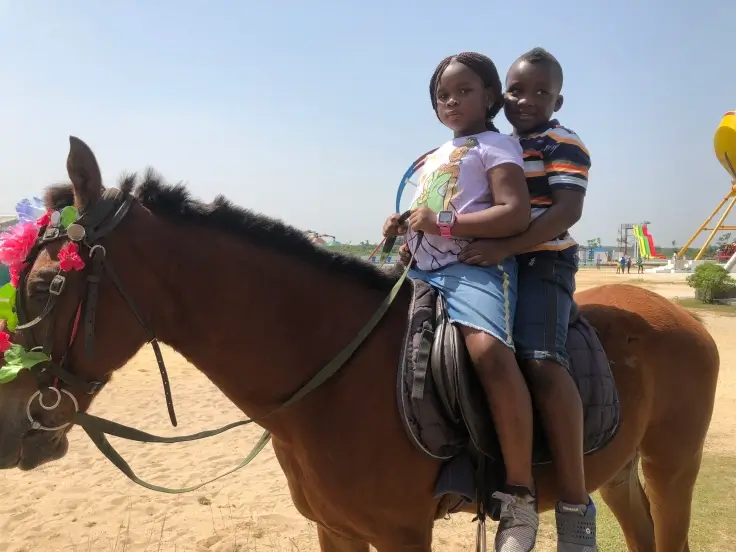 You might not know how to ride a horse but trust me, and there's a different feeling when you also get to ride a horse. I get that people have this phobia when it comes to horses, especially when they are raising their front legs.
But that's not always what happens. Horses do that, especially when they are in pain, and with the help of the Omu Resort team, you won't have to worry about that.
Well, I enjoyed my ride with horses, as they are cool animals and sometimes understand when you are in fear, just like dogs. So, if you want to learn how to ride horses, this is a good chance.
#9. Go For The Mech Bull Riding
If you can't ride a horse because you are scared, you should consider enjoying something that's like a horse and can't hurt you.
Which is known as Mechanical Bull Riding but in short form Mech Bull Riding. This is just like a made appliance in the form of a bull and will move as if you are on a real bull.
Everything you will have to do on a real bull or horse, that's the same thing you must do so you won't fall. Furthermore, it's the best way to learn how to ride and stay fit on a horse.
#10. Enjoy Roller Skating With Friends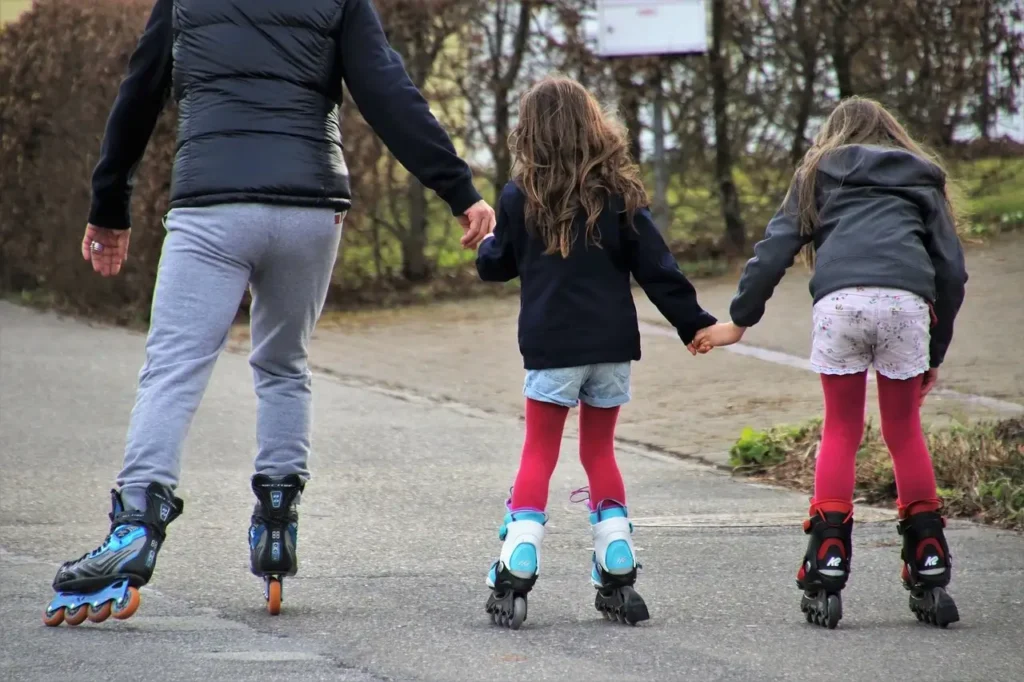 One of the things I love about Omu Resort is that they have a great team who are willing to help you and ensure you enjoy your time visiting the Resort.
Why say this? Because not everyone can roller skate, but with the help of great teams at Omu Resorts, they make sure that they don't feel bad about their inability to roller skating or perform in any fun activities.
So, with that in mind, whatever fun you'd want to enjoy at the resort, in as much you have bought a ticket that states you have access to it, either kayaking, visiting the zoo, or playing the mini golf available in the resort, the teams available would make sure you don't leave regretting your visit there.
How Much is Omu Resort Gate Fee And How to Pay?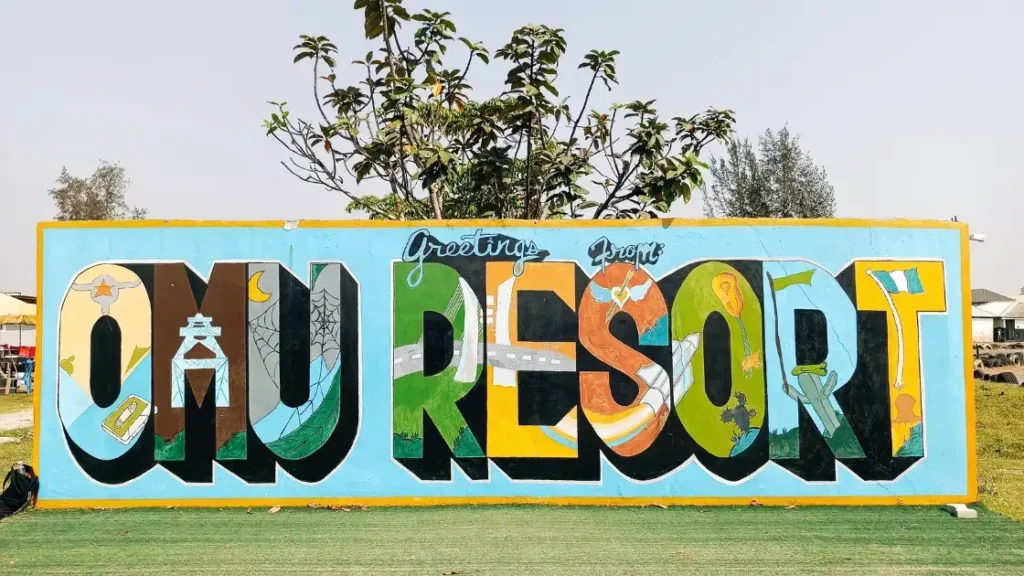 There are different fees and tickets for any activities you would like to enjoy at the Resort. And if you'd want to pay, all payments will be done online.
Hence, here, I'll list out the various types of tickets they have, the fun activities you can enjoy for the number of tickets you bought, and the number of people allowed to go in with you for a premium price. They have the following tickets:
Gold tickets cost ₦7,000 per person, but a group of 5 persons pays a discounted fee of ₦33,000. And the tickets will give you full access to the Zoo, Wax Museum, Mini Golf, Horse Riding, Water Park, Kiddies' Play Areas, Seaworld, Archery, Amusement Park, Swimming Pool, Outdoor fun, and lastly, a Mech. Bull Riding.
The next ticket is the platinum ticket which costs ₦10,000 per person, and for a group of persons, they would have to pay a discounted fee of ₦48,000. And with this ticket, you could enjoy all activities at the Gold ticket plus Quad Bike, Kayaking, and Roller Skating.
Prime tickets cost ₦12,500 per person, and if you'd want to pay for a group of 5 persons, you will need to pay a discounted fee of ₦60,000. And with this ticket, you will have access to enjoy all activities listed above, plus Go-Kart.
Super prime tickets cost the sum of ₦19,500 per person, and if you also wanted to pay for a group of 5 persons, you did pay a discounted fee of ₦95,500. And with this ticket, you can enjoy all activities at the Resort except for Paintballing.
However, you can also book individuals based on what you'd want to do at the result. For instance, when I visited, I bought a golden ticket which doesn't contain kayaking, so I had to pay for it to enjoy it. But to avoid paying higher, you'd better pay for the ticket containing most activities you'd like to enjoy.
Additionally, each student is to pay the sum of ₦5,500 for school excursions. And children below 10 years will pay ₦6000 to enjoy all activities under the Gold Ticket.
Lastly, when booking a hotel room, Omu Resort now has a hotel called the Le Chateau Guest House. And if you want to book their hotel, it's different from bookings for other tickets at the resort.
Two types of rooms at the hotel include Standard rooms, which cost ₦30,000, and the Deluxe room, which also cost ₦35,000, with a lot more luxurious items than standard rooms.
So, to book your hotel room, you can do so by contacting Omu Resort Management through their various hotline numbers or via their office Lagos website.
Packages Offered By Omu Resort
The Omu Resort teams offer different packages, and whatever type of park you want, you should contact the management and tell them about the package you are looking for. So, here are some packages offered by the Omu Resort teams: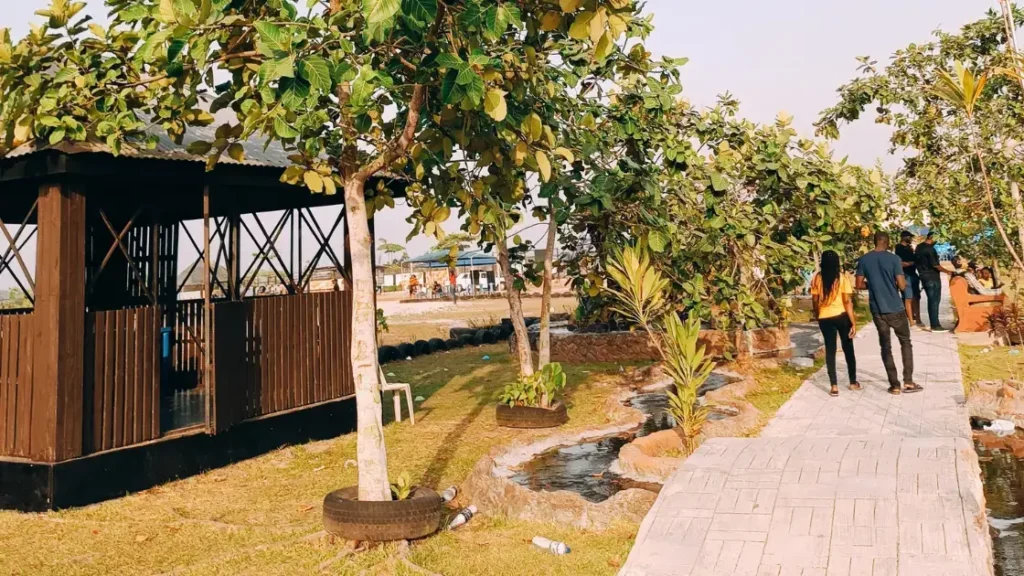 Picnic Package
If you want to have a picnic with your family, friends, or employees at your company at the Omu Resort, organizing it all yourself will be hard.
And for this, Omu Resort has great teams that can help with all preparation and organization of your picnic. So, as I said, if you want to book this package, big or small, you can only do so by contacting Omu Resort management.
Corporate Packages
Want to host your next luxurious business meeting but don't know where and how to make that happen, then this package is for you.
You can book the package through the management so the Omu Resort team can take care of everything for your meeting to be successful.
Birthday Packages
Do you want to celebrate an unforgettable birthday party for yourself or your loved ones? The Omu Resort teams also have great ideas for that to come to play.
Whether it's for your kid or an adult, they have all the requirements for you to have an unforgettable birthday experience.
Team Building Packages
Lastly, if you want to play a game and don't know how to build a team, the Omu Resort teams can also help provide all you need for your team-building activities to make the game successful.
Omu Resort Customer Service Support
So, when contacting Omu Resort customer service support, there are different ways you can. You can contact them through their social media profile, call them or even WhatsApp them. But let it be between their business hours.
Therefore, you can contact them on Monday to Saturday between 9:00 am to 6:00 pm and also on Sunday between 12:00 pm to 6:00 pm.
So, here are Omu Resort's customer service numbers:
+234 81428 12406.
+234 817 841 4877.
+234 811 740 8525.
+234 704 616 6854.
You can also contact them through the following emails:
Who is the owner of Omu Resort?
Many individuals manage the Omu Resort, but the founder of Omu Resort is a man called Mr Dipo Bally.
Is there any restaurant near Omu Resort?
Yes, there are a couple of restaurants near Omu resort. And also, if you are hungry, you can order through the available numbers presented by the Omu Resort teams on their website or come with your food.
What time does Omu Resort Open?
Omu Resort's opening hours are from 9 am to 6 pm every day except on Sundays when they open from 12 pm to 6 pm.
Before You Go…
Holiday periods are the only time you have to spend quality time with your family and friends. And I know you don't want to spoil the free period you have with them by doing things that are not fun and memorable.
Henceforth, I believe you'll be able to enjoy your time at the Omu Resort with the listed fun activities. If you have been to this resort, feel free to share your ideas in the comment section below.