21 Best & Fun Things To Do In Huntington WV (West Virginia)
Are you searching for the best things to do in Huntington WV? Then you are on the right page. The beautiful city of Huntington is located in West Virginia at the confluence of the Ohio River and the Appalachian Mountains.
It is well-known for its expansive natural beauty, outstanding museums, stimulating art galleries, breathtaking train rides, active culture, and several lovely parks. Tranquil lakes, vast forests, beautiful rivers, rolling hills, and a wide variety of fauna surround the city.
Everyone can find something to enjoy in Huntington, whether you're seeking an exciting day trip, a weekend vacation, or a family-friendly excursion.
It's the perfect vacation spot, offering the optimum balance of entertainment, outdoor exploration, and art and culture.
You can engage in various outdoor pursuits here, including hiking, biking, swimming, fishing, seeing wildlife, and kayaking. There are so many things to do in Huntington that you can extend your trip by one or two days.
In this article, we've compiled a list of the best, the brightest, and the most beautiful things to do in Huntington to help you plan your next trip.
Here are the best things to do in Huntington, WV (West Virginia).
#1. Huntington Museum of Art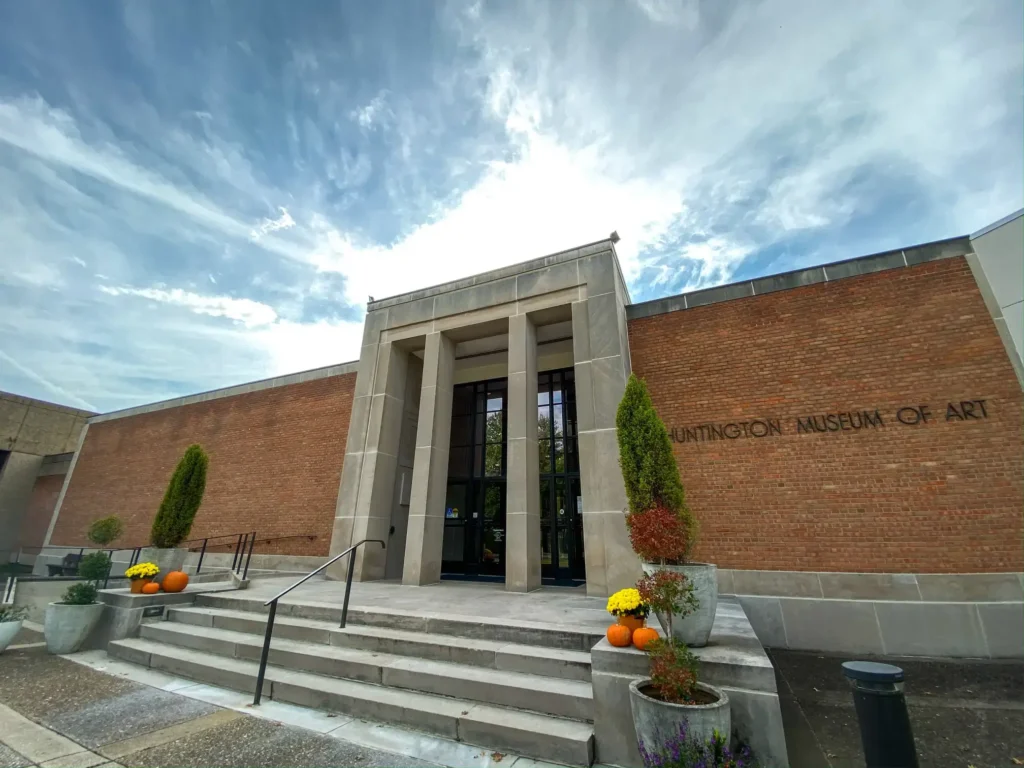 Huntington Museum of Art Is one of the major places to visit in Huntington. Established in the middle of the 20th century, this esteemed visual arts institution has ten gallery spaces, an auditorium, a research library, a plant conservatory, sculpture courts, several art studios, nature paths, and an aquarium.
It features notable artistic creations from the United States, the region, China, Iran, Japan, Syria, Egypt, and regional and American art.
The permanent collection consists of rugs, paintings, sculptures, works of glass art, antique weapons, and other items. The museum presents a wide variety of changing exhibits all year long.
Explore the galleries to see works of art that will get you thinking and feeling inspired, and also check out the conservatory garden to see a variety of rare and beautiful tropical plants.
Address: 2033 McCoy Rd, Huntington, WV 25701, United States
#2. Ritter Park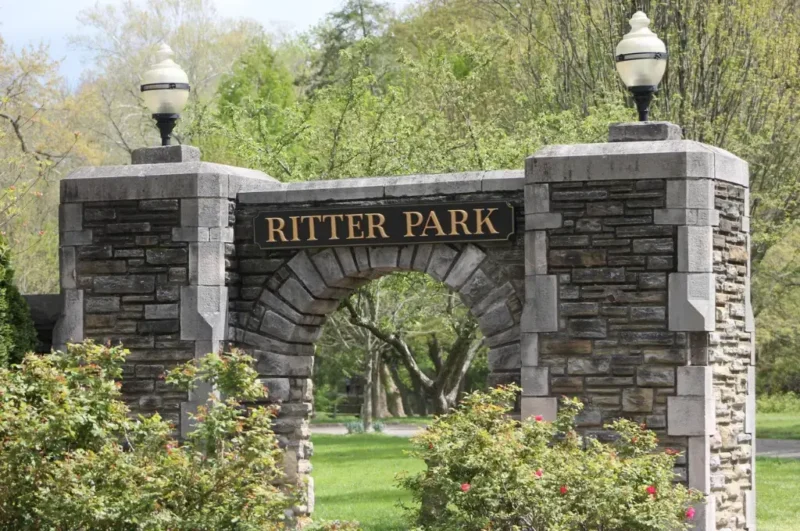 Visit Ritter Park if you want to have a fun time on your trip to Huntington. Ritter Park, which lies on Huntington's south side, is regarded by many residents as the city's best place for recreational activities.
There are several recreational facilities available to guests in the 75-acre park. The walking path in Ritter Park is composed of crushed limestone, making it safe for cyclists, joggers, and walkers.
Additionally, there are a dog park, an award-winning rose garden, and 11 newly renovated tennis courts. Other amenities include:
A few playgrounds.
A sliding hill.
Nature paths.
Grills.
Several picnic spots.
An outdoor community theater that holds performances and concerts all year round.
Enjoy nature by taking a stroll along the lush pathways that parallel the wonderful stream, playing a game of tennis, admiring the brilliantly colorful roses in the garden, grilling up some burgers, and concluding your day with a romantic picnic amidst the picturesque scenery.
This park also holds several events, such as musical performances, plays, tennis competitions, Easter egg hunts, classic vehicle shows, and art and music festivals. This location is also well-liked as a wedding site because of its picturesque vistas and peaceful ambiance.
Address: 910 13th Ave, Huntington, WV 25701, United States
#3. Heritage Farm Museum & Village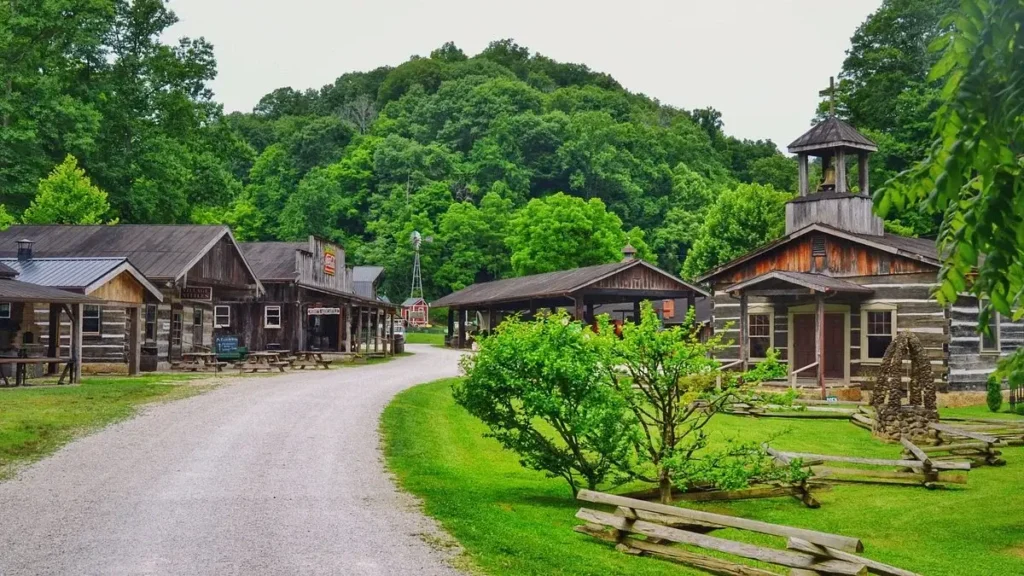 The lovely Heritage Farm Museum & Village is one of the most popular tourist destinations in Huntington, West Virginia.
It has several beautiful attractions, including a church, a blacksmith shop, a petting zoo, hiking trails, an artisan center, seven museums, a nature center, a petting zoo, a nature center, a treehouse, and canopy bridges.
Several museums showcase daily life in the Appalachian region during the 19th century. Their exhibits feature a model railroad, dolls, carriages, an art print business, apparel, cutlery, tools, kitchenware, wagons, model airplanes, a model general store exhibit, and other historical artifacts.
The museum exhibits also concentrate on the area's trade and commerce history, arts and crafts, and transportation history. Here, the children's museum offers a variety of interactive experiences that let kids learn about life in the area during earlier centuries.
Hike along the lush trails to the treehouse, which offers breathtaking views of the surrounding vegetation. Take in the sights of squirrels and colorful birds while exploring this place.
It has several farm animals, including llamas, goats, chickens, cows, donkeys, peacocks, ducks, piglets, dogs, and rabbits, that live in The Critter Corner. You can approach them, feed them, and pet them.
Visit the blacksmith shop to see how various tools are traditionally created from steel.
Address: 3300 Harvey Rd, Huntington, WV 25704, United States
#4. Autumn Colors Express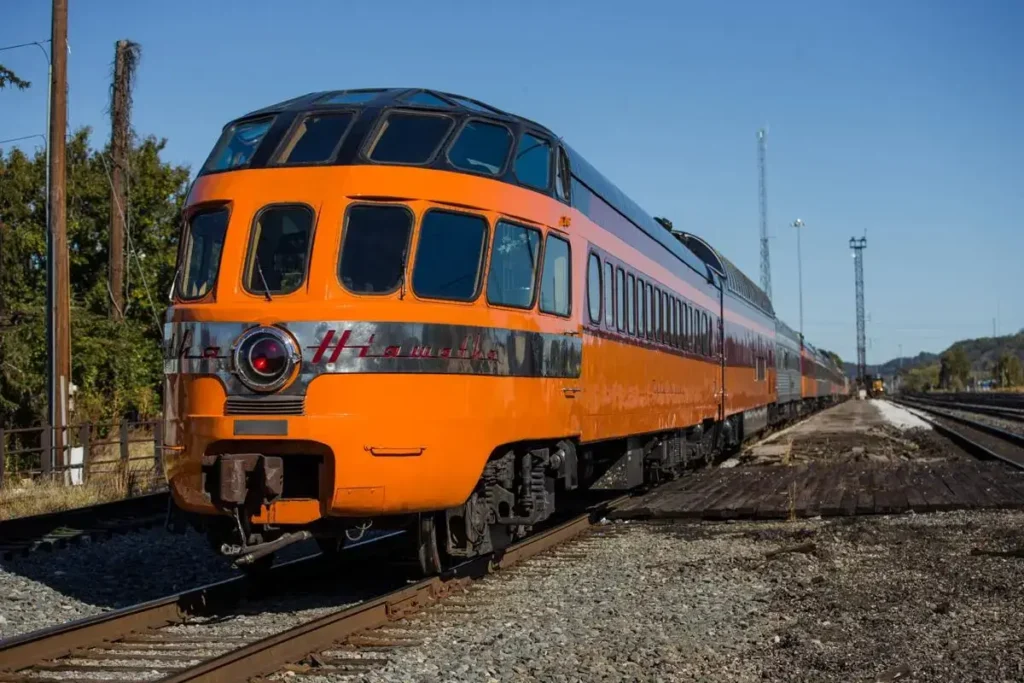 The Autumn Colors Express offers a thrilling train ride between Huntington and Hinton. The train departs from the storied Chesapeake and Ohio Railway and travels through the breathtaking New River Gorge while providing views of the surrounding environment.
This trip occurs every October and has been a custom in this area since 1966. A day-long trip on old rail cars offer breathtaking views of the charming river, a scenic waterfall, lush vegetation, an abandoned village, a lovely dam, and many other sights. There are also delectable meals offered on the train.
When you're in Huntington, purchase tickets for this amazing train excursion and revel in an experience like no other.
Are you planning to explore California beautiful places? You can check out the best places to visit in Riverside (California), Bakersfield (California), and Fullerton (California).
#5. The LOST Escape Room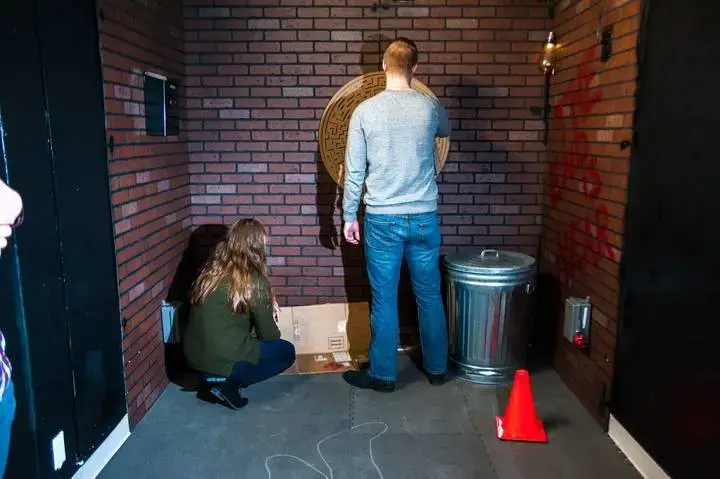 If you're looking for a thrilling, exciting activity for you and your friends to do while in Huntington, go to The LOST Escape Room. The LOST Escape Room is a team game that is a growingly popular choice for a fun time with friends.
The LOST Escape Room in Huntington offers a variety of escape rooms for you and your friends to try out if you want to push yourself and your friends. You can compete against the clock to see if you have what it takes to escape from a locked room in the allotted amount of time.
You can participate in this game room's "The Lost Queen" activity, in which you must unravel the truth about Queen Nefertiti, a figure who mysteriously vanished from all historical records.
Playing an escape room game is one of the most unusual experiences you'll ever have in this city. Be sure to add this experience to your travel itinerary because they have a fantastic game master who is highly amiable and educated and helps you immerse yourself in the role-play component to make the experience well worth trying!
So if you are looking for what to do in Huntington, West Virginia, ensure to have fun at the lost escape room.
Address: 803 3rd Ave, Huntington, WV 25701, United States
#6. Pullman Square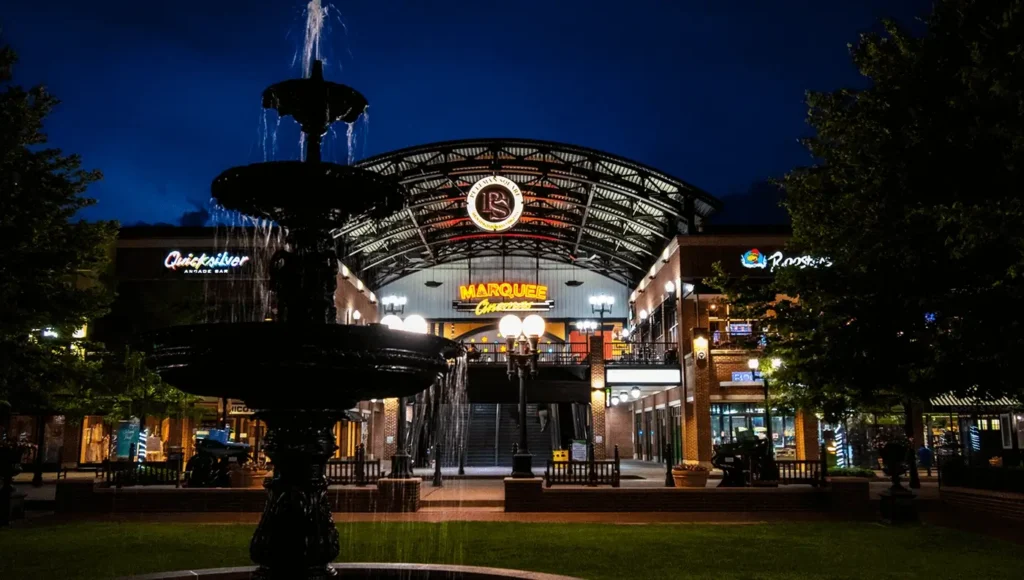 If you want the best places to visit in Huntington, add Pullman Square to your list. In the heart of Huntington's downtown lies Pullman Square, an outdoor shopping and dining district.
Both locals and visitors can go shopping at places like Chico's or the Appalachian Boarding Company, grab a coffee at Starbucks, eat lunch at Black Sheep Burritos & Brews, or stop by Cold Stone Creamery for a delectable scoop of ice cream.
Marquee Cinemas 16 is another movie theater in Pullman Square. The additional retailers are Game Stop, Edible Arrangements, The Pottery Place, and M&M Nails and Spa. Pullman Square hosts a Saturday farmers market from the end of the spring through mid-fall.
Address: 220 9th St, Huntington, WV 25701, United States
#7. Camden Park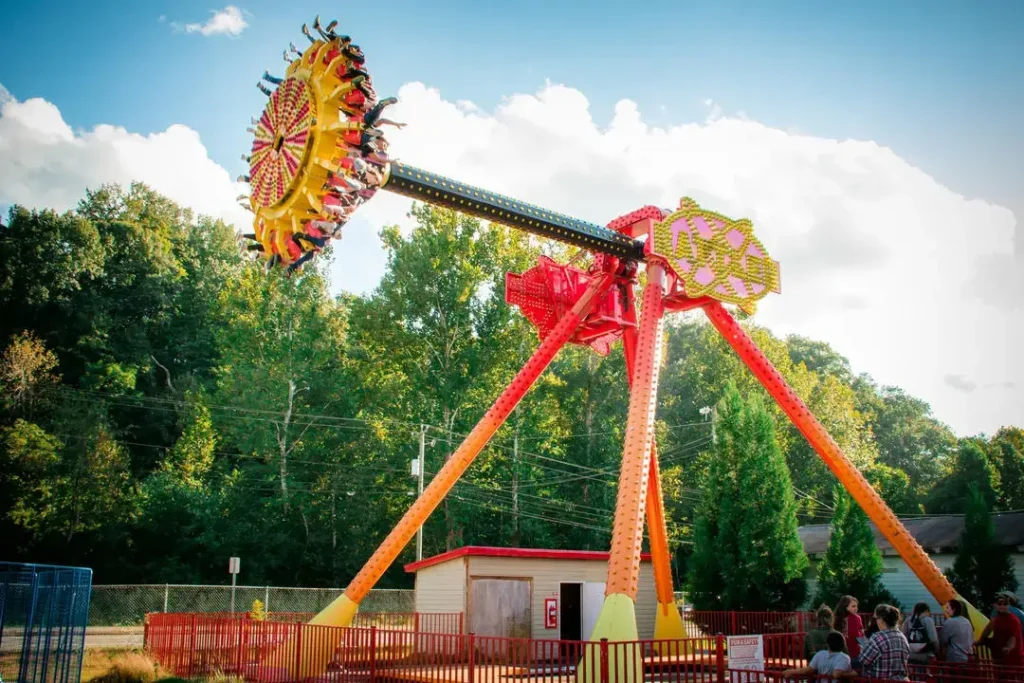 Who doesn't enjoy visiting theme parks? This well-known theme park, which opened in the early 20th century, is visited by locals and visitors.
There are a lot of fun things to do in this park, such as an exhilarating ride, a lovely lake, an arcade, carnival games, a miniature golf course, a petting farm, restaurants, snack bars, and more are all included.
The attractions include a haunted house, rollercoasters, yo-yo rides, log rides, carousels, and water rides. Enjoy the exciting rides, paddle a boat on Swan Lake, play a round of mini-golf, pet the farm animals, play entertaining games in the arcade, and eat delicious food.
Camden Park hosts various events planned year-round, including musical performances, kid-friendly festivals, and the yearly Halloween Spooktacular.
Visit this place with your loved ones for an exciting and fun-filled day out. Add this to your list of fun things to do in Huntington this weekend!
Address: 5000 Waverly Rd, Huntington, WV 25704, United States
#8. Harris Riverfront Park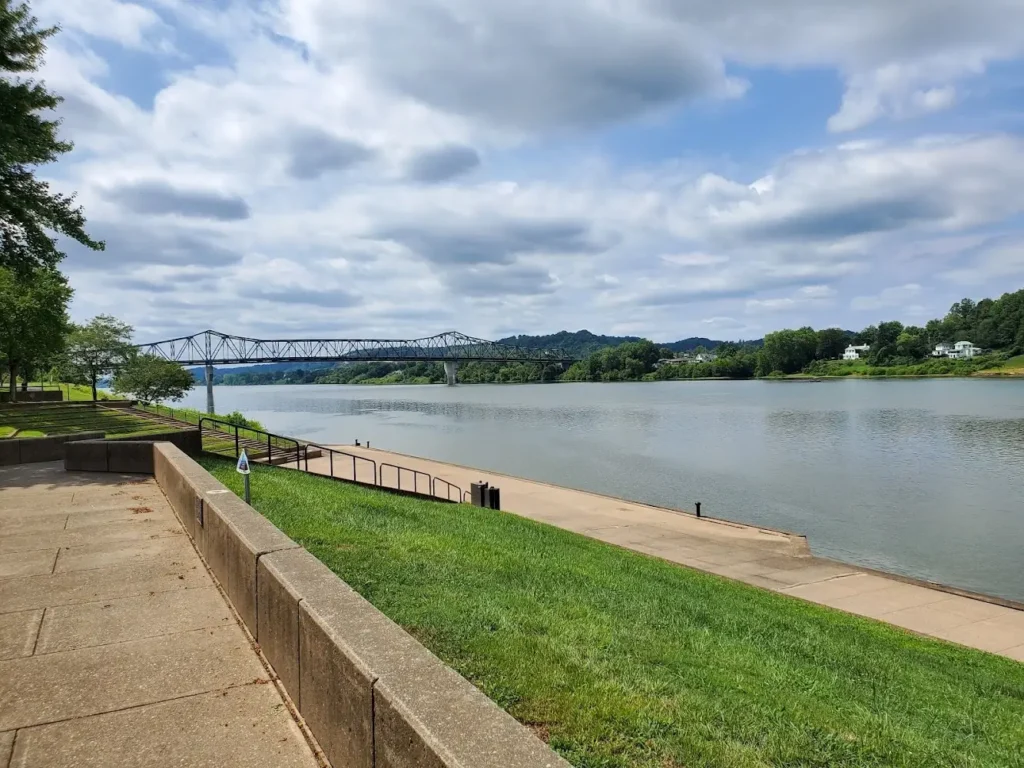 Harris Riverfront Park is one of the popular attractions in the lovely city of Huntington. This charming riverside park is great for enjoying stunning views of the Robert C. Byrd Bridge, the tranquil Ohio River, and gorgeous sunsets.
The park has playground equipment, a theater, a skate park, beautiful trees, hiking trails, and a boat ramp. Take a calm riverbank stroll or relax on one of the benches and take in the beauty of nature.
You can set up a picnic in front of one of the breathtaking views or relax with an excellent book in the peaceful setting beneath a tree. Several waterfowl and other animals, such as great blue herons, turtles, Canadian geese, kingfishers, ducks, and spotted sandpipers, can be found in the park.
This location is well-liked for various events, including weddings, musical performances, and parties. Add this to your list of hidden gems in Huntington, West Virginia.
Address: 10th St &, Veterans Memorial Blvd, Huntington, WV 25701, United States
#9. Madie Carroll House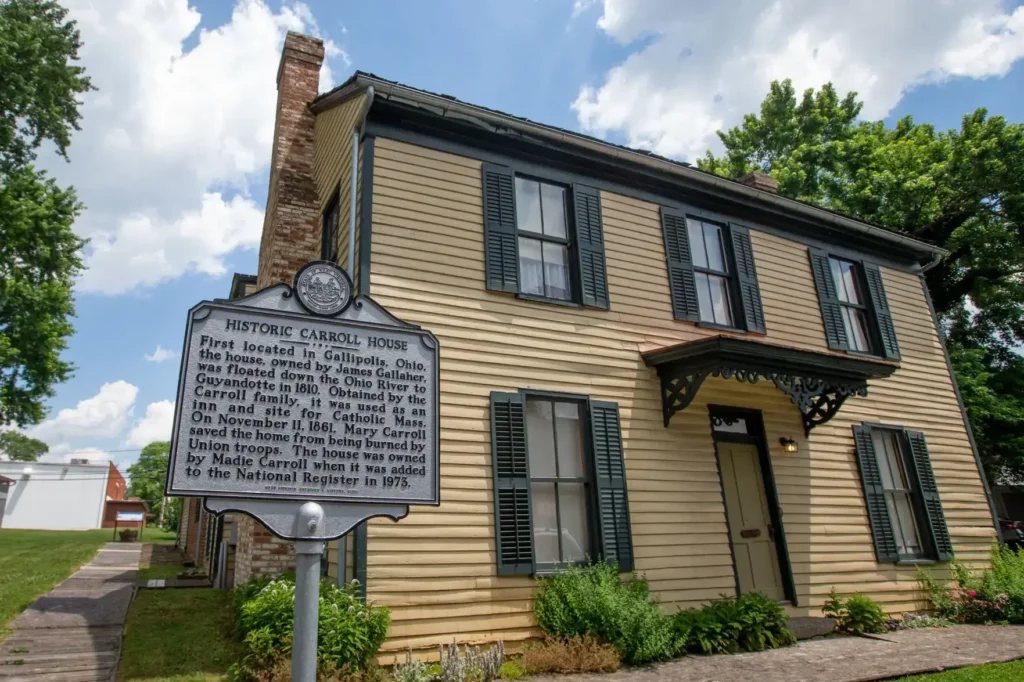 Madie Carroll House is one of the hidden gem attractions you should check out when visiting Huntington. This historic home was built in the early 19th century and was shipped by water from Ohio to Huntington.
It served as an inn and a place of prayer before the city's first Catholic Church was built. The Carroll family lived there until 1984, and multiple generations did so. It is now a museum with an extensive collection of historical Civil War relics on exhibit, including US flags and uniforms from the troops.
The home has also been kept up to perfectly replicate how it would have appeared if the family had lived there. It displays the Carroll family's possessions, including authentic silverware, furnishings, home accents, cooking utensils, a pump organ, and more.
Heritage Day, Christmas celebrations, and Easter egg hunts are just a few planned events here. Ensure you visit this location to discover its history through the many eye-catching exhibits.
Address: 234 Guyan St, Huntington, WV 25702, United States
#10. Museum of Radio & Technology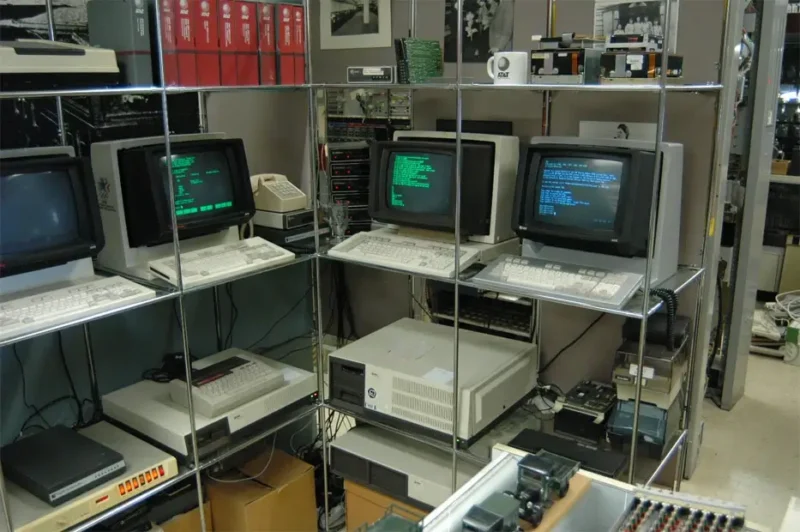 The Museum of Radio & Technology is one fascinating place you shouldn't miss out on during your visit to Huntington. This well-liked museum specializes in the evolution of radio and technology.
Its historical artifacts include vintage televisions, radios, tape recorders, tuners, turntables, control boards, manuals, cameras, and desktop computers. It also consists of a collection of historical artifacts from other eras.
The radio history display is designed to resemble a radio store and repair business from the 1920s. Many vintage transistors and radios from the 1950s, the Second World War, and the early 20th century are available.
The display showcasing the history of broadcasting includes a variety of microphones, a disc jockey studio from the 1950s, TV cameras, transmitters, and more.
The broadcasters from West Virginia who are well-known and talented are honored in the Hall of Fame. The Radio Service exhibit includes a tech school, electrical toys, and test equipment.
Through the exhibitions, you will also discover more about the advancement of laptops and computers.
Visit the museum to learn about its intriguing past.
Address: 1640 Florence Ave, Huntington, WV 25701, United States
Do you wish to explore Illinois for a wonderful vacation? You can check out the best things to do in Evanston (Illinois), Bloomington (Illinois), Effingham (Illinois), and Schaumburg (Illinois).
#11. Keith Albee Performing Arts Center
This ancient theater opened in 1928 and is important to the city's local culture. Several well-known actors have appeared in this theater, even from major Hollywood films like Rain Man, The Bridge at Remagen, and We Are Marshall had their world premieres there.
At the Keith Albee Performing Arts Center, comedies, plays, orchestral and musical productions, concerts, film screenings, and operatic performances are performed.
The theater also holds conventions, reunions, fundraisers, and weddings. It's an excellent location for a fun evening of entertainment. Add this to your list of Huntington's best things to do today.
Address: 925 4th Ave, Huntington, WV 25701, United States
#12. WV Skydivers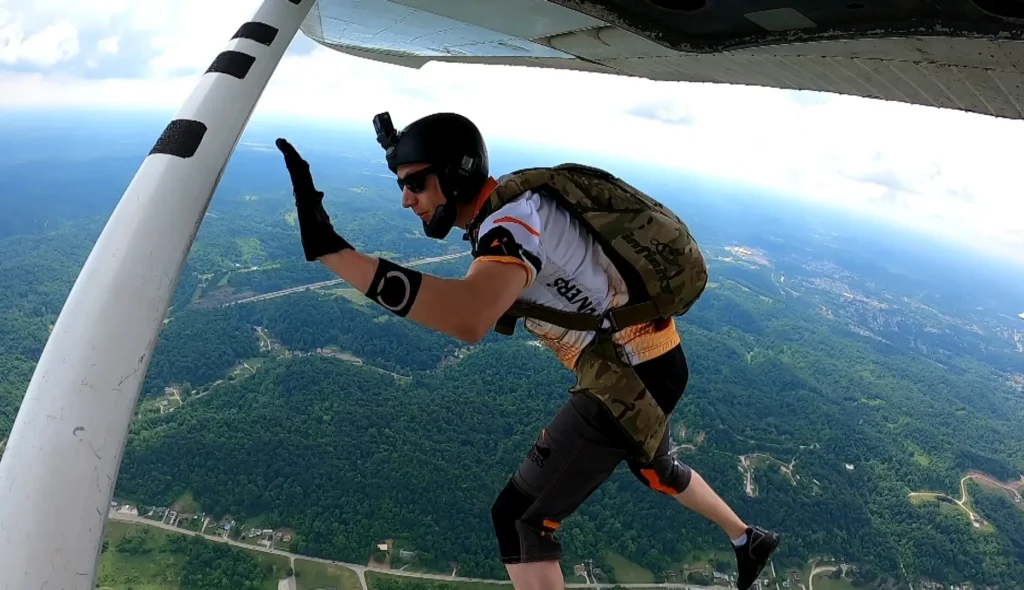 WV Skydivers is a fantastic place to let your inner thrill seeker loose and learn incredible aerial moves. But that's not all; you'll jump out of planes from heights up to 11,000 feet.
It's difficult to believe at first, but once you overcome your fear, it's easy to see why people are so taken with this extreme skydiving activity.
So, whether you're an experienced skydiver or new to the sport, they have your best interests in mind, from arranging a tandem jump for first-timers to assisting expert divers in training for their next big jump.
WV Skydivers is ideal for anyone looking for an adrenaline-pumping adventure in the heart of Appalachia.
Address: 6090 Kyle Ln, Huntington, WV 25702, United States
#13. Quicksilver Arcade Bar & Kitchen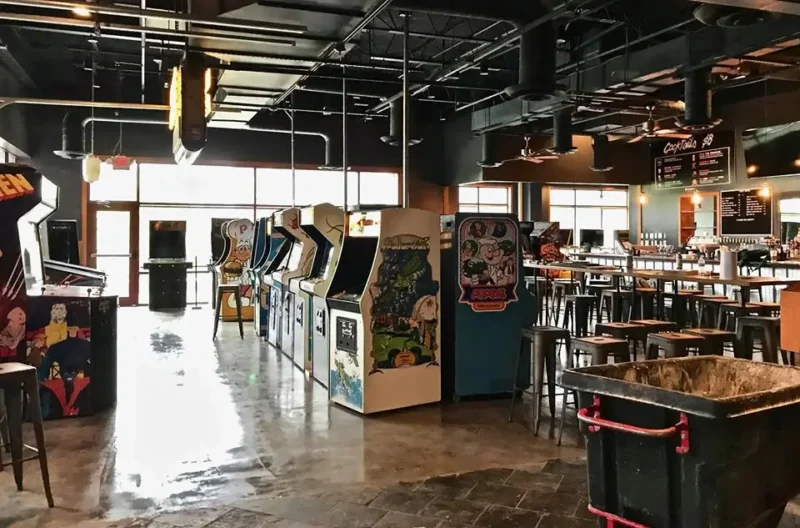 This is the biggest arcade bar in the state and a great venue to enjoy Huntington's nightlife. You can play various arcade games there while enjoying delectable refreshments.
They also provide games like Big Jenga, air hockey, skeeball, and more. Please take advantage of the delicious food and great craft beer they offer. All visitors who buy drinks here get to play the games for free.
Address: Huntington, WV 25702, United States
#14. Paint & Sip Studio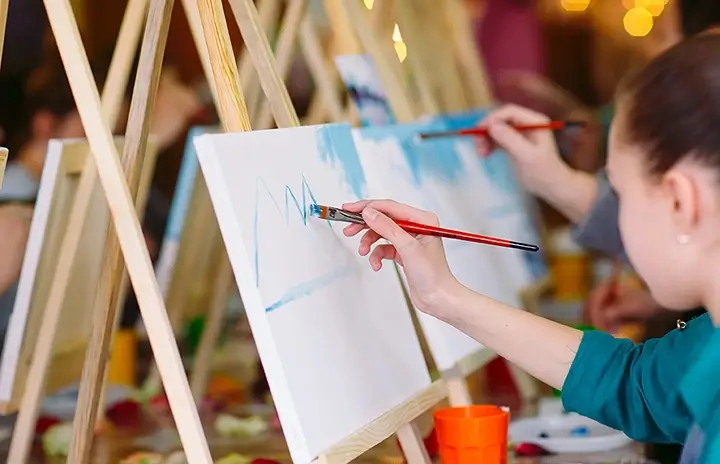 The Paint & Sip Studio is a unique establishment that offers its customers the chance to learn to paint while enjoying their favorite beverage. The Paint & Sip Studio is situated in downtown Huntington.
It allows customers to have the opportunity to test out various painting styles throughout the two hours of instruction led by local painters. They serve clients of all skill levels. Gather your friends, bring your drinks, and take pleasure in painting.
They also plan events for building teams as well as gatherings and fundraisers. So ensure you book them for their services.
Address: 948 4th Ave, Huntington, WV 25701, United States
Looking for more thrills around Indiana? Why not read this blog post on the best things to do in Evansville (Indiana), Fort Wayne (Indiana), and Terre Haute (Indiana).
#15. Mountain Health Arena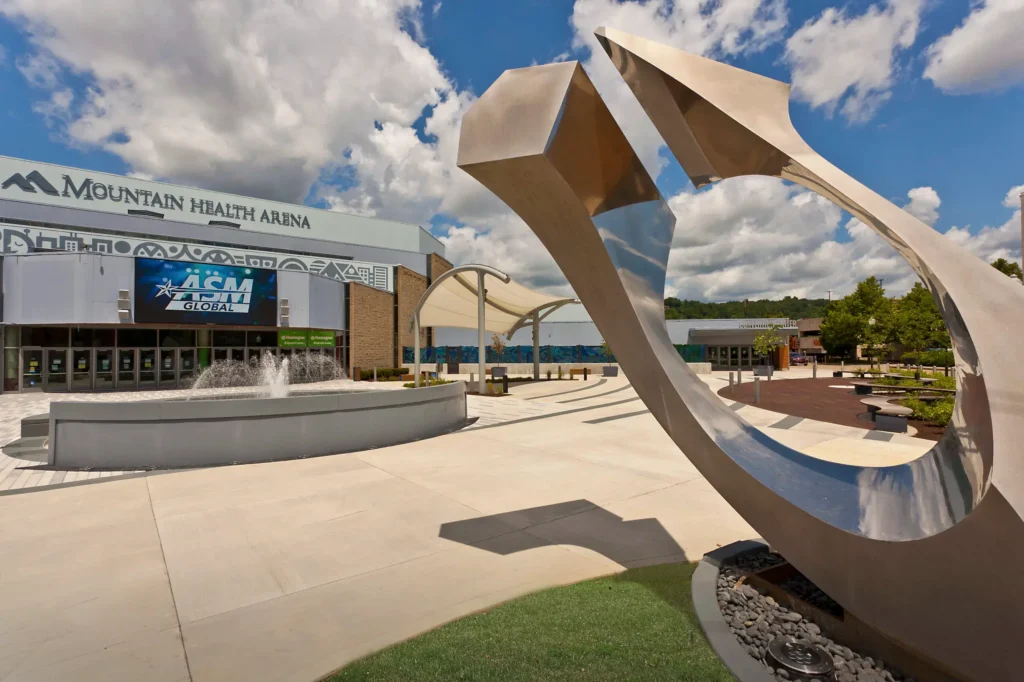 The Mountain Health Arena, situated at 1 Center Plaza in Huntington, West Virginia, is managed by ASM Global.
The stunning location attracts community members from all across New Jersey, New York, and Connecticut to a wide variety of events all year long, including conferences, concerts, and workshops.
This facility is ideal for hosting and viewing upcoming events, with a huge arena that can accommodate over 7,500 people and a recently renovated convention center.
This wonderful neighborhood venue is a perfect size and has a very "local" vibe without the traffic, drinking problem, parking problem, and crowds.
The lighting in this place is ideal for what it is intended to do, matching and enhancing the tones and vibes of whatever action takes place on any night.
Address: 1 Civic, Center Plaza, Huntington, WV 25701, United States
#16. The Red Caboose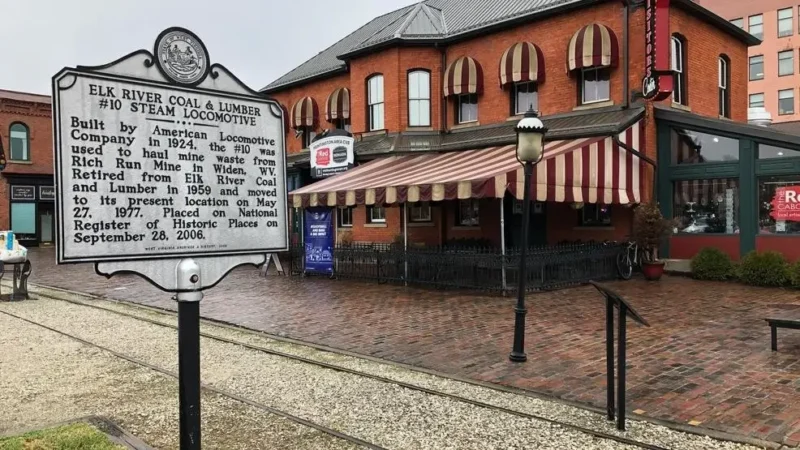 This well-known artisan center in the heart of Huntington specializes in local goods.
They sell various goods, including jewelry, glass art, clothes, body care items, ceramics, bags, fiber art, photography, pottery, home furnishings, honey, syrups, candles, and more. All things come from regional manufacturers, vendors, and creators.
You can also find intriguing novels authored by various local authors in this shopping district.
Visit this location to view the fantastic artwork and browse the gift shops.
Address: 210 11th St, Huntington, WV 25701, United States
#17. Barboursville Park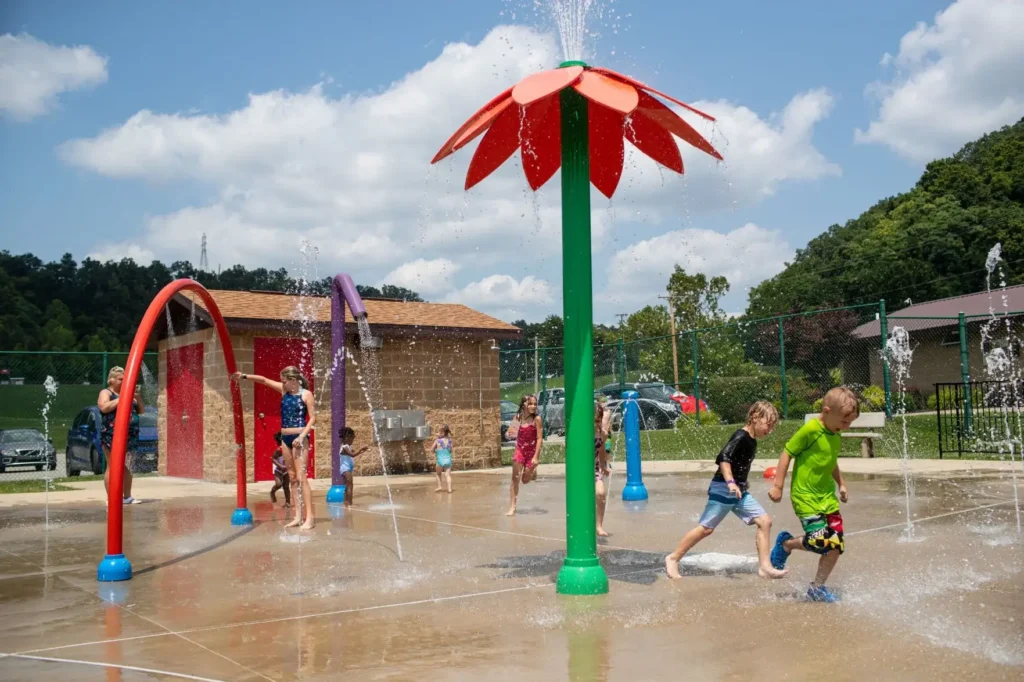 This lovely park spans over 750 acres and has a magnificent lake surrounded by a large expanse of greenery and picturesque hills.
Barboursville Park is an entertainment-filled park with a lot of recreational facilities such as soccer fields, baseball diamonds, tennis courts, volleyball courts, ponds, playground equipment, splash pads, barbecues, picnic spaces, hiking paths, a disc golf course; an amphitheater are all located in the park.
Enjoy a romantic lakeside picnic while taking in nature's breathtaking majesty, or go for an energizing trek on one of the lush pathways that wind through the park's picturesque sceneries.
Try your hand at fishing on the lake, or take a dip in the splash pad to cool down.
Enjoy an outdoor movie experience with your loved ones at the amphitheater or read a good book while relaxing on one of the benches. Many activities like rodeos, outdoor movies, and sporting competitions are held here year-round.
Address: Co Rd 31/6, Barboursville, WV 25504, United States
#18. Kenova's Pumpkin House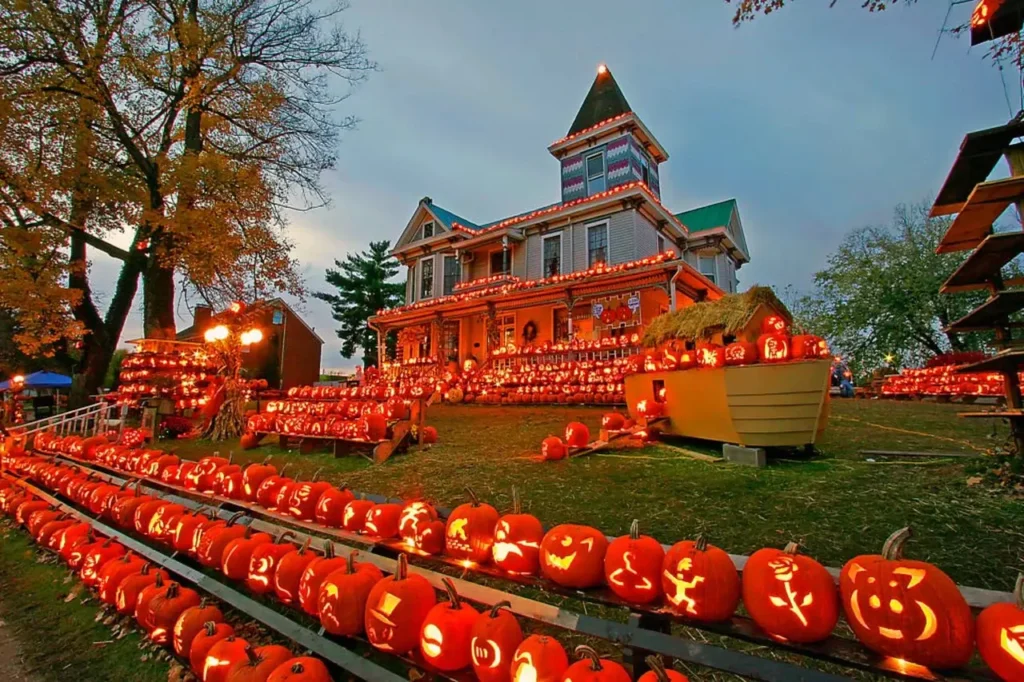 This historic home, located on the Ohio River's banks, is well-known for its magnificent pumpkin displays during the C-K Autumnfest, a long-standing custom in the city.
The Pumpkin House, which houses a former mayor of Kenova, is decked out for the holiday season with 3,000 brightly illuminated jack-o-lanterns.
Beauty pageants, colorful parades, musical concerts, food competitions, vehicle displays, arts and craft fairs, and scarecrow competitions are just a few planned events during this time.
Visit this location in October to take in the breathtaking displays, participate in the festivities, and chow down on mouthwatering fare at the vendors.
It is a 17-minute drive from Huntington, located 7.5 miles (12 kilometers).
Address: 748 Beech St, Kenova, WV 25530, United States
#19. Beech Fork State Park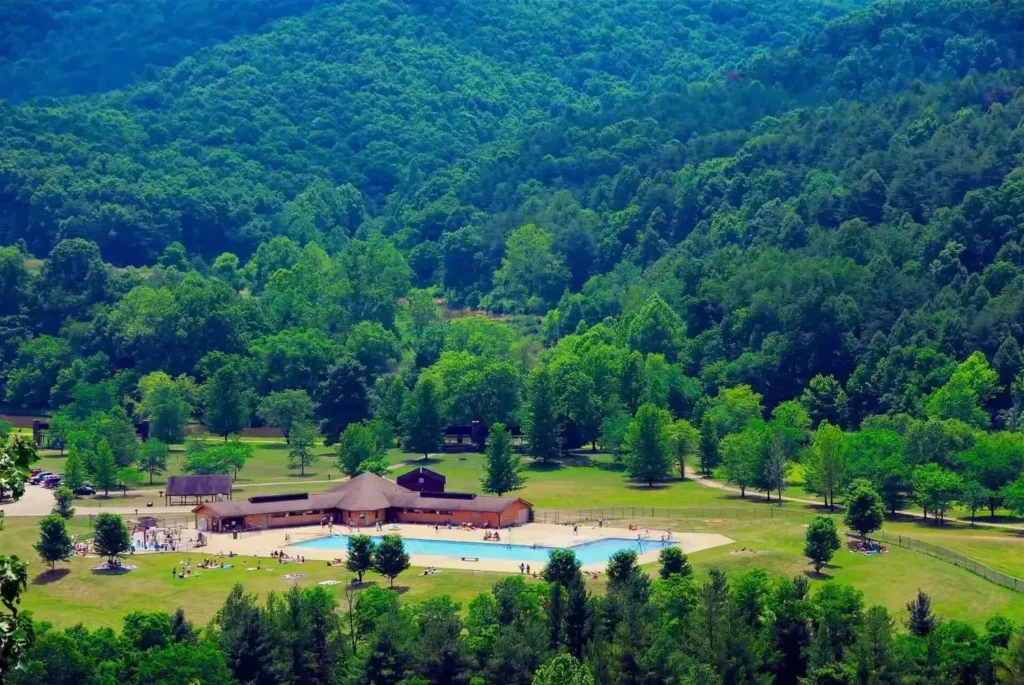 Beech Fork State Park is a 25-minute drive from Huntington and is ideal for a day trip. This park is about 3,100 acres and has over 300 campsites, miles of hiking trails, a big lake, picnic areas, boat ramps, a tennis court, a swimming pool, barbecue grills, a volleyball court, and sports fields.
You can engage in outdoor activities such as hiking, mountain biking, swimming, fishing, kayaking, camping, picnics, geocaching, and wildlife viewing.
The campgrounds allow for both rustic and modern camping. Enjoy the expansive views of the lake and lush hills. Enjoy a delicious picnic by the lake or spend the night here while camping in the wilderness. Hike the trails and go kayaking on the beautiful lake to take in the beauty of nature.
#20. Wild Ramp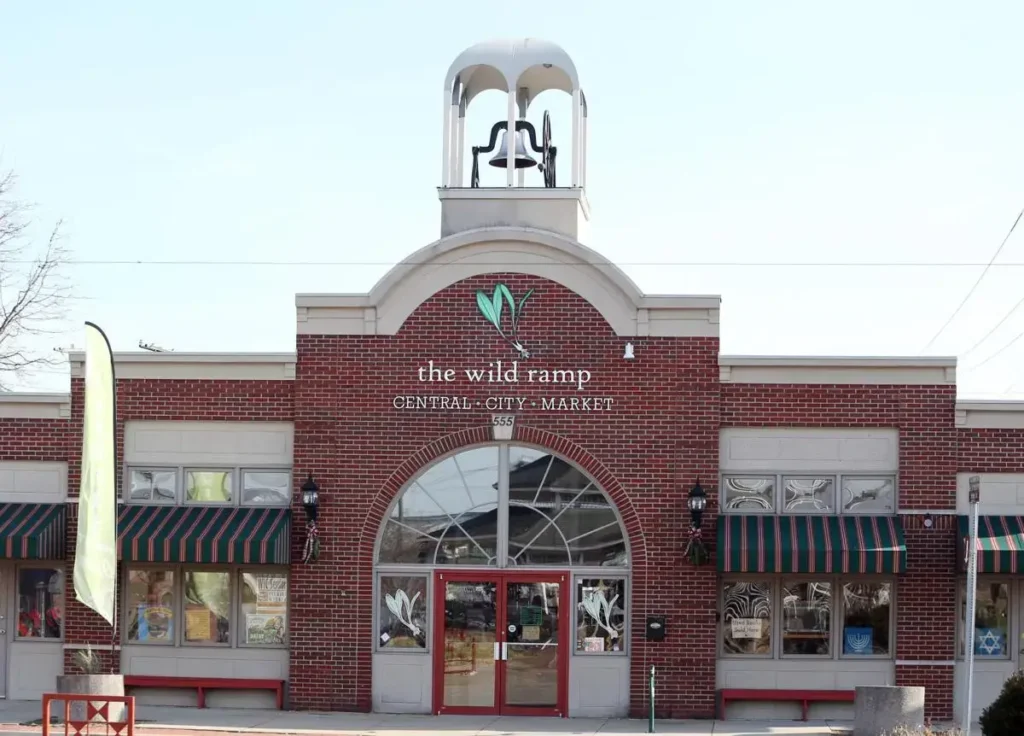 Wild Ramp is a very popular market in Huntington. The market focuses on promoting the sales of local products by selling regional foods, handcrafted goods, and other sustainable food items.
The year-round market brings together local farmers and shoppers and offers assistance with education regarding the advantages of purchasing and consuming local food.
Address: 555 14th St W, Huntington, WV 25704, United States
#21. Marshall University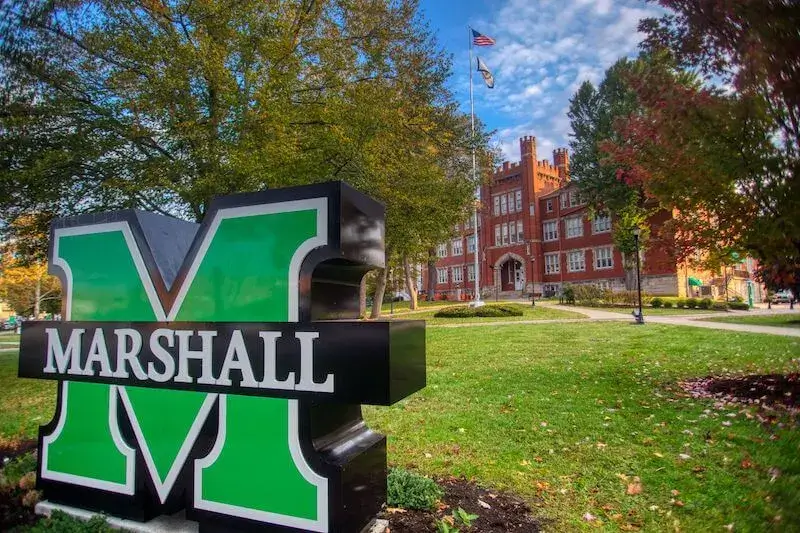 In the quaint West Virginia city of Huntington, Marshall University is a shining example of academic excellence and civic engagement.
Marshall University, which has a history dating back to 1837, has developed into a renowned institution known for its excellent education and active campus life.
The university's athletic teams, home to the Thundering Herd, are a great source of pride for the neighborhood. Students from all walks of life are drawn to the diverse array of programs Marshall University offers across numerous academic fields.
A place where dreams are nurtured, and futures are built, Marshall University is dedicated to fostering innovation, critical thinking, and personal growth. Be sure to enroll in the university and earn a degree.
Address: 1 John Marshall Dr, Huntington, WV 25755, United States
How to Plan for a Trip to Huntington, West Virginia?
Have you thought about visiting Huntington, West Virginia? This charming town in the Appalachian Mountains offers a wide range of tourist attractions, outdoor activities, and cultural encounters.
We've put together a thorough guide to help you effectively plan your trip to make your stay truly memorable. Let's get into the details, from picking the ideal time to visit and investigating dining options.
Choose the Right Time to Visit
Huntington has all four seasons, each with its unique charm. Plan your trip during the summer for pleasant weather and the best outdoor activities. Watch out for regional celebrations like the Huntington Music and Arts Festival, giving the area more energy.
Where to stay?
Huntington provides a variety of lodging choices to suit various tastes and price ranges. Hotels in the city center are a great option if you prefer the convenience of being close by.
As an alternative, consider staying at a nearby resort or warm cabins if you're looking for a peaceful retreat. When choosing your hotel, keep its location concerning amenities and attractions.
What to Pack for a Trip to Huntington, West Virginia?
We advise you to carry the following items with you:
Comfortable Walking Shoes: Make sure to have good walking shoes because you'll be doing a lot of walking throughout the city. I've cherished the Brooks brand shoes I've worn for years. I've linked them here for guys and women. See it here.
Power bank: When exploring, we always have a power bank with us that is completely charged. In this manner, we can plug in our phone and recharge it on the road if the battery is becoming low. For navigation and photography, we rely extensively on our phones. Thus, this device is essential for us.
Bottle water: When exploring, we prefer to take an insulated, reusable water bottle.
Travel journal: Making a list of the locations and activities you wish to accomplish while traveling is possible with a travel journal. This saves time and ensures that you make the most of your journey. You might look up interesting and hidden locations to visit!
Backpack: Whether planning a trip to West Virginia or just going on a day hike, backpacks are necessary. Backpacks allow you to carry your items in one easy-to-manage location. They also allow you to keep your valuables close and safe.
Plan your activities
There are many attractions to discover in Huntington, which has a fascinating history. Visit the intriguing Heritage Farm Museum and Village to learn about the area's history or the Huntington Museum of Art to take in the magnificent art collections.
Ritter Park offers breathtaking views, and those who love the outdoors can take a scenic drive along the lovely Ohio River. Take advantage of the chance to watch a Marshall University Thundering Herd football game if you enjoy sports!
Dining Options
A trip is only complete if you enjoy the local cuisine. Huntington has a beautiful selection of restaurants to suit all tastes.
Try the city's signature dish, the delectable pepperoni roll. Explore the various cuisines offered at the city's restaurants, from comfort food to international delicacies. You can find many dining options at Pullman Square, a well-liked center for food and entertainment.
Frequently Asked Questions(FAQ)
What is Huntington WV best known for?
In West Virginia, Huntington is well-known for its thriving culture, stunning scenery, and extensive history.
One of the city's most well-known residents is Marshall University, renowned for its football program and academic excellence.
Huntington is renowned for its yearly festivals that highlight the area's artistic talent, such as the Huntington Music and Arts Festival.
The city provides various outdoor recreational activities thanks to its lovely riverfront. Huntington is a hub for fans of art and culture due to its impressive collection of museums, which includes the Huntington Museum of Art.
Is Huntington WV a town or city?
Huntington, West Virginia, is a thriving city renowned for its extensive history, breathtaking scenery, and thriving culture. Discover this charming location, which has attractions that appeal to all ages.
Is Huntington WV a good place to live?
Huntington, West Virginia, is a great place to live. It offers a high quality of life thanks to its low cost of living, warm community, and beautiful natural surroundings.
In addition to various recreational pursuits like hiking, biking, and boating, the city is home to top-notch educational institutions like Marshall University.
Huntington offers a wide variety of dining options in addition to a thriving arts and cultural scene that offers nonstop entertainment.
Huntington is a great place to live because it offers a friendly atmosphere and a strong sense of community, whether you're a young professional, a family, or a retiree.
Is Huntington WV safe?
It is safe to visit and live in Huntington, West Virginia. Although it may experience some crime, like any city, it is generally safe. To maintain security, the community actively collaborates with local law enforcement.
Huntington has put in place several initiatives to improve public safety, such as community policing initiatives.
In recent years, the city has also undergone improvements that have made it a more secure place to live. Both locals and visitors can relax and enjoy the city's amenities and attractions.
Plan Your Vacation To Huntington, West Virginia
With those travel tips in mind, you should start planning your trip to Huntington as soon as possible.
You'll find yourself occupied for hours and hours every day, no matter what activities you choose from this list, because this dynamic city is filled with opportunities and experiences. You might even consider extending your trip by one or two days!
Every traveler can find something to do in Huntington. With careful planning, an open mind, and a sense of adventure, set out on your journey and prepare to make priceless memories in this captivating city.
Fun Things To Do In Huntington WV (West Virginia)
Disclaimer: Vasttourist always strives for content accuracy. Since the time of publishing, travel-related information regarding pricing, schedules, and hours may have changed. Please see individual websites embedded in this post for the most current trip-planning information.

Unless otherwise stated, Vasttourist does not claim ownership of any images used on our blog site. The respectful owners of all visual content have copyright protection. We try to include links to the sources. If any images are your property and you do not want them to appear on our blog, don't hesitate to contact us; we will take them down immediately. We support properly crediting the original writer, artist, or photographer.