21 Best & Fun Things To Do In Evansville Indiana
Are you searching for the best and most fun things to do in Evansville Indiana? Then you are on the right page. Evansville is the biggest city in southern Indiana. It is on an oxbow in the Ohio River and looks out over Kentucky to the west.
It is popular with tourists because of its many historical and cultural sites. The beautiful city offers much for a cultural, educational, and relaxing holiday.
You can see several amazing museums, beautiful gardens, wonderful parks, historical sites, and many other lovely attractions. There are so many places to visit in Evansville, Indiana, that you might wish to extend your trip by one or two days!
Choosing which sights or attractions to visit in Evansville, Indiana, might be difficult. We've compiled a list of the best and most fun things to do in Evansville, Indiana, to help you plan your next trip.
What are the Best Things To Do In Evansville Indiana?
#1. Mesker Park Zoo & Botanic Garden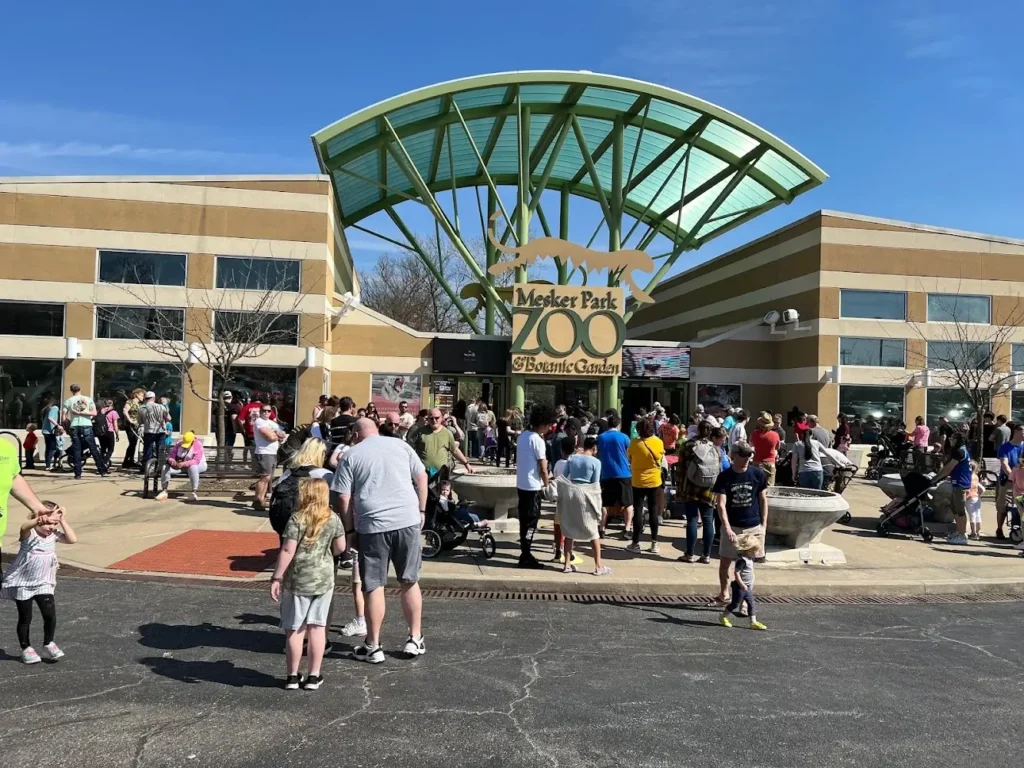 The Mesker Park Zoo & Botanic Garden is the ideal location for a fun-filled family day out. In the 45-acre area northwest of Evansville, you can find over 700 plants and animals, most of which live in tropical depths.
In different parts of this great attraction, themed botanical gardens show how different parts of the world look. The Engelbrecht Carousel, paddle, and bumper boats are notable tourist attractions.
It would help if you explored the wildlife and vegetation up close. Wearing comfortable shoes is strongly advised because a trip to the zoo involves long walks.
Address: 1545 Mesker Park Dr, Evansville, IN 47720, United States
#2. Evansville Museum of Arts, History & Science
The Evansville Museum of Arts, History & Science is one great place you shouldn't miss out on visiting Evansville, Indiana.
The Evansville Museum of Arts, History & Science houses over 30,000 enduring art, history, and science pieces. The museum frequently holds fascinating exhibitions collaborating with institutions nationwide, so there is always something new to discover.
The enormous 40-foot-diameter dome and 360-degree projection of the Koch Immersive Theater are one of the museum's most intriguing features and offer visitors a spellbinding live experience.
Whether you visit with family or friends, this venue will provide a fun and interesting evening. The museum is located in downtown Evansville's Historic District. Add this to your list of things to do in Evansville, Indiana, this weekend.
Address: 411 SE Riverside Dr, Evansville, IN 47713, United States
#3. Burdette Park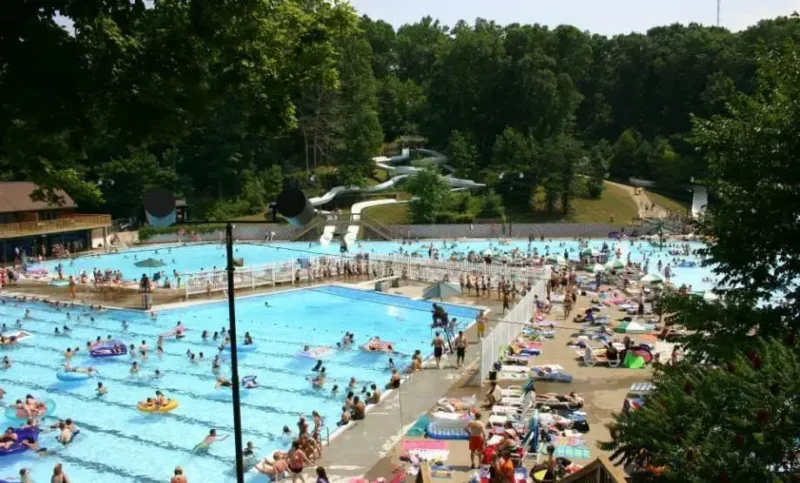 Burdette Park, a 170-acre area just outside the city center, is one of the best places to visit in Evansville, Indiana.
This wonderful park has entertaining amenities, such as a large public pool where various cooling events are held all year round. Jogging, hiking, riding, and even fishing are popular activities here.
This sizable area has a lot of activity, and nature is all around it. You can have a well-rounded experience here because nature comes in many colors and has many fun things to do.
Address: 5301 Nurrenbern Rd, Evansville, IN 47712, United States
#4. Bosse Field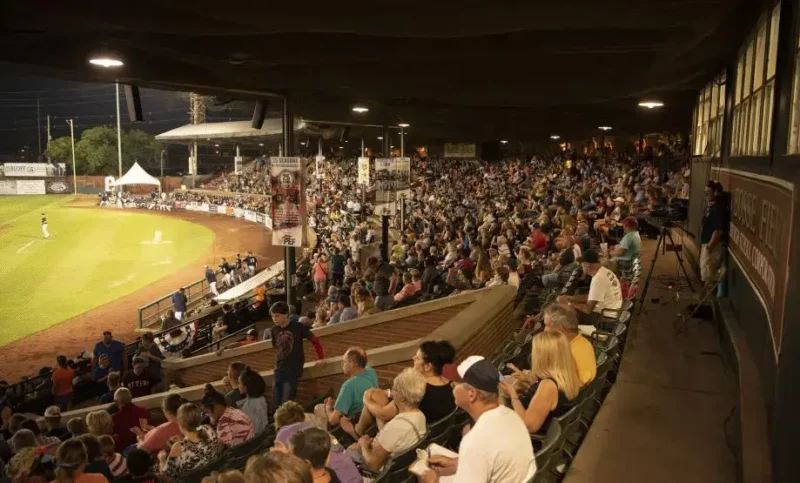 Bosse Field is one place every baseball would love to check out when they visit this city. The Frontier Minor League baseball team, the Evansville Otters, uses this facility as their home stadium.
Baseball lovers will enjoy being able to attend a game here. During games, you will surely be stunned by its wide stands, historic buildings, and electric atmosphere.
The Bud Lite Lime Patio is a great place in this stadium where people can picnic before a game or attend activities.
Bosse Field is worth adding to your itinerary in light of all the wonderful things you can explore here. If you are asked what to do in Evansville, Indiana, visiting the Bosse field is perfect for the weekend!
Address: 23 N Main St, Evansville, IN 47711, United States
Planning a road trip around Indiana for a wonderful vacation? We have got you covered! Here are some of the best places to visit in Fort Wayne (Indiana), Terre Haute (Indiana), Greenwood (Indiana), and Indianapolis (Indiana).
#5. Victory Theatre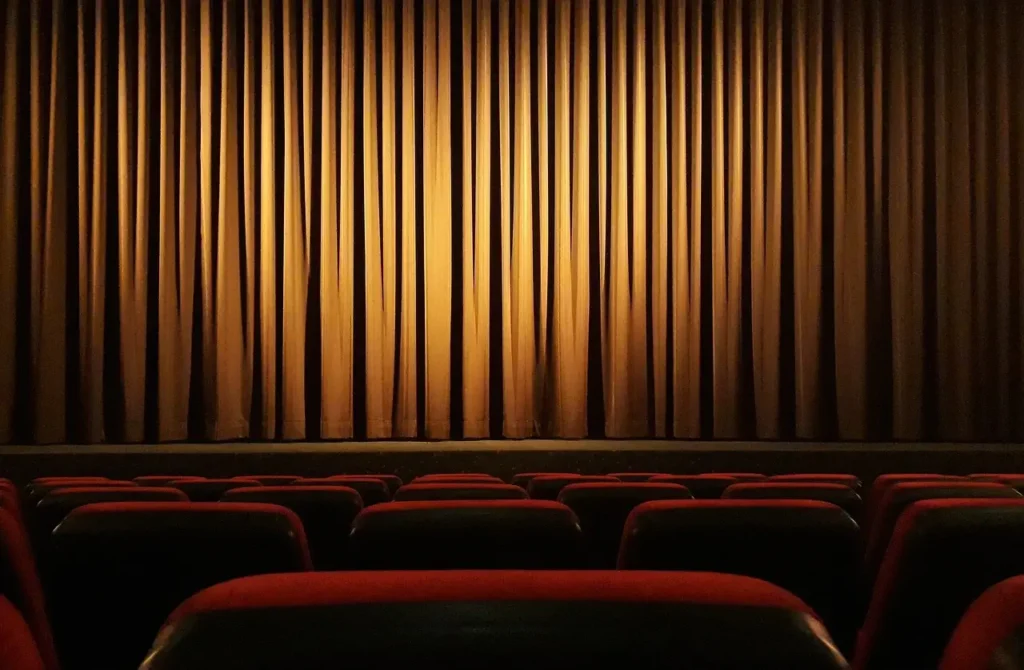 Visit Victory Theatre if you want to have an entertaining time on your trip to Evansville, Indiana. This theater in downtown Evansville recreates the atmosphere of the early 1900s with its stylish furniture and opulent design.
The Victory Theatre debuted in 1921 and served as the Evansville Philharmonic Orchestra's home base. The theater is a center for cultural events since it frequently organizes ballet performances, theatre productions, concerts, and children's programs.
Ensure you look over their annual calendar before making your bookings. The theater in Evansville is another must-see attraction due to its captivating atmosphere.
Address: 600 Main St, Evansville, IN 47708, United States
#6. Children's Museum of Evansville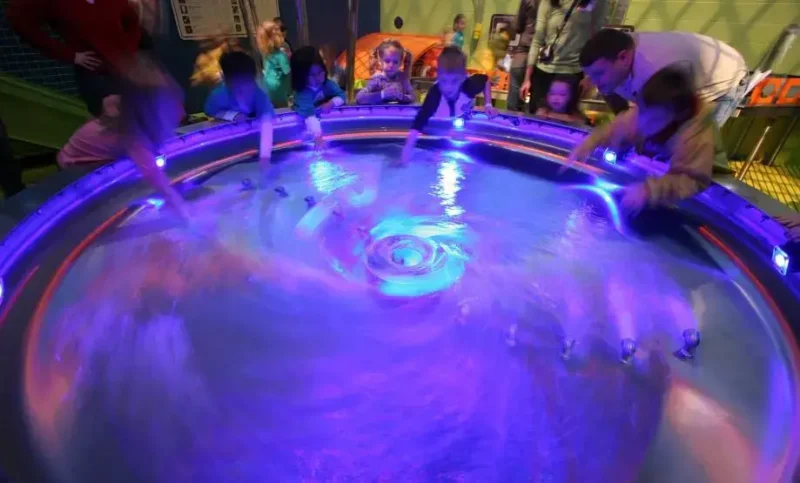 One of the best locations to take your family, especially if you have young kids. Children's Museum of Evansville. This wonderful museum is situated in Evansville's downtown and offers diverse exhibits, galleries, programs, and activities.
There are many enjoyable activities here, especially for children. A few of these activities are scaling Moe, the two-story Duck, using a laser harp, having fun in the water at the Wet Deck, and conversing with a talking bust of Mark Twain.
The activities offered by the museum can teach kids interesting and thrilling new things. The programs are occasionally held, so check their calendar in advance and make plans appropriately. Guess what? This is also one of the hidden gems in Evansville, Indiana, so don't miss out!
Address: 22 SE 5th St, Evansville, IN 47708, United States
#7. Tropicana Evansville Casino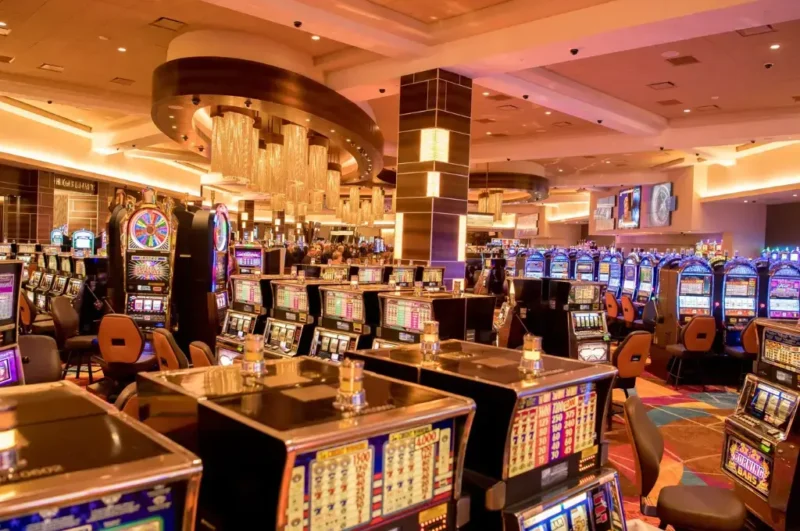 Tropicana Evansville Casino is a terrific destination for those looking to spend the evening playing light gambling. This casino is an exquisite gambling house having elegant furnishings, dazzling lights, and jazz music.
If you're traveling with friends, spend the evening having a blast at the club. Visitors can test their luck at thrilling gaming machines and tables where they can play penny slots, blackjack, roulette, and poker.
Don't worry if gambling isn't your thing. You can enjoy live music as you dine or at one of the many on-site restaurants.
It is close to the river because it is located near downtown Evansville. Couples might therefore take a romantic stroll along the river after dinner.
Address: 421 NW Riverside Dr, Evansville, IN 47708, United States
#8. Hartman Arboretum, Indiana's Master Garden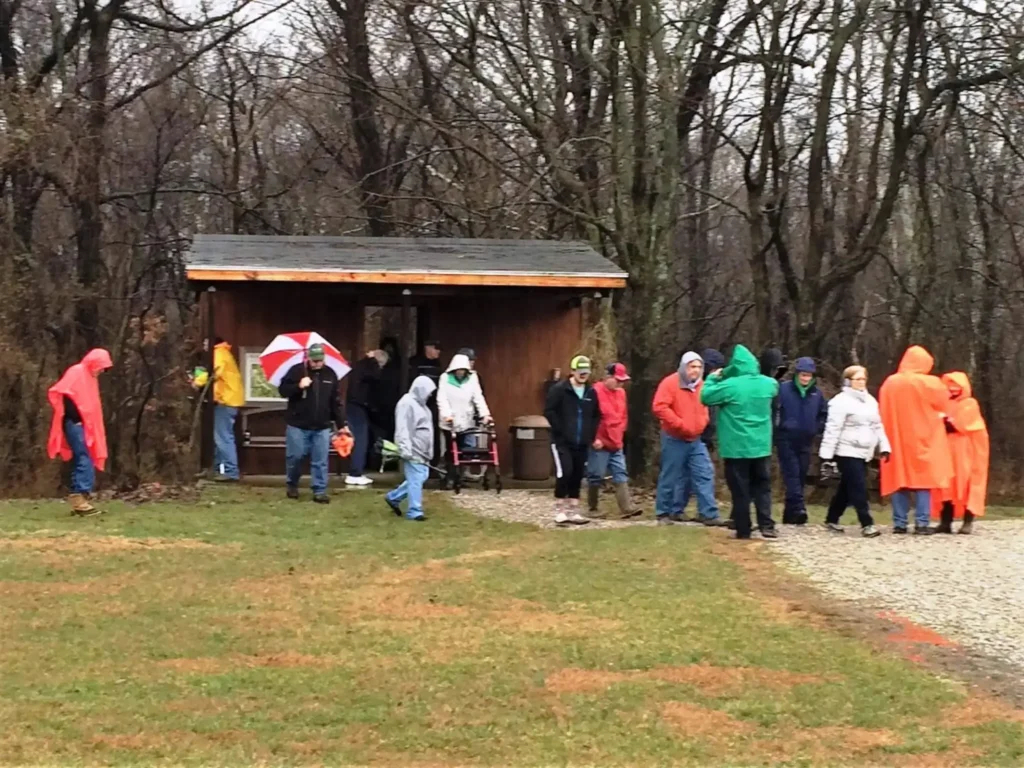 The Hartman Arboretum is on Grant and Jean Hartman's private property. Grant Hartman began planning and planting the garden in 2001, and today the family and a group of master gardeners look after it.
This lovely garden houses over 500 trees, shrubs, and other plants making it charming. The area is divided into areas like Fall Color Groove, where visitors can enjoy the best autumnal hues, Native Vine Arbor, where visitors may admire oriental vines, and Blueberry Patch, where visitors can select various fruits according to the season.
The public is welcome to visit this location every day. Add this to your list of things to do in Evansville, Indiana, today!
Address: 5939 Spirit Trail, Evansville, IN 47720, United States
#9. USS LST Ship Memorial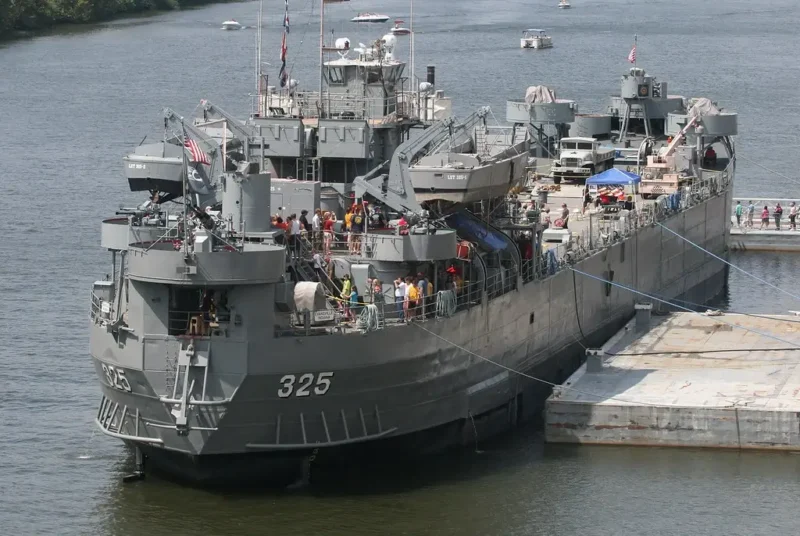 This is a must-visit attraction for those interested in military history. The final World War II ship in full operation is the USS LST-325.
You can take a guided Main Deck tour, during which the ship's history, operation, and role during the Great War are explained. You will have the chance to see the ship's main deck, mess deck, sleeping quarters, tank deck, stern, and officers' quarters and view relics, records, and photos.
You'll undoubtedly have a memorable experience exploring this wonderful historical attraction.
Address: 610 NW Riverside Dr, Evansville, IN 47708, United States
Are you about planning a road trip to New Zealand, for a wonderful vacation? You may like to check out the best things to do in New Zealand (South Island), Whitianga (New Zealand), and Te Anau (New Zealand).
#10. Reitz House Museum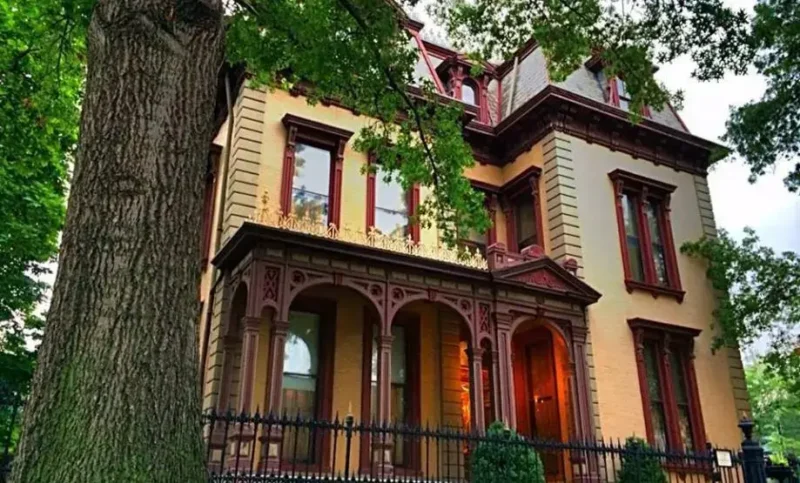 John Augustus Reitz and his family lived in the Reitz House Museum. He was a prosperous lumberman who constructed the mansion in 1871. The museum is a beautiful illustration of the French Second Empire design.
It is one of the finest standing structures from the Victorian era. Its stunning chandeliers, stained glass windows, white onyx fireplaces, hand-painted ceilings, Moorish entry screens, and complex wood floor designs.
A guided tour allows visitors to enjoy French architecture's classic atmosphere.
Address: 112 Chestnut St, Evansville, IN 47713, United States
#11. Eagle Slough Natural Reserve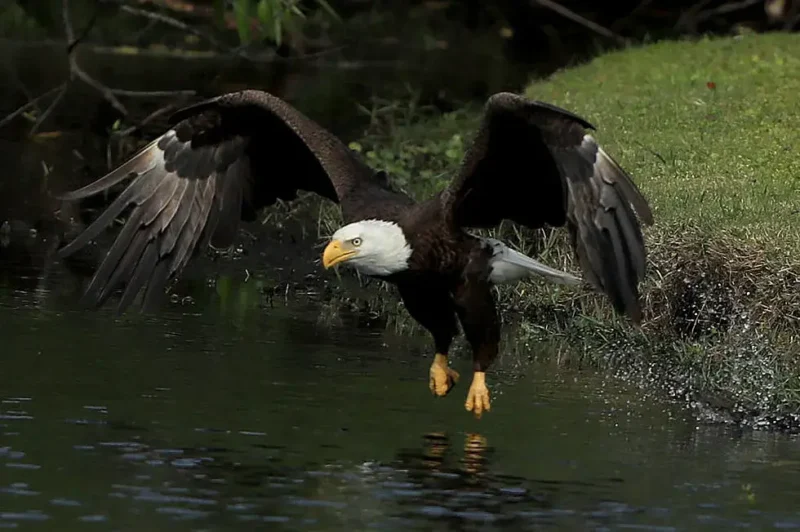 The Eagle Slough Natural Reserve is a wetland oasis where you can witness more than a hundred different bird species.
While traveling along the walking track, you may take in the breathtaking splendor of nature. Interpretative signs are placed along the walkway to help visitors understand what they are stepping into.
Many viewing decks will also be in your path. You should check out the variety of natural features and take in the scenery that overlooks the marshes and lake in front of you.
Address: 5000 Waterworks Rd, Evansville, IN 47725, United States
#12. Willard Library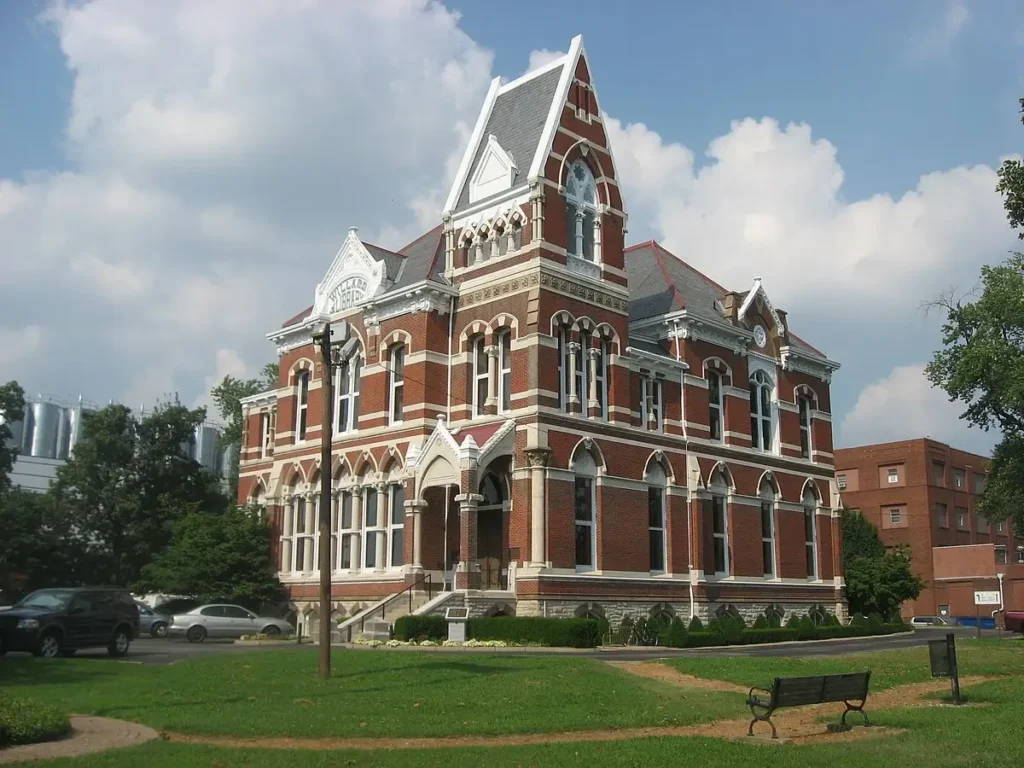 The private Willard Library is the ideal location, especially for book lovers. Willard Library is located inside a stunning Victorian Gothic-style structure. This is the location you want to visit to conduct research.
You can go there to take in the building's stunning architecture, which includes its grand staircase and elegant window cases.
The library is renowned for its genealogy research capabilities and access to historical collections and online databases. In addition, the library is home to a resident ghost known as the Grey Lady.
Address: 21 N First Ave, Evansville, IN 47710, United States
#13. Winzerwald Winery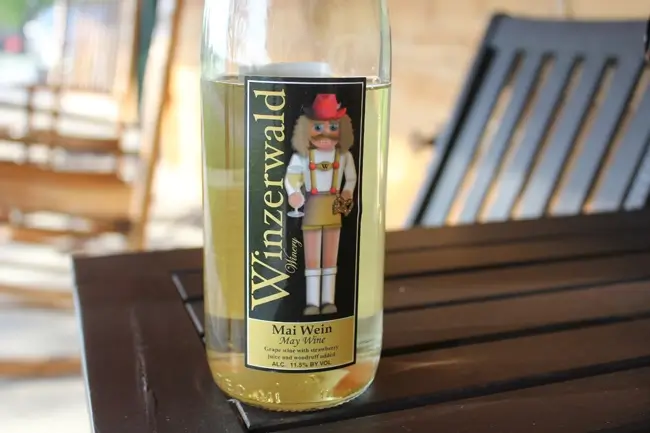 Wine lovers will find nirvana at Winzerwald Winery, perched on a hilltop in the Hoosier National Forest. The winery is an hour's drive from Evansville and is ideal for a day excursion from the city.
This family-run vineyard's premium selections, classic German types, and trademark blends are excellent. It has a wine-tasting room inside that draws a lot of wine enthusiasts.
Guests joining the Wein Klub receive access to member-only events and savings on wine purchases.
Address: 26300 North Indian Lake Rd, Bristow, IN 47515, United States
#14. The Old Courthouse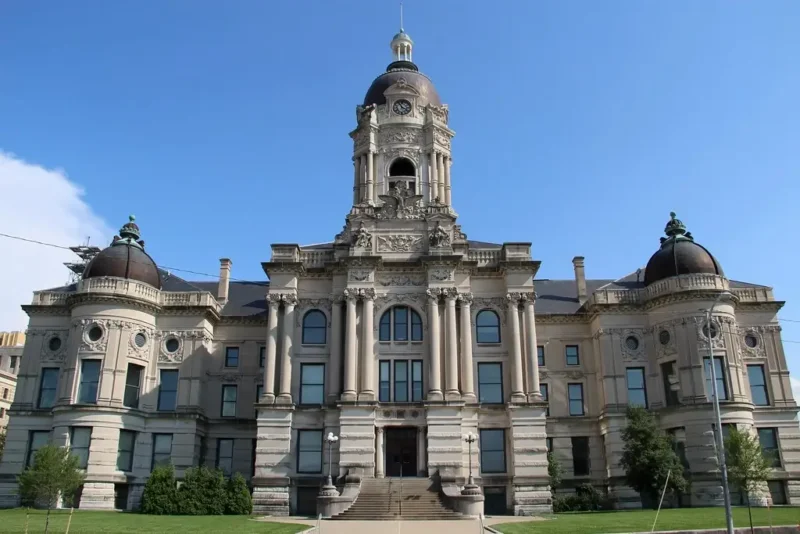 The Old Courthouse is one of the hidden gem attractions you should check out on your visit the Evansville, Indiana. The Old Courthouse was built in 1888 and formerly served as Vanderburgh County's administrative hub.
You should take pictures and admire the beautiful masonry detailing because of the stunning architecture and fascinating historical aspects. The 216-foot main tower has windows all around it, allowing sunshine to stream in from the outside.
If you're interested in learning more about the courthouse, be sure to inquire about the available tours upon request from the staff.
Address: 201 NW 4th St #104, Evansville, IN 47708, United States
Travelling around Michigan? You may also want to check out the best things to do in Novi (Michigan), Cadillac (Michigan), G*ylord (Michigan), and Bay City (Michigan).
#15. Lamasco Bar and Grill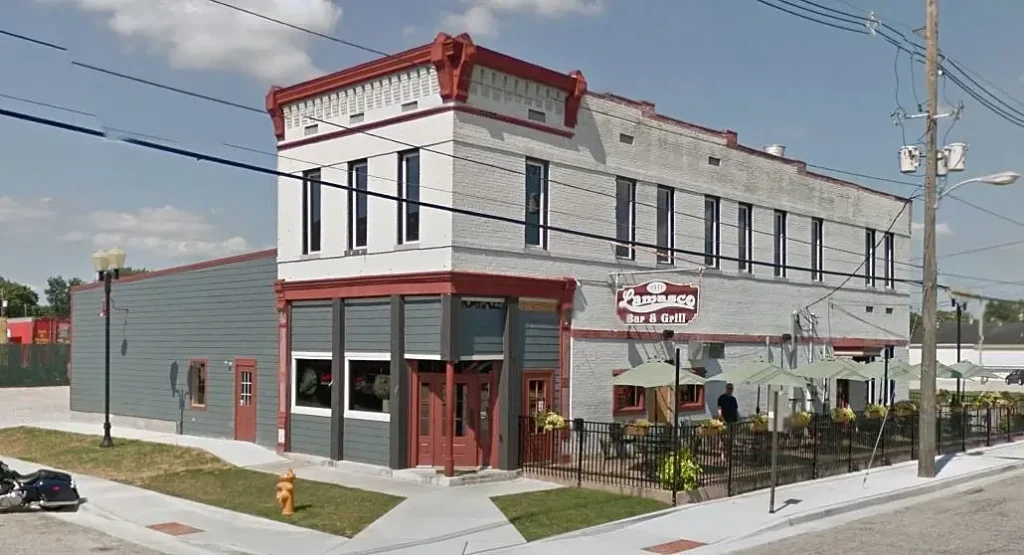 The Lamasco Bar and Grill is a great spot to spend time with friends or unwind.
This famous bar is well known for regularly hosting exciting events like concerts, karaoke nights, trivia nights, comedy shows, and open mic nights. It also serves amazing food. Breakfast Burrito is one delectable meal you should try when you visit this restaurant.
There is also an outdoor terrace, so visitors can unwind if the weather is nice.
Address: 1331 W Franklin St, Evansville, IN 47710, United States
#16. The Willard Carpenter House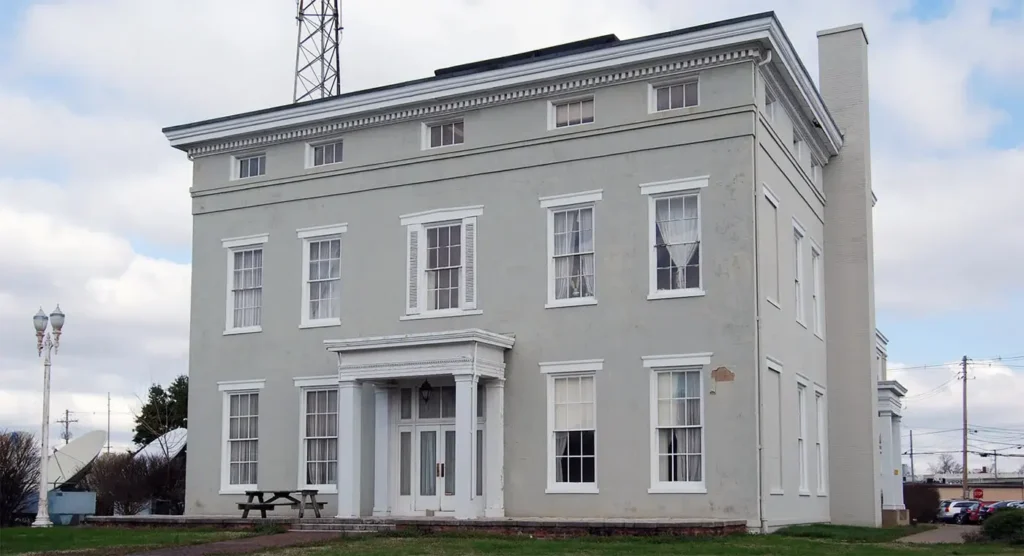 Willard Carpenter is honored through the establishment known as The Willard Carpenter House. The house was built in a two-story Greek Revival style by local carpenters and artisans. Construction on the building started in 1848 and was finished in 1849.
The location is stunning, and anyone interested in history will want to visit to learn about the significance of the guy who lived there. This weekend, add this to the free things to do in Evansville, Indiana!
Address: 413 Carpenter St, Evansville, IN 47708, United States
#17. Howell Wetlands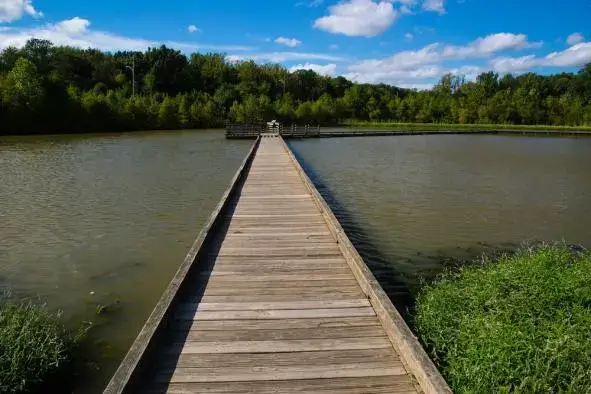 The Howell Wetlands spans 35 acres of land, one lovely attraction you should check out on your visit to this city. It's a thrilling location for all adventure seekers.
It offers a splendid environment with various natural habitats, including slough, marsh, and river oxbows. The wetland's two-mile-long walking track, dotted with wooden walkways and bridges, offers visitors a thrilling trip.
The Howell Wetlands are a great place to go hiking and enjoy natural splendor.
Address: 1400 S Tekoppel Ave, Evansville, IN 47712, United States
#18. Penny Lane Coffeehouse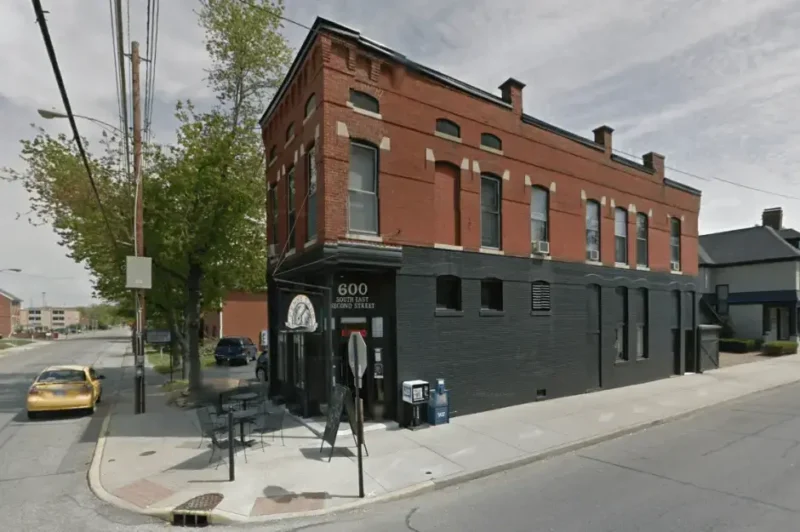 All coffee lovers will feel at home in Penny Lane Coffeehouse's cozy atmosphere. Penny Lane Coffeehouse offers various coffee, delectable sandwiches, and build-your-own breakfast or lunch meals.
Evansville residents love this spot for its tranquil atmosphere, and who knows, you might get lucky and run into sports heroes or famous people.
Address: 600 SE 2nd St, Evansville, IN 47713, United States
#19. Evansville African American Museum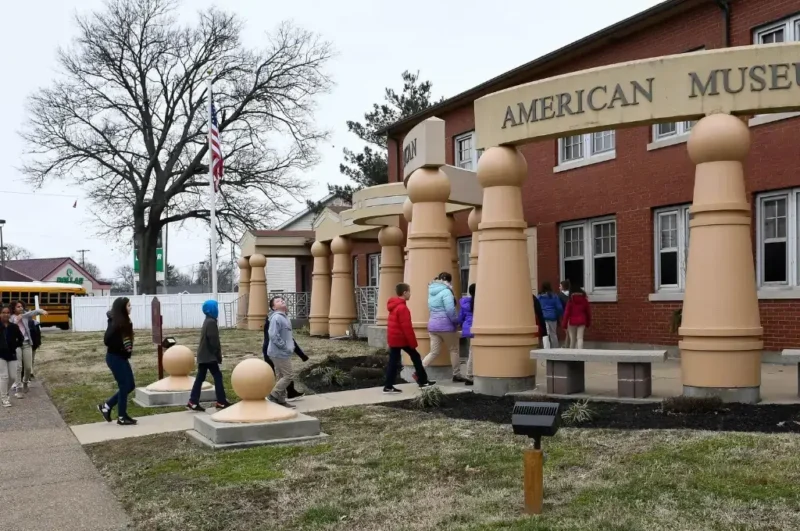 If you want to learn about a unique part of Evansville and Indiana's history and culture, you will enjoy visiting this museum to see what it offers.
The museum features the creations of regional artists and ongoing exhibitions that both former and current locals donated.
Aside from that, the structure also acts as a gathering place for both residents and guests.
Address: 579 S Garvin St, Evansville, IN 47713, United States
#20. Bonefish Grill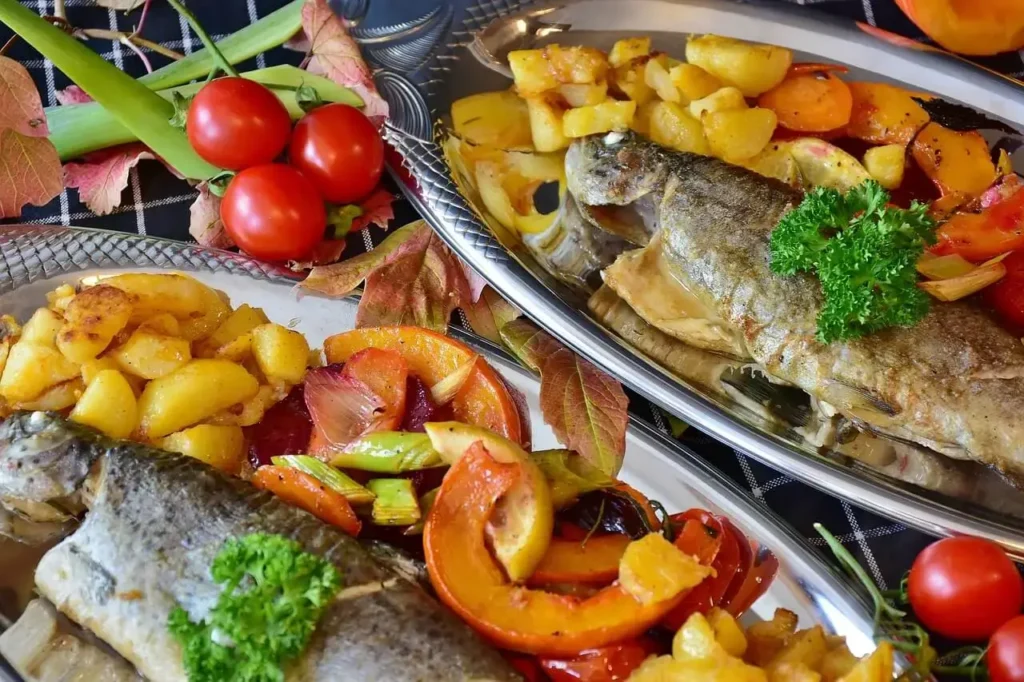 Bonefish Grill is a great restaurant to eat at if you enjoy seafood. It offers a fantastic variety of seafood and is part of a large national restaurant chain. The restaurant also serves chicken and steak dishes.
Bang Bang Shrimp, one of its signature dishes, is a delectable meal.
This restaurant is a popular dining destination frequently packed, especially around the evening. So, it is best to reserve or do so online before coming here.
Address: 6401 E Lloyd Expy, Evansville, IN 47715, United States
#21. Four Freedoms Monument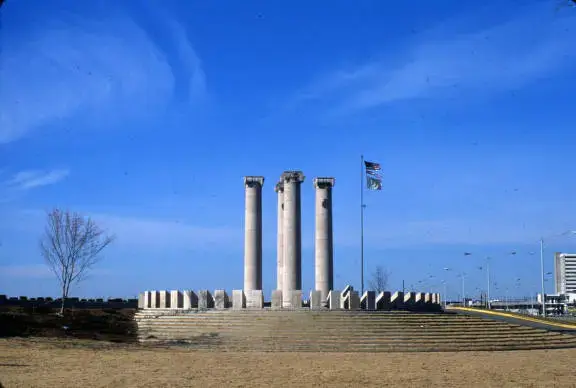 The Four Freedoms Monument is Evansville's most noteworthy monument in this city.
This awesome attraction will surely make you feel patriotic toward the most prized freedoms in the United States.
You'll be directed to four columns and 50 pedestals after climbing 13 stairs, which stand in for the 13 initial colonies. The columns are historical antiques created in 1882, and each pedestal has the name and seal of each state carved on them.
Address: 201 SE Riverside Dr, Evansville, IN 47713, United States
Time to spare? You may also like to check out the best places to visit in Settle (Yorkshire, England), Beaumont (Texas), Galveston (Texas), and Temple (Texas).
What is Evansville Indiana known for?
Evansville, Indiana, a city in the southwest of the state, is best known for its illustrious past and thriving present. Being a significant hub for trade and transportation is among Evansville's most important features.
Due to its location along the Ohio River, the city is a significant hub for commerce and industry. Along with having a thriving theater, museum, and gallery scene that draws tourists from all over the world, Evansville is also well known for its vibrant arts and culture scene.
The University of Southern Indiana and Ivy Tech Community College are just two of the city's illustrious universities and colleges. Evansville is a vibrant, exciting city with something to offer everyone.
Is Evansville Indiana safe?
The city of Evansville, Indiana, is generally regarded as a safe place to visit and live. Like any city, there are likely to be some parts that are more likely to experience crime, but overall, Evansville has a relatively low crime rate when compared to other cities its size.
Through initiatives like neighborhood watch and community policing, the Evansville Police Department works diligently to uphold a safe community.
The city also prioritizes education and prevention, providing tools like the Evansville Promise Scholarship program and the Youth Violence Prevention Council. Although no city is free from crime, Evansville is a generally secure and friendly place to live.
Is Evansville Indiana a good place to live?
Evansville, Indiana, is a great place to live because of its robust economy, low cost of living, and high standard of living. The city's diverse population includes young professionals, families, and retirees.
A wide range of amenities is available in Evansville, including first-rate healthcare facilities, numerous parks, and excellent educational institutions.
The city also has a thriving arts and culture scene, with yearly festivals and events. Numerous prestigious colleges and universities are also located in the city, offering many opportunities for education and professional advancement. Overall, Evansville is a friendly, active community with a high quality of life.
Plan Your Vacation To Evansville Indiana
In conclusion, Evansville, Indiana, has many attractions and activities for tourists and locals. There is something for everyone in Evansville, from taking in the vibrant arts and culture scene to discovering the city's rich history.
This thriving city offers various options, whether you're a foodie searching for the newest culinary trends or a nature lover who enjoys hiking and other outdoor activities.
Evansville is a great place to visit, but it's also a great place to call home, thanks to its low cost of living, robust economy, and high quality of life. So come and discover everything this vibrant city has to offer!