20 Best & Fun Things To Do In Bakersfield California
Bakersfield, California, is home to most of America's notable bands and artists and has a great dance and music history. It is known for its music and has many attractions and thrills to offer visitors. It is known for its long history, stunning natural beauty, and many ways to have fun.
There are plenty of entertaining things to do in Bakersfield, California, regardless of whether you live there or are just visiting. Everyone may find something to enjoy in this city, from outdoor activities to cultural events.
The Kern River, one of Bakersfield's main attractions, has many chances for rafting, kayaking, and fishing. The river flows right through the city's center, offering a lovely and tranquil respite from the everyday commotion.
For a more strenuous excursion, visit the Parkway, a lovely walk that goes through the city and provides breathtaking views of the surrounding mountains and the river. The parkway offers activities for all levels of cyclists, from peaceful hikes to strenuous bike rides.
Overall, Bakersfield offers a lot and is excellent for weekend getaways and extended vacations. You will stay energized since there are so many exciting things to do, and you'll better understand the history and beauty of this remarkable California city when you leave.
Let's get started.
What are the Best Fun Things To Do In Bakersfield California 
#1. Bakersfield Museum of Art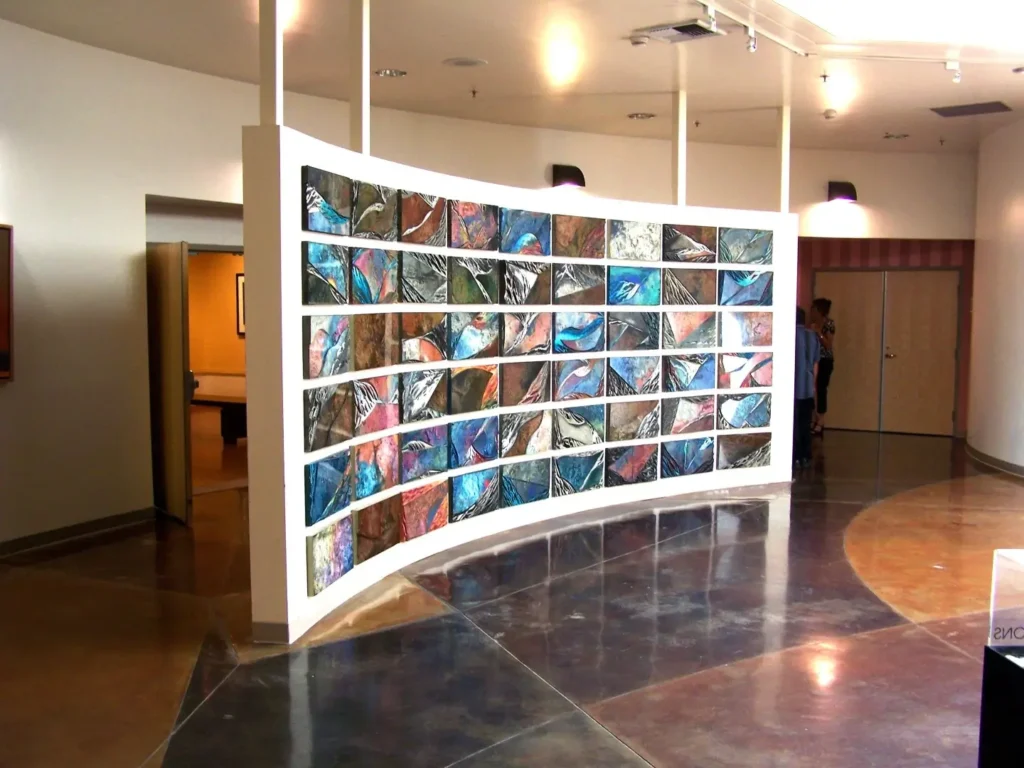 Bakersfield Museum of Art, located a few miles from Street and 19th Street, is an incredible sight and museum to behold. The museum produces four galleries that possess works by indigenous artists and exhibit them to the public on a rotational basis.
Since its inception in 1956, the Bakersfield Museum of art has continuously provided locals and visitors with art exhibitions, in line with the dream of its founder. It was founded in memory of Marion Osborn Cunningham by the Osborn William family.
The Bakersfield Museum of art was formally known as the Cunningham Art Gallery. It spans over 7,400 acres of land, featuring four galleries, banquet halls, grasslands, and classrooms, with sculptures adorning every corner of the museum.
If you're a sucker for masterpieces, you should add a visit to the Bakersfield museum of art as one of the things to do in Bakersfield, CA.
Address: 1930 R Street, Bakersfield, CA 93301, United States
#2. Buck Owens' Crystal Palace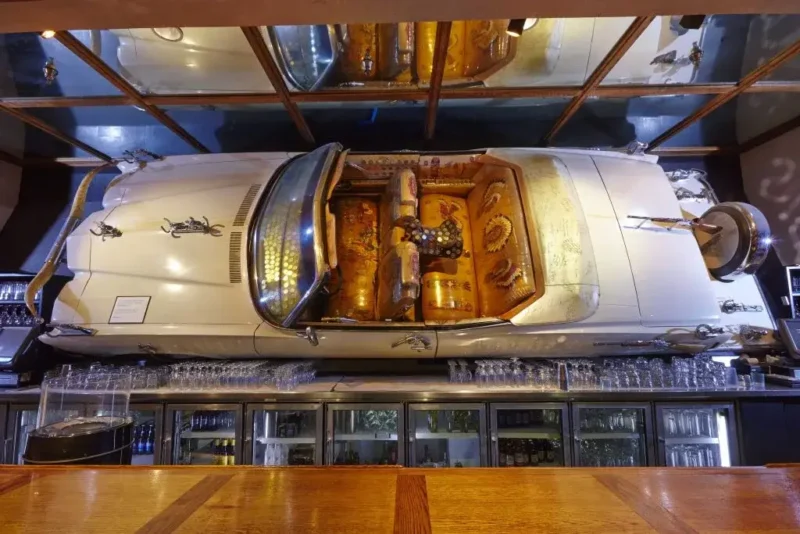 Buck Owens' Crystal Palace is a friendly destination for all music lovers and a must-go location in Bakersfield, California. It was named after Buck Owens, a country musician, and composer.
Owens and his band, "The Buckaroos," entertain visitors with good music at the hall. Since its inception in 1996, the place has continued to reel out good country and western music alongside a traditional steak cafeteria.
You're soon to discover that music and food mutually benefit the soul at the Buck Owens Crystal Palace in Bakersfield, California.
Buck's guitar, fancy clothing, memorabilia, and many keep-sake items there. The diner located inside the hall offers excellent meals and a different menu every day, particularly on days when there are performances and shows.
Subscribe to our travel newsletter to stay updated.
You'll be treated to a variety of American dishes and yummy grub. Add this to your list of free things to do in Bakersfield, California, this weekend.
Address: 2800 Buck Owens Blvd, Bakersfield, California
#3. Camelot Park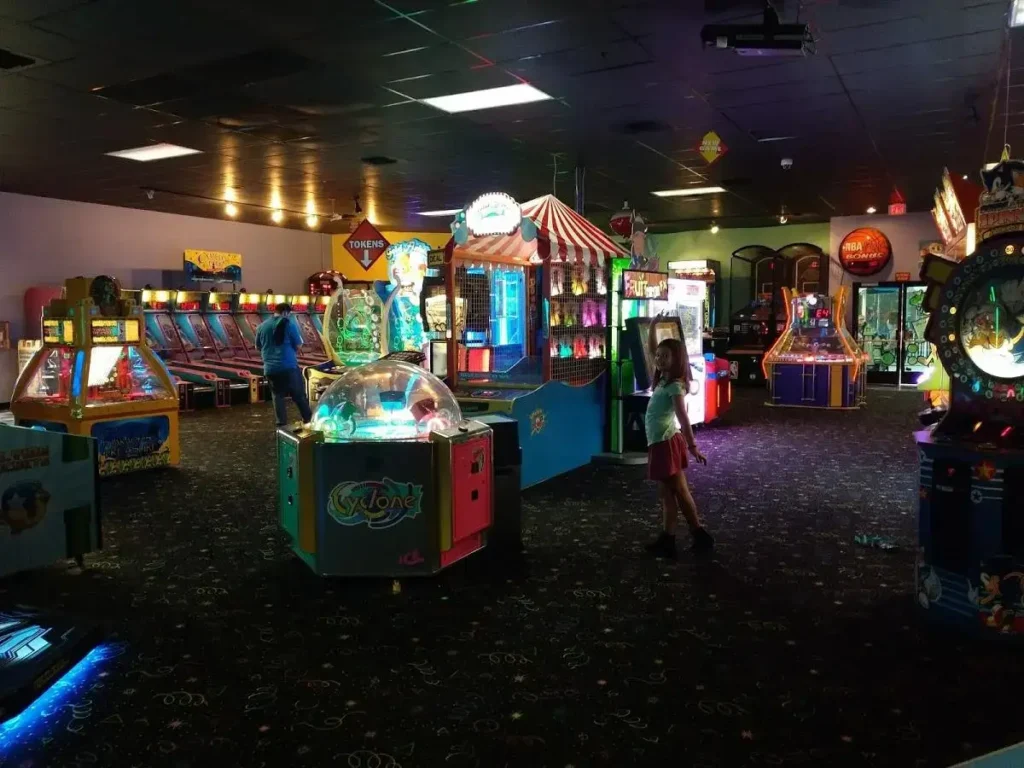 Situated on Oak Street, the park is ideal for family trips, as it is packed with fun-filled interests and exhibitions for kids. A few of the charms of Camelot park include bumper boats, go-karts, kid rides, mini-golf, and lots more. Camelot Park is also one of the best places in Bakersfield, California."
If it's a family trip, be sure to find various arcade games for your kids: Big Bass Wheel, Deal or No Deal, Haunted Hotel, Spin 'n Win, and lots more.
In addition, the park organizes several exhibitions like 'First Friday Fellowship Night' 'The Ultimate Group Package, All Night Play, etc.
Looking to find an ideal spot for your birthday party or your ward's, Bakersfield, Camelot Park is your best shot at a memorable experience, as the place is famous for birthday parties, where your kid gets to go on rides, play arcade games, grab sumptuous meals, and lots of other exciting activities.
Address: 1251 Oak Street, Bakersfield, California
#4. Sam Lynn Ballpark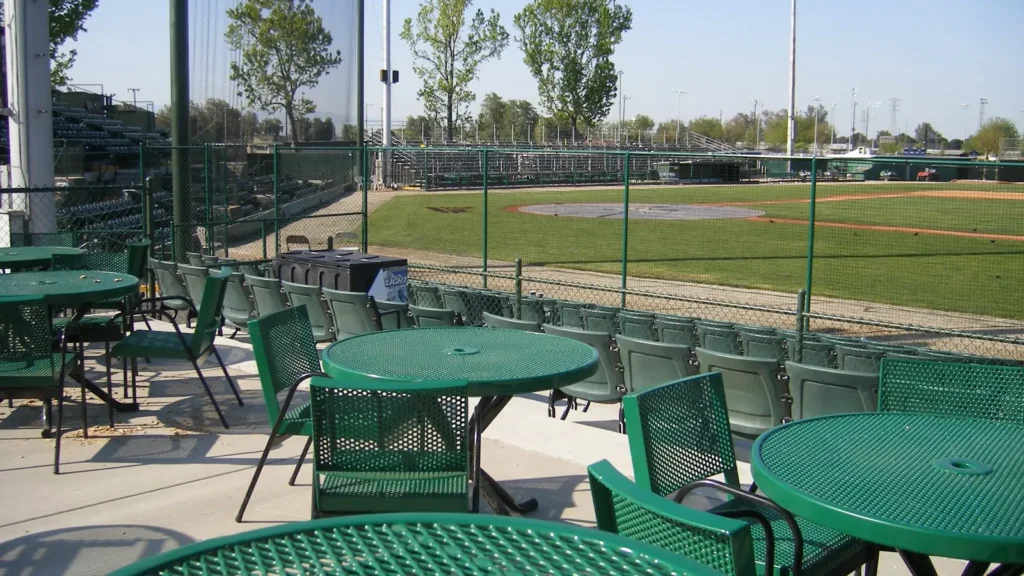 Part of the reason for getaways is to relax and unwind, so while planning your trip to Bakersfield, remember Sam Lynn Ballpark, Bakersfield, California, offers some great getaway activities from everyday life.
Located on Chester Avenue in Bakersfield, the age-old park, occasionally dubbed the "historic" Sam Lynn Ballpark, offers advanced baseball classes for Californians. Previously known as the home of the Bakersfield Badgers, this place is now known as the Bakersfield Blaze.
Named after ballpark Sam Lynn, a businessman whose philanthropy and support for the local youth baseball clubs helped raise talents in Bakersfield.
Originally, the park was built with wood but was razed in 1993 and renovated with stronger grandstands. More renovations came years later, with a current 3,500 seating capacity.
Address: 4009 Chester Avenue, Bakersfield, CA.
#5. Buena Vista Museum of Natural History
Bob and Mary Ernst, both geologists, keep a lot of fossils in the Buena Vista Museum of Natural History. The museum is located on Chester Avenue and caters to the Art District of Bakersfield, California.
Some of the antediluvians at the museum include fossils from Shark Tooth Hill, the area's most extensive assortment of fossils.
These fossils were initially housed at the California Living Museum. However, moving them to the new location became necessary as they accumulated.
That's not all. Other fossils at the museum include a miniature triceratops cranium, a replica of Yosemite Valley alongside several edifices, boulevards, and paths. Your guide at the museum is ready to show you around for as long as it takes.
Address: Chester Avenue, Bakersfield, California
Planning a road trip to California? Why not check out the best things to do in Fresno (California), Fullerton (California), and Fremont (California).
#6. Murray Family Farms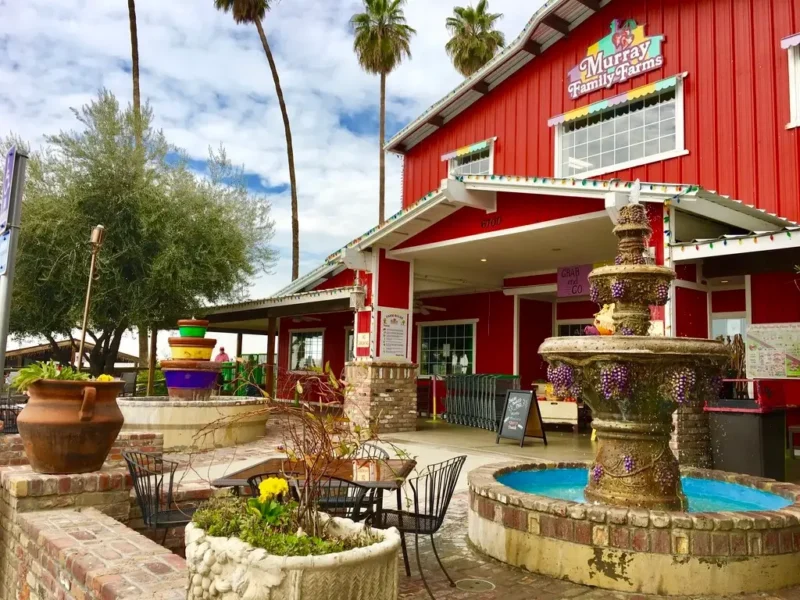 Remember, Bakersfield has a remarkable history of carrot agribusiness. If you want to get a feel of that and what farming looks like here, you should visit the Murray Family Farms. The Murray Farm provides an intriguing blend of fun and a genuine family-run working farm.
Anticipate some fun, but most importantly, expect to see all the challenging work the locals put into producing savory fruits and veggies that are supplied to their local grocery stores and the entire California state.
Strawberry, stone fruit, blackberries, citrus, apples, asparagus, artichokes, melons, tomatoes, and pumpkins have been grown on the 70-acre natural vegetable and fruit plantation for more than 20 years.
You can tour the farm on tractor-driven fodder carts around the 43 acres of graceful grasslands of citrus, yellow roses, lines of ripe doozies, apricots, and apples.
Afterward, you can head to the butterfly cabin, herd train, pushcart rides, and labyrinths.
That's just some, be sure to find animals like goats, ducks, lambs, chickens, geese, pigeons, braggadocio, turkeys, and horses in the zoo section of the museum. On your way out, visit the lovely Red Barn for preserves, pies, and smoothies. You should try out their Okie Fry Pies too.
Address: Big Red Barn, 6700 General Beale Road, Bakersfield, California
#7. Fox Theater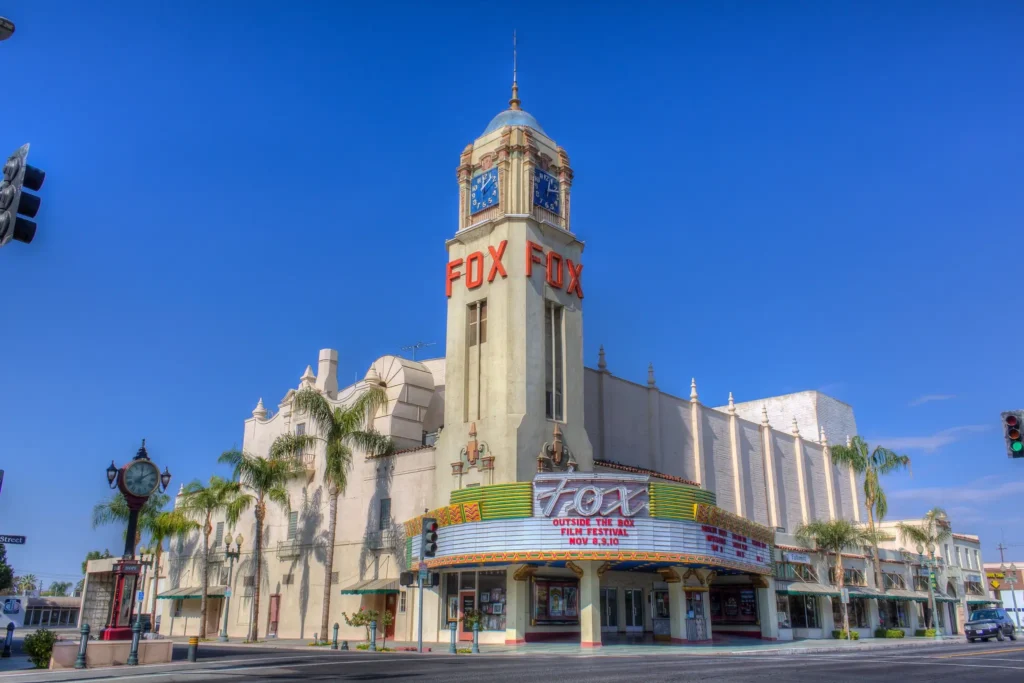 The Fox Theatre is one of the famous theaters that doubles as the major venue for the city's major art concerts. It organizes several events ranging from ballets to dance rehearsals to pop performances. You will be thrilled by the Spanish Colonial Revival style exteriors and Mediterranean-style interiors.
After nearly 50 years of existence, the theatre shut down in 1977 following planned demolition. However, years later, business owners created the Fox Theater Foundation and restored the theatre.
Currently, the space can be leased for private events like conferences, festivities, weddings, and lots more. If you are asked what to do in Bakersfield, California, you can tell them to catch a movie at Fox theater.
Address: 2001 H St, Bakersfield, CA 93301, United States
#8. The Gaslight Melodrama Theatre & Music Hall
For family getaways, the Gaslight Melodrama Theatre & Music Hall is ideally suited for family gatherings and trips. This coliseum is on Jomani Drive in Bakersfield and shows old melodramas with lovers, warriors, and bad guys.
Some of their performances are from fantasy tales, recreations, mystery, the Wild West, etc. At the end of the shows, the theatre gives a Vaudeville Review filled with amusing jokes, comedic drawings, dance, and lyrical songs.
After the shows, check out the Moosehead Lounge, where they serve snacks, light meals, beverages, beer, and wine. They also provide a two-month educational program in which children learn to dance, act, improvise, sing, costume, and makeup. They also have puppet and magic exhibitions.
Address: 12748 Jomani Drive, Bakersfield, California
Are you about to embark on an adventure to California for a wonderful vacation? You can check out the best places to visit in Hayward (California), Santa Monica (California), West Covina (California), and Gilroy (California).
#9. California Living Museum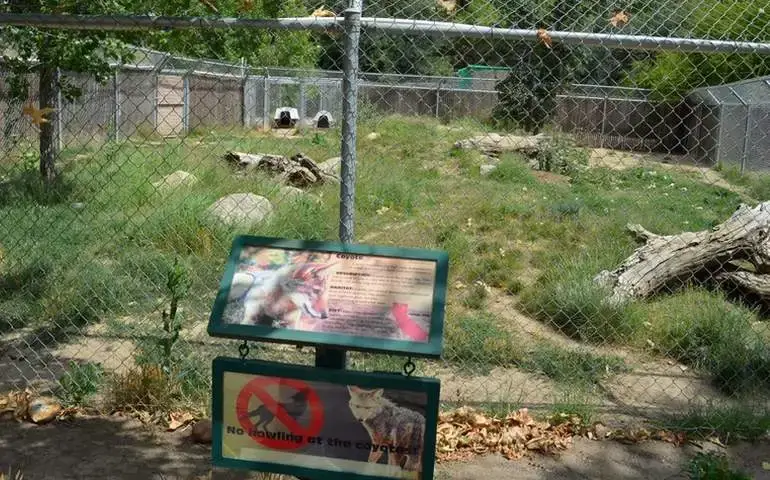 In addition to a snake house and touch tank, the California Living Museum studies the state's plants and animals. The museum has housed a Native Zoo and Garden since it was founded in 1983. Over 80 kinds of animals live in the museum on 14 acres of land with some natural habitats.
They hold a remarkable collection of animals that cannot be released or restored, that is, injured beasts that couldn't survive the wild. Planning a trip with the kids? Here's a great place to look for adventure and thrills.
Also, they have a horde of black be arpuss, an open-air show, a display of birds of prey like owls, aggressors, and eagles, plus a mammal cottage with bobcat and fox; a brine with mallards; deer enclosure, a snake house and a room of pets.
The experience is to die for. Add this to your fun activities in Bakersfield, California, today.
Address: 10500 Alfred Harrell Hwy, Bakersfield, CA 93306, United States
#10. Kern County Museum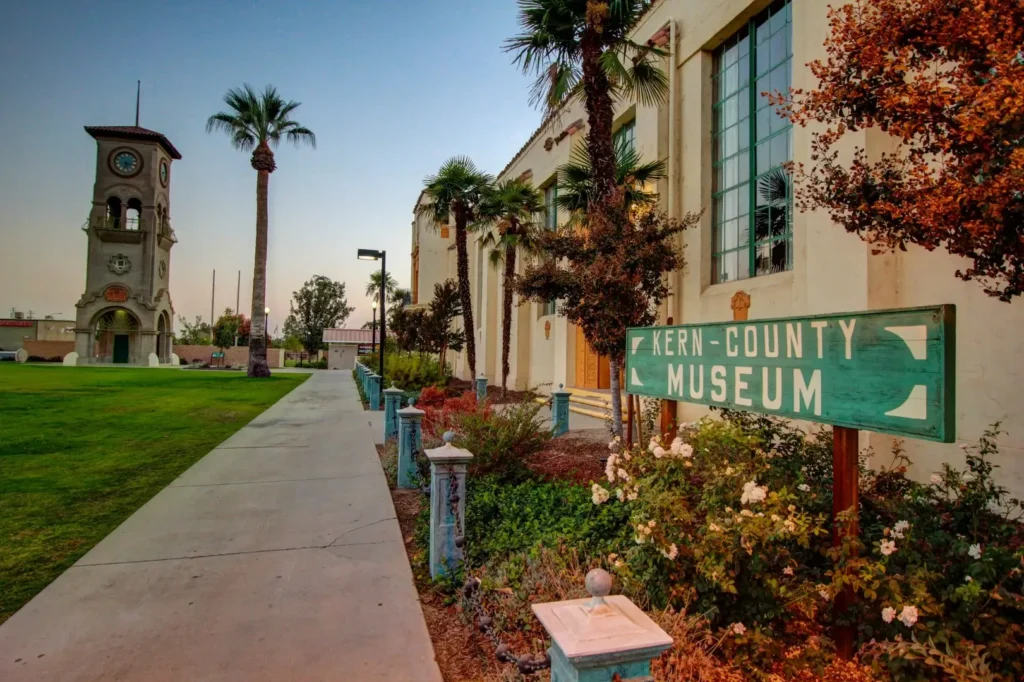 The Kern County Museum commemorates Kern County civilization and its vibrant past in creative, relaxing, and delightful ways, using a wide range of exhibitions, unique occasions, and educational programs for kids and adults alike to learn more about the history behind Bakersfield.
It was established in 1941, and the museum has a curated list of exciting pieces that date back to Californian history, which began in the mid-1920s.
The gallery holds thousands of historically significant artifacts exhibited on 16 detailed landscaped acres across 56 unique buildings.
This historical site's unique treasures include a room, school, prison, oil derrick, store, and seven conserved historic residences.
In addition, the museum has different Native American artifacts, railway sights, Bakersfield Sound, farming, mining, and railway scenes. 
Indeed, the Kern County Museum is a beautiful spot to discover Bakersfield and California's deep ancestry through banal items, pictures, towers, and manuscripts.
Address: 3801 Chester Ave, Bakersfield, CA 93301, United States
#11. The Park at River Walk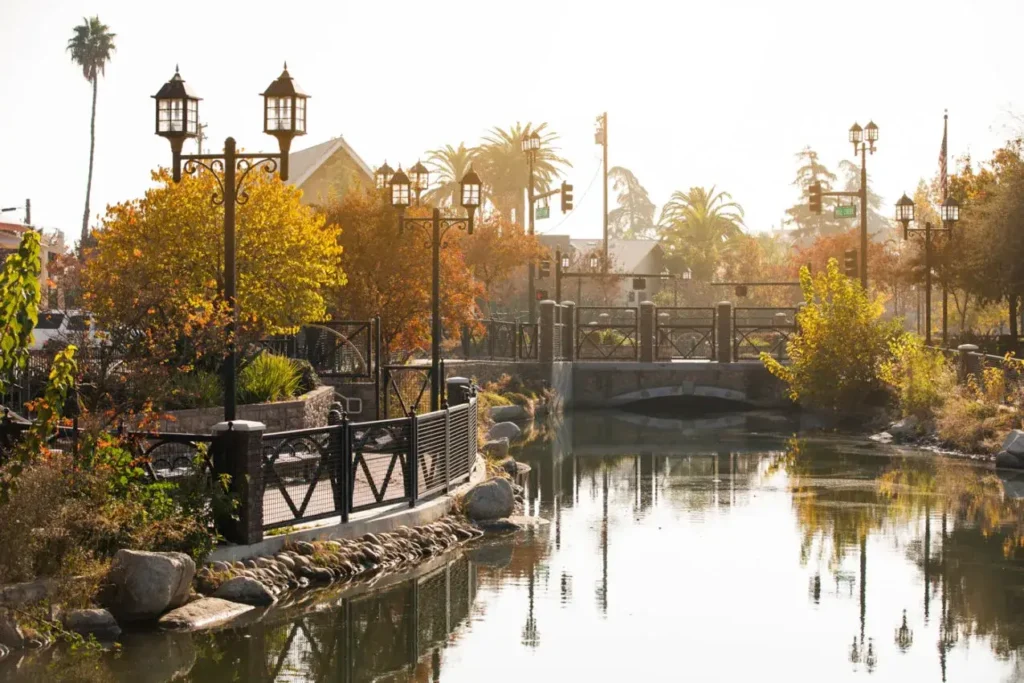 If you're looking for a fun spot to spend some time in Bakersfield, then The Park at River Walk is the perfect destination.
Located at 11298 Stockdale Hwy, Bakersfield, CA 93311, United States, this park is a great way to spend a day or an afternoon outdoors.
You can stroll along the waterfront or enjoy one of the park's many activities. For the adventurous types, biking and hiking trails wind through the park, providing stunning views of the surrounding nature.
The park has several playgrounds for kids to explore and picnic areas for a relaxed lunch. If you're up for a more laid-back afternoon, you can relax on the lawns and admire the views of the river.
There are also plenty of benches to sit and relax on. Whether you're visiting for a day or just a few hours, The Park at River Walk will provide you with an enjoyable experience.
#12. Lake Ming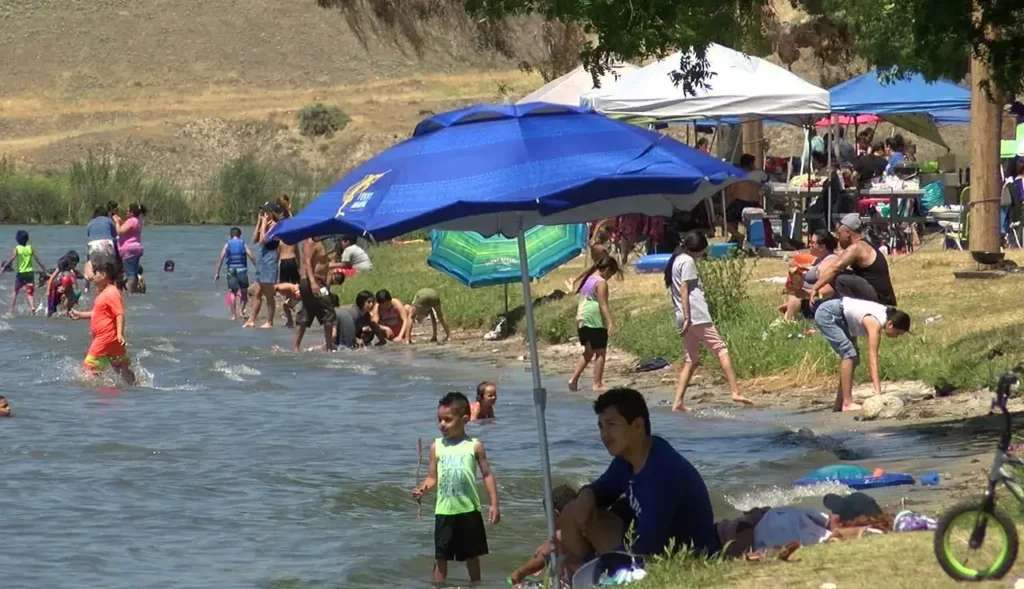 Another popular place to visit in Bakersfield is Lake Ming. Lake Ming is in Kern County, California. It is a place where people can go boating, fishing, and swimming, among other things. And if you're not feeling so brave, there's still plenty to do!
Visitors can rent paddleboats or bicycles and walk around the lake while admiring the natural beauty. Finally, remember all the museums!
#13. Meadows Field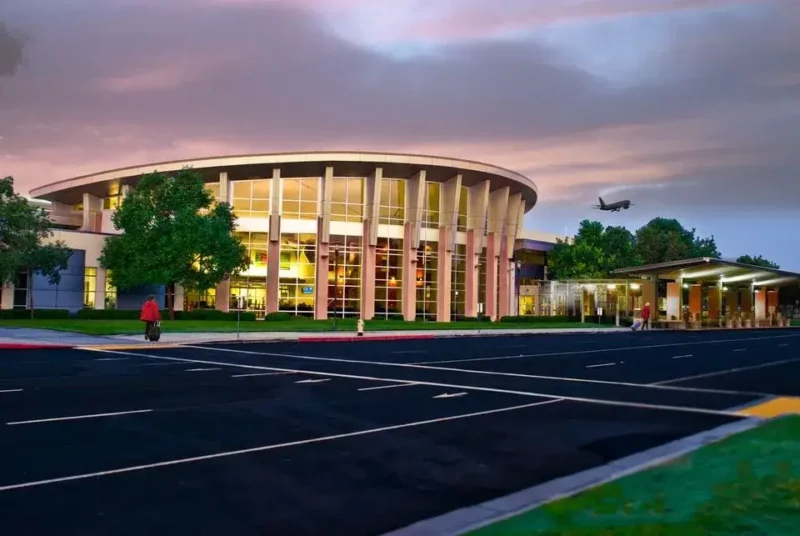 Meadows Field is one of Bakersfield, California's most popular places. Located at 3701 Wings Way, Bakersfield, CA 93308, United States, this airport is home to many exciting and unique experiences.
The grounds of the airport are beautifully landscaped, with plenty of gardens and water features for visitors to explore.
The on-site museum showcases aviation memorabilia from the past to the present, and even air shows are held throughout the year. If you're looking for a fun and unique experience in Bakersfield, stop by Meadows Field!
The best way to get some me time while in town is by visiting Meadows Field. What started as a small place has turned into a full-service area.
Thanks to all their warm services, you'll feel right at home as soon as you step through their doors.
#14. Hart Park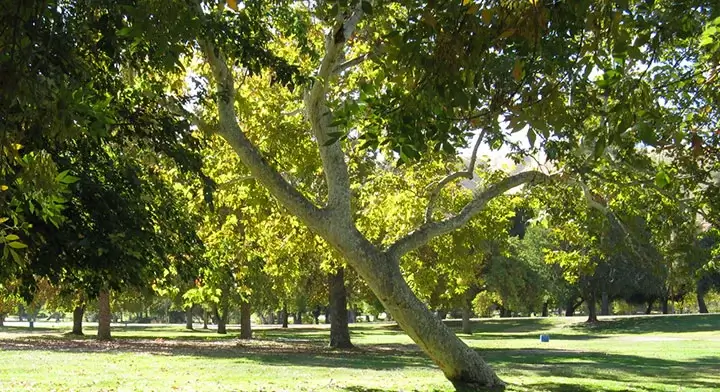 If you're looking for fun places to check out in Bakersfield, California, look no further than Hart Park.
This park has something for everyone to enjoy and is a great place to visit. Whether you're looking for a place to relax and unwind, take a leisurely walk, or participate in some exciting activities, Hart Park is the perfect spot.
Located at Hart Park, Bakersfield, CA 93308, United States, Hart Park offers plenty of outdoor activities for those seeking fun and adventure.
Take a hike or bike ride on the trails that wind through the park, or enjoy a leisurely game of golf on the 9-hole golf course.
If you're more adventurous, try paintballing or rock climbing on the park's bouldering wall. There's a playground, splash pad, and carousel for the kids.
Hart Park also has plenty to offer for those who want to relax. There are plenty of picnic spots to choose from, and if you're looking for a little bit of culture, take a stroll around the park's sculptures and murals.
No matter what kind of fun you're looking for, Hart Park has something to offer everyone. So come out and explore this fantastic park in Bakersfield! After you're done exploring, why not grab a bite to eat at one of the nearby restaurants?
#15. Kern County Raceway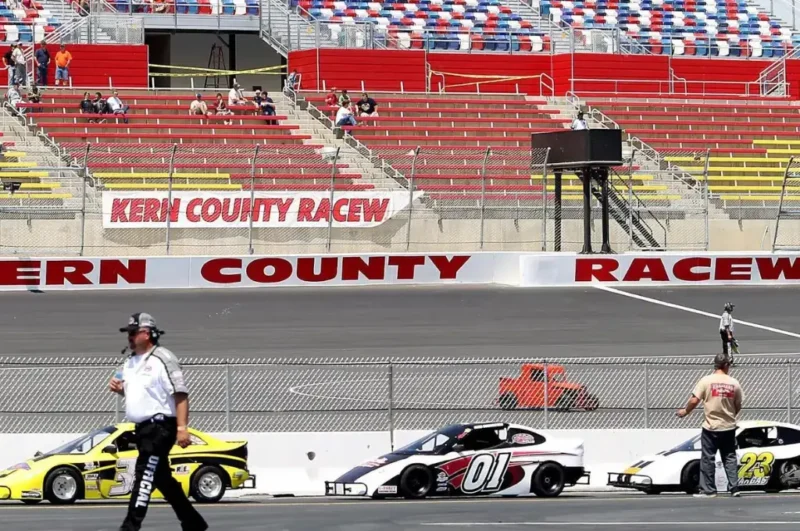 Kern County Raceway is a must-see if you're looking for fun in Bakersfield, CA. This high-energy place has a quarter-mile asphalt oval track, an entire drag strip, and a motocross track, among other exciting things to do and see.
For those who want to experience the thrill of racing, Kern County Raceway hosts weekly racing events throughout the year with classes for all skill levels.
The race season runs from March to October and includes everything from stock cars to dirt bikes.
In addition to racing, Kern County Raceway also offers several other fun attractions, such as a large indoor karting facility and an outdoor family play area with mini golf, batting cages, and go-karts.
Whether you're an experienced racer or want to take your family for some thrills, Kern County Raceway is an exciting place to visit!
Address: 13500 Raceway Blvd Interstate 5 and S Enos Ln, Bakersfield, CA 93311, United States.
Looking for more thrills around California? why not check out the best places to visit in San Bernardino (California), Palmdale (California), Indio (California), and Ojai (California).
#16. Crystal Palace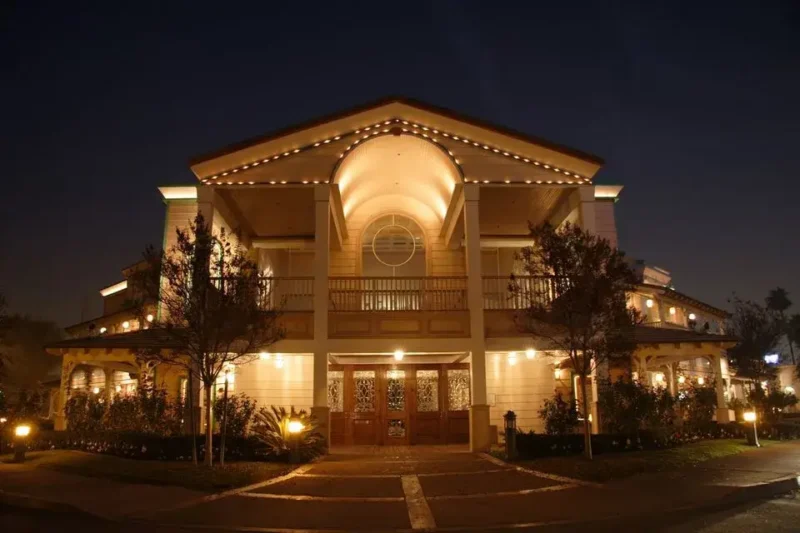 Crystal Palace is famous for its nightlife, music, and entertainment. Inside, you'll find a full-service bar and restaurant, live music, and plenty of space for dancing.
There's also an outdoor patio area where guests can relax and enjoy their meals and drinks. With its lively atmosphere and a great selection of food and drinks, the Crystal Palace and Athletic Club is the perfect place to spend an evening in Bakersfield.
If you want fun in this fascinating place, you can quickly locate crystal palace at 2800 Buck Owens Blvd, Bakersfield, CA 93308, United States.
#17. Kern County Mineral Society
If you're looking for a unique experience in Bakersfield, then the Kern County Mineral Society is a great place to visit.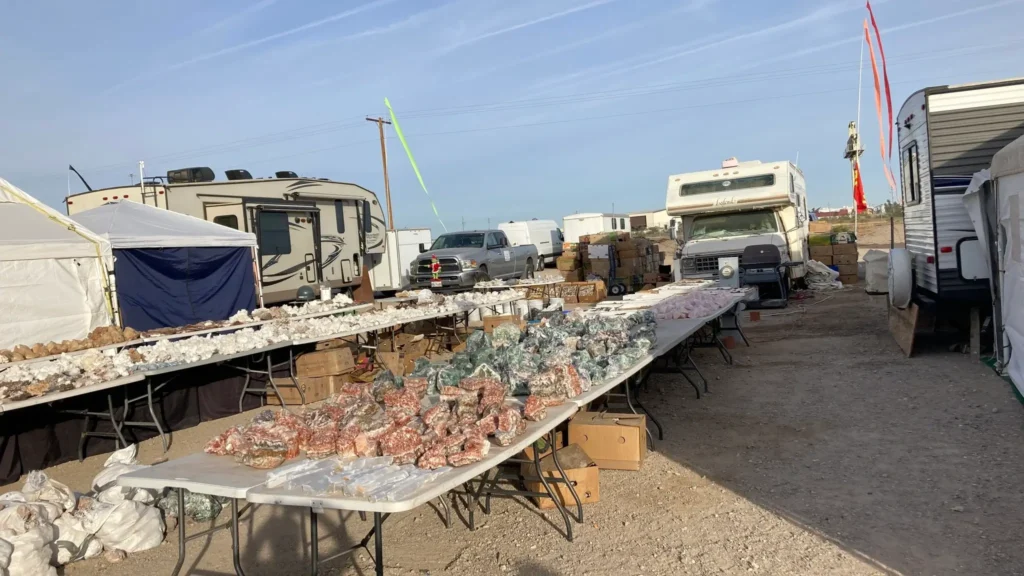 The Kern County Mineral Society, located in Bakersfield, California, 93385-3004, USA, was founded in the 1990s and has been educating and inspiring people about the wonders of earth science ever since.
Society has many events and activities that have to do with minerals, geology, and gemstones. They also have a large collection of specimens that anyone can look at.
Whether you're looking to learn more about geology or are just interested in the unique rocks and minerals, the Kern County Mineral Society is a great place to check out.
With regular events such as educational seminars, workshops, and rock shows, there's always something fun to do! For those who want to become even more educated about minerals and gemstones, memberships are available for anyone 16 years old and up.
Membership includes all lectures, shows, special exhibits (like world-class mineral collections), field trips to quarries, museums, and other geological sites (like gold mines), and more! Children's memberships start at age three and include family memberships too.
#18. Mechanics Bank Arena, Theater and Convention Center
If you're looking for a great place to spend an evening in Bakersfield, then the Mechanics Bank Arena, Theater, and Convention Center are worth checking out.
Located at 1001 Truxtun Ave, Bakersfield, CA 93301, United States, this multi-purpose venue has been the site of many exciting events, including concerts, rodeos, and basketball games. The arena has tours, as well as a full-service restaurant and bar, and it also hosts significant events.
Whether you're looking for a night of entertainment or exploring the city's culture, the Mechanics Bank Arena, Theater, and Convention Center have something for everyone.
Tours are available on most weekdays and some weekends, with tours running around 30 minutes long.
The tour will allow visitors to learn more about the venue's history and construction process and look closely at the stage.
Those who want an authentic taste of Bakersfield can even take advantage of the hospitality services available at other parts of the arena.
#19. Valley Plaza Mall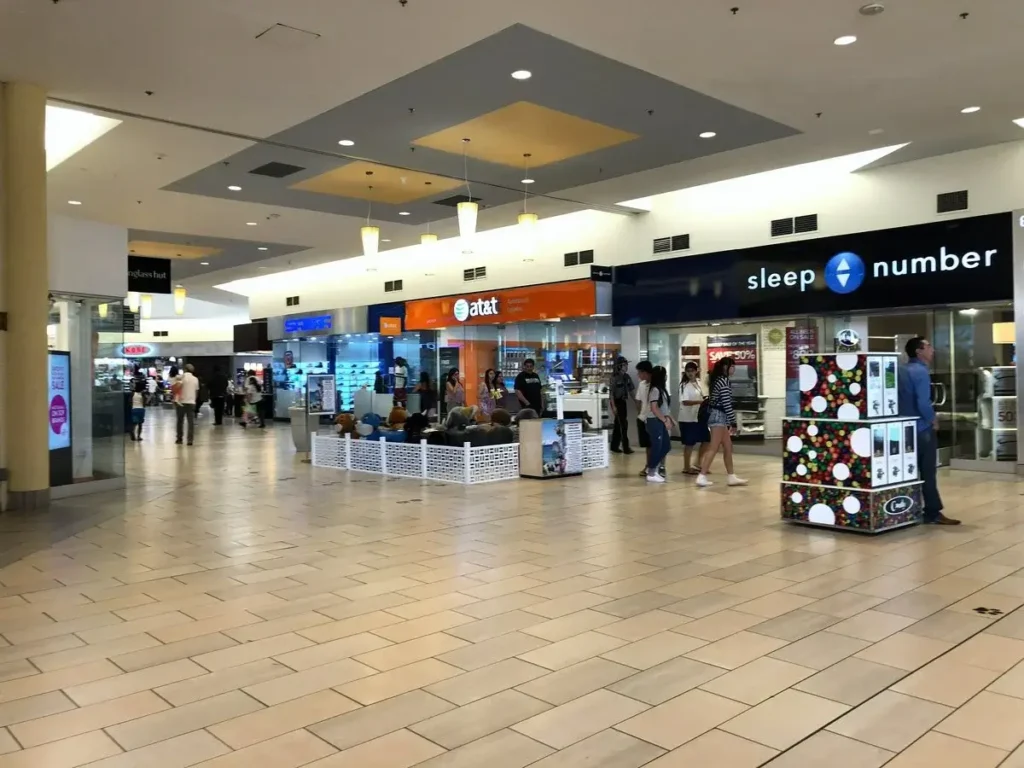 Valley Plaza Mall is the perfect destination for shopping and entertainment in Bakersfield. Valley Plaza Mall features more than 160 stores, restaurants, and services.
From high-end retailers like Nordstrom and Macy's to a variety of specialty shops like Hot Topic and Victoria's Secret, you're sure to find something to fit your style.
And after a long day of shopping, grab a bite at one of the many dining options, such as the famous food court or the onsite Olive Garden. With plenty of parking and a welcoming atmosphere, Valley Plaza Mall is the ideal spot to spend your day in Bakersfield.
Address: 2701 Ming Ave, Bakersfield, CA 93304, USA.
#20. Padre Hotel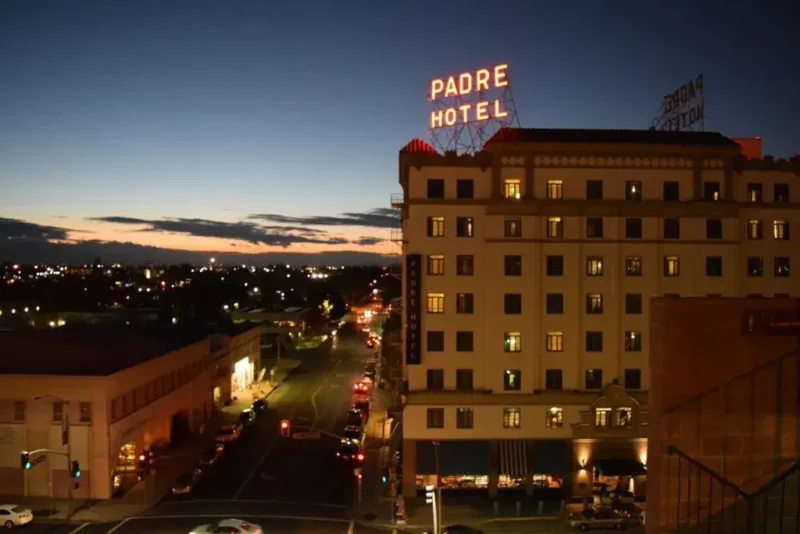 If you're looking for a unique and exciting place to stay in Bakersfield, the Padre Hotel is the perfect spot! The Padre Hotel offers visitors a luxurious and comfortable stay.
From the cozy guest rooms to the delicious on-site restaurant, this boutique hotel will make your visit to Bakersfield special. And if you're looking for something more adventurous, the hotel also offers live music and DJ performances every night.
Whether you're looking for a romantic getaway or an entertaining night out, the Padre Hotel will not disappoint! So what are you waiting for? Make your reservation today.
Address: 1702 18th St, Bakersfield, CA 93301, United States
Time to spare? Why not check out the best things to do in Scranton (Pennsylvania), Aberfeldy (Perthshire), Clovis (New Mexico), and Beaver Creek (Colorado).
What is the coldest month in Bakersfield California?
In Bakersfield, California, December is usually the coldest month. This month's typical low and high temperatures are around 40 degrees Fahrenheit (4.4 degrees Celsius) and 60 degrees Fahrenheit, respectively (15.5 degrees Celsius).
Due to its location in southern California, Bakersfield is renowned for having warm winters with sporadic cold fronts that may bring chilly temperatures and sporadic precipitation. However, the city does not often experience icy weather.
How old is Bakersfield California?
California's Bakersfield was founded in 1869. The city is named after Colonel Thomas Baker, a surveyor who laid out the townsite in 1863 and a Civil War soldier. The city was formally established on July 21, 1873, making it 154 years old as of 2023.
When oil was discovered nearby in the late 19th century, Bakersfield was initially a small settlement that overgrew due to the discovery of oil in the area in the late 19th century.
Regarding population, Bakersfield is now the 52nd most populated city in the United States and the 9th most populous in California.
Is Bakersfield California a good place to live?
Depending on a person's specific choices and objectives, Bakersfield, California, may be an excellent area to live.
Living in Bakersfield has certain benefits, like a lower cost of living than in other places in California. The city's economy is also robust and well-diversified, with industries including oil, agriculture, and healthcare as its main contributors.
Since several well-known country music performers have ties to Bakersfield, it is also notable for this kind of music.
Hiking, fishing, and camping in the nearby mountains and lakes are just a few outdoor activities and leisure options available to Bakersfield residents. The city is home to many parks, golf courses, and sporting venues.
What is Bakersfield California famous for?
A city with a distinctive culture and a long history in Bakersfield, California. It is famous for various things, including its oil production, country music, and agricultural business, and is situated in the state's southern region.
First, one of California's main oil production centers, Bakersfield, is well recognized for this. The San Joaquin Valley, one of the state's most oil-rich areas, has the city in its heartland. This has significantly contributed to the local economy for more than a century.
Second, Bakersfield is closely associated with country music. Numerous well-known musicians, like Buck Owens and Merle Haggard, have origins in the city, which has a long history of country music.
Additionally, the city is the location of the Buck Owens Crystal Palace, a well-known performance venue and museum honoring the contributions of Buck Owens and the Bakersfield Sound.
Finally, Bakersfield has a booming agricultural industry. The city, a major producer of products including citrus fruits, grapes, and almonds, is located in the heart of one of the most prosperous agricultural areas in the world.
It is a city that closely connects with its rural beginnings and the people who toil arduously to feed the state and the nation.
Bakersfield is a vibrant city with a distinct culture. This southern California treasure has plenty to offer everyone, whether they are interested in agriculture, country music, or oil extraction.
Plan Your Trip To Bakersfield, California
Looking to get away? Bakersfield, California, is it! Bakersfield, California, combines history and nature. The city is undoubtedly proud of most of America's notable bands and artists.
The city has been home to Jazz Festivals, attracting millions of music lovers and jazz lovers from across the world. While many towns were destroyed in an earthquake in 1952, Bakersfield still offers visitors many attractions and thrills.
With the above-listed top things to do in Bakersfield, be more convinced to experience a memorable trip, and have fun.
Happy Travel!!!
Disclaimer: Vasttourist always strives for content accuracy. Since the time of publishing, travel-related information regarding pricing, schedules, and hours may have changed. Please see individual websites embedded in this post for the most current trip-planning information.

Unless otherwise stated, Vasttourist does not claim ownership of any images used on our blog site. The respectful owners of all visual content have copyright protection. We try to include links to the sources. If any images are your property and you do not want them to appear on our blog, don't hesitate to contact us; we will take them down immediately. We support properly crediting the original writer, artist, or photographer.