25 Best & Fun Things to do in Hayward California
Are you searching for the best and most fun things to do in Hayward California? Then you are on the right page. Hayward is the third-largest city in Alameda County and the sixth-largest city in the Bay Area, so it's no surprise that there are many things to do here.
This town has a rich history and was formerly well-known for its agriculture and canning businesses. Hayward residents enjoy a blend of city and suburban living, with most residents being homeowners.
There are far too many entertaining things to do in Hayward: you might well visit some of San Francisco's well-known tourist destinations, tour illustrious organizations, learn about high-tech life in Silicon Valley, or enjoy the breathtaking natural scenery that surrounds the bay.
We've compiled a list of the best, the brightest, and the most beautiful things to do in Hayward to help you plan your next trip.
Let's get started!
25 Best & Fun Things to do in Hayward California
#1. Hayward Japanese gardens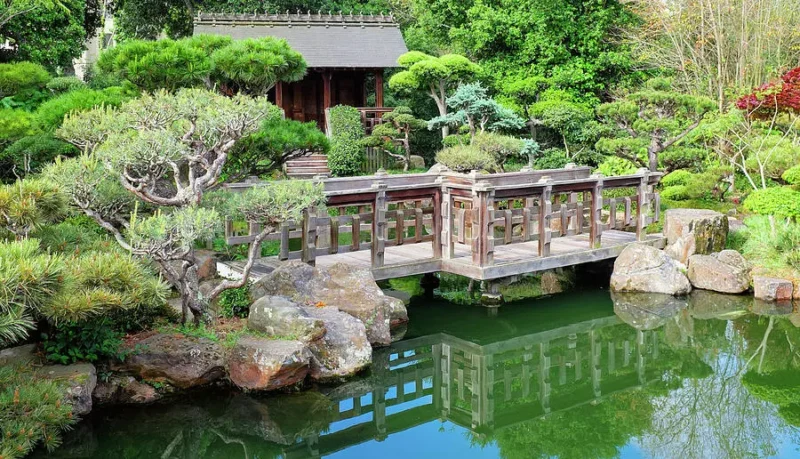 Hayward Japanese Gardens are located right in the center of busy Hayward downtown. The Hayward Japanese Garden was the first to be created in the Bay Area's traditional settings.
This garden was made by a master gardener named Kimio Kimura. It has granite rocks and trees that have been shaped in an artistic way to give people a break from the busy city life.
The Hayward Japanese Gardens are open to the public without charge, and kids may find the grounds entertaining due to the presence of turtles and koi in the main pond.
On your visit to this site, you'll pass through several pavilions, cross a bridge over a koi pond fed by a waterfall, and see a Japanese teahouse and other unique features of this traditional garden.
Address: 22373 N 3rd St, Hayward, CA 94546, United States
#2. Garin Regional Park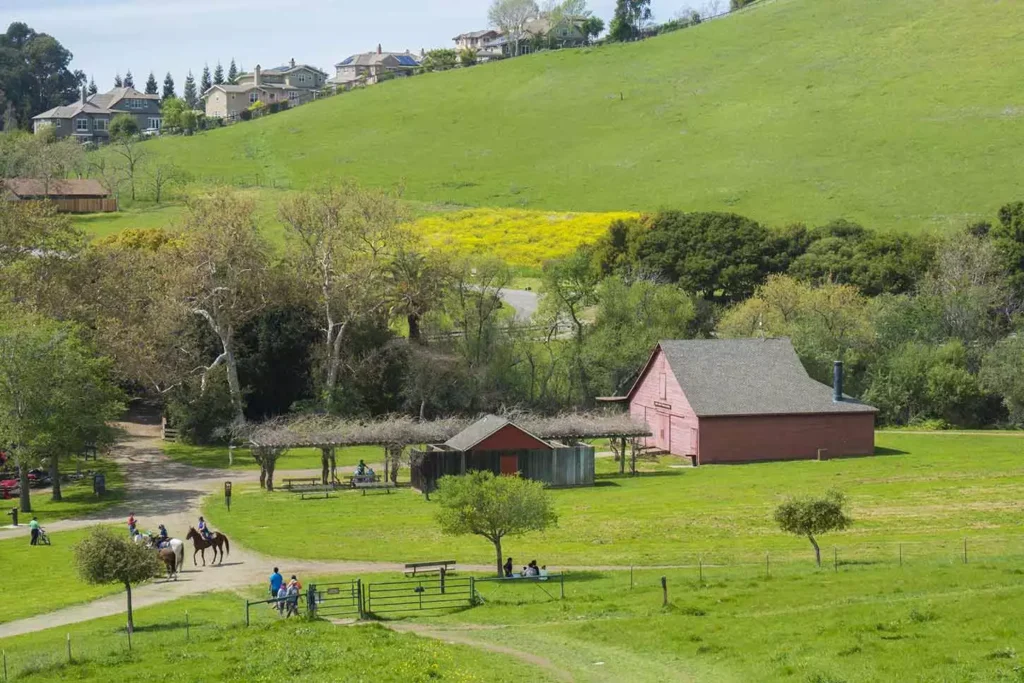 There are more than 20 miles of trails for hiking and horseback riding in the Dry Creek Pioneer Regional Park and the Garin Regional Park. This lets people explore the parks' 4,790 acres of land. This is one of the best places to visit in Hayward, California.
The green hills climb more than 500 meters above sea level, and the unique views from their summits include the whole Bay Area.
The Garin Barn Visitor Center is usually open on Saturdays and Sundays from Memorial Day to Labor Day weekend and features relics from the region's farming and ranching past.
It also has a blacksmith shop and a tool store. Visitors can also browse the collection of vintage farm equipment outside the barn that serves as the Visitor Center.
Address: 1320 Garin Ave, Hayward, CA 94544, United States
#3. Sulphur Creek Nature Center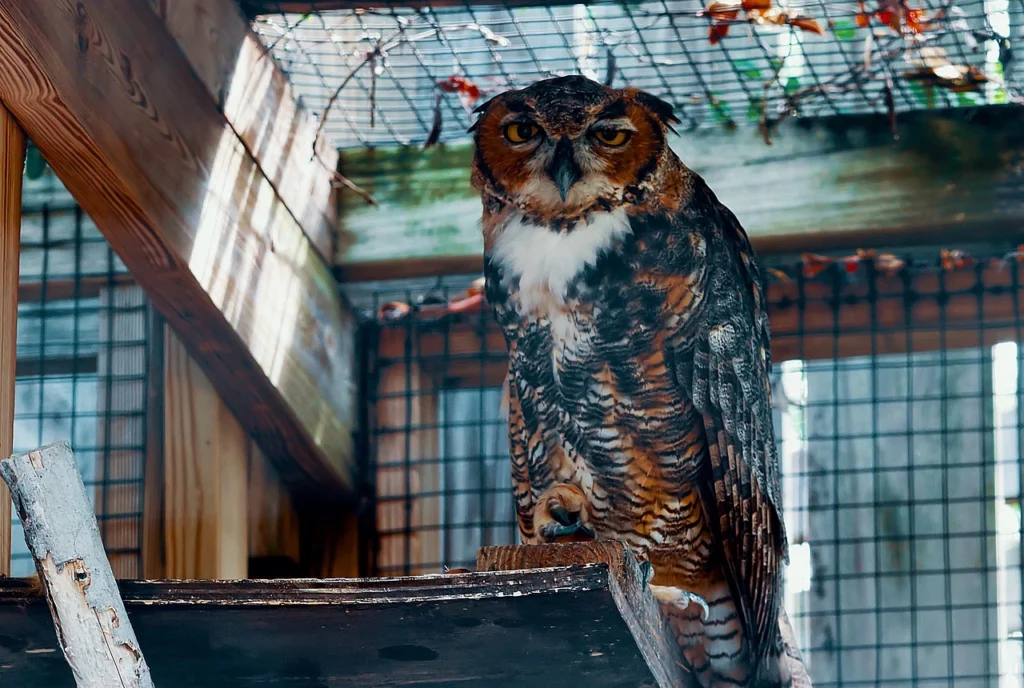 The Sulphur Creek Nature Center is a great place to be if you are looking for what to do in Hayward, California. It is dedicated to rehabilitating wildlife and educating people about wildlife. By teaching people about wildlife, this nature and wildlife center hopes to make people feel responsible for the health of the whole planet.
Through the Sulphur Creek Nature Center's wildlife education programs, visitors can look closely at several animals in the area.
Each year, at least 900 animals receive care here and are housed in open pens so visitors can have a close-up look at them. Eagles, gray foxes, rattlesnakes, and long-toed salamanders are common sights.
The center provides special programs, birthday celebrations, volunteer opportunities, other activities and events, and education and rehabilitation. Children can watch the animals being handled and fed by the welcoming staff and volunteers, who are happy to educate them.
Address: 1801 D St, Hayward, CA 94541, United States
Planning a road trip around California? We have got you covered! Here are some of the best things to do in Fremont (California), Santa Monica (California), West Covina (California), and Gilroy (California).
#4. Mural Arts program of Hayward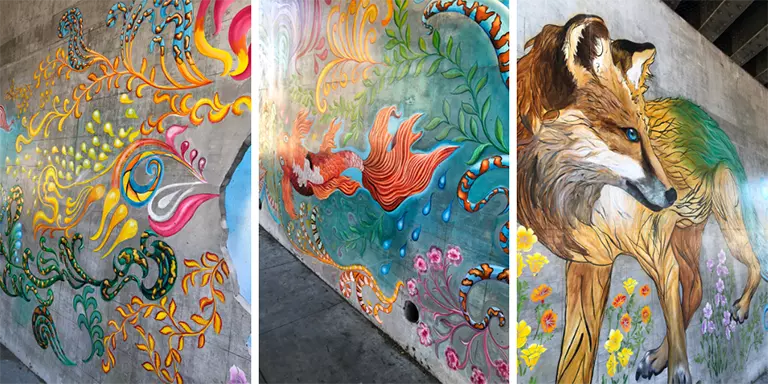 Mural Arts of Hayward is a must-visit attraction in Hayward, especially for art lovers.
The goal of the Mural Arts Program is to work with artists, schools, private and public organizations, business owners, property owners, and volunteers to create inspiring artwork that will help foster a sense of community identity, cultural improvement, artistic expression, cultural diversity, positive collaboration, and civic pride.
It falls under the "Cleanliness" and "Crime and Public Safety" goals of the city.
The Hayward Mural Arts Program is open for tours by the Hayward Area Historical Society between May and October.
#5. Douglas Morrison Theatre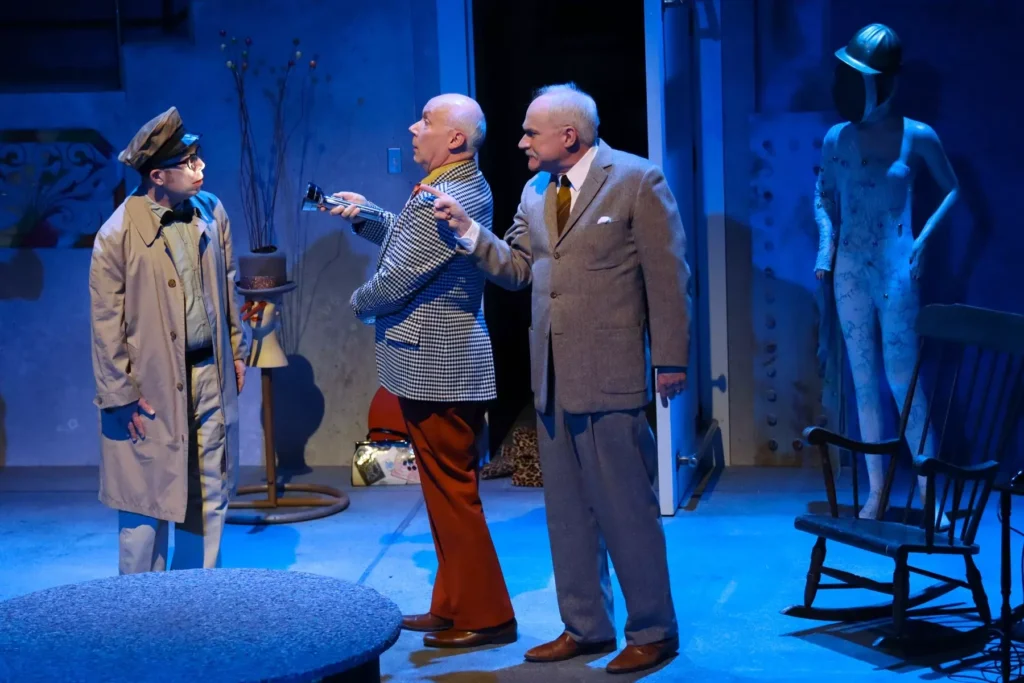 The live theater shows at the Douglas Morrison Theatre are designed to entertain and educate tourists and people living in the Hayward area.
The theater gives actors a platform for artistic expression and social interaction. The Douglas Morrison Theatre presents a season of musicals and plays every year.
Youths between the ages of seven to fifteen can participate in theater camps that last one or two weeks over the summer.
The theater also provides classes in various theater disciplines for adults and teenagers. The HARD Community Players were the organization that launched the theatrical program in the 1960s. Add this to your list of things to do in Hayward, CA, this weekend.
Address: 22311 N 3rd St, Hayward, CA 94546, United States
#6. Hayward Shoreline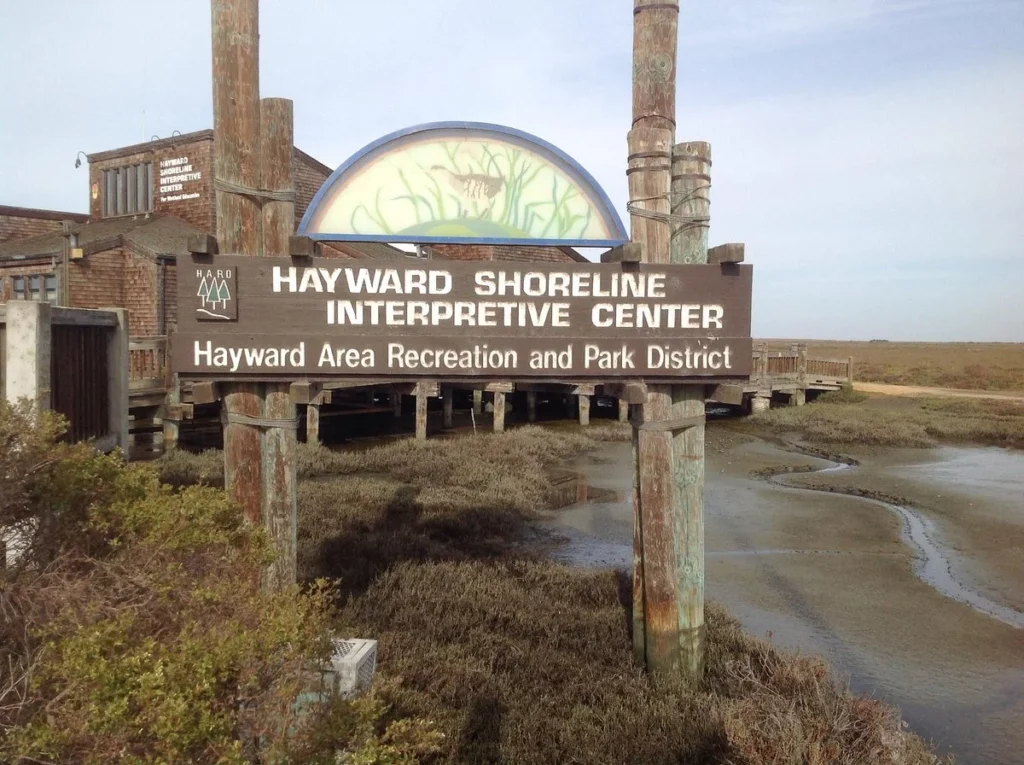 The Hayward Shoreline Interpretive Center is one of the best day trips from Hayward, California. It is a natural history and interpretive ecology center in the East Bays.
The primary purpose for which the center is run is as a resource for educational field trips to nearby schools. However, the Hayward Shoreline Interpretive Center is available to the public on the weekends.
The center focuses on wetland and shoreline habitats. It has displays on aquatic and native animals as well as changing displays on related topics. The interpretative center was constructed near salt ponds converted to wetlands and opened in 1986.
Address: 3010 W Winton Ave, Hayward, CA 94545, United States
#7. Buffalo Bill's Brewery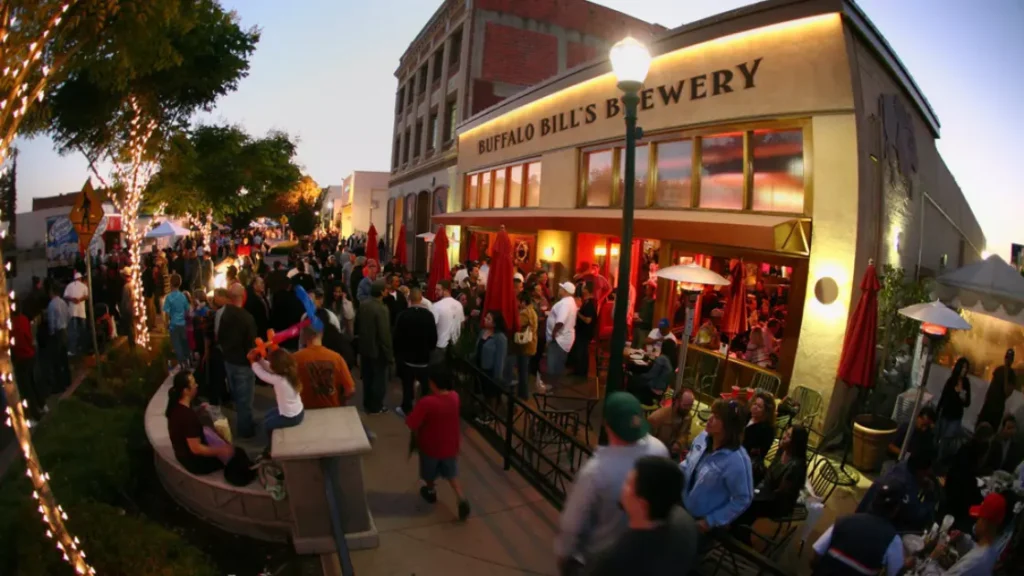 The Buffalo Bill's Brewery changed how people thought about brewing in America by taking the business in a bold new direction.
The restaurant was established in 1983 and was one of the earliest brewpubs in the nation, helping to spark the American craft beer industry. Buffalo Bill's brewpub still offers a great selection of outstanding craft beers along with seasonal and year-round classics.
The Buffalo Bill's Brewery has a brew bar and restaurant where you can relax and drink beers from their large selection while sitting comfortably.
Address: 1082 B St, Hayward, CA 94541, United States
Are you about to embark on an adventure to California for a wonderful vacation? Why not check out the best things to do in San Bernardino (California), Palmdale (California), Indio (California), and Ojai (California).
#8. Buon Appetito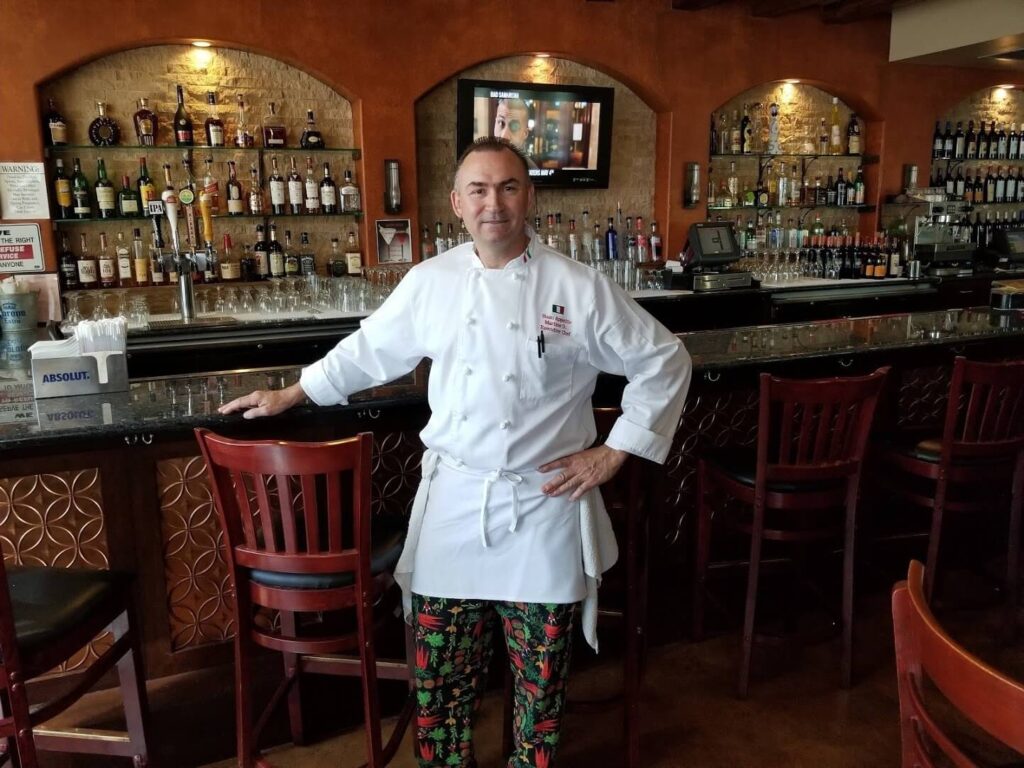 Visit Buon Appetito if you're looking for a Hayward restaurant serving delicious Italian food.
Every day, all the authentic Italian food at Buon Appetito is made from scratch, and the restaurant never skimps on quality. At Buon Appetito, you can get fresh-baked bread, salads, pasta, seafood, desserts, and other dishes.
Buon Appetito also serves local red and white wines that go well with Italian food. The restaurant also provides takeout service and daily chef specials for both lunch and supper.
Buon Appetito offers an excellent food menu with reasonably priced options.
Address: 917 A St, Hayward, CA 94541, United States
#9. Hayward Area Historical Society
The Hayward Area Historical Society wants to help visitors and the general public learn more about the opportunities and challenges of the future, as well as their shared past, by collecting, preserving, and explaining the East Bay's rich history.
The Hayward Area Historical Society houses special exhibits, a history gallery, and a children's gallery.
Visitors can sign up for one of Hayward's free tours, which includes a stop at the city's famous mural program in the center of town. These tours run from May through October.
Address: 22380 Foothill Blvd, Hayward, CA 94541, United States
#10. Don Castro Regional Recreational Area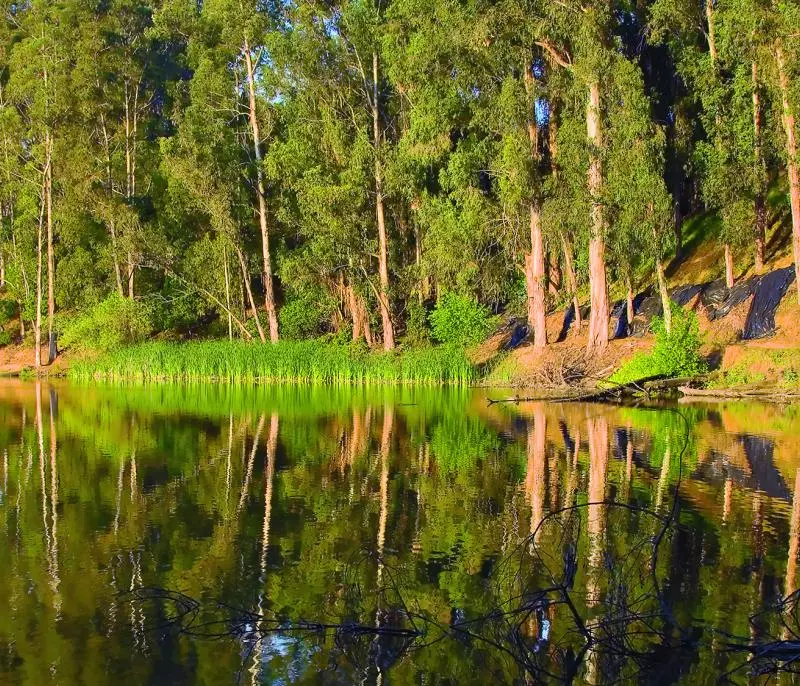 Don Castro Regional Recreation Area, located on the border of Castro Valley and Hayward, spans over 100 acres. The area serves as a tranquil natural barrier between Hayward and the nearby Castro Valley and is well-known for the lagoon that is tucked away in the forest.
The people who live in the area like swimming in this urban retreat's beautiful blue water. Hikers can explore a surprisingly small wilderness area near the San Lorenzo Creek Reservoir, and fishing is allowed all year.
The swimming lagoon has a sizable, roped-off shallow area designed especially for children. The Chabot to Garin Trail and the Bay Area Ridge Trail is accessible from the Don Castro Regional Recreation Area.
Address: 22400 Woodroe Ave, Hayward, CA 94541, United States
#11. Sun Gallery
The Sun Gallery is one of Hayward's top attractions and is known to have a huge number of artworks. Sun Gallery has the tradition of constantly changing exhibit showcases and a packed roster of events.
This location is ideal for field trips and summer art camps as well. You can check out Free Saturday Art, art parties, and more, to name just a few of the events the Sun Gallery hosts.
Visit the Sun Gallery if you want to explore local artwork, and remember to add this to your list of things to do in Hayward today.
Address: 1015 E St, Hayward, CA 94541, United States
Looking for thrill around California? Here are some of the best things to do in San Rafael (California), Lake Arrowhead (California), Fullerton (California), and Redding (California).
#12. Casper's Hot Dog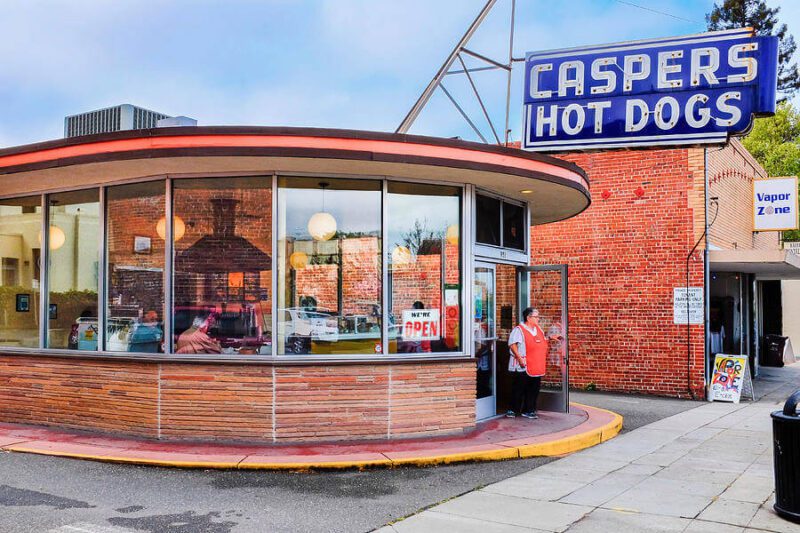 While exploring Hayward, get some delicious hotdogs at Casper's Hot Dog Restaurant.
An immigrant family from Armenia created Casper's in 1934, specializing in serving footlong hot dogs using Armenia's hometown secret recipe. Casper's Hot Dogs offers Cajun, Polish, and Chicken "hot dogs" in addition to regular Armenia hot dogs.
The founders also founded the SPAR Sausage Company to produce their line of frankfurters under their brand name.
Address: 951 C St, Hayward, CA 94541, United States
#13. Golden Tree Massage & Spa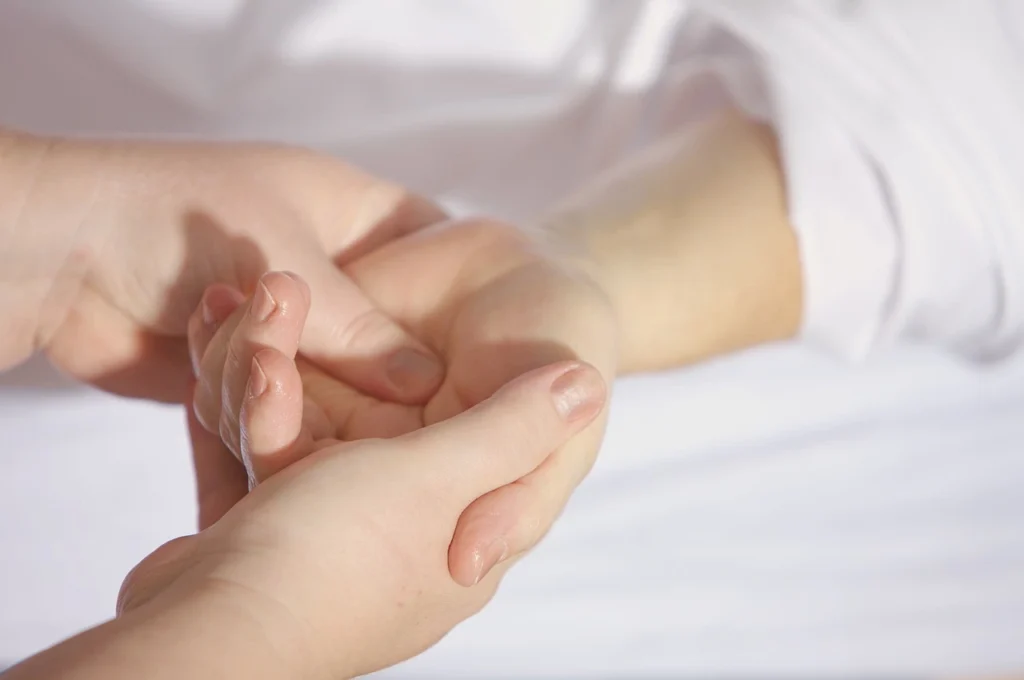 Golden Tree Massage and Spa is a full-service massage, spa, and wellness center. We offer several different types of massages, including Swedish massage, deep tissue massage, pregnancy massage, and prenatal massage.
You can also get a facial or body treatment. They provide many services, such as hot stones, aromatherapy, and reflexology. Plus, they have a relaxation lounge with books and magazines for your enjoyment while waiting or after your treatment.
The staff is all friendly and accommodating, making the experience both enjoyable and relaxing. I recommend this place to anyone looking for a massage or other spa treatments.
Address: 21344 Mission Blvd, Hayward, CA 94541, United States
#14. Val's Burgers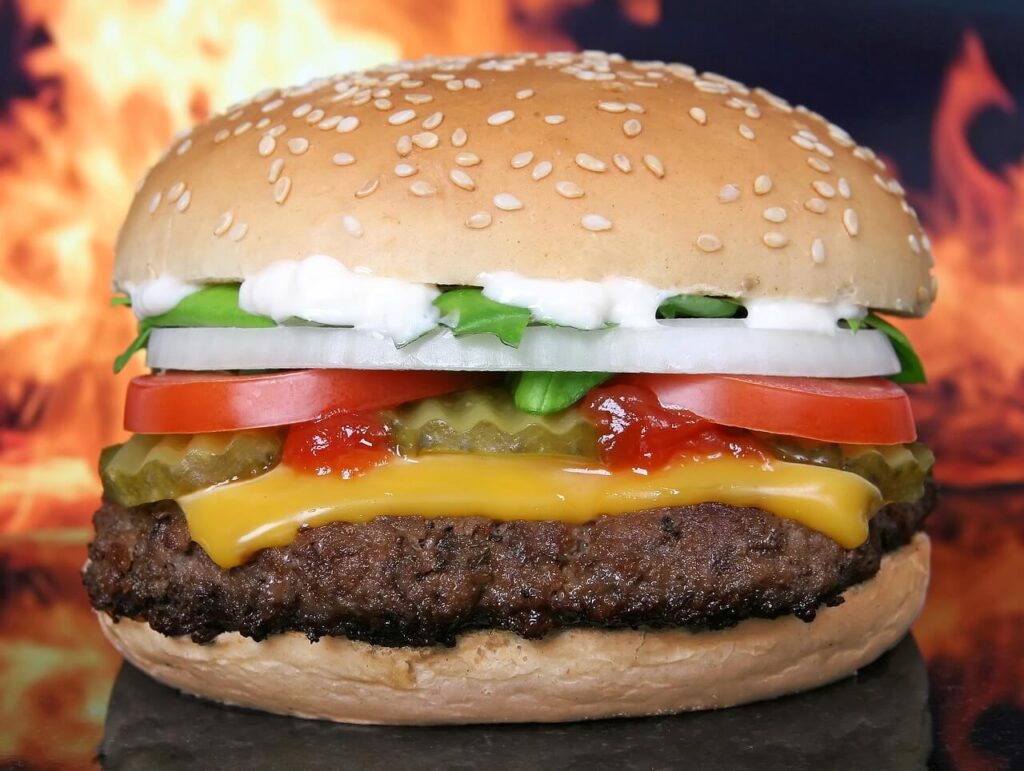 The popular Hayward restaurant Val's Burgers offers traditional American fare in a diner-style setting that is the ideal complement to the menu, which features enormous burgers and vintage milkshakes.
The extensive menu at Val's Burgers features hot dogs, fish and chips, salads, fries, onion rings, milkshakes, and hamburgers. The diner's burgers, though, are unquestionably its specialty.
The Baby Burger, which weighs one-third of a pound, the Mama Burger, which weighs half a pound, and the big Papa Burger, which contains a whole pound of beef, are available to customers at the cash-only restaurant.
Address: 2115 Kelly St, Hayward, CA 94541, United States
#15. San Leandro
The neighborhood of San Leandro is located on the northern side of Hayward and dates back to 1872. A large portion of the community was built around the bayfront oyster beds, which at their peak, supported the largest oyster fishery in the Americas.
In the 20th century, the oceans were too polluted to support healthy oyster populations, and the industry declined. The oyster industry declined in the 20th century as the waters became too dirty to support healthy oysters. The location of the oyster beds is now preserved as a historical landmark in California.
This neighborhood is the home of the Casa Peralta mansion, built in the early 20th century in the colonial style and preserved by the city as a museum, which is also historically significant. It is a classy homage to California's Latino heritage.
#16. Hayward Flight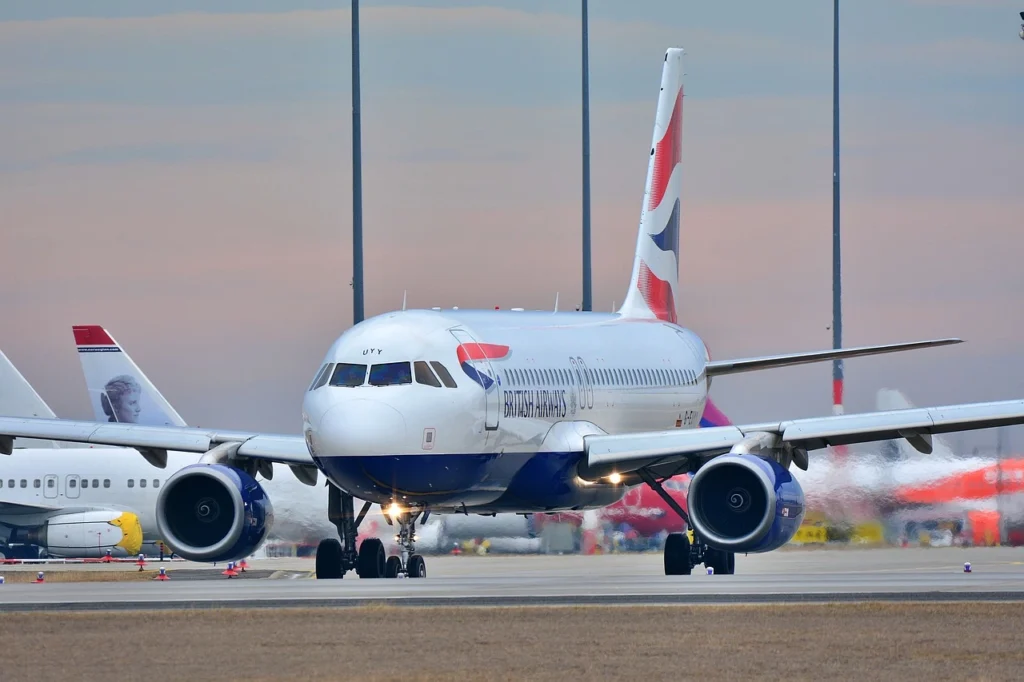 Hayward Flight is the main source of aviation services in Hayward, a company located near San Francisco Bay.
The aviation services provider runs its operations with an emphasis on adaptability, ease, and dependability. The San Francisco Bay area, where it is located, is one of the most sought-after places in the nation to fly, with its gorgeous surroundings and distinctive attractiveness.
Flying with Hayward flight is awesome; the Hayward Flight's crew, welcoming environment, and well-kept fleet complete every flight. They offer a practical, adaptable, and secure training facility.
Travelling around California? Take a look at some of the best things to do in Fresno (California), Bakersfield (California), and Fun things to do in Southern California When Relocating.
#17. Fremont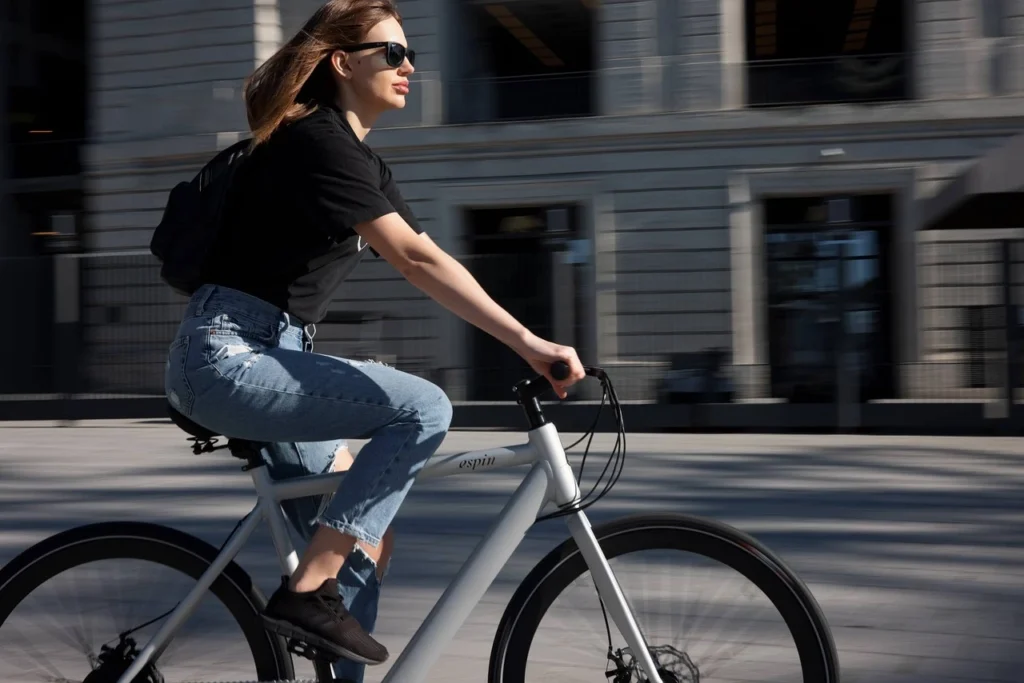 This neighborhood to the south preserves a little portion of early California. The state is home to several Catholic structures, including the Mission San Jose.
This church was built in 1797, and even though an earthquake in the 1800s damaged it, it was painstakingly rebuilt.
The Ardenwood Historic Farm offers a distinct form of time travel. The same crops are still sown and harvested on this functioning farm in the same way they were more than a century ago.
#18. Orangetheory Fitness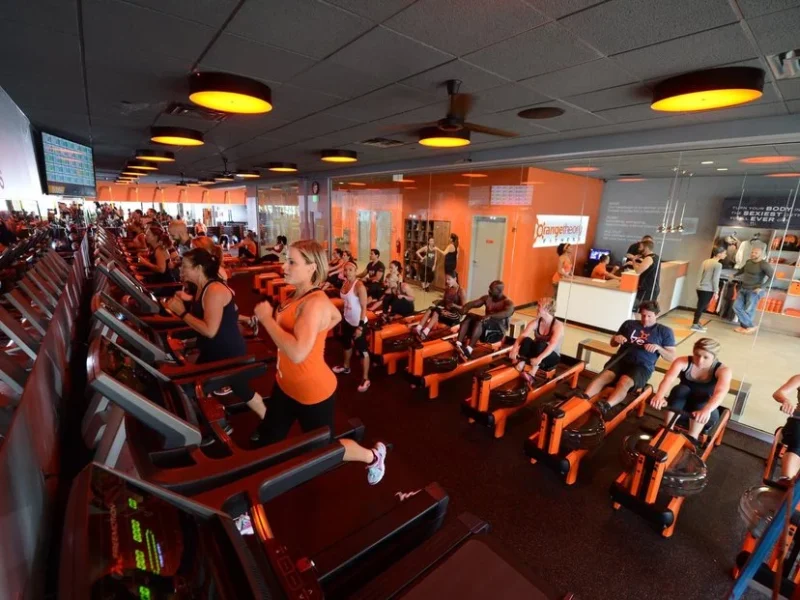 Hayward is a city in the San Francisco Bay Area. And when it comes to fitness, they know how to get it done. You can find everything from CrossFit and cycling classes to hot yoga and dance fitness classes.
One of the most popular fitness studios is Orangetheory Fitness, where you'll complete a 45-minute workout where the goal is to improve your aerobic capacity, strength, endurance, and flexibility by working at 85% of your heart rate reserve (max heart rate minus resting heart rate).
The studio offers treadmills, rowing machines, and stationary bikes for an intense cardio workout. If you're looking for something more mellow, check out one of their 10-minute abs classes or self-paced circuit training. Want to tone up? Try boot camp or kettlebells.
It's also great because there's no impact on the joints, and anyone can participate. As if that wasn't enough, they offer unlimited classes, which makes it easy on your budget too! It's all about getting outside yourself with this fitness routine; sign up for a class today, so you don't miss out!
Address: 28541 Hesperian Blvd, Hayward, CA 94545, United States
#19. Napa Valley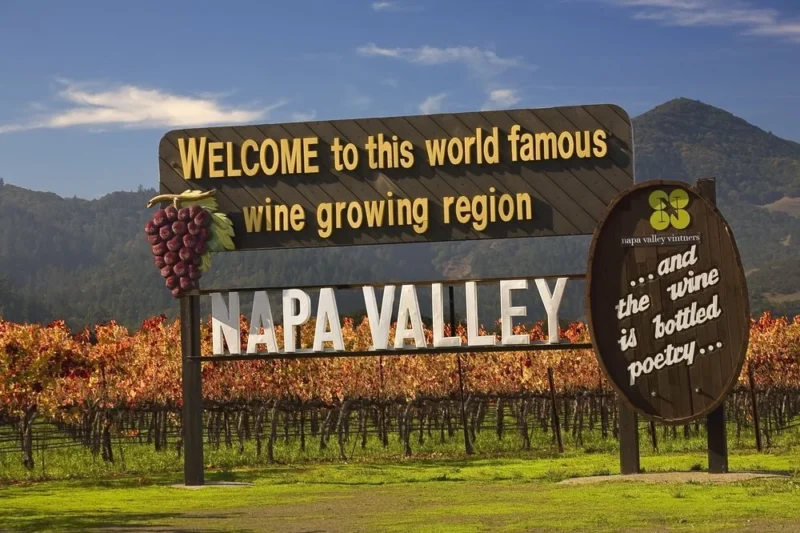 The best wine region in America lies north of the Bay Area. The climate of Napa Valley, which is home to more than 400 wineries, is a lot like that of the Mediterranean regions of Europe.
Of course, the environment is stunning, with vine-covered hillsides and valleys shrouded in stone and rustic barns that serve as home to farm vineyards.
Napa Valley is known for its award-winning wines, which have helped to create a culture that appreciates the finer things in life. Since good wine must be paired with good food, the dining scene is fantastic. There are excellent golf courses, spas, and numerous opportunities to travel and enjoy the picturesque countryside.
#20. Oakland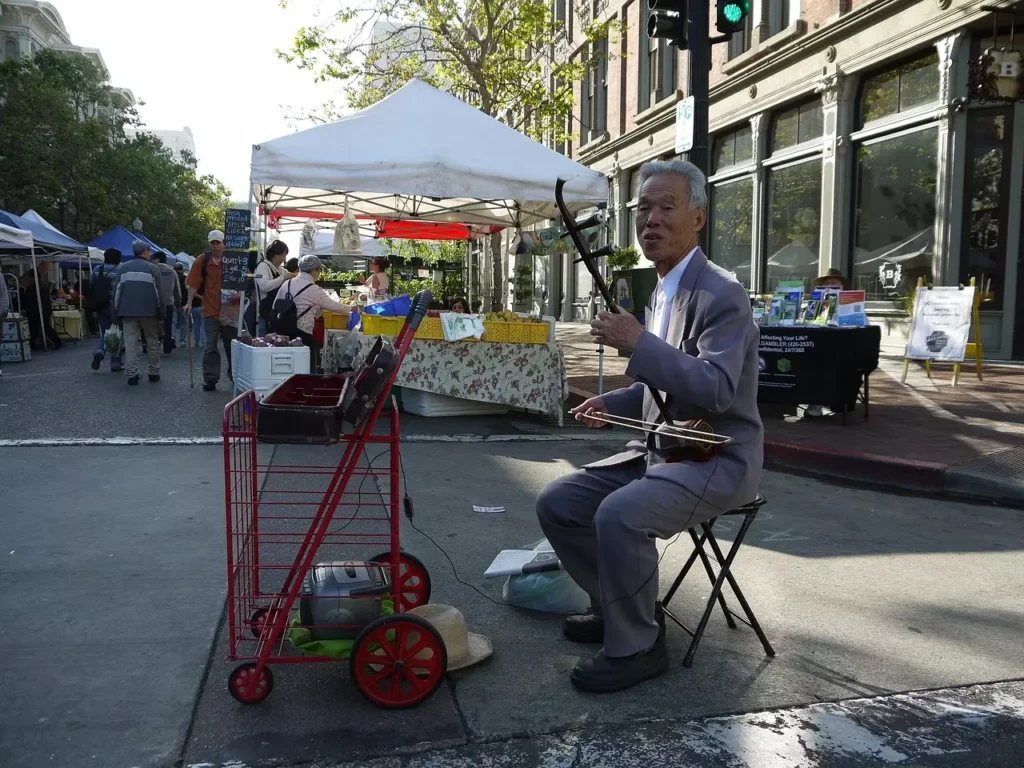 Oakland neighborhood has undergone a significant modification recently and has gained popularity as San Francisco's seedy neighbor.
You should visit this neighborhood and check out its wonderful food. Oakland has always been very diverse, and if you go downtown, you'll be amazed by how many different kinds of food you can find. Restaurants serving Cantonese, Vietnamese, Indian, Cambodian, and other Asian cuisines excite the palate.
Visit Jack London Square, which bears the author's name and is located in the center of the city's wharf district, for a glimpse at Oakland's maritime past.
#21. Berkeley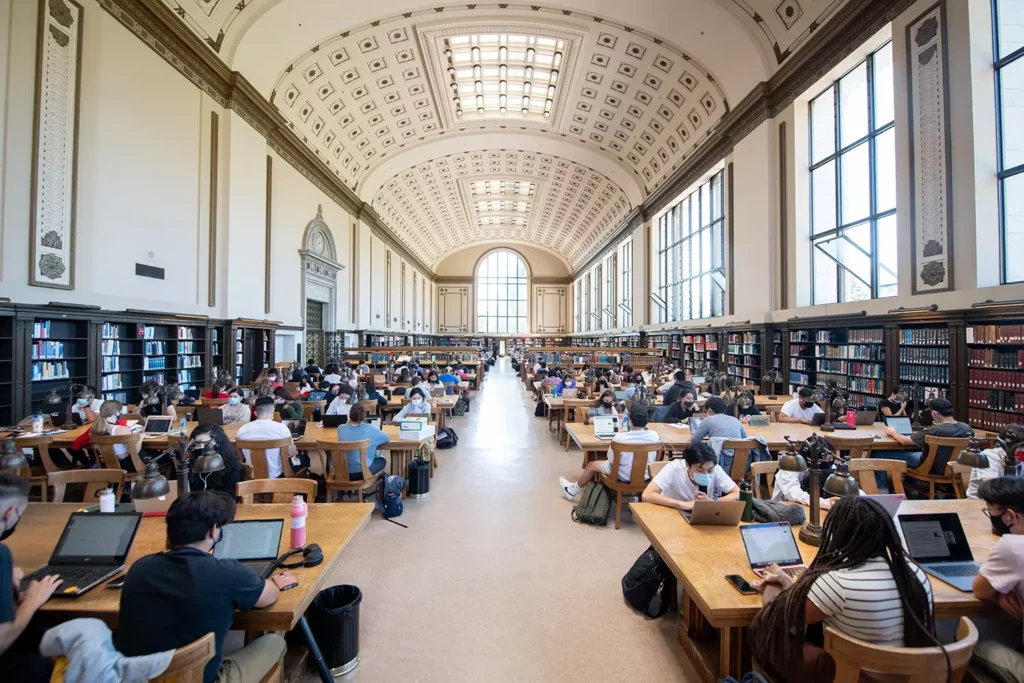 This neighborhood is famous for its institutions and can be found on the Bay's east side, just a few miles past Oakland. This organization is responsible for several of the city's prominent attractions.
The 34-acre University of California Botanical Garden is one of the country's most diversified plant collections, as an illustration. Over 12,000 plant species are displayed in the gardens arranged by geographic region.
Berkeley is home to some of the best restaurants in the country. The internationally renowned Chez Panisse was founded here in 1971. Chez Panisse's 1971 opening sparked a culinary tradition that emphasizes the freshness and origin of ingredients.
Address: Berkeley Rd Hayward, CA 94544, USA
#22. San Jose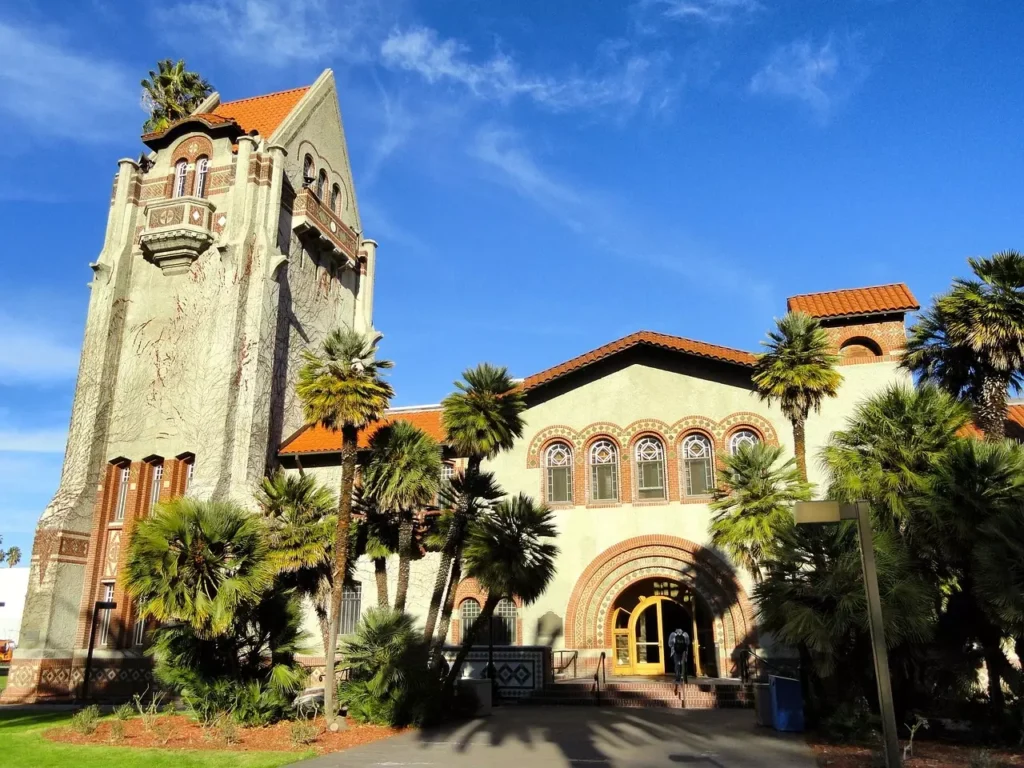 San Jose is one of the richest and most expensive cities in America because it is home to a significant portion of Silicon Valley.
Visit the fantastic farmer's market on Fridays and Saturdays, and any day of the week is a terrific time to visit Japan Town, which features top-notch restaurants.
Residents of San Jose like Santana Row, a high-end shopping area with European-style restaurants and shops owned by locals. Visit the interactive Tech Museum of Innovation to see examples of how technology is used in daily life for a final dose of edutainment.
#23. Hands of Healing Wellness Studio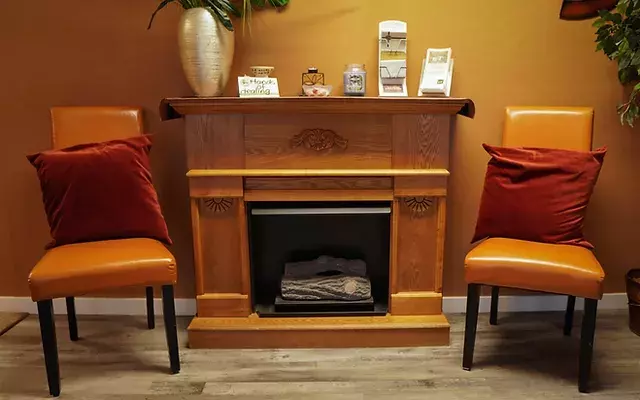 Our first recommendation is Hands of Healing Wellness Studio. If you're looking for a place to feel at peace and get your mind, body, and soul back on track, this is the place.
They offer yoga classes, massage therapy, acupuncture, and more. We recommend making an appointment with them today to see how they can help.
If you are trying to find relief from pain or other ailments, their services may be just what you need. With such a range of treatments available, there is sure to be something for everyone.
Address: 295 W Winton Ave, Hayward, CA 94544, United States
Time to spare? Why not check out the best things to do in Salem (Oregon), Pullman (Washington), Galveston (Texas), and Garden City (Kansas).
#24. Cannery Park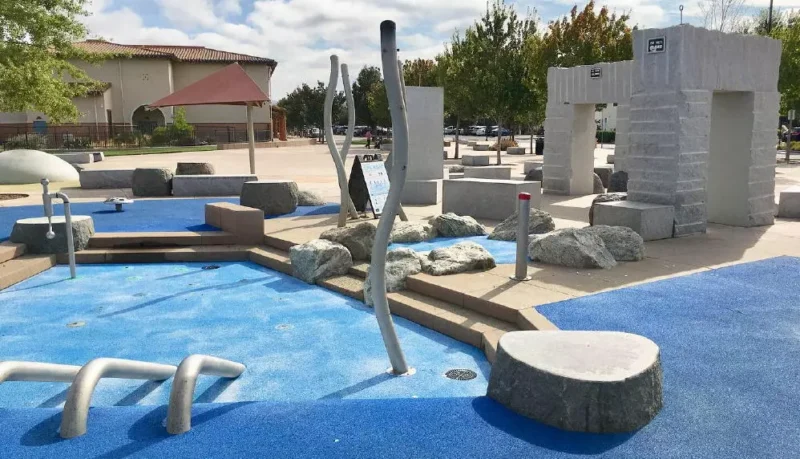 Hayward is great for those seeking family-friendly activities, outdoor adventures, and even some culture. The city has some parks worth visiting, including Cannery Park.
This park is often filled with people playing on the grassy fields or watching the ducks waddle around the pond. There are also plenty of benches available for a relaxing picnic lunch and a playground with plenty of fun features for kids of all ages.
At the entrance to Cannery Park, there is also a statue honoring one of Hayward's most famous residents, Nobel Prize winner Dr. Linus Pauling.
This serene park is ideal for anyone looking to get away from it all but still be close enough to explore downtown and the city's rest. It's perfect for families who need a break from their busy schedules and offers a tranquil oasis right next to the hustle and bustle of life.
Address: 125 B St, Hayward, CA 94541, United States
#25. San Felipe Community Park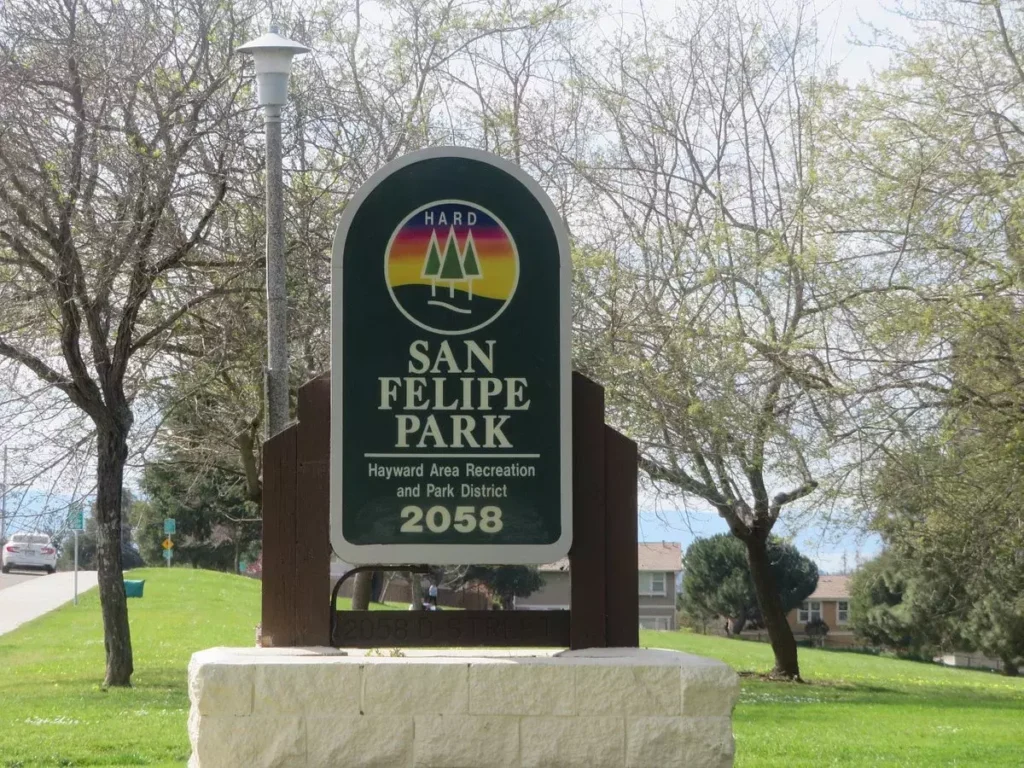 The park offers an open space for walking, jogging, picnicking, and playing. The entrance from San Felipe is on the north side of the park. There are two parking areas – one for horse trailers and a second for cars. The entrance from Foothill Road is on the south side of the park.
This area has a parking lot with room for about 10 cars and provides access to trails into natural areas along Coyote Creek. There is also a canoe launch site on this side of the park, but water levels must be relatively high before use because it's located below the creek level.
This park is full of life, with various animals, including peacocks, chickens, ducks, rabbits, and more. The kids enjoy feeding the animals and playing on the playgrounds. There's also a small beach where we can have picnics and go boating.
Address: 2058 D St, Hayward, CA 94541, United States
What is Hayward CA known for?
Over the years, the Hayward area became known as the heart of the garden of Eden thanks to its fertile soil and temperate climate.
Hayward is an industrial city with a population of just over 80,000 people. It's one of the US's largest cities by land area and has been a hub for manufacturing since the mid-1800s.
There are more than 3,000 businesses headquartered here, but it's not all about business. You'll find some interesting history and culture here too.
Is Hayward a nice city?
Hayward is a nice city. It has a lot of places to eat, coffee shops, and other stores. There are also many parks that people can visit.
The city is home to many different cultures and ethnicities, which makes it easy for people from all over the world to find something they're looking for.
What is the weather Condition In Hayward?
Hayward is a city where the weather is great year-round, with mild temperatures and plenty of sunshine.
The average high temperature during winter ranges from 45 degrees Fahrenheit to 65 degrees Fahrenheit and the average low temperature during winter ranges from 35 degrees Fahrenheit to 55 degrees Fahrenheit.
Hayward's climate is moderate all around, with some yearly precipitation.
Plan Your Trip to Hayward California
Visit Hayward and take advantage of everything it has to offer. Immerse yourself in the history and culture of Hayward to escape the grind and hassle of California.
Everyone may find an activity they enjoy in Hayward, from visiting the gardens and art galleries to going on hikes and dining at regional restaurants.
Enjoy your time in Hayward, and use this list as a guide for your upcoming trip here.
Disclaimer: Vasttourist always strives for content accuracy. Since the time of publishing, travel-related information regarding pricing, schedules, and hours may have changed. Please see individual websites embedded in this post for the most current trip-planning information.

Unless otherwise stated, Vasttourist does not claim ownership of any images used on our blog site. The respectful owners of all visual content have copyright protection. We try to include links to the sources. If any images are your property and you do not want them to appear on our blog, don't hesitate to contact us; we will take them down immediately. We support properly crediting the original writer, artist, or photographer.