Top 15 Best Restaurants In Fresno California
Are you looking for the best restaurants in Fresno California? Fresno, California, is a paradise for foodies. It has a wide range of tasty options for people with different tastes. There are places to eat that serve both traditional American food and authentic food from other countries in the city.
Fresno's restaurants offer various eating options, whether you're searching for a quick lunch or a fancy dining experience. 
These restaurants offer a unique way to eat that you won't find anywhere else. They range from farm-to-table places that use local ingredients to family-run businesses serving classic dishes for decades.
This post will help you discover some new favorite restaurants in Fresno and inspire you to explore the city's diverse culinary scene. So, without further ado, let's dive in and explore the 15 best restaurants in Fresno, California!
What are the Best Restaurants In Fresno California?
#1. Mediterranean Grill & Cafe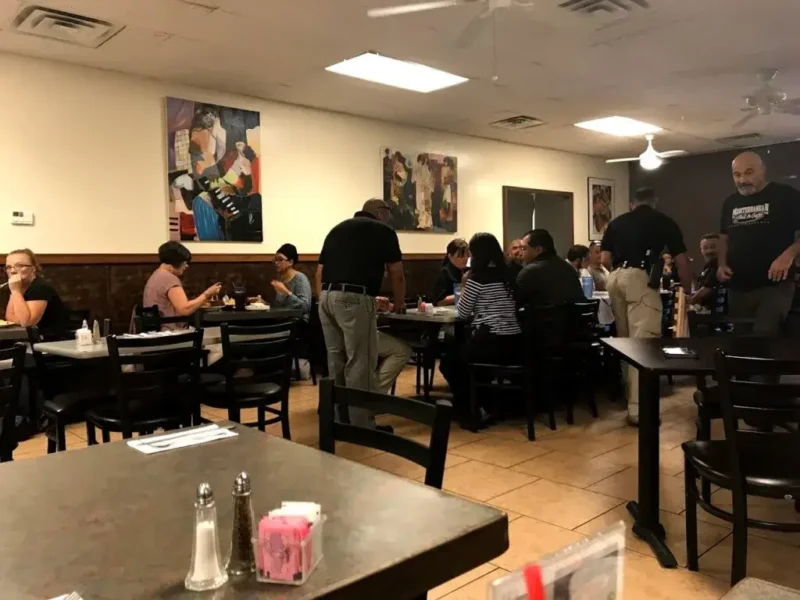 The Mediterranean Grill & Cafe is a well-known, full-service Mediterranean restaurant in Fresno, CA. Consider this restaurant while searching for the top-rated Fresno eateries that offer delectable, authentic Mediterranean cuisine.
It has a lot to offer, such as filling breakfast options, a laid-back ambiance, meals produced with great ingredients, and helpful staff. It is one of the best birthday restaurants in Fresno and provides catering, an outdoor setting, a personalized menu, and other features.
If you're a vegetarian, get the Vegetarian Plate to try one of the restaurant's specialties. It comprises spaghetti, falafel, hummus, tabouli, baba ghanouj, green salad, and stuffed grape leaves. To experience a well-liked dish, pick the Lebanese Chicken and Rice. It also includes a garlic sauce and delicious chicken.
Address: 1031 U St, Fresno, CA 93721, United States
#2. Pismo's Coastal Grill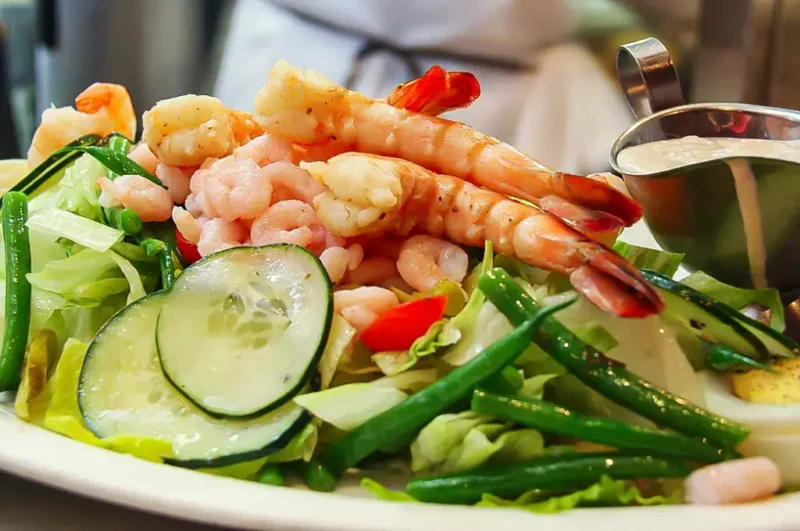 Pismo Coastal Grill is a seafood restaurant in Fresno, CA, established in the Villaggio Shopping Center in 2009. Visit Pismo's Coastal Grill with your friends for the best lunch in Fresno and indulge in delectable cuisine made with the freshest seafood.
This eatery features top-notch meals made with high-quality ingredients, a nautical-themed decor, a fun ambiance, and an on-site market with the freshest vegetables.
Select the Ultimate Combo Louie if you want to sample a delicious salad. It includes jumbo prawns, tomatoes, hard-boiled eggs, green beans, and gherkins.
You should try the special sandwich called the Crab Cake Club. It is a Pismo lemon crab cake topped with avocado, tomatoes, arugula, bacon, and lemon tartar. It also includes Dungeness crab.
Address: 7937 N Blackstone Ave, Fresno, CA 93711, United States
#3. Fresno Fleming's Prime Steakhouse & Wine Bar
Fresno Fleming's Prime Steakhouse & Wine Bar is a posh restaurant in the trendy Fashion Fair mall. Go to this great restaurant in Fresno for a classy night out with your partner, family, or friends.
Here, you can choose from an impressive menu that includes flavor-packed lobster, aged prime beef, fine wine, and handcrafted cocktails. The Double Breast Chicken is a fantastic choice if you prefer poultry-based foods.
It is a roasted, all-natural chicken dish with leeks, mushrooms, and a thyme sauce. The Fresh Fruit & Chantilly Cream dessert is a delicious way to round off your dinner.
With a pistachio tuile and homemade chantilly whipped cream, it combines pineapple, strawberries, and blueberries.
Address: 639 E Shaw Ave #149, Fresno, CA 93710, United States
You like to check out the best places to eat in Fremont (California), Hayward (California), and the Best Restaurants In Scranton (Pennsylvania).
#4. House of JuJu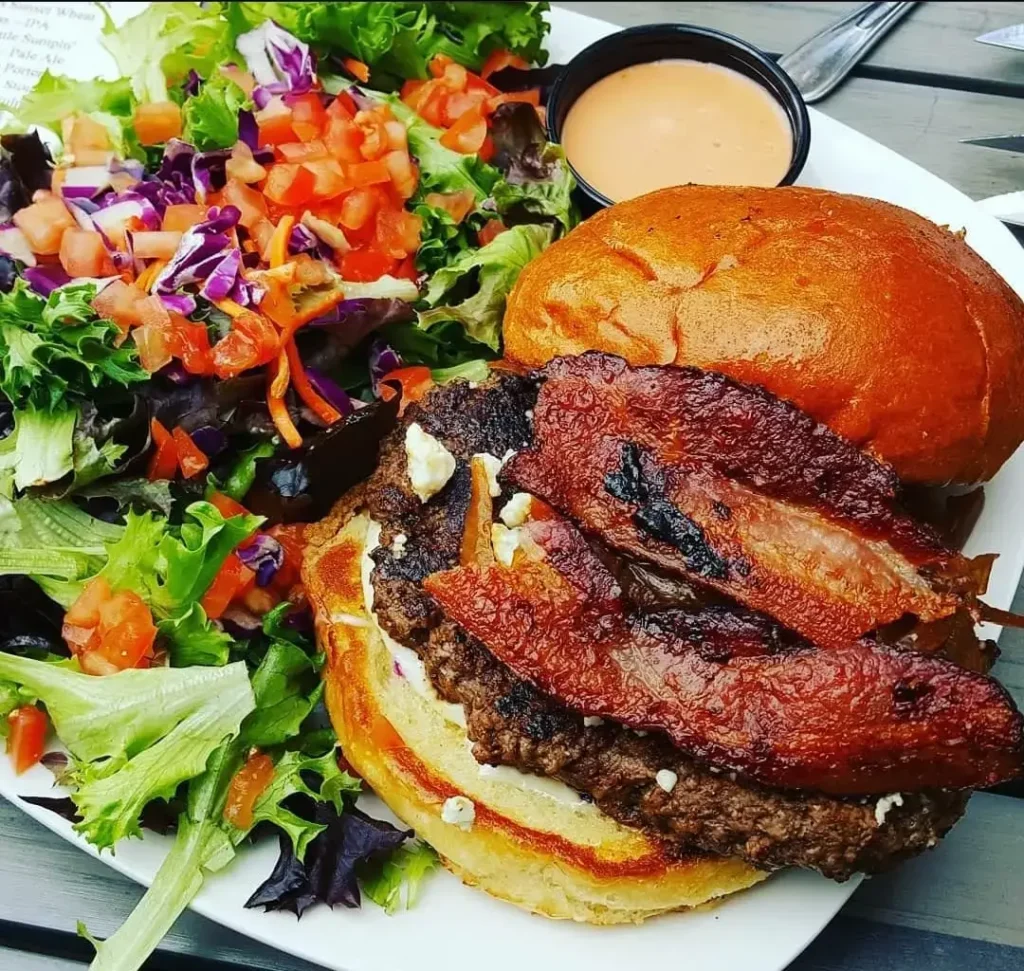 Are you trying to find the most well-known restaurants where you may try upscale burgers? If so, I'd strongly advise dining at the House of JuJu. The House of JuJu, which opened its doors in 2013, is a hamburger eatery located at Centennial Plaza in the nearby city of Clovis.
Would you like to sample one of our specialty hamburgers? I then suggest dialing Calamity Jane. It is a well-known restaurant with options for eating inside or outside, flatbreads made to order, and beautiful views of the outdoors. 
In addition to a sweet and smoky barbecue sauce, it features caramelized onions, crisp applewood smoked bacon, cheddar cheese, and sautéed mushrooms.
If you enjoy hotdogs, try the Jumbo House Chili Dog. A quarter-pound all-beef hot dog with Chef Will's chili on top is served on a lightly toasted bun.
Address: 565 Pollasky Ave #101, Clovis, CA 93612, United States
#5. Westwoods BBQ and Spice Co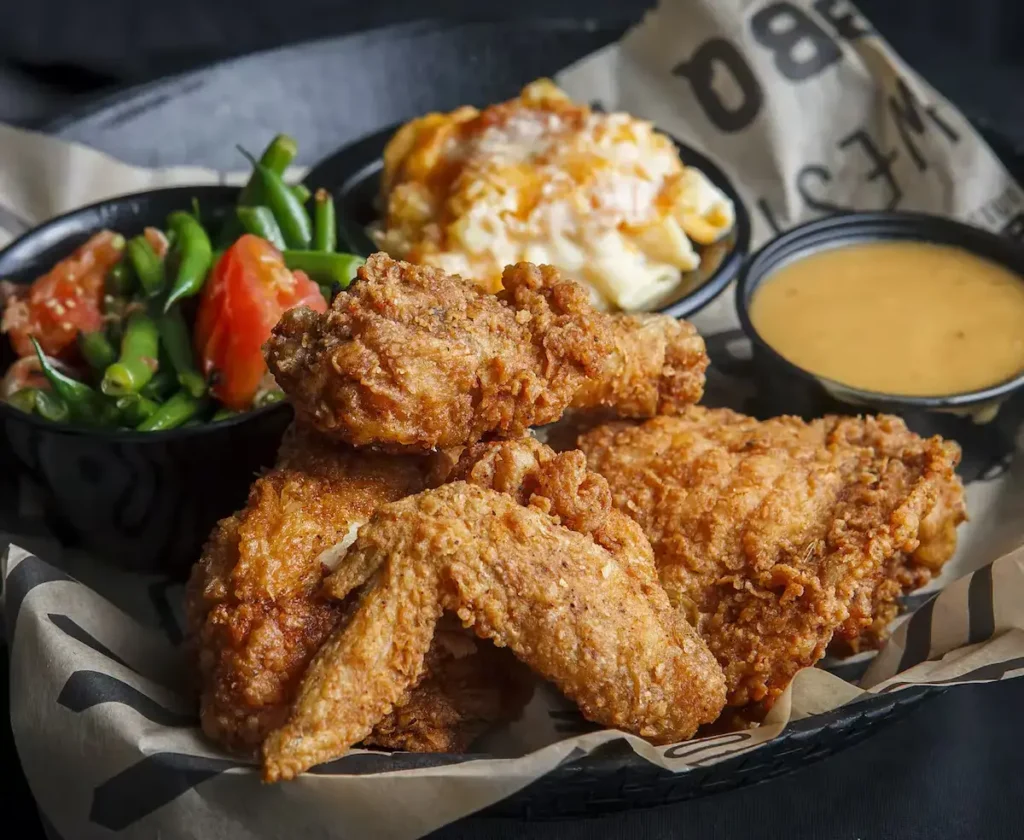 This is a barbecue restaurant called Westwoods BBQ and Spice Co. It debuted at the River Park Shopping Center in 2013 as one of the top restaurants in Fresno.
This outstanding eatery offers various exquisite foods to satisfy every appetite. It provides a relaxed atmosphere, a reclaimed-wood setting, draft microbrews, and locally sourced barbeque cuisine and is close to many stores.
The Feat Platter lets you sample a variety of dishes. It includes the famous tri-tip, baked beans, apple celery slaw, fried chicken strips, house fries, creamed corn, and St.Louis ribs.
Pick up a slice of the Wood-Grilled Meatloaf to try a household favorite. It comes with homemade gravy, fried onions, green beans, and golden mashed potatoes.
Address: 8042 N Blackstone Ave, Fresno, CA 93720, United States
#6. Yosemite Ranch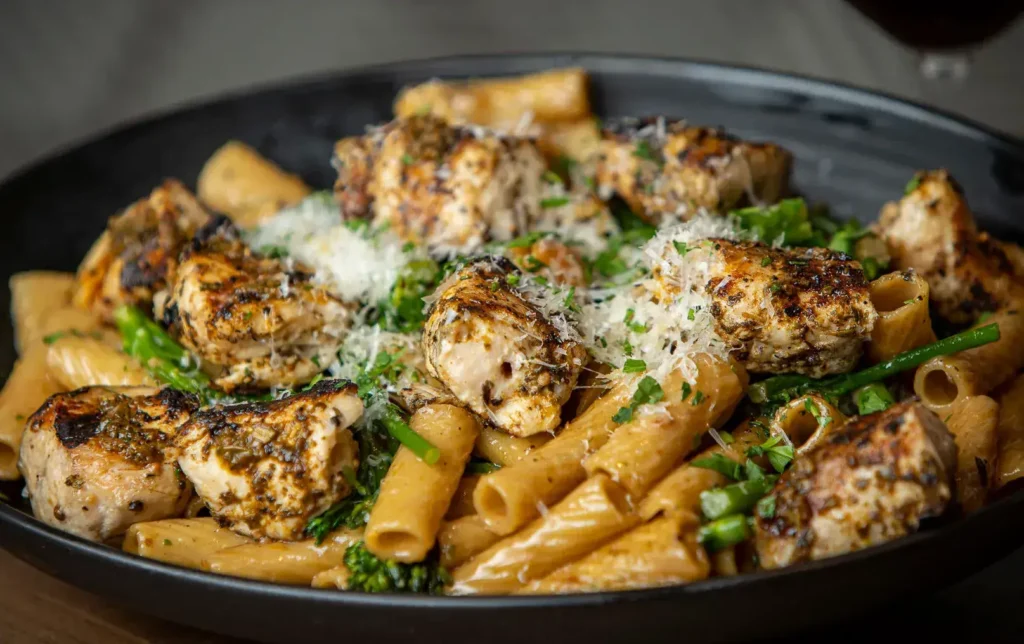 Yosemite is a steakhouse restaurant in the Montana Shopping Center. This is one of the most excellent restaurants in Fresno for dinner.
It features mouthwatering roasted foods, lives music every week, and a laid-back atmosphere. It is the ideal location to savor home-cooked meals, family-friendly dinners, stunning desserts, delectable sushi trays, and much more.
For pasta fans, the braised short-rib spaghetti is an excellent choice. The recipe includes pappardelle, ribs that have been cooked for a long time, whipped Boursin cheese, and roasted vegetables.
I recommend the East Coast swordfish if you enjoy fish. The swordfish is cooked over a wood fire and served with a citrus-caper tartar sauce and a choice of side dishes or a salad.
Address: 1520 E Champlain Dr, Fresno, CA 93720, United States
#7. The Annex Kitchen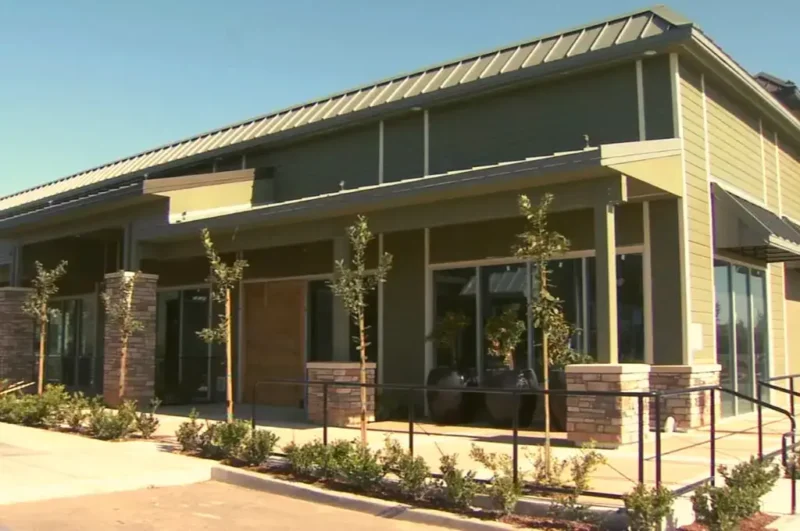 Are you a foodie looking for the best places to eat in Fresno to sate your appetite for real Italian food? The Annex Kitchen is for you. The Kitchen is a new Italian restaurant that opened in Piccadilly Square, a well-known shopping center.
The Annex Kitchen is the ideal location for you in such a case. It has a full-service bar, wood-fired pizzas, house-made pasta, a welcoming staff, and a rustic aesthetic with modern twists.
The Diavola is a superb wood-fired pizza with mozzarella, sausages, a fiery tomato sauce, soppressata, and roasted red peppers, and it's a must-try.
If you're also searching for the ideal juicy beef to enjoy, I recommend the Bistecca Fiorentina. It's a 40oz Brandt Farms porterhouse steak with a salad or two sides.
Address: 2257 W Shaw Ave, Fresno, CA 93711, United States
You don't want to miss out the best places to eat in Beaver Creek (Colorado), Greenville (Texas), Columbus (Mississippi), and the Best Restaurants in Terre Haute (Indiana).
#8. Parma Restaurant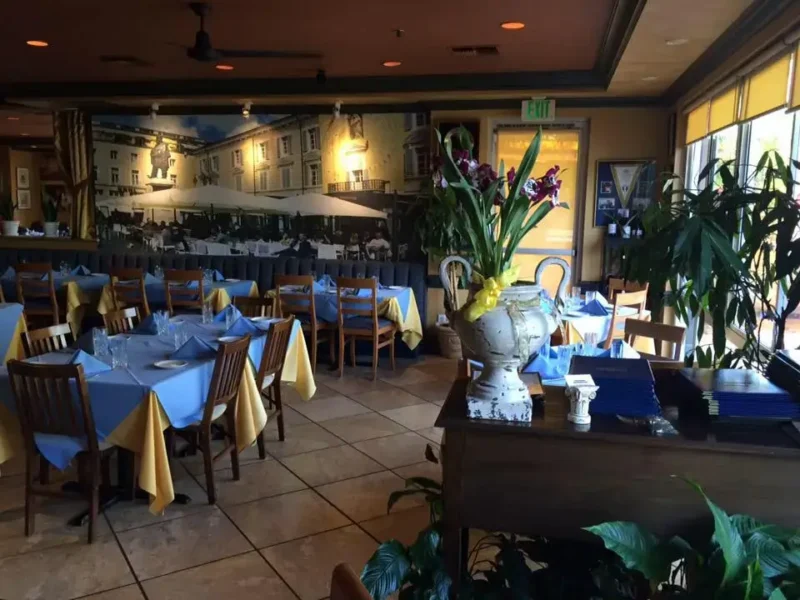 The Parma Restaurant is a top-scale restaurant in Fresno, CA that debuted in the North Point Center in September 1999. This is one to consider if you are looking for the most fabulous Fresno restaurants that serve delicious Italian-inspired food.
Enjoy Italy without leaving the country by taking advantage of its traditional cuisine and welcoming atmosphere. Visit the Fiori di Melanzane to sample a delicious hand-made pasta dish.
It includes pasta shaped like a flower with ghost cheese, roasted eggplant, and fresh tomato sauce inside. Purchase the Tris di Dolce to quench your sweet appetite.
Address: 6729 N Palm Ave # 101, Fresno, CA 93704, United States
#9. Luna Pizzeria & Italian Restaurant
The Luna Pizzeria & Italian Restaurant is a business the same family has run since the late 1960s.
This highly respected restaurant is the finest choice if you're seeking dining establishments in your neighborhood with a welcoming ambiance for families and kid-friendly selections.
This is one of the most well-known and well-loved pizzas. It provides home-style Italian food in family-sized portions, a warm ambiance, and lovely surroundings. It would be best if you tried it out.
Among the components are olives, pepperoni, bell peppers, sausages, anchovies, mushrooms, and onions. Get the Calzone Speciale to sample a savory, delectable calzone.
It has Canadian bacon, beef, bell peppers, onions, cheese, sausages, and mushrooms and is covered with meat sauce.
Address: 349 Pollasky Ave, Clovis, CA 93612, United States
#10. Heirloom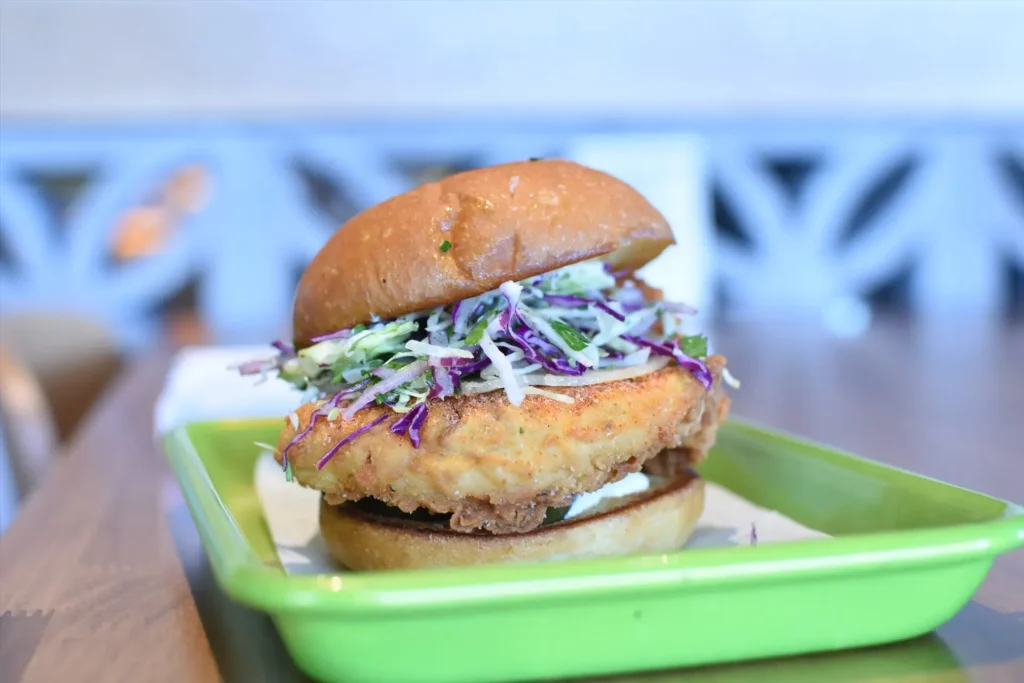 The renowned neighborhood restaurant Heirloom is located in the Park Crossing Shopping Center, close to many well-known tourist sites.
Consider this establishment when searching for the top restaurants in the area to enjoy a delicious lunch with your traveling companions.
This restaurant offers a terrific menu that includes options for vegetarians, gluten-free customers, and people on the keto or Keto diet. Are you gluten-sensitive and following a ketogenic diet?
If so, I recommend giving the keto salad a try. This recipe includes a red wine vinaigrette, wood-grilled tri-tip, broccoli, eggs, avocado, red onions, and blue cheese crumbles. For a delicious dinner, try the Shrimp Teppanyaki Rice.
Heirloom white rice is topped with teppan sauce, bacon, scallions, and crispy shrimp.
Address: 8398 N Fresno St, Fresno, CA 93720, United States
#11. Cajun Crackin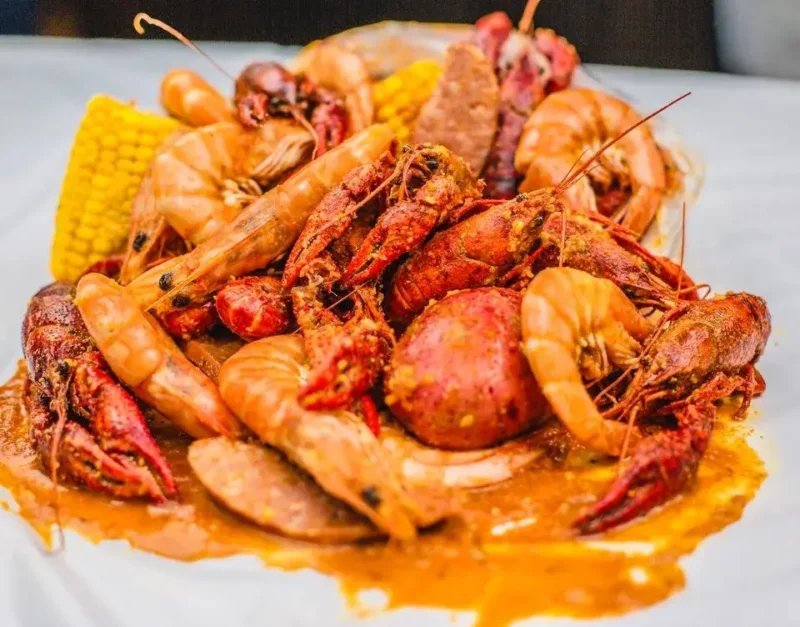 Cajun Crackin is a Cajun restaurant established in 2019 at the Villaggio Shopping Center. Need help deciding where to eat in Fresno so you can try a wide range of delicious foods?
Then consider going to Cajun Crackin with your traveling companions. It has a friendly, laid-back atmosphere, tasty Cajun food, and combo meals that are great for large groups.
Do you want delectable crawfish-based dishes? Try the Fried Shrimp Po'Boy if you are. Six pieces of giant shrimp are deep-fried and served with a unique sauce.
Try a house specialty by ordering the Crack'n Special, which includes four sausages, two corns, two potatoes, one pound of seafood, and snow crab legs.
Address: 7735 N Blackstone Ave #115, Fresno, CA 93720, United States
#12. Slater's 5050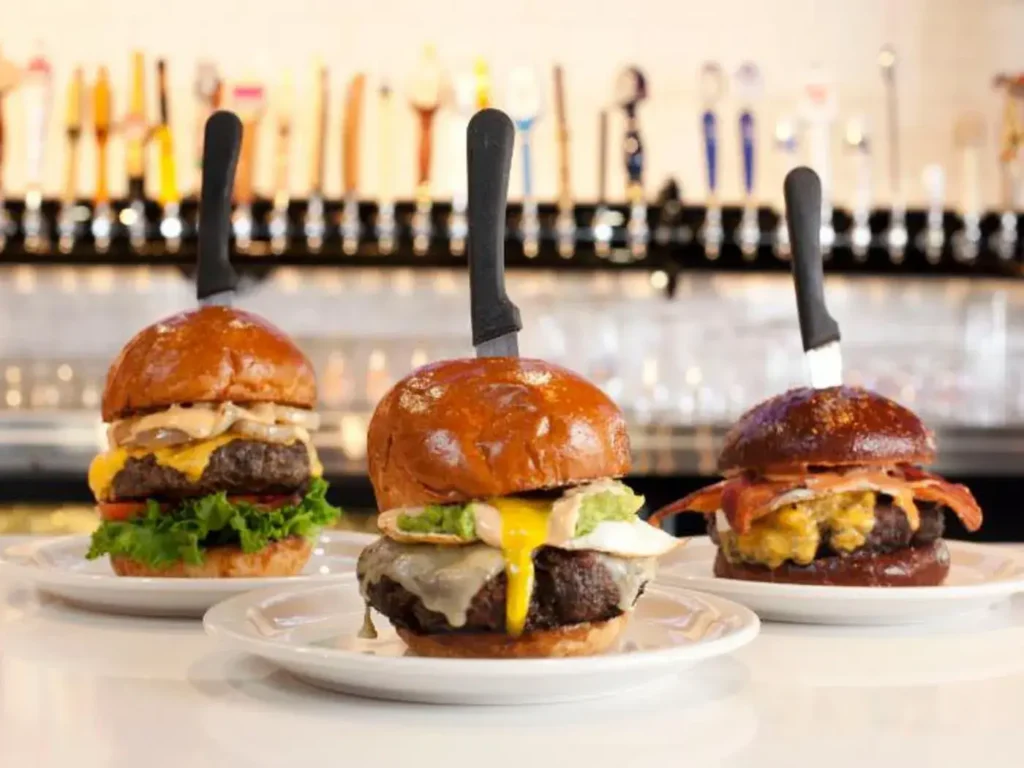 Slater's 5050 is a well-known restaurant located in the Fashion Fair shopping mall, and it first opened in December 2020. Dine at Slater's 5050 with your loved ones, special someone, or friends to sample some of Fresno's best cuisine.
It is well-known for its legendary burgers and serves various mouthwatering dishes, including flatbreads, chicken wings, loaded fries, and tasty wraps. Try a flavorful specialty by ordering Slater's Spaghetti + Bacon Meatballs.
Spaghetti noodles, handmade bacon-beef meatballs, parmesan shavings, and a spicy marinara sauce are all included. Order the Rosemary Turkey burger to experience a unique burger.
It has smoked gouda, pickled red onions, tomatoes, rosemary-parmesan bacon, organic greens, roasted red peppers, garlic aioli, and a honey wheat bun. The turkey is spiced naturally.
Address: 639 E Shaw Ave, Fresno, CA 93710, United States
#13. Sakura Chaya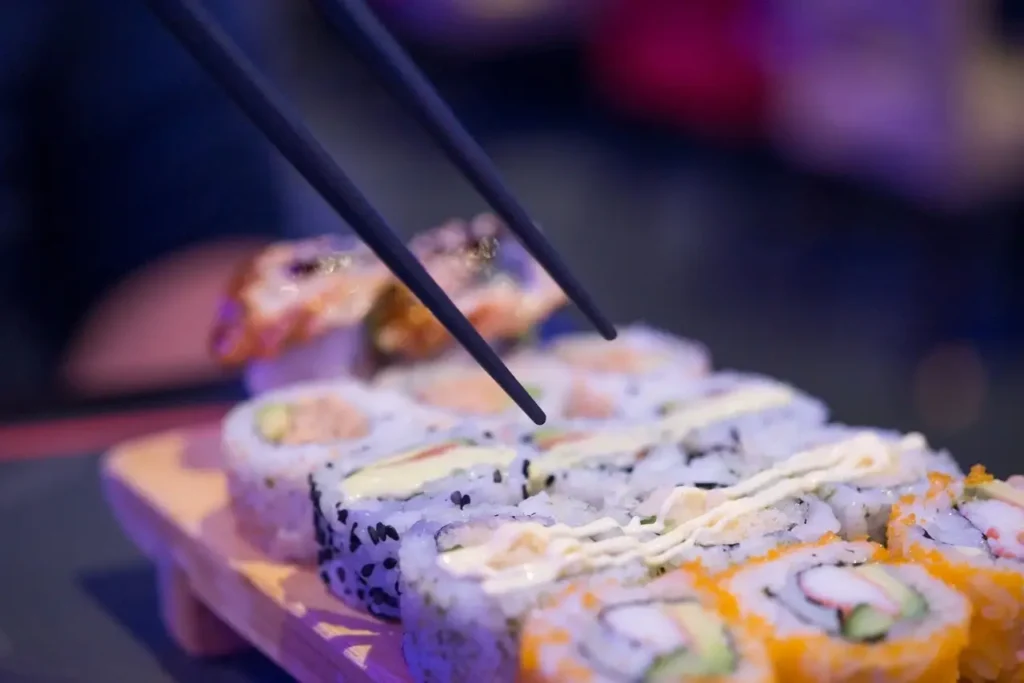 Are you trying to find reputable eateries in Fresno that serve authentic Japanese cuisine? Sakura Chaya is a top-notch restaurant in Fresno, California, serving only real Japanese food. It has great service, a big, nicely decorated interior, a long menu with a lot of food options, and a lively atmosphere.
Try a delicious specialty roll by ordering the Jana Special. Cucumbers, tempura shrimp, asparagus, crabs, spicy tuna, a teriyaki sauce, hot wasabi, tobiko, and cashew nuts are a few of the components.
I suggest the O-Bento Lunch Box Teriyaki Chicken when you go for lunch. A California roll, shumai, and vegetable and shrimp tempura are all included.
Address: 690 E Nees Ave, Fresno, CA 93720, United States
#14. Tandoori Night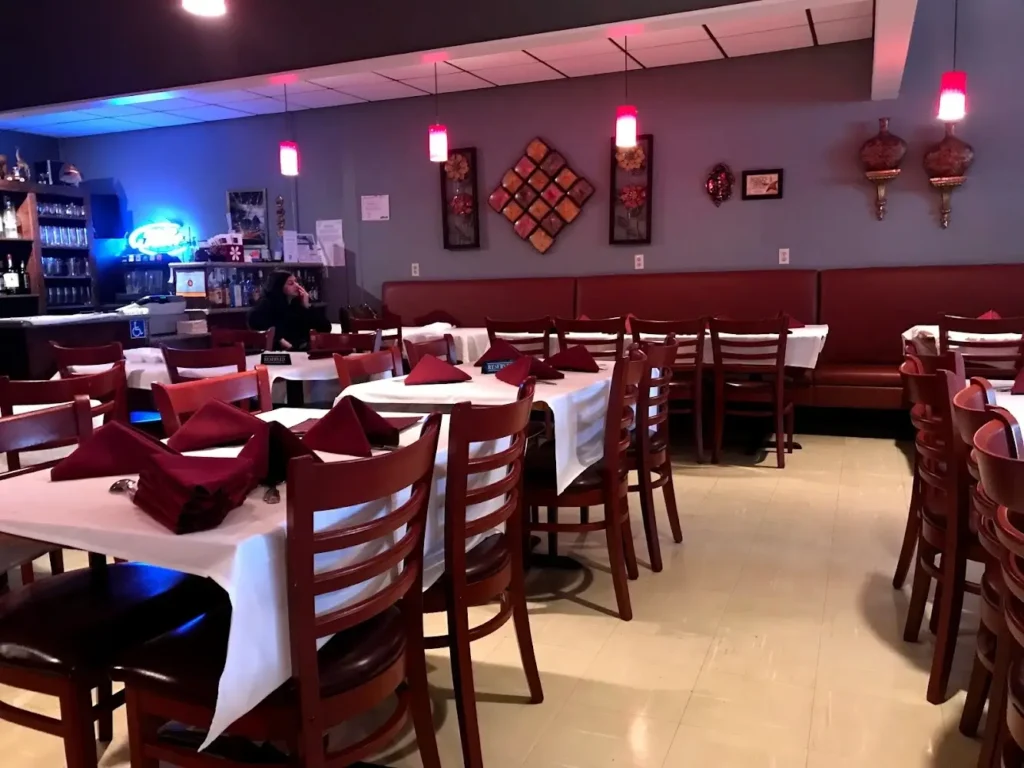 Tandoori Night serves real Indian food. In Fresno, there are many great local eateries and casual places to dine, but Tandoori Night is an excellent option if you want to experience delectable Indian-inspired cuisine.
It has themed furnishings, a full-service bar with a selection of alcoholic beverages, a laid-back atmosphere, vegetarian alternatives, and fine dining selections. Gobhi is the perfect vegetarian dish.
Get the Special Chicken Tikka to try a delicacy from the tandoori cuisine. It is made out of potatoes and cauliflower that have been spice-cooked. There is chicken that has been marinated in things like garlic, tandoori masala, jeera, lemon juice, and other things.
Address: 6751 N Blackstone Ave, Fresno, CA 93710, United States
#15. Phoenician Garden Mediterranean Bar and Grill
The Phoenician Garden Mediterranean Bar and Grill is one of Fresno's most fantastic restaurants and a great place to catch up with fellow travelers over delectable cuisine.
The interior of this fantastic restaurant is brightly adorned, the atmosphere is welcoming, the staff is helpful, and the menu features a variety of delectable items.
Consider ordering the Beef & Lamb Gyros Wrap for a delectable brunch option. It has beef or lamb, onions, tomatoes, rice pilaf, fattoush salad, and tzatziki sauce wrapped in Greek pita bread. Try the Cashew Honey Chicken Salad for dinner.
Address: 1025 E Herndon Ave #106, Fresno, CA 93720, United States
Time to spare? Why not check out the best restaurants in Galveston (Texas), Montclair (New Jersey), and Orem (Utah).
Enjoy Your Meal At Fresno California Restaurants
This is our complete list of the 15 Best restaurants in Fresno, CA. Do well to put any of these restaurants on your bucket list while preparing to travel to the city.
You can also bring your family or loved ones with you because aside from its fantastic dining experience, there are many other fun things to do in the city.
But since our main focus in this article is the best to dine in, you can bring yourself, your family, or a loved one here for an unforgettable dining experience.
Stay blessed.
Disclaimer: Vasttourist always strives for content accuracy. Since the time of publishing, travel-related information regarding pricing, schedules, and hours may have changed. Please see individual websites embedded in this post for the most current trip-planning information.

Unless otherwise stated, Vasttourist does not claim ownership of any images used on our blog site. The respectful owners of all visual content have copyright protection. We try to include links to the sources. If any images are your property and you do not want them to appear on our blog, don't hesitate to contact us; we will take them down immediately. We support properly crediting the original writer, artist, or photographer.