Top 15 Best Restaurants in Windsor (Ontario Canada)
Restaurants in Windsor, Ontario, are the best for classic and luxurious restaurants. In addition to this amazing feature, Windsor also boasts a variety of culinary traditions, crossing Asian and European cuisine.
There's a long list of restaurants in Windsor that offers the best services, and knowing which to go to can be difficult, considering the large number of restaurants in Windsor, Ontario.
But you do not have to worry, as this article covers Windsor, Ontario's top 15 finest restaurants. To learn more about this restaurant, read on.
You can check out the best things to do in Windsor Ontario Canada here.
Best Restaurants in Windsor, Ontario, Canada
#1. Bacchus Ristorante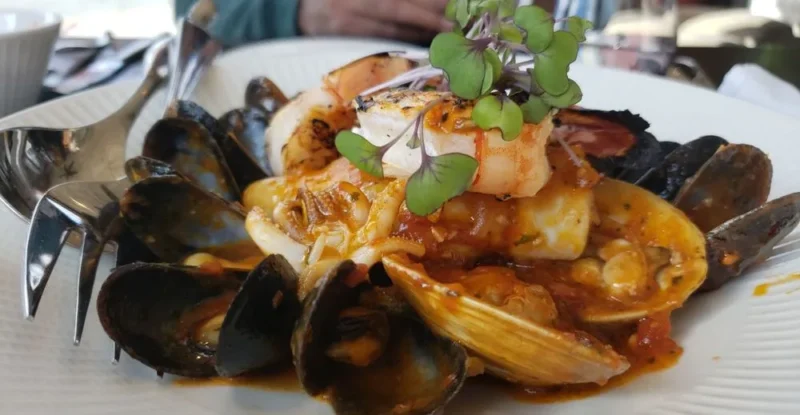 Bacchus Ristorante is the first restaurant on our list of the best restaurants in Windsor, Ontario, Canada. His restaurant is one of the best spots in Windsor for amazing Italian cuisine. They offer trendy dining seating with a warm atmosphere and an intimate setting.
The dining space is meticulously organized and combines classic and contemporary designs. The restaurant also features an elevated menu covering Italian classics such as Caesar salad, bruschetta flatbread, grilled calamari, chicken parmesan, veal scaloppini, and salmon.
They also serve tasty seafood specialties, best beef cuts, savory pasta, epic desserts, and an amazing coffee selection. When it comes to drinks, wine is their specialty. They offer the finest selection of wine you can find around town. You'd experience passionate culinary service with innovative recipes and amazing flavors.
They take care of any diet issues relating to allergies or dietary restrictions. All you need to do is inform the before making an order.
Bacchus Ristorante is proud to offer customers the best dining experience, as they serve delicious dishes and high-quality service. So if you are looking for the finest dining location, you should head to Bacchus Ristorante.
Address: 614 Erie St E, Windsor, ON N9A 3X9, Canada
#2. The Keg Steakhouse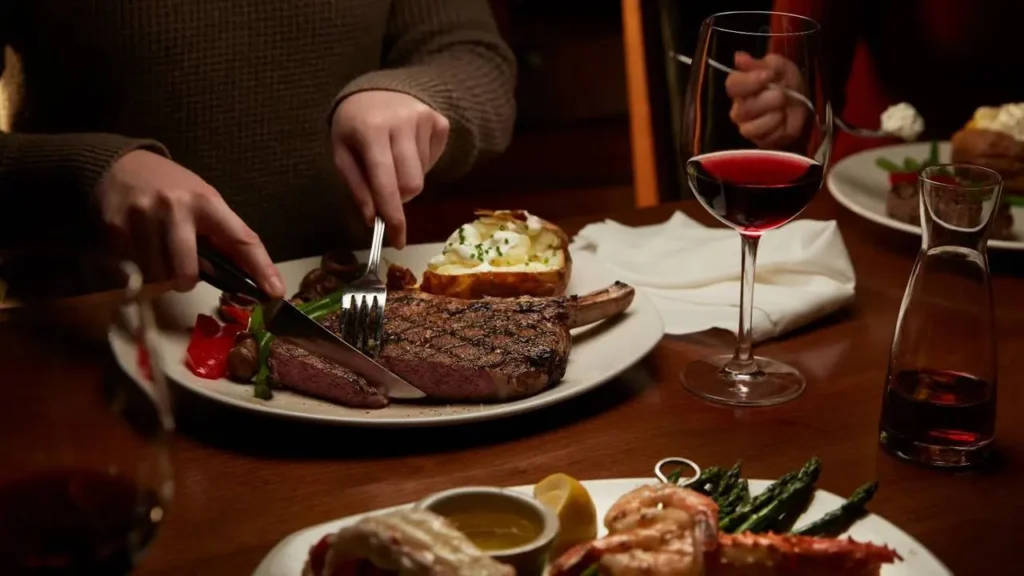 Another great restaurant that I highly recommend is The Keg Steakhouse. It would help if you came by for amazing steak and seafood dishes. It is also known as the best steak house in Windsor, Ontario.
The Keg Steakhouse features a stylish yet casual restaurant where you can enjoy delicious prime ribs, steak, seafood, grilled options, and snacks. They also serve amazing desserts, and I recommend trying their Billy Miner Pie, which is delicious.
Some popular dishes you might want to try include three cheese potato, 14oz steak and lobster tail with twice baked potato, 14oz prime ribs, fried calamari, and escargot. Wine is something you wouldn't want to miss at The Keg Steakhouse.
They offer varieties of wines covering the finest local and international brews. You'd find something unique to pair with your food, and if you can't make a choice, the staff will be glad to find a perfect match for you. Special diet provision for vegetarian and vegan is available.
They also offer gluten-free options. The restaurant is upmarket, and the place is attractively designed and has classic décor. It's a great pick for romantic dates and special meetings.
Address: 1 Riverside Dr W Suite 101, Windsor, ON N9A 5K3, Canada
#3. Uptown Restaurant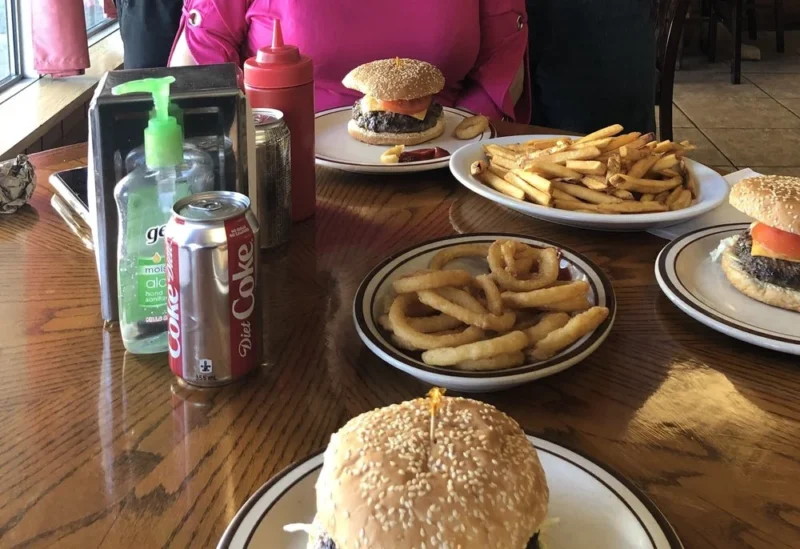 This restaurant is best for simple breakfast and lunch treats in cozy dining seating. The dining space is friendly and comfortable. The staff are great at their jobs and are very polite. The atmosphere is great and has a casual setting. 
The Uptown meals are authentic and always fresh. Their breakfast dishes dang from omelets, two egg breakfasts, toast, seasoned home fries, breakfast wraps, skillets, bacon, and others. 
The lunch menu covers burgers, steak, fries, coleslaw, sandwiches, vegetarian plates, chicken plates, and beef plates. They serve a fine selection of coffee and tea, and their specialty coffee is just the best. Beverages such as bottled juices, wine, beer, and a cocktail are also available.
Address: 521 Tecumseh Rd E, Windsor, ON N8X 2S1, Canada
#4. The Cook's Shop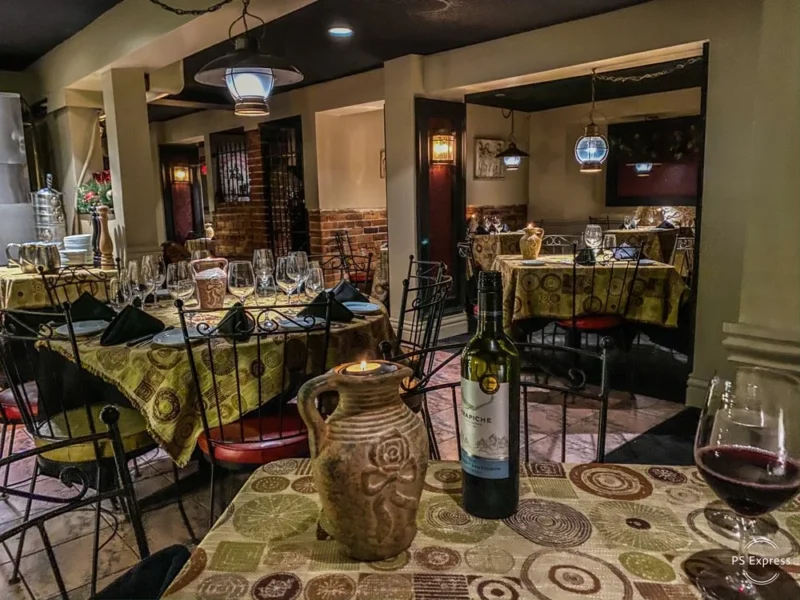 The Cook's Shop is on our list of best restaurants in Windsor, ON, due to its special skills in preparing traditional Italian pasta and other entrees. 
They offer an intimate setting, engaging atmosphere, and elegant dining space. The service here is top-notch, and the food covers a good selection of delicious meals. Popular dishes such as Caesar salad, Tiramisu, lamb chops, spaghetti carbonara, gnocchi, and steak Diane are the popular dishes in this restaurant. 
There are so many other delicious dishes you could try. You can try something new, and even if you are hot into Italian cuisine, you will find their food delightful.
Address: 683 Ouellette Ave, Windsor, ON N9A 4J4, Canada
You can check out the best restaurants in Clermont Florida, Lake Jackson Texas, Aberfeldy Perthshire, and Little Rock Arkansas.
#5. Toast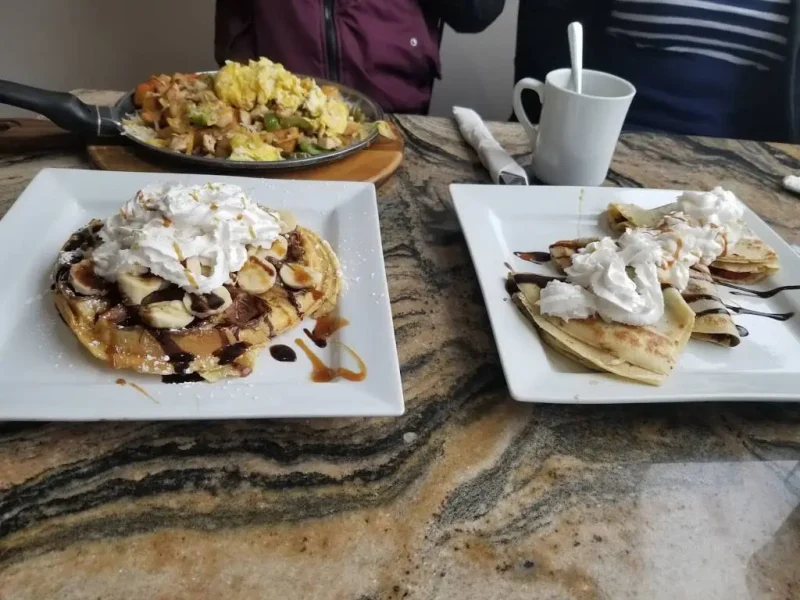 Toast is the best breakfast in Windsor, Ontario. I'm sure you do not want to miss it. At Toast, they offer you the best breakfast treats, including benedicts, omelets, skillets, and sweet specialties. You can go for sandwiches, burgers, salads, or soups for lunch.
The environment is homely and unpretentious. Their service is really fast, and you can come in for dibs in, takeout, or go for delivery. Vegetarian and gluten-free options are also available. It's an ideal place to come for a quick bite.
Coming around won't be a problem, as they have a kid-friendly menu. I recommend you try eggs, French fries, fruit crepes, Benedict, pineapple yogurt boat, and red velvet pancakes.
Address: 653 Erie St E, Windsor, ON N9A 3Y1, Canada
#6. Eddy's Mediterranean Bistro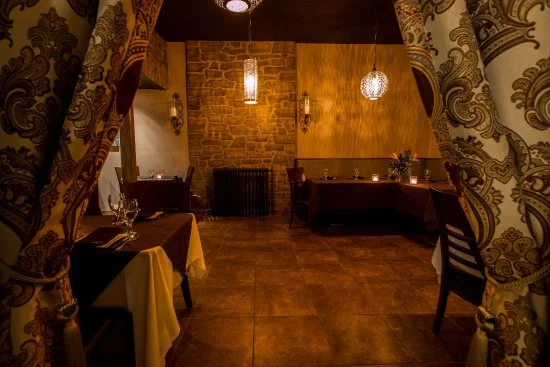 Eddy's Mediterranean Bistro is another nice Lebanese restaurant in Windsor you should try. The restaurant has an elegant ambiance, music, and well-lit dining space. 
They offer you a memorable dining experience, which makes it a must-visit restaurant. They serve customized Lebanese dishes prepared in home style. Everything is perfectly cooked, from appetizers and salads to the main course and amazing desserts to suit your taste and satisfy your cravings.
The restaurant is family-owned and has its customers as its primary priority. They offer dine-in, takeaway, and delivery and are available for only lunch and dinner. You'd also enjoy services such as waiter service and catering. Eddy's Mediterranean restaurant offers Halal food, coffee, quick bites, and healthy food.
Address: 420 Tecumseh Rd E, Windsor, ON N8X 2R6, Canada
#7. Thyme Kitchen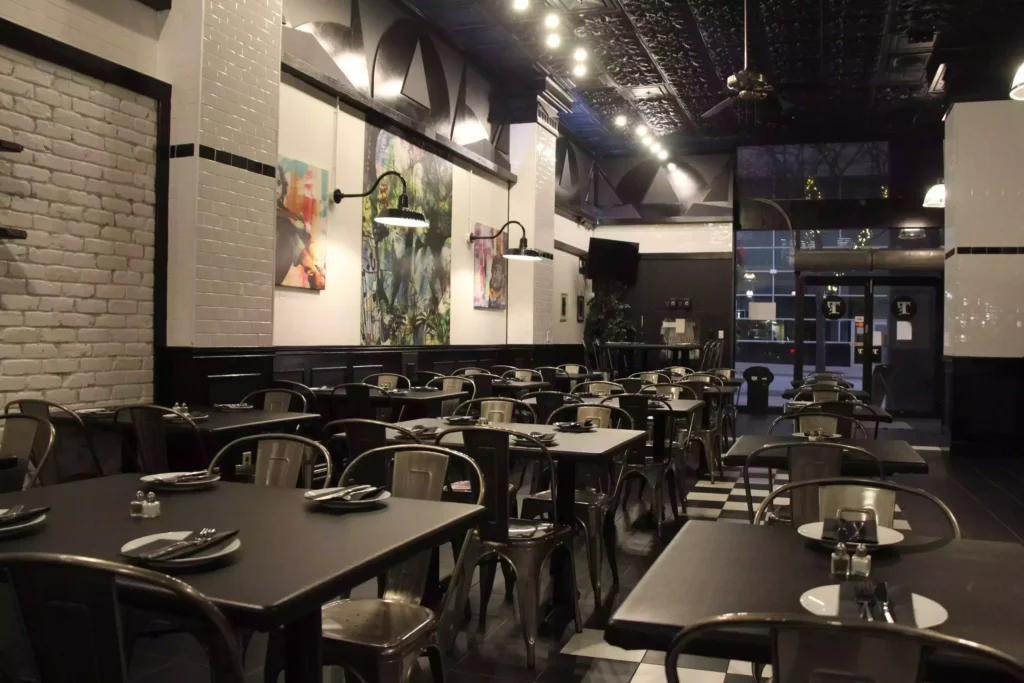 Thyme Kitchen just had to be included in this list. This elegant, upscale restaurant offers one of the finest culinary services in Windsor. They serve authentic Canadian dishes and other entrees.
The place has a trendy look with a casual atmosphere. Their menu highlights vegan belts, Mexican tostada, braised beef panini, fried chicken and waffles, a vegan brunch Buffet, and sandwiches. They are other delicious dishes; you should explore the menu and find something that suits you best.
Their service is reliable, and there's provision for special diet needs. The place is always lively but with moderate noise. You should come around when craving some of the finest Canadian cuisines.
Address: 100 Ouellette Ave Unit #102, Windsor, ON N9A 6T3, Canada
You don't want to miss out Best Restaurants in Chesterfield Missouri, Colville Washington, Fayetteville Georgia, and bloomington illinois.
#8. Joe's Bar and Grill Windsor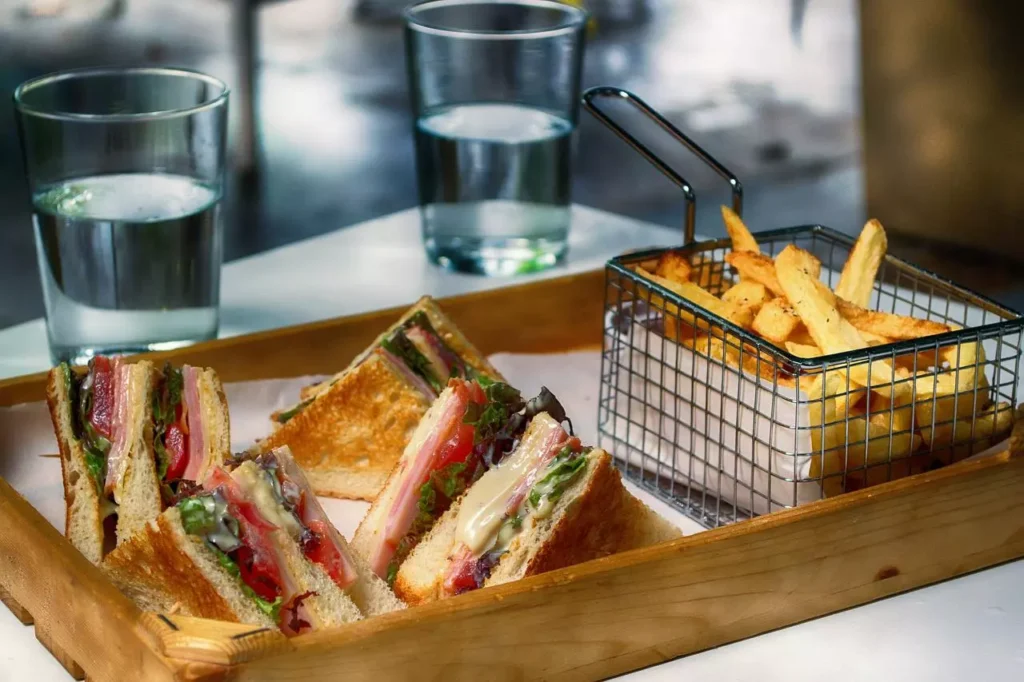 Joe's Bar and Grill is a relaxing dining space where one can enjoy classic pub grub such as wings, pasta, and burgers. They focus on providing customers with the highest food quality, efficient service, and a relaxing environment.
In addition to burgers, pasta, and wings. They also serve salads, sandwiches, wraps, and TeX and Mex dishes. You'd also enjoy their appetizers and dessert, they are great. They also serve beer, cocktails, and wine.
Other offerings include:
Late-night food.
Happy hour food.
Food at the bar.
Vegetarian options.
A bar on site.
The popular crowds at Joe's Bar and Grill include groups and families. The place is as well open to the LGBTQ community.
#9. Nico Taverna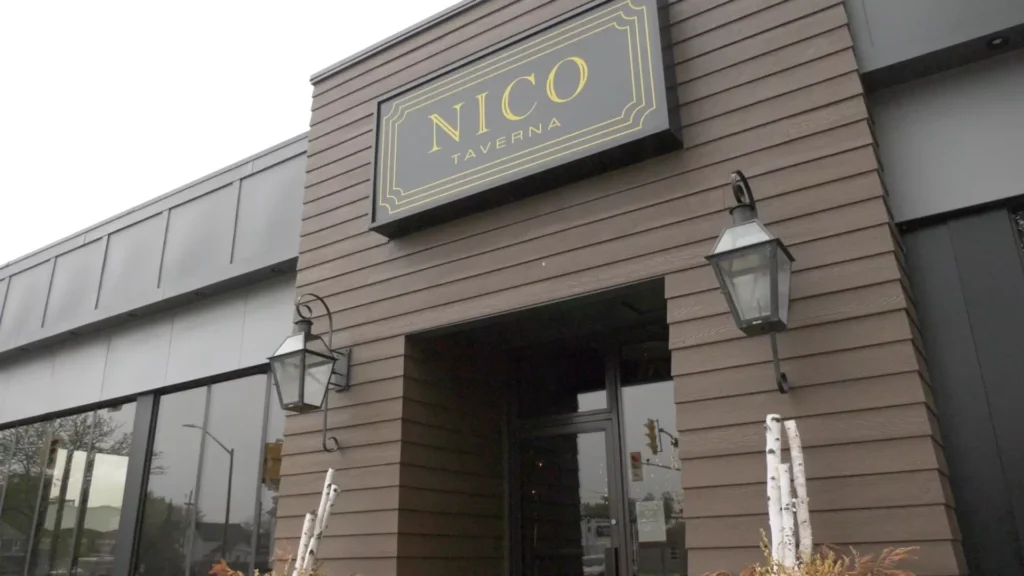 Nico Taverna is a great location to visit if you want an elevated, unique restaurant to enjoy an authentic meal. The restaurant features a cozy, upmarket, dimly lit dining space with a warm and lively atmosphere.
The place is an eatery plus bar, where you can enjoy Italian classics, including pizza, pasta, and other Italian entrees. Expect dishes like Lamp chops, bruschetta, grilled octopus, Nova Scotia Cod crab ravioli, beef short rib, and many other amazing dishes.
The restaurant isn't just a cozy place. It is a fun and romantic location with a friendly environment. Their service is excellent, nothing beats the taste of their dishes, and their drink menu is perfect, especially their wine collections.
Whether you come in on date night, a business meeting, or a casual hangout, you will surely have satisfying dining.
Address: 501 Erie St E, Windsor, ON N9A 3X8, Canada
#10. Spago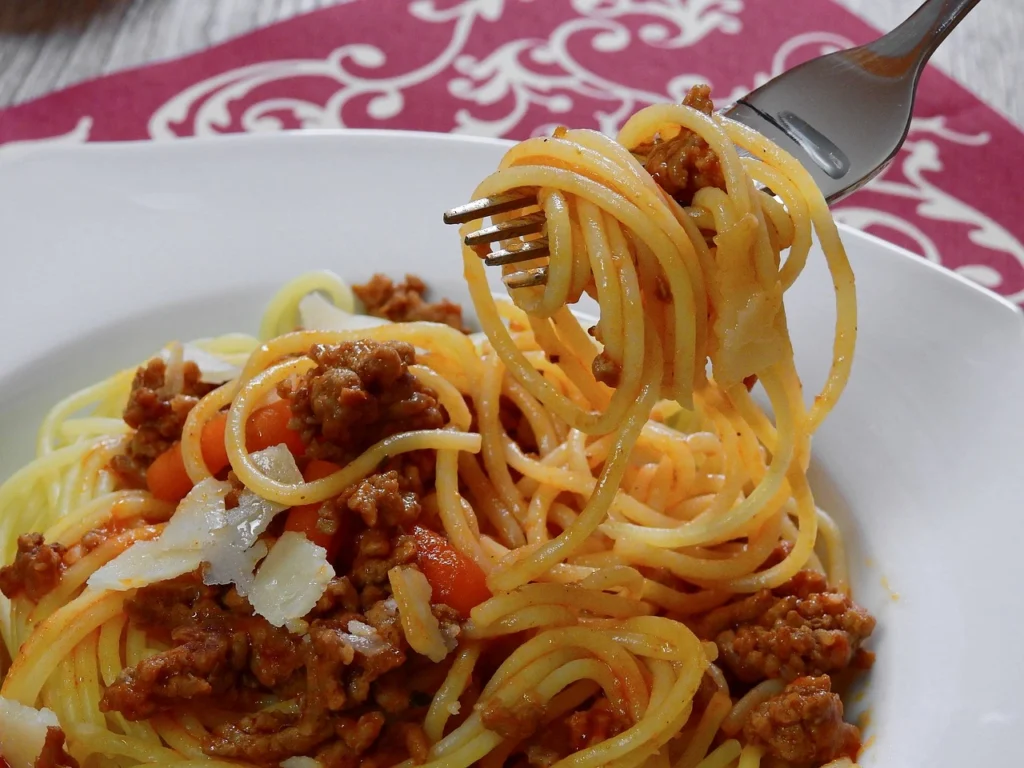 Next on our list of amazing restaurants in Windsor is an Italian restaurant known as Spago. Spago is an upmarket restaurant with a well-lit and designed dining space where you can enjoy Italian classics and great drinks.
This restaurant is on critics' lists and sure lives up to the praise. The service here is top-notch, and the food is nothing but authentic and delicious.
They offer guests an elevated menu, covering items such as pasta, pizza, salads, antipasto, and small plates such as calamari, eggplant parmigiana, Angus beef sliders, and much more. If you are unsure what meal to choose, you can start with their popular dishes like Aranchi, Veal Parmesan, and Gnocchi with Basil Pesto Cream Sauce.
You can choose to dine in their exquisite dining room or go for curbside pickup. Whichever way, Spago will offer you memorable dining. While coming for dinner, it will be wise to make reservations.
#11. Souq Lebanese Grill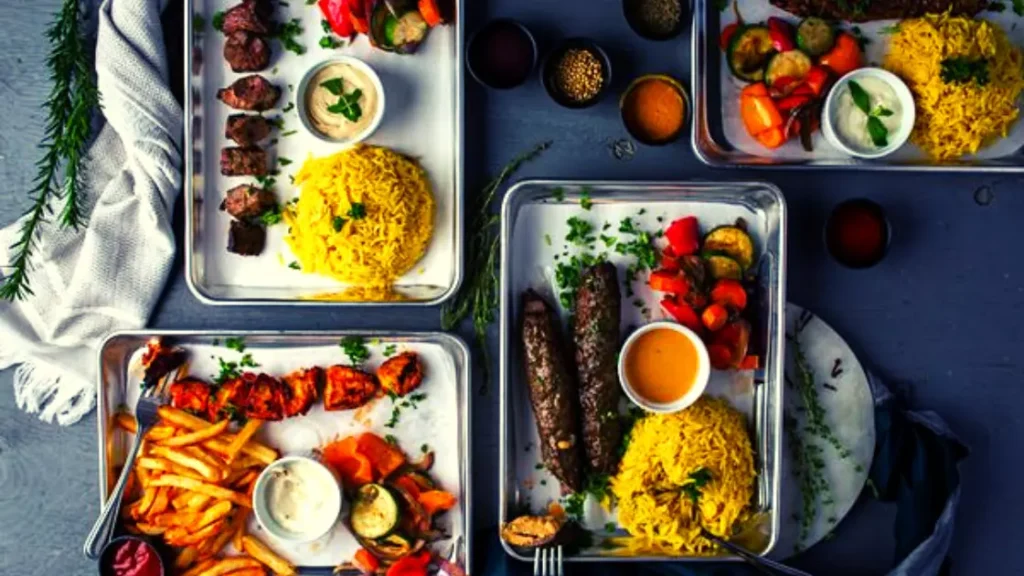 If you are looking for something new, consider trying out Lebanese cuisine at Souq Lebanese Grill. They offer amazing Lebanese dishes, including sandwiches and wraps. Some dishes they serve include lentil soup, hummus, rice, Biryani chicken, shish tawook, butter chicken, taffoush salad, halloumi salad, and many more.
You'd be enjoying your fine meal dining with an Arabic décor and a lovely ambiance. The service here is almost perfect, but I must admit that it was excellent.
You'd barely have anything to complain about, from the food to the service and the environment. Other offerings available at Souq Lebanese Grill include Halal food, vegetarian options, coffee, and a kid's menu.
Address: 2651 Howard Ave #1, Windsor, ON N8X 4Z3, Canada
#12. Treehouse Bar and Grill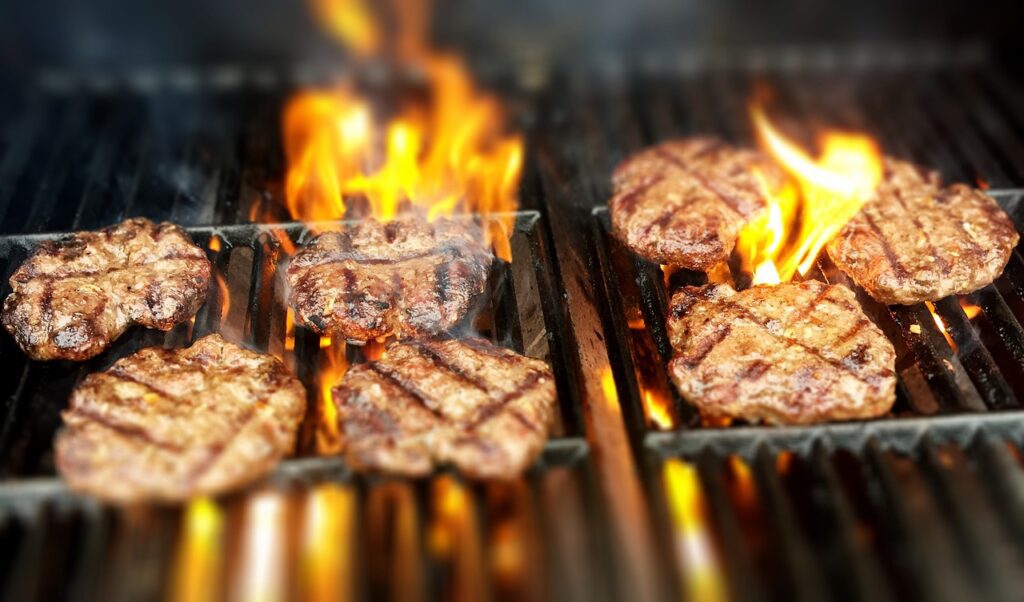 If you want a unique dining experience, you must visit Treehouse Bar and Grill for a new and exciting dining experience. This restaurant specializes in offering simple pub fare in a great environment.
They serve wraps, salads, pizzas, chicken wings, desserts, and quick bites such as Pickle chips, Jalapeno poppers, and mozzarella sticks.
Treehouse Bar and Grill is a great place to socialize with friends, enjoy amazing meals, and dance all night. The place is quite comfortable, and the unique thing about it is that it isn't either a clubhouse or a pub. It's just a full package of fun and a quality dining experience.
Address: 351 Ouellette Ave, Windsor, ON N9A 4J1, Canada
#13. Take Five Bistro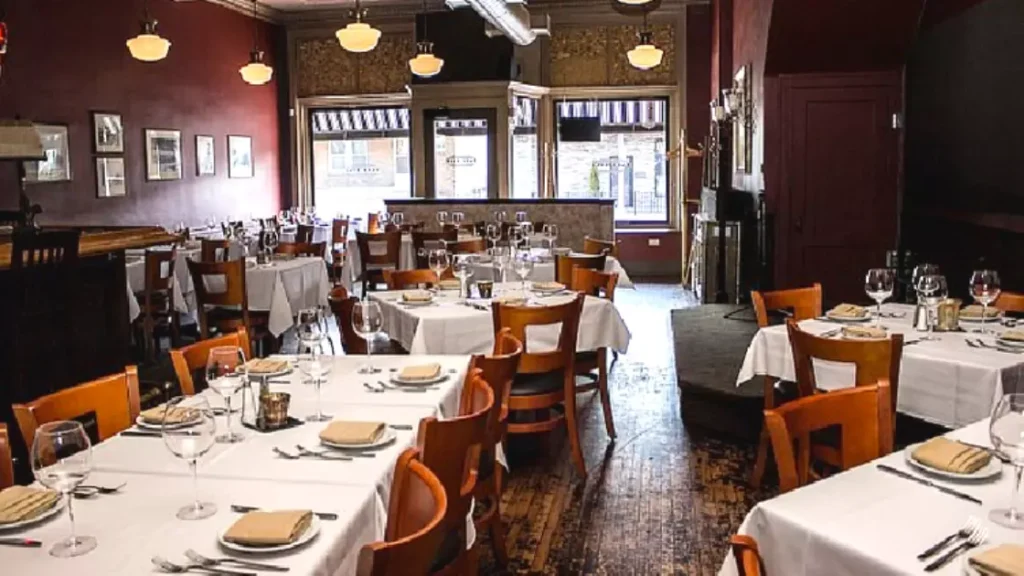 This amazing dining spot is popular for its cozy atmosphere, quality service, and great food such as ribeyes, fillet magon, lobster bisque, veal, arancini, etc.
You can enjoy Windsor's finest steak, chops, and seafood. Along with the finest drinks, ranging from wines to beer, cocktails, coffee, and tea. They also serve homemade desserts, coffee, and many healthy options.
Appetizers such as escargot, Cajun calamari, and baked shrimps are available with lots of other delicious treats. The restaurant has a homely outlook, and its service is highly rated. They offer only dine-in and takeaway with no delivery option.
The place is romantic and, as such, is ideal for romantic dates and special events. The place is popular amongst groups and tourists. Other services include waiter, full bar, street bar, credit card payment, etc. Reservations are accepted, and it will be nice to make a reservation before visiting.
#14. The Twisted Apron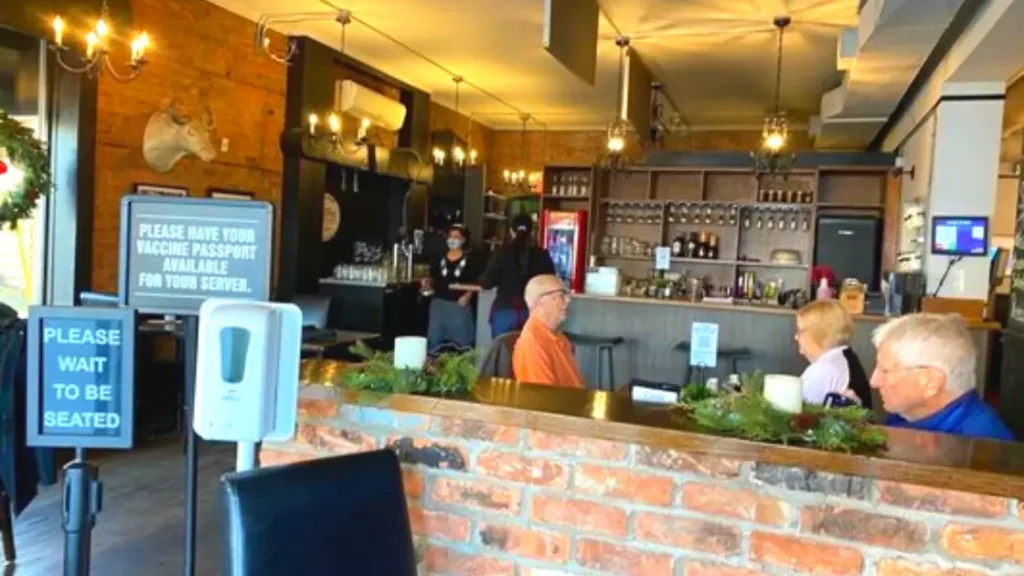 This restaurant provides guests with global comfort foods, including burgers and salads. Their menu includes small plates, healthy options, and vegetarian plates. Their dining options cover only breakfast and lunch. 
You'd find items such as toast, breakfast poutine, Korean BBQ tacos, huevos rancheros, egg benedict, smoked salmon, steak and eggs, bean burgers, and lots more on their food menu. While on the drink menu, you'd find coffee, tea, beer, cocktail, spirits, and wine.
There's a bar on-site where they serve varieties of drinks. The twisted apron is quite a lively restaurant with e casual atmosphere. The place is more popular amongst families and groups.
Their service also covers vegan options, vegetarian options, street parking, takeout, delivery, catering services, and lots more. Reservations are only accepted during special events or holidays, other times, and they work with first come, first serve.        
#15. Neros Steakhouse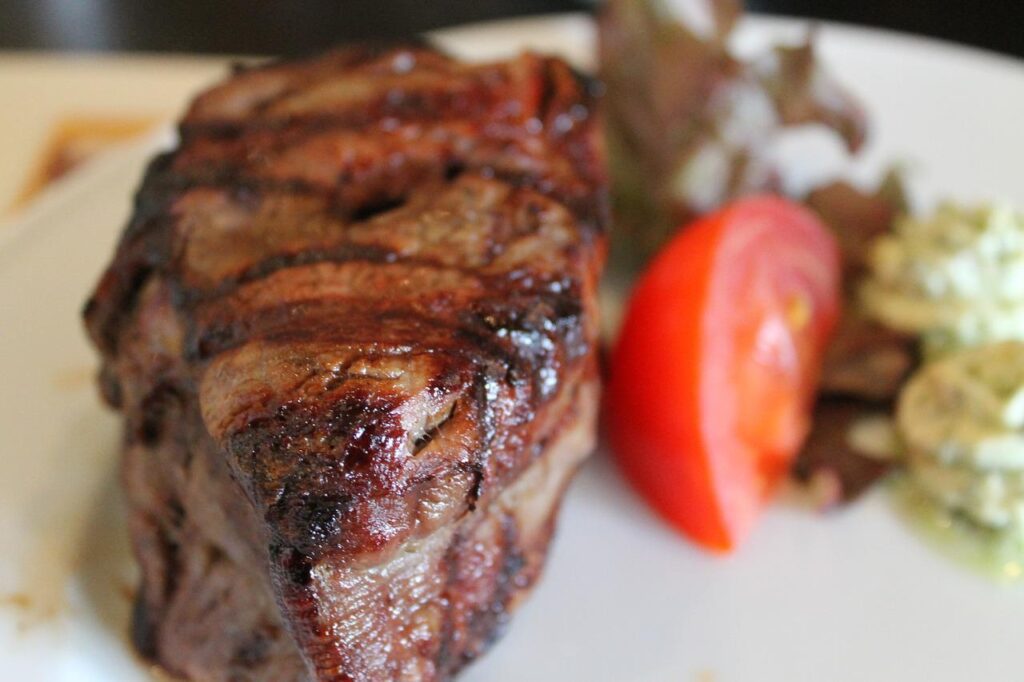 Neros Restaurant is one of Windsor's signature restaurants where guests receive high-class culinary treatment. The restaurant offers guests a variety of food, from steak to seafood, salads, desserts, soups, and vegetarian plates.
There is also provision for glutton-free and vegan options. Some favorite dishes you should try include broiled Atlantic lobster tail, USDA prime ribeye, flat ion seared scallops, rib-eye steak with escargots, etc.
You might want to try other nice dishes: whipped potatoes, key lime tart, roasted potatoes, seafood platter, filet mignon, or mushroom soup. The restaurant has an upscale ambiance and is great for formal meetings or romantic events. 
Other offerings include alcohol, coffee, vegetarian options, and other healthy options. Dine-in and takeaway are available, and reservations are accepted.   
Enjoy your meal in Windsor, Ontario, Canada
Restaurants in Windsor, Ontario, offer a variety of classic dishes that cover different culinary cultures, from Italian to American, Asian, and French cuisines, and lots more.
The restaurants here offer customers a luxurious dining experience, as well as quality service. You'd surely enjoy your culinary experience in Windsor, Ontario, especially with our list of top restaurants in Windsor, Ontario.
Disclaimer: Vasttourist always strives for content accuracy. Since the time of publishing, travel-related information regarding pricing, schedules, and hours may have changed. Please see individual websites embedded in this post for the most current trip-planning information.

Unless otherwise stated, Vasttourist does not claim ownership of any images used on our blog site. The respectful owners of all visual content have copyright protection. We try to include links to the sources. If any images are your property and you do not want them to appear on our blog, don't hesitate to contact us; we will take them down immediately. We support properly crediting the original writer, artist, or photographer.