The Best Things To Do With Kids In London: Family-Friendly Activities in 2023
If you are searching for the best Things To Do With Kids In London, this post is for you! Families with children of all ages can visit London and find something to suit their needs. Choosing where to begin with the abundance of family-friendly activities can be difficult.
London caters excellently to all ages but completely knocks it out of the park regarding family-friends activities. There are world-famous attractions across the city that are perfect for family stays. 
There are infinite options, from zoos to theaters, parks to museums. This blog post will discuss London's best indoor and outdoor family activities as some of their top locations.
This guide will give you many ideas to keep the whole family entertained, whether you're a local looking for something new to do with your family or a visitor to London for the first time. The best family-friendly activities in London are below, so let's get started!
Here is our guide to the best things to do on family vacations in London…. 
What are the Best Things To Do With Kids In London
#1. Sealife Centre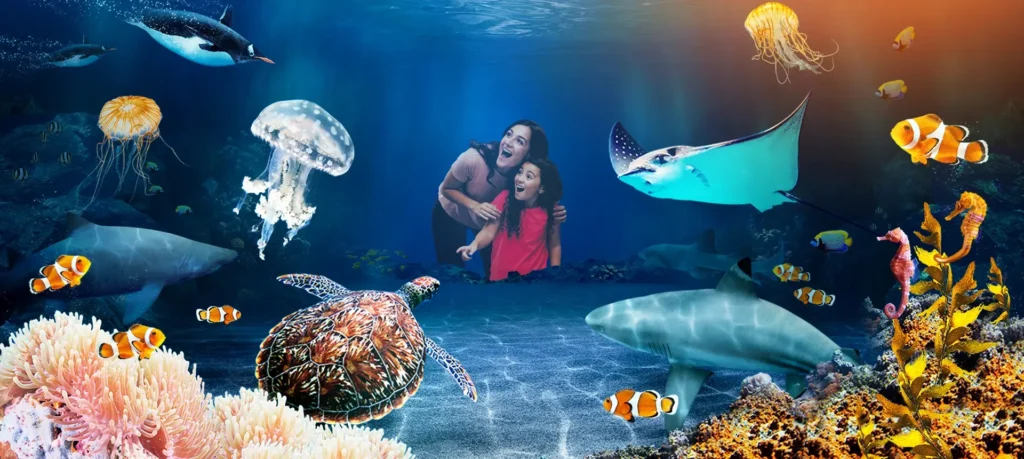 London's Sealife Centre, on the south bank of The Thames, opposite Parliament, is one of Europe's largest. The huge center is set over 3 floors, with interactive exhibitions and 600 different types of marine life.
From walking through tunnels, with sharks swimming over the top, to penguins you can watch being fed. There are also kid-friendly group sessions to take part in and educational sessions with staff from the center.
This attracts more than 1 million visitors to the center each year.
Address – Riverside Building, County Hall, Westminster Bridge Rd, London, SE1 7PB
#2. London Zoo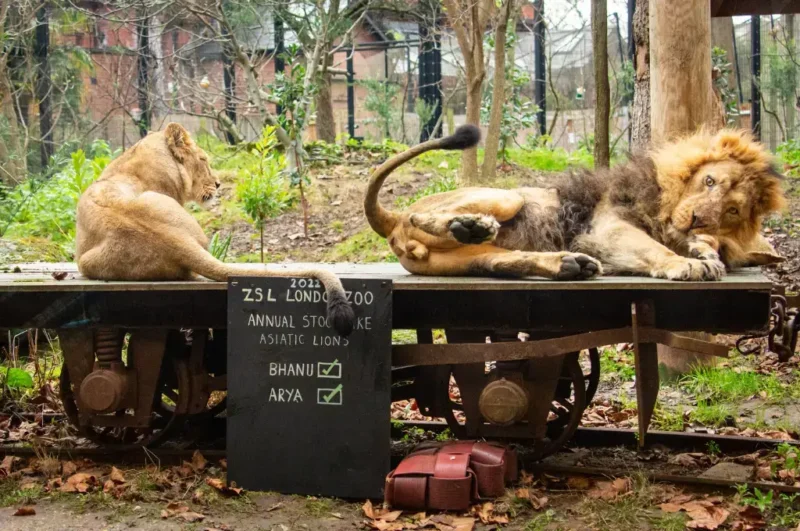 London Zoo, in the north corner of Regent's Park, in the city center, is steeped in history – having opened just before 1850.
It's another award-winning attraction, which houses close to 20,000 animals – from lions and giraffes to gorillas and hippos. The park is set across a 36-acre site, with many interactive activities and the opportunity to feed some animals.
There are also playground facilities and a great toy shop to buy fluffy animal toys.
It's a hugely impressive zoo, which has gained many international plaudits and is high up on many lists for a family trip to London.
Address – Outer Cir, London, NW1 4RY
#3. London Eye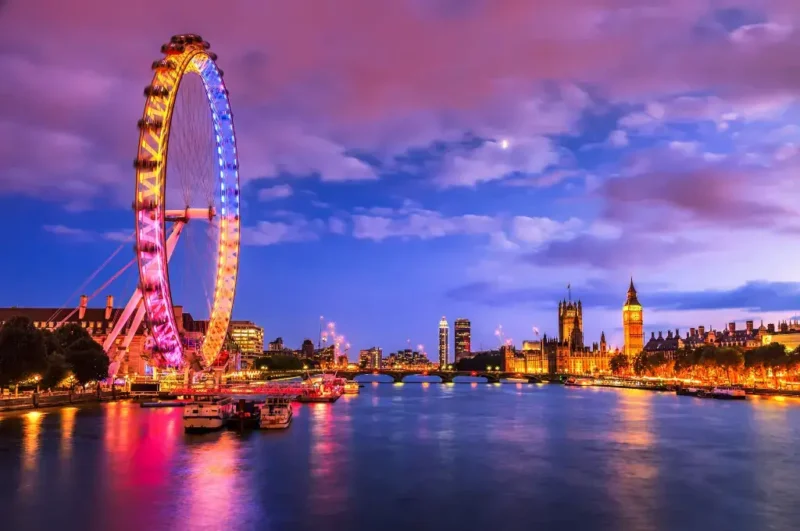 The London Eye is the capital's most popular fee-paying tourist attraction and the largest Ferris wheel in Europe.
The wheel is 433ft tall at its highest point and towers above nearby buildings, with guests standing in enclosed glass pods, providing excellent views across London.
It opened in time for the Millennium and is one of London's showcase attractions and an absolute must on a trip to the city.
Address – Riverside Building, County Hall, London, SE1 7PB
#4. Go to a Child-friendly rave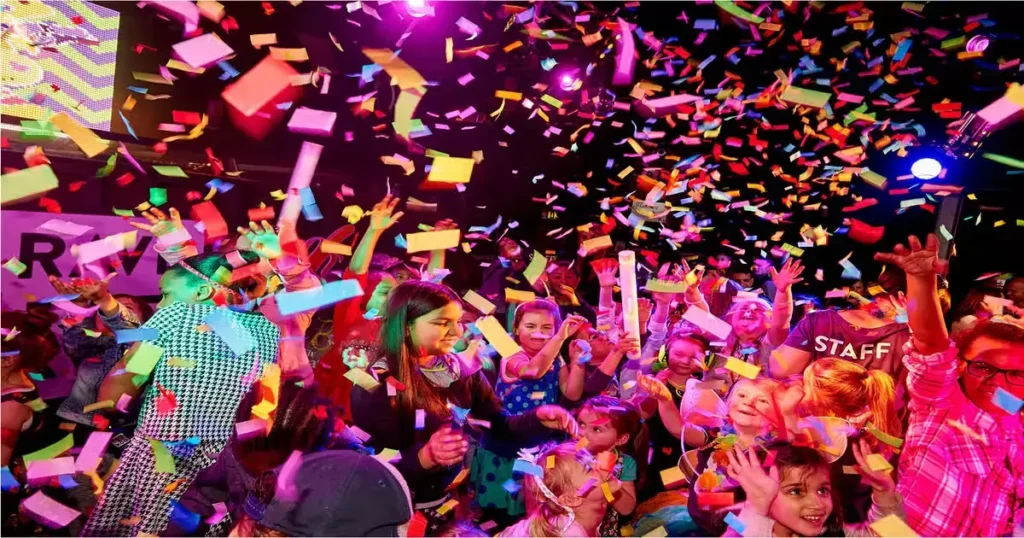 We admit some parents may adore this experience too. A company called Big Fish Little Fish organize child-friendly rave experiences for 0-8-year-olds and their parents.
The big dance floor contains sensory elements, including big balloons, glow sticks and bubbles. It's a great way for kids to let their hair down alongside the parents – with rave tunes pumping out on the speakers.
Address – Events are held all across London and change venue regularly.
Are you thinking of traveling to Kentucky for a wonderful vacation? Check out our best guide on the places to visit in Ashland (Kentucky), Elizabethtown (Kentucky), Newport (Kentucky), and Somerset (Kentucky).
#5. West End Shows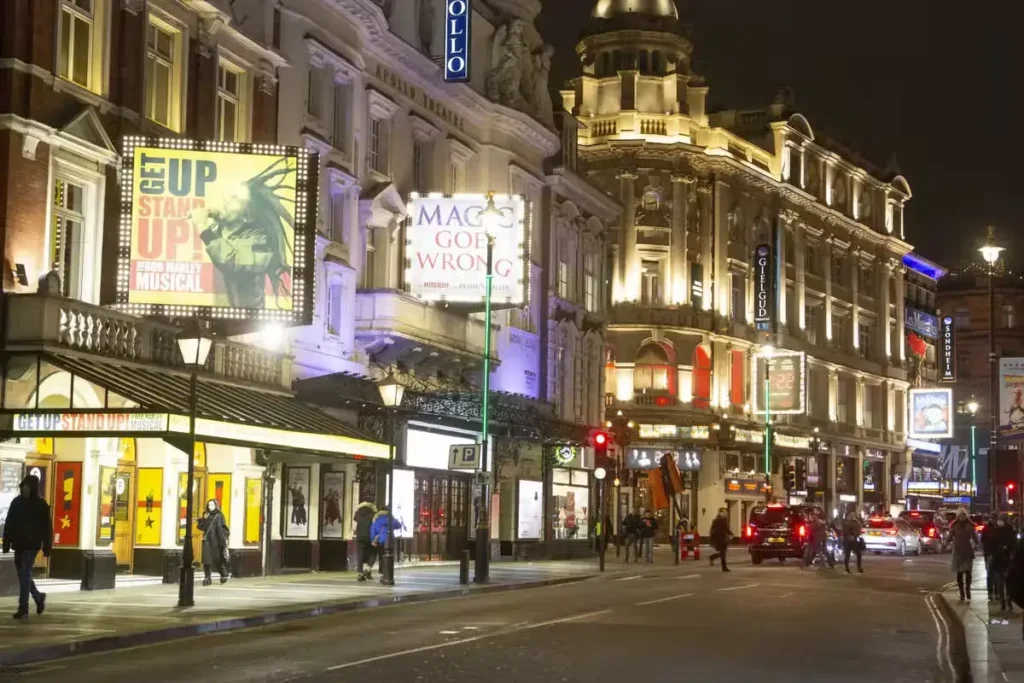 London's West End hosts some of the world's best theatre productions. Many classics have been running for years, with new shows constantly popping up.
There are many brilliant family-friendly performances, such as The Lion King, Frozen, and Matilda The Musical, among many more.
These will get the kids laughing, dancing and smiling, so take some excellent theatre in London with kids.
#6. London Duck Tours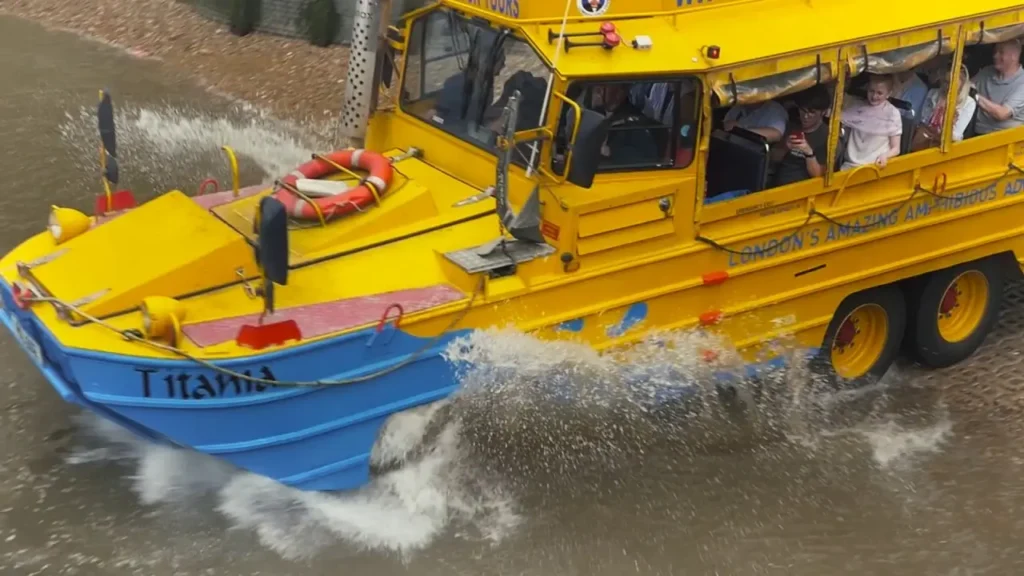 London Ducks Tours is a company that has a set of amphibious vehicles that you can ride aboard while getting a guided tour of London, both on the streets and into the River Thames.
It's quite a sight to see these big yellow boats with wheels driving along before crashing into the water.
It makes for an exciting family-friendly activity in London and a great way to see more of the city. If you're wondering what to do with kids on a trip to London, this has to be up there.
Address – Start point, Belvedere Road, Waterloo, London, SE1 8XU
#7. Madame Tussauds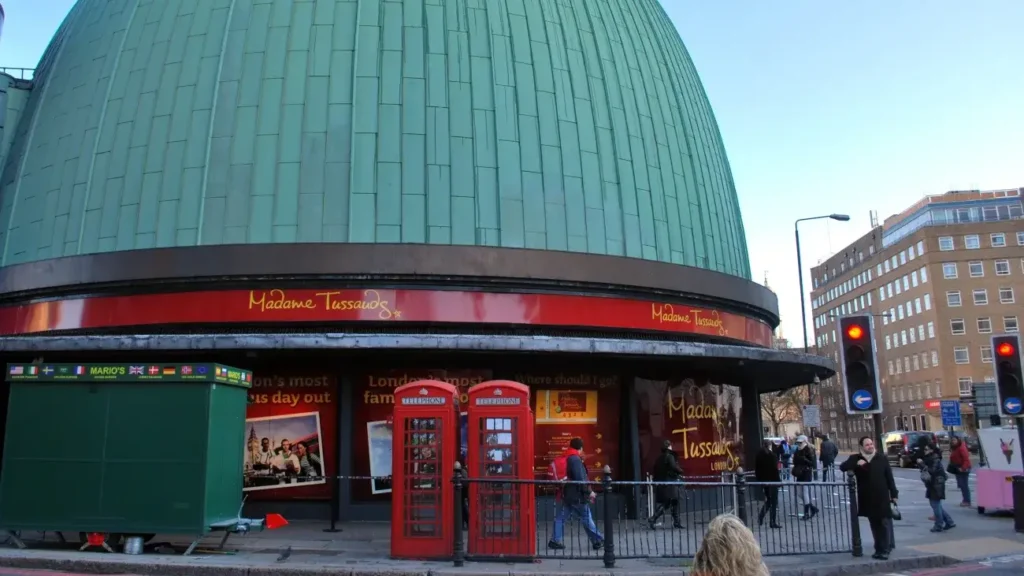 Millions of tourists visit Madame Tussauds each year, making it one of London's most well-liked tourist destinations.
An incredible collection of lifelike wax replicas of some of the world's most well-known historical figures, athletes, and celebrities can be found inside this famous wax museum in the center of the city.
Visitors can take selfies with their favorite celebrities and stroll through history thanks to the more than 300 wax figures on display, including historical figures like Shakespeare and Mozart and contemporary stars like Beyonce and Taylor Swift.
The world-famous chain of waxwork museums has one of its largest sites in London. The chain is famous for its incredible waxworks of famous people – from musicians and politicians to footballers and superheroes.
It's a huge center, set over multiple floors, and there are many workshops that kids can take part in, along with posing next to the waxworks of their favorite celebrities.  
Address – Marylebone Rd, London, NW1 5LR
#8. Parks and Playgrounds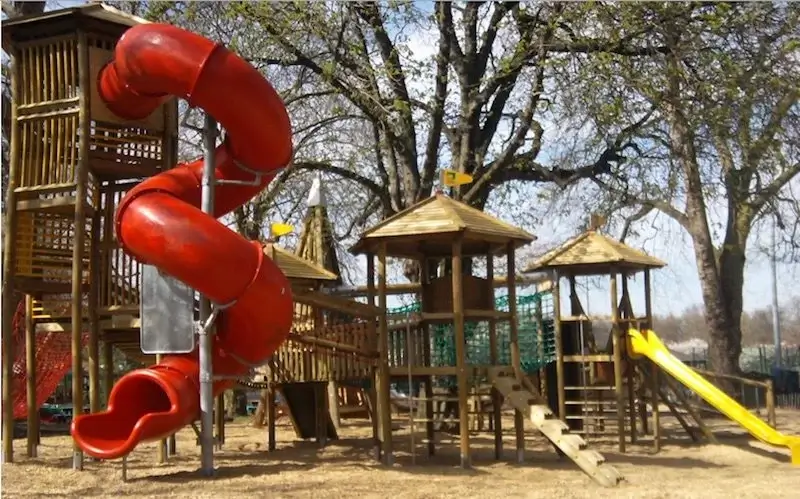 London has a beautiful selection of green spaces dotted all around the city. Its parks range from large forested and wild areas with deer to many large city-center green spaces with boating lakes, playgrounds, and cafes.
Our favorite parks in the capital include:
Hyde Park: London's most famous park. It caters well to children, with a great playground, a boating lake, an ice rink in winter and many other events throughout the year.
Regent's Park: This park is where London's Zoo is situated, but it also has a great playground, running tracks and other excellent facilities.
Richmond Park: This one is much wilder and has beautiful forested areas. It's also full of wildlife and even includes lots of deer. A great spot to get into some nature in the capital.
#9. Science Museum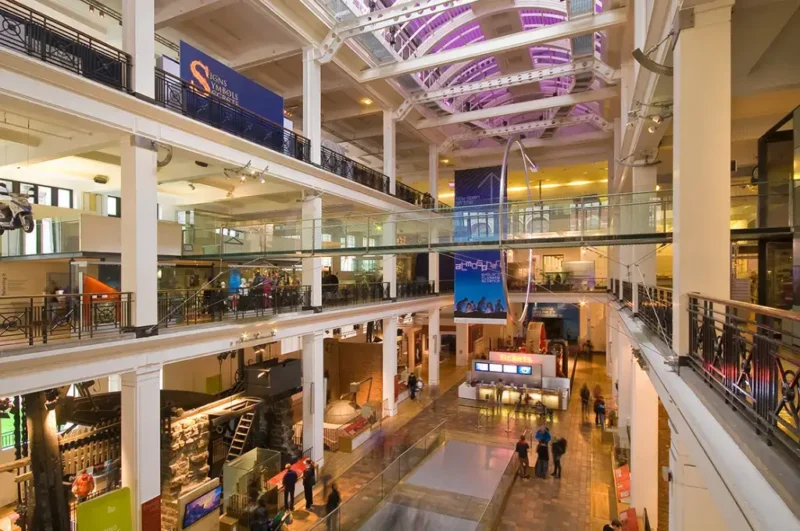 London's Science Museum is another award-winning attraction with an incredible selection of interactive activities for all the family.
You might think a museum, which tells the history of scientific discovery, will be a bit bland and tricky for kids to enjoy.
Far from it, at London's Science Museum, every step of the way, kids can get hands-on and participate in activities, and it's all presented in an easy-to-understand manner.
There are many games throughout the museum for kids to play and playground-style facilities to use. Presenting scientific facts this way is a true accomplishment and a must-see for any family visiting London.
Address – Exhibition Rd, South Kensington, London, SW7 2DD
#10. London Dungeon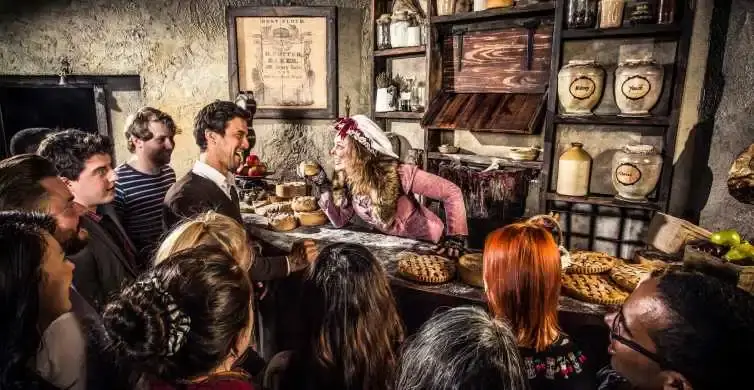 If your kids like an attraction with a spooky side, then London Dungeon is an absolute must-visit attraction for them.
The attraction tells the story of London's historic dungeons but is presented excitingly, with actors positioned throughout the exhibitions and jumping out when you least expect it.
It has rides in the middle and many special effects for a complete sensory experience. It's another excellent thing to do with kids in London.
Address – Riverside Building, County Hall, Westminster Bridge Rd, London SE1 7PB
#11. Buskers in Covent Garden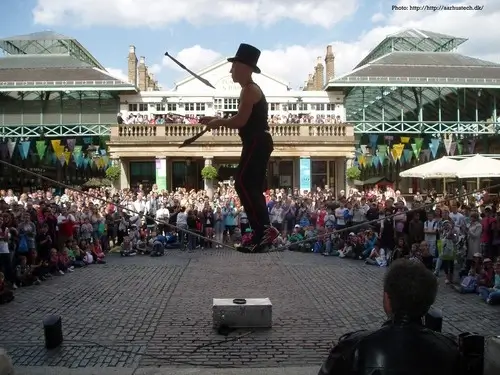 London's Convent Garden is a wonderful location with incredibly tasty restaurants, cafes and nice bars. It also has many street markets and is a hive of activity.
That mix draws buskers to the area in their droves, who look to entertain the passing tourists and locals alike. It's a great way to pass the time and watch the street acts, which include acrobats, clowns, magicians and musicians.
If you're lucky, children are also asked to come up on stage and participate in the shows. Add this to your list of the Best Things To Do With Kids In London.
We love it.
Address – Covent Garden, London, WC2E 8RF
Looking for more thrills around New York? Here are some of the best things to do in Alexandria Bay (New York), Ithaca (New York), and Watertown (New York).
#12. BFI IMAX Cinema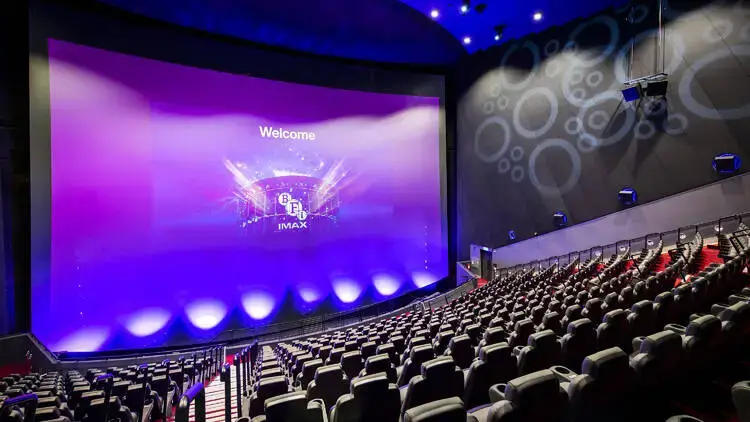 The British Film Institute's IMAX cinema is the biggest cinema screen in the UK. It offers a fully immersive movie experience, with one of Europe's best movie sound system set-ups and a truly brilliant visual experience.
You can watch many UK premieres here, and it caters well to children, with special family-friendly showings and many child-friendly films.
Another great attraction on a rainy day in the capital.
Address – 1 Charlie Chaplin Walk South Bank, SE1 8XR
#13. Water sports on The Thames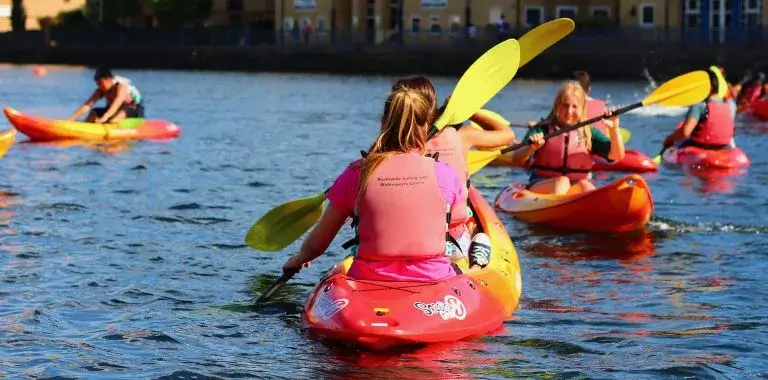 If you have an active family, then don't worry, London also has many family-friendly sporting activities to take part in. One of our favorites is water sports along The Thames.
The western stretch of The Thames is far quieter and narrower than the city center, and there are multiple locations to rent kayaks, paddleboards and pedal boats.
They come complete with life jackets, and you can go on guided tours if you don't feel comfortable taking to the water on your own as a family.
A great family-friendly activity, particularly on a hot summer's day.
Address – The banks of the Thames in Richmond.
#14. Toy Shops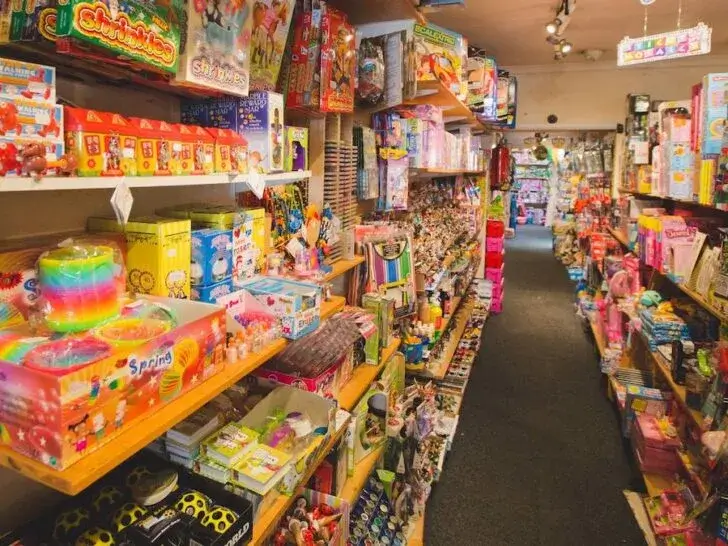 Parents may not thank us for recommending this one, but the kids certainly will. London has an excellent selection of toy shops, some of which have gained an international reputation.
Among them is the world-famous Hamleys.
It's one of the most famous toy shops in the world and one of the largest – it was founded in London but now has sites worldwide.
The flagship store in London has more than 50,000 different types of toys to buy – a dream for kids on a trip to London.
#15. Kids Afternoon Tea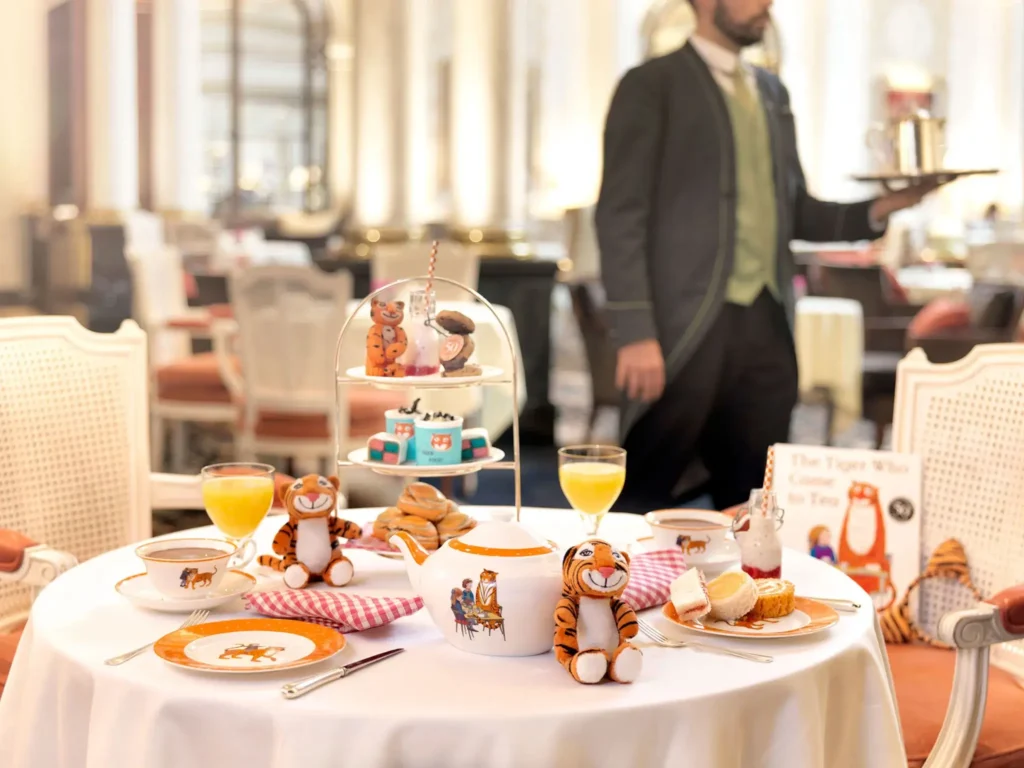 This is a wonderful activity for all the families in London.
Afternoon tea, full of cakes, tasty sandwiches and sometimes prosecco, is a staple in British history and culture.
But it doesn't just have to be for the adults – cafes also dedicate afternoon teas for kids, complete with milkshakes, toys and magicians.
Many different sites offer themed afternoon teas. Here are some of our favorites:
–    Charlie & The Chocolate Factory – One Aldwych:
–    Mad Hatter's Tea Party – The Sanderson
–    Peter Pan – The Shard
#16. ArcelorMittal Orbit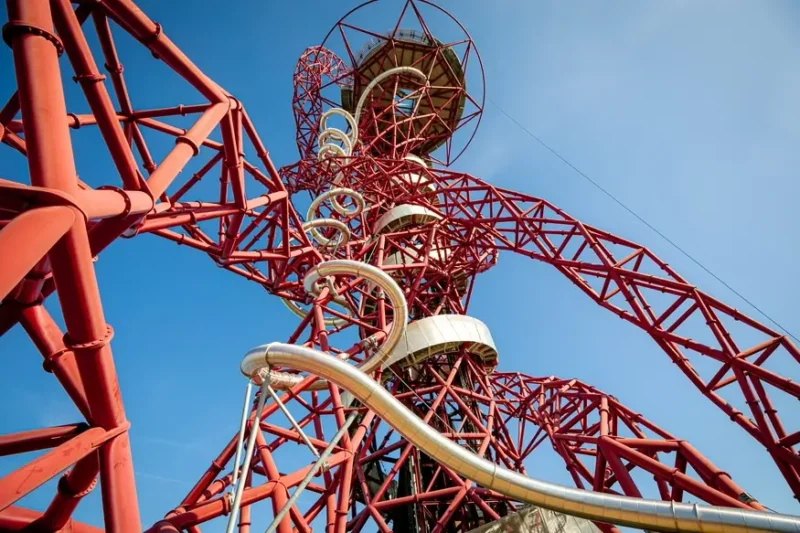 London's former Olympic Park in Stratford is a wonderful place to take kids.
It is a huge urban park with great playgrounds and places to run around and contains the world's longest and tallest slide.
The Orbit tower is an iconic monument from the 2012 Olympics – the futuristic structure towers above the park, with a slide from top to bottom – 178 meters long.
It's sure to give kids a real adrenaline-fueled experience.
Address – Queen Elizabeth Olympic Park, 5 Thornton St, London, E20 2AD
#17. Trampoline Parks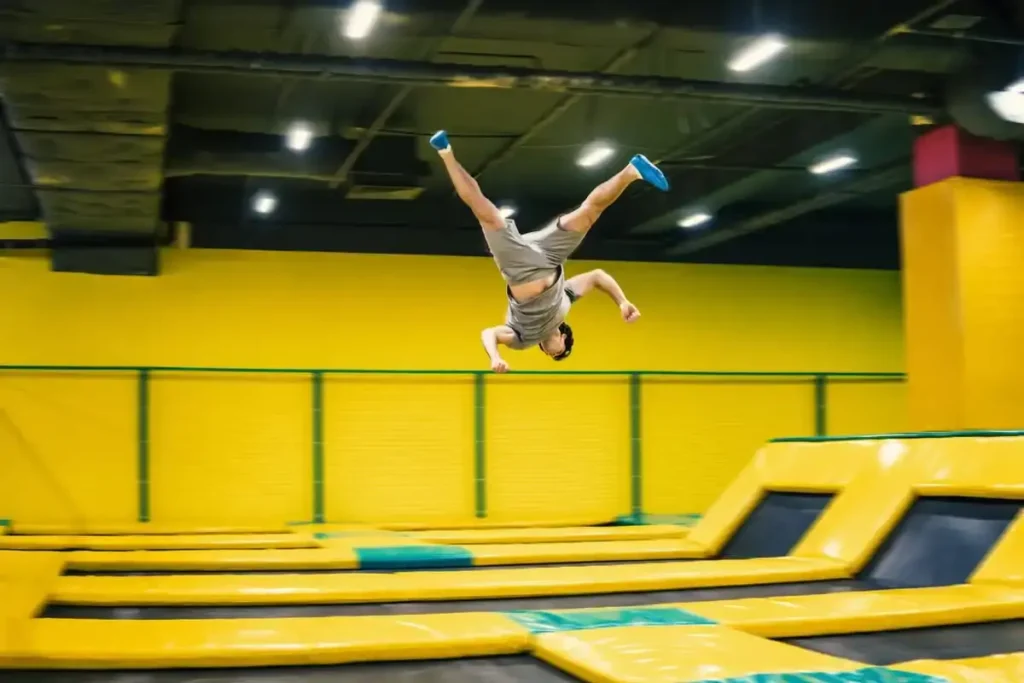 London has several brilliant trampoline parks where kids can bounce to their heart's content in a safe environment.
Our favorite is Flip Out in East London, which has tens of trampolines, enormous slides, bounce basketball areas, parkour sections and obstacle courses.
It's a great place for kids to let off some steam, and it has trained staff on hand to help teach techniques and act as watchers for safety.
Numerous other centers around London also exist, but this one is our absolute favorite.
Address – 281 Barking Rd, London, E6 1NZ
Time to spare? Why not check out the best things to do in Round Rock (Texas), Anderson (South Carolina), Joplin (Missouri), and Guam (Micronesia).
Plan Your Vacation to London
There you have it, our guide to the best things to do in London with kids.
We've listed some of our favorites and tried to offer activities across London while catering to warm weather and rainy days.
In all honesty, we've only scratched the surface of what London has to offer for children. It's one of the most dynamic family-friendly destinations on earth.
With world-leading attractions and museums – you will never be short of things to do in London for kids.
And if you're wondering when are the best times to visit London? The answer is always.
The city caters incredibly well to children throughout the year, and some big events and celebrations gear up, especially for families.
We love the city and hope you do too, so what are you waiting for?
Get your family trip to London booked.