20 Best & Fun Things To Do In Seaside Florida
Are you in search of the best things to do in Seaside Florida? Seaside, Florida, is a charming beach town along the Gulf of Mexico's emerald waters.
It has a laid-back vibe and many entertaining things to do for visitors. Seaside has something to offer everyone, whether they want to enjoy the sunshine on pristine beaches, indulge in delectable cuisine, or discover the town's distinctive architecture and arts scene.
The town's breathtaking white-sand beaches are one of its main attractions because they offer the ideal location for swimming, tanning, and beachcombing. A stroll along Seaside's picturesque boardwalk, home to various quaint stores, eateries, and cafes, is another option for visitors.
Seaside has a thriving arts scene, with several galleries and studios showcasing the creations of regional artists for those interested in the arts and culture. The town also holds some cultural events throughout the year, such as music festivals, exhibitions of art, and movie screenings.
Foodies will also adore Seaside, home to many eateries and cafes serving everything from international flavors and gourmet food to fresh seafood and Southern-style fare.
Seaside, Florida, is the ideal vacation spot, whether you're looking for a tranquil beach getaway or an exciting adventure. Take a ride with us as we expose you to the fun things to do in Seaside, Florida.
What are the Best Things To Do In Seaside Florida?
#1. Get a feel of the cool breeze of nature at Eden Gardens State Park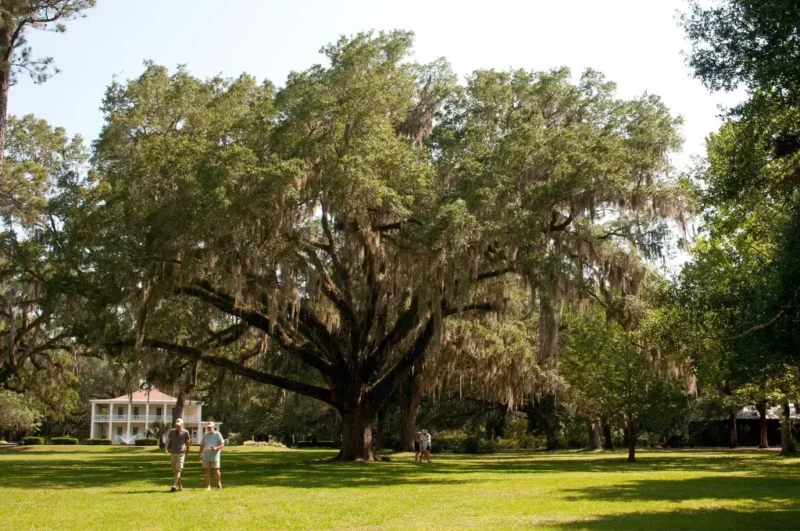 Stepping onto the seaside of Florida after a hectic work schedule or learning phase, Visiting Eden Gardens State Park to cool off one's mind is highly recommended.
Here one gets to feel the cool breeze of nature in the Park's vicinity, dominated by lovely lush and beautifully floral, all of which characterize the general affair of Florida.
The arena reflects majorly all things relaxation which one gets to relax their body and mind under this cool and calm environment dominated by tall oak trees with the rhythmic sound of the breeze.
Address: 181 Eden Gardens Road, 32459 Santa Rosa Beach, Seaside, FL, United States
#2. Settle for a cup of coffee at Amavida Coffee & Tea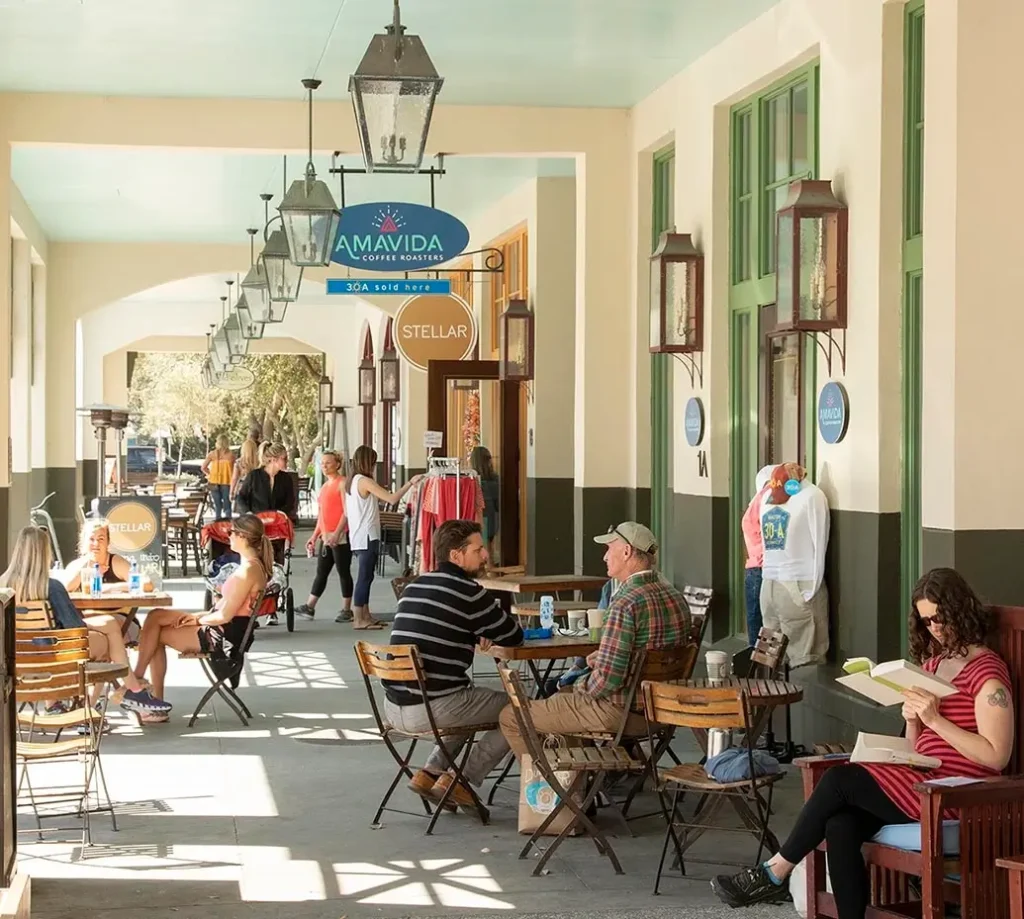 For tourists who delight in the taste of coffee, a visit to Amavida Coffee & Tea is exactly what one might need to sparkle up their holiday experience even more with its espresso and lattes drink menu.
What do they offer?
Situated right beside the calm environment of the beach, Amavida coffee & tea, with the help of a few farmer's produce, offers a delicious hot cup of coffee or tea in its different variety of latte, Americano, cappuccino, hot chocolate, chai latte, matcha latte, iced mocha, iced chai latte, and more.
Address: 25 Central Square, Santa Rosa Beach, Seaside, FL 32459, Amurka, United States
#3. Enjoy a mouth-watering meal at the Great Southern Cafe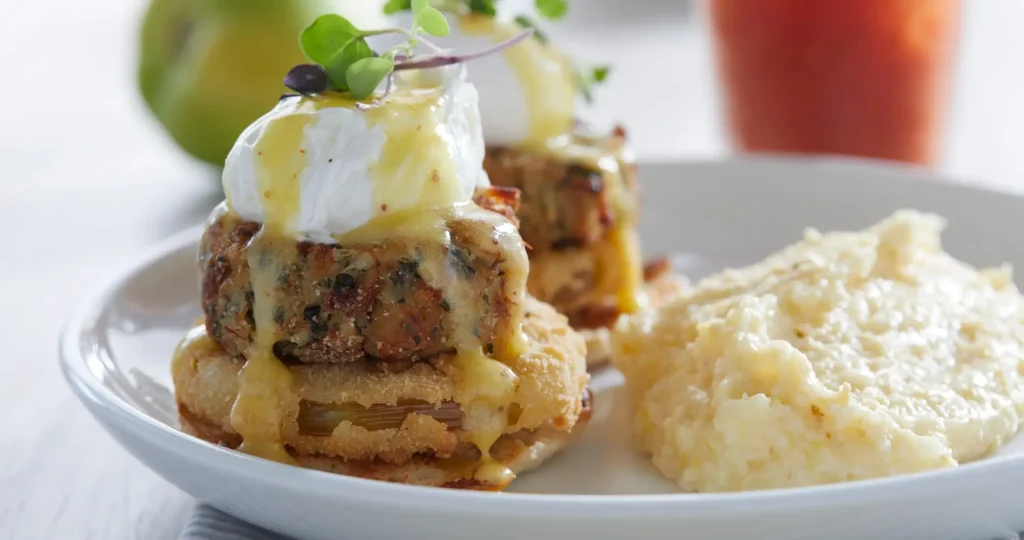 Great Southern Cafe is a popular dining destination with a reputation for serving delectable Southern fare in a friendly setting.
The menu offers a selection of delectable dishes, including juicy burgers, fresh seafood, and traditional Southern favorites like fried chicken, shrimp, and grits.
A relaxed meal with family and friends is the ideal occasion to enjoy the restaurant's quaint dining room and outdoor patio, and the welcoming staff ensures that everyone feels at home. Make room for dessert because the cafe's homemade pies and sweets are delectable!
With its meal ingredients mainly sourced from farm produce, the great southern cafe has made pleasing your taste buds their priority with loads of meal delicacies such as Dozen Raw Oysters, biscuits & gravy, chicken sandwiches, flat fried, mahi mahi, French Dip Sandwiches and a whole lot more.
Address: 83 Central Square, Santa Rosa Beach, Seaside, FL 32459, Amurka, United States
#4. Go fishing tour at the Deer Lake State Park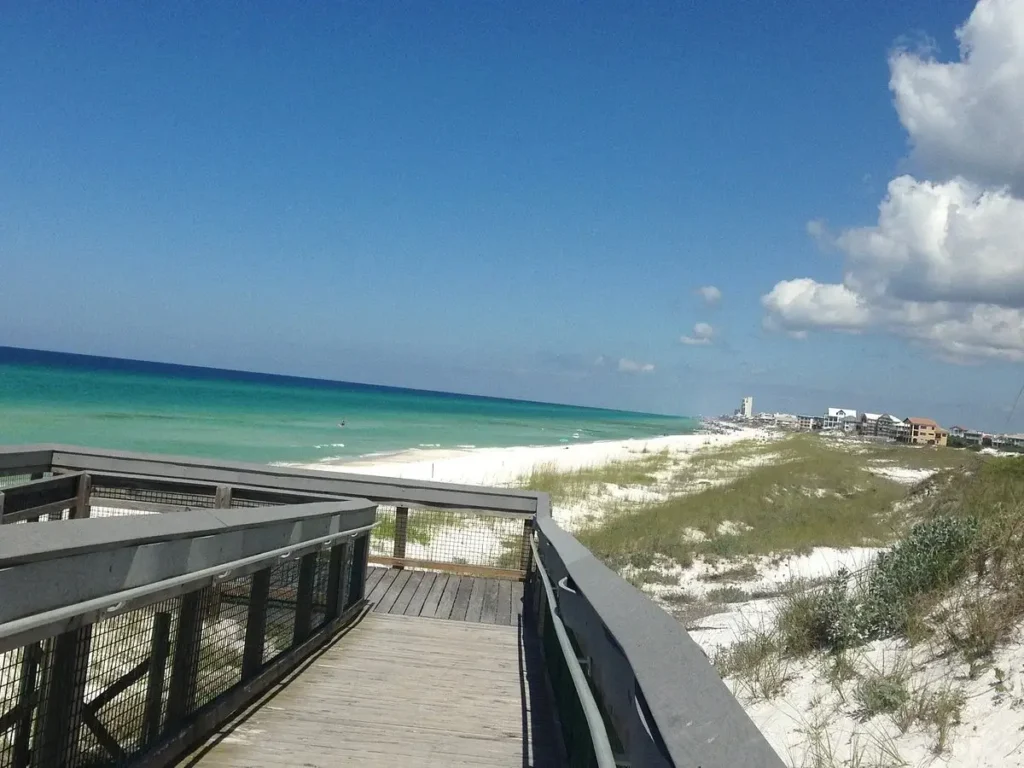 For those fascinated by fish hunting, the Deer Lake State is one of the best places to visit in Seaside, Florida. It's also a place to be as it offers fish hunting at its best on a less crowded beach.
So for all those who want to spend a nice time out on the beach, though it might not necessarily be with the intention of fish hunting, a visit to the Deer lake state park should be considered a priority.
What should one expect?
With a boardwalk already provided as the pathway to full access to the beach, locals and tourists get to behold the beautiful sight of the dune ecosystem. While for others, aside from fish hunting, they might choose to go swimming or settle for a picnic.
Address: 6350 E County Road 30-A, 32459 Santa Rosa Beach, Seaside FL, United States.
Are you planning a road trip around Florida for a wonderful vacation? You may want to check out the best things to do in Ocala (Florida), Gainesville (Florida), and Clermont (Florida).
#5. Behold classical artworks at the Fusion Art Glass and Fine Jewelry
If you are looking for what to do in Seaside, Florida, this weekend, then The fusion art glass and fine jewelry should be on your list.
It is a place of interest for all those fascinated by all things arts and crafts, an indoor avenue that ushers in the compilation of creations from the gifted hands of talented artists.
What do they offer?
The fusion art glass and fine jewelry have on its showcase the display of its various captivating artworks, mostly ornamental crafts, jewelry, coins and ceramics.
Address: 55 Central Square, Santa Rosa Beach, FL 32459, USA
#6. Go shopping spree at Focus Lifestyle Boutique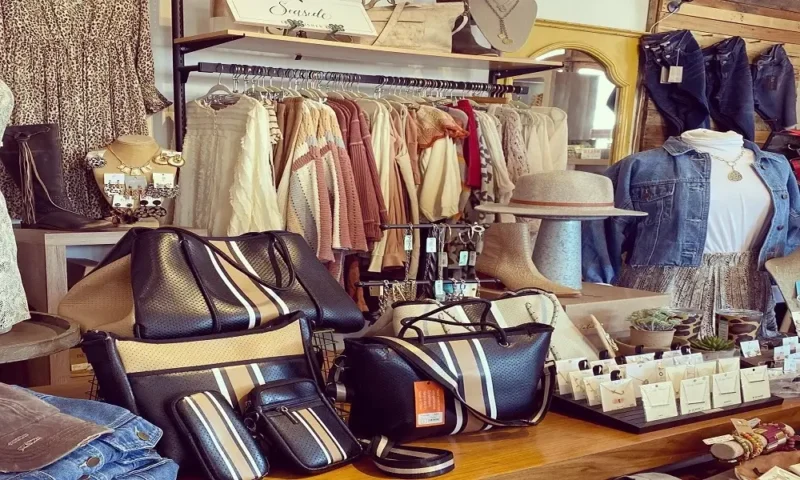 This is a matter of interest for those to change the outlook of their wardrobe or perhaps to gift their loved ones some clothing apparel. A stop-by at the Focus Lifestyle Boutique is exactly what they need as they offer all things fashion wears.
For all things fashionable wear, the focus lifestyle boutique is considered the best with its wide variety of clothing lines to suit all genders and pieces of jewelry and stylish accessories. So visiting the focus lifestyle boutique will be worth it if you are asked what to do in Seaside, Florida.
Address: 119 Quincy Cir, Santa Rosa Beach, Seaside, FL 32459, Amurka, United States
#7. Get thrilled with a nice body treat at Beach Ready Spa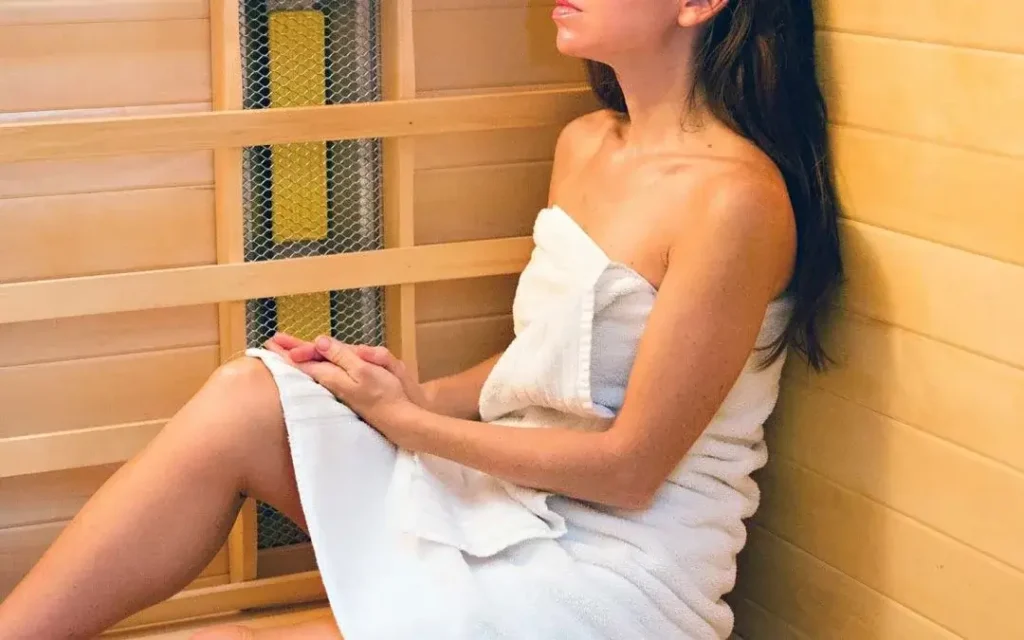 The holidays coupled with coming through to tour on the Seaside fl axis, isn't complete without having a lovely body treat, which is where the Beach Ready Spa comes in to help.
It has been designated with the necessary facilities and amenities assisted with the able hands of its staff to give tourists and locals within its vicinity the pampering treatments they crave.
What do they offer?
They organize and hold various sessions to keep the body and mind of their visitors or clients as such with its variety of massages, manicures, pedicures, and a whole lot more.
Address: 29 Quincy Cir, 32459-0831 Seaside, FL, United States
#8. Enjoy the beauty of music at Central Square Records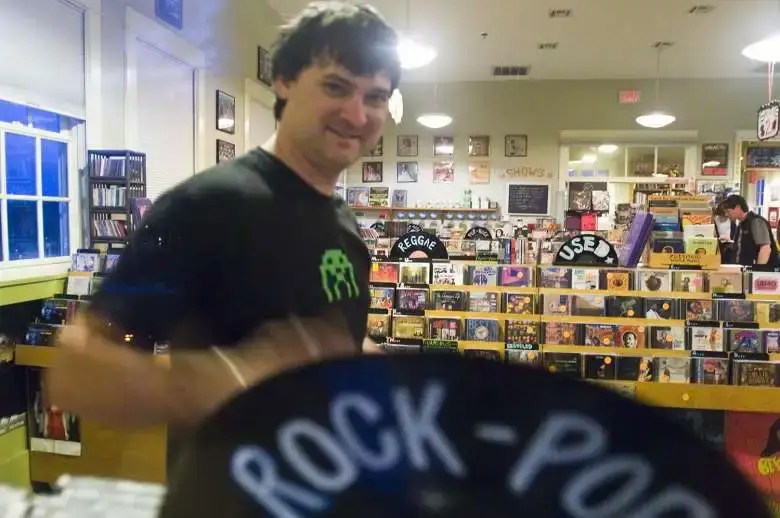 This is considered a center of attraction for all those who are fascinated or are interested in listening to classical music. Then a stopover at Central Square Records to spend a nice time alone listening to its variety of latest albums alongside its limited editions of hot releases.
What should one expect?
The central square records are designated and act as a music and vinyl store where locals or visitors can come through to grab their copies of published records.
On the flip side, they also experience live music at its best by its talented local artists. Add this to your list of things to do in Seaside Florida with kids.
Address: 89 Central Square, 2nd floor, Santa Rosa Beach, Seaside, FL 32459, Amurka, United States
#9. Worship the creator at the Chapel at Seaside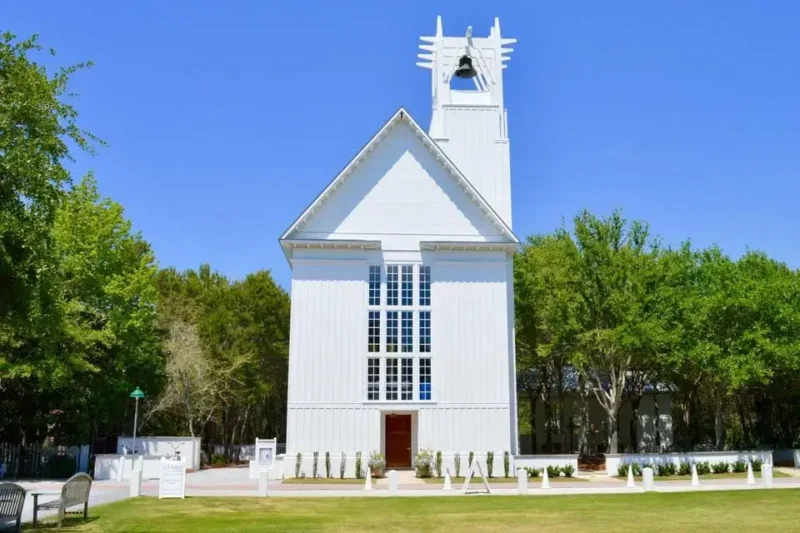 This should be a priority for religious folks and brethren practicing Christianity, who look forward to having a little feel of what pilgrimage is all about. It is worth a visit to worship their creator at the chapel at the seaside occupying the Ruskin place park axis.
What to expect?
Since it is considered a place of worship, an interdenominational chapel, locals and visitors experience something entirely different. They relax and rest their minds under their picnic blankets while participating fully in its services or church programs.
On the flip side, they also feast on its magnificent, timeless architectural style and beauty.
Address: 582 Forest St, Santa Rosa Beach, FL 32459, United States
Traveling around California? Take a look at some of the best places to visit in Riverside (California), Bakersfield (California), Fresno (California), and Fullerton (California).
#10. Experience the library in its different form at Sundog Books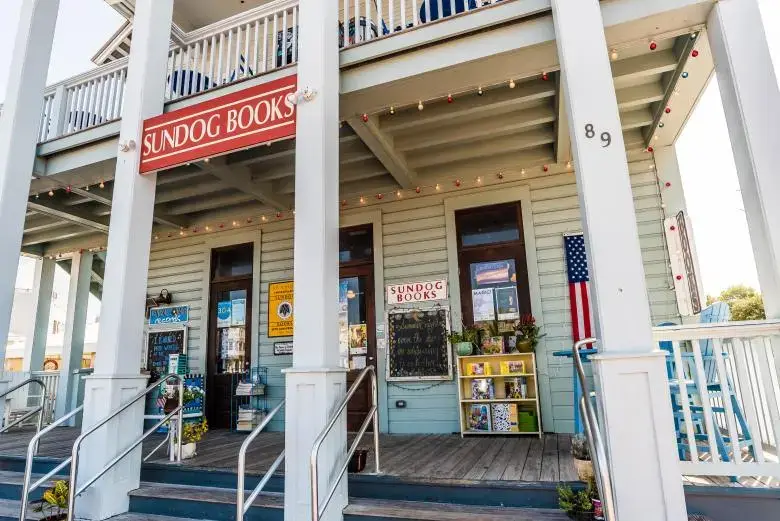 This is a must-visit place for literature folks or lovers of books. In general, a visit to Sundog Books offers them that library experience and routine in its different form with a rare-to-find adventure of going through its wooden bookshelf to access its wide range of collections of books of different genres.
Why are they considered special?
With their friendly personnel present, they aim to guide and assist locals and visitors in finding their way in getting to pick up a book of the genre of their choice.
Sundog Books offers a serene environment and space for visitors to relax and feel comfortable while going through their preferred book choice.
Address: 89 Central Square Seaside, FL 32459, United States
#11. Behold the beauty of art at Red Bird Gallery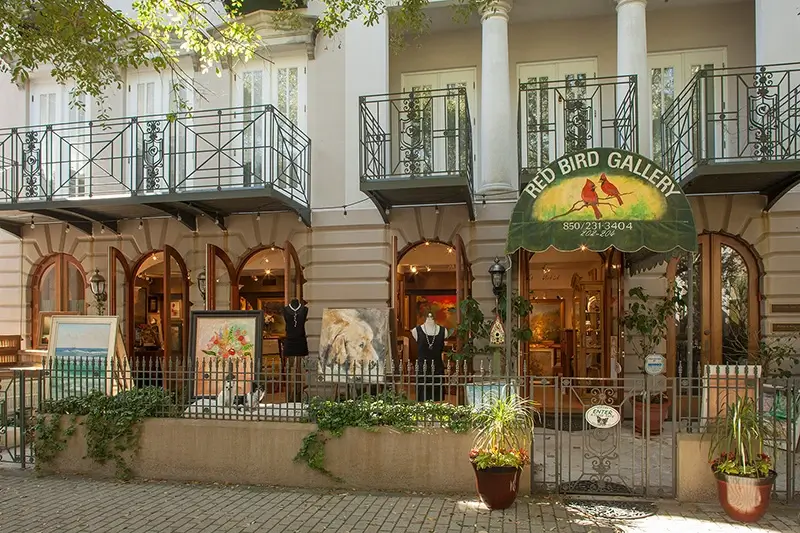 A visit to the seaside Beach in Florida without stopping by for a visit at the Red Bird Gallery is considered a holiday with a little sparkle of fun.
This outdoor tourist park is dominated by tall oak trees, a serene environment that houses an extensive collection of special artworks, most notably jewelry, paintings, and craft art.
What do they offer?
The Red Bird Gallery acts more as a promotional body for projects of various local and international acts, meaning those coming for a tour right over here get to feast their sights on the project of the so-called International and national acts ranging from clay and glass works to pieces of jewelry compilations.
ADDRESS: 202 W Ruskin Pl, Santa Rosa Beach, 202 W Ruskin Place Seaside, FL 32459 United States
The Best Things to do Near Seaside Florida
#12. Gathering arts and crafts at the Newbill Collection By the Sea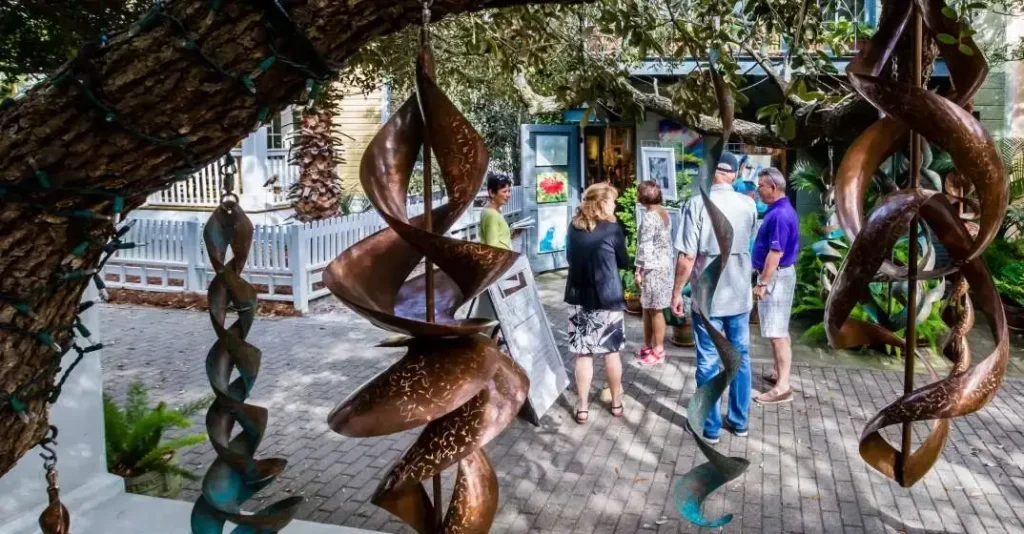 A stunning collection of contemporary paintings and sculptures by well-known and up-and-coming artists can be found at The Newbill Collection By the Sea, a must-see art gallery in Seaside, Florida.
The gallery features various media and styles, from elaborate mixed-media sculptures to brash abstract paintings. The knowledgeable staff is always happy to share insights and information about the artists and their work as visitors browse the collection and speak with them.
As finding their way into the Newbill Collection By the Sea would afford them the opportunity of having that one unique offer of getting to behold their sights on the various garden sculptures, fine crafts, painting photographs and folk arts this tourist location has got to offer.
This classic art store, the Newbill collection by the sea, does not compete with any other brands. They stand out in all dealings relating to handcrafted jewelry for the selectional taste of its visitors fascinated by all things jewelry.
The Newbill Collection By the Sea is unquestionably worthwhile a visit, regardless of whether you're an experienced art enthusiast or just looking for a special souvenir to bring home.
Address: 309 W Ruskin Pl, Santa Rosa Beach, FL 32459, United States
#13. Get nourished with natural nutrients at the Seaside Farmers Market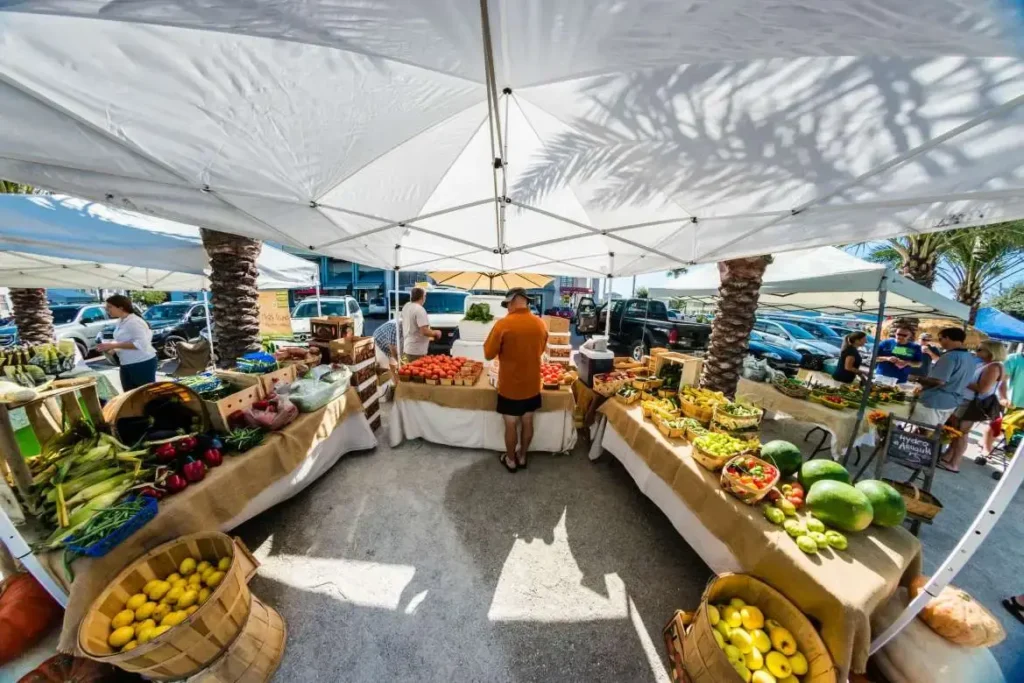 Having calmed the mind and nerves along the beach and its environs, the body also needs to have its share of nourishment, which is where the seaside farmers market comes into play.
Residents and visitors, in general, can go on a little shopping spree on farm produce, all this which could also be achieved while picking up some craft maker's product on the ground to have a feel of the real cultural vibes of the city.
What do they offer?
Here, the farm produces in its fresh nature is made available to all at a pocket-friendly budget which one gets to lay their hands on all things they've got to offer, ranging from the freshest of bottles of vinegar, flowers, jellies, cranberry, veggies, shrubs, jams, artisan oils, popcorn, olives all the way to pet food and roasted coffee.
Address: 2235 E County Hwy 30A, Santa Rosa Beach, FL 32459, United States
Looking for more thrills around Vermont and Maine? You may also like to check out the best things to do in Killington (Vermont), Brattleboro (VERMONT), Bangor (Maine), and Kittery (Maine).
#14. Enjoy the calmness of the Seaside Beach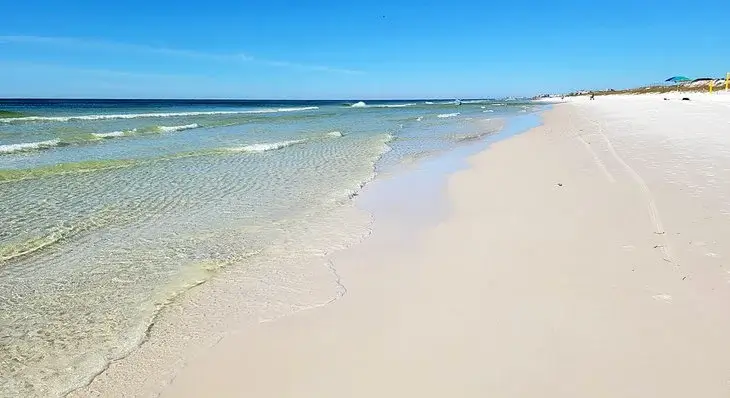 Seaside Beach is the ideal location if you're searching for a peaceful and unwinding beach experience. This beach offers a tranquil escape from the hustle and bustle of daily life with its fine white sand and clear waters.
No matter what you prefer, lounge in the sun, cool off in the water, or listen to the waves, Seaside Beach offers a tranquil and relaxing atmosphere that is difficult to match. Take a picnic lunch and a good book, then drive to Seaside Beach for a day of serenity.
What to expect?
Here one gets to enjoy and spend a nice time out with the family in a reserved environment while enjoying the calmness of its sea breeze while feasting their sights on the beautiful waves on the beach.
Address: 2236 E County Hwy 30A, Santa Rosa Beach, FL 32459, United States
#15. Catch up with movie trends at the Seaside Central Square Cinema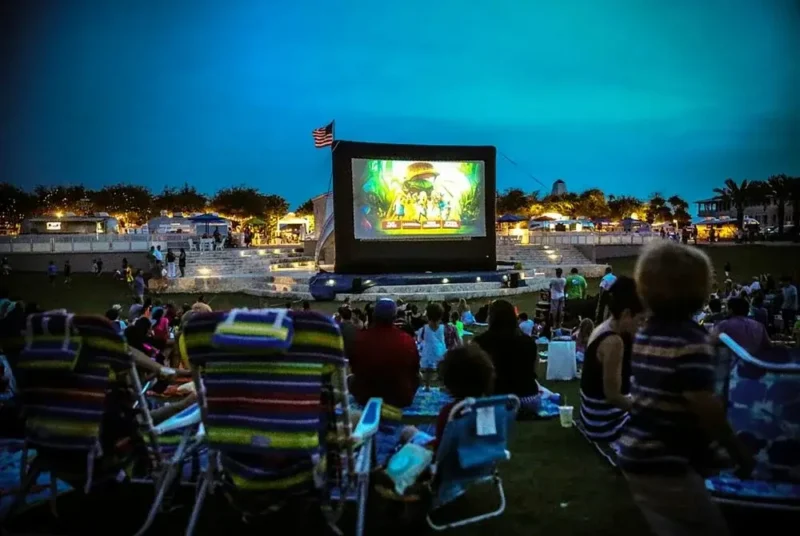 Seaside Central Square Cinema offers all things mind-blowing cinematic experience, just that this time around, not indoors but rather outdoors, making it even more special.
So for those interested in feasting their sights on the trending blockbuster movies, coming through to the Seaside Central Square Cinema should be a matter of utmost priority.
What experience does one stand to gain?
Here at the Seaside Central Square Cinema, locals and tourists, in particular, catch up with the latest blockbuster movie while spending some nice time out with family and friends, all of which could be done while enjoying comfort in the company of a bowl of hot popcorn.
Address: Central Square, Santa Rosa Beach, FL 32459, United States
#16. Go surfing at Austin Magee's Surf School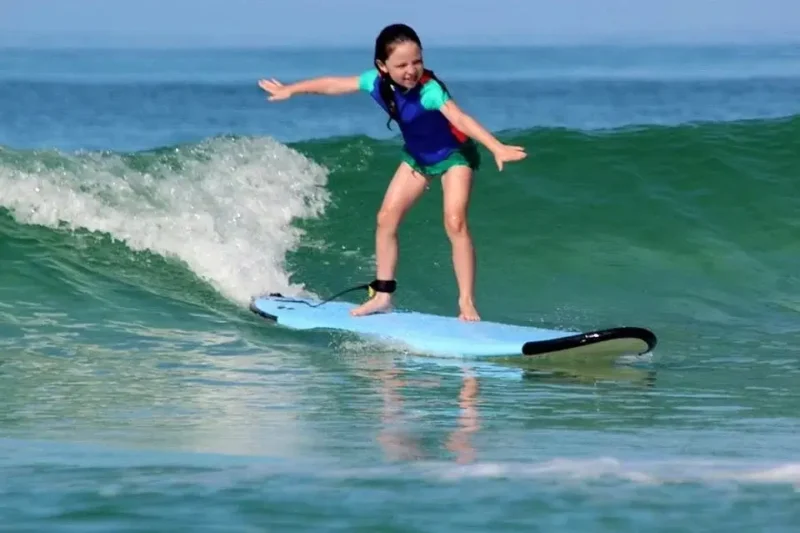 For those to have a wild experience and adventure at the beach, the Austin Magee surf school is here to make such a fantasy of theirs a reality, as they provide locals and visitors with that unique opportunity and platform for an amazing Surfing experience.
What do they offer?
This is more like a citadel of learning for the mind-blowing adventure of surfing where the various locals and visitors get educated on all things ocean awareness and water safety alongside all its basic knowledge of paddling, positioning and standing up to ensure their surfing experience is a mind-blowing one.
ADDRESS: 2236 E County Highway 30-A, Santa Rosa Beach, FL 32459, United States
#17. Explore something entirely different with Beach Sand Sculptures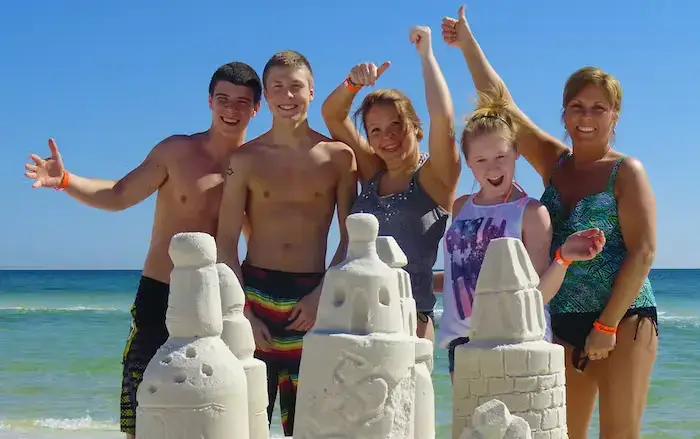 This is another unique adventure entirely different from the other fun activities one can engage with in the seaside Florida axis. Here, one gets to build a sandcastle for themselves from the beautiful Sand of the beach.
Here, one can explore different building skills on an amateur level and as fun engagements by trying out some sand sculpting adventures.
What do they offer?
With a one-time booked appointment, one gets to enjoy a nice time out with family and friends partaking in its sand sculpting classes, which normally do take two hours while they get ready for the journey ahead of building their sandcastle in a way best known for them only in the company of their family members and close relatives.
Address: 30A SOUTH WALTON SANTA ROSA BEACH
#18. Behold the beautiful view of the seaside at Seaside Pavilion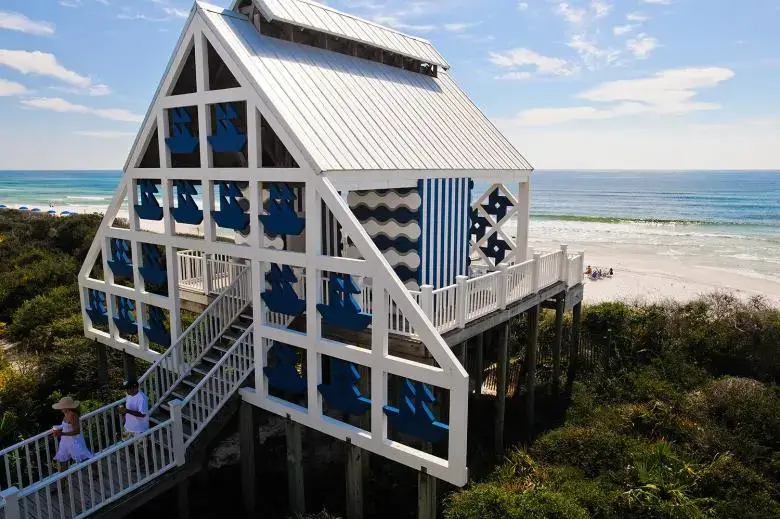 This experience is worthwhile and worth trying out for those intending to spend a nice time out. Acting more like a penthouse, one gets to create an amazing memory for themselves as one beholds the beautiful views of its glistening sea.
What other experiences can be achieved here?
Aside from the beautiful views of its glistening sea, one also gets to partake in its various organized yoga classes.
Address: 8 6th St, Old Orchard Beach, ME 04064, USA
#19. Grab a Drink at Bud and Alley's Waterfront Restaurant and Rooftop Bar
Bud and Alley's Rooftop Bar is yet another relaxation spot that has seen locals and visitors in recent times comes through in their numbers to create for themselves that lifetime memory of feasting their sights on its amazing Gulf views and perhaps settle for a taste of its unique cocktails in an environment cool and calm.
What are they known for?
It is the must go to relaxation spot that comes in its form of Bars and restaurants to attend to the needs of its visitors, who might also turn out to be tourists aa regards to all things seafood and cocktails while glimpsing their sights on the beautiful shade of orange of the sky at evening hours.
Address: 2236 E W County Hwy 30A, Santa Rosa Beach, FL 32459, USA
#20. Settle for a bowl of the meal at the Food Trucks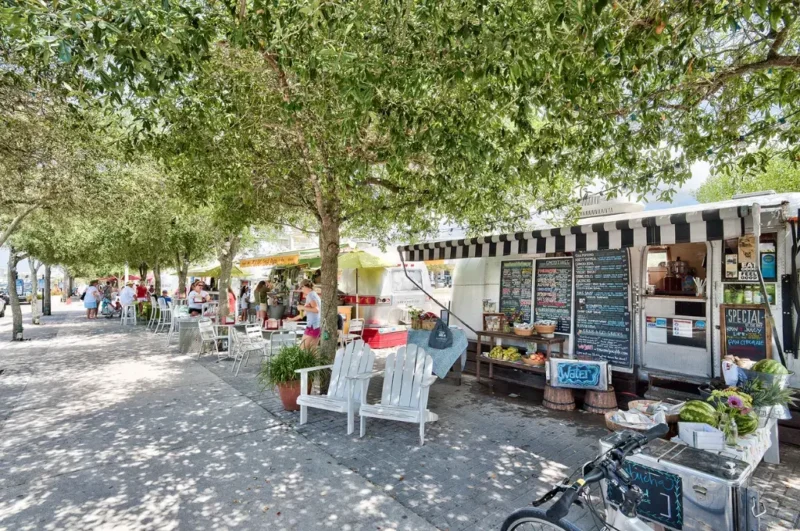 This is another experience worth trying out in its own right, specifically for those hanging out at the Land Yacht District axis of the beach.
All that is required and expected of one to do is to take a walk to one of its numerous food truck stands to settle for their bowl of grass-fed beef hot dog and, on the subsequent occasion, a taste of its BBQ.
Getting tourists refreshed with a bowl of a meal is exactly what their priority is all about, all this taking place with provisional seats under the trees or perhaps a picnic over the grass as they get a feel of the cool breeze of nature in its environs.
Address: Santa Rosa Beach, FL, United States
Time to spare? Why not check out the best things to do in London, Round Rock (Texas), Anderson (South Carolina), and Joplin (Missouri).
Is Seaside Florida worth visiting?
Seaside, Florida, is a charming and picturesque beach town worth visiting if you're looking for one. This picture-perfect neighborhood is renowned for its pastel-colored houses, white sand beaches, and relaxed ambiance.
Visitors can enjoy a wide range of activities, from swimming and sunbathing to exploring local art galleries and sampling delicious cuisine at one of the town's many restaurants.
Seaside offers something for everyone, whether traveling alone, with a partner, or with the whole family. So why not plan a trip and discover this popular Florida destination's beauty and charm for yourself?
What is Seaside Florida known for?
A charming beach town in Florida, Seaside is well-known for its fine beaches, pastel-colored houses, and distinctive design.
The town's central town square and network of pedestrian-friendly streets and paths were part of the town's 1980s design plan for a walkable community.
Seaside is known for having a thriving arts scene. Many galleries in the city show the work of local artists. The city also hosts numerous cultural events all year long. In addition to swimming and tanning, visitors can do things like kayaking and paddleboarding outside.
Of course, no trip to Seaside would be complete without indulging in some of the town's delectable fare, which includes everything from fresh seafood to traditional Southern favorites.
Can you go to the beach in Seaside Florida?
Absolutely! Some of the most stunning beaches in the nation can be found in Seaside, Florida, and guests are welcome to visit any time of year.
Seaside beaches offer the ideal setting whether you want to relax and soak up the sun, go swimming to cool off or do any combination of these things.
The community's main beach, Seaside Beach, is a well-liked location for swimming, tanning, and beachcombing and is conveniently located from the town's center. So grab a beach towel, pack some sunscreen, and head to Seaside for outdoor recreation!
Plan Your Vacation To Seaside Florida
Finally, Seaside, Florida, is a fantastic vacation spot with something to offer everyone. This charming beach town has many things to see and do, from its stunning beaches and thriving arts scene to its mouthwatering cuisine and distinctive architecture.
It's open to locals and tourists, giving them a place to show off their adventurous side by biking, swimming, kayaking, surfing, fishing, building sandcastles, and more.
The Seaside is a great place to relax and unwind or see what the town offers. So why not plan a trip and visit Seaside, Florida, to discover its charm and beauty for yourself? You won't be let down!
Disclaimer: Vasttourist always strives for content accuracy. Since the time of publishing, travel-related information regarding pricing, schedules, and hours may have changed. Please see individual websites embedded in this post for the most current trip-planning information.

Unless otherwise stated, Vasttourist does not claim ownership of any images used on our blog site. The respectful owners of all visual content have copyright protection. We try to include links to the sources. If any images are your property and you do not want them to appear on our blog, don't hesitate to contact us; we will take them down immediately. We support properly crediting the original writer, artist, or photographer.