21 Best & Fun Things to Do in Montclair NJ (New Jersey)
Montclair, New Jersey, is considered one of the best places to live in the United States of America by many sources, including Conde Nast Traveler. Whether you want to visit this part of New Jersey or live there, you are bound to find something that interests you in this city.
Every city carries a unique character that sets it apart from all the rest. Montclair, New Jersey, is busy due to its closeness to the New York Metropolitan Area. It is also close to New Jersey's First Mountain in the Watchung Mountains, making it a hub for outdoor attractions.
The city offers a wide range of attractions, including theaters, art galleries, museums, and amazing restaurants, in addition to one-of-a-kind stores and distinctive boutiques.
People come to enjoy the international cuisine, see a performance, or enjoy Bloomfield Avenue's sights and sounds, attracted by the bohemian arts scene. We've compiled a list of the best, the brightest, and the most beautiful things to do in Montclair NJ (New Jersey) to help you plan your next trip.
21 Best & Fun Things to Do in Montclair NJ (New Jersey)
#1. Kip's Castle Park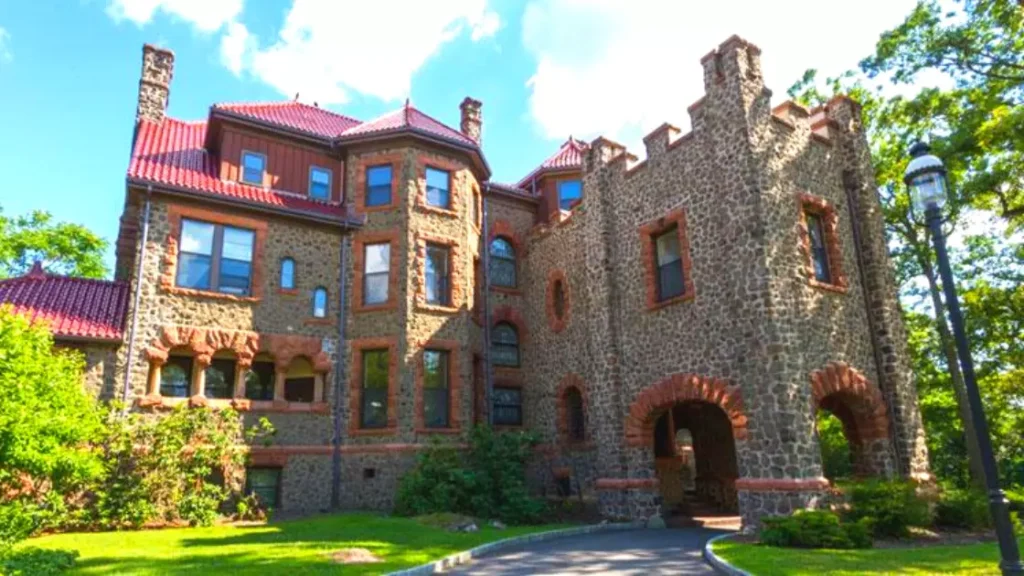 Kip's Castle Park is one of the best places to visit in New Jersey. The majestic Kip's Castle Park spans ten acres and is split between the two towns of Montclair and Verona. It has 9,000 square feet of beautifully carved rooms and halls and was modeled after Norman castles.
When you arrive, you will instantly notice the estate's medieval appearance, complete with crenelated and conical towers straight out of a movie. The local government now owns the castle.
Take a tour to explore the magnificent chambers, vintage furnishings, and other antiques. By coming here, you will experience the closest thing to being inside a real castle in Europe.
Address: 22 Crestmont Rd, Verona, NJ 07044, United States
#2. Clary Anderson Arena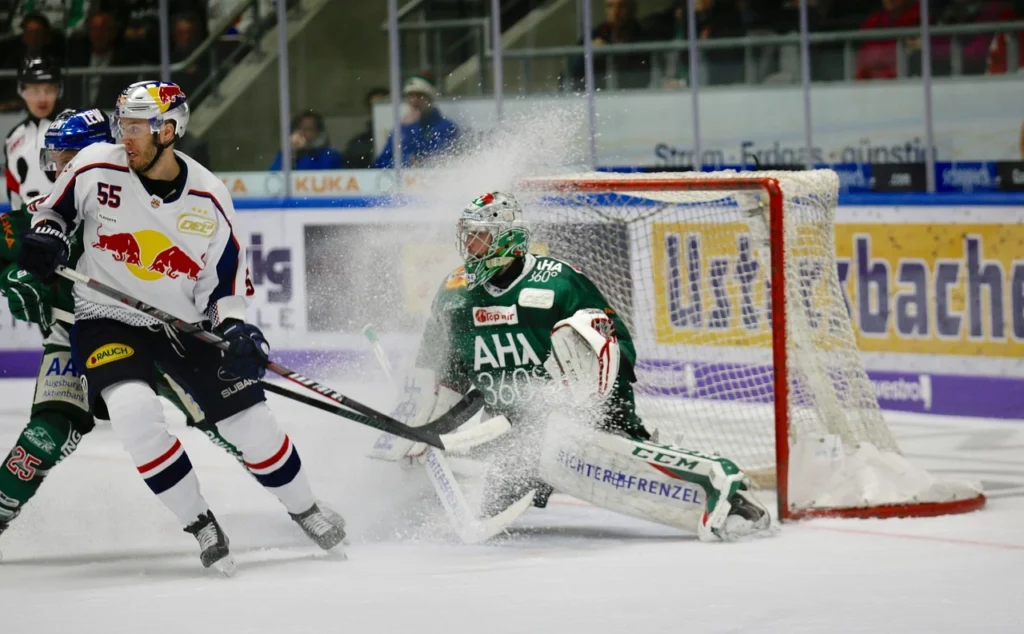 Clary Anderson Arena is a wonderful place to be if you are looking for what to do in Montclair, New Jersey. Clary Anderson Arena is the best place in Montclair to participate in winter sports like ice hockey and figure skating.
You might catch one of the exciting and wild games local teams play while you're here, so join the crowd and support your favorite players!
This sports arena also hosts figure skating performances where some gifted local skaters display their jumps and spins. Visitors and locals are also welcome to participate in the fun during the open skating sessions.
After you've spent a long time on the ice and need to refuel, stop by the on-site concession counter for energetic drinks and snacks.
Address: 41 Chestnut St, Montclair, NJ 07042, United States
#3. Mountainside Park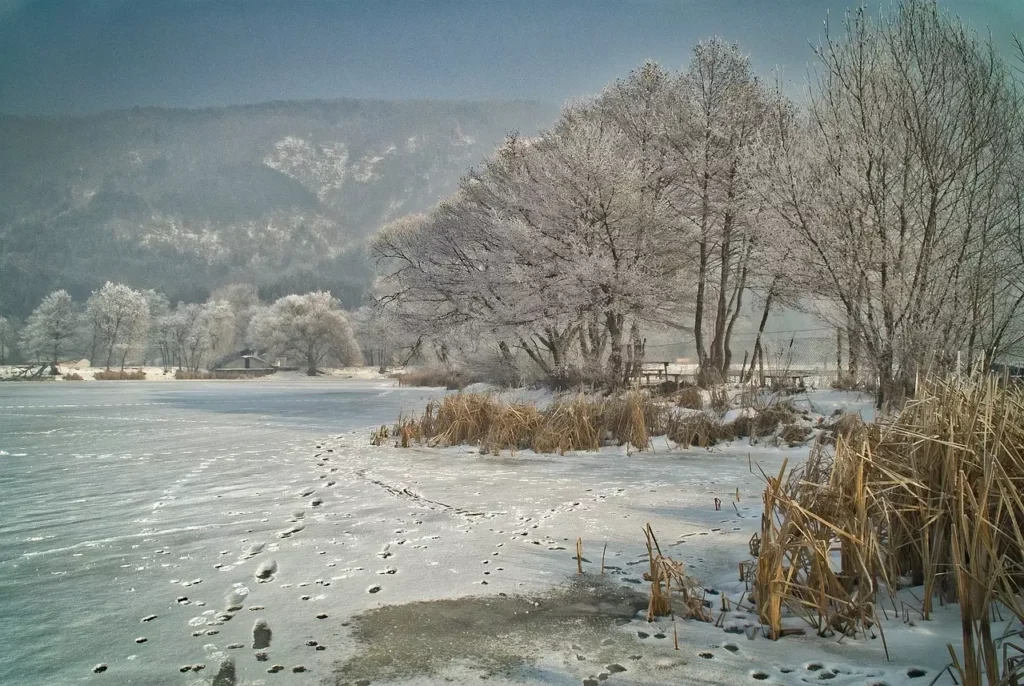 One of the best things to do in Montclair, New Jersey, is to visit Mountainside Park, the largest green area in this city, near First Mountain, as its name suggests.
Despite being a popular tourist destination in Montclair, the Presby Memorial Iris Gardens, which are a part of the park, are what most visitors are familiar with.
Subscribe to our travel newsletter to stay updated.
The family of Frank Presby gave it local horticulture specialized in cultivating several iris species. The garden now has a park-like layout and a six-acre size, making it simple for guests to see the vibrant blooms.
So take a stroll down the trails set up and see the flowers sprouting in all directions in the deepest purples and the brightest yellows.
At the edge of this park is a colonial home surrounded by trees, making for a beautiful backdrop for landscape photographs.
Address: 205 Upper Mountain Ave, Upper Montclair, NJ 07043, United States
Planning a road trip to New Jersey? Why not check out the best things to do in Cherry Hill (New Jersey), and Fun Things To Do In Cape May (New Jersey).
#4. Montclair Art Museum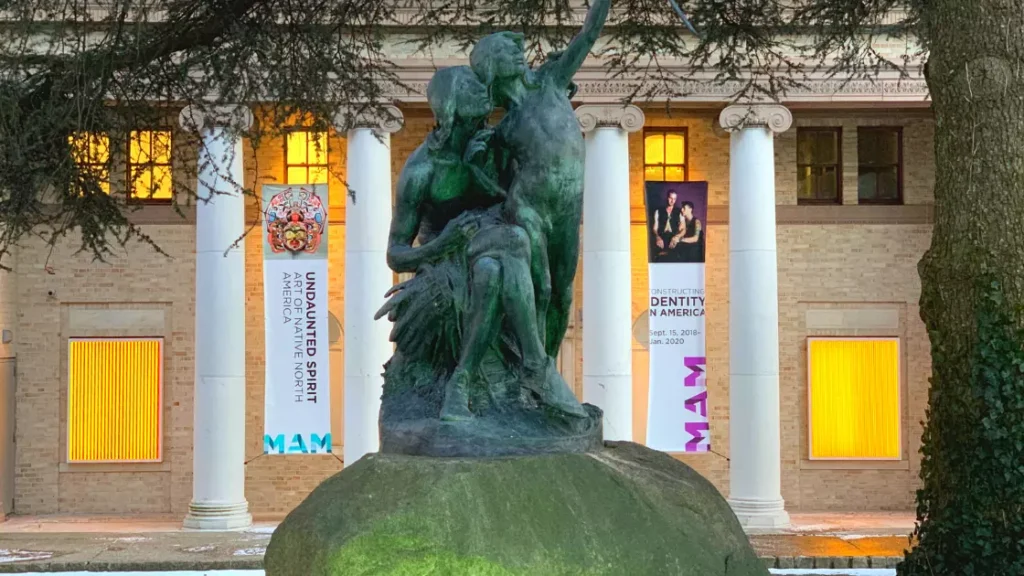 There are several places in the city devoted to artistic expression and human creation because all forms of art are valued there, and one of the most well-known is the Montclair Art Museum.
Montclair Art Museum is a unique and historic building. It was the first and only museum in the US to house American and Native American artworks when it opened its doors in 1914. It is one of the few locations specifically for artworks, with more than 12,000 artifacts in its permanent collection.
So, while you're here, look at the breathtaking paintings, sculptures, photographs, and other creations by renowned modern artists and indigenous community members.
The works of George Inness, a significant American painter well-known in the 19th century, are included in one of these collections.
You can also check out the changing exhibits with themes that don't significantly deviate from the museum's main focus.
Address: 3 S Mountain Ave, Montclair, NJ 07042, United States
#5. Montclair State University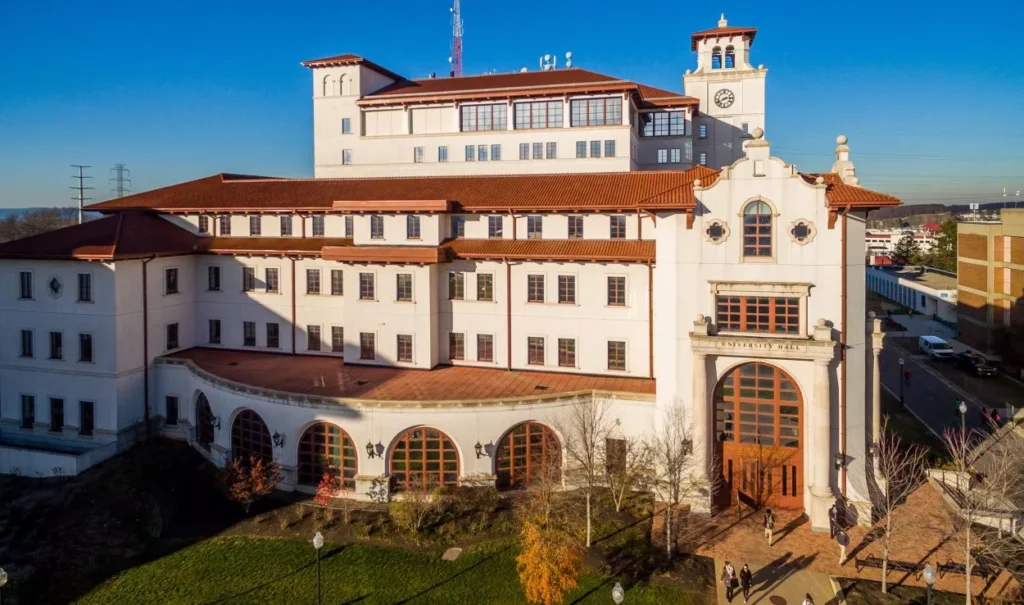 Montclair State University is one of the best-hidden gems in Montclair. The campus of Montclair State University is similar to Kip's Castle Park in that it is situated in the middle of two different cities, namely Montclair and Little Falls.
The most prestigious performance art venue in the academic complex, Alexander Kasser Theater, can be found on the Montclair side.
As the campus's premier venue for the study area, it is also one of the locations where performance art is valued above other types of art.
You can see student performances of breathtaking theatrical shows, orchestral performances, and dance recitals in the 500-seat contemporary theater.
It has also been equipped with cutting-edge audio and lighting technologies that take every performance to the next level.
Address: 1 Normal Ave, Montclair, NJ 07043, United States
#6. Crane House and Historic YWCA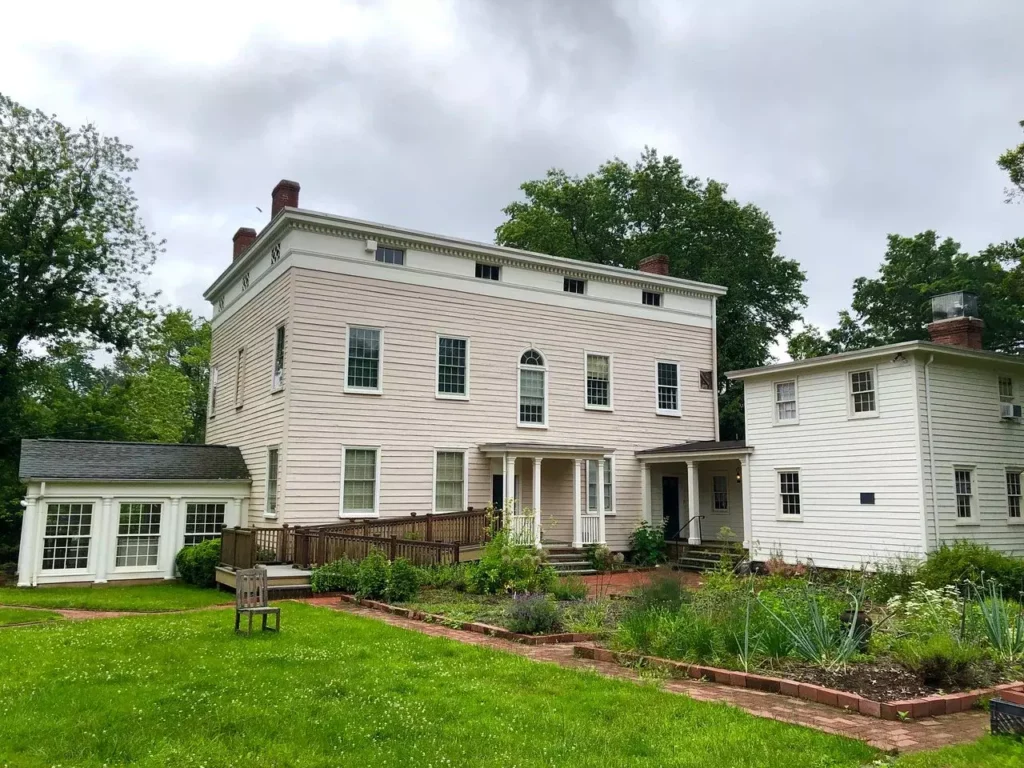 The Crane House and Historic YWCA are one of Montclair's most historically significant attractions, despite having the appearance of a boxy, normal building.
It was listed on the National Register of Historic Places in 1973, a year after the NHRP was established. The Young Women's Christian Association used this house as its headquarters (YWCA).
Black History Month honors this landmark building because the group used it to provide social services for African American women. Israel Crane, the area's richest businessman at the time, owned the property before it was used for this good cause.
This house was therefore regarded as a Mansion at that time. His previous furniture is still in the house today, and you can see them on guided tours.
While strolling the halls, you'll discover a lot more about the mansion and its previous residents.
Address: 110 Orange Rd, Montclair, NJ 07042, United States
#7. Yogi Berra Museum and Learning Center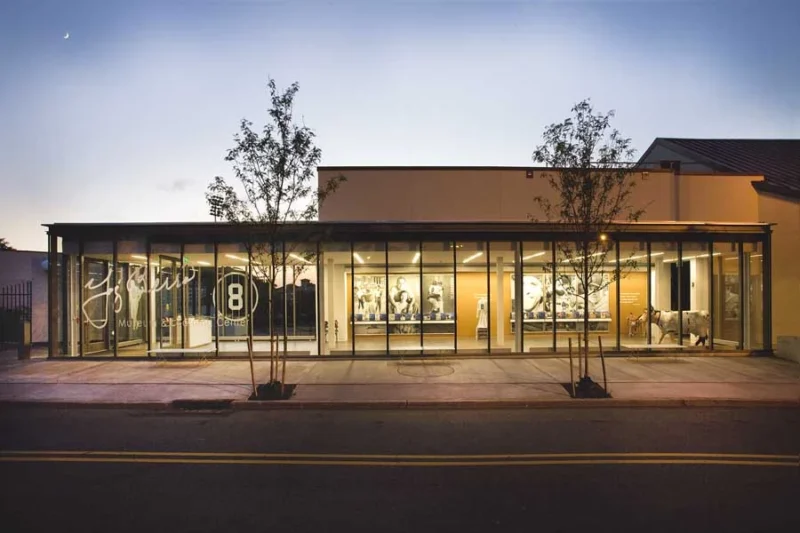 The Yogi Berra Museum and Learning Center, located on the campus of Montclair State University, is a museum dedicated to celebrating the life and career of Yogi Berra, a celebrated baseball player inducted into the National Baseball Hall of Fame.
The Yogi Berra Museum is located close to Yogi Berra Stadium. It has a range of memorabilia from Berra's career as well as information about the development of baseball and his contribution to the sport.
The museum also offers several summer programs and a three-day sports and business academy that provide high school and college students with information about professions in sports.
The Learning Center offers culturally varied sports-based educational programs to encourage students and learners to take an interest in sports. The Learning Center was established to maintain and promote respect and sportsmanship. This should be on your list of things to do in Montclair, NJ, this weekend.
Address: 8 Yogi Berra Drive, Little Falls, NJ 07424, United States
Are you about to embark on an adventure to Michigan for a wonderful vacation? You can check out the best things to do in Novi (Michigan), Cadillac (Michigan), Gaylord (Michigan), and Bay City (Michigan).
#8. Wellmont Theater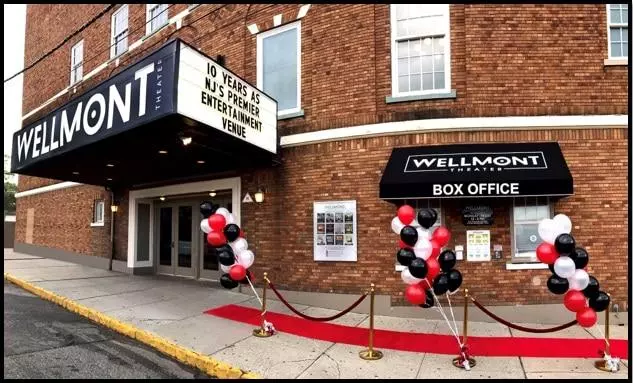 The Majestic Wellmont Theater in the booming city of Montclair is one of the primary locations for performance art, movies, and entertainment. Since it first opened in 1922, it has hosted live performances before showing films.
The theater recently received extensive improvements to accommodate contemporary audiences' needs regarding new systems.
The location now holds significant performances by well-known national performers, including Fetty Wap and dance. As a result, the theater is typically associated with loud productions that draw younger audiences.
It also serves as the location of the Montclair Film Festival, which exhibits works by both domestic and foreign directors. Schedule your trip around the festival's dates if you're a movie enthusiast.
Address: 5 Seymour St, Montclair, NJ 07042, United States
#9. Van Vleck House and Gardens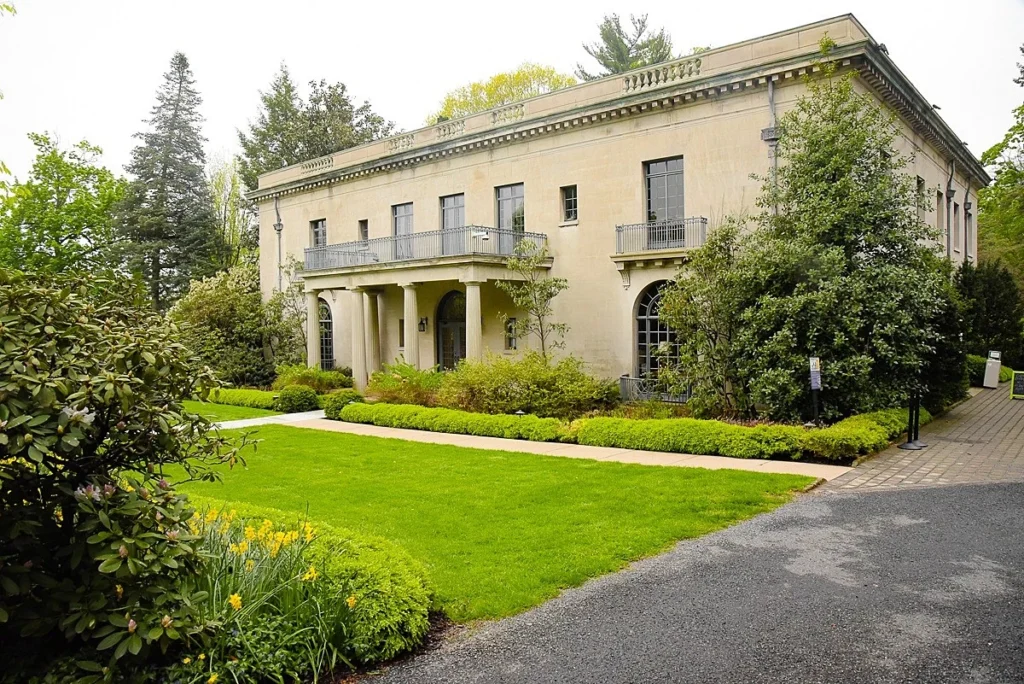 The Van Vleck House and Gardens is a great place if you are looking for fun things to do in Montclair, NJ, today. It is reminiscent of a mystical world where ancient, enchanted mansions are home to magical beings. At least, that's what most visitors to the estate might assume.
The named family originally held this attraction, but it is now a certified public botanical garden with ericaceous plants.
These kinds of plants prefer acidic soil, which causes the plants to produce blossoms with reddish undertones. As a result, the vines and trees on the land will be covered in vivid pink, dark crimson, and magenta blooms.
The majority of these are bright hybrids of azaleas and rhododendrons that the family created. These plants were permitted to flourish throughout the opulent mansion and its vast grounds, cared for by gardeners.
Large bouquets pour from walls, windows, and balconies, creating a picture that seems straight out of our novel.
Address: 21 Van Vleck St, Montclair, NJ 07042, United States
#10. Edgemont Park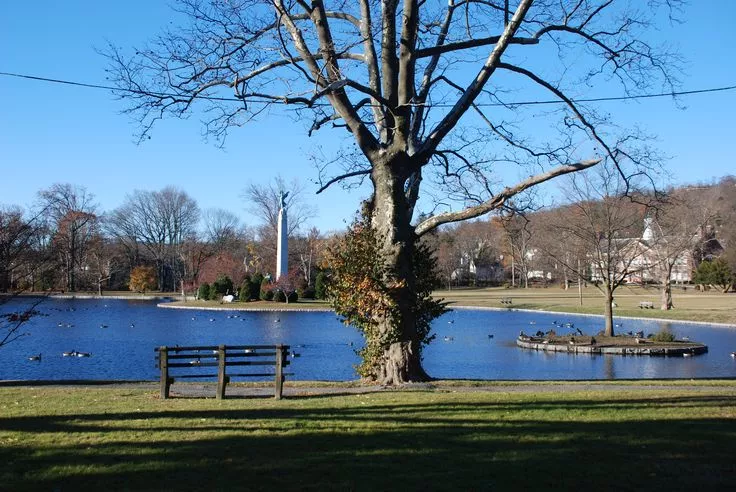 The grand Edgemont Park, also called Edgemont Memorial Park, is an expansive green park at the center of Montclair. This 15-acre attraction, which has been there since the 1920s, has established itself as a local landmark that both locals and tourists attend.
The park's most notable feature is a large artificial pond built by damming the stream that runs through its center. It has a tiny island with a towering pillar that is a tribute to those who fought in World War One.
The remaining parts of the park are mostly undeveloped, providing uninterrupted views of the spectacular edifice and its reflection on the transparent water.
If you have children, you can let them play on the well-equipped playground while you admire the lovely atmosphere.
Address: Valley Rd, Montclair, NJ 07042, United States
#11. Watchung Booksellers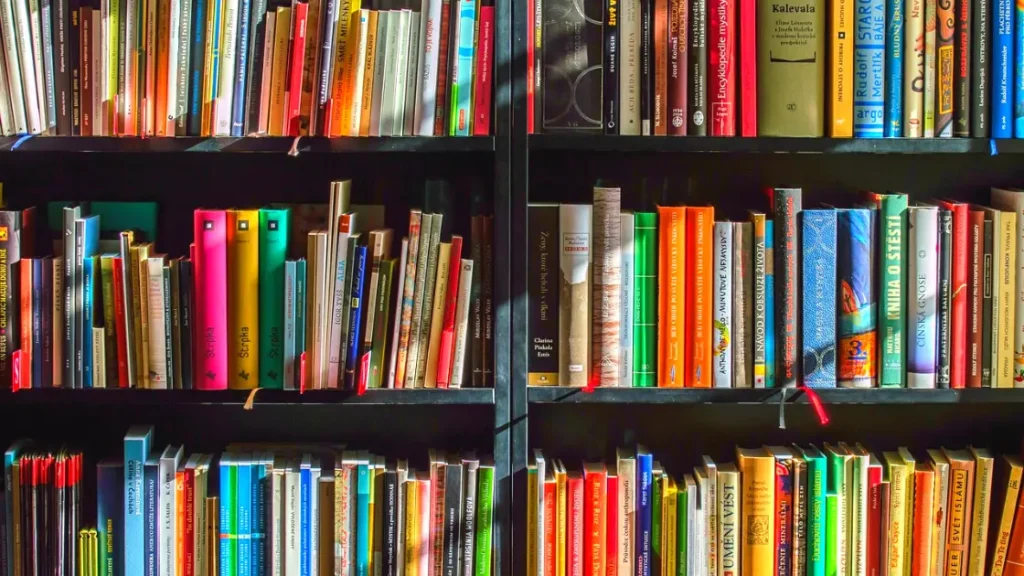 Watchung Booksellers, established in 1991 by Kathy Linsk, is the preferred neighborhood bookshop in Montclair. The bookstore, located above Bradner's Pharmacy, focuses on educational books, poetry, travel guides, and works of art in addition to basic collections of fiction, nonfiction, biography, and history volumes.
With suggestions from local readers, books are carefully selected to reflect the spirit and principles of the Montclair neighborhood.
The bookstore serves as an essential hub for New Jersey's literary scene because of the presence on its shelves of more than 60 published local authors.
Family reading areas and a buzzing Teen Corner are available in a delightful children's room. Poetry readings, kid's storytimes, book groups, and author signings are just a few of the special activities that the store hosts all year round.
Address: 54 Fairfield St, Montclair, NJ 07042, United States
#12. Alonzo F. Bonsal Wildlife Preserve
Most visitors may not be aware of Montclair's hidden jewel, the Alonzo F. Bonsal Wildlife Preserve. It is simple to overlook because its entrance is situated on a mundane sidewalk. That is why visitors looking to escape the city's noise continue to flock to this 30-acre attraction.
The preserve's dense trees make it the ideal tiny haven for local wildlife like deer, owls, and other mammals. Walk down the paths that wind around the park to have a chance to see them.
Third River, which borders the park on the south, is another place you can visit. A wooden bridge crosses one stretch of it, making for lovely scenic photographs in the middle of the forest. This should be among the kid-friendly things to do in Montclair, NJ.
Address: Riverview Dr W, Montclair, NJ 07043, United States
Looking for more thrills around Washington? Here are some of the best things to do in Pullman (Washington), Colville (Washington), and Fun Things To Do In Washington DC Right Now!
#13. Yogi Berra Stadium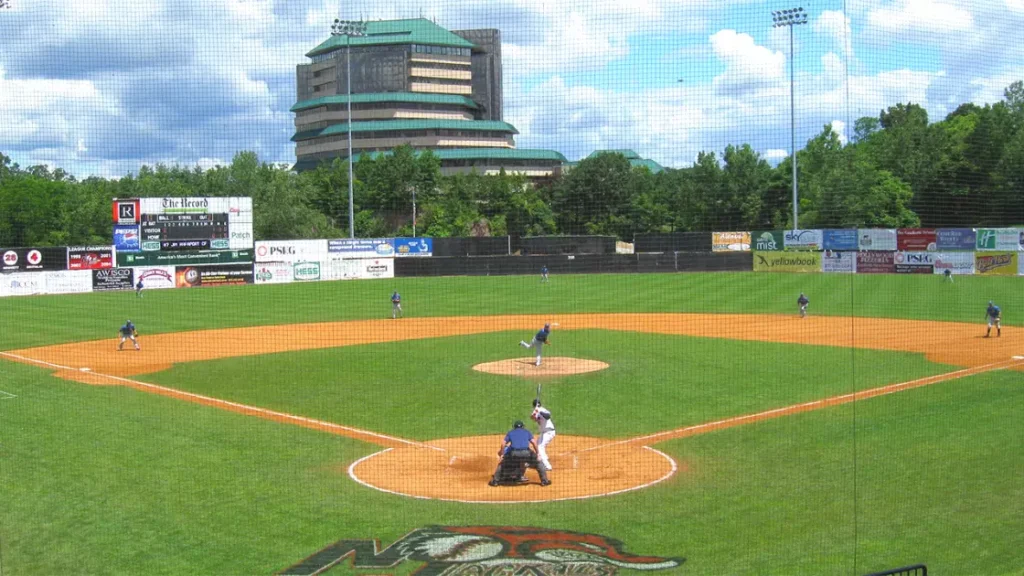 The Montclair State University Red Hawks and the New Jersey Jackals, a professional baseball team in the Northeast League, call Yogi Berra Stadium their home field.
The Yogi Berra Stadium, inaugurated in 1998 and bears his name, can accommodate 5,000 spectators and has 1,500 lawn seats and 3,784 permanent seats. Berra was a catcher for the New York Yankees and was inducted into the Hall of Fame.
The Yogi Berra Museum and Learning Center is located on the first-base side of the stadium, known as "the home of champions." In honor of Yogi Berra, who wore the number 8 when he played for the New York Yankees, all dimensions in the stadium's field end in the number 8.
The stadium also features two picnic areas, an outdoor party area, a game arcade, a Kid's Zone, and a gift shop.
Address: 27 Clove Rd, Little Falls, NJ 07424, United States
#14. Greek Taverna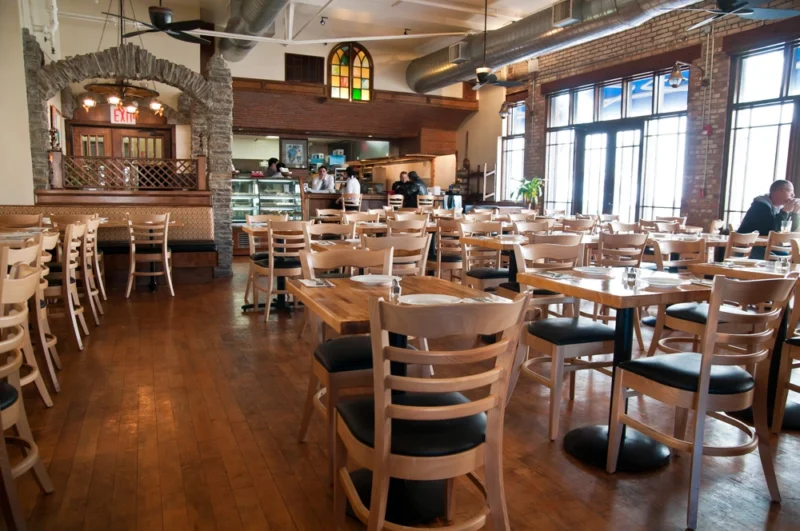 Visit the Greek Taverna on Montclair's bustling Bloomfield Avenue for a culinary tour of the gorgeous Mediterranean nation of Greece, if you are looking for the best places to visit in Montclair, New Jersey.
With its original decor and delectable fare, the quaint restaurant, which exudes old-world charm, breathes the ageless tradition of the Mediterranean.
Visitors can observe the process behind making the delectable authentic Greek delicacies on the menu thanks to the open-air kitchen.
Some of their top-notch dishes include Kalamarakia Shares (tender chargrilled calamari drizzled with olive oil and lemon juice), Lamb Glovetski, and Ouzo Keftedes (special meatballs from the island of Mytilini in a tomato ouzo sauce) (braised lamb and orzo pasta in a delicate white wine sauce). Some of the best are in Greece.
Greek Bougatsa, handmade Baklava, and Galaktoboureko are some of the best desserts in the world, so make sure to sample them all.
Address: 292 Bloomfield Ave # 1, Montclair, NJ 07042, United States
#15. Glenfield Park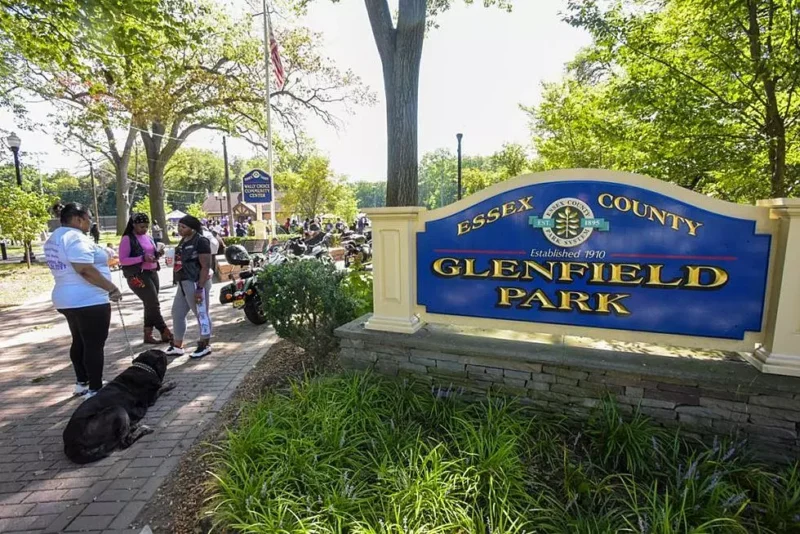 The middle part of this city comprises most companies and stores because it is the larger commercial district. As a result of this, there was a need for public green spaces that people could visit during breaks or after work. Glenfield Park provided the solution to that need, just a few meters away from this bustling downtown.
There are huge, open areas and wooded patches, with some of the park's original vegetation present throughout the 20-acre region.
They receive their water from the Second River, a little stream. You can take the well-paved paths far into the urban forest to get to the park's waterside areas. It's the ideal short getaway following a busy day in this city.
Address: 115 Bloomfield Ave, Montclair, NJ 07042, United States
#16. Da Pepo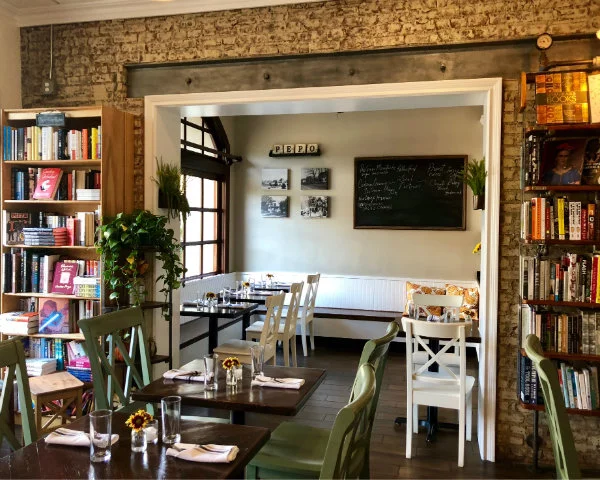 Da Pepo is a wonderful Montclair eatery serving comfort food from Italy. The restaurant is renowned for its excellent Southern Italian cuisine, prepared using fresh ingredients following time-honored family recipes from the Orrico family.
It is housed inside a well-known neighborhood bookstore Watchung Booksellers, and features a countryside and welcoming dining area for families. Gnocchi Telefono, Penne puttanesca, ravioli Funghi trifolati, and orecchiette barese are among the hearty pasta options.
Vegan mozzarella cheese is also an option for the ravioli Funghi trifolati. Additionally, panini sandwiches are filled with delectable components, including grilled chicken, fresh mozzarella, pears, and pesto mayo. Monday through Saturday is supper hours at the restaurant.
Address: 54 Fairfield St, Montclair, NJ 07042, United States
#17. Yantacaw Brook Park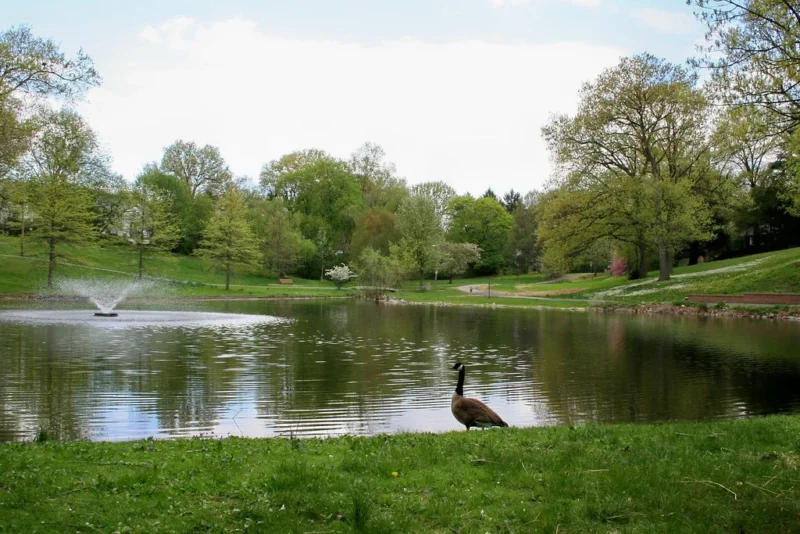 The northern parts of Montclair are home to the tranquil neighborhood park known as Yantacaw Brook Park. The big pond in the middle of this park, supplied by the brook with the same name, is one of its most beautiful features.
Many people come to this park to stroll, exercise, or take their pets for a walk. Check out this location if you want to reduce stress and unwind for an hour or two.
Address: 30 Club Rd, Montclair, NJ 07043, United States
Travelling around California? Take a look at some of the best things to do in Hayward (California), Fremont (California), Santa Monica (California), and West Covina (California).
#18. Samba Restaurant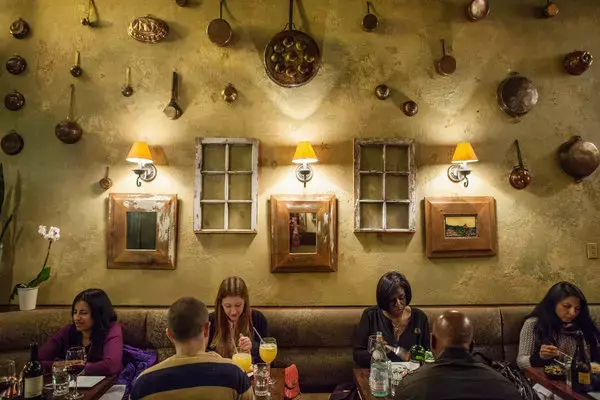 Samba is a small Brazilian restaurant in the center of Montclair city that offers traditional Brazilian food in a chic, rustic setting. Samba's young, laid-back crew serves the varied food developed by vivacious owner Ilson Goncalves among aged rustic decor, old tableware, antique pots, and gentle lighting.
Goncalves draws inspiration for his food from the straightforward, family-style meals he ate growing up in southern Brazil.
Imagine a trio of yucca-based dishes:
Salgadinhos sortidos (lightly fried yucca fritters).
Mandioca frita (deep-fried yucca served with Brazilian sausage and sautéed onions).
Salada de Chula com manga (arugula, mango, and caramelized pistachios in a salad with an orange vinaigrette).
Bossa nova and other Latin music are softly playing in the background, and three enormous decorative screens display the restaurant's lively atmosphere.
Address: 7 Park St, Montclair, NJ 07042, United States
#19. Egan & Sons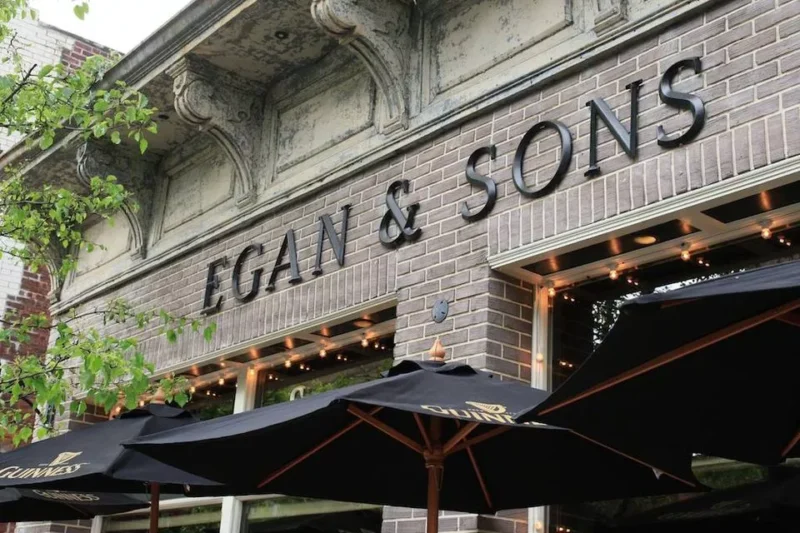 Egan & Sons is an authentic Irish bar with a lively environment where traditional Irish meal is served. The bustling bar, located on Walnut Street in the center of Montclair, is the perfect place for after-work drinks with friends or a peaceful meal.
The menu includes starters such as jumbo crispy chicken wings, freshly shucked oysters, steamed Newfoundland moules frites, and falafel platters created with fresh, local ingredients from nearby farms.
Salmon with a cider sauce, traditional fish and chips, pan-seared scallops, and chicken pot pie are some of the main dishes.
Other Popular food options include beef burgers, thick-cut fries, onion rings, and garden salads. Lemon mustard, shallot vinaigrette, and blue cheese are delicious homemade house dressings. Farmhouse cheese, bacon, and cheese rarebit are some of the mouthwatering toppings.
Address: 118 Walnut St, Montclair, NJ 07042, United States
#20. Woodhouse Day Spa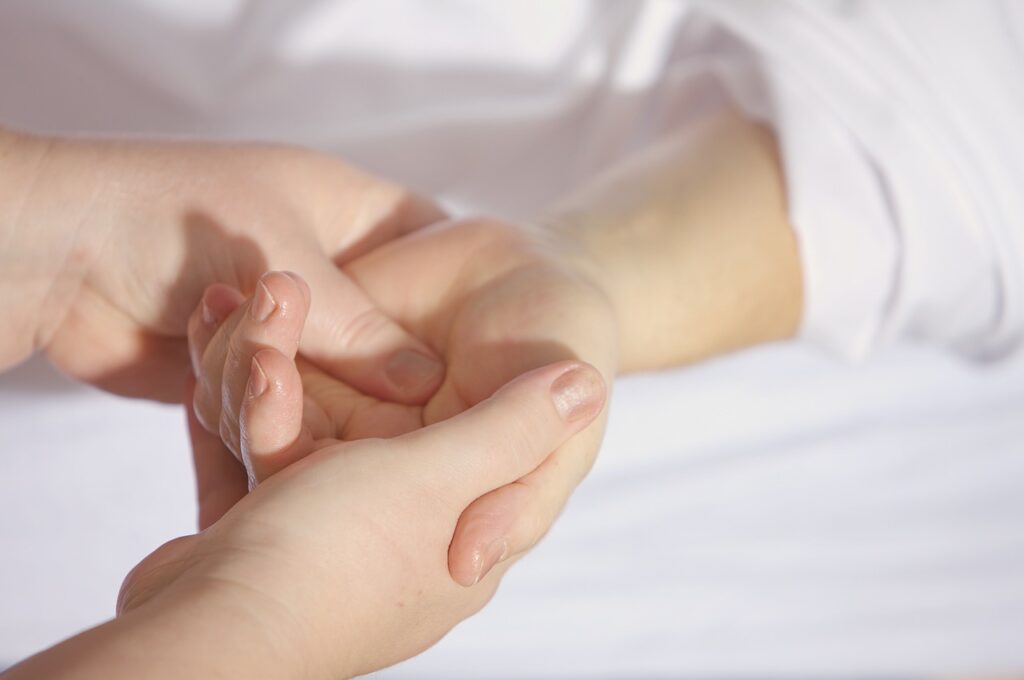 The Woodhouse Day Spa is a health spa and wellness facility that provides more than 70 vital services, including therapeutic massages, massage therapy, and skin and body treatments, including seaweed body wraps, microdermabrasion, body waxing, Vichy shower body treatments, and manicures and pedicures.
Each massage relieves tension, improves circulation, and improves overall health and well-being. Indulgent massages also include essential oil treatments to promote deep relaxation and foot cleansing rituals. The spa provides several packages for gifts and special occasions like weddings, anniversaries, and birthdays.
The Woodhouse Spa provides a full range of facial and body services, including facials, massage therapy, microdermabrasion treatments, chemical peels and waxing services.
Their signature treatment is The Woodhouse Signature Treatment which includes an hour-long Swedish Massage followed by a luxurious facial or microdermabrasion treatment! You can't go wrong with this one.
Address: 56 S Park St, Montclair, NJ 07042, United States
#21. Juniper Yoga + Fitness

Nestled at the base of the Watchung Mountains and just 30 miles from Manhattan, Montclair is a thriving town with an eclectic mix of residents. It's also home to Juniper Yoga + Fitness – a yoga studio committed to healing the body through movement.
You'll feel right at home with their welcoming staff and calming atmosphere. Juniper Yoga offers classes seven days a week, including morning and evening classes and specialty workshops on Wednesdays. They are also happy to offer private sessions for personalized instruction.
Address: 213 Bellevue Ave, Montclair, NJ 07043, United States
Is Montclair worth visiting?
Montclair is a beautiful and historic city that deserves all its attention. With great restaurants, shops, and hotels, it has something for everyone.
Plus, if you're interested in the arts, there are plenty of galleries to explore. One thing I love about this town is how easy it is to get around! Parking can be difficult at times, but when you find a spot on the street or lot, there's often metered parking, too, so it is not too bad.
What is Montclair NJ known for?
Montclair is a city located in the state of New Jersey. The city is known for being full of restaurants and nightlife that offer cuisine worldwide. It's also known as a hub for artists and art galleries. One can find many different types of art on display, such as paintings or sculptures.
Montclair also has plenty of parks perfect for recreational activities like biking or jogging. The most popular park is Garret Mountain Reservation, which features an old railway tunnel and beautiful scenery year-round.
If you're looking for something more active than just sitting inside all day, check out one of the many public tennis courts in the city.
What are the weather conditions in Montclair?
Montclair has a humid subtropical climate with four distinct seasons each year. The summers can get quite hot here, with average highs of 86 degrees Fahrenheit and lows around 70 degrees Fahrenheit.
Winters are cold, with the average high being 43 degrees Fahrenheit and lows at 27 degrees Fahrenheit on average.
Plan Your Trip To Montclair, New Jersey
The charming small-town charm of Montclair makes it a surprising but pleasant destination just outside the New York metropolitan area.
 There is plenty to do and something to satisfy all interests. You can take in the beauty of outdoor Montclair, as well as relax indoors too.
You'll find yourself occupied for hours and hours every day, no matter what activities you choose from this list because Morristown is filled with opportunities and experiences.
Start making travel arrangements for this lovely city. Save this page as a quick reference while planning your schedule for Montclair, New Jersey.
Disclaimer: Vasttourist always strives for content accuracy. Since the time of publishing, travel-related information regarding pricing, schedules, and hours may have changed. Please see individual websites embedded in this post for the most current trip-planning information.

Unless otherwise stated, Vasttourist does not claim ownership of any images used on our blog site. The respectful owners of all visual content have copyright protection. We try to include links to the sources. If any images are your property and you do not want them to appear on our blog, don't hesitate to contact us; we will take them down immediately. We support properly crediting the original writer, artist, or photographer.