20 Best & Fun Things to Do in Lawrence KS (Kansas)
Looking for the best things to do in Lawrence, KS? Lawrence is one of Kansas's main tourist spots, adored for its historical preservation, beautiful cosmopolitan streets, and youthful joie de vivre.
It is a lively city with many amazing things to see and do, including art galleries, entertainment centers, restaurants, shopping malls, coffee shops, and many more.
Lawrence, Kansas, is popular for being an educational city, having several universities. Lawrence is filled with many outdoor activities, with over 50 parks. Visit the University of Kansas Natural History Museum, tour the Dole Institute, and attend a performance at the Kansas Lied Center.
Families can visit the Wakarusa River Valley Heritage Museum, Clinton State Park, and Prairie Park Nature Center. There are so many things to do in Lawrence, Kansas, that you might wish to extend your trip by one or two days! We've compiled a list of the top things to do in Lawrence, Kansas, to help you plan your next trip.
In this article, we have listed 20 things to do in Lawrence, Kansas. This list is curated, as always, but isn't ranked. We couldn't choose favorites.
What are the Best Things to Do in Lawrence KS (Kansas)
#1. Massachusetts Street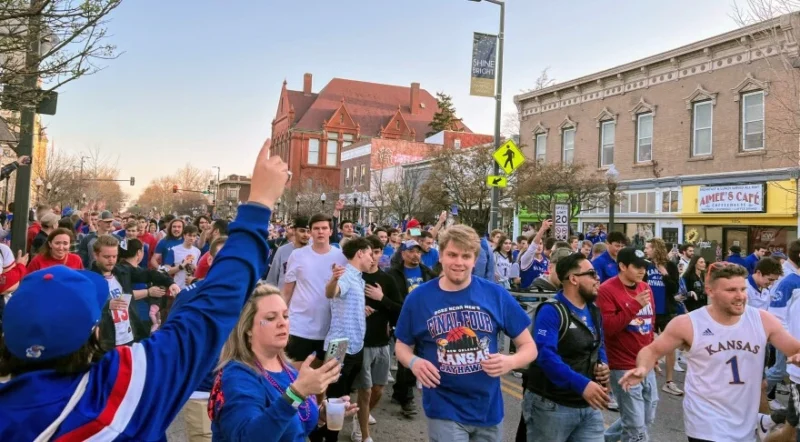 Massachusetts Street is a popular tourist destination in the heart of Lawrence. Massachusetts Street, also known as "mass street," is located in the central business district of downtown Lawrence.
It is well-known as one of the most historically significant areas of the city. The New England Emigrant Aid Society, which helped establish the area and laid the groundwork for the city, gave the street its name.
This area is the home to many fascinating examples of Victorian and Neoclassical buildings constructed between 1856 and 1953. Most of the structures are from the 1850s to the 1950s.
This street has a building that is recognized on the National Register of Historic Places in the United States. There are a lot of stores, restaurants, cafes, art galleries, bars, and other establishments along this street.
There are many things to do and see on this beautiful street, like Opulent South Park, the fascinating Watkins Museum of History, and cultural hotspots like The Granada, The Replay Lounge, and the Lawrence Arts Center.
#2. University of Kansas Natural History Museum
This museum is one of the best places to visit in Lawrence, KS. It is located at the University of Kansas at Jayhawk Boulevard. It is entirely devoted to the study of the biodiversity of the earth.
This museum was built between 1901 and 1903 in the Romanesque architectural style and was inspired by the Chicago World's Columbian Exposition of 1893.
The historic Dyche Hall, a structure on the National Register of Historic Places, is where the galleries are located. The museum houses over 350 structures, and a few are listed on the National Register of Historic places. The "Panorama of North American Wildlife" is the museum's most popular exhibit.
It would be best if you visited the University of Kansas Natural History Museum since it is a beautiful attraction and a very instructive location in the city.
Address: Dyche Hall, 1345 Jayhawk Blvd, Lawrence, KS 66045, United States
#3. Robert J. Dole Institute of Politics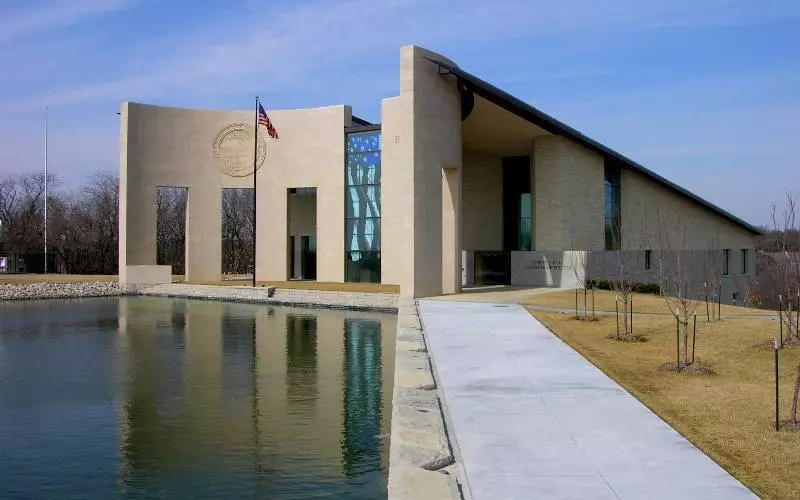 There are only a few cities in the world that have an entire institute dedicated to only politics, and Lawrence, Kansas, Is one of those few cities.
A political organization called the Robert J. Dole Institute of Politics is situated on Petefish Drive on the University of Kansas campus in Lawrence. The Kansas senator and 1996 Republican presidential contender Bob Dole founded the organization, which is frequently referred to as the Dole Institute.
The institute is a 28,000-square-foot building that was first used in 2003. It is a crucial place for political proceedings because it is a non-partisan organization, in addition to housing Dole's papers.
Bill Clinton, Tom Brokaw, Bob Woodward, and Bob and his wife, Elizabeth Dole, were among the speakers at the institute. The institute can be rented and provides tours and a range of programs. Add this to your list of things to do in Lawrence, KS.
Address: 2350 Petefish Dr, Lawrence, KS 66045, United States
#4. Watkins Museum of History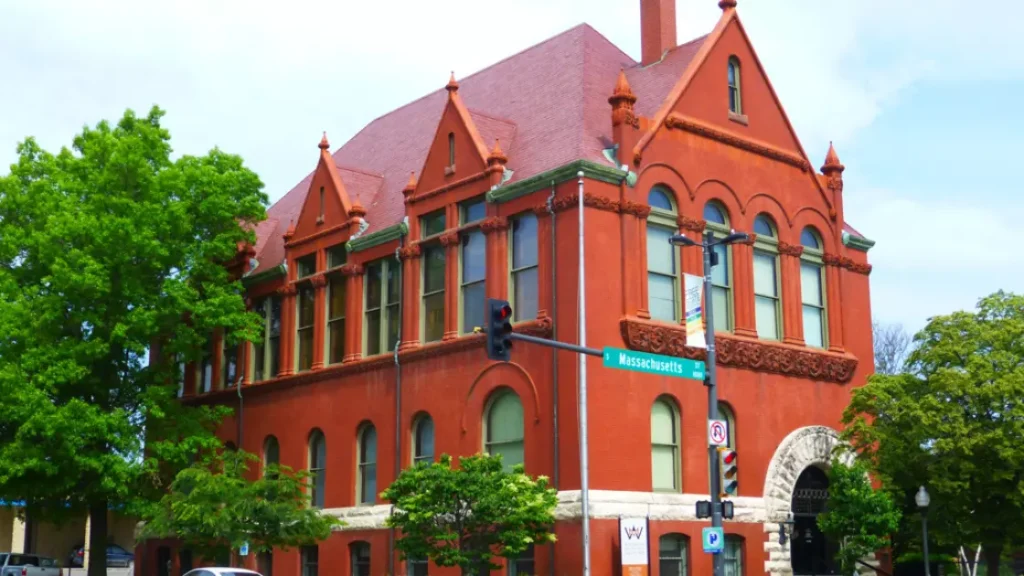 Douglas County, Kansas's history will always be preserved and shown at the Watkins Museum of History. In 1933, the historic J.B. Land Mortgage Company and Watkins National Bank building housed the opening of the Watkins Museum of History.
The Watkins Museum was built with the main objective of preserving and protecting the history of Douglas. The museum consists of some permanent and momentary exhibits from 1888.
The permanent exhibit includes many more significant events, including the Civil War, the Civil Rights Movement, the Vietnam War, and more.
The "Early Settlement of Douglas County," "Watkins: The Couple, the Building, the Legacy," and "More than a Game: Basketball and Community Spirit" temporary exhibits are just a few of the available options.
People interested in learning about the city's history can visit the museum, which is really adorable.
Address: 1047 Massachusetts St, Lawrence, KS 66044, United States
Planning a road trip to Kansas? We have got you covered! You can check out the best things to do in Dodge City (Kansas)
#5. Lied Center of Kansas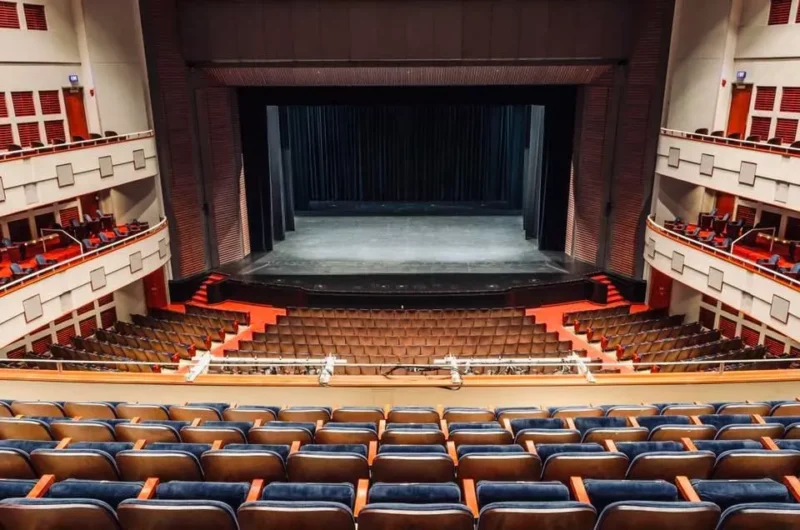 The Lied Center of Kansas is a great place to be if you are looking for what to do in Lawrence, KS. This is a stunning and popular tourist destination on the University of Kansas campus. The center bears the names of Ernst M. and Ida K. Lied, the parents of University of Kansas alumnus Ernst F. Lied.
It is a performing arts center that opened its doors in 1993. This center is the ideal location to catch some top-notch theater productions. Consider checking out a play at the Lied Center of Kansas if you're looking for a romantic date in Lawrence.
The center has two performance spaces: The Pavilion, which can accommodate 200 people, and the main auditorium, which can accommodate roughly 2,000 people.
The center offers a variety of educational outreach initiatives, such as school concerts, study materials, and "School Ambassadors" who teach nearby students about the institution.
Address: 1600 Stewart Dr, Lawrence, KS 66045, United States
#6. Prairie Park Nature Center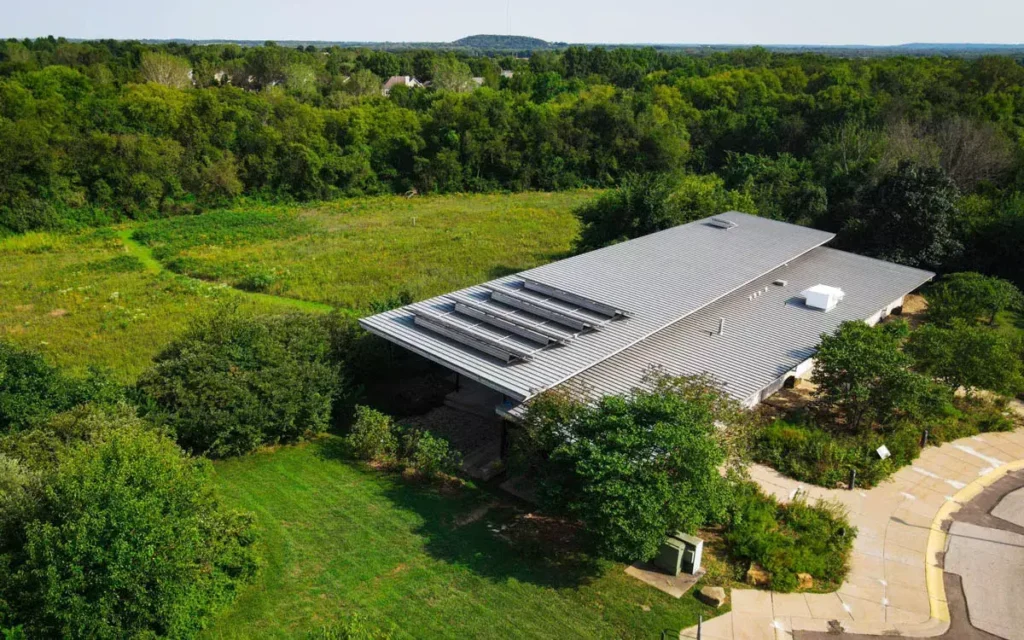 The Prairie Park Nature Center in Lawrence first opened its doors on Harper Street. This nature reserve center spans 100 acres with various habitats, including prairie, marshes, and forests.
A nature center also contains a five-acre lake called Mary's Lake. It is a well-liked fishing location that the Kansas Department of Wildlife & Parks stocks with fish during the spring and summer.
It also features walking trails so guests can stroll through the lovely environment of the center.
This place is a must-visit for those interested in nature and birds. Predatory birds, beavers, bobcats, and deer are a few of the animals that call the nature center home. Live animals and dioramas of natural habitats are featured in the educational facility.
Address: 2730 Harper St, Lawrence, KS 66046, United States
#7. Washington Creek Lavender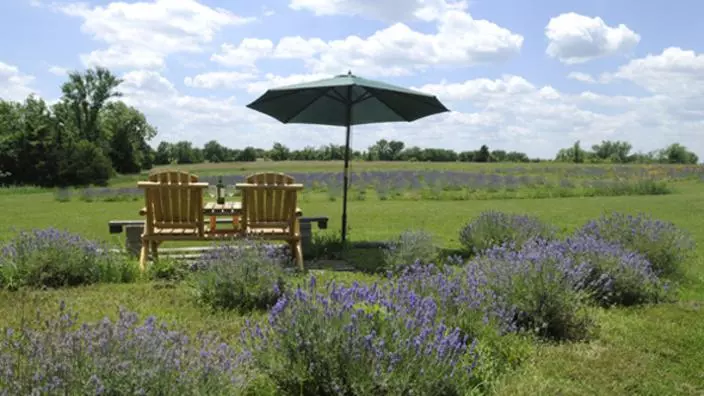 Washington Creek Lavender has the appearance of a hill covered in lovely flowers. This little portion of Provence is located just outside Lawrence.
Over 6000 fragrant lavender plants of various sorts are growing on a purple hill that is undulating. The plants' delightful scent permeates everything because they are highly aromatic.
Jack and Kathy Wilson are the owners and operators of Washington Creek Lavender. They grow all their lavenders organically and tend to them without using chemicals, which entails more laborious work and intensive care. Still, the final result is a high-quality plant that soothes and calms.
According to Kansas' official authorities, this farm is also a location for Lawrence's agricultural tours.
Visitors are welcome to Washington Creek Lavender, where they are free to stroll through the rows of lavender flowers. Your visit will undoubtedly be serene and beautiful. Stroll along the enticing rows of lavender shrubs; even the scenery is soothing.
Visit their shop, where they provide sachets, long-lasting dryer sheets, and a range of items relating to lavender, including handmade pottery with lavender patterns.
Also, this farm offers a store where you may purchase souvenirs and goods associated with lavender. You should include Washington Creek Lavender in your list of things to do in Lawrence.
Are you about to embark on an adventure to Florida for a wonderful adventure? Why not check out the best things to do in Gainesville (Florida), Clermont (Florida), and Fun Things to do in Ocala (Florida).
#8. Booth Family Hall of Athletics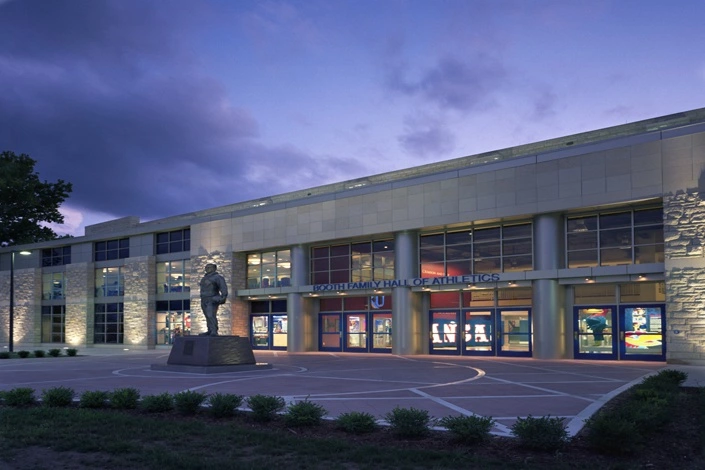 The Booth Family Hall of Athletics was founded in January 2006. This museum is dedicated to Kansas University's sports team. The Sports students and Coaches (both past and current) from the university's athletic community are honored in the museum.
It is located at the Allen Fieldhouse-adjacent to a 19,335 square-foot building, reconstructed in 2009. It wasn't as large as when it was first built.
The history and legacy of Kansas Athletics are available for Jayhawk fans to learn about, thanks to Booth Family Hall's year-round accessibility. The late Gilbert and Betty Booth, Lawrence citizens, and devoted Jayhawk supporters left a legacy that gave rise to the hall's name.
With two Olympian cases and one Wilt Chamberlain case, the Story of Sport gallery presents Kansas Athletics' history starting in 1879.
All 18 current Kansas athletic teams are featured in the Game and Gear gallery. In contrast, the KANSAS Experience Wall collection features the teams' customs, including crimson and blue, cheerleading, the marching band, and more.
Visitors are welcome at any time of year.
Address: 1651 Naismith Dr, Lawrence, KS 66045, United States
#9. Spencer Museum of Art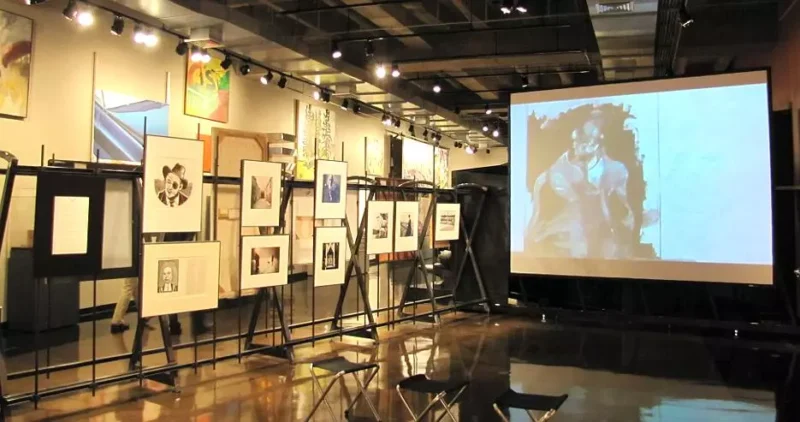 When the Spencer Museum of Art opened its doors in 1928, it had a modest 7,500-item collection donated by the University of Kansas and a few Lawrence art enthusiasts.
Other displays, in addition to the art collection, feature numerous ornamental objects and paintings, sculptures, furniture, and textiles, which are also in this museum. In 2016, the museum got a significant refurbishment, and more beautiful artworks were added.
This museum also organizes several educational programs, including lectures, expert discussions, film showcases, performances, and more, in addition to exhibitions.
Address: 1301 Mississippi St, Lawrence, KS 66045, United States
#10. The Roost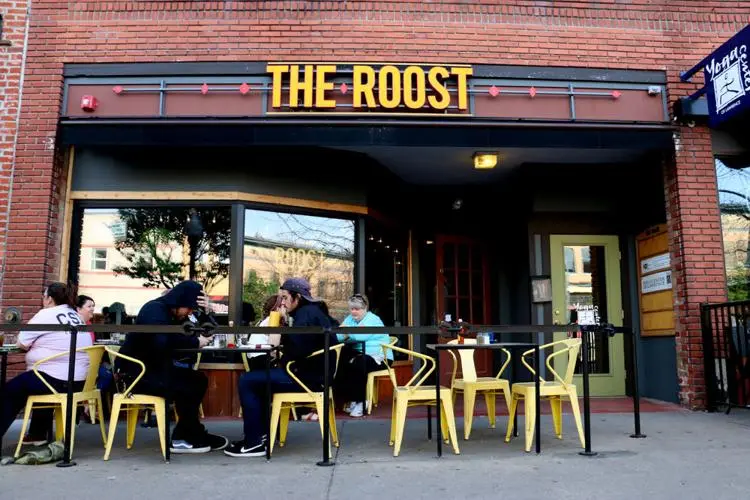 You can get breakfast, lunch, coffee, and pastries at the Roost restaurant, which is situated on Massachusetts Street. The restaurant offers reasonably priced, consistently freshly produced meals and also has its bakery.
The food menu at the Roost is simple: there are numerous egg dishes, salads, sandwiches, and soups, as well as the obligatory mac & cheese.
The food is cooked to perfection, is fresh, and comes in large servings. Visit this welcoming location for a morning treat, if only for their amazing pies, cookies, brownies, and cakes made in their bakery.
The bar is one of the Roost's most well-liked areas, largely because of its creative Bloody Maries (there are six varieties) and excellent coffee drinks.
The Roost restaurant is a nice location to eat in Lawrence.
Address: 920 Massachusetts St, Lawrence, KS 66044, United States
#11. University of Kansas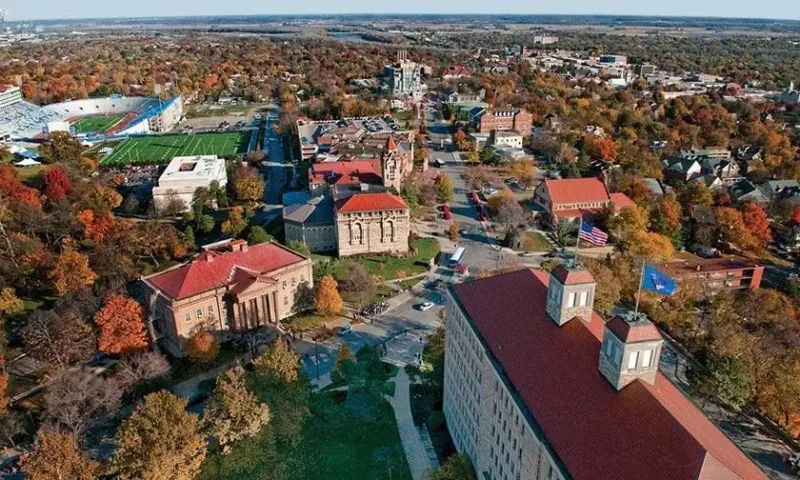 A trip to Lawrence isn't complete unless you visit the University of Kansas.
The state's largest university is on Jayhawk Boulevard and is the largest university in Kansas, with branch campuses in Kansas City, Overland Park, Salina, and Wichita.
The main university in Lawrence is home to the schools of architecture, business, law, engineering, journalism, and medicine. Tours are available for Admitted Senior Jayhawk Days, Jayhawk Days, Senior Days, and Junior Days.
Address: 1450 Jayhawk Blvd, Lawrence, KS 66045, United States
#12. Free State Brewing Company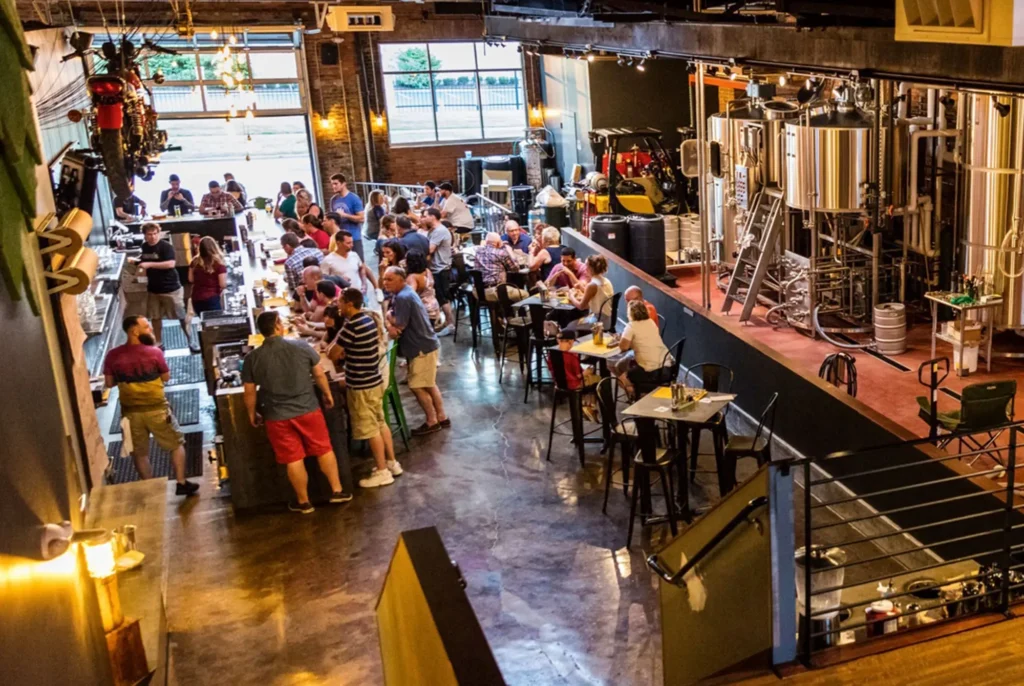 The Free State Brewing Company was Kansas's first officially recognized brewery after Prohibition. It started producing beer in 1989, and it has a 14-barrel brew house with the best small-brewers' equipment available to make superb, authentic, and unique brews.
The Free State Brewing Company creates some of the best beers using traditional techniques and some of the best equipment available.
The brewery also includes a brew pub and restaurant where you can relax and sip beers from their large selection while sitting comfortably.
The restaurant offers mouthwatering freebies such as fish meals and chips in addition to its beverages. Let your taste be your guide since they do not adhere to the beer types' standards to the letter. Start with one of their signature beverages, including Oatmeal Stout or Wheat State Golden.
Address: 636 Massachusetts St, Lawrence, KS 66044, United States
#13. 715 Restaurant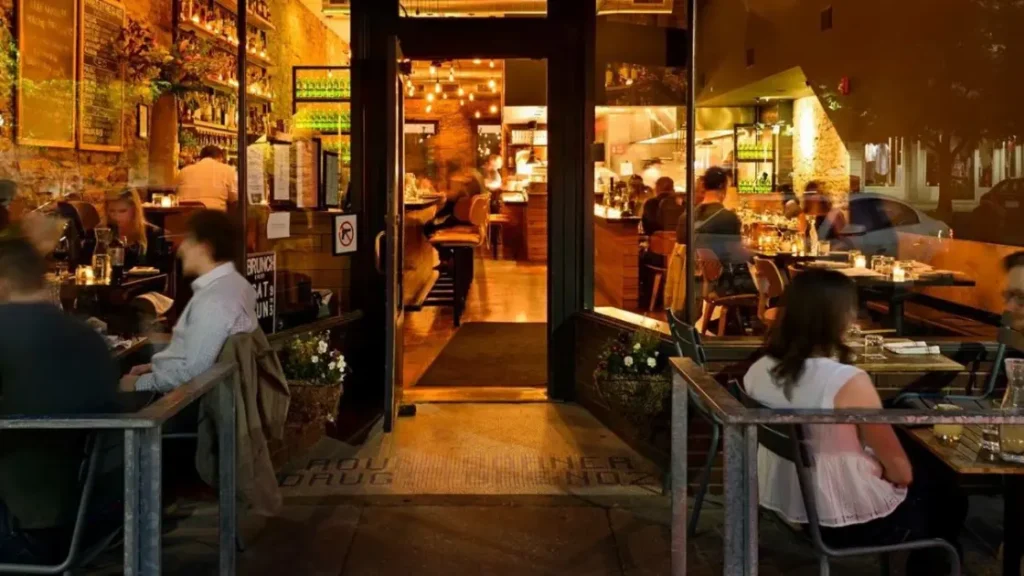 715 Restaurant is a well-known establishment in Lawrence that serves Tuscan food and is situated on the renowned Massachusetts Street. 715 restaurant is housed in a superbly restored old structure with stone walls, reclaimed wood, and very low lighting.
The restaurant provides incredibly Tuscan food and Italian cuisine at its finest, and the open kitchen takes center stage so visitors can watch the magic happen. There are several well-known dishes on the 715 Restaurant's broad menu with a wide range of reasonably priced options.
They make use of farm-fresh local ingredients and nearby meats. There is a sizable menu, and their homemade pasta dishes are outstanding.
The ravioli made with rabbit, rare hare, parsnip, goat cheese, and olive oil might be something you want to try. They also offer an excellent wine menu with some reasonably priced options.
Address: 715 Massachusetts St, Lawrence, KS 66044, United States
Travelling around Georgia? Take a look at some of the best things to do in Statesboro (Georgia), Valdosta (Georgia), and Dahlonega Ga (Georgia). You may also like to check out Fun Things to do in Folly Beach SC (South Carolina).
#14. Au Marché Market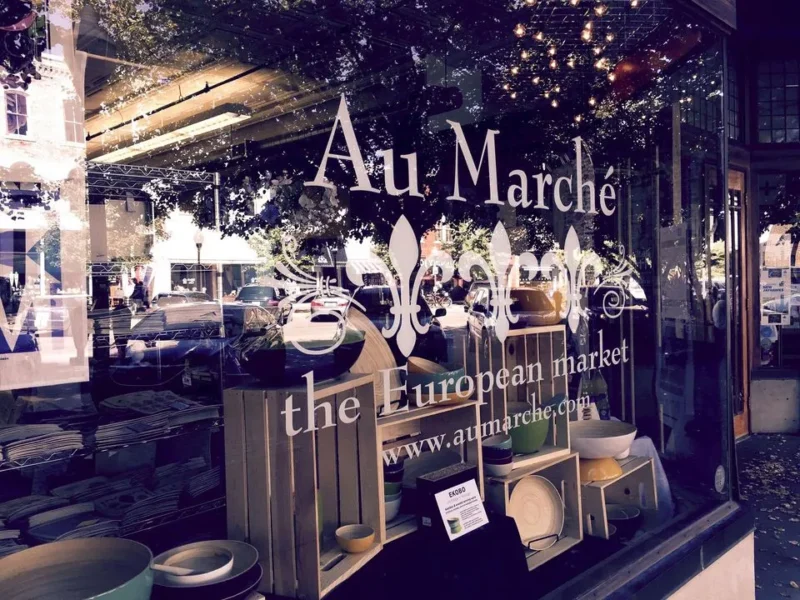 For those unfamiliar with this city, Lawrence is also a location to shop for aesthetically pleasing and artistic items. This city has a European market called Au Marché.
The market is home to numerous stores selling goods from Germany, the Netherlands, France, and Scandinavia. The market also features a variety of restaurants that serve genuine European cuisine.
You can shop in the market for items like apparel, personal care products, ketchup and mayonnaise that are particularly produced, chocolates, jams, and jellies.
You will undoubtedly find something to take home at Au Marché because of its wonderful atmosphere. In conclusion, there isn't anything in this market that you won't find.
#15. Grinter's Sunflower Farm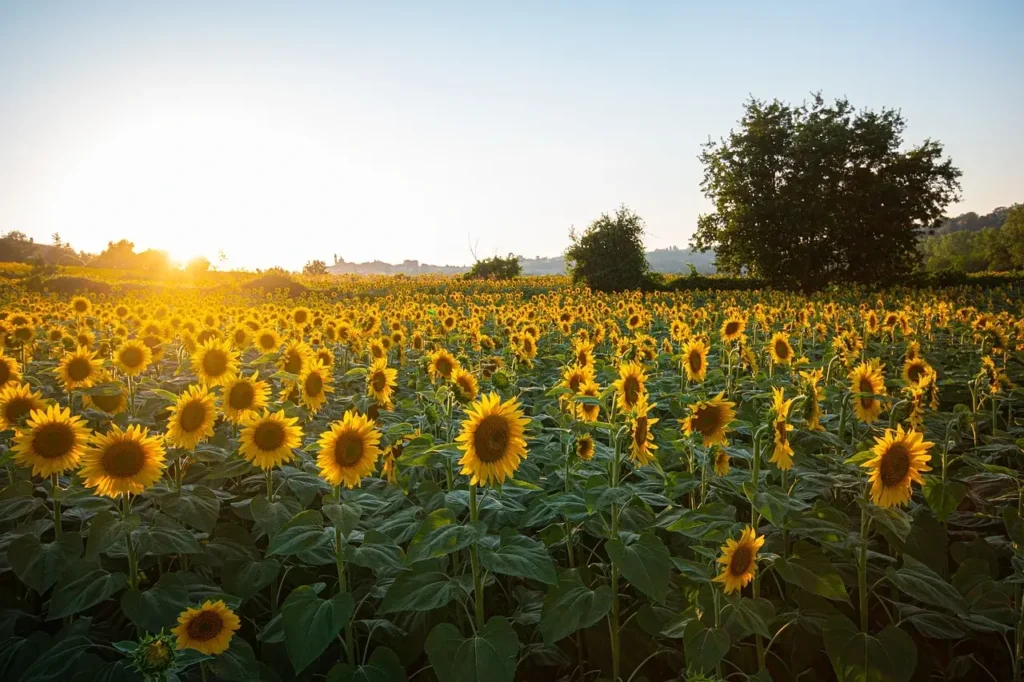 Despite being a few miles outside the city center, Grinter's Sunflower Farm is well worth a visit. The farm only operates during the summer and fall.
It is popular because of its huge and spacious fields loaded with sunflowers. Everyone is welcome to take photos and stroll amid these lovely yellow blooms.
You will undoubtedly feel summery and fresh because the entire field is painted yellow and green.
Address: 24154 Stillwell Rd, Lawrence, KS 66044, United States
#16. Clinton State Park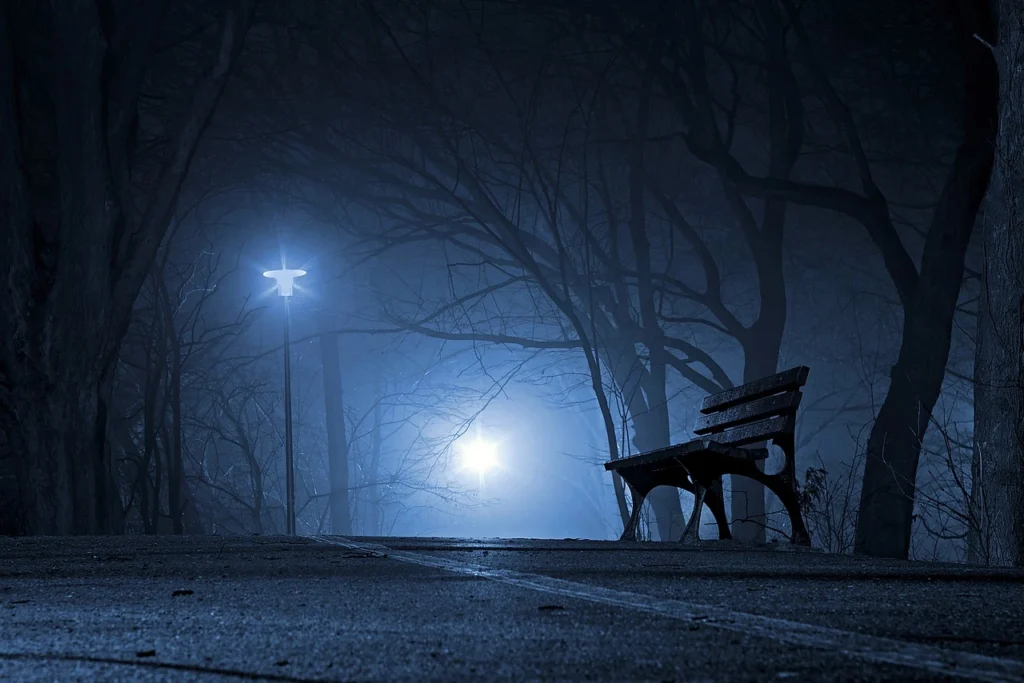 Clinton State Park is about 4 miles (6.4 kilometers) west of Lawrence's central area. The park, which spans 1,500 acres on the north shore of Clinton Lake, is well-known for its diverse array of outdoor activities. Cross-country skiers, birdwatchers, wildlife observers, and nature photographers enjoy the park.
A biking and hiking trail connecting to the nearby 9,200-acre wildlife area. The park is home to various wildlife, including bald eagles, songbirds, waterfowl, wild turkeys, and white-tailed deer. The lake is well-known for its clear water and abundance of fish.
Anglers frequently travel to the lake because of its stunning water and abundance of fish.
Address: 798 N 1415 Rd, Lawrence, KS 66049, United States
#17. Wakarusa River Valley Heritage Museum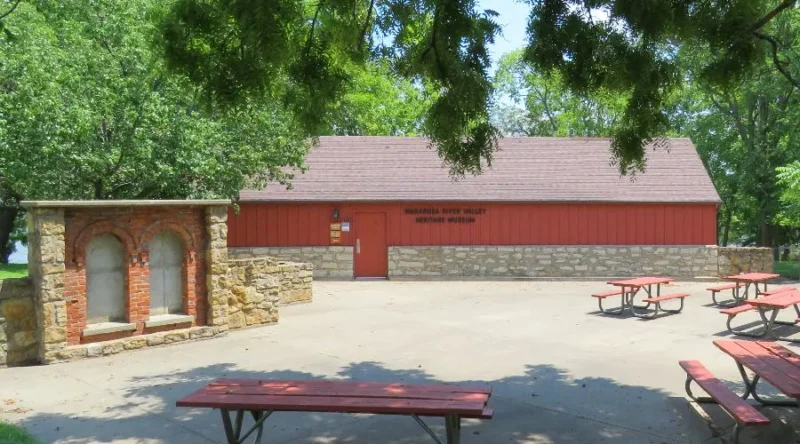 The Wakarusa River Valley Heritage Museum's exhibits detail the history of Clinton Lake's creation and its effects on the local population.
The Wakarusa River was going to be dammed by the U.S. Corps of Engineers to create Clinton Lake, but this would force locals who had farmed the land for generations to leave.
They established the Clinton Lake Landowners Association and worked to prevent the demolition of a few old, historic homes. Later, a new museum was created to tell the tale of the families whose lives were altered by the construction of Clinton Lake.
Address: 716 N 1190 Rd, Lawrence, KS 66047, United States
#18. Phoenix Gallery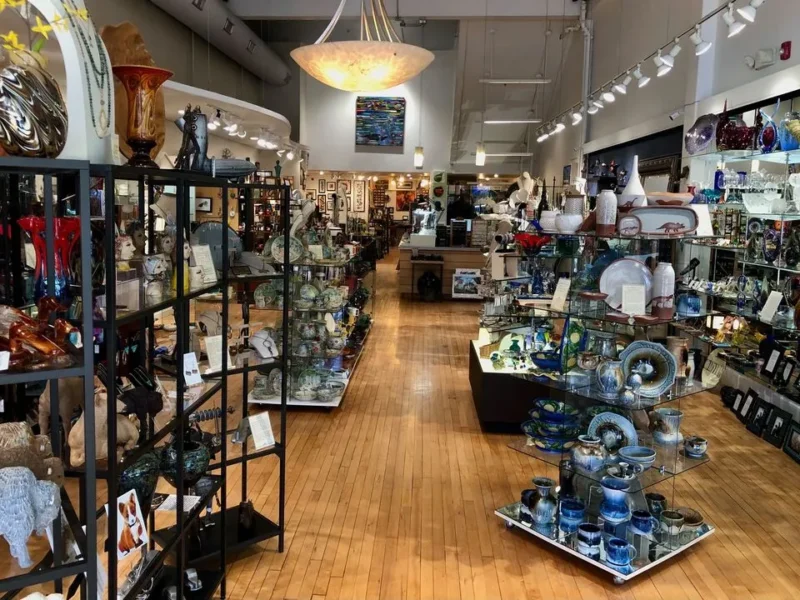 The Phoenix Gallery, which started more than 20 years ago due to the natural skill and creativity of a group of artists, has provided local, regional, and national artists with the opportunity to exhibit their work inside their modest gallery.
Over the years, the gallery has been in various locations, but it is currently located in the Art Deco Ranjar Building in the city's historic center. It's an appropriate setting for the gallery, which showcases a wide variety of woodwork, pottery, sculptures, textiles, and other works.
Participate in charity activities and exhibitions organized by curating artists or join the Phoenix Gallery for events like their Final Friday Art Walks.
Address: 825 Massachusetts St, Lawrence, KS 66044, United States
#19. Royal Crest Lane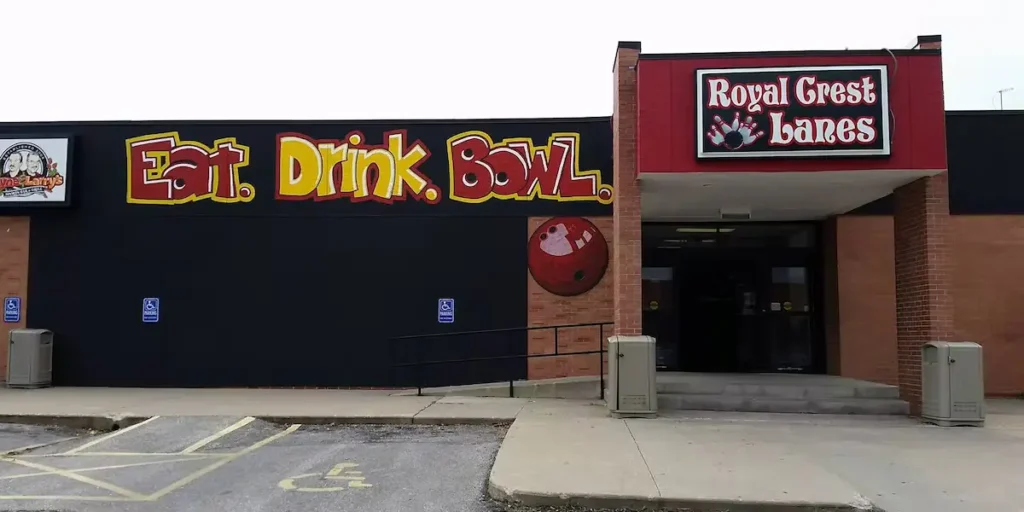 Are you taking your family or friends to Lawrence? Check out the nearby bowling facility at Royal Crest Lanes.
You'll find a large bowling alley with 40 lanes and an arcade with some of the top games at Royal Crest Lanes. In addition to regular competitive and recreational bowling programs, Royal Crest Lanes is committed to improving the general fitness of the neighborhood.
Visitors can also cross the street to Wayne and Larry's Sports Bar and Grill, which is renowned for its wall-to-wall coverage of high-definition television sets and six 95-inch projection screens, to see their favorite sporting events.
Address: 933 Iowa St, Lawrence, KS 66044, United States
#20. Breakout Lawrence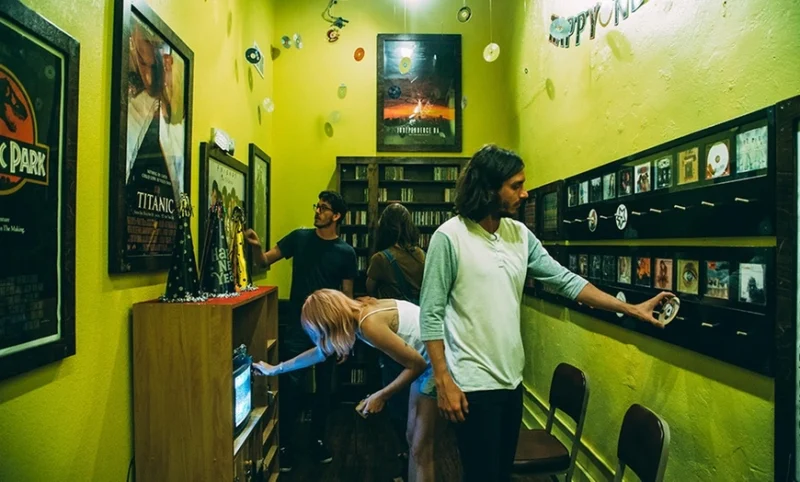 Breakout Lawrence is a thrilling and difficult escape room open every day of the week and is situated in the heart of the city's downtown area.
It's the perfect setting for guests who want to get together and create lasting memories, as well as for coworkers who want to improve their communication and understanding among themselves.
The Breakout Lawrence room is excellent for teams of 2 to 8 players because there are 5 different themed rooms to pick from.
In Rules of Basketball, thwart a scheme to steal the original basketball rules; in Alice in Wonderland, avoid being caught by the Queen of Hearts; and in Civil War, leave an enemy bunker before the enemy soldiers reappear.
Y2K and Paranormal Pandemonium are unique mobile escape rooms that can be leased by groups of 5 and are excellent for parties. In Y2K, players must stop the Y2K bug that threatens to completely close all computers worldwide by midnight.
Address: 727 Massachusetts St, Lawrence, KS 66044, United States
Time to spare? Why not check out the best activities in Evanston (Illinois), United states, bloomington (Illinois), Effingham (Illinois), and Best Things to do in Schaumburg (Illinois).
Plan Your Trip to Lawrence Kansas
With some of the best restaurants in the Midwest and historic downtown, Lawrence is a terrific destination for tourism, shopping, and relaxation.
In our opinion, there isn't a better spot to spend a weekend in Lawrence than the city's historic area.
The city is equally as lovely as its sunflower fields because of its multicultural atmosphere and kind inhabitants.