28 Best Things to do in Hartford CT (Connecticut)
Are you looking for fun things to do in Hartford, CT? Hartford, Connecticut, may not be the first place that comes to mind when you're looking for things to do with your friends and family, but this charming town has something special in store if you spend some time exploring.
Whether travelling with the kids or planning an adult getaway, there are plenty of attractions in Hartford that will delight and surprise you.
From the Connecticut Science Center to the Bushnell Center for the Performing Arts to Connecticut's Beardsley Zoo and more, Hartford has something fun and different for just about anyone.
Whether you're visiting or planning to move to Hartford this weekend, here are 25 fun things to do in Hartford CT!
What are the best things to do in Hartford, CT (Connecticut)?
#1. Wadsworth Atheneum Museum of Art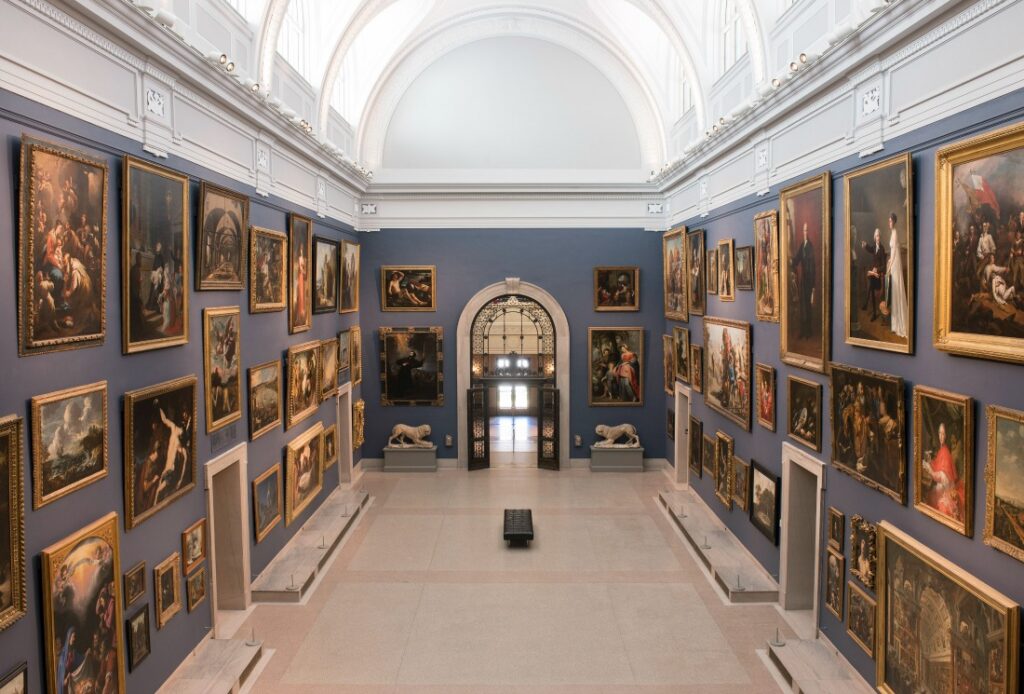 The Wadsworth Atheneum is a major art museum and gallery located on Main Street. The museum features an impressive permanent collection of European decorative arts and one of America's largest collections of Asian art.
Some of their major works include pieces by Toulouse-Lautrec, Rubens, and Goya. The arts education programs at the museum are quite extensive, but if you want to extend your stay there for longer than a few hours, we suggest checking out one of their many cafes for a bite or exploring some local shops downtown.
You might even decide that a leisurely lunch or dinner at any of Hartford's wonderful restaurants is what you need to cap off your fun day here in Connecticut's capital city!
Address: 600 Main St, Hartford, CT 06103, United States
#2. The Mark Twain House & Museum
The home of America's most beloved author is worth a visit for its historical significance alone. But once you get there, it's fun to walk around and imagine what life would have been like for Mark Twain and his family.
At the museum, You can find items to suit readers of all ages and souvenirs, exclusive items available only through the Mark Twain House & Museum, and wide selections of Twain-related books at our online store.
Be sure to add the Mark Twain House & Museum to your list of the best things to do in Hartford, ct, this weekend!
Address: 351 Farmington Ave, Hartford, CT 06105, United States
#3. Dunkin' Donuts Park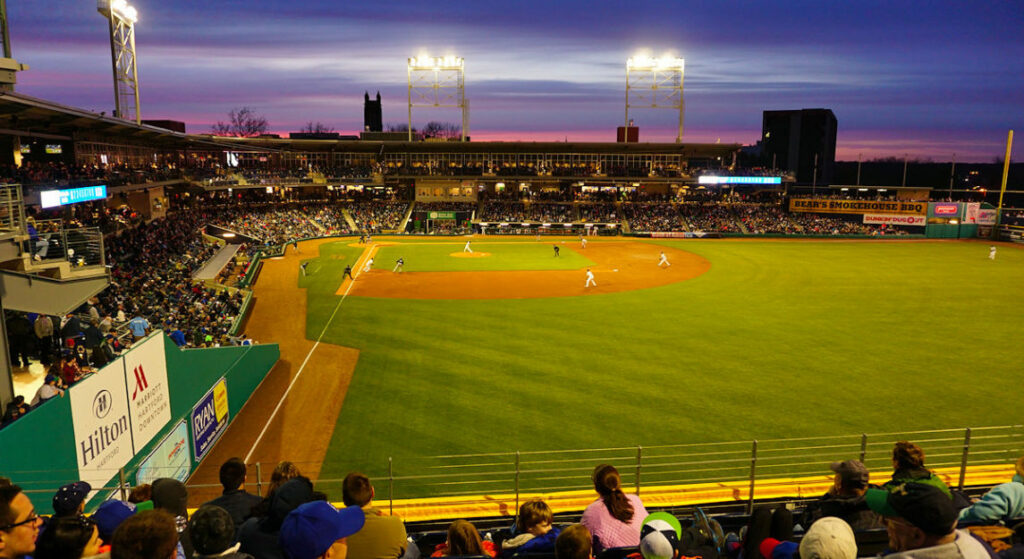 Dunkin' Donuts Park (formerly Rentschler Field) is a fantastic place to catch a game.
Located at 1214 Main St, Hartford, CT 06103, United States and within easy walking distance of Union Station, you can't go wrong with catching a ballgame here.
This year will be its first season home for Hartford's minor league baseball team, The Yard Goats. If you're not into sports, there are many other things to do at Dunkin' Donuts Park.
You can grab some grub at one of their concession stands or check out their selection of craft beers on tap. Plus, if you come early enough, they'll have live music playing before each game!
Address: 1214 Main St, Hartford, CT 06103, United States
#4. Connecticut Science Center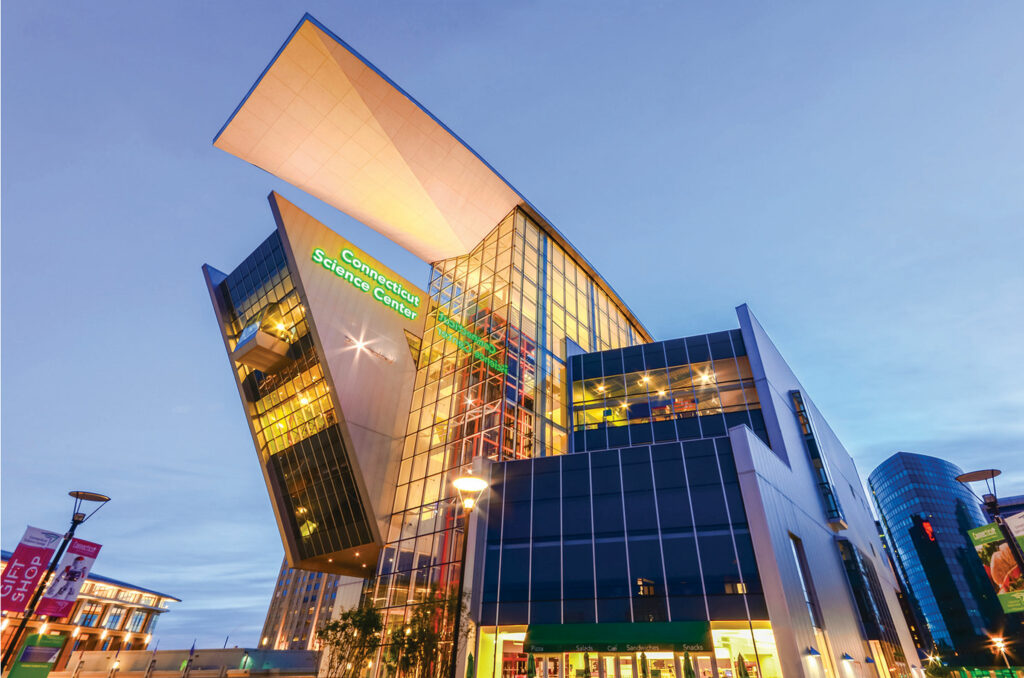 The Connecticut Science Center is a great spot for kids and adults. You can easily spend a few hours watching people's faces while they marvel at an exhibitor pretending to be a pirate on Captain Hook's Pirate Ship Play Area.
If you get hungry while exploring all of their exhibits, swing by Subway, conveniently located inside it. The centre has two small gift shops where you can get a memento from your trip.
The museum also houses its planetarium, where you can learn about stars and planets many times each week!
Remember that winter in Connecticut is extremely cold. However, there are plenty of fun things to do in Hartford Ct in winter, even when freezing outside, such as visiting the Connecticut Science Center.
Address: 250 Columbus Blvd, Hartford, CT 06103, United States
Are you thinking about visiting California? you can check out the best things to do in San Bernardino, Palmdale or Indio in California.
#5. Hartford Stage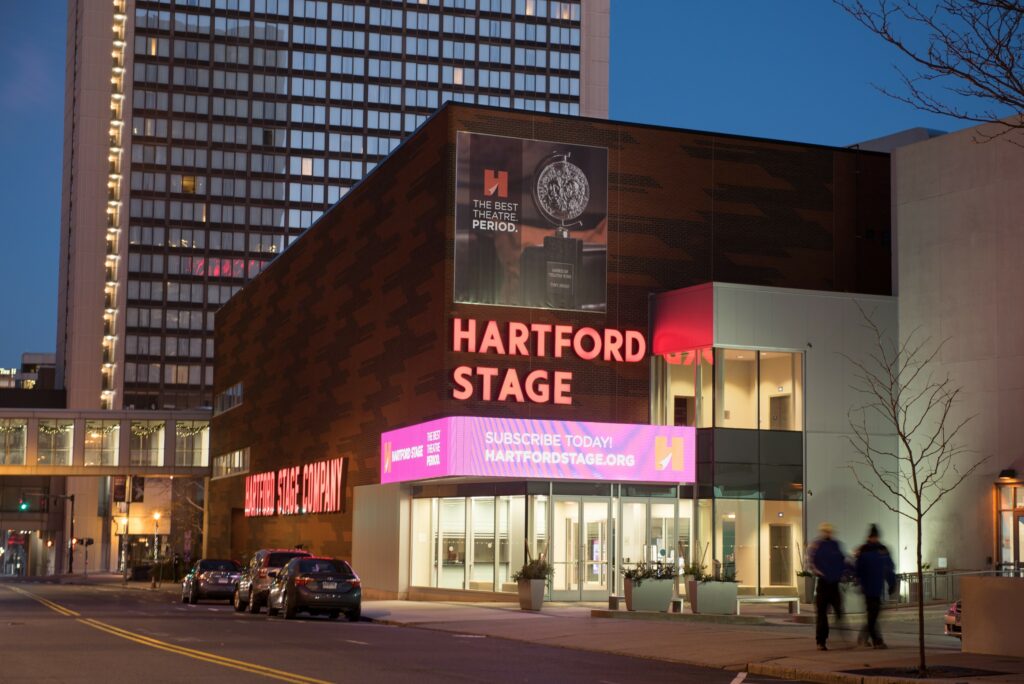 Are you looking for free things to do in Hartford, ct? I bet you it's no other place to go than the Hartford stage.
It's no secret that I love musicals. They are such a fun way to enjoy art and culture with friends or family. I can't think of a better way to spend a weekend night than seeing an up-and-coming musical on opening night. And you know what? With Hartford Stage around, that's exactly what you can do!
Each week they feature brand new shows, and although some may be more traditional than others, they are all incredibly well produced. Some of my favourites have been The Fantasticks, Dracula, and Fiddler on the Roof.
There is something for everyone here, and they are guaranteed to get your toes tapping before intermission is over! Don't forget to add this to your list of things to do in Hartford, ct, today.
Address: 50 Church St, Hartford, CT 06103, United States
#6. XL Center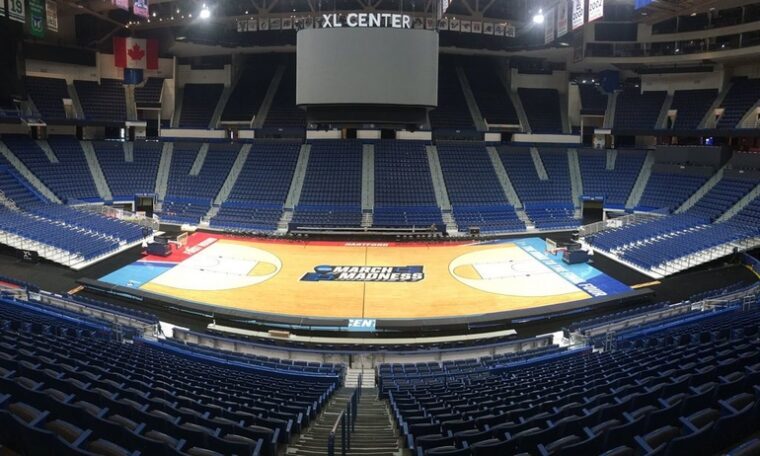 While many people look to New York or Boston when they think of fun things to do, they're missing out on one of America's greatest cities, Hartford.
Located just outside Connecticut's capital city is a sprawling facility that has hosted countless concerts, hockey games and even political debates.
Comcast Spectacor owns the XL Center. It regularly hosts several sporting events, including professional ice hockey games for college teams and minor league franchises like The Wolf Pack (owned by The Nordiques).
In addition to sporting events, The XL Center hosts various concerts during its busy concert season with acts ranging from country music stars like Brad Paisley and Darius Rucker and pop stars like Billy Joel and Maroon 5.
Address: 1 Civic Center Plaza, Hartford, CT 06103, United States
#7. Cathedral of St Joseph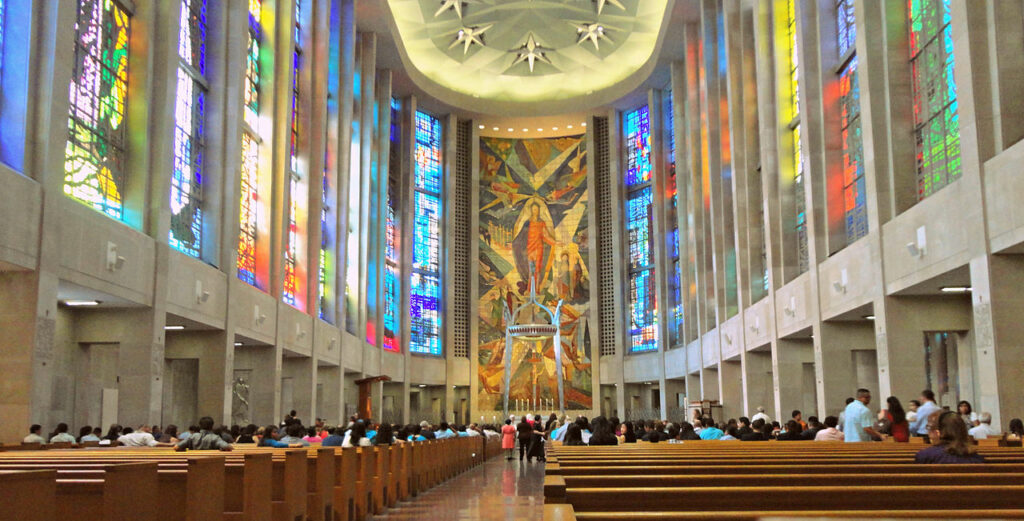 St. Joseph's is one of Connecticut's most historic churches. The Cathedral of St. Joseph is known for its beautiful stained glass windows and its 250-foot bell tower over downtown Hartford.
No visit to Hartford would be complete without a trip inside one of Connecticut's most historic landmarks.
While you're there, look up; the ceiling alone is impressive enough but wait until you see what they did with it!
This cathedral has been home to some of America's best-known religious leaders. Will I say this is one of the romantic things to do in Harford, ct?
Today visitors can enjoy tours offered Monday through Friday at 10:00 am and 12:00 pm (1:00 pm on Saturdays). The cost is $10 per person or $8 for seniors (65+) and students (with ID).
Address: 140 Farmington Ave, Hartford, CT 06105, United States
#8. Xfinity Theatre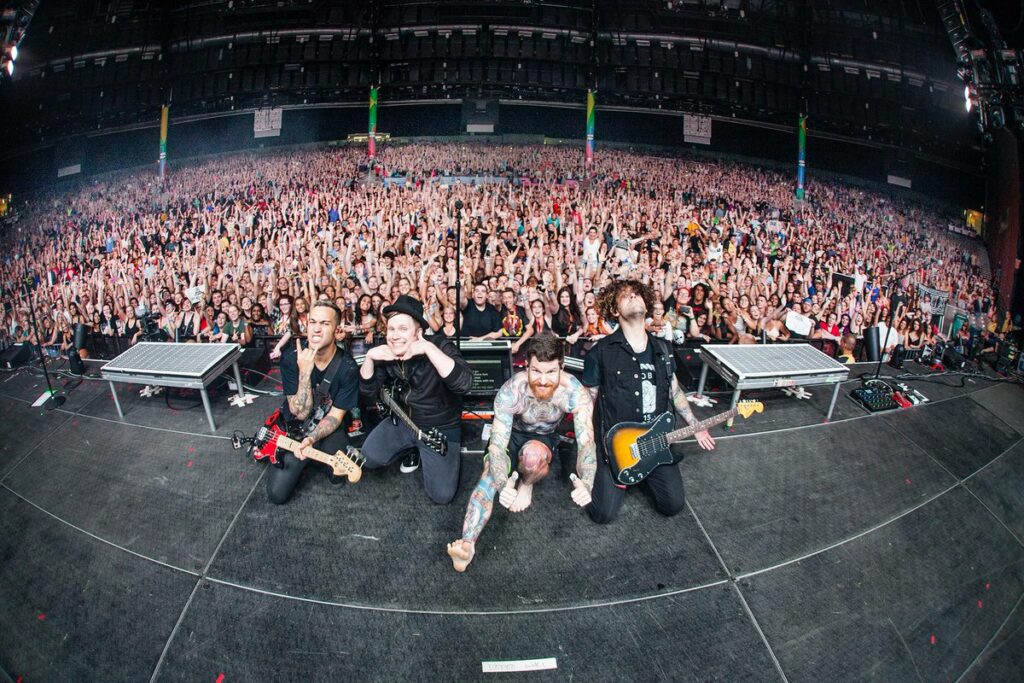 Located on Charter Oak Avenue, just a few minutes from downtown Hartford, Xfinity Theatre hosts concerts and events.
While it doesn't get as packed as Rentschler Field during concerts and sporting events such as U2 and Aerosmith, you can get tickets more easily.
Its location also makes it an excellent place for summer evening picnics; remember to grab your food before heading into concert mode. Don't forget to add this to your list of things to do in Hartford, ct, this weekend! Enjoy.
Address: 61 Savitt Way, Hartford, CT 06120, United States
you might also check out the best places to visit in Brattleboro, Fairhope and Kittery Maine.
#9. TheaterWorks
One of Connecticut's best-kept secrets is that it has one of the most vibrant theater scenes you'll find anywhere.
The most established theater company is TheaterWorks, which calls itself Hartford's largest professional theatre company.
Make sure to visit their Web site for up-to-date information on what shows are being staged, and also, you can add this as one of the best places to visit in Hartford.
In addition to standard shows like Les Miserables, A Raisin in the Sun and An Inspector Calls, TheaterWorks puts on a major Broadway show inside Riverfront Plaza downtown.
Address: 233 Pearl St, Hartford, CT 06103, United States
#10. Infinity Music Hall & Bistro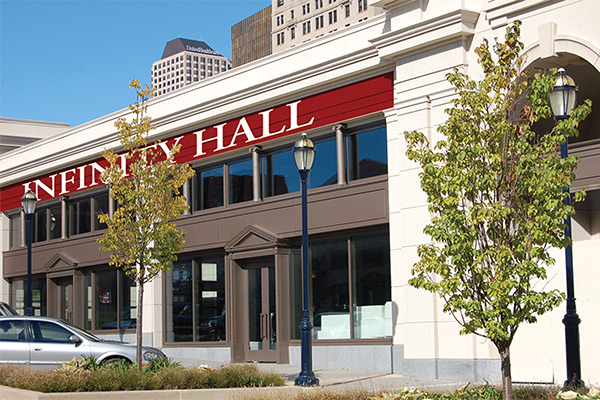 On Pearl Street, Infinity Music Hall & Bistro has located just steps from Hartford's Bushnell Park and Wadsworth Atheneum Museum of Art.
It's a perfect spot for couples looking for fun things to do in Hartford, ct that also provides a little culture.
This popular local venue offers an intimate setting with cabaret-style seating and lives music ranging from blues and jazz to rock and R&B.
Although you may hear stories about couples running into old flames here, Infinity is more often a place where new flames are sparked. Make sure you head there at least once during your visit; it's one of Hartford city's best places for live music.
Address: 32 Front St, Hartford, CT 06103, United States
#11. Mortensen Riverfront Plaza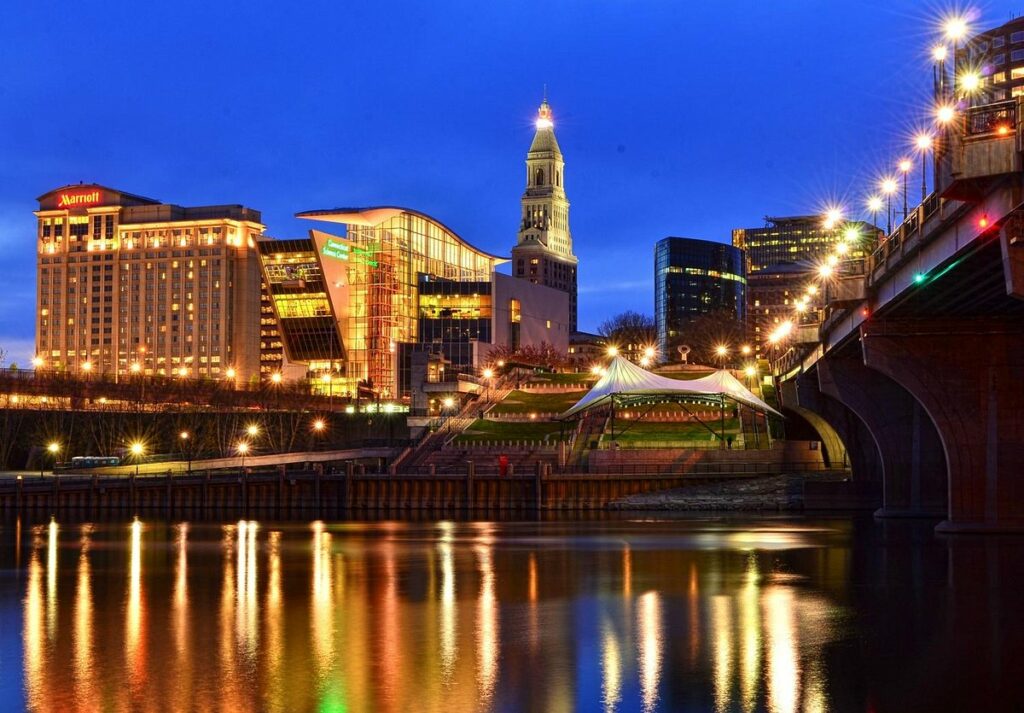 This place is perfect for live music and art lovers. It's got a large stage set up for bands and performers to use, with plenty of space for picnic blankets.
The views are also gorgeous. You can sit on their benches and look out at Mortensen Riverfront Plaza's waterfalls or over at Bushnell Park.
Be sure to note when they host events like Movies on The River, where you can see free summer flicks! Check out what's going on next here!
Address: 300 Columbus Blvd, Hartford, CT 06103, United States
#12. Real Art Ways
The live music scene isn't nearly as vibrant as it once was (RIP Toad's Place), but there are still some great spots for live music. One of our favourites is Real Art Ways.
Enjoy indie rock, jazz and other genres at one of their concerts or a weekly Open Mic Night with $3 beers and free karaoke (always fun).
If you happen to catch a show on a Monday night, you can take advantage of half-priced tickets! If you find yourself downtown on a Wednesday night during the summer months between 5:30 – 7:30 pm, check out the First Night on Park Street; it's similar to Summerfest.
Live music, food vendors and entertainment fill central park while various galleries offer extended hours with new exhibitions.
Address: 56 Arbor St, Hartford, CT 06106, United States
#13. Riverside Park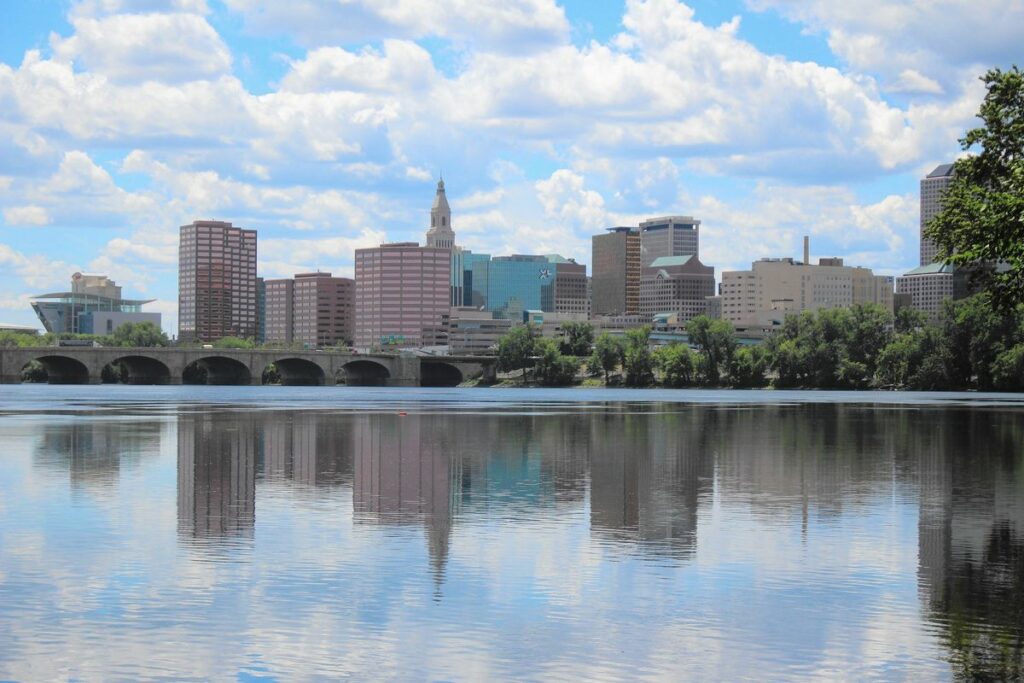 Riverside Park is a great destination for those looking for the best things to do in Hartford ct in December. With 24 acres of green space, it's not hard to see why people love visiting it during their downtime.
For kids, there's a splash pad where they can enjoy themselves after school and on weekends. If you get tired of waiting around for your little ones or if you have your reasons for needing a break from family activities, you can take a stroll along with one of its scenic walking paths.
For something that's more stimulating than relaxing, why not visit Pines Family Skatepark? Here you can spend some quality time with your family by doing fun things like skating and hanging out together while getting some exercise at the same time.
#14. Hanging Hills Brewery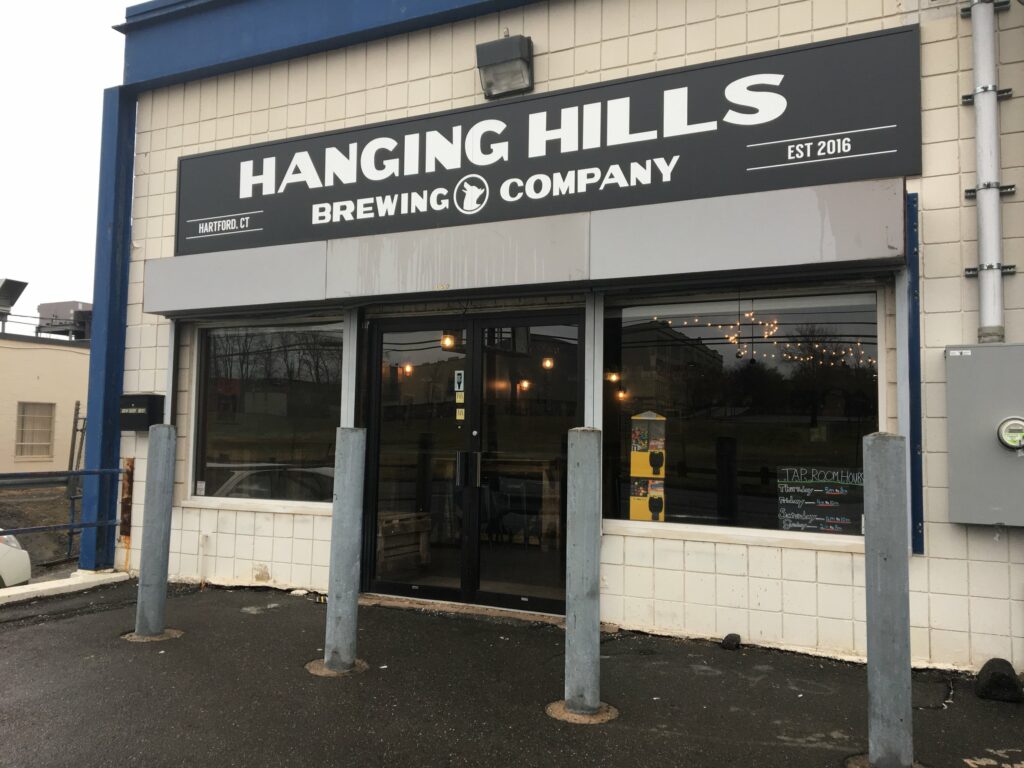 The Hanging Hills Brewery and restaurant is located in historic Middletown and has been a local favourite.
With housemade beer and great food, you'll feel right at home! It's a great place to stop for lunch or dinner. For just $6, you can get a beer sampler which is a great way to try new beers or bring home your favourites from their large selection.
Hanging Hills Brewery is also very dog friendly, so don't be afraid to bring Fido along! If you want something more casual, you can sit outside on their patio and enjoy their great view of Middletown. The sunset here is stunning as well!
#15. Hartford Public Library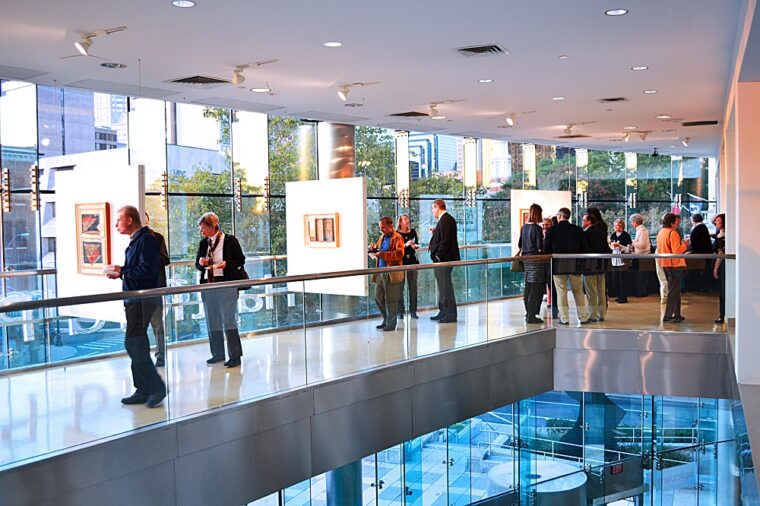 The HPL is a hidden gem for free things to do. Check out their calendar of events; you'll find one-off lectures and activities like how-to demonstrations and movies that you can attend with little notice.
Plus, they have books! You can read them (for free), but they also have a collection of DVDs available for check out.
Note: You do need a library card (not a taxpayer ID card), and they charge late fees if you don't return items on time. That said, there is no minimum balance required to get started.
Stop by any branch and ask how to get set up today! Oh, did we mention there are weekly storytimes for kids?
Address: 500 Main St, Hartford, CT 06103, United States
#16. Thomas Hooker Brewery at Colt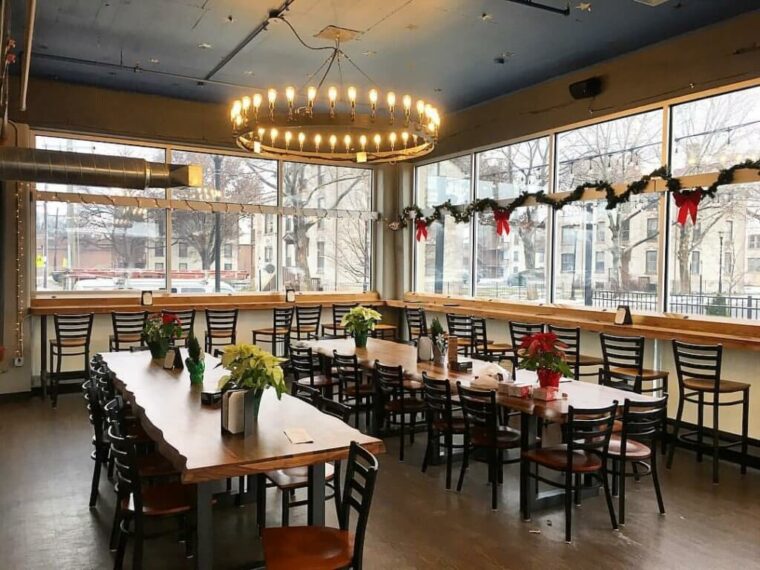 Hartford is a city rich in history. Check out Colt State Park and its Thomas Hooker Brewery to learn more about it.
The brewery on-site offers several beers (some of which are gluten-free) and appetizers and desserts.
On Thursday evenings from 5 p.m. to 8 p.m., you can participate in a discussion on early American brewing techniques that will make you feel like part of the Colonial period without worrying about drinking contaminated water or eating spoiled food!
Ask for one of their beer samples if you have yet to try them–they offer them for free! And for more information about Connecticut breweries, click here!
Address: 140 Huyshope Ave, Hartford, CT 06106, United States
#17. Connecticut State Library and State Archives
The Connecticut State Library and State Archives is one of Connecticut's best-kept secrets. Housed in an imposing stately structure on Main Street and overlooking Bushnell Park, it boasts more than 1 million volumes dating back to 1650.
The oldest map in North America resides within its walls; Samuel Colt's pistols are displayed for public view. The world's first collection of printed currency is available for perusal by anyone with a library card.
You can also sit at Thomas Edison's desk and search government records dating back to colonial times.
There are free tours every Thursday afternoon (1:30 p.m.), during which you can get an up-close look at unique exhibits, including letters written by Harriet Beecher Stowe and children's books illustrated by Dr.
Address: 231 Capitol Ave, Hartford, CT 06106, United States
#18. Seoul Spa and Sauna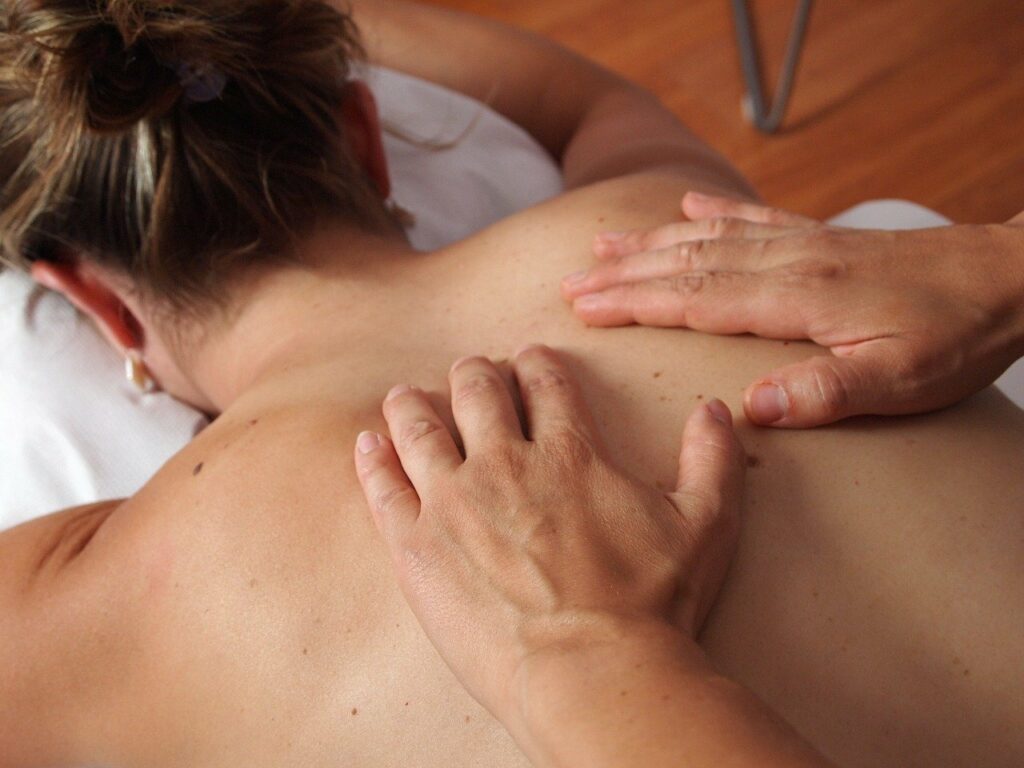 Are you feeling stressed? A trip to Seoul Spa and Sauna could be just what you need.
This Korean-owned spot features separate men's and women's saunas (it's worth noting that there are two different gender-specific hours for each of these sections) and a hot tub, a cold pool, massages and all kinds of other services.
The sauna costs approximately $15 for 30 minutes or $20 for one hour. You can buy discounted packs of tickets at their website. Each pack is good for four visits over a month. If you visit on a Friday or Saturday between 10 am and 8 pm, your first visit is free!
Address: 134 Shield St, West Hartford, CT 06117, United States
#19. Travelers Tower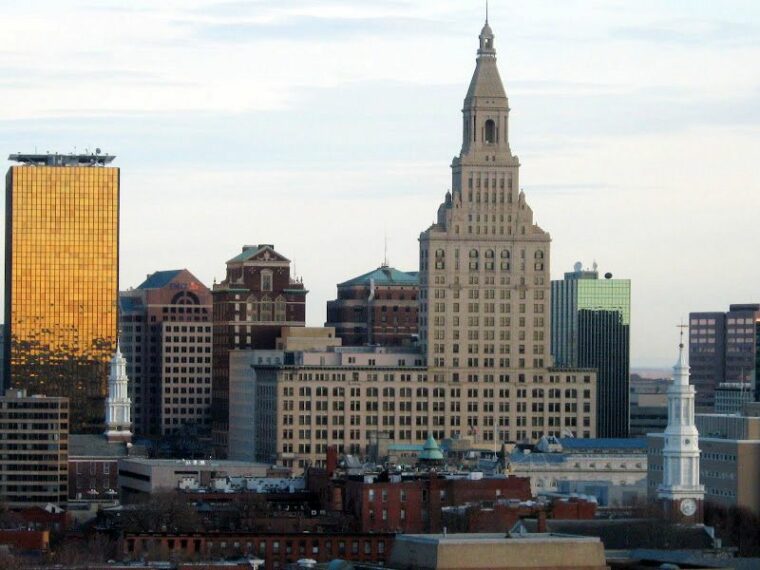 Travelers Tower is a historical landmark located in downtown Hartford. It was built in 1893 and listed on the National Register of Historic Places since 1974.
During its most significant years (the 1890s), it was considered one of Hartford's greatest works of architecture; today, however, it has fallen into disrepair, and many consider it an eyesore. Over the past several years, Travelers has undergone extensive renovations and is slowly becoming a popular spot for events again – particularly weddings!
In addition to hosting these special events inside of their rooftop ballroom and meeting spaces, Travelers Tower also boasts quite a few restaurants worth visiting.
Travelers Tower is an iconic building that marks your arrival in Hartford. At close to 170 feet tall, it's not easy to miss. You can take an elevator up and enjoy stunning views of our capital city! Best of all? It's free.
#20. Calder Stegosaurus Sculpture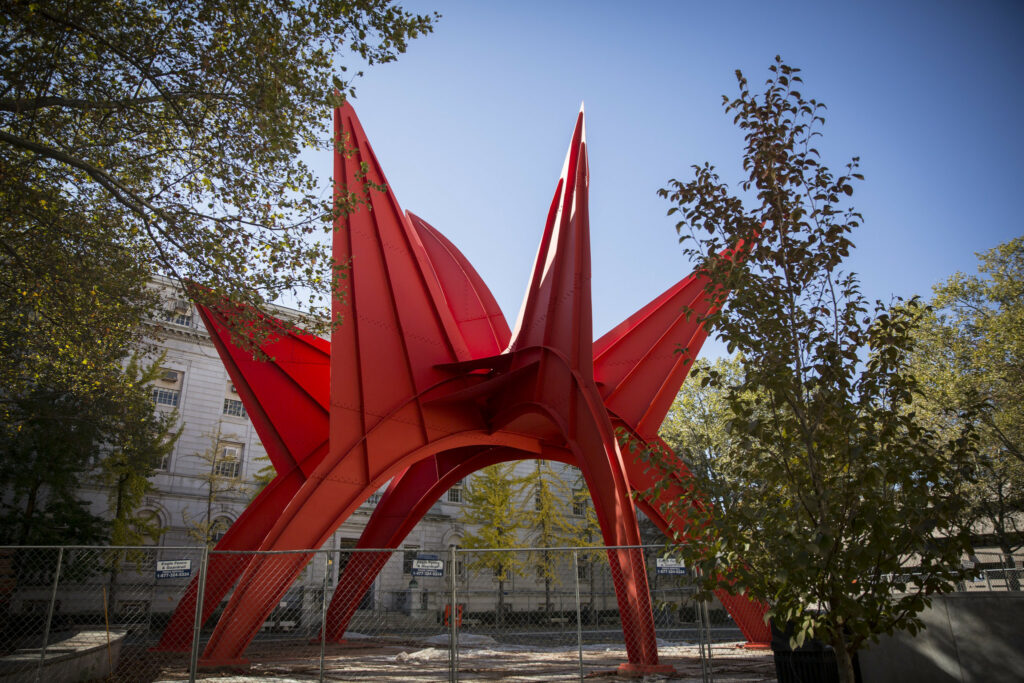 The Calder Stegosaurus Sculpture is a favourite spot for local photographers and Instagrammers who love to capture shots of downtown Hartford.
It's easy to understand why people take so many pictures here: located on Whitney Place (right next door to Trinity College), it's one of the most beautiful sculptures.
The sculpture was made by artist Alexander Calder and has become such an iconic part of Hartford that it became recognized as a National Historic Landmark.
If you love art, enjoy learning about history or are just looking for something fun and different things to do in Hartford, ct with friends or family members (or solo), be sure to check out at least one (if not all) of these things!
#21. Museum Of Connecticut History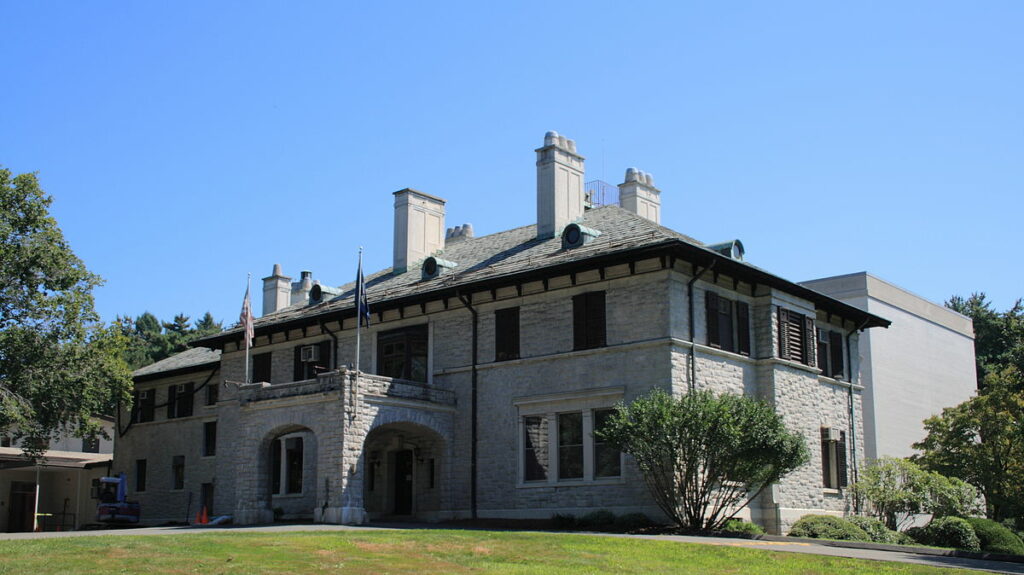 The Museum of Connecticut History is a fun way to delve into state history. The museum's collection includes everything from papers and photographs of Connecticut's best-known historical figures (John Pierpont Morgan, Benjamin Franklin) to pieces that feature early 20th-century manufacturing.
All are contained within a beautifully restored 19th-century factory building. With exhibits curated by both area historians and community members, you're bound to find something new each time you visit. Admission is free on Sundays.
Address: 231 Capitol Ave, Hartford, CT 06106, United States
#22. Hartford Downtown Farmers' Market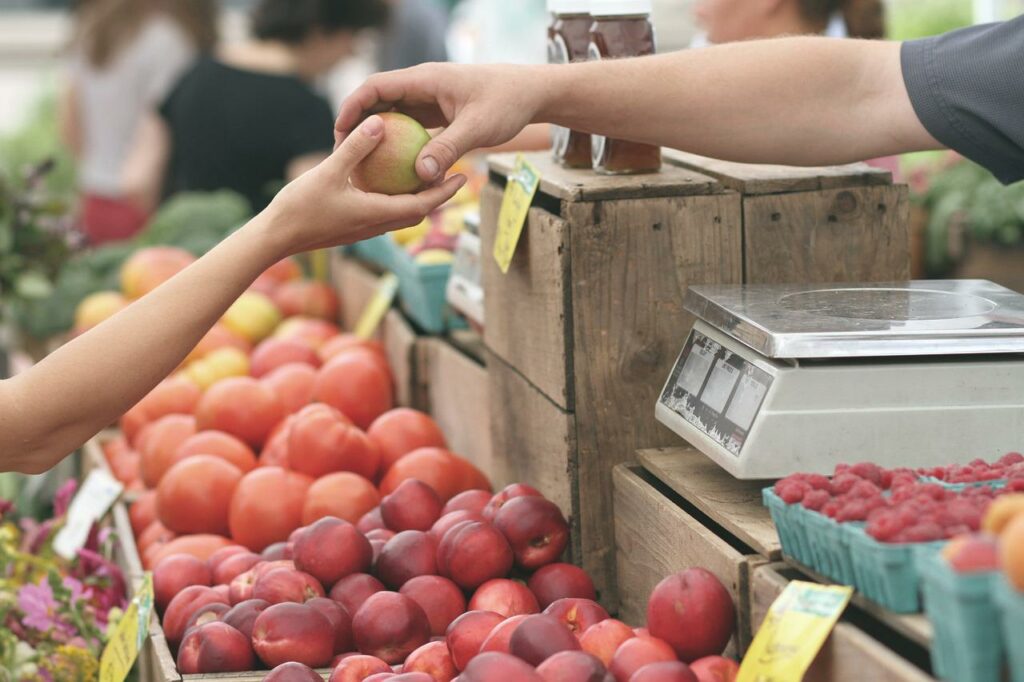 It's not a secret, but everyone loves a fresh picked strawberry or a gorgeous bouquet. The farmers' market at Hartford is packed with vendors on Saturday mornings with everything from fresh produce to seasonal crafts and homemade treats.
Although highways surround downtown, there are plenty of cute shops and restaurants within walking distance, so it's easy to spend a few hours browsing.
You can easily combine your trip with brunch or lunch; after all, how often does someone stop you on your way out for dinner for directions?
Address: 536 Broad St, Hartford, CT 06106, United States
#23. Hartford Police Museum
Learn about police history at one of Connecticut's most unique museums. The Hartford Police Museum traces its origins back to 1878 when two businessmen, L.S. Cone and William Libbey, donated several artefacts to the city's Board of Police Commissioners.
Today, all five branches of local law enforcement, Hartford, West Hartford, East Hartford, Newington and Manchester, share space at historic headquarters downtown (1 Union Place).
Step inside a horse-drawn patrol wagon and see a replica cell from Middlesex Jail. Then head over to Colt Firearms for an expert tour that includes original prototypes from Samuel Colt; it's an interesting look into America's manufacturing history.
#24. The Hartford Conservatory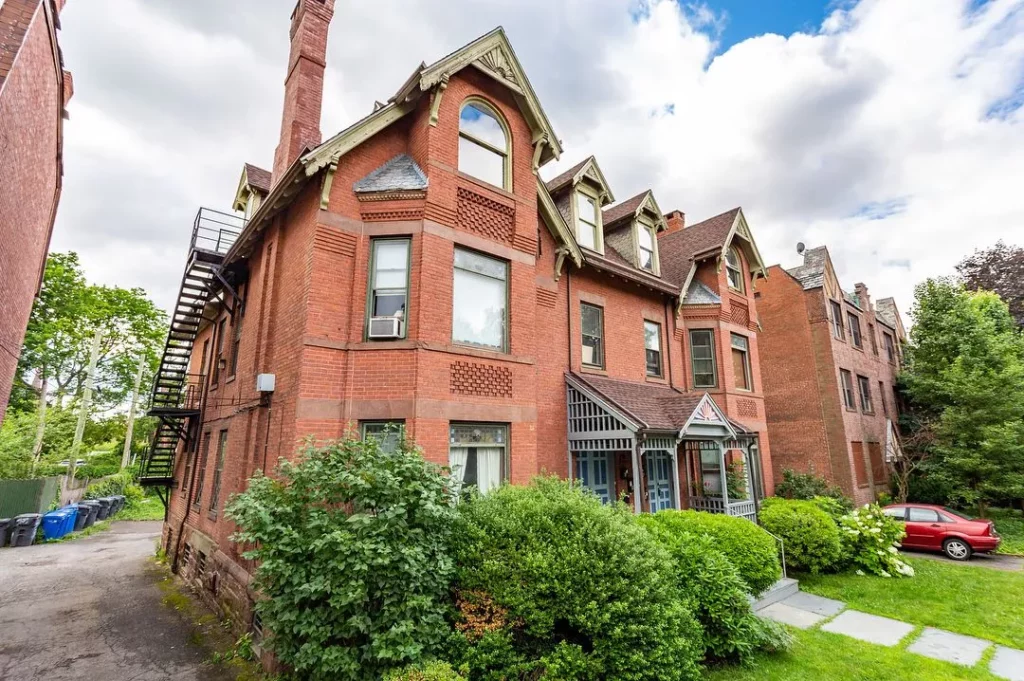 A local, family-owned conservatory with a beautiful collection of seasonal and tropical plants. You can even take classes on subjects like bonsai and floral design if you want.
The conservatory is known for its innovative plant care program that goes above and beyond industry standards.
There are so many beautiful plants here, and it is great for any gardener looking for new ideas! They also have lots of different events each month. They feature a guest artist or speaker that helps teach people about plants and general knowledge through fun activities that everyone can enjoy!
#25. Launch Trampoline Park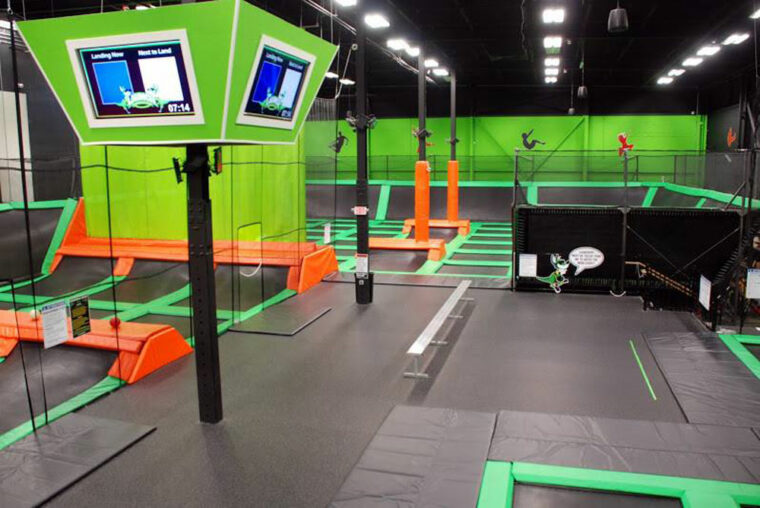 Trampoline parks are making a major comeback after diving their heydays. It's no wonder why they're becoming popular again. Trampolining is super fun and exhilarating, but it's also an awesome way to get your kids active and engaged.
To create an even better customer experience, try hosting classes or workshops at your trampoline park that allows people to try out new skills and tricks in a safe environment with trained professionals (and friends!) They should feel as if they just left a class for adults!
Another great idea? Hire professional jumpers that you can use as instructors for classes; you might attract regular customers who want similar experiences on their own.
Address: 91 Brainard Rd, Hartford, CT 06114, United States
#26. Pine & Iron Axe Throwing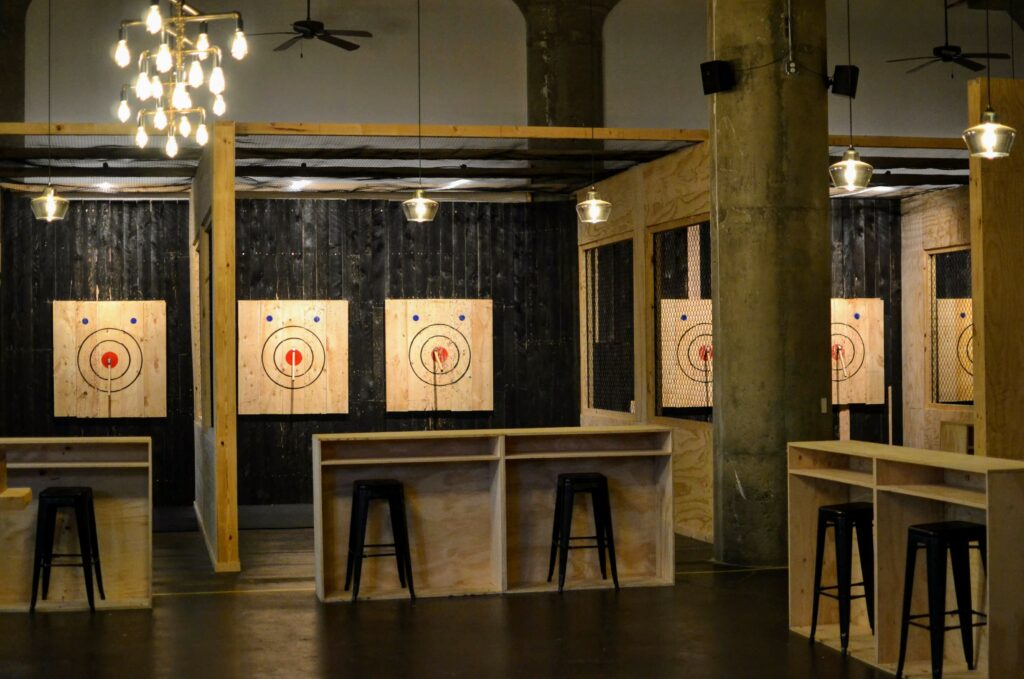 A new type of entertainment is coming to Parkville! Pine & Iron Axe Throwing is an upcoming business that will allow people of all ages and experiences to enjoy throwing sharp objects at a target.
It's a safe and fun way for friends, families, and coworkers to spend some time together outside. The activity requires hand-eye coordination, arm strength, and stamina.
You can sign up for group events or make a reservation for a private party! There are leagues already being formed as well!
Visit their Facebook page here! Be sure not to miss out on your chance by making sure you're following them on social media so you can be notified when they officially open! And don't forget to add this to your list of things to do in Hartford, ct.
Address: 1429 Park St Suite 102, Hartford, CT 06106, United States
#27. Pig's Eye Pub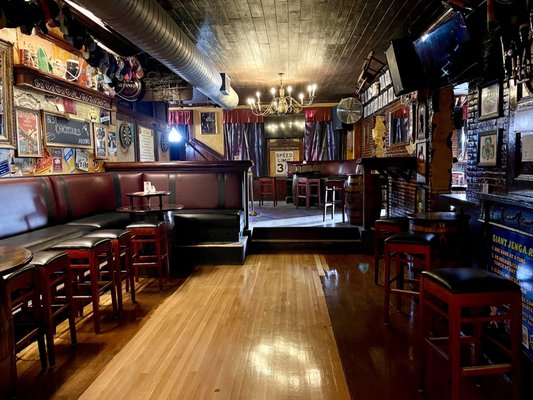 Though it's not a restaurant (pork dishes are served), Pig's Eye Pub is a local favourite, and some might argue it is also an international one.
People have been flocking to Pig's Eye Pub just outside Downtown Hartford for great food, drinks and music.
Head on over during happy hour for $1 off all beers, or stop by on Friday nights for live music! Stuffed with booths and tables that can seat large groups of people, it's a great spot for gatherings.
There is also plenty of parking space around in case you decide to visit on your way from or back from an event at Connecticut Convention Center.
Address: 356 Asylum St, Hartford, CT 06103, United States
#28. The Chez Est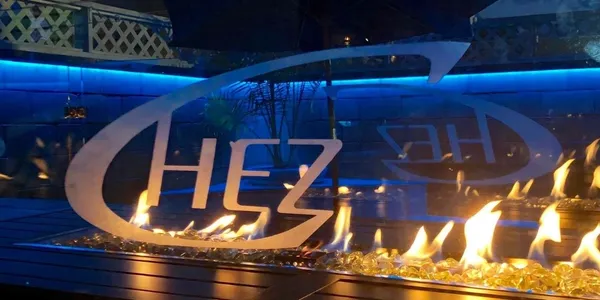 Located on Church Street, The Chez Est is a French bistro restaurant with a European sensibility. They offer classic dishes at reasonable prices and have even been called one of Connecticut's best-hidden treasures.
Try out their duck confit or blanquette de veau, or check out their lunch menu and order something that appeals to you from there! You won't be disappointed by either choice!
Also, make sure you save room for dessert. If you come here, don't leave without trying their crème brûlée. Be warned, though: it will be hard to go back after trying it!
Address: 458 Wethersfield Ave, Hartford, CT 06114, United States
If you are on your trip to Chez Est restaurant you can also check out the best restaurants in Addison, (Texas) or Grapevine.
Plan your trip to Hartford Connecticut
Whether you're visiting friends or family, exploring your roots, or looking for a new place to call home, there are plenty of reasons to spend time in Hartford.
With just a little bit of research and help from our local expert at Colton Vacations, you can find things for everyone!
If you have other questions about what there is to do here or if you want more suggestions, don't hesitate to ask.
Our vacation experts are always happy to provide advice on what's most fun and affordable while you're staying in Connecticut. Enjoy your vacation today!