Top 15 Awesome Restaurants In Preston That Offers The Best Dinning Service
Choosing the right restaurants in Preston can be tricky, especially when planning an event or special meeting. You want to find a place with great food, but you also want somewhere you can enjoy a great view. Price and location are other factors you should consider when choosing g the right restaurant.
Luckily for you, we've compiled a list of the best places to eat in Preston and ranked them based on their pluses and minuses so that you can choose the perfect fit for you.
We've also pointed out what's on their menus so you can choose which will satisfy your hunger. Our list consists of nothing but the best, so you can freely make your choice. Here are the best restaurants in Preston.
What are the Best Restaurants In Preston That Offers The Best Dining Service?
#1. Bistrot Pierre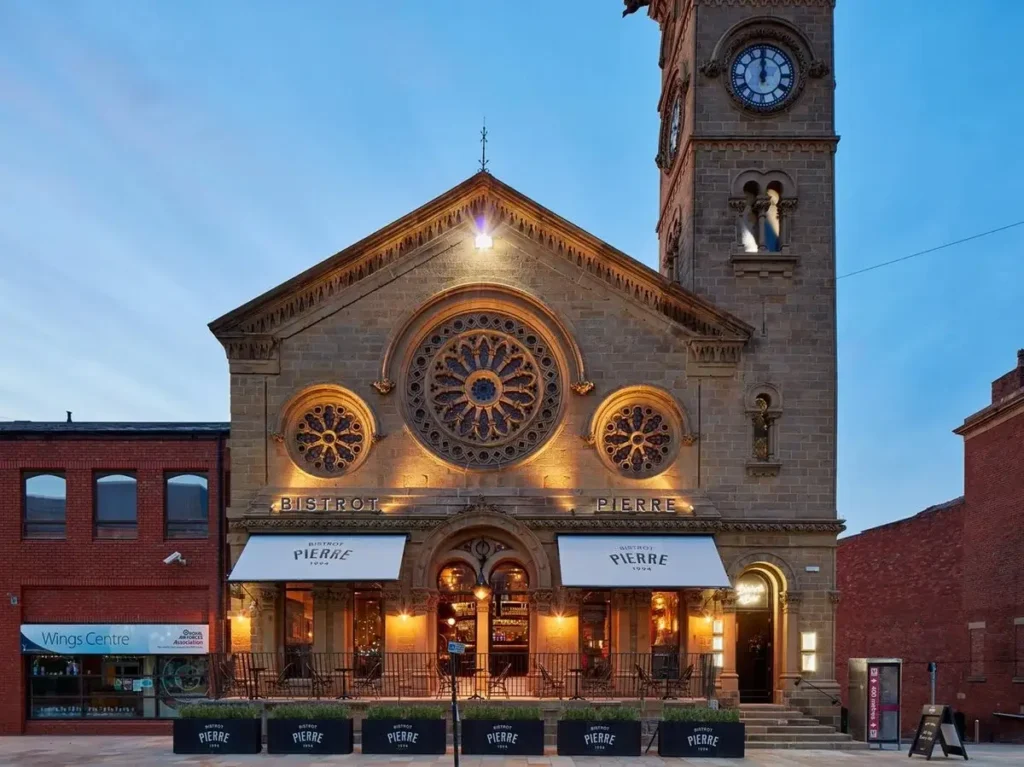 If you desire an elegant restaurant with a trendy and classy look, you must desire Bistrot Pierre. This restaurant is well-known for its beautiful dining room, a 19th-century twist church that has been beautifully restored.
Being shortlisted for an international restaurant design award, Bistrot offers guests the perfect surrounding for special meetings or events.
Bistrot does not only offer a charming dining space but also offers amazing cuisine and excellent service. They specialize in serving freshly prepared French treats prepared with locally sourced ingredients and produce.
Their food is not only pleasing but also affordable. They offer a menu covering dishes such as rump steak, crème Brulee, calamari, chocolate brownie, beef bourguignon, chicken liver parfait, and many other contemporary French cuisines.
They offer a long drink menu featuring a fine selection of cocktails, wine, gins, spirits, and beer. They always ensure to accommodate all types of eaters, even unique diet options such as gluten-free, vegan, and vegetarian options.
Bistrot welcomes all visitors for breakfast, lunch, brunch, and dinner. Their service option only includes dine-in and outdoor seating, with no takeaway or delivery options. There is also a provision for a kid's menu.
Address: The Church, 83B Fishergate, Preston PR1 2NJ, United Kingdom
#2. Forum Bar and Kitchen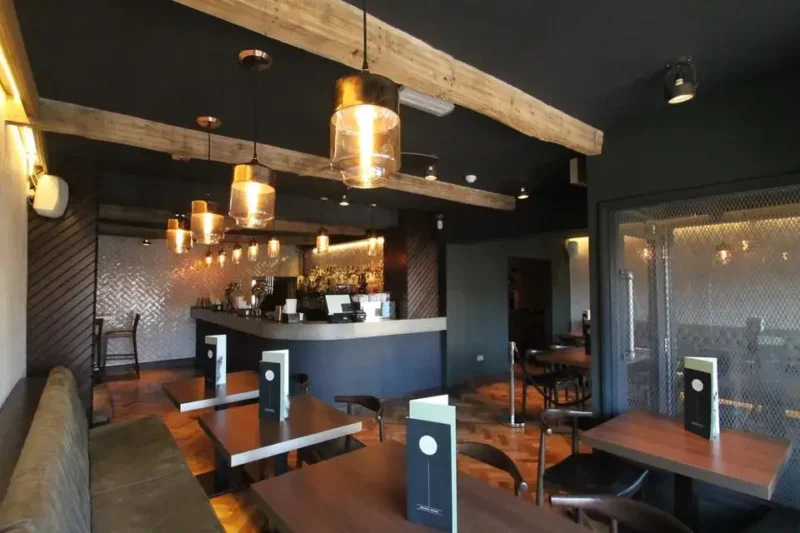 For a more exciting dining twist, visit Forum Bar and Kitchen. This restaurant is a fantastic bar and grill spot serving globally-inspired food and special handcrafted cocktails.
The restaurant has an eclectic look, as the place is designed into a beautiful restaurant and a stunning bar on site. This upmarket restaurant offers the best cocktails with a food menu covering various small plates and healthy options.
They offer a brunch, lunch, and dinner menu, covering items like sandwiches, burgers, steak, pancakes, pasta, and many creative dinner entrees.
They offer dine-in and outdoor service, with a takeaway option. Forum Bar and Kitchen also has a menu for kids, wine, beer, coffee, food at the bar, late-night food, vegetarian options, and a kids' menu.
Address: 16-17, Winckley St, Preston PR1 2AA, United Kingdom
Subscribe to our travel newsletter to stay updated.
#3. Theatre Street Bar and Grill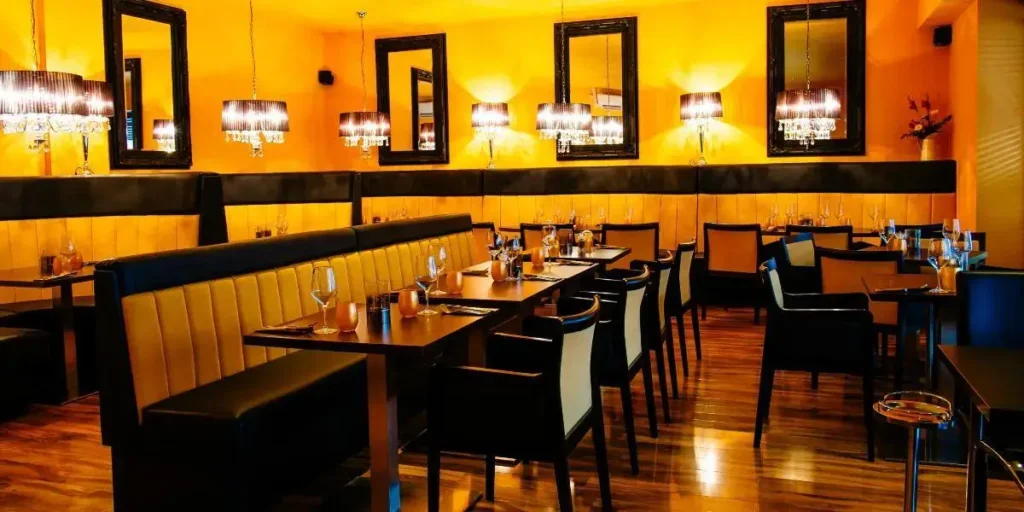 This excellent bar and grill serves perfectly cooked raised beef, seafood, and seasonal vegetables. Theatre Street Bar and Grill is an upmarket restaurant with a classy design and friendly atmosphere.
They offer excellent service, with service options ranging from lunch to dessert. The place is casual and romantic, especially during dinner.
They offer small plates with a lot of healthy options, including special diet options. Some of the regular dishes in Theatre Street Bar and Grill include risotto, oysters, sticky toffee pudding, Tapas, lobster N chips, lobster linguini, filet steak, squid salad, lobster tails, burgers, and fries.
There's a lot more on their menu, but their grilled dishes and seafood are especially yummy and satisfying. For drinks, they offer beer, wine, cocktails, and non-alcoholic beverages.
Address: 3B Theatre St, Preston PR1 8BQ, United Kingdom
#4. Turtle Bay Preston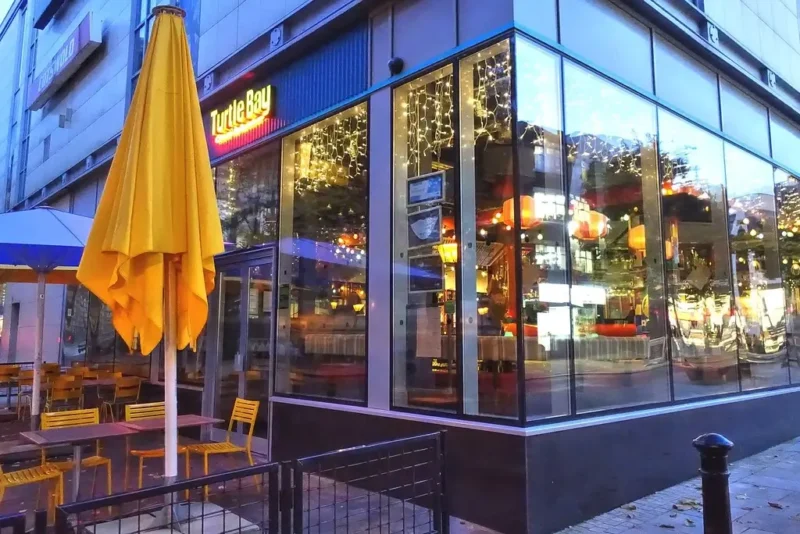 Turtle Bay Preston is on our list of the best restaurants in Preston because of their unique culinary service. The restaurant is lively, offering Caribbean cuisine and expertly crafted cocktails.
The place features a modern dining space with floor-to-ceiling windows. You'd find dishes such as goat curry, sweet potato fries, salad, corn fritters, sirloin steak, garlic & chili pit king prawn, ribs, and lots more. Their service is quite fast and customer-service based.
You'd be glad to know that their food is affordable. This doesn't mean they serve low-quality food, as their food is prepared with quality produce.
Turtle Bay Preston offers cocktails, free water refills, healthy options, quick bites, spirits, vegetarian options, vegan options, coffee, beer, organic dishes, wine, happy hour drinks, and late-night food.
This spot is family-friendly and accepts all kinds of crowds, including the LGBTQ community.
Address: Crystal House, Preston PR1 2AQ, United Kingdom
You will love to check out the best places to eat in Derby, Shrewsbury, San Marcos (Texas), and Addison (Texas).
#5. Angelo's Restaurant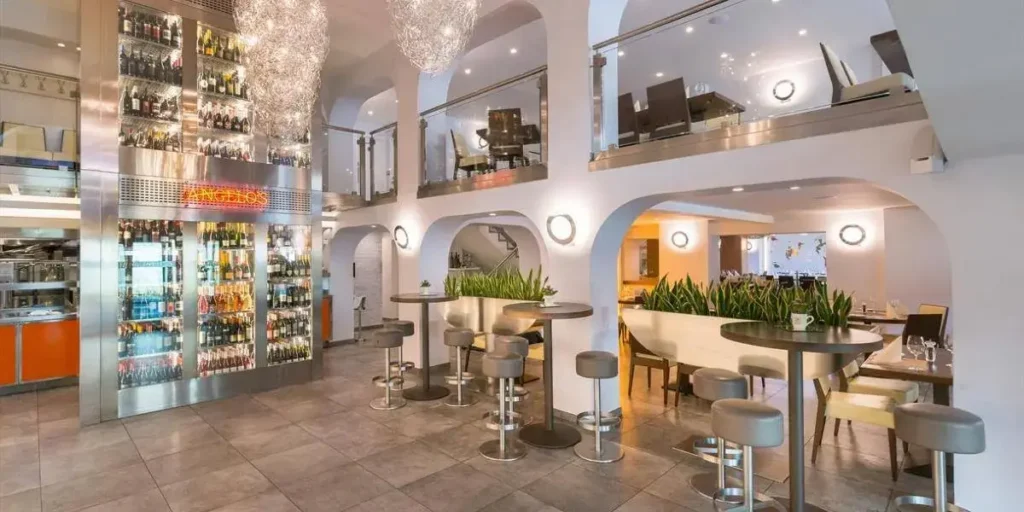 Another great fancy restaurant you should visit is Angelo's restaurant. This restaurant has a cosy atmosphere and serves Italian food. They serve classic and modern Italian cuisines and other contemporary European cuisines. The dining room is elegant and made of tiles and bricks.
This upmarket restaurant is best at serving authentic meals prepared in a home style. Their offering range from healthy options to quick bites, small plates, vegetarian plates, and late-night food.
Their services cover only lunch and dinner, with dine-in and delivery options. A bar on site offers cocktails, wine, and beer.
The menu covers pasta, soups, salads, chicken specialties, and grilled plates. You do not have to worry about eating bland food here; everything is delicious and perfectly cooked. Your diet will also be taken care of. So relax and enjoy a good time at Angelo's restaurant.
Address: 31-35 Avenham St, Preston PR1 3BN, United Kingdom
#6. Kimji Korean Restaurant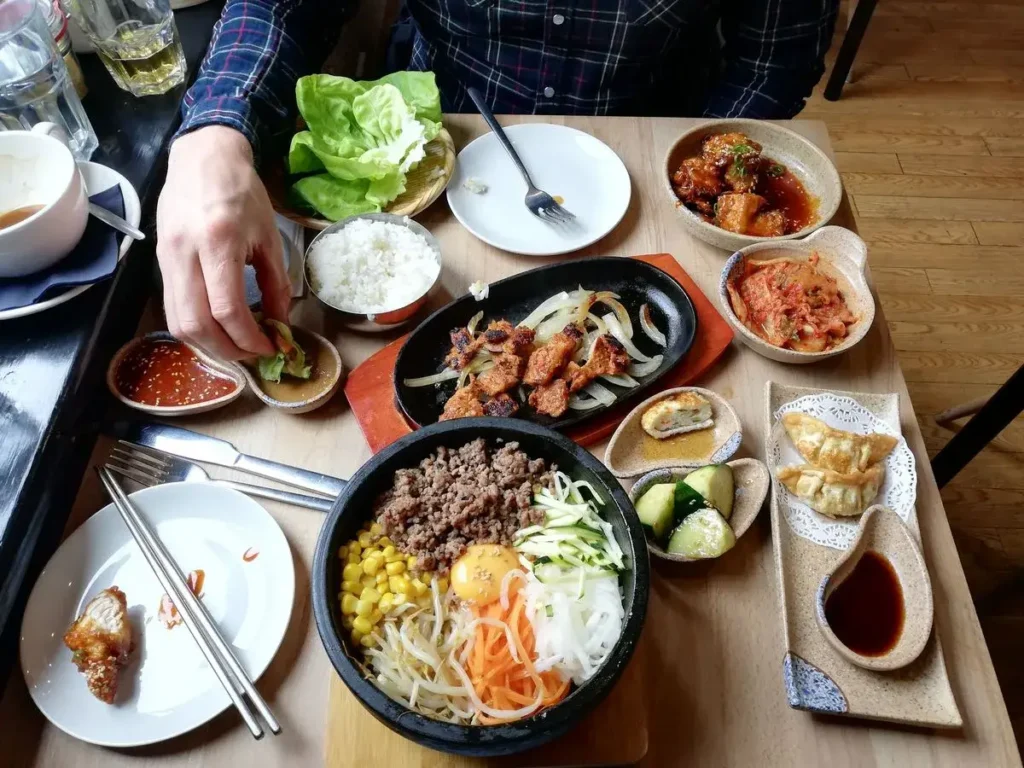 If you are looking for the best Korean restaurant in Preston, you should visit KimJi Korean restaurant. This restaurant offers traditional Korean dishes that reflect Korean culinary tradition.
KImJi offers guests a menu that reflects the rich flavours of Korean food culture. Their service is based on communal gatherings, as they believe every good meal is worth sharing.
One lovely thing about KimJi is its concentration on healthy yet delicious plates, a big part of the Korean culinary tradition. They use the freshest ingredients and combine various flavours to create the perfect meal.
Their menu covers dishes such as beef bibimbap, chicken bibimbap, beef bulgogi, Korean traditional ginseng chicken soup, lettuce dish, pork dumplings, Kimchi, marinated chicken and rice bento, glass noodles, vegetable tempura, and so much more.
Dining at KimJi is always satisfying, as there's always something new and delicious to try out, the staffs are friendly, and the environment has the right vibe. Come with friends or family to enjoy the flavorful dishes at KimJi Korean restaurant.
Address: 12 Winckley St, Preston PR1 2AA, United Kingdom
#7. Tino restaurant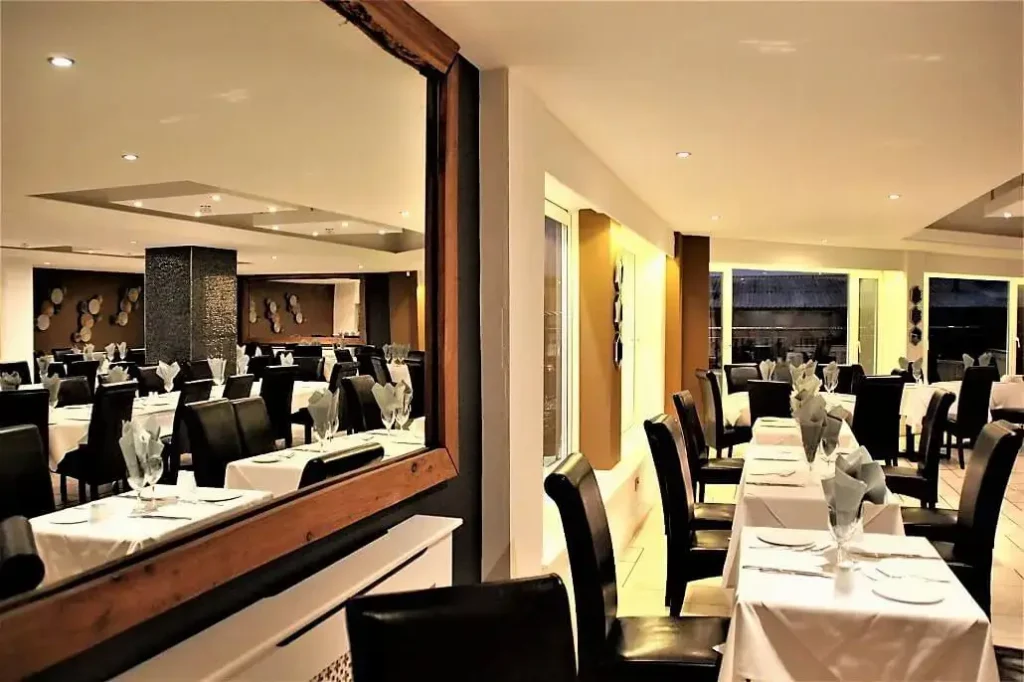 If you are looking for the ideal spot for Italian cuisine, then you've found the right spot. Tino's restaurant is a casual Italian restaurant offering authentic Italian plates, including fish specials and set menu meals.
They offer lunch and dinner, with service options ranging from dine-in, delivery, and takeaway. Tino's restaurant has a customer-based service, as they always ensure customer satisfaction. Their dishes are cooked home-style and prepared the traditional Italian way.
You'd enjoy your food in contemporary formal seating with a cosy atmosphere. They also offer a lot of healthy options, as well as small plates. Late-night food is also available.
This spot is great for group dining and particularly perfect for romantic dining. Accessible amenities include a bar on site, high chairs, and reservation plans.
Address: Hill St, Preston PR1 2BB, United Kingdom
#8. Fino Tapas Preston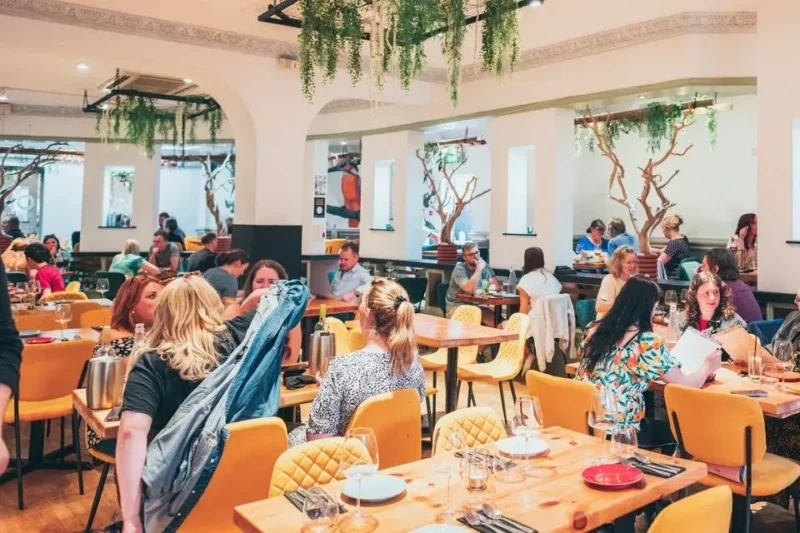 Fino Tapas is the perfect spot for those craving Tapas, as this laid-black Spanish restaurant specializes in serving classic Tapas. They also serve meat plates, seafood, vegetarian plates, snacks, and many Spanish plates.
Some popular dishes include Tapas, chorizo in red wine, English breakfast, salt cod fritters, steak, crispy calamari with aioli, patas bravas, and meatballs in red wine.
This beautiful restaurant offers cocktails, free water refills, vegan options, coffee, beer, spirits, and wine. You can come in dine-in for lunch or dinner. You can also use the outdoor seating for a delivery or takeaway.
The restaurant has a carnival vibe, with makes dining more fun and less tedious. They offer guests a more adventurous dining experience and more unique flavours with their selection of small plates. All crowds are welcome, as the place is family-friendly, LGBTQ+ friendly, and transgender-free space.
Address: 38 Guildhall St, Preston PR1 3NU, United Kingdom
#9. 263 restaurant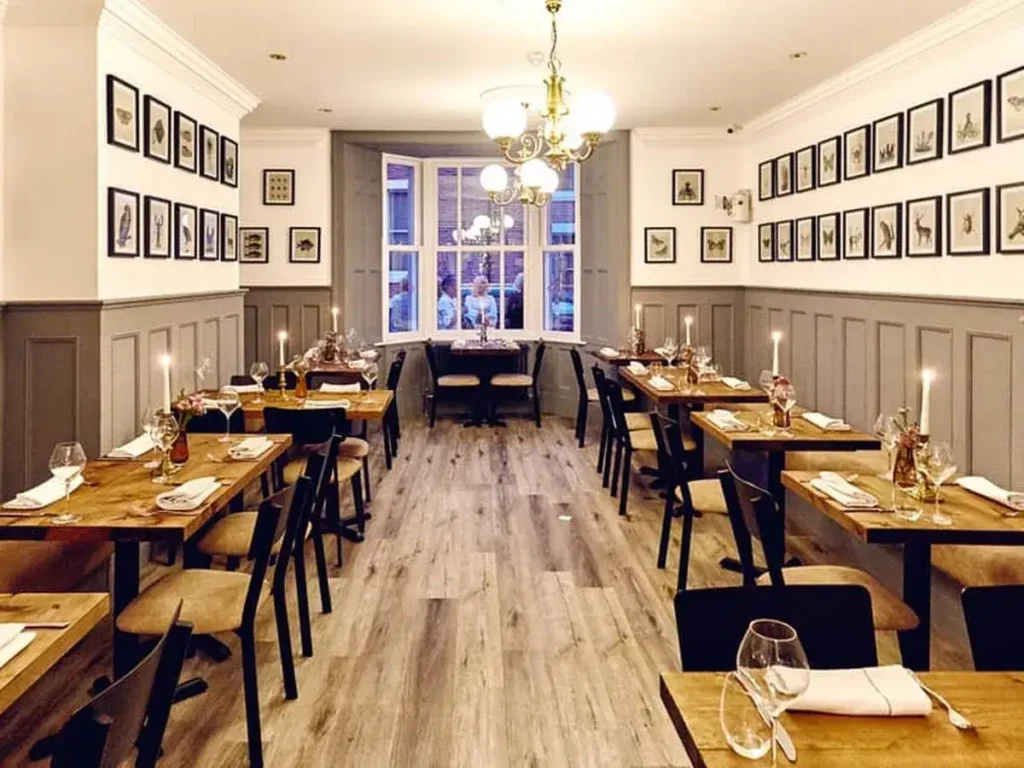 This restaurant has an impressive Google rating of 4.9, and they are worth the hype. The place is classy, with a trendy look and an upscale atmosphere. This eatery is a British restaurant offering an a la carte menu. They serve authentic dishes as their ingredients are locally sourced.
This restaurant is thrilling, as they offer a variety of wines, both local and international brews. They also provide a guest seasonal menu, which is excellent for exploring flavours. Some dishes they serve in 263 include strawberry crux, butter pie, sourdough and butter, red velvet, farro, sea bass, and lots more.
If you are a wine lover, you will find. You'd easily find a suitable pick, regardless of your diet need and cravings. The place is lively but with moderate noise.
Address: 10 Camden Pl, Preston PR1 3JL, United Kingdom
#10. We don't give a fork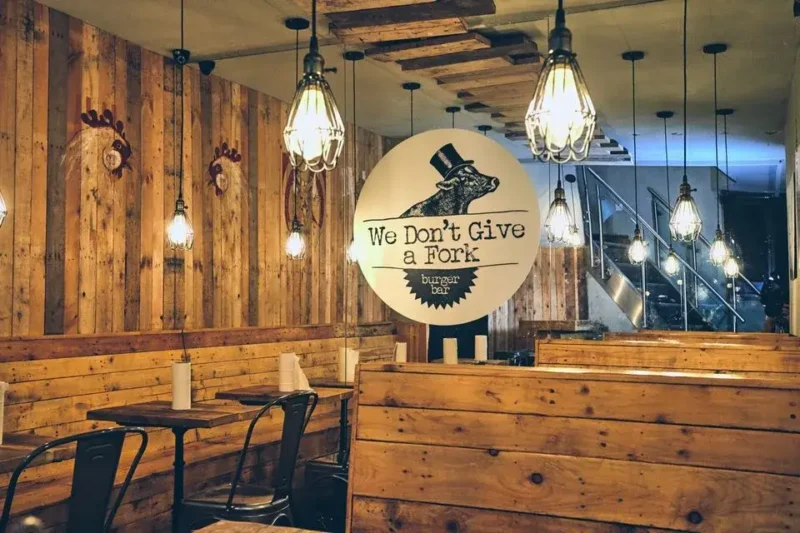 We don't give a fork is one of the best casual restaurants in Preston for comfort food and quick bites. They specialize in serving locally sourced hamburgers with creative toppings and fries.
This restaurant has served yummy burgers since 2017 and maintained good customer service. They serve burgers with a great combination of fresh ingredients and quality meat.
Their burger menu is wide and accommodates all ages and most dietary needs. Other available services include delivery, takeaway,d a kid's menu.
Address: 20 Guildhall St, Preston PR1 3NU, United Kingdom
#11. Silk Route Indian Restaurant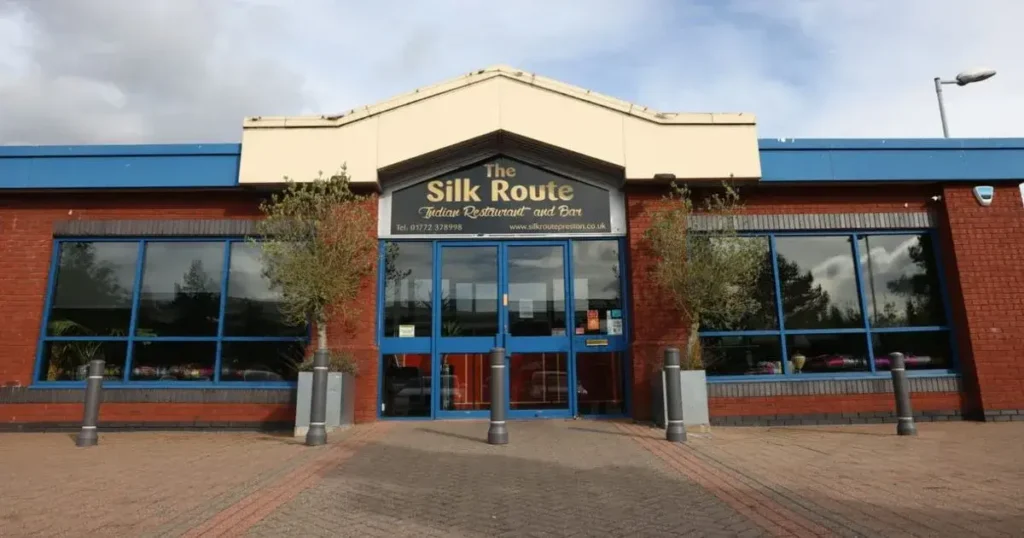 Here is an amazing Indian restaurant for you. Silk Route Indian restaurant is a cosy spot where you can enjoy freshly prepared cuisines in a friendly environment.
The culture at Silk Route restaurant is solely about exploring diverse flavours. This restaurant presents a menu inspired by the 'silk road,' representing cultural interaction. Their offering includes beer, coffee, Halal food, late-night food, small plates, free water refills, small plates, and many vegetarian plates.
Some dishes they serve include Ryan, papadum, Vindaloo, prawn tandoori, chicken tikka jalfrezi balti, Bombay aloo, onion bhaji,d lots more. If you are into Indian cuisine, Route will quickly become one of your favourite restaurants in Preston.
Address: Lidl, Near, W Strand, Preston PR1 8UY, United Kingdom
You may also like to check out the best restaurants in Honduras (Tegucigalpa), Guatemala City, Peterborough (United Kingdom), and Bakersfield (California).
#12. Thai Orchid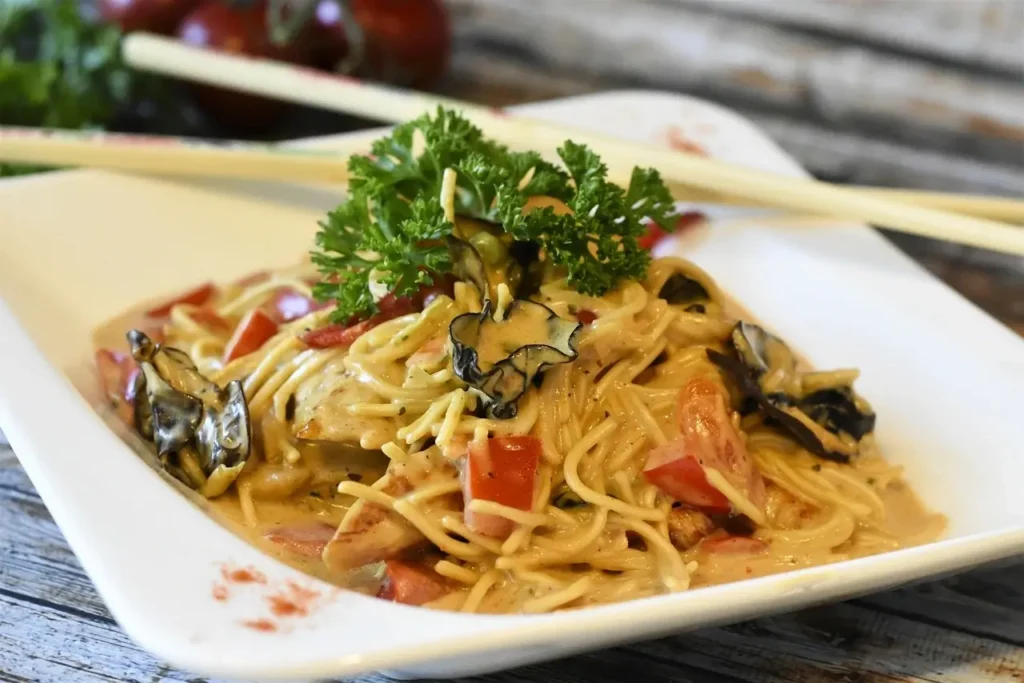 If you want to go for something a little different from regular food, why not try some delicious Thai dishes? Thai Orchid is one of the best places you can find genuine traditional Thai cuisine in Preston.
Thai cuisine is their specialty. Some dishes they serve include spring rolls, ribs, and khaand o soi, amongst others. They also serve a little of other Asian plates.
The place is casual and has a cosy atmosphere. They offer a lot of healthy options ad small plates. They are only available for dinner. It's an excellent place for group gatherings, so come by with friends or family.
Address: 33 Cannon St, Preston PR1 3NS, United Kingdom
#13. 1842 Restaurant and Bar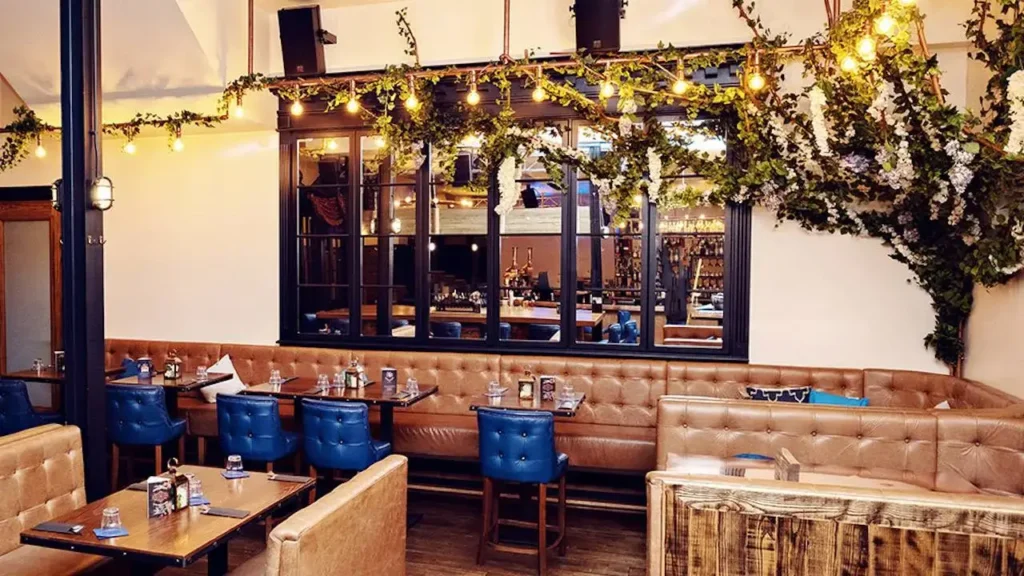 1842 Restaurant and bar is the perfect place for a fun-filled night. The spot features an elegant dining space with a bar offering a wide range of creative handcraft cocktails. There's always music, great drinks,d great people.
They also offer an impressive robust menu of Tapas plates. The vibe in 1842 was always loud and fun, with a lot of dancing, especially at night. Their food menu is quite limited, but they have a great selection of small plates and healthy options.
Other offerings inconclusive performances, food at the bar, outdoor seating, wine, beer, dogs allowed, outside food allowed, and free Wi-Fi. If you plan a casual, fun hang out with friends, consider adding 1842 to your list. Reservation is accepted, and groups are welcomed.
Address: The Corn Exchange, Lune St, Preston PR1 2NN, United Kingdom
#14. Coco's Soul Food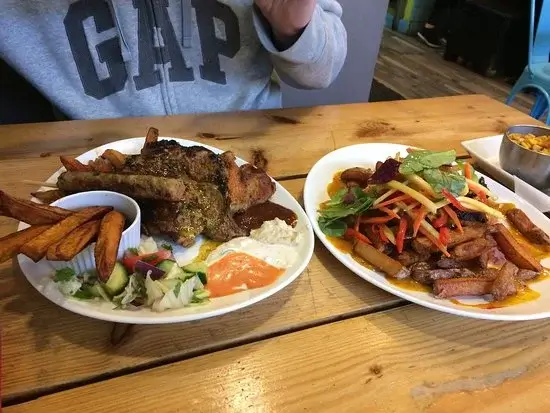 Coco's Soul food has an impressive rating of 4.7, and this is because of its fantastic food and excellent service. The restaurant is a casual spot with a beautiful environment and lovely staff.
Their offerings range from Halal food to small plates, healthy options, quick bites, vegan options, and vegetarian dishes. Service option includes brunch, lunch, and dinner and counter service.
Their famous dishes are chimichanga, chicken shawarma, rice & roti, falafel burrito, blackened chicken, mango chicken, lasagna, and Vietnamese chicken burger.
You can dine in or go for a delivery or takeaway option. Coco's soul Food is another excellent place for group dining. It is also great for a casual family gathering.
Address: 88 Friargate, Preston PR1 2ED, United Kingdom
#15. Azuma restaurant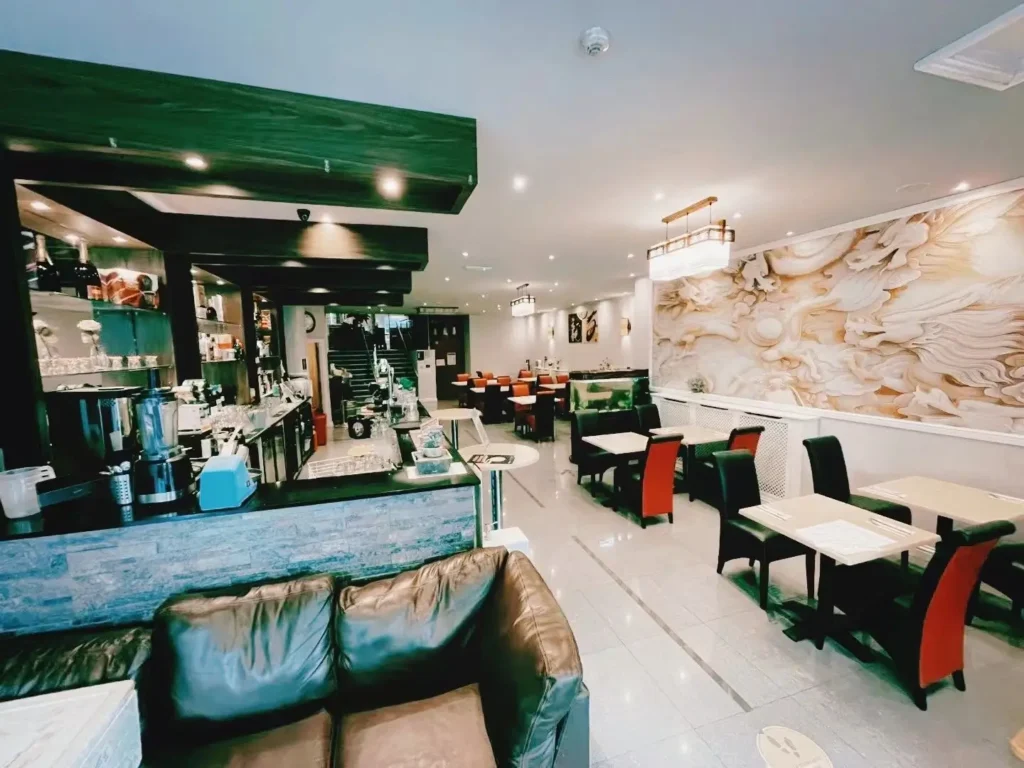 Azuma Restaurant is for those looking for an excellent Chinese restaurant in Preston. Azuma is an easy-going eatery with tabletop BBQs.
The restaurant serves authentic Chinese plates, including seafood, chicken wings, garlic prawns, chicken and corn soups, chicken chow Mein, Korean plates, and bbq plates. Azuma restaurant offers excellent service, as they offer quality food, along with a great environment.
They also serve Halal food, wine, and vegetarian options. They are only open for lunch and dinner and can be eaten in, delivered, or taken away.
Address: 125-126 Friargate, Preston PR1 2EE, United Kingdom
Time to spare? Why not check out the best places to dine in Beaver Creek (Colorado), Bethesda (MD), and Terre Haute (Indiana).
Enjoy Your Meal at Preston Restaurants
There are a lot of places you can enjoy good food in Preston. Trying out all these restaurants will take a lot of time and effort, bringing us to an abridged list of top restaurants in Preston.
We've already considered these restaurants. All you need to do is select the restaurant that best suits your taste, and you are ready to enjoy a great time in Preston.
Disclaimer: Vasttourist always strives for content accuracy. Since the time of publishing, travel-related information regarding pricing, schedules, and hours may have changed. Please see individual websites embedded in this post for the most current trip-planning information.

Unless otherwise stated, Vasttourist does not claim ownership of any images used on our blog site. The respectful owners of all visual content have copyright protection. We try to include links to the sources. If any images are your property and you do not want them to appear on our blog, don't hesitate to contact us; we will take them down immediately. We support properly crediting the original writer, artist, or photographer.