Top 14 Best Restaurants In Derby You don't want to miss!
Most times, the best restaurants in Derby aren't always easy to find, but you should know that Derby offers a diverse selection of perfect venues for any occasion.
From intimate romantic dinners to birthday parties and all-you-can-eat buffets, Derby has something for everyone. There is even a restaurant that caters exclusively to dogs!
You may get whatever you want in this busy city, from a lovely Sunday roast to a fiery curry. This blog article will highlight some of Derby's top eateries that you should take advantage of.
These restaurants will impact your taste buds because of their diverse dishes and locally sourced delicacies. Let's go on a culinary adventure and find Derby's top restaurants now, shall we?
What are the best restaurants in Derby?
#1. Dolce Salato Italian Restaurant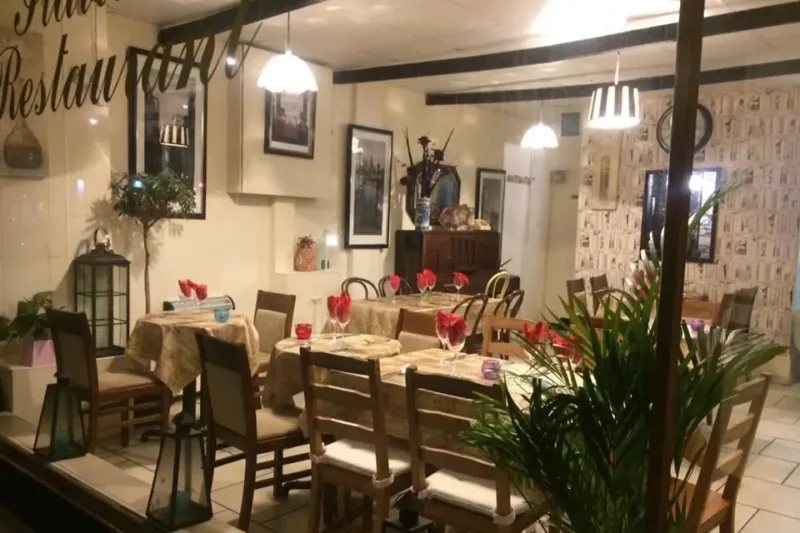 Dolce Salato boasts an impressive 4.8 rating for its excellent culinary services. This laid-back restaurant offers a seasonal menu consisting of classic Italian cuisine.
The restaurant has upscale decor and a romantic atmosphere, which is great for special dinners. Their menu also includes Mediterranean and international influences. They offer dine-in only, with no delivery or takeaway options.
Their menu covers lunch and dessert with healthy options, vegetarian foods, and organic dishes. The seating setting is intimate, giving it another pass for a romantic dinner. They offer waiter service, and their staffs are always professional but hospitable.
Their menu is excellent for exploring different Italian flavors. Some top options include seafood, steak, pasta, wine, cocktails, and dessert. They offer reservation plans and require guests to make dinner reservations.
Address: 32 Queen St, Derby DE1 3DE, United Kingdom
#2. The European Restaurant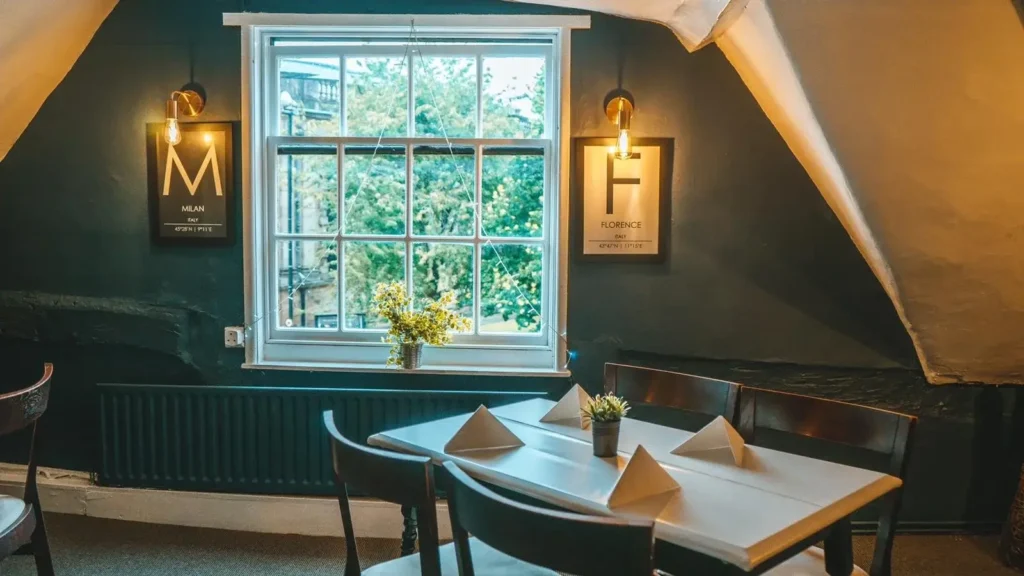 The European Restaurant is a great Italian restaurant in Derby, which is next on our list of great places to eat in Derby. This restaurant is in an innovative, two-story medieval house with a stunning cathedral view.
The European Restaurant is one of the best Italian restaurants in Derby, offering visitors classic and modern Italian fares.
Menu highlight includes sausage pie, sausage tart, halloumi sticks, chicken liver pate, Risotto, Grilled Halloumi, pesto pasta, fusilli, Banoffee pie, and antipasto.
They also serve delicious pizza and a lot of creative handcrafted cocktails. This upmarket restaurant is an excellent pick for intimate and group dining.
Address: 22 Iron Gate, Derby DE1 3GP, United Kingdom
#3. Emily's Steakhouse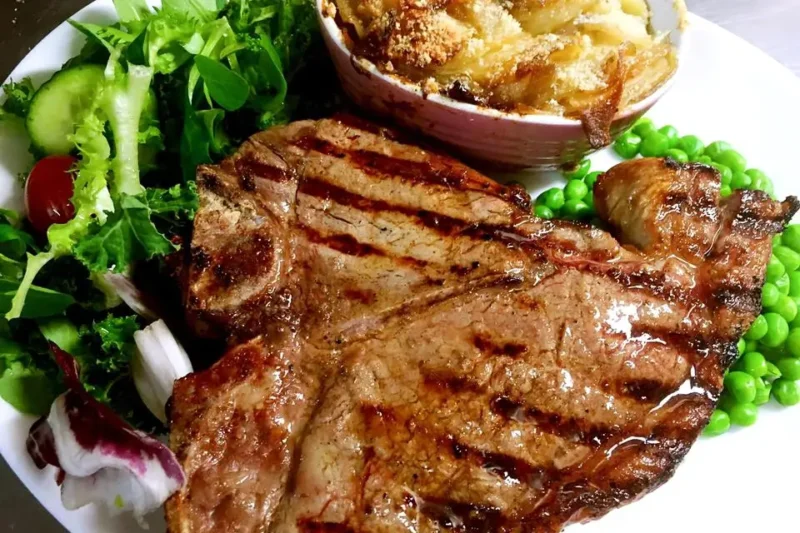 For a juicy yummy steak, you should visit Emily's Steakhouse. This restaurant features a classic steakhouse with a bare-brick wall, vintage maps, and stripped floors.
Subscribe to our travel newsletter to stay updated.
As one of the best steakhouses in Derby, they offer a British-inspired menu consisting of various steak entrees and fantastic seafood. They are prevalent for their Filet Steak with Clubs and sauce, and it's delicious!
Try the Filet Steak with King Prawns, Char-grilled King prawns, T-bone steak with scampi, and surf turf skewered King prawns.
There are a lot more you can explore. Just go with the staff's recommendation or your favorite dish. If you are coming around with the kids, that is alright, as Emily's Steak House offers a kids' menu featuring healthy, delicious treats for your kids.
Dinner time is always best for some alcohol, and Emily's Steakhouse offers the perfect selection of alcohol for you. They offer the finest you can find around town, from cocktails to beer and wine. Group dining is highly welcomed, and reservations are accepted.
Address: 24-26 Monk St, North, Derby DE22 3TX, United Kingdom
#4. Turtle Bay Derby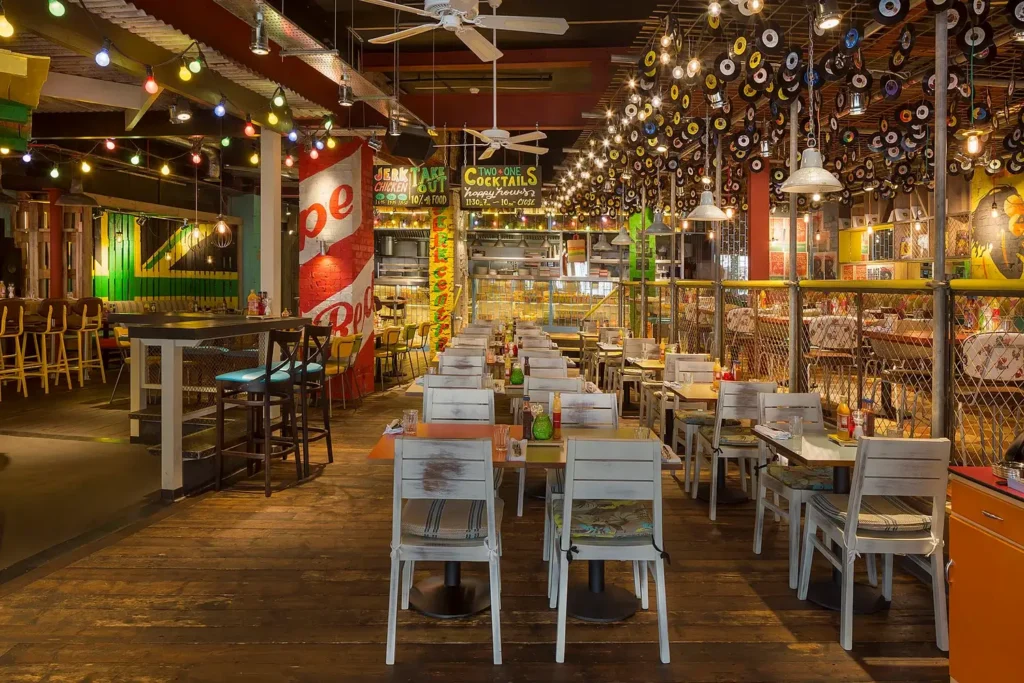 If you are a lover of Caribbean cuisine, then you must love Turtle Bay restaurant. Turtle Bay restaurant is a great casual spot to enjoy amazing Caribbean treats.
The food here is addictive, as it's so delicious and satisfying. Special diet options such as vegan and vegetarian options are also available.
Some favorite food options include Trinidad curry chicken, platinum prajit, browned chicken, and beef burgers.
Available items on the drink menu are spirits, wine, beer, coffee, and non-alcoholic beverages. Service options cover dine-in, takeaway, and delivery. All kinds of visitors are accepted, as well as members of the LGBTQ community.
Acceptable payment method includes Debit cards, credit cards, MFC mobile payment, American Express, and Master card.
Whether you come in for lunch or dinner, there's always a mouthwatering dish to satisfy your taste buds.
Address: 1-5 Wardwick, Derby DE1 1HA, United Kingdom
Check out the best places to eat in Shrewsbury, San Marcos (Texas), and Addison (Texas).
#5. Browns Restaurant Derby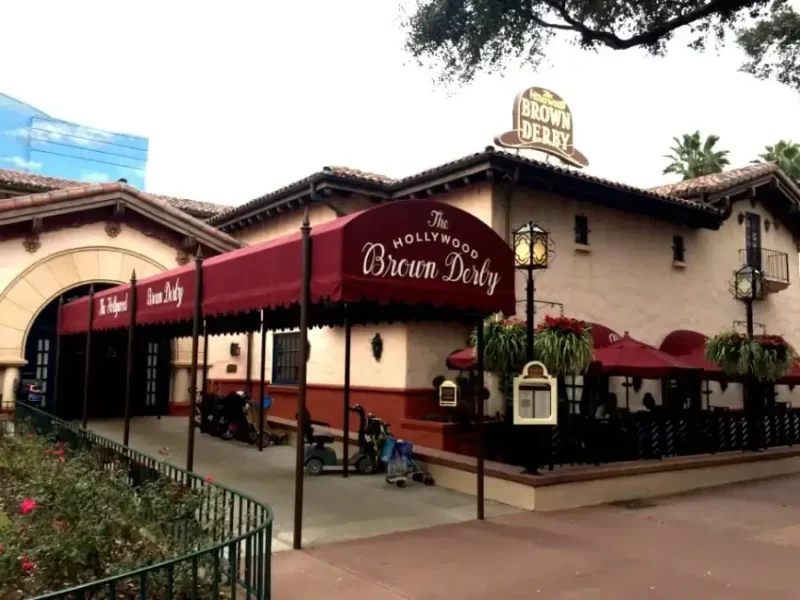 If you are looking for an excellent British restaurant in Derby offering modern English cuisine, you must try Browns Restaurant. This restaurant is one of the best choices for romantic dates or formal meetings.
Brown's Restaurant is a family-owned eatery, best at offering only authentic dishes. It features a warm and elegant dining space, featuring class British cuisines plus ample wine options. This restaurant is not just fancy but great at reflecting the sophisticated British Culinary traditions.
They offer visitors only dine-in, with lunch and dessert. Their menu revolves around healthy plates and vegetarian options. Some popular dishes are Eggs benedicts, pumpkin soup, sea bass, and Corn-Fed chicken.
Desserts are awesome, so try one of their favorite dessert plates. Browns Restaurant has a long list of wines, as well as tasty handcrafted cocktails, beer, and spirits.
Address: 15 Thornhill Rd, Littleover, Derby DE23 6FZ, United Kingdom
#6. The Forge Black Rock Steakhouse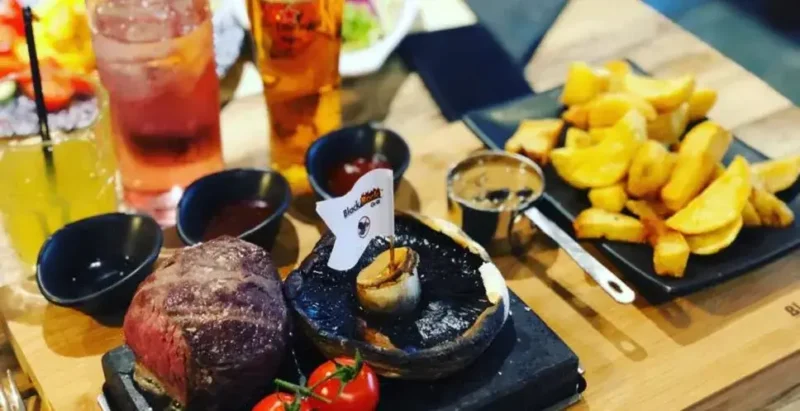 If you're looking for the best places to eat in Derby, one such restaurant is the Forge Black Rock Steakhouse. You will want to take advantage of their award-winning steak on the stone, cooked at your table.
This restaurant is the only steak-on-stone restaurant at the Forge and is an unmissable experience, as they offer you the best of Derby.
From their beautiful dining space, mouthwatering steak on stone, excellent atmosphere, and fantastic service. What more could you ask for?
On their menu, they have the best local steak in Derby and the best champagne, craft beer, wine, and spirits.
The environment is quite relaxing and friendly. They provide indoor and outdoor seating, as well as attractive decor and social events. Other services include free refills on water, food served late at night, food to go, free Wi-Fi, and an on-site bar.
Address: 1 – 6, The Palfreys Old Blacksmiths Yd, Sadler Gate, Derby DE1 3PD, United Kingdom
#7. Pepitos
Pepitos is an excellent Mexican restaurant with a wide range of traditional dishes and tequila-based drinks. The restaurant is a colorful eatery with wood floors and casual seating.
Their dishes are kept fresh and authentic, as they offer locally sourced cuisines. Dishes are prepared with local ingredients and designed in the traditional Mexican style.
They serve burritos, desserts, fajitas, burgers, salads, Botanas, and many Mexican entrees. Pepitos has a fun vibe and an amicable atmosphere.
The food is great, the people are awesome, and the staffs are the beat. So whenever you are craving Mexican food, remember to visit Pepitos.
Address: 127 London Rd, Derby DE1 2QN, United Kingdom
#8. Revolucion de Cuba Derby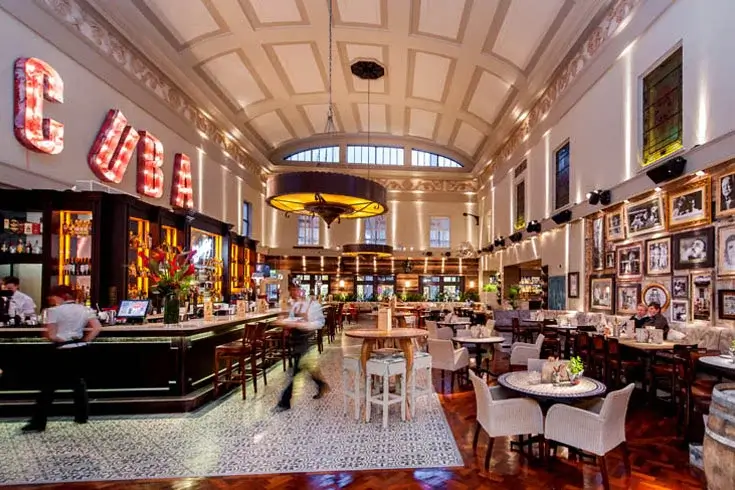 Visit Revolucion de Cuban Derby for an authentic Cuban cocktail. This lounge is lively, offering freshly prepared tapas, a late-night fiesta, and live music. It is a casual spot, common among groups and tourists in Derby.
This Restaurant is the best location for a fun night out with friends or an exciting solo-dining experience. The place is great for groups and offers a lot of group dining treats.
Cocktails are the best here, offering innovative handcrafted cocktails, including beer and spirits. Their food menu covers sandwiches, Tapas, nachos, Filet Steak, beef fillets, skewers, house salads, and lots more.
While enjoying sipping a chill drink at the bar, you can order some delicious skewers or go for something light.
Address: 9 The Strand, Derby DE1 1BJ, United Kingdom
#9. The Viceroy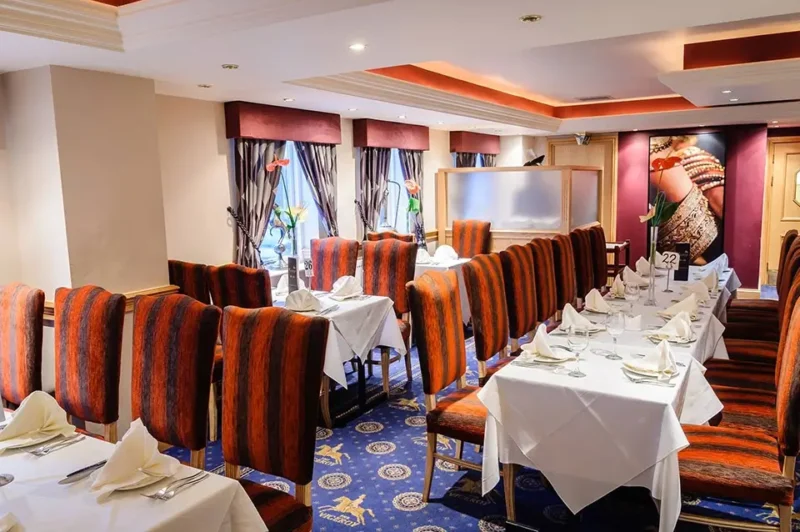 The Viceroy is one of the best Indian restaurants in Derby. It is a casual place with Asian art on the walls that serves a wide range of Indian dishes.
Their menu is quite comprehensive, including dishes such as chicken tikka masala, kebab, lamb Rogan, garlic chill chicken, and lots more.
You'd enjoy quality food, especially their garlic chill lamb. It is delicious. They have waiters, and they are always polite and attentive.
The device is generally impressive, and the environment is friendly and great for your kids. They offer many vegetarian options, making it a great place to bring kids.
Address: 8 – 9 Midland Rd, Derby DE1 2SN, United Kingdom
You may want to check out the best restaurants to dine in Honduras (Tegucigalpa), Guatemala City, and Peterborough (United Kingdom).
#10. Zorba The Greek Derby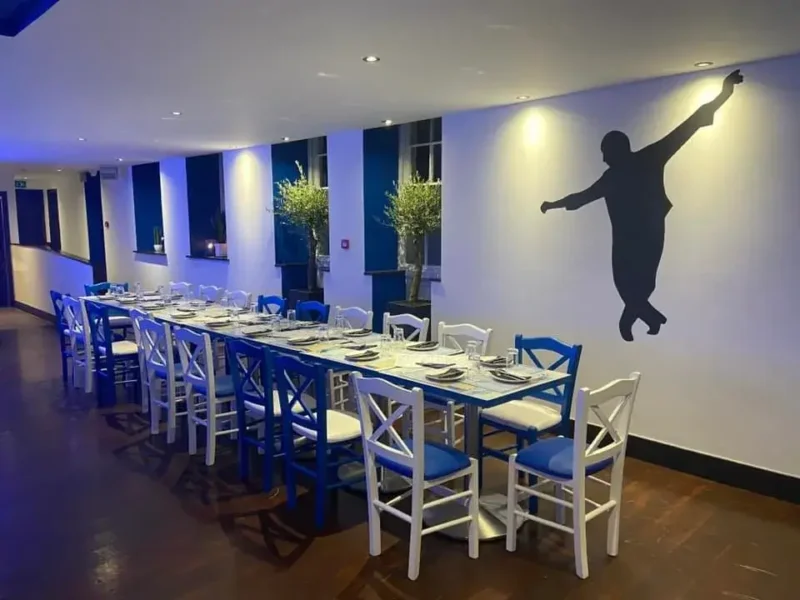 Suppose you are looking for a great spot to enjoy classic Greek dishes. This warm and charming Restaurant is the best place for a relaxing lunch or dinner treat. They offer varieties, including a seasonal menu.
Zorba, The Geek restaurant, is known chiefly for its elegant dining space and slow-paced dining experience. Creative and handcrafted drinks accompany their dishes. They also offer a health-based menu, including healthy and vegetarian options.
They have a bar where you can get cocktails, spirits, vegan plates, and much more. The dining options are lunch and dinner, with delivery, dine-in, and takeaway options.
Address: 9 11Bold Lane, Derby DE1 3NT, United Kingdom
#11. The Wonky Table Restaurant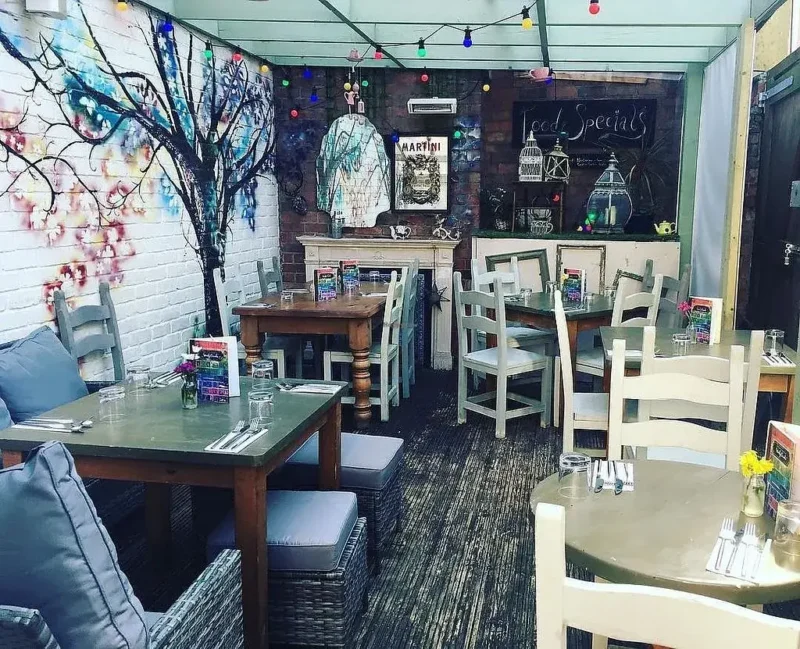 The Wonky Table restaurant is based in Europe and serves a unique mix of foods from Europe. The restaurant is located in the Cathedral Quarter area of Derby city center.
It features a casual dining space with rustic décor and a contemporary twist. As a family-run and operated restaurant, they serve home-cooked meals in a friendly atmosphere. They offer a selection of locally sourced dishes.
They serve steaks, sandwiches, desserts, soups, burgers, vegan plates, vegetarian plates, and lots more. They also offer a seasonal menu that allows you to experience different flavors peculiar to other seasons.
The staffs at Wonky Table Restaurant are resourceful and hospital. Services range from outdoor seating to dine-in, takeaway, and delivery.
Other offerings include cocktails, free water refills, beer, coffee, and happy hour food. Their service is generally excellent and customer-based, so you will surely enjoy your time at Wonky Table.
Address: 32-33 Sadler Gate, Derby DE1 3NR, United Kingdom
#12. The Dining Room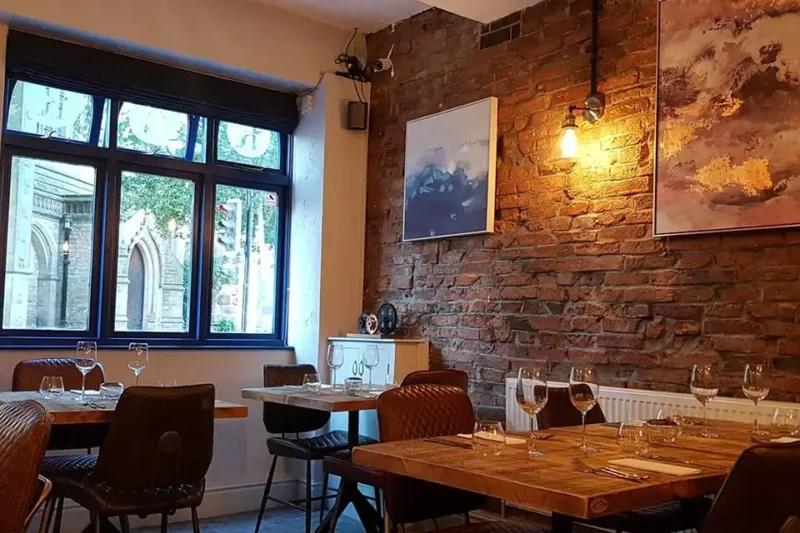 The Dining Room is a fantastic restaurant in Derby you shouldn't miss. They specialize in offering sophisticated plates, wines, and cocktails, including takeaway plates.
This restaurant is an excellent choice if you are looking for a new and exciting restaurant. They offer only lunch and dinner, with delivery and dine-in options.
They offer delicious dishes prepared an experienced chef Simon Bates and his wife. They offer an A la carte and takeaway menu featuring soups, seafood, vegetable plates, pasta, dessert, and drinks.
They also offer many healthy options, small plates, and diet-based dishes. Whether planning a family dinner or hanging out with friends, you'd enjoy your time in The Dining Room.
Address: The Dining Room, 121 Friar Gate, Derby DE1 1EX, United Kingdom
#13. Bistrot Pierre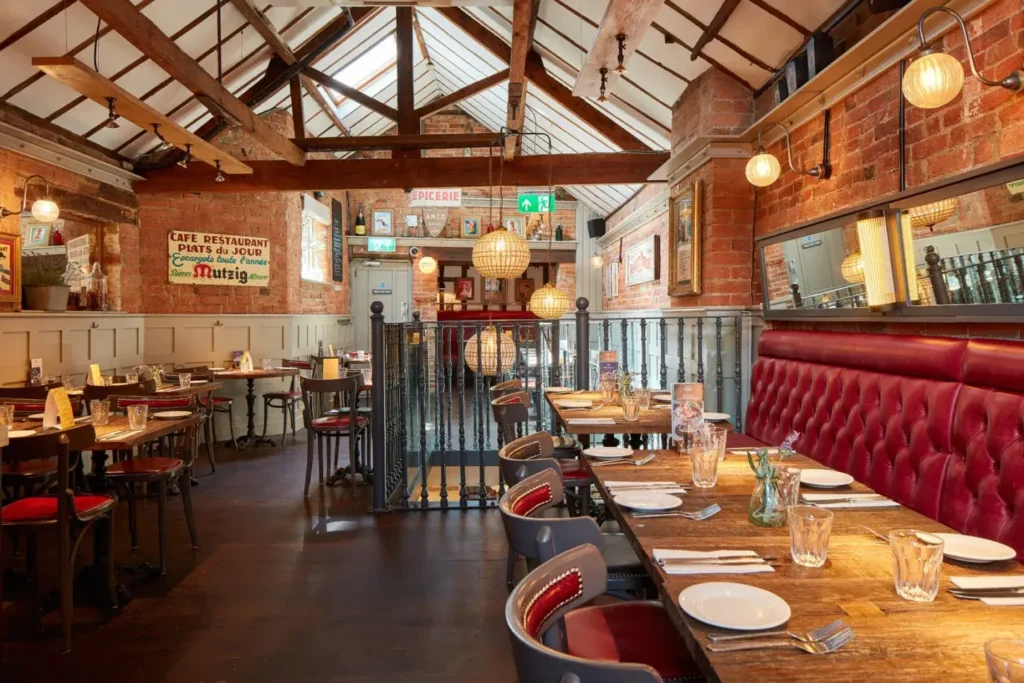 Bistrot Pierre is a French restaurant with upscale seating that serves food from different parts of France. The Restaurant is an upmarket eatery featuring a luxurious dining space with a sophisticated atmosphere.
Their service is top-notch and solely based on hospitality. Bistrot Pierre provides freshly prepared French-style dishes, including gluten-free plates and vegan and vegetarian options.
Some popular dishes include roast rump of beef, crème Brulee, pork medallions, mussels, creme brulee, chicken liver parfait, and summer risotto. You can try other delicious dishes, but if you cannot pick a container, start with famous cuisine.
Excellent dinner is only complete with a glass of wine or cocktail to wash it down, and Bistrot Pierre got you covered. They serve the finest wine, beer, cocktails, and spirits.
This restaurant is excellent for a casual catch-up over lunch, a special family dinner, or a date night. They offer only dine-in with no takeaway and delivery options.
Address: 18 Friar Gate, Derby DE1 1BX, United Kingdom
#14. Lorentes Derby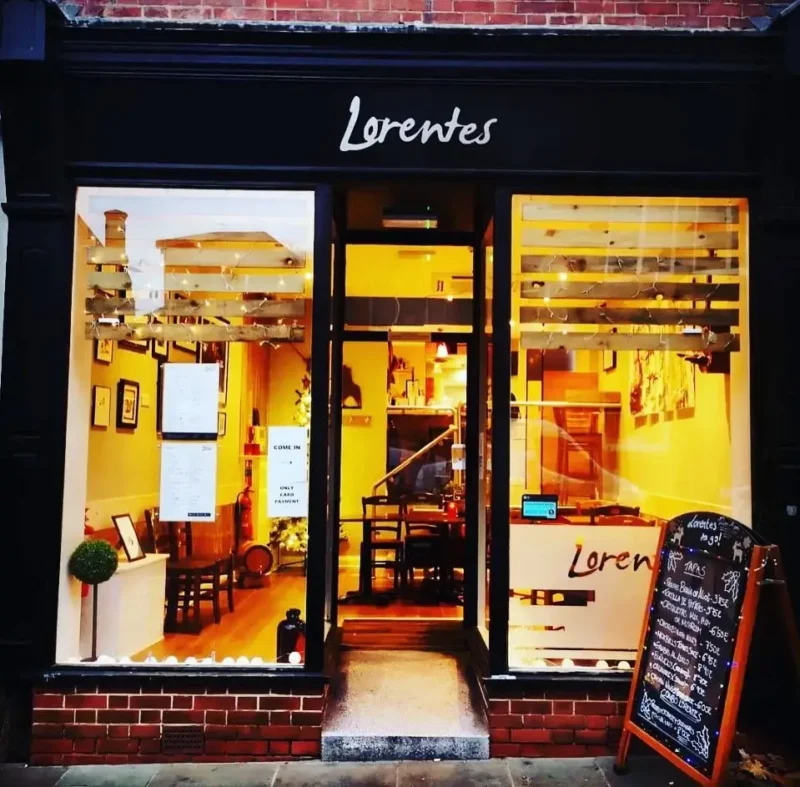 The fun continues at dinner at Lorentes Derby. Lorente's Derby is a fun Spanish tapas bar that serves wine, paella, charcuterie, and Spanish tapas. They are famous for their extensive tapas and wine list.
Their offerings cover healthy options, food at the bar, late-night food, and small plates. Service option includes dine-in and takeaway with no contact delivery.
Lorente's is always lively and buzzing with social activities and delectable flavors. It's a local restaurant offering only locally sourced dishes in vibrant surroundings.
You'd enjoy regular dishes like patatas bravas, gambas al ajilo, calamares a ala rovania, crema Catalana, black pudding, and much more. But if you want to try something new, you should love it at Lorente restaurant.
Address: 118 Friar Gate, Derby DE1 1EX, United Kingdom
Time to spare? Why not check out:
Explore the best Culinary traditions at Derby Restaurants
Derby is a great city with a variety of restaurants. You'd find restaurants serving continental dishes from different parts of the world.
From Steakhouse, Mexican restaurants, French restaurants, and British restaurants. The list is quite long. But you do not have to worry, as we've already considered the top 14 restaurants in Derby. So with this narrowed list, it will be easy to find the best Restaurant for you.
While considering which Restaurant is best for you, consider your budget and diet needs. If you have any questions about the best restaurants in Derby, please leave them in the comment section below.
Disclaimer: Vasttourist always strives for content accuracy. Since the time of publishing, travel-related information regarding pricing, schedules, and hours may have changed. Please see individual websites embedded in this post for the most current trip-planning information.

Unless otherwise stated, Vasttourist does not claim ownership of any images used on our blog site. The respectful owners of all visual content have copyright protection. We try to include links to the sources. If any images are your property and you do not want them to appear on our blog, don't hesitate to contact us; we will take them down immediately. We support properly crediting the original writer, artist, or photographer.