Swindon Restaurant Reviews: Our Editor's Pick of The 15 Best Restaurants In Swindon
In search of a Swindon culinary experience? Don't look elsewhere! There are a ton of well-kept secrets and well-known restaurants in the city that serve delectable food from all over the world.
With so many restaurants, foodies, tourists, and locals alike will be spoiled for choice. We've covered you with the best dining options in Swindon, from classic English pubs to genuine Italian trattorias.
There are plenty of great restaurants to choose from in Swindon, but our editor's pick of the 15 best restaurants in Swindon should help narrow your options. With so many amazing places to eat here, you'll be spoiled for choice, so check out this list and start planning your next night out!
What are the Best Restaurants In Swindon?
#1. Da Vinci Restaurant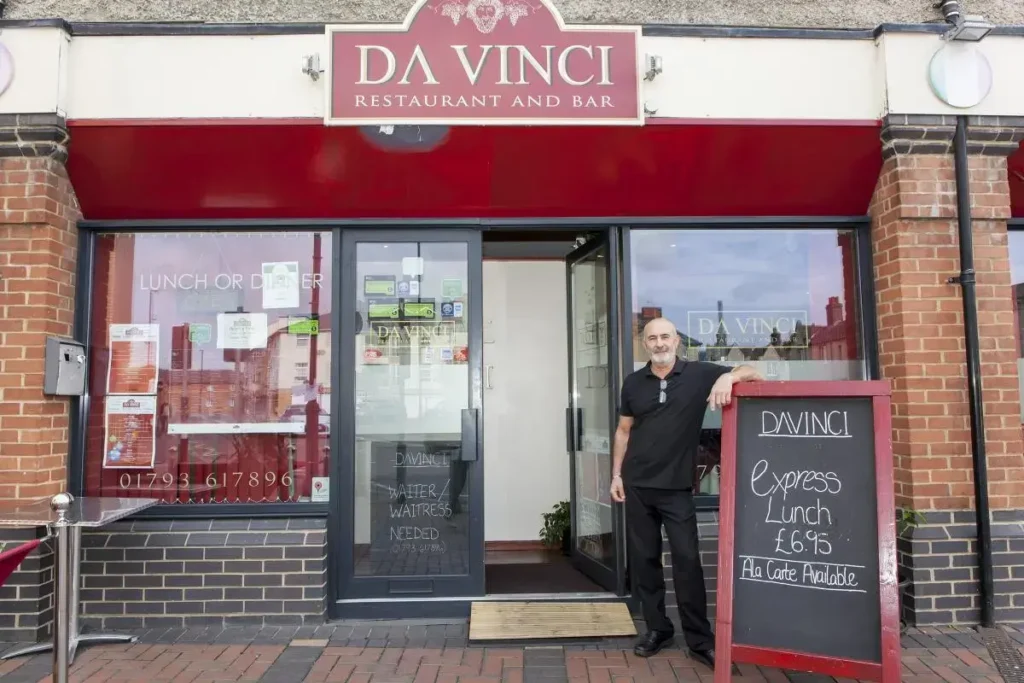 Da Vinci is an Italian restaurant in Swindon that offers many traditional Italian dishes. The restaurant has a casual, laid-back vibe, and the menu has a lot of different Italian dishes.
You'd find pasta, seafood, vegetable plates, soups, quick bites and dessert. Da Vinci is a favorite spot for pizza, insalata caprese and fruitura di pesciolini.
Other amazing dishes locals love include pasta, spaghetti Bolognese, risotto, and calamari. As a family-run restaurant, they offer a home-cooked meal prepared with locally sourced ingredients. There is something for everyone at Da Vinci, and the restaurant offers good value for money.
Address: 62 Fleet St, Swindon SN1 1RA, United Kingdom
#2. Greek Olive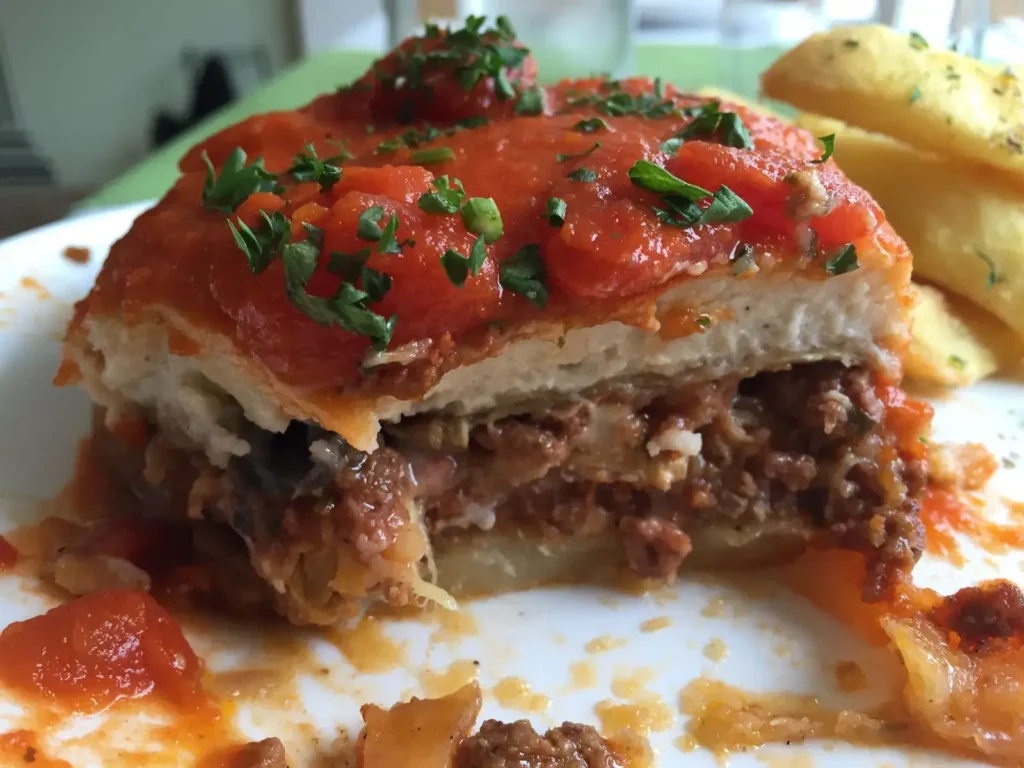 If you're looking for a delicious Greek meal in Swindon, Greek Olive is a great pick. This restaurant offers various traditional Greek dishes, all cooked to perfection. The friendly staff will make you feel right at home, and the relaxed atmosphere is perfect for a night out with friends or family.
The restaurant is quite casual and great for group dining. They serve specialities like baklava, lamb soulaki, garlic bread and beef stifado.
Try the lamb shank – it's our editor's pick! Other accessible provision in Greek Olive includes coffee, vegetarian options, beer, vegan plates, wine and small plates. Reservations are required here, so book a table in advance.
Address: 141 Faringdon Rd, Swindon SN1 5DL, United Kingdom
#3. Miller and Carter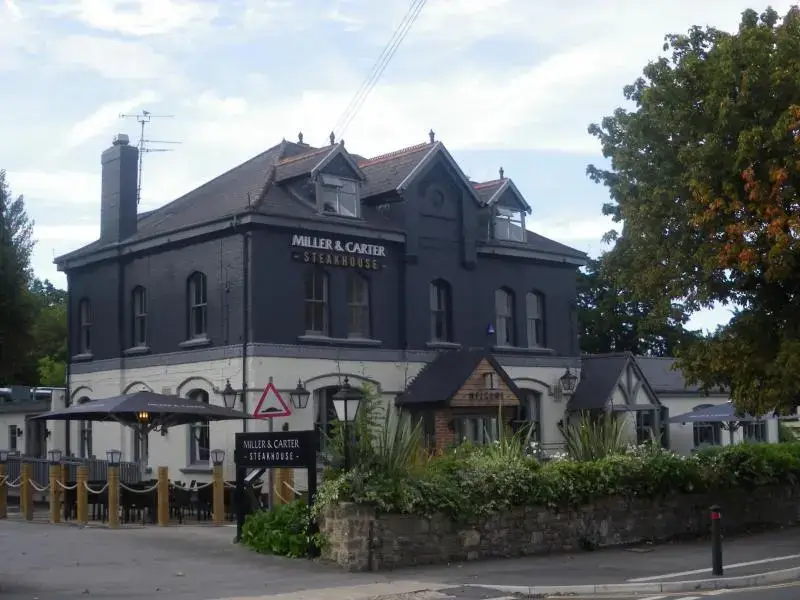 Miller and Carter is a great choice for a special occasion. The steakhouse offers a wide range of steaks, all cooked to perfection. The sides are also very good, and the service is excellent.
The dining room has an upmarket design, which makes it fit for special dining. There's also outdoor seating, providing guests with a relaxing atmosphere while dining.
Guest who can't dine in is always welcome to go for takeaway or delivery service. They offer options like cocktails, beer, coffee and wine for drinks. This is also one of the best places to eat in Swindon.
Address: Drove Rd, Swindon SN1 3AG, United Kingdom
#4. Rios Brazil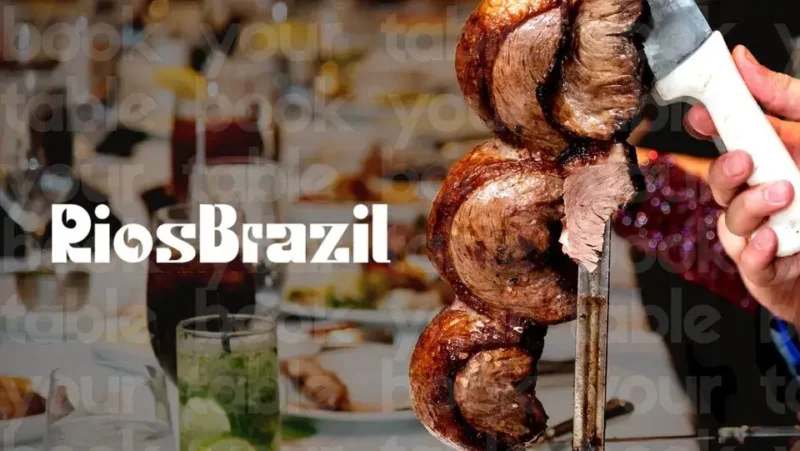 Rios Brazil is a great choice for a nice evening out in Swindon. The restaurant is stylish and comfortable, and the staff is friendly and helpful.
The food at Rios Brazil is fantastic. The menu features various Brazilian-inspired dishes, all cooked to perfection. The portions are generous, so you're sure to leave feeling satisfied.
Their all-you-can-eat menu covers classics such as salads, caipirinha, Brazilian cheese bread rolls, chicken hearts, and many others. The wine list at Rios Brazil is also very impressive. There is a good selection of red and white wines, all of which pair nicely with the food. In addition to wine, they also serve cocktails and beer.
The servers can offer good recommendations if you know what drinks to pair. Overall, Rios Brazil is a great choice for a special night out. The food is incredible, the atmosphere is perfect, and the service is top-notch.
Address: 16 Bridge St, Swindon SN1 1BU, United Kingdom
Looking for more culinery experiences? You may want to checkout the best places to dine in Watford, Chichester, Keswick, and Preston.
#5. U Agnieszki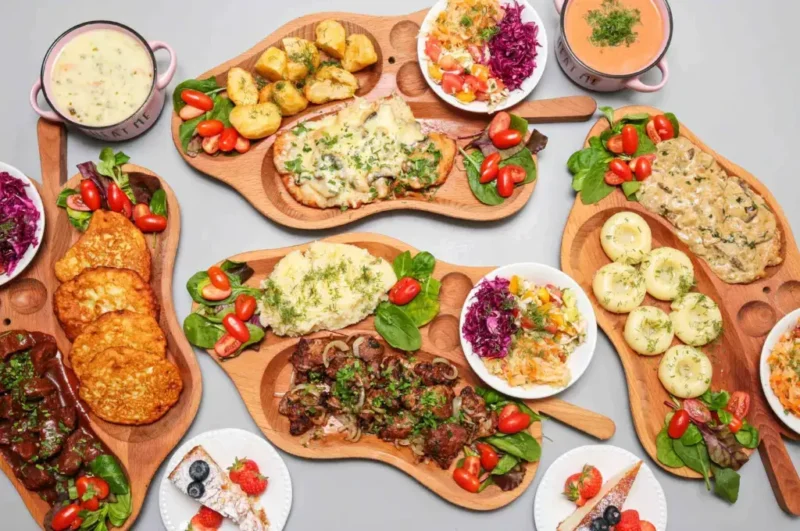 For a unique dining experience, visit U Agnieszki. This restaurant is a Polish restaurant offering the best of Polish cuisine.
Their dishes include pork schnitzel, roast potatoes, chicken soup, tomato soup, potato pancakes and lots more. If you love soups, then you'd love this restaurant. It's a great spot to take shelter on rainy and sunny days for a quick lunch.
U Agnieszki is also great with coffee. They serve various coffee, including espresso, cappuccino, and Mocca. Other drinks include tea and alcoholic beverages.
Address: 2 Regent Circus, Swindon SN1 1PN, United Kingdom
#6. Los Gatos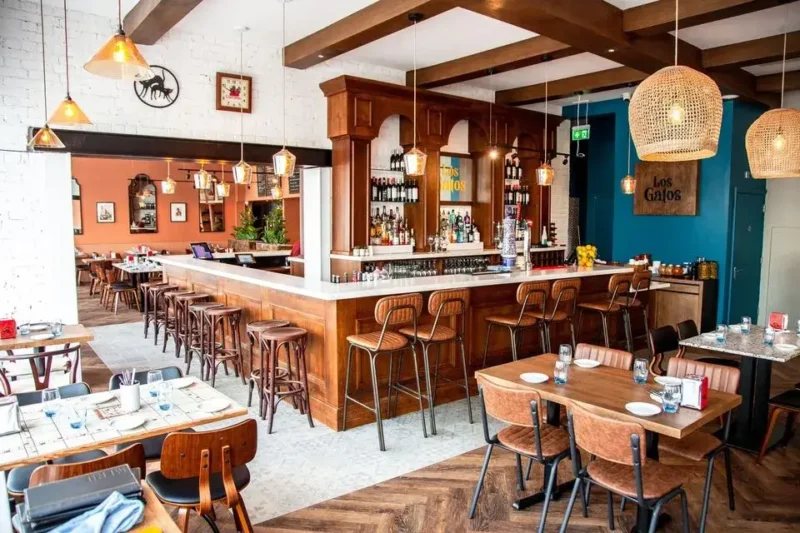 Los Gatos is one of the best Spanish restaurants in Swindon. It's a family-run business whose owners are passionate about providing great food and service. The menu features traditional Spanish dishes, and the food is cooked with locally sourced ingredients and in homestyle.
When it comes to Tapas, you can say they are the best. They serve a wide range of tapas dishes, including daily specials, all prepared in home style.
In addition, they offer a great selection of Spanish wines, sherries, beers and spirits. If you visit on Sunday, you'd enjoy traditional paella and live acoustic guitar.
The atmosphere is cosy and inviting, and the staff are attentive and friendly. This is a great choice for weekend treats or an evening out with friends.
Address: 1-3 Devizes Rd, Swindon SN1 4BJ, United Kingdom
#7. Mario Italian restaurant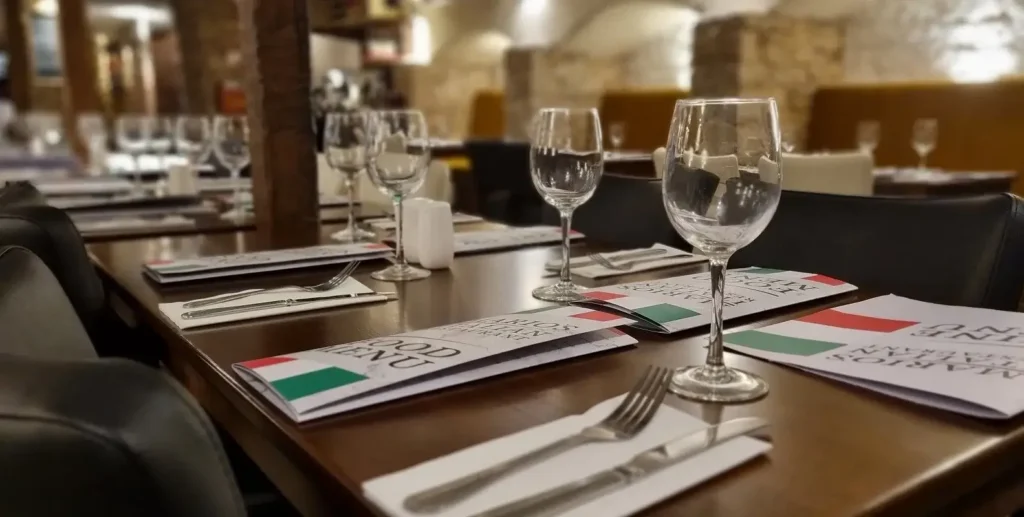 Mario Italian restaurant is another top pick for the best restaurants in town. Their food is amazing, and the service is always great. We highly recommend this restaurant if you want a good Italian meal.
The pasta dishes at Mario are some of the best we've ever had. The sauce is always flavorful, and the pasta is cooked perfectly. The pizzas are also very good, and they have a great selection of wine.
If you're looking for a romantic evening out or a special occasion, Mario is the perfect place. It's a bit more expensive than other restaurants in town, but it's worth it.
Address: 7 Wood St, Swindon SN1 4AN, United Kingdom
#8. La Carbonara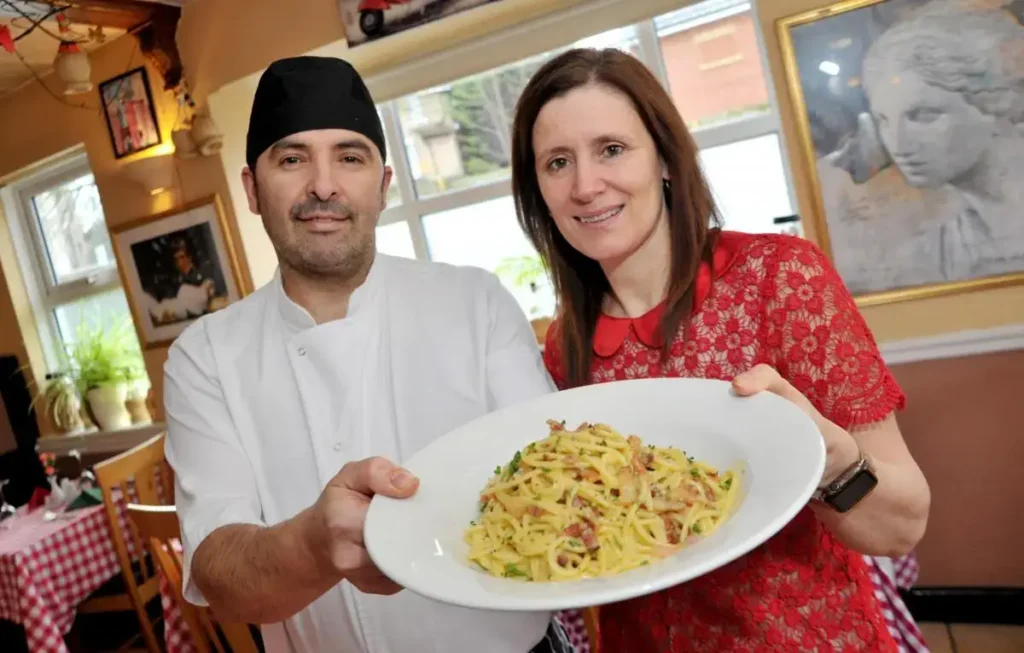 If you're looking for a delicious Italian meal in Swindon, try La Carbonara. This restaurant serves traditional dishes like pasta carbonara and risotto and unique offerings like squid ink pasta.
The service is friendly and efficient, and the food is always cooked to perfection. You'd find options like spaghetti, calamari, calone, bruschetta, sea bass, tiramisu cake, filet steak with black cherry, cheese with biscuits and swordfish.
There is a bar on-site offering wine and other alcoholic beverages. With its cosy atmosphere and excellent food, La Carbonara is our top pick for the best restaurant in Swindon.
Address: 62 Westcott Pl, Swindon SN1 5HW, United Kingdom
#9. Ruchi Indian restaurant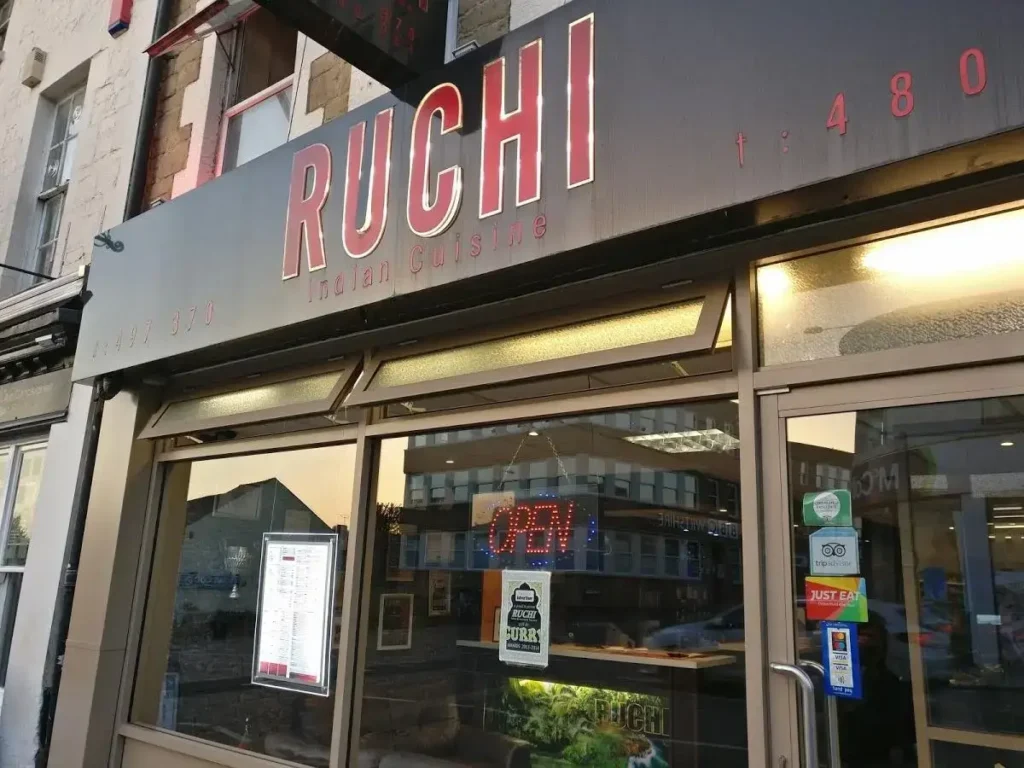 Ruchi Indian Restaurant is a family-run business serving mouth-watering cuisine since 2003. You can tell they're passionate about what they do, as everything is made on-site from scratch, ensuring the best flavours and quality.
Their menu is massive, so there's something there for everyone. Be sure to try their signature Butter Chicken, or if you're after something a little lighter, perhaps their Buttermilk Chicken is more your speed. Whatever you choose, you won't be disappointed.
Address: 89 Victoria Rd, Swindon SN1 3BD, UK
You may also want to check out the best restaurants in Derby, Shrewsbury, and San Marcos (Texas).
#10. Yak the Himalayan Kitchen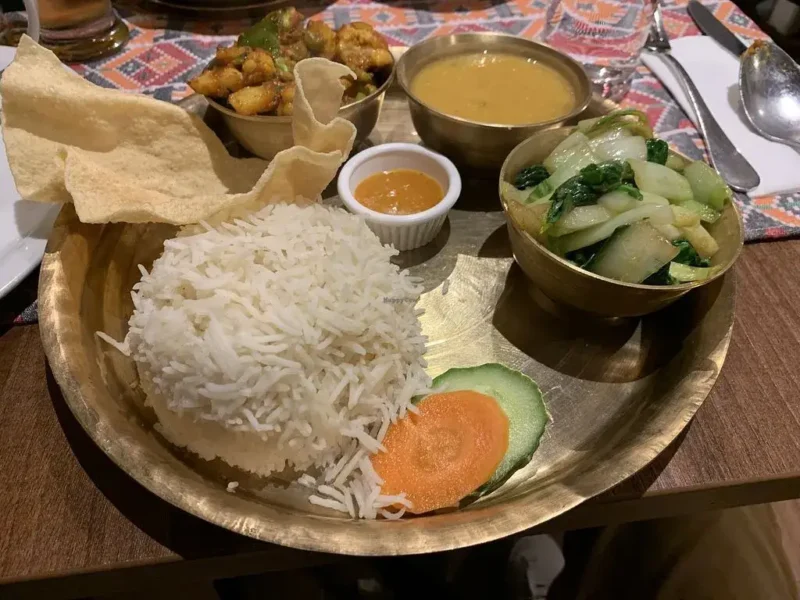 Yak the Himalayan Kitchen caters to vegetarian and vegan diners. It's often the places that cater to vegans that know how to do the plant-based food justice, so if you're a vegan or love tasty food, you must visit it.
Their menu is ever-changing, so there's always something new to try. You can expect lots of Asian-inspired dishes, as well as a few classics like delicious lasagne. They also offer a couple of tasty desserts, so you can be sure there's something for everyone.
There is a bar on site offering wine and beer. Other offerings include free water refills, coffee, small plates, reservation plans, and group dining.
Address: 6 Devizes Rd, Swindon SN1 4BJ, United Kingdom
#11. The Jewel in the Crown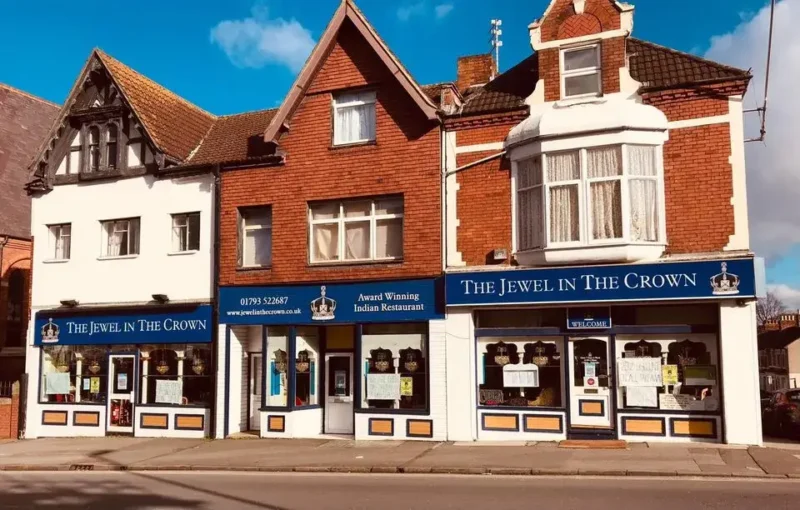 If you're after something a little different, The Jewel in the Crown is a great place to try. They specialize in Indian cuisine but with a twist. There are many kinds of curries and a few different kinds of tandoori.
Their menu is full of flavour, and the meat is melt-in-the-mouth tender. You might consider sharing a few dishes, as their portions are massive!
They also serve a variety of sides that can be shared, allowing you to try a little bit of everything. The place also has a romantic setting, especially in the evenings. All kinds of the crowd are accepted, including the LGBTQ community. Other benefits to enjoy include water refills, vegetarian plates and late-night food.
Address: 14-16 Victoria Rd, Swindon SN1 3AL, United Kingdom
#12. Siam Thai restaurant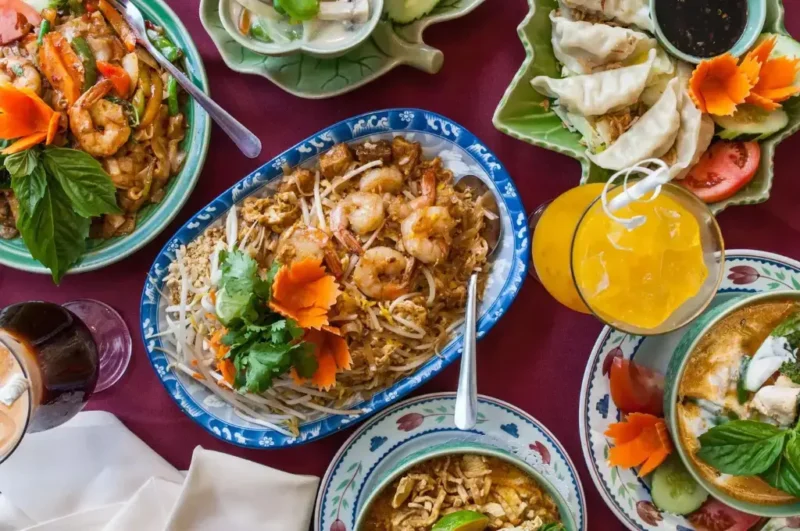 Siam Thai Restaurant is a great place to head to if you're after delicious and authentic Thai cuisine. They're open daily, serving everything from noodle dishes to curries and stir-fries.
You can choose between eating in or taking out, so it's a great option if you're after something a little more casual or want to stay in and treat yourself to a home-cooked meal.
You can get a portion of noodles, rice, and stir-fry for an affordable price. You'd also get other treats like curries, soups, salads and tapas.
Address: 75-76 Godwin Ct, Swindon SN1 4BS, United Kingdom
#13. Wagamama restaurant
Wagamama is a chain of Asian-inspired restaurants. They have a great selection of noodles and rice dishes. They stand out from the competition because half the menu is marked as "self-service."
You can help yourself to the food and pay at the till when you're done. It's easy to order, and the restaurant has a great atmosphere. Their portions are also impressive, so you'll leave with a full stomach!
The place makes a great spot for a casual hangout or quick lunch. Family gatherings and company dinners are also accommodated here.
Their menu covers a wide range of food, from meat plates and vegetarians to seafood. You'd find just the right dish to satisfy your cravings.
Address: Great Western Designer Outlet Village, Kemble Dr, Swindon SN2 2DY, United Kingdom
#14. The Raj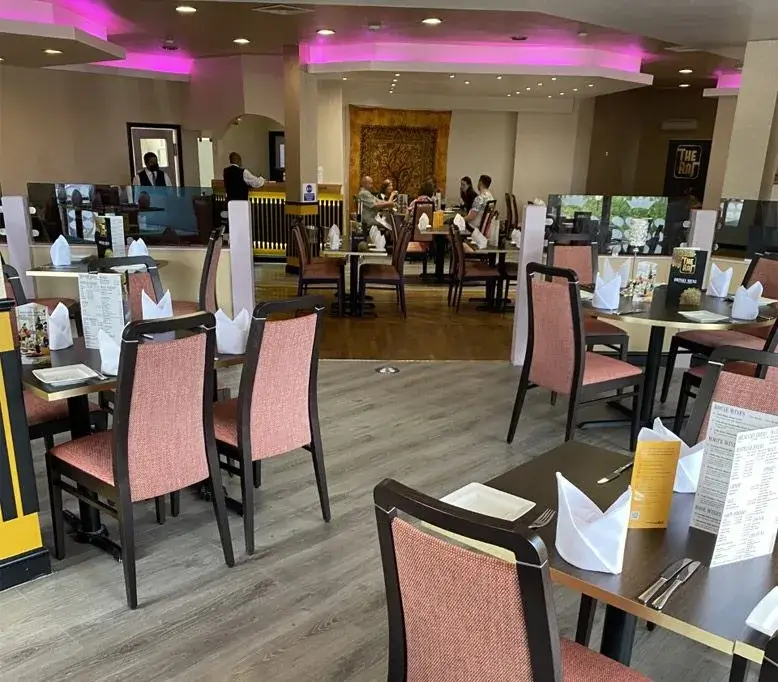 The Raj is an Indian restaurant founded in Swindon in 2011. It is on the High Street and serves traditional Indian food with a modern twist. The restaurant's elegant and traditional design makes it an ideal place for a date.
The menu at The Raj is extensive, and you can order a la carte or select a set menu. They offer only quality service, which makes them one of the best Indian restaurants in Swindon. They also offer a gluten-free menu and a kids' menu. The dishes are made with fresh ingredients, and the service is excellent.
If you are looking for a great spot for group dining, you should consider The Raj restaurant. This is because they offer group dining facilities and food options.
Address: Whitehill Way, Unit 2 Shaw Ridge Leisure Park, Swindon SN5 7DN, United Kingdom
#15. Arabian Nights restaurant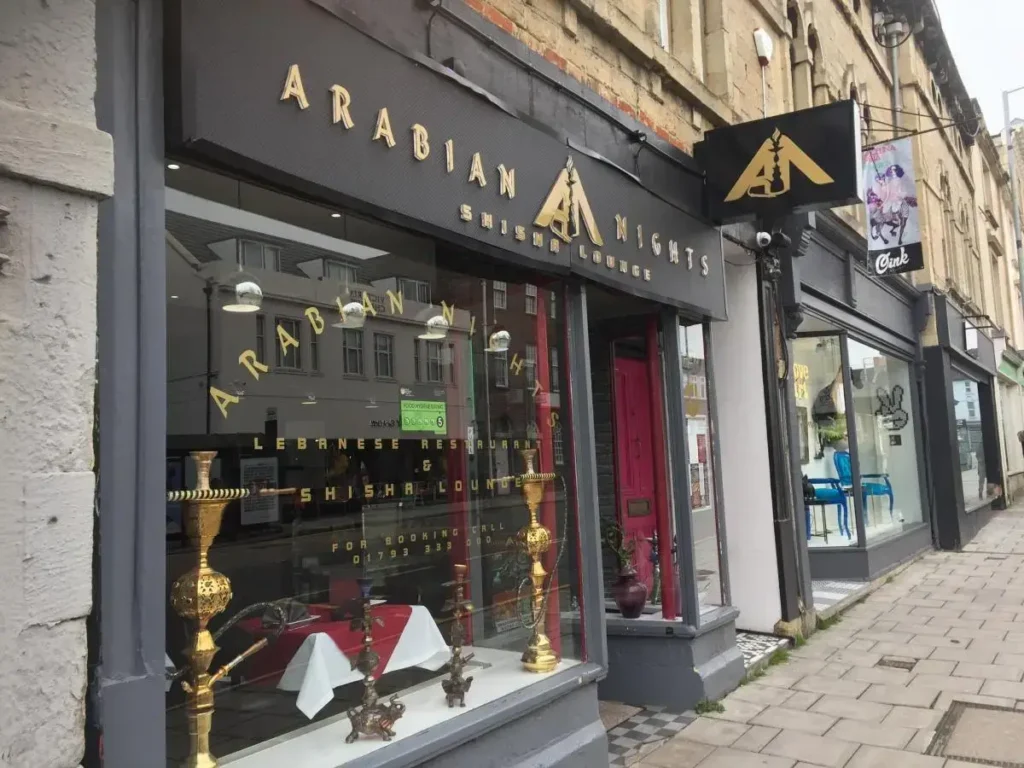 Arabian Nights is a buffet-style Indian restaurant near the Town Center. They offer great value for money, as you can eat all you want for a fair price. They are always open for lunch and dinner. The place has a casual setting with a cosy atmosphere.
The restaurant is spacious and clean, serving delicious Lebanese cover Food options covering hummus and falafel starters to pastry. Fish. Pizza, mixed grills main and indulging desserts. You'd enjoy yummy seafood, plus mocktails and shisha.
For drinks, they have coffee, wine, beer and many other alcoholic beverages. They also have a sit-in area for families with young children.
Arabian Night has a wide selection of dishes and desserts, so there is something for everyone. The food is freshly made, and the service is quick.
Address: 94 Victoria Rd, Swindon SN1 3BD, United Kingdom
Looking for more places to eat? You may also like to check out the best restaurants in Addison (Texas), Honduras (Tegucigalpa), and Guatemala City.
Enjoy Your Meal at Swindon Restaurants
Whether you're after something quick and casual or looking for somewhere a little more special, this list has something for everyone.
You can be sure that each of these restaurants will not disappoint, so plan your next night out and choose one of these great places to eat.
Thank you for reading, and we hope you enjoy your next dining experience in Swindon! We hope this list has helped you find the perfect restaurant for your next meal.
What's your favourite spot in Swindon? Let us know in the comments below!